The holidays are a great time of year. They're festive and fun, but it's also an important time to make sure your next year is filled with MORE travel than the last one. Yes, really.
Welcome to the very first article in our special series: What To Do Now To Travel More In 2020. It's like "The 12 Days of Christmas" in advance, or an Advent calendar of 12 excellent tips for you to get a head start on your New Year's resolution to travel more.
For some of these, it'll be too late if you wait. It's a crucial moment to prepare to travel more, to save money to travel more and also to earn tons of easy rewards to travel more (it will be really simple with our tips).
By the way, those of you who still don't believe that rewards are worth it: trust us—we'll prove you wrong in our next articles. Those who think rewards are a waste of time simply aren't doing it right (but that's normal; you can't know until you know).
But most articles are non-rewards topics like today's: tips to prepare for flight deals on Black Friday (or any flight deal).
It's critical that you invest a bit of time in planning: traveling for less (or traveling more often—or both) is something you achieve with good preparation. And with our pro tips we'll help you make sure you don't end up going on just one or two trips in 2020.
Maybe you won't be able to go on 10 international trips as I have in 2019, but we want your level of ambition to be to at least do more than you did in 2019: it's very doable.

Many people who believe in the myth that travel is expensive make a critical mistake: they don't make a plan to travel more. There's a saying that "failing to plan is planning to fail" and it's very accurate. So it's very important to prepare so you can make the most of this weekend's deals for your 2020 travels.
These tips also apply to prepare for all deals really. It's what you need to know to take advantage of the many 50% off deals we spot all year long. The best deals aren't really on Black Friday, but we want to share these tips now because hopefully, very good ones will be available this weekend (fingers crossed).
Our whole team at Flytrippers will be hard at work spotting the deals for you next weekend—like we do all year.
Last year, we spotted a ton of great deals on Black Friday, for example, an insane $390 roundtrip deal from Montreal to the Middle East (Dubai, Egypt, Jordan, Lebanon, etc.).
That's far less than half the regular price. I bought the Lebanon deal myself and had a great time for cheap. On my flight back, Flytrippers readers who had bought the Egypt deal were seated in my row and couldn't thank me enough for cutting their flight costs in half.
I want you to be able to say the same thing to me next year if we're on the same flight and I want you to save half the price, so here are the 4 key tips.
1. Pre-approve as many destinations as possible
The key to finding a great deal is pretty simple actually: being open to as many destinations as possible. There are nearly 200 countries in the world, and every single one of them has something amazing to offer.
While you might not want to go absolutely everywhere like both of us Flytrippers co-founders want to do in our quest to visit every country, there are likely at least a dozen destinations that appeal to you. At least. Look more closely if not, because there are so many amazing places in the world.
When deals are spotted… they're gone within a few hours. The best dates are usually gone even quicker. They're deals. That's how it works: the better the deal, the faster it's gone.
If you have to ask yourself whether that destination appeals to you when the deal comes out, it's probably already too late. Once you decide, especially if you aren't traveling solo and need to both agree on a destination, you'll have missed the deal.
It makes no sense because you can easily take the time to think about this BEFORE. Planning is key if you want to travel for less.
The little time you have when we spot a deal has to be invested in figuring out the dates, that's what varies with each deal. Thailand will always be the same Thailand. Make a decision in advance and determine whether or not you want to go there if there's ever a good deal. Prepare.
It's therefore vital to pre-approve as many destinations as possible that are interesting to you, as soon as possible. Make a list, check it twice. It's that simple.
You should always have this list to be able to jump on any deal, like the Japan deal for $540 roundtrip or the Paris deal for $350 roundtrip that we spotted in the past two weeks. But with Black Friday and Cyber Monday just around the corner, you should write your list this week. Why not today in fact? Planning your travels is the only thing that is almost as fun as your travels.
My entire trip to Bali cost me less than what my seatmates paid for their flight alone, because I jumped on a half-price deal to Singapore ($500 roundtrip from Montreal) and they paid literally 3 times more.
Let that sink in for a second.
That is the scope of what I'm telling you: getting an entire trip for the price of just the flight. Imagine how much more you can travel when you do that.
Want to travel more or travel for less? The plane ticket is the only thing whose price can vary by 300% for the exact same thing. So get the cheapest ones by taking advantage of the deals we spot for you.
Again, most people who believe in the myth that travel is expensive choose a destination first, and just one. That's literally the best way to pay a lot for your flights! Just be open to a few similar destinations at least, and with the money you'll save, you'll get to travel more often and see more places.
It's really the best way to travel more: the reason I go on multiple international trips every year is that I am open to going pretty much anywhere and I choose based on the best deals (among other tips I'll share in this special series of articles).
I didn't plan to go to Lebanon or Singapore those times, or to China (also $500 roundtrip), or to Sri Lanka ($480 roundtrip), or to South Africa ($550 roundtrip), or to Peru ($390 roundtrip), or to Amsterdam ($250 roundtrip), or to Miami 10 times (often $40 roundtrip from US border airports).
I want to travel more, so I prioritize traveling more: I choose destinations from the ones that are in our deals for my dates.
Tip 1 in 1 sentence: make a list with as many countries as you can, and there will be a deal for one of them.
2. Pre-approve as many dates as possible
This is the hardest part for many who aren't as flexible with work schedules. And it's why it's so important to follow tip #1 and be open to as many destinations as possible.
Deals are always available for limited dates. Most of the time, there are a lot of combinations available; other times not so much. It always depends.
So again, if when the deal comes out, you have to start from scratch and think about which dates are good and come to an agreement with your travel buddy ON TOP of having to get approval for time off from work… your odds of getting your #1 destination go way down. The deal will be gone.
Again, it's so easy to get a head start before. Like now!
Preparation.
Here's what to do: go over the calendar, think about all your logistics, and come up with as many timeframes as possible for a potential trip based on your situation (when you want to go on a trip and when you think you can go on a trip). That way at least some of the pondering is done and you've narrowed it down a bit: you can save time when the deal is there.
I'll have an entire article about this, but in short, keep in mind this graph: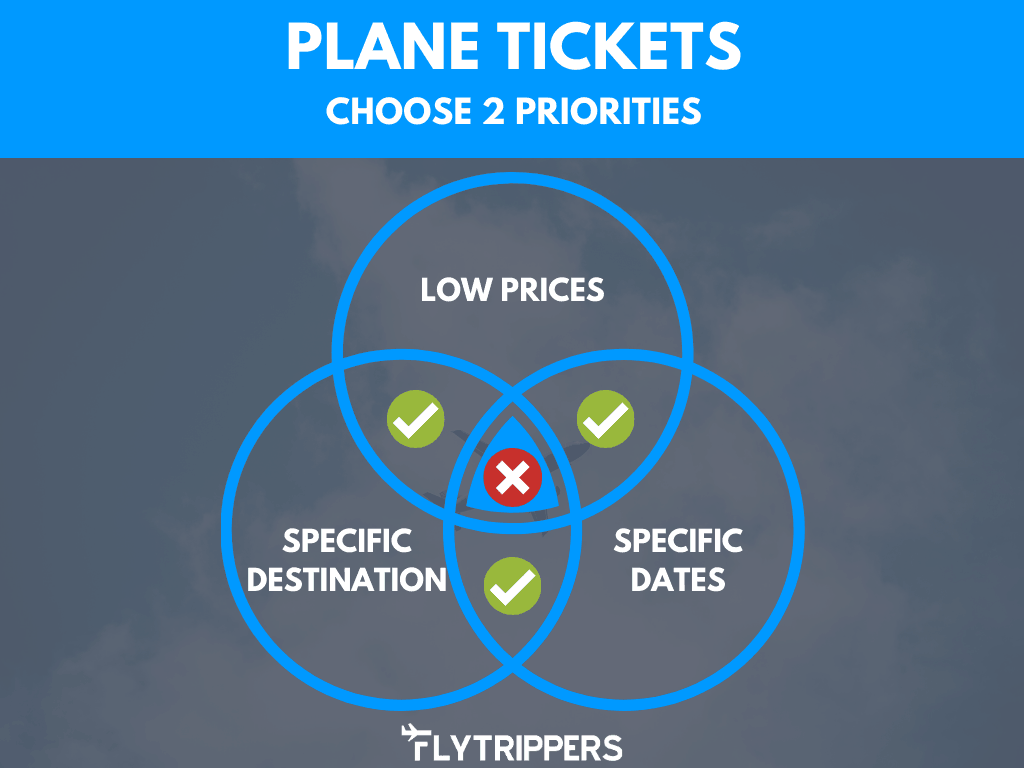 There's no magic formula (well, in fact, there are a few that I'll share in the rest of this series) but in general, you can choose only 2 of those 3 elements.
If you have a very specific destination, no problem. Your destination will eventually come on sale at some point: you'll get a low price.
If you have very specific dates, no problem. A ton of destinations will eventually come on sale at some point for those dates: you'll get a low price.
Flexibility is key for cheap flights.
It's not complicated (I'm not saying it's easy; it's just not a complicated principle): you need to be flexible on just one of those 2 elements, and you'll be fine and find a low price. Not being able to be flexible on dates is understandable, but not being flexible on the destination means you don't want to prioritize low prices. Which is fine, it's just that so many people tell me they had never thought of it that way, so it's good to share.
So it's tougher if you can't even be flexible on one. You can't have your cake and eat it, too (at least not easily without our more advanced pro tips to come).
Tip 2 in 1 sentence: get your calendar in order and pre-approve as many dates for potential trips as you can to narrow it down before Black Friday (and update this regularly to jump on other deals year-round).
3. See deals first with these 2 insider tricks
So you're almost there, but there's no use in having pre-selected destinations and dates if you don't see the deal when it comes out.
To find one of these half-price deals on your own, you'd have to happen to be looking at exactly the right destination and date combinations… at exactly the right time (exactly when a deal that lasts just a few hours pops up). It's just not going to happen.
To make sure you see all the best deals that we spot, follow these 2 easy steps that will take you 30 seconds to complete at most.
First, subscribe to our free newsletter to get deals from your city. It's free and always will be. It will always be spam-free too.
Second, even if you already follow us on Facebook, Mr. Zuckerberg hides our deals from you. By default, only about 30,000 of our 130,000+ Canadian Facebook followers will see a deal we share.
Go to your city's Facebook page (for example "Flytrippers Toronto" if you live in Toronto) and click to have our deals appear at the top of your feed (not to get notifications, but simply to see the deals first at the top when you open up Facebook).
It's really simple and requires just 3 or 4 quick clicks, depending on mobile vs. desktop.
On a mobile:
On a desktop: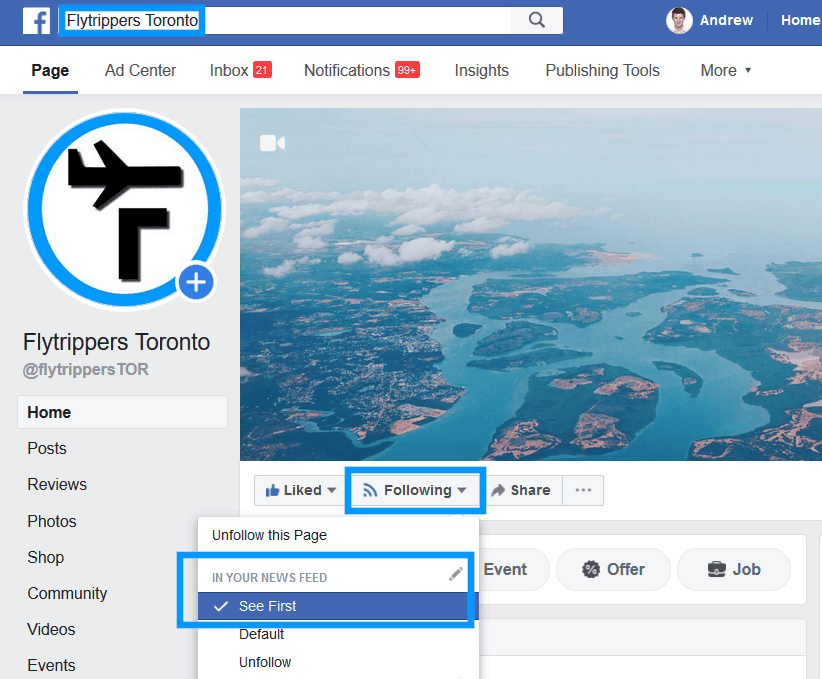 Tip 3 in 1 sentence: subscribe to our free newsletter and tell Facebook to show you our deals, and with those 2 insider tricks, you'll be the first to see the deals.
4. Be ready and book quickly
Finally, once you do see a deal you like, act fast. There's no way around it: these prices are amazing and everyone wants to buy them, so they are snapped up quickly.
It's probably the #1 thing people don't understand about our deals here at Flytrippers so I'll repeat one last time: deals expire quickly.
No, it's not a scam—we don't share fake deals for the fun of it. If the price is gone, it's just that unfortunately you weren't fast enough and the deal is over; that's how it works.
Yes, the prices we spot are so low they're hard to believe, but they're 100% true and if you follow these tips, you can be the next one to take advantage of one!
Tip 4 in 1 sentence: don't hesitate too long or you'll miss it, that's why preparation is the key and if you've done that right, everything will come together and you'll be ready… and on your way on a crazy cheap flight.
Bonus. Don't fall for this…
We love giving you more for your money, so here's a bonus tip.
Don't fall for airline "sales".
Just because they use the word "sale" doesn't mean it's actually any good, it rarely is in fact. A vast majority of "sales" flat out suck and aren't worth your time.
Many airlines will make a big deal out of a "15% off" sale. That's abysmal. Well, it can be useful if you already were going to buy a specific flight, but it's not a price so good that it saves you hundreds or makes you decide on a destination. The second exception is Ultra Low-Cost Carriers, who have a different business model and the third is the occasional actual good price buried in a subpar sale (they are few and far between).
The best deals we spot are often 50% off. And that's on the total price, not just 50% off of half the price.
Those are good deals. Airlines don't promote those. Tthey don't waste their marketing budget on these; the tickets will sell out on their own because they're actually good deals that are worth buying.
You can read an entire article about airline "sales" if you want more details.
Bonus tip in one sentence: make sure it's really a good price and don't fall into the trap of booking something not really discounted just because an airline promotes it as a "sale", especially if you are flexible and can wait for an actual good deal.
Summary
If one of your goals for 2020 is to travel more, one of the best ways to do that is to be prepared, starting with the upcoming Black Friday deals (and the deals we spot all the time). Have your list of desired destinations ready and start figuring out when you can go. Then, if you can be flexible on one of those two points, you are sure to find a plane ticket that suits you on sale at a deep discount. And when that happens, don't hesitate—jump on it!!
Don't miss the next part of our special series this week:
Have any questions about these tips? About our deals? Let us know in the comments!
Want to see our current discounted plane tickets?
Click here to see our flight deals
Want more travel tips and inspiration?
Click here to see the blog homepage
You'll probably enjoy this article:
Travel Hacking: Free Travel (really)
Help us spread the word about our flight deals and travel tips by sharing this article and, most importantly, bookmark Flytrippers so we can help you navigate the world of low-cost travel!
Featured image: Traveler in Indonesia (Photo Credit: Killian Pham)

Advertiser Disclosure: Flytrippers receives a commission on links featured in this blog post. We appreciate it if you use them, especially given it never costs you anything more to do so, and we thank you for supporting the site and making it possible for us to keep finding the best travel deals and content for you. In the interest of transparency, know that we will NEVER recommend a product or service we do not believe in or that we do not use ourselves, as our reputation and credibility is worth far more than any commission. This principle is an essential and non-negotiable part of all our partnerships: we will never give any third-party any control whatsoever on our content. For more information on our advertiser disclosure, click here.