I loved my trip to Houston last week and the modern and beautiful

Le Méridien Houston Downtown

made it even better. Personally, I love this Marriott brand and this Le Méridien was a great hotel with an iconic rooftop terrace, located in the Texas metropolis' very first skyscraper.
Here's my review of the Le Méridien Houston Downtown.
Le Méridien Houston Downtown — Basics
I recently (late August/early September) went on a trip to Houston, Texas with my girlfriend, to explore this underrated city — the USA's 5th-largest metropolitan area.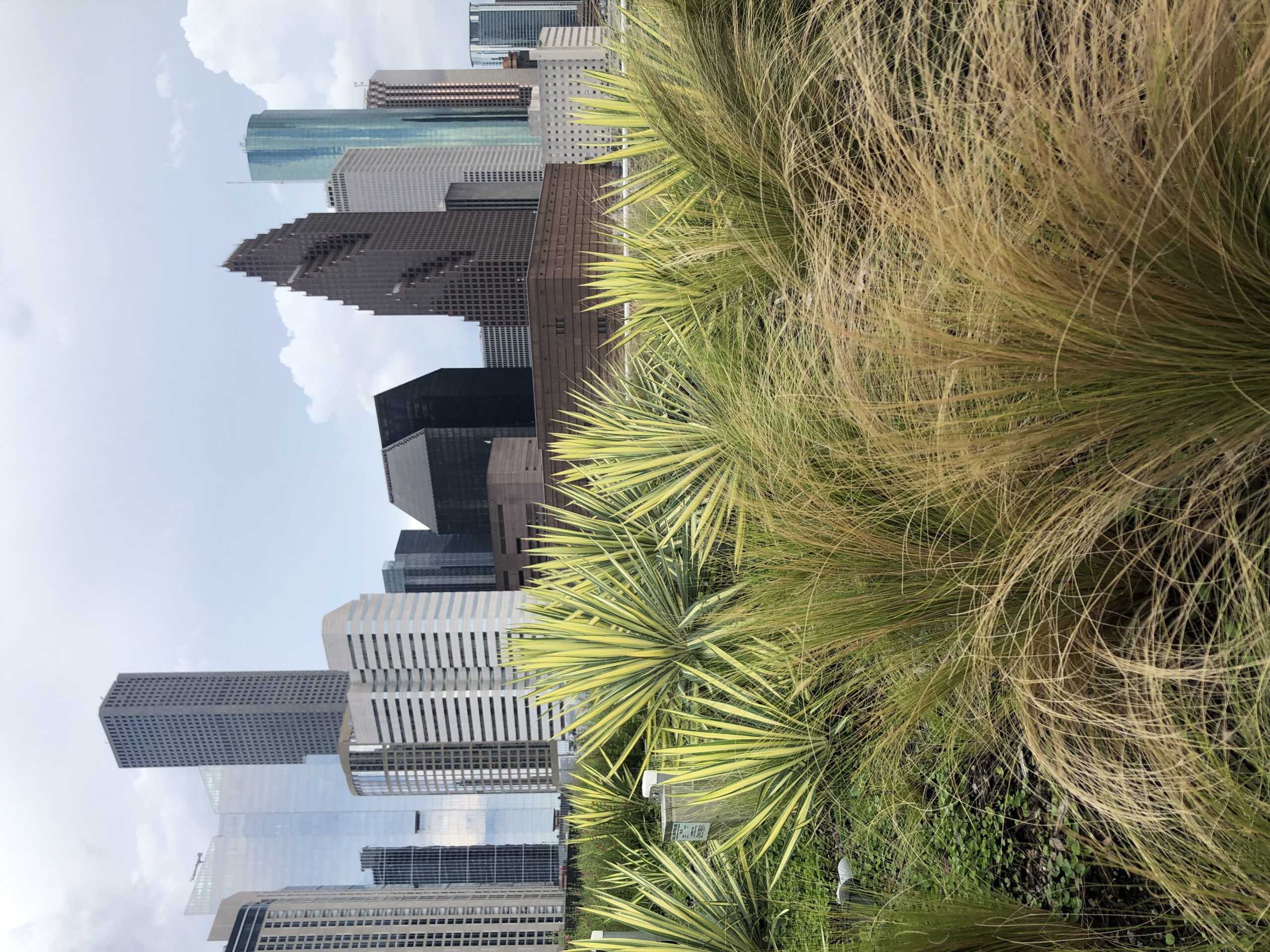 I stayed at the Le Méridien Houston Downtown for almost all of my trip, and it is a very modern hotel in a perfect location (I'll also share my review of the SpringHill Suites Texas City in the suburbs).
I love staying in Marriott hotels because the Marriott Bonvoy program is the best hotel rewards program for Canadians. That's one of the reasons why I chose this hotel.
Le Méridien hotels are 1 of the Marriott Bonvoy program's 32 different hotel brands. Among the 4 hotel levels, Le Méridien is a premium brand of full-service hotels. In terms of segments, Marriott classifies it as a distinctive brand. Le Méridien hotels are "European-inspired with a timeless chic design."
The Le Méridien Houston Downtown definitely fit that bill and is very stylish, with a mid-century vibe inspired from being located in the building that was Houston's very first skyscraper.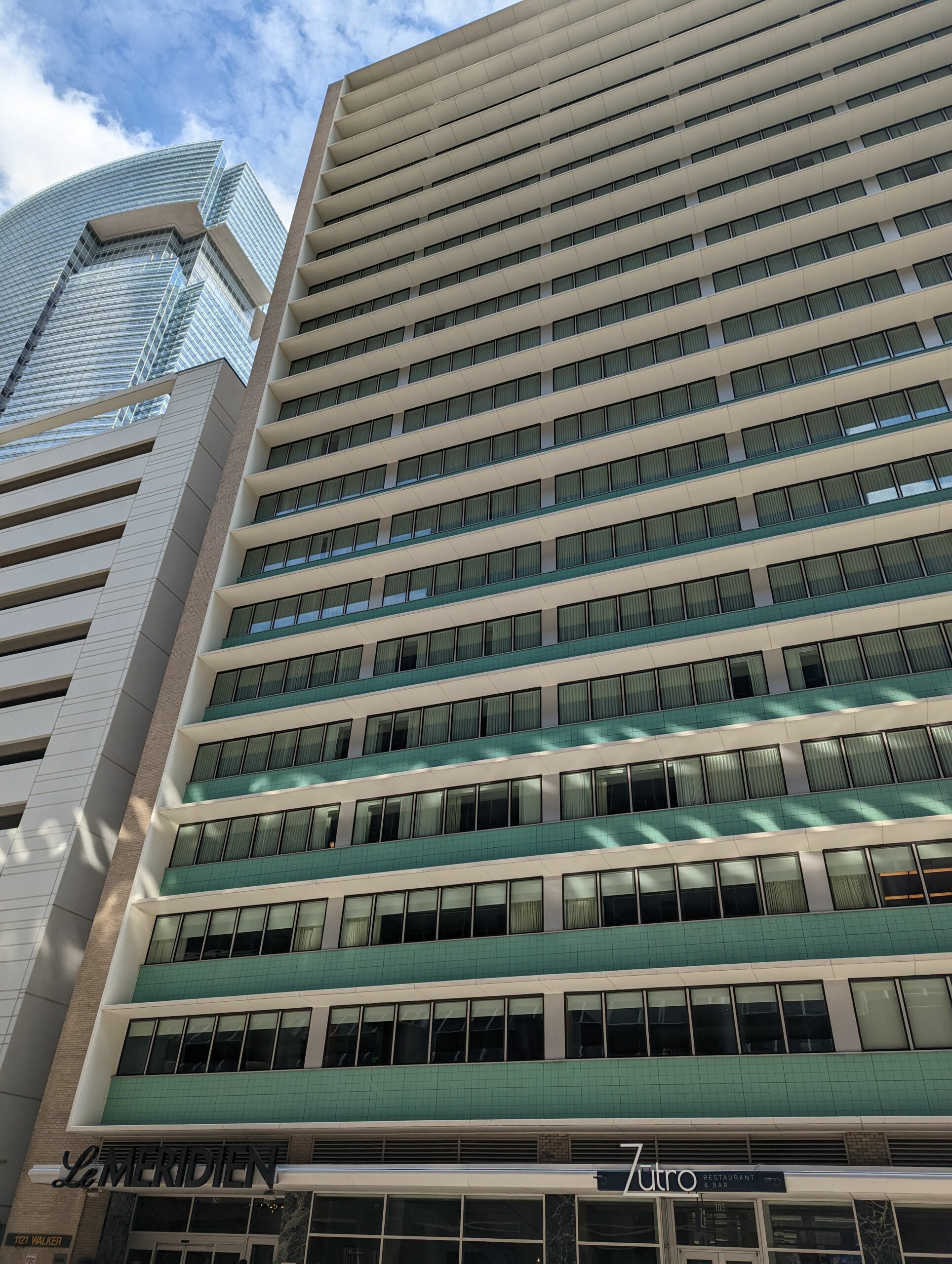 Le Méridien Houston Downtown — Booking
Marriott Bonvoy is the best hotel rewards program, but since these are more valuable rewards and have a variable value, it's always worth comparing with the cash price to calculate whether or not it's a good redemption.
In cash, the Le Méridien Houston Downtown was ~ $349 per night for my dates, taxes included (US$262).
Paying with the Marriott Bonvoy American Express Card and booking directly with Marriott would earn you a total of ~ 13 Marriott points per C$, giving you a return of ~ 3,900 points worth ≈ $35 (I earn ~ 18 points per C$ since I have Marriott Titanium elite status).
In points, the cost was around 24,000 points per night (≈ $216 at our Flytrippers Valuation of ≈ 0.9¢/pt), or around 19,200 points per night (≈ $173) if you take advantage of the Marriott "Pay for 4, Stay for 5" benefit.
Clearly a great redemption for those dates if you want to stay at the Le Méridien Houston Downtown: that's a value of 1.5¢/pt (or 1.8¢/pt for 5 nights).
It's expensive either way, but it's very competitive with other premium hotels downtown.
I get plenty of free Marriott hotels every year with my points, but this specific stay was 1 of only 2 to date in 2022 that were free because the Visit Houston tourism agency offered me this nice complimentary stay. As always, in these rare instances when we get sponsored trips, Flytrippers editorial content is always completely and 100% independent, just like literally all of our content even if it always contains links that may earn us a commission. What matters most to us is that you always trust our travel expertise.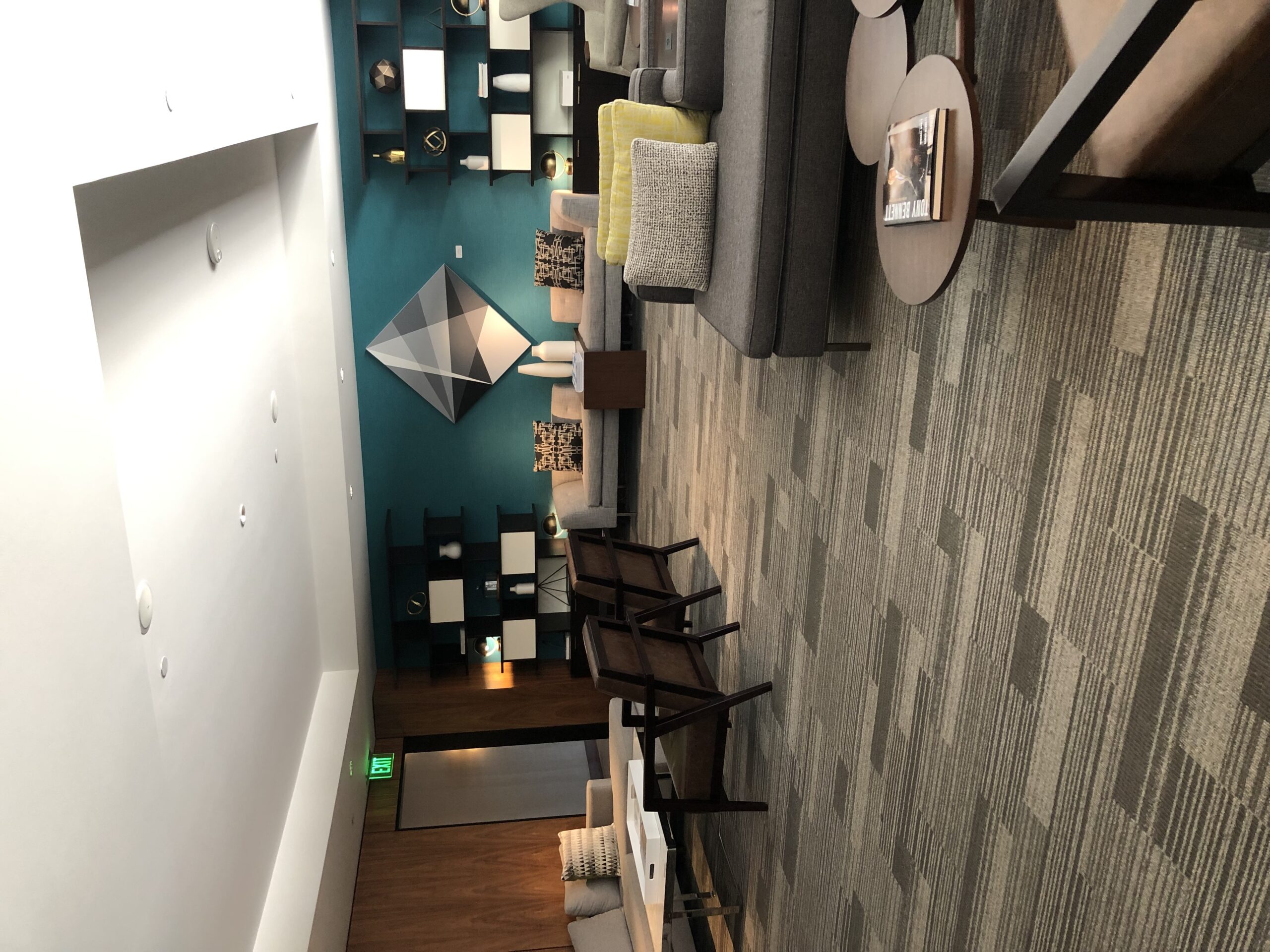 Le Méridien Houston Downtown — Location
As its name suggests, the Le Méridien Houston Downtown is perfectly located right in the center of downtown Houston. It really doesn't get much better than this in terms of being in the middle of the action.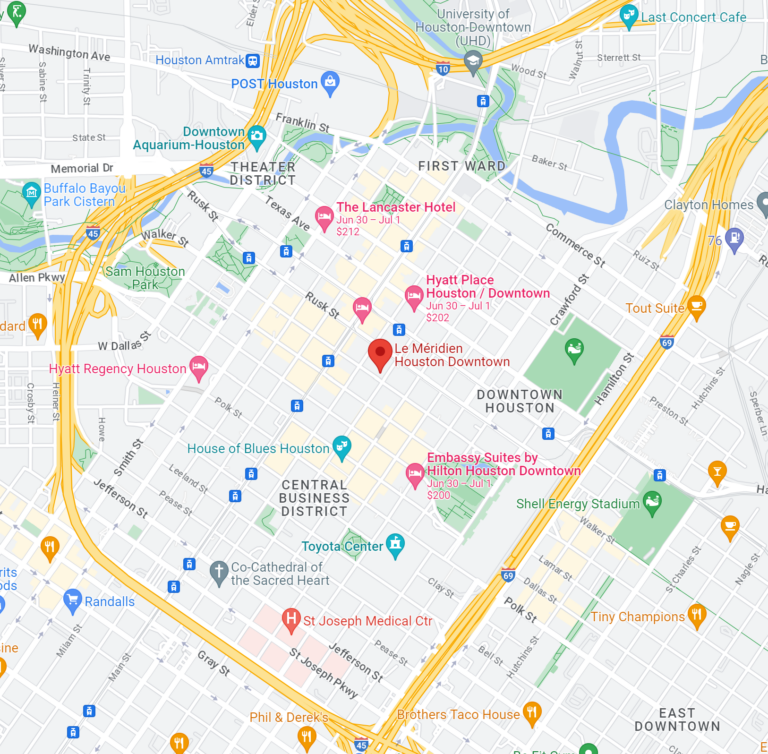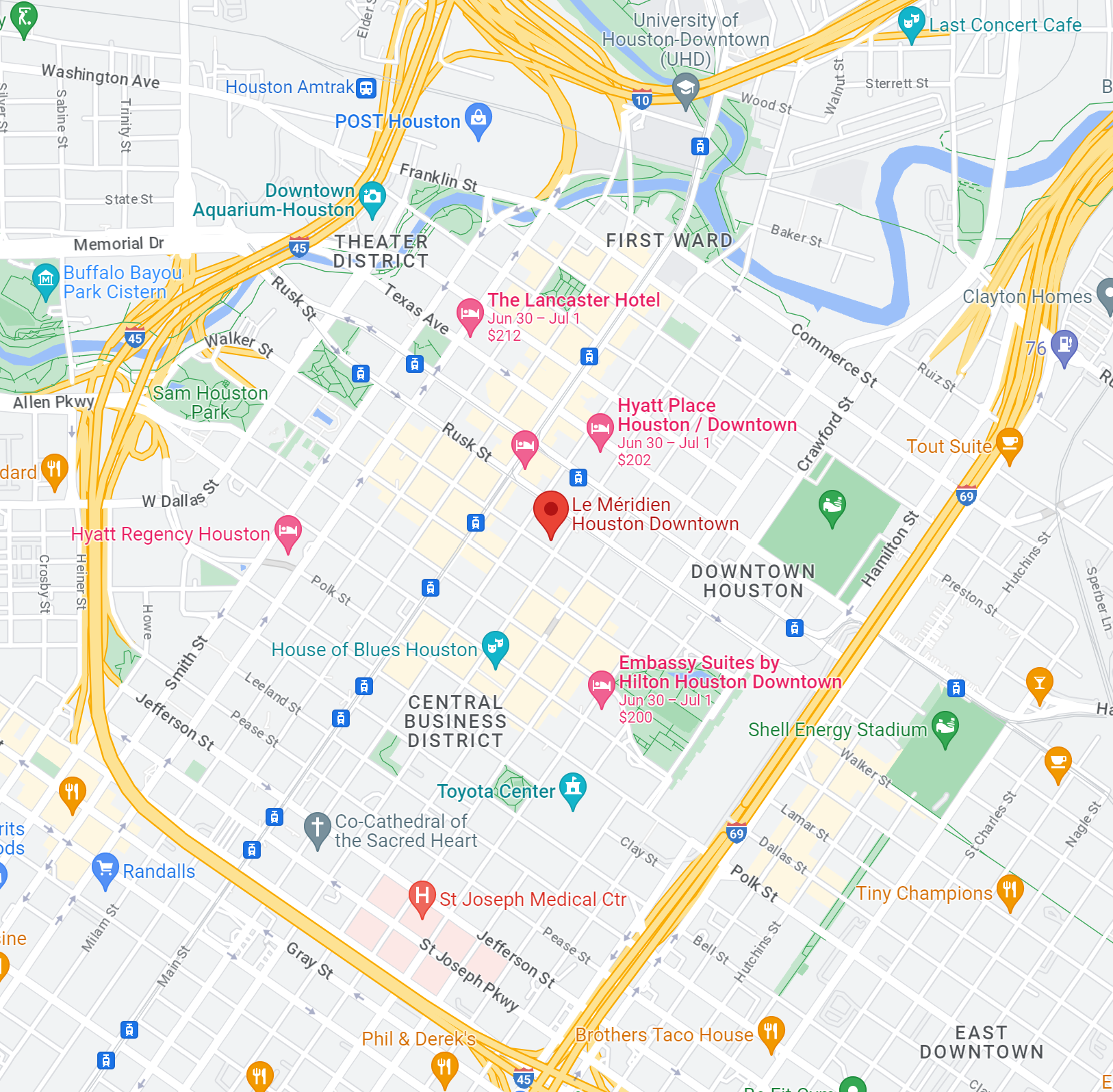 It was easy to walk to all the downtown attractions we visited during this trip. Everything was very close-by, including the trendy East Downtown neighborhood and the POST Houston complex that aren't within downtown per se.
And the hotel is also just 1 block away from the Houston METRORail Red line (yes, they have more than the world's only 26-lane freeway!). That train quickly took us to the can't-miss Museum District, the place where we spent the most time apart from downtown. The ride is just US$1.25 (or $3 for a day pass).
I didn't get a rental car for this particular trip but if you do, staying downtown obviously means you'll need to pay for parking.
Le Méridien Houston Downtown — Check-in
We arrived at the Le Méridien Houston Downtown in the evening and were welcomed by an employee at the street level.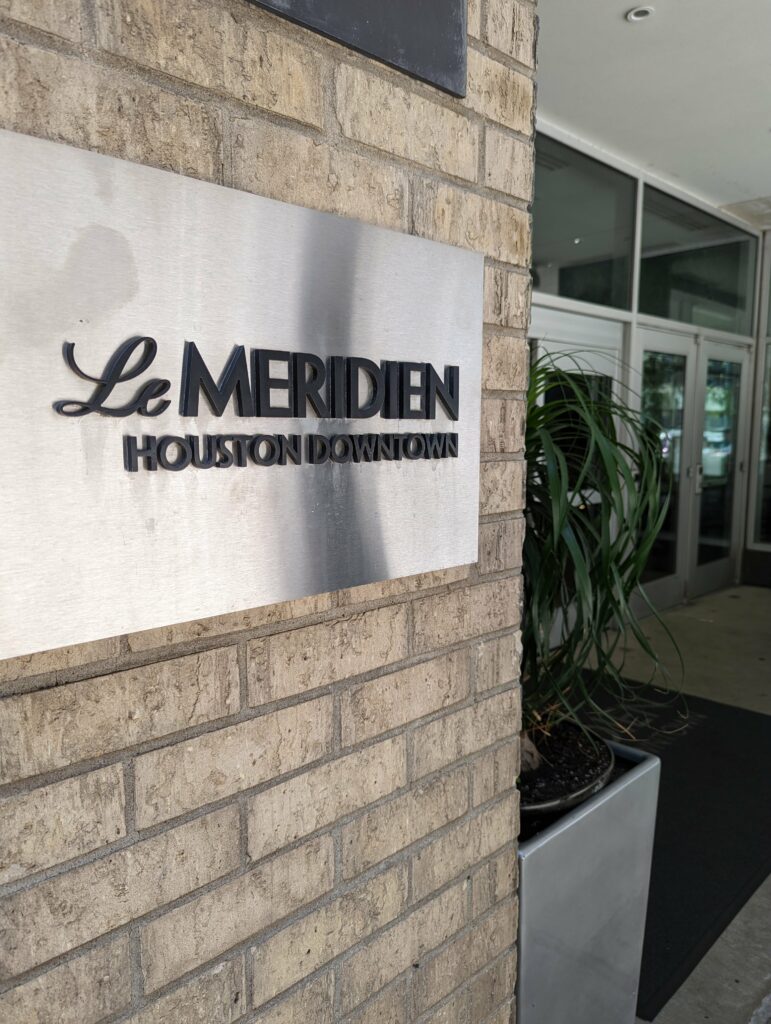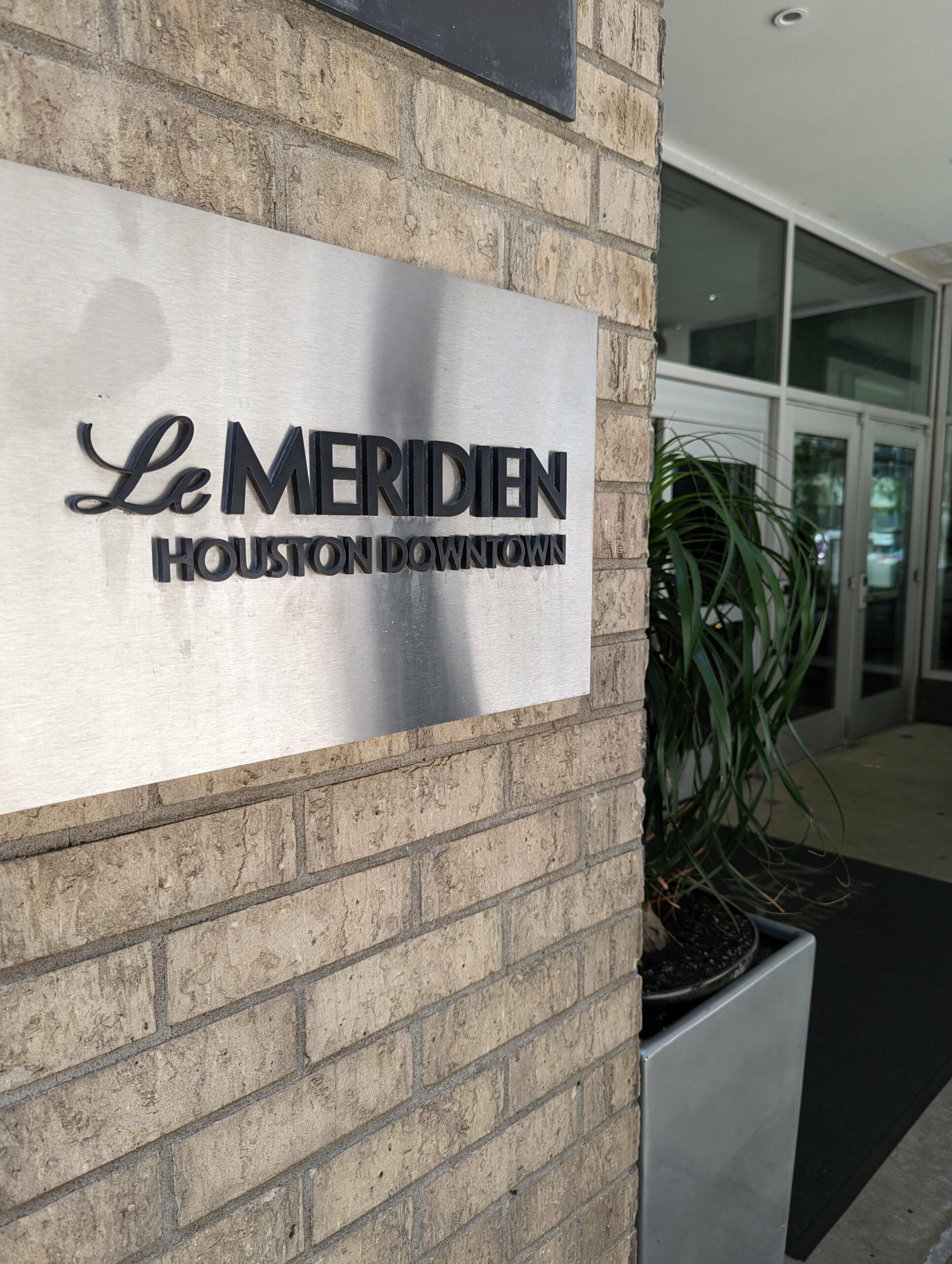 We took the elevator to the lobby, which is 1 level up.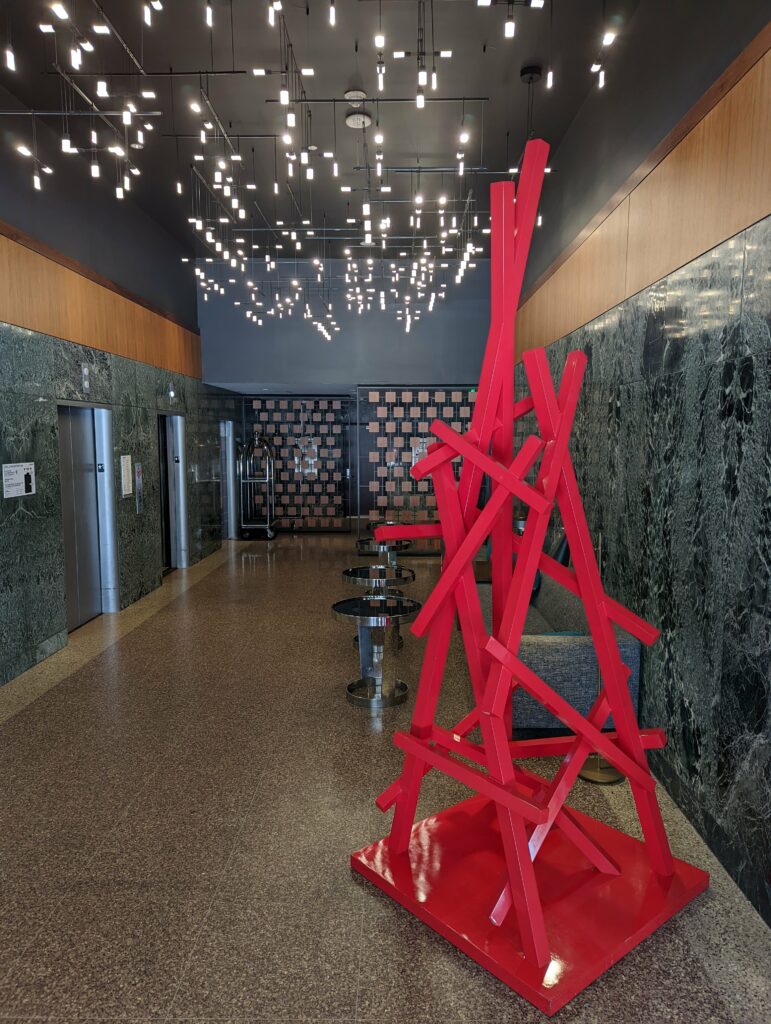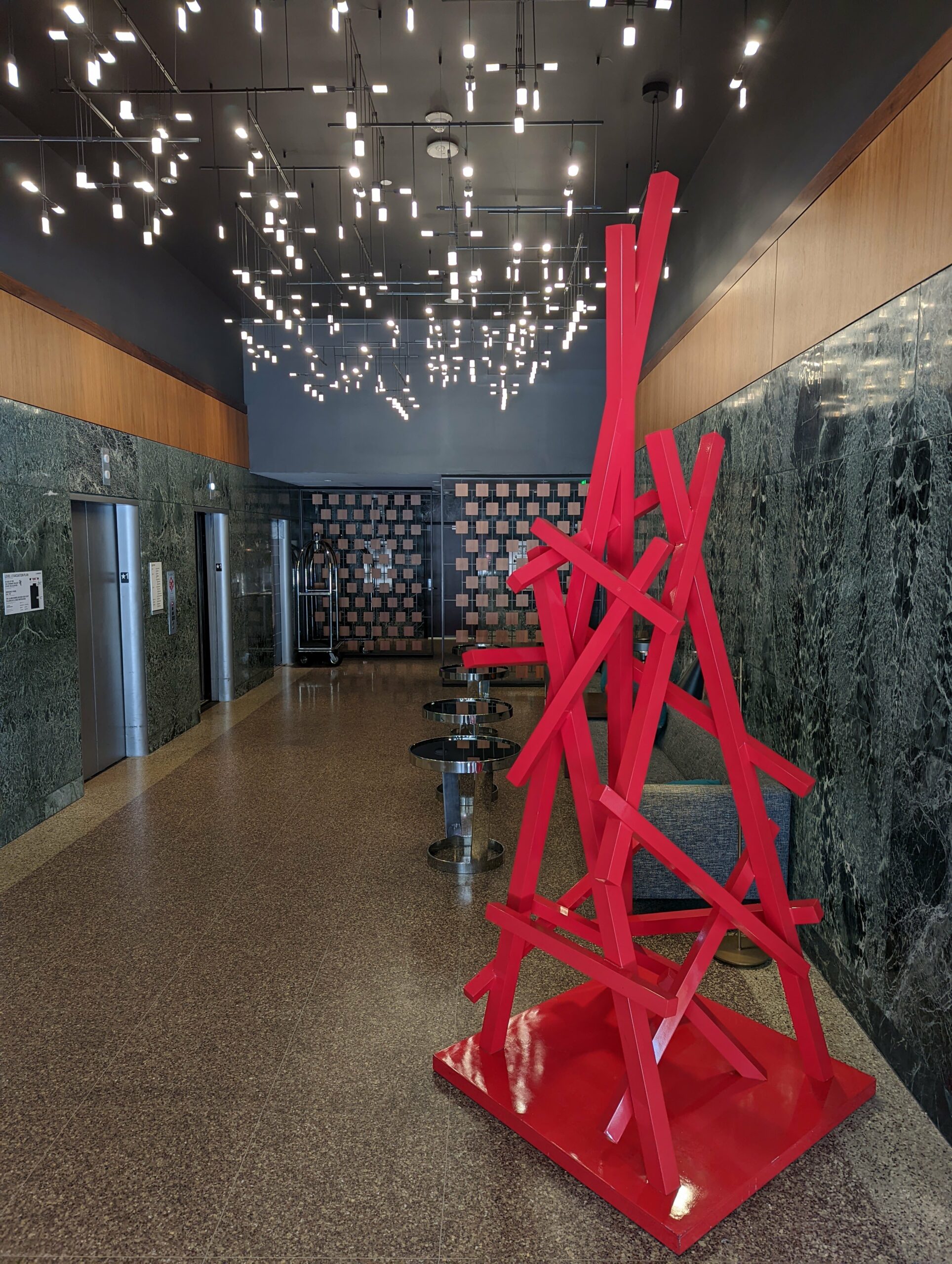 The agent was friendly and checked us in very quickly. They brag about offering great Southern hospitality and that is definitely what I experienced during my stay, at least on the few instances when I interacted with employees.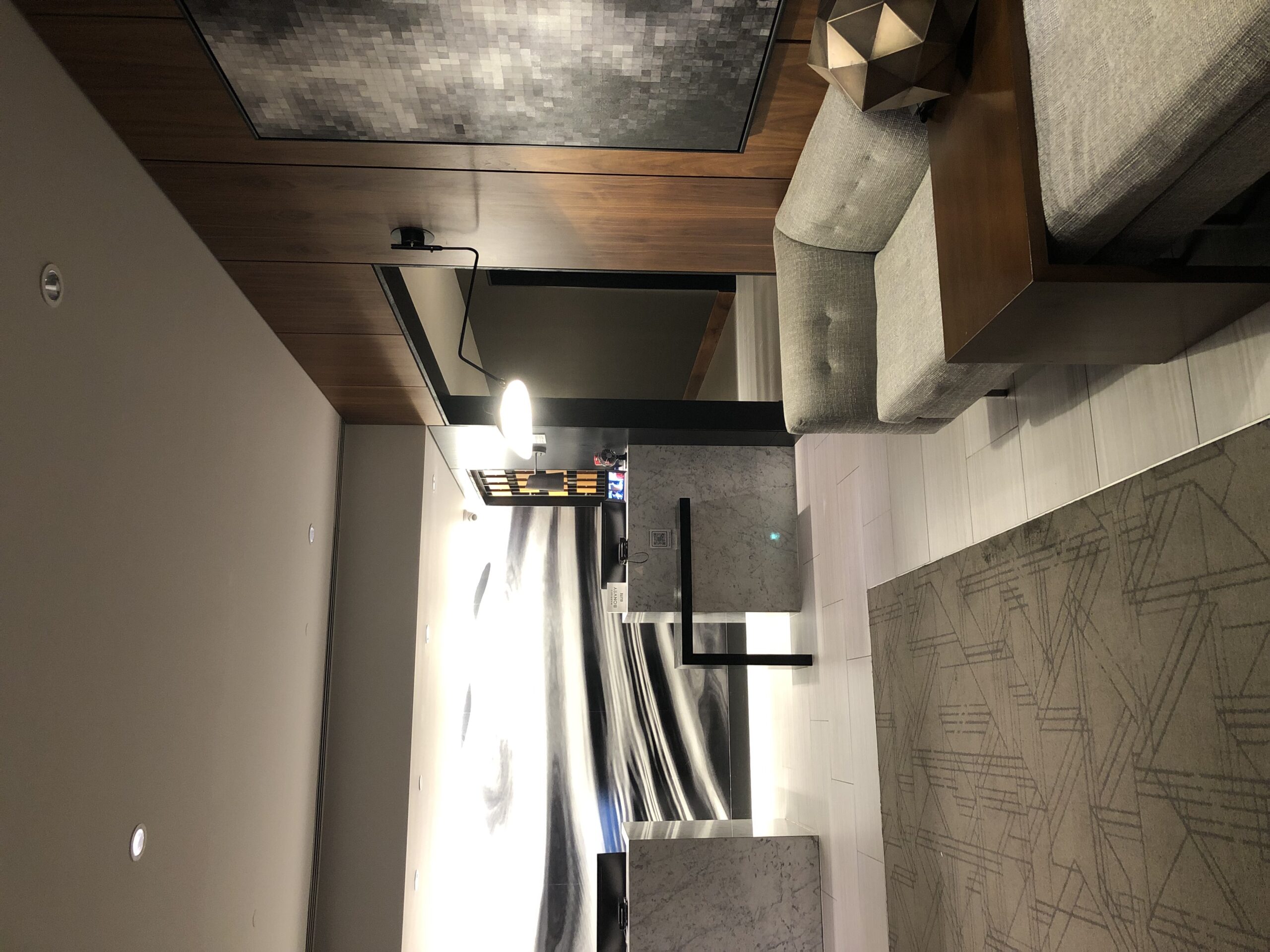 The first impression of the Le Méridien Houston Downtown is definitely great.
Le Méridien Houston Downtown — Room
I got a standard King Guestroom; room 502 on the 5th floor of the Le Méridien Houston Downtown.
It is an average-sized room (400 square feet) and had a very good looking modern design.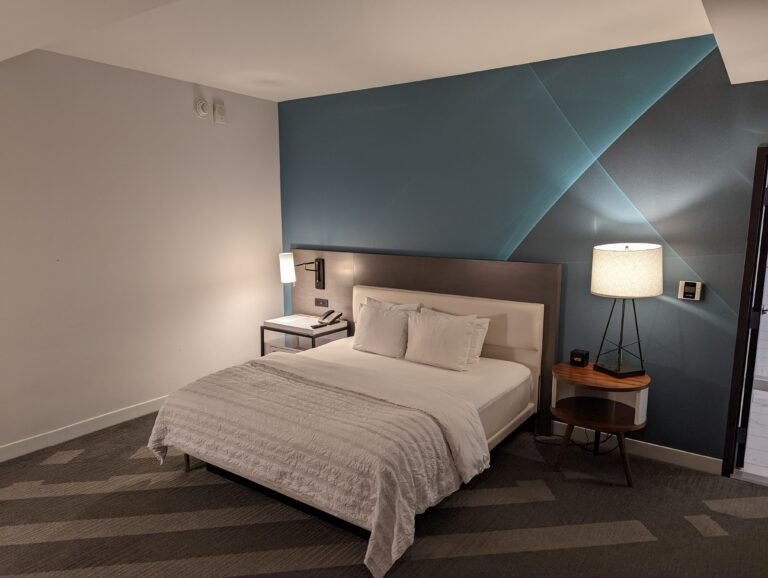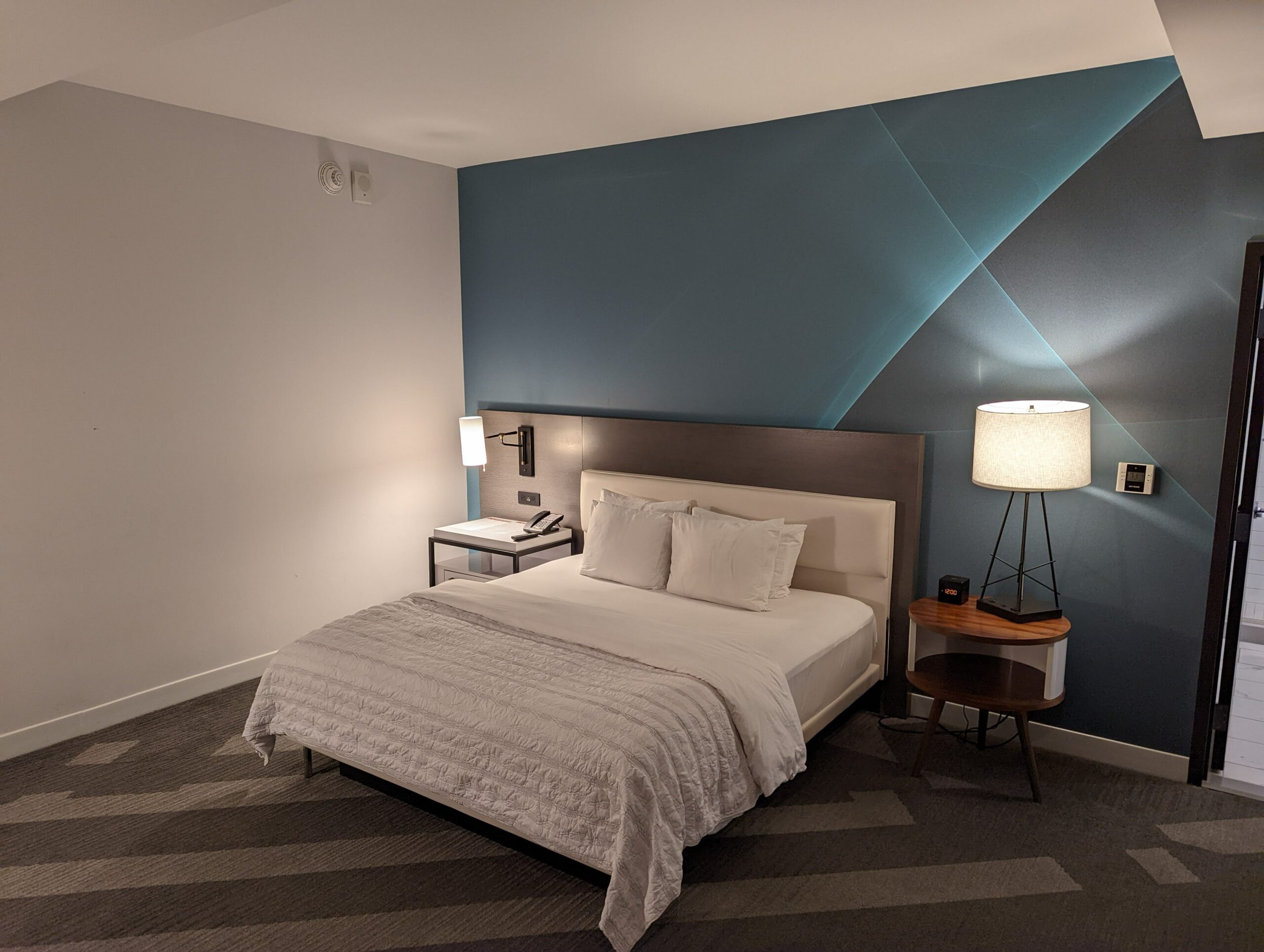 There's the usual desk and a nice armchair right when you enter the room. Both that one and the chair for the desk are comfortable.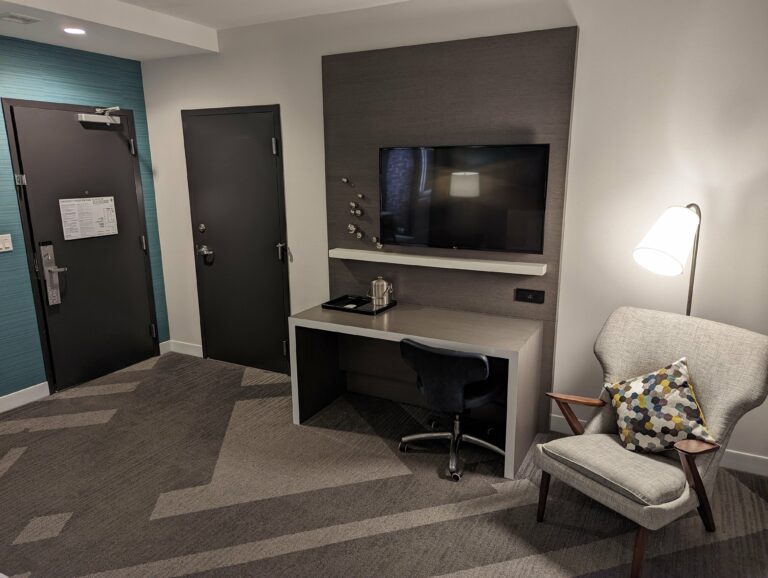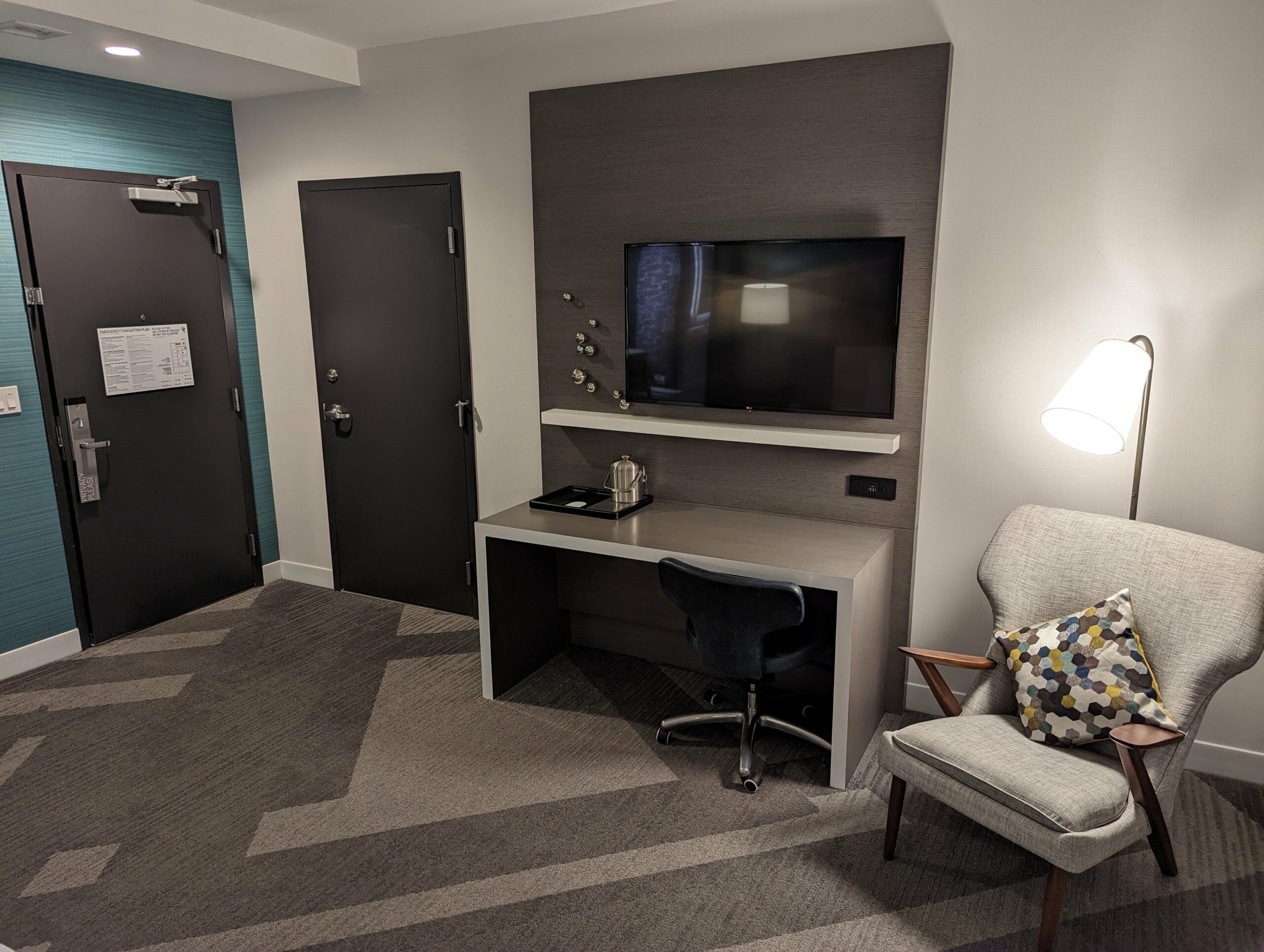 The marble bathroom is just as classy and well-maintained. Maybe not a huge one, but more than enough room to move around.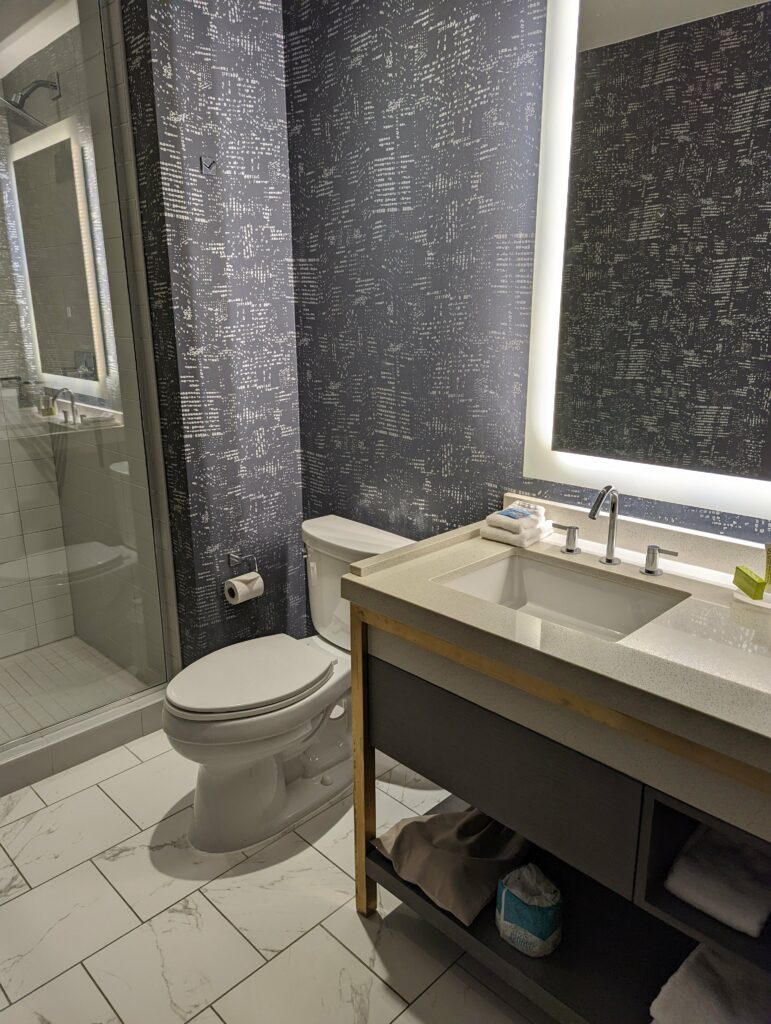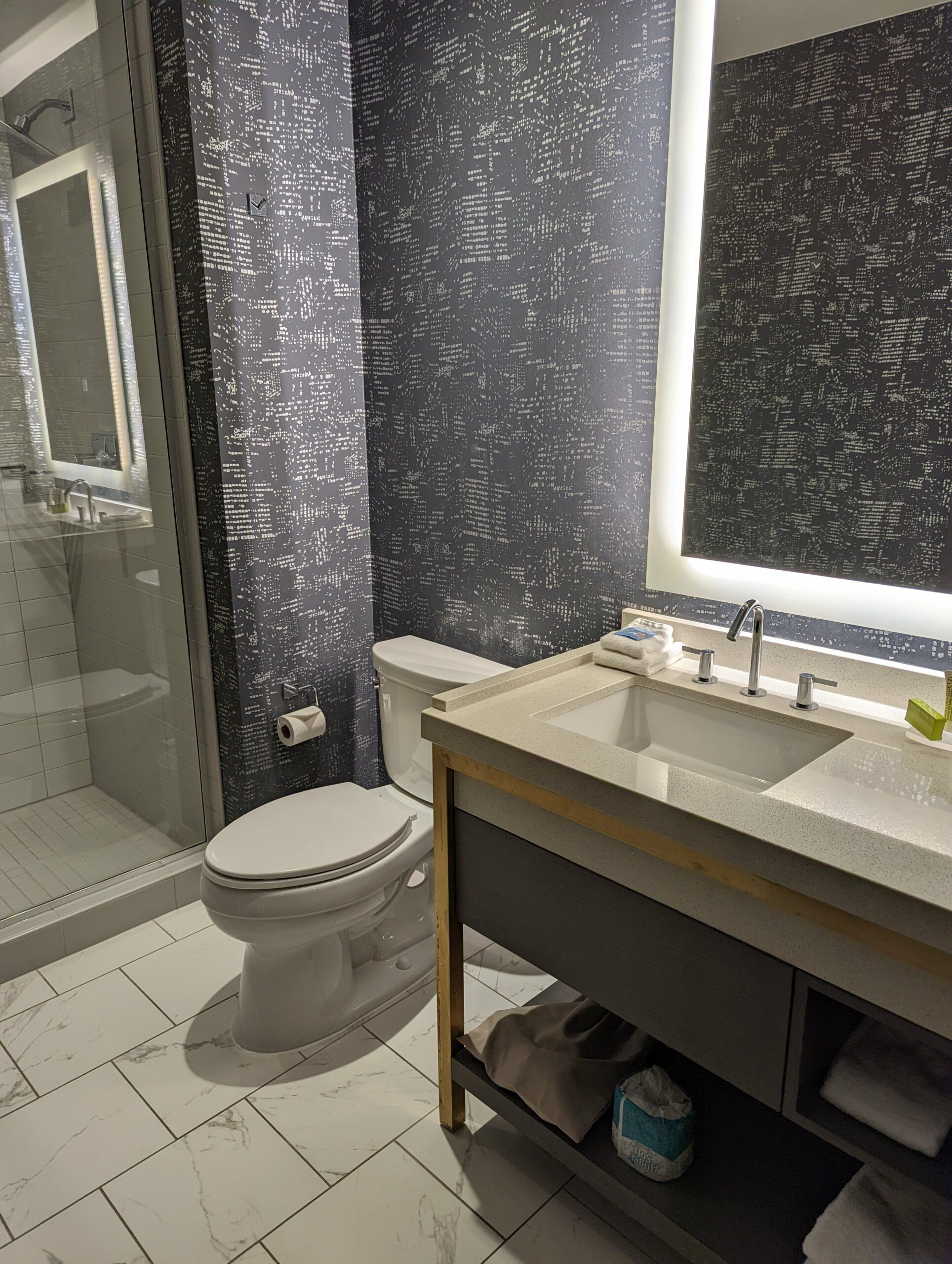 There's a modern shower (with great water pressure) and no bathtub.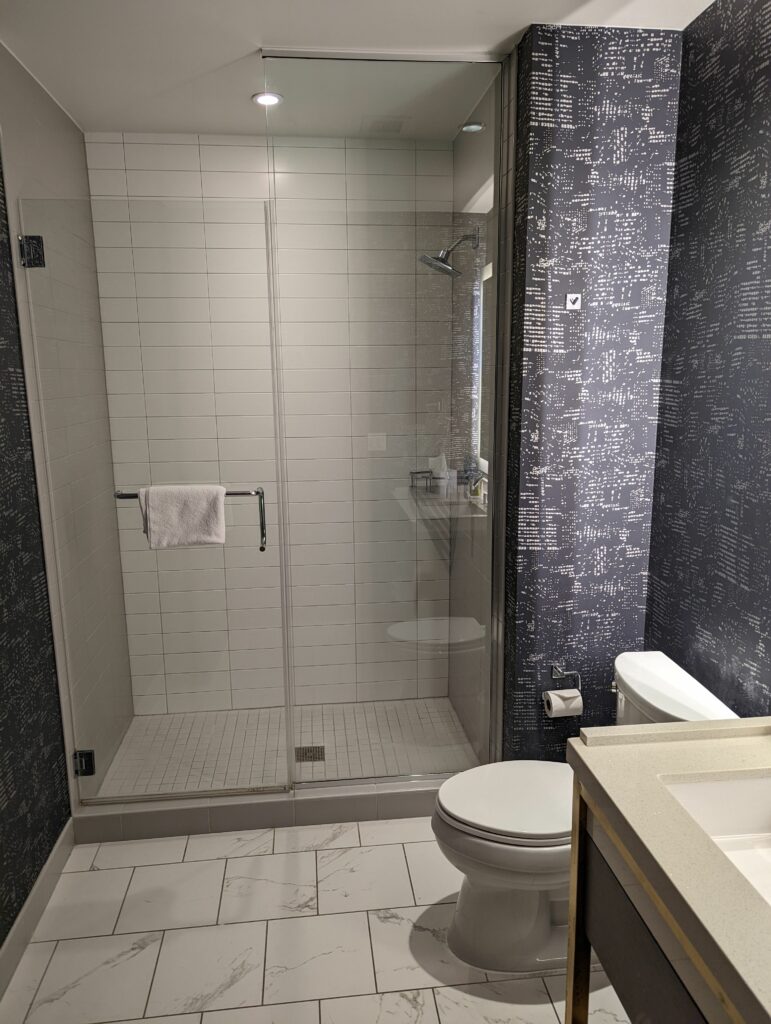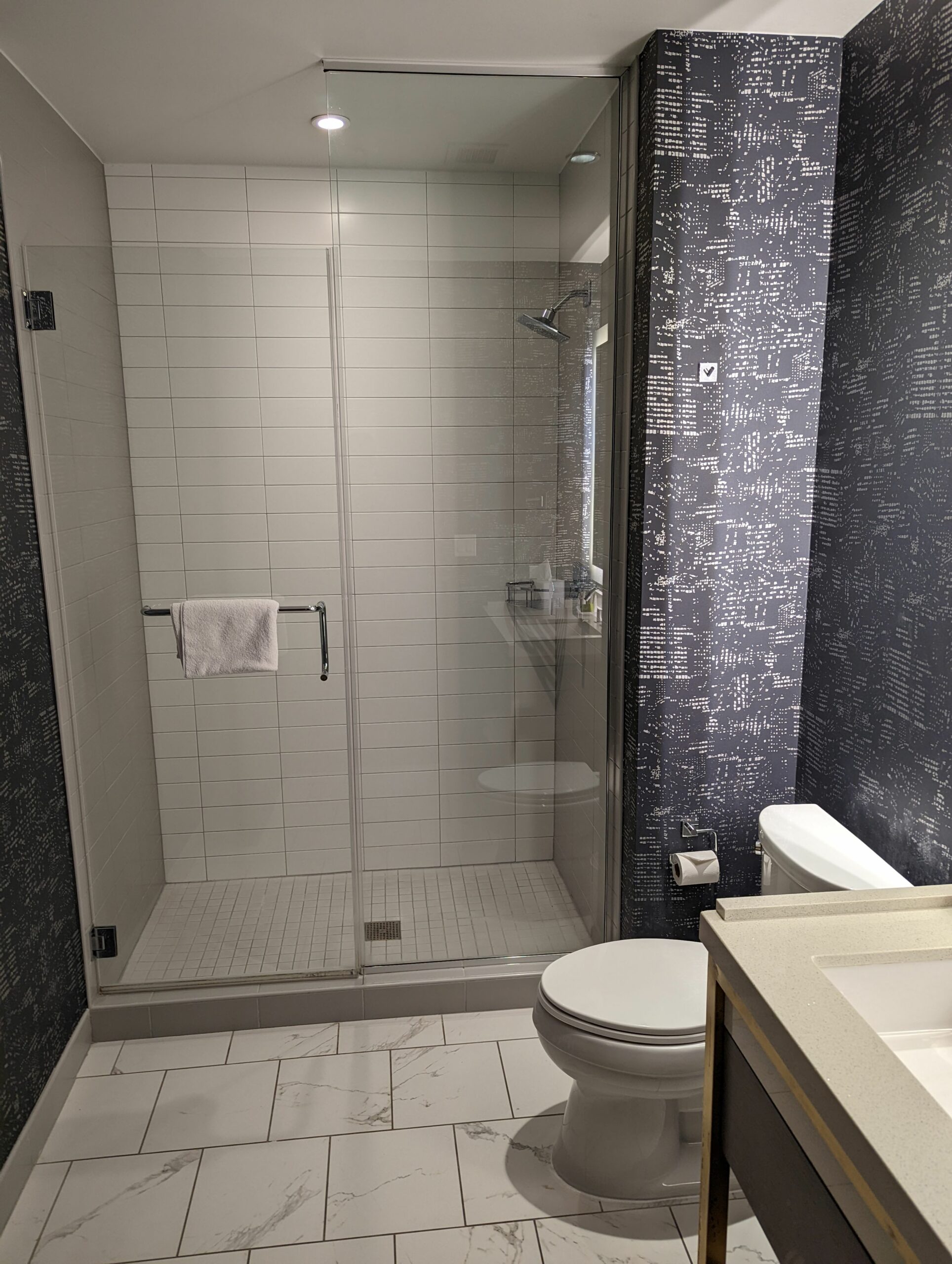 The amenities are by MALIN+GOETZ.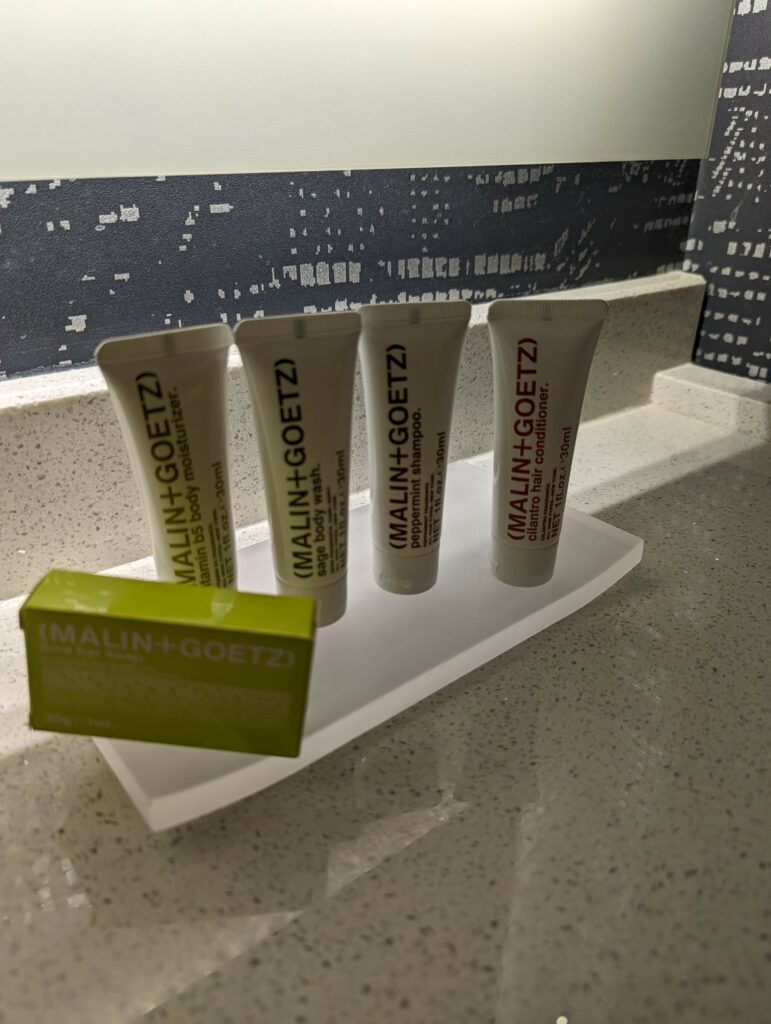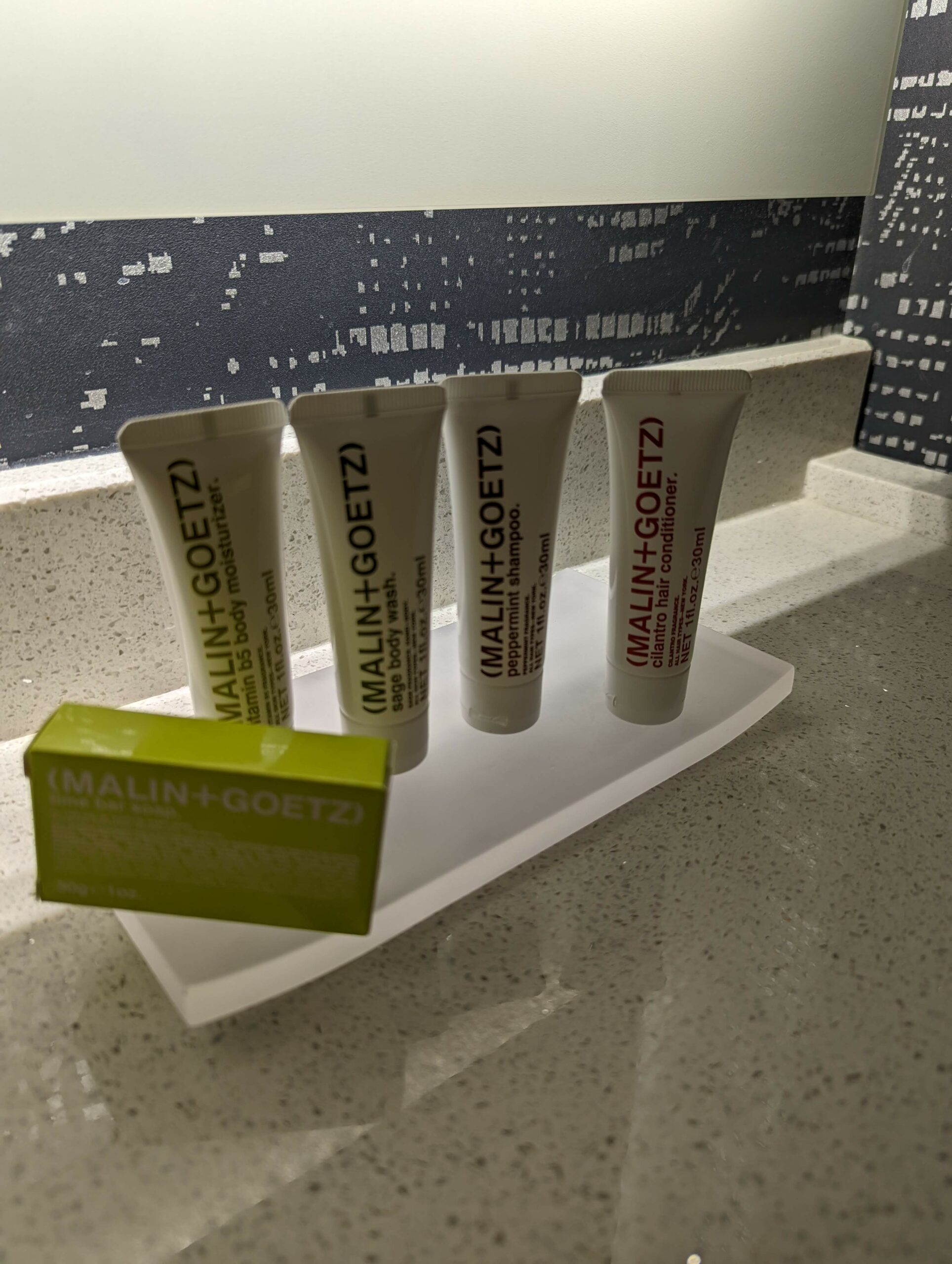 There's a lighted mirror and decent counter space. Everything is really top notch.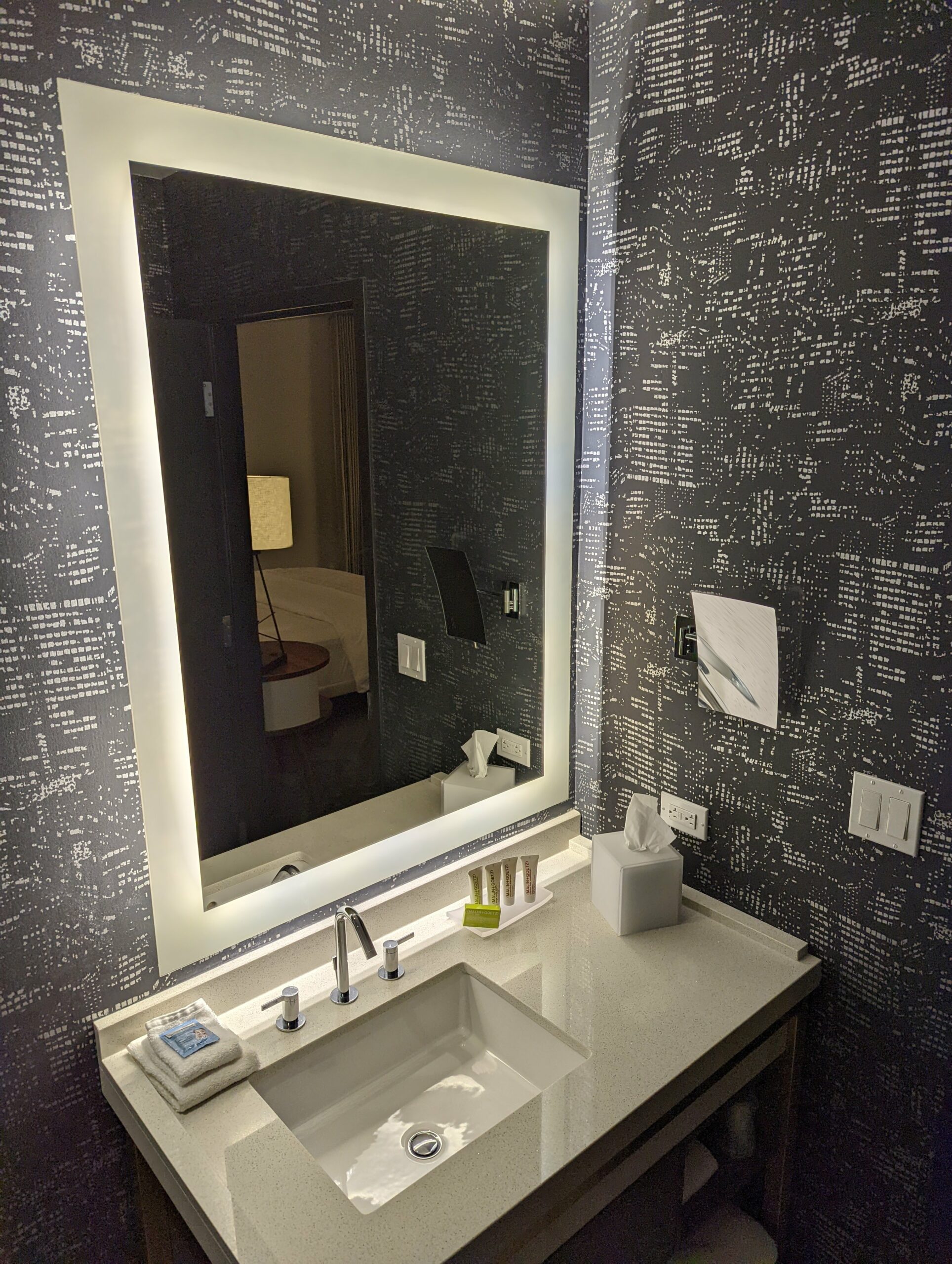 Back into the main room, the closet is behind a sliding door and unfortunately there are no bathrobe in there.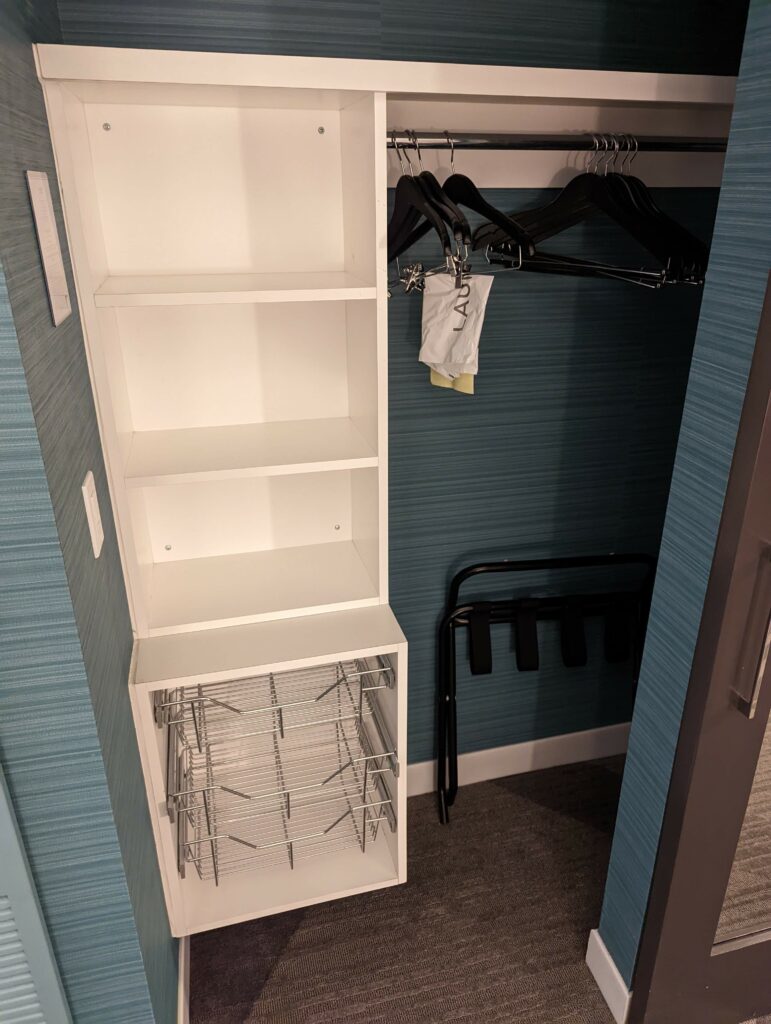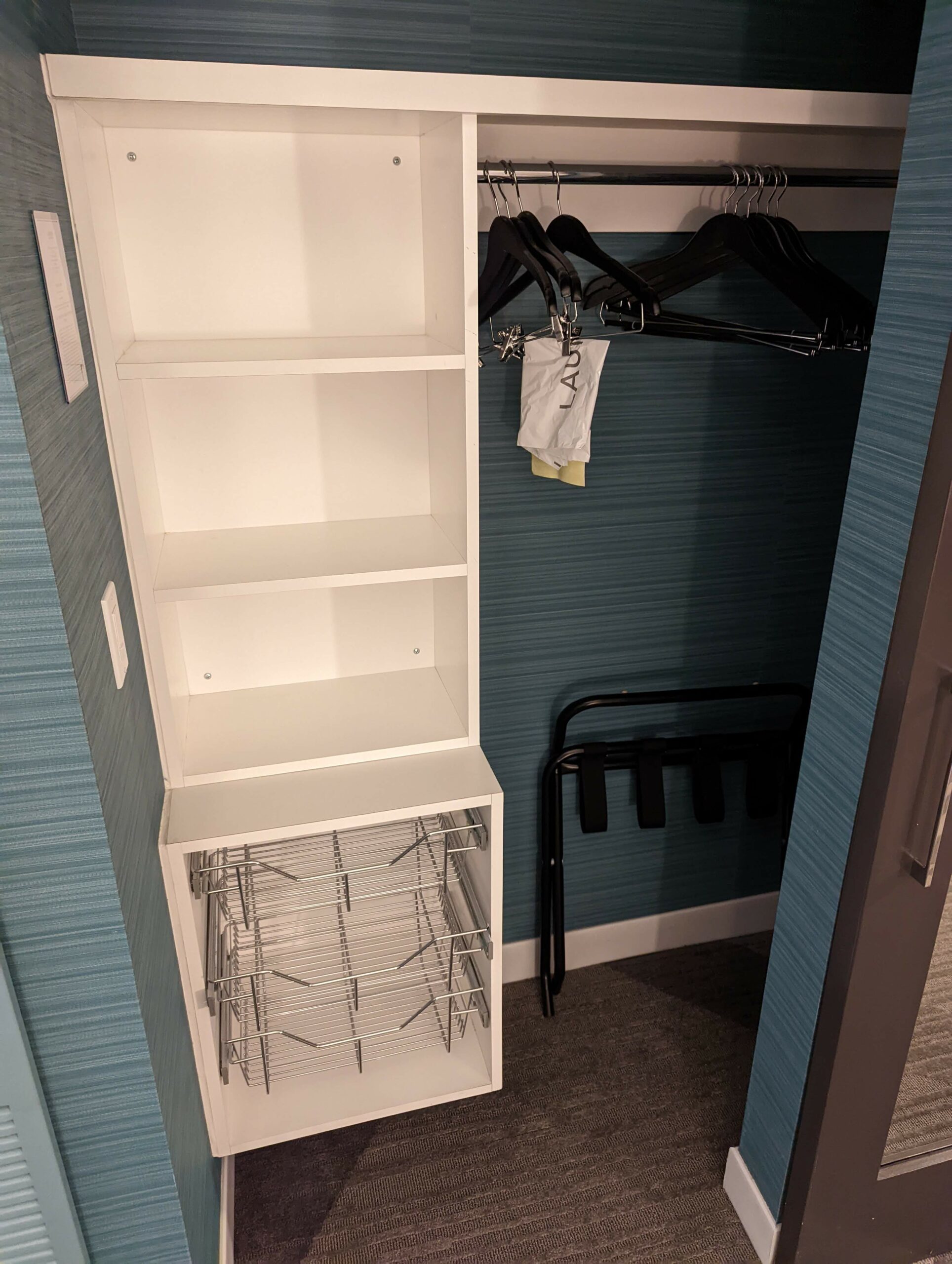 There's a nice little nook for the coffee machine and refrigerator.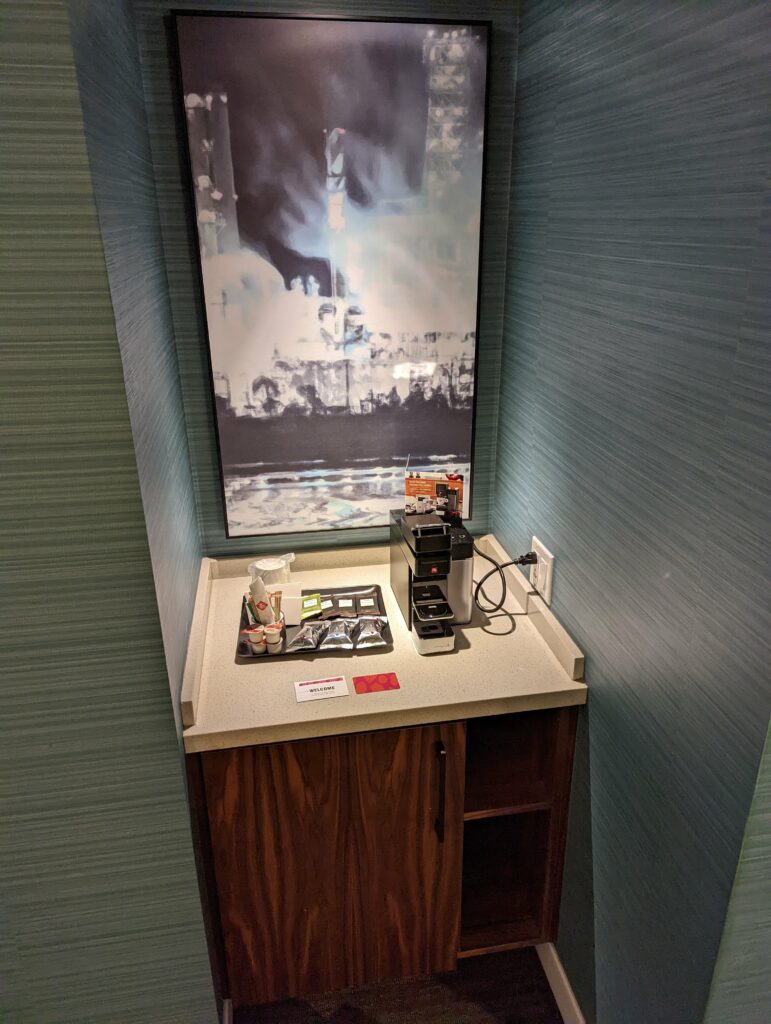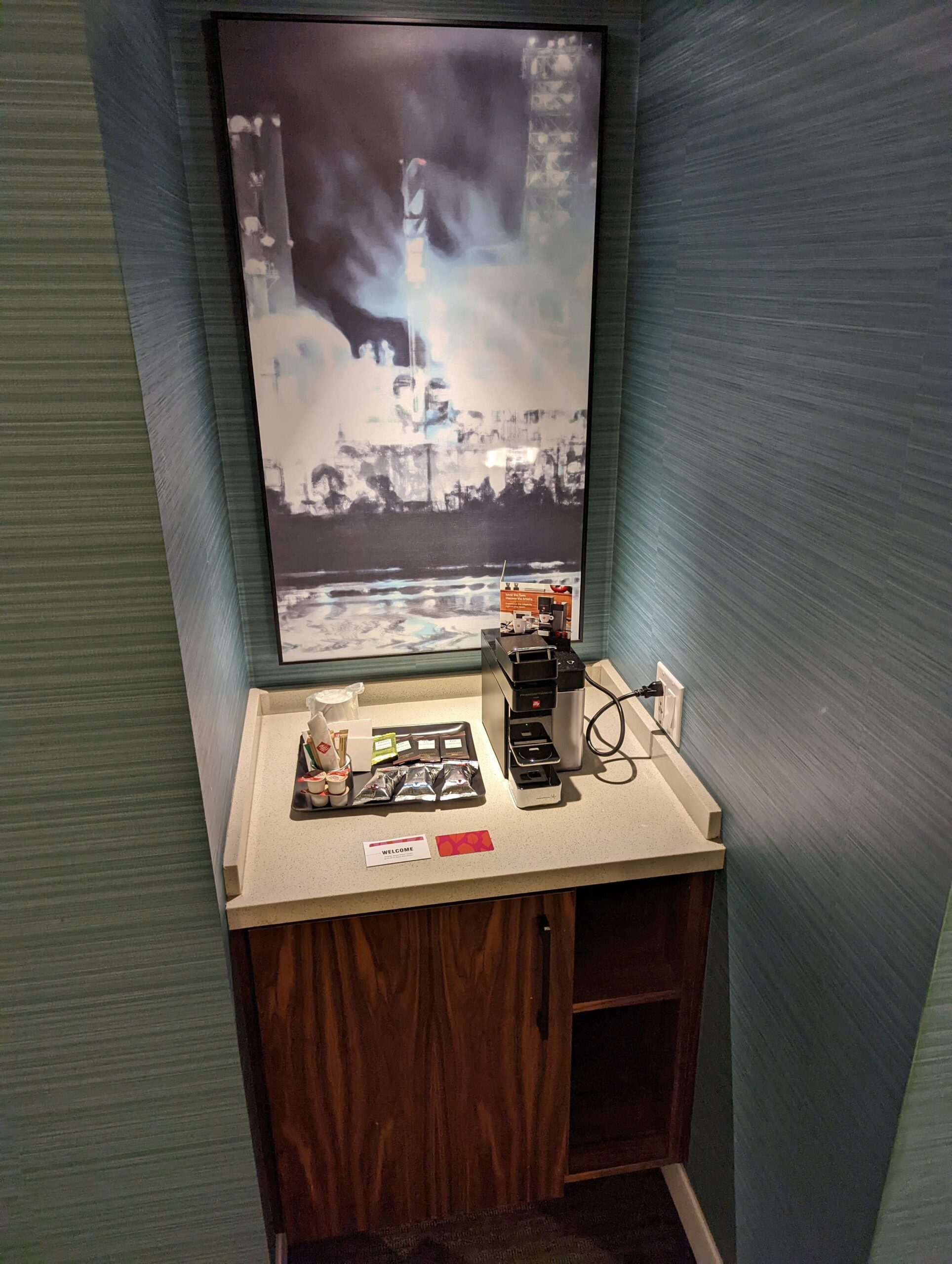 There are convenient power outlets next to the bed, on both sides (both have different nightstand models too).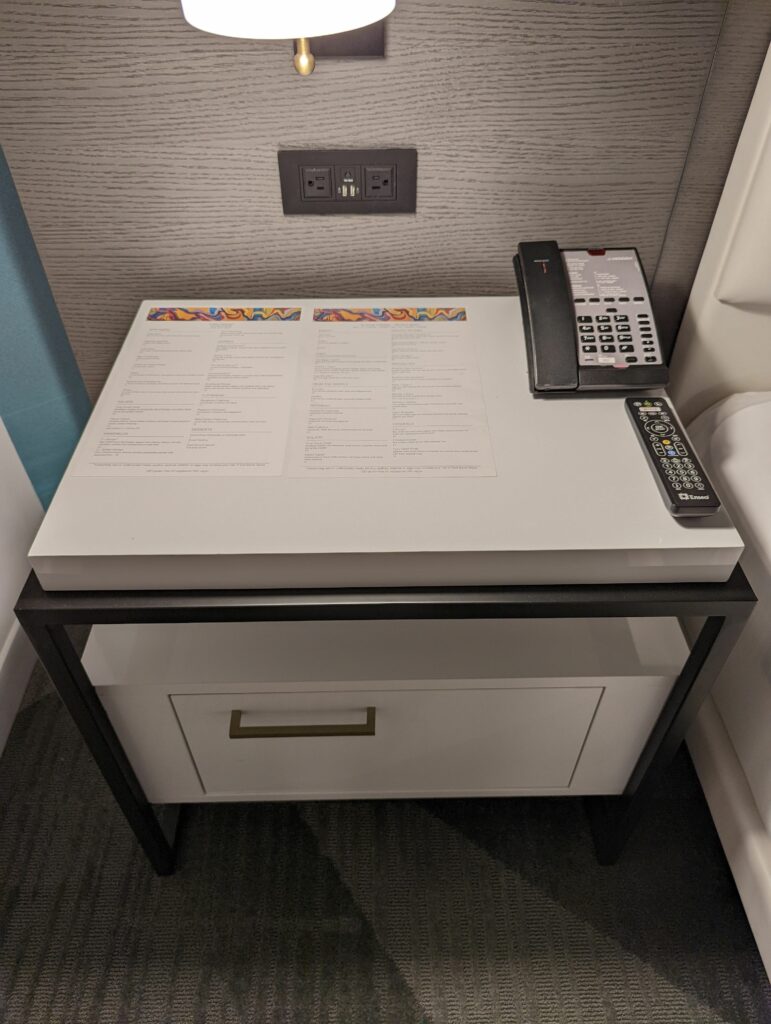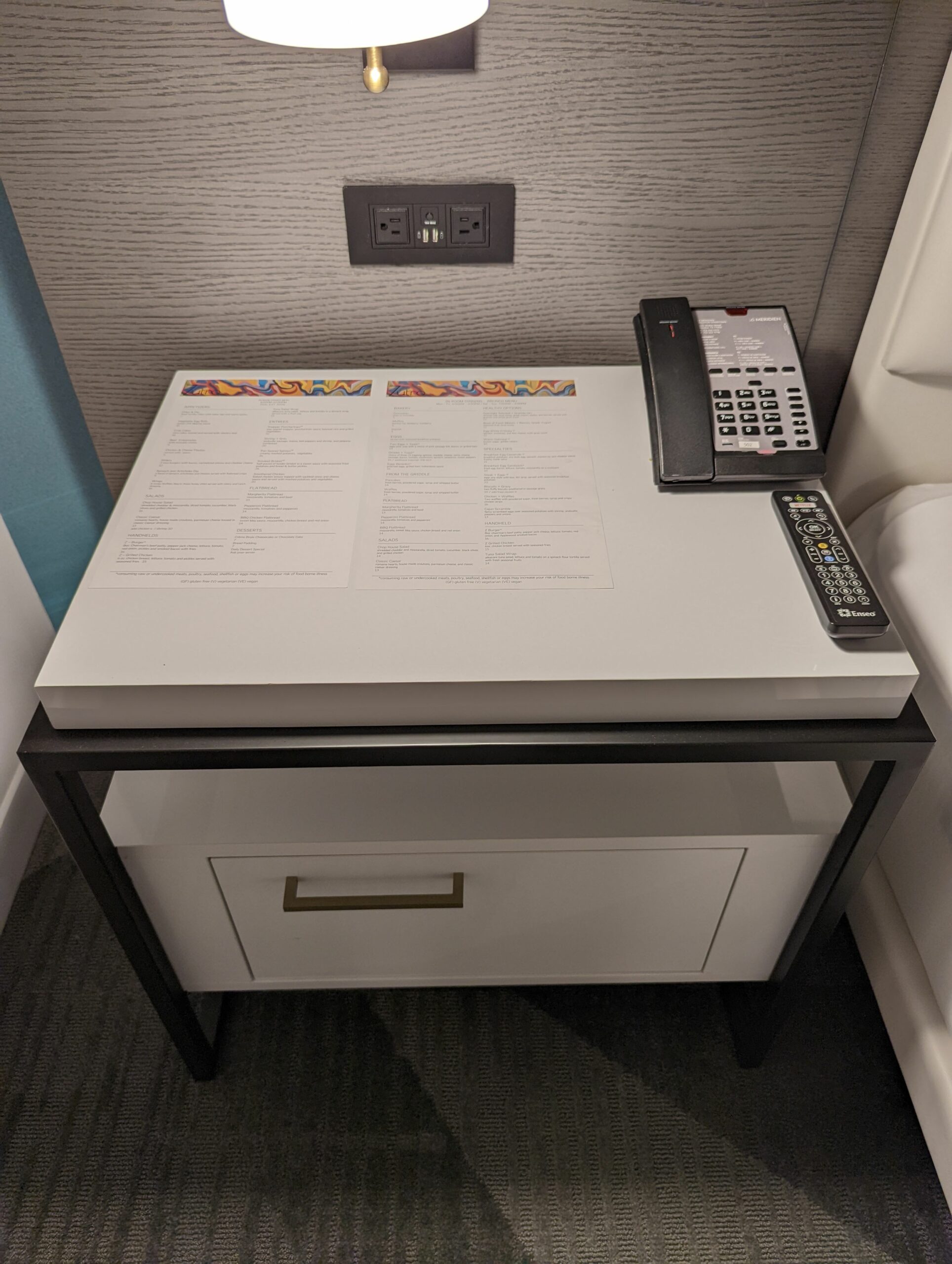 The bed is very comfortable, as is almost always the case with hotels that belong to the Marriott chain in my vast experience.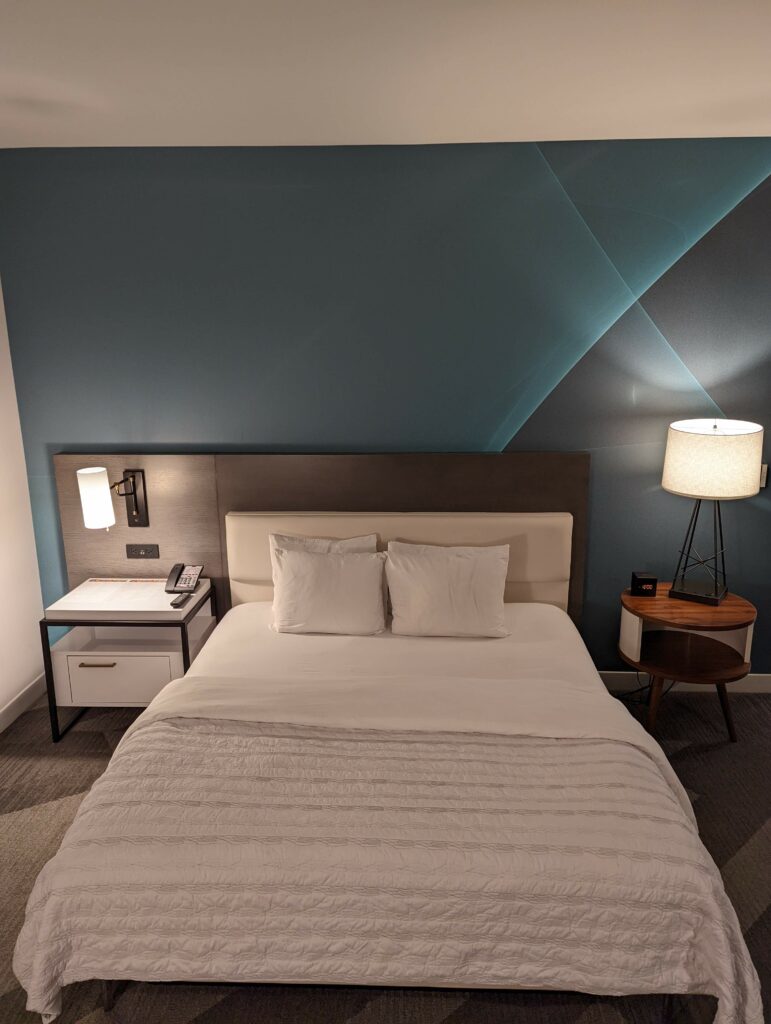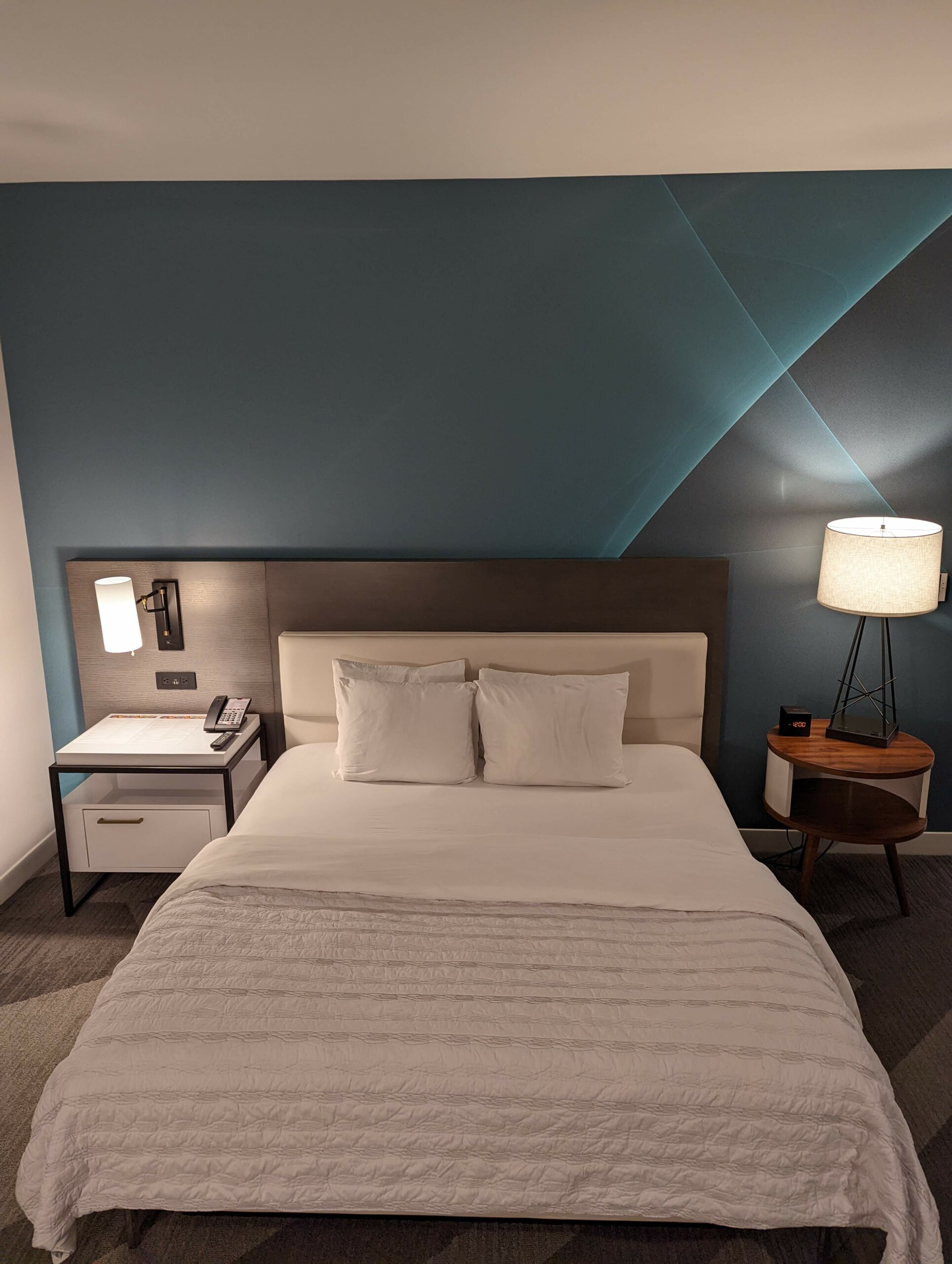 And the 50-inch TV is aligned on the other wall, above the desk.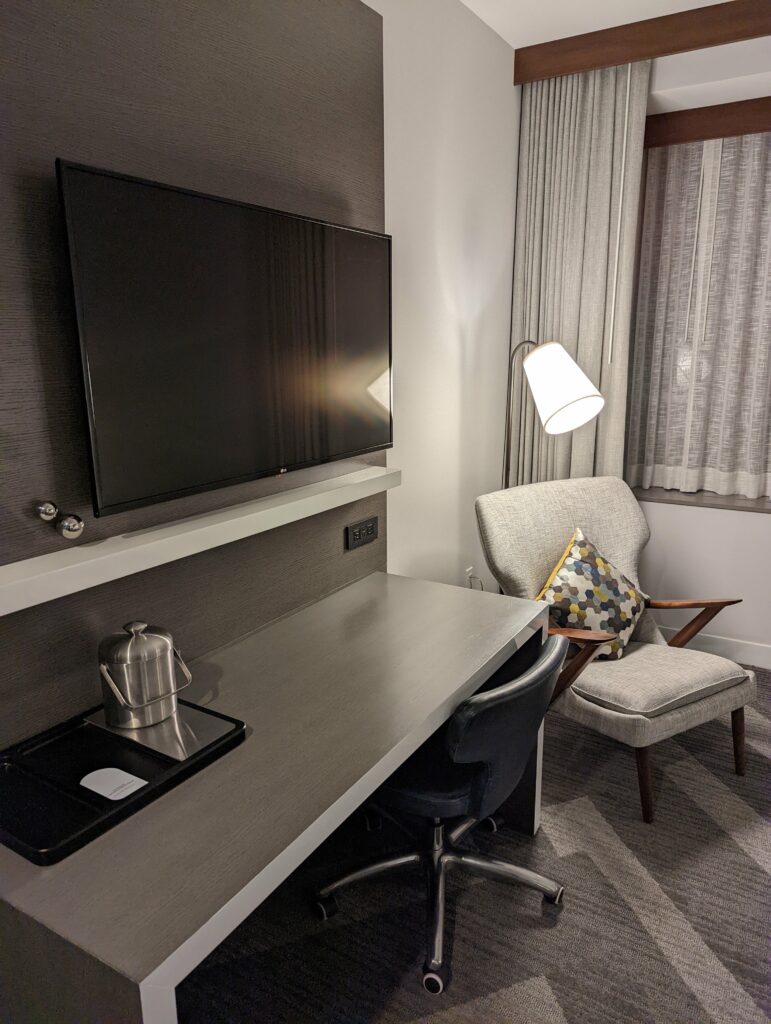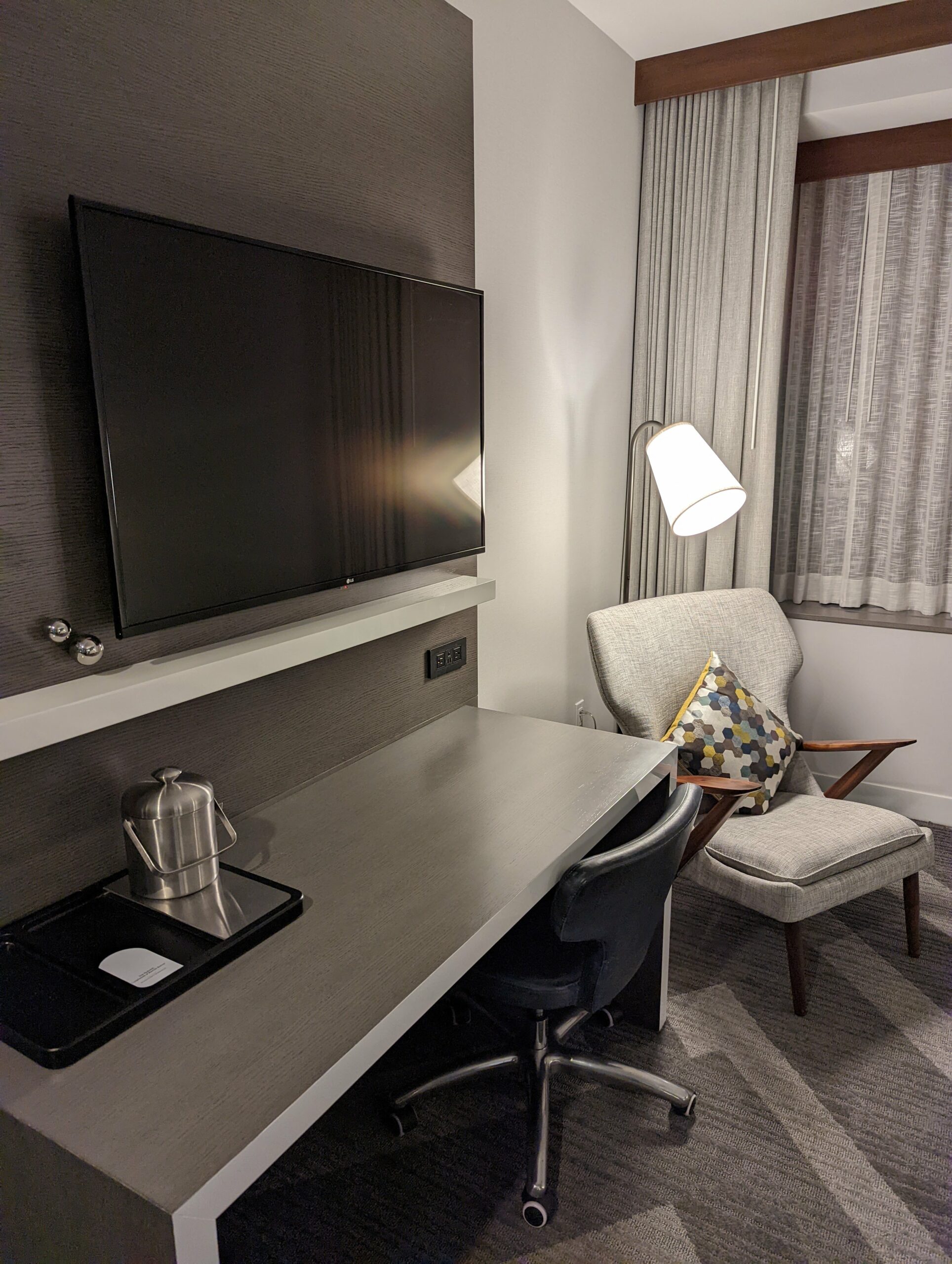 Overall, it is a great (and stylish) room.
Le Méridien Houston Downtown — Amenities
The highlight of the Le Méridien Houston Downtown's amenities is without a doubt the epic rooftop terrace called Z on 23. You guessed it: it's on the 23rd floor.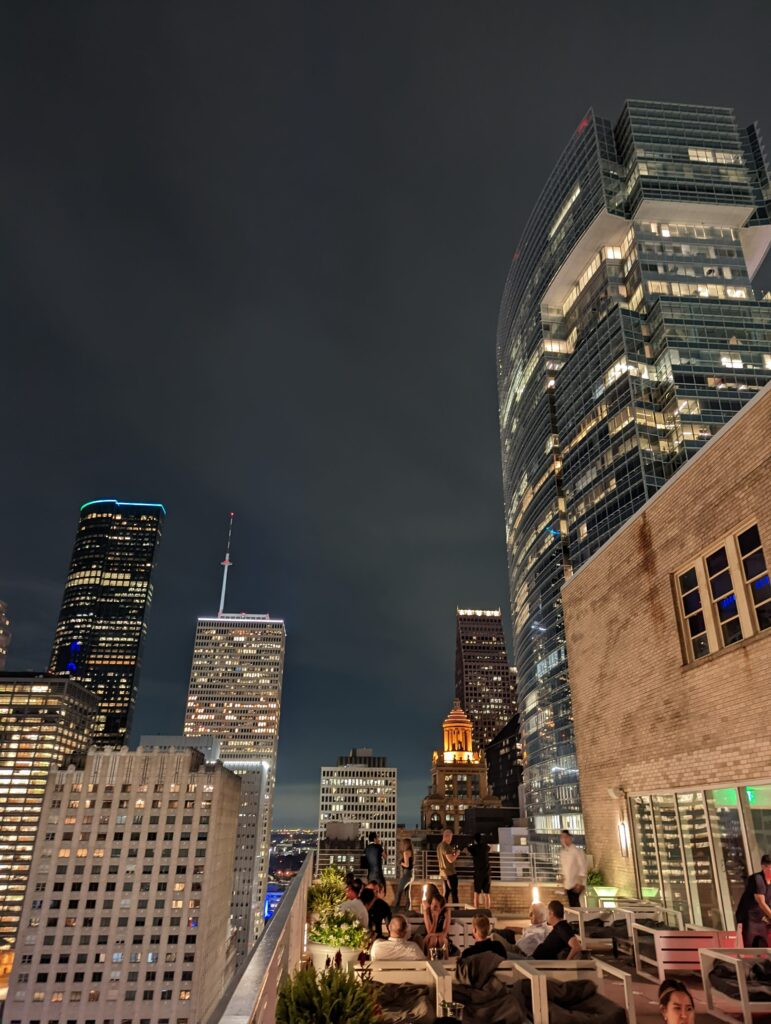 I'm sure you can appreciate those views even if you aren't an architecture/skyline/skyscraper nerd as I am.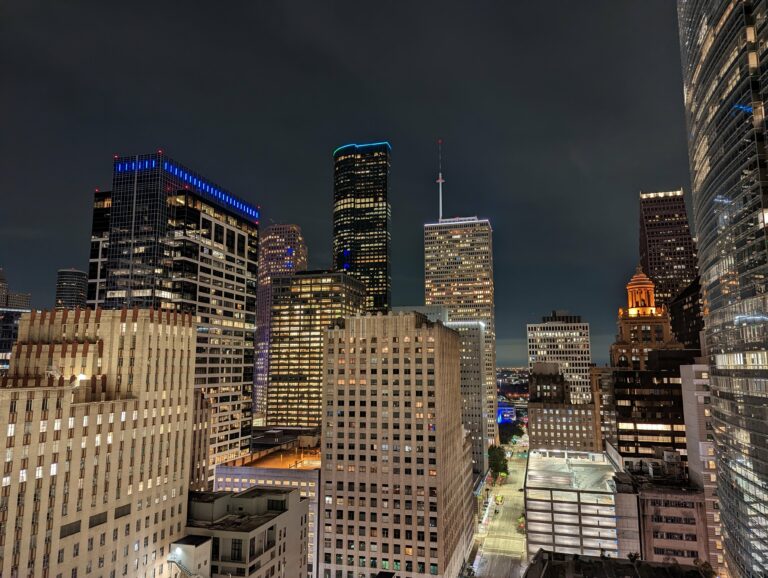 It's the highest rooftoop terrace in all of Houston. You can go up during the day even though the bar itself isn't open until 3PM.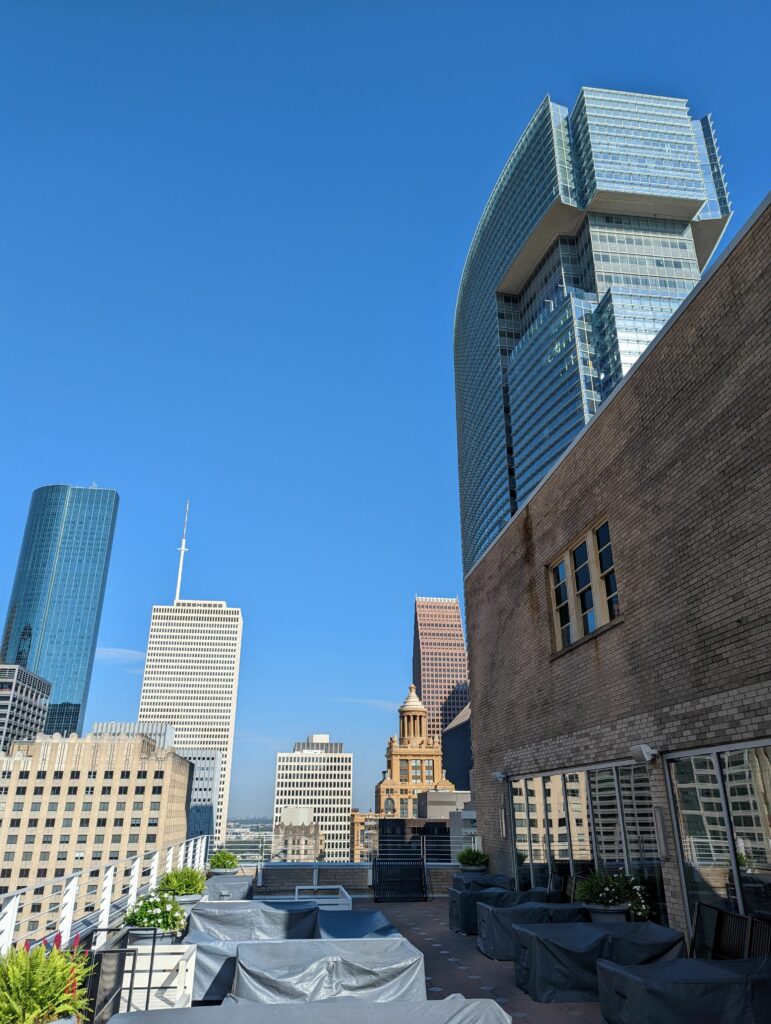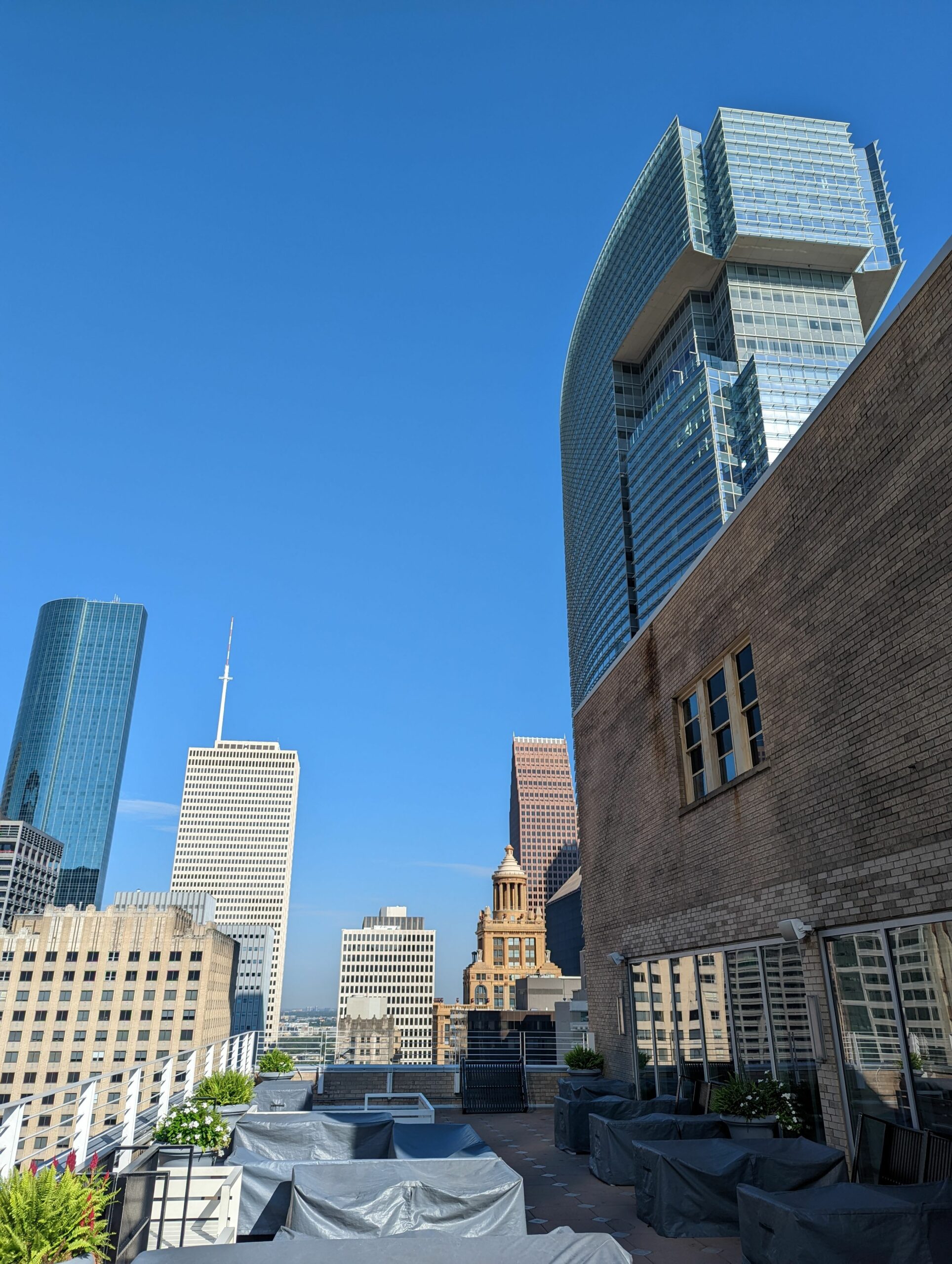 Unfortunately, the Le Méridien Houston Downtown has no executive lounge (also called a hotel lounge).
The common area adjacent to the lobby is very nice though, if you want to relax or even get some work done other than in the room.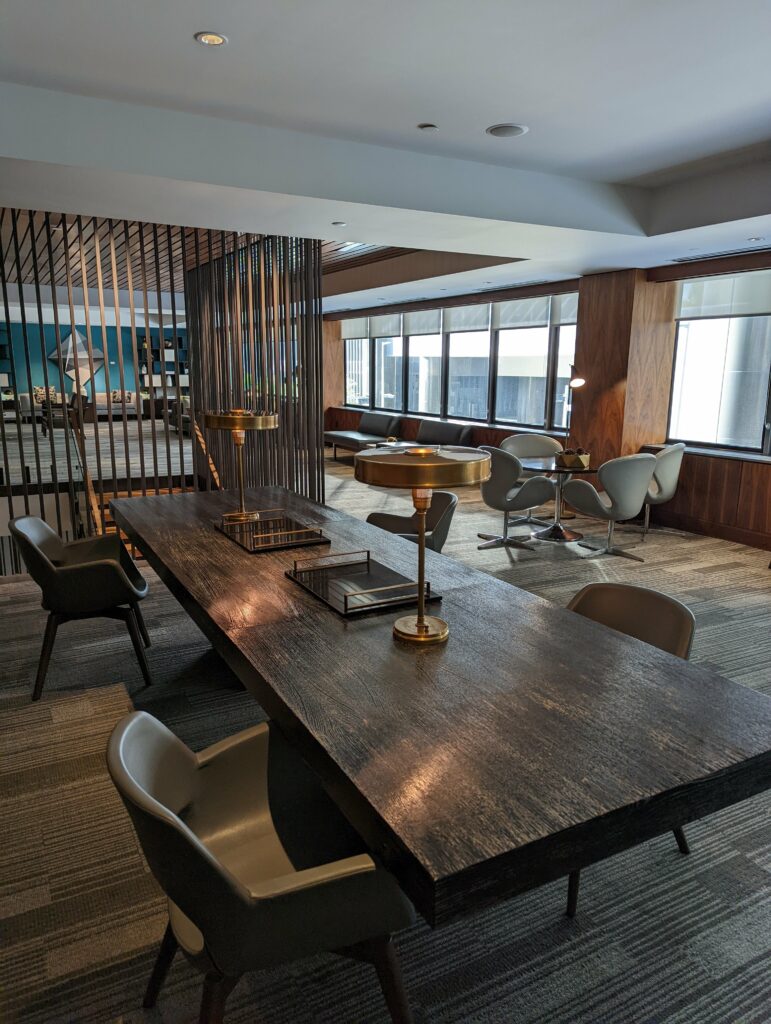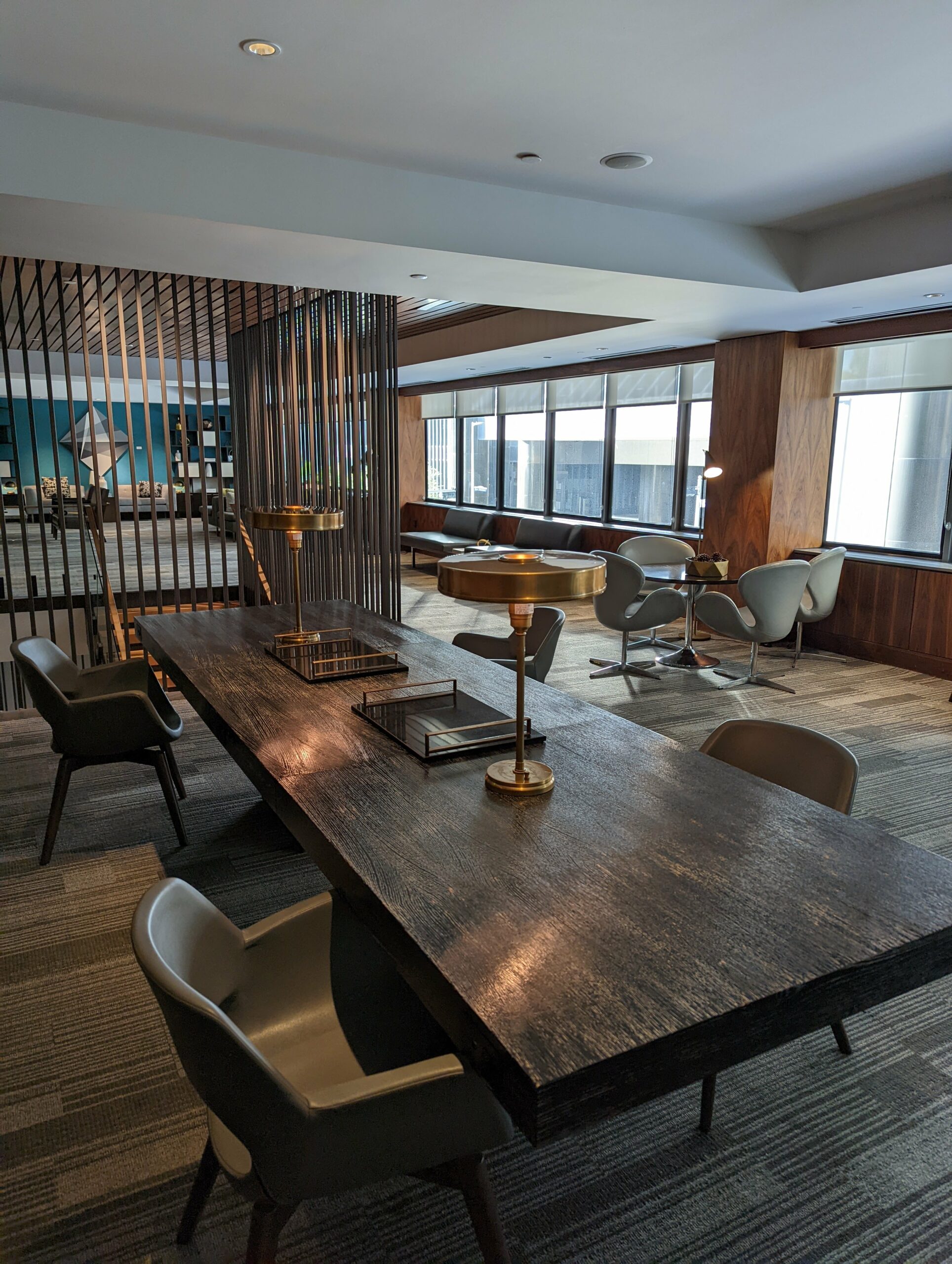 There's a lot of space on that level.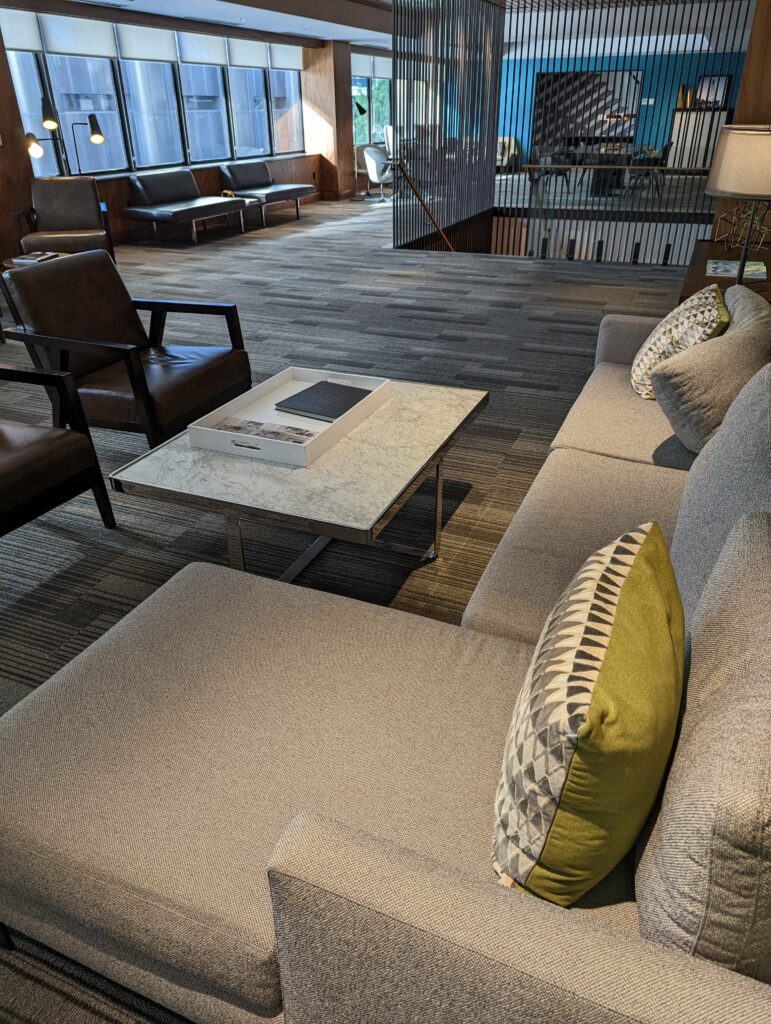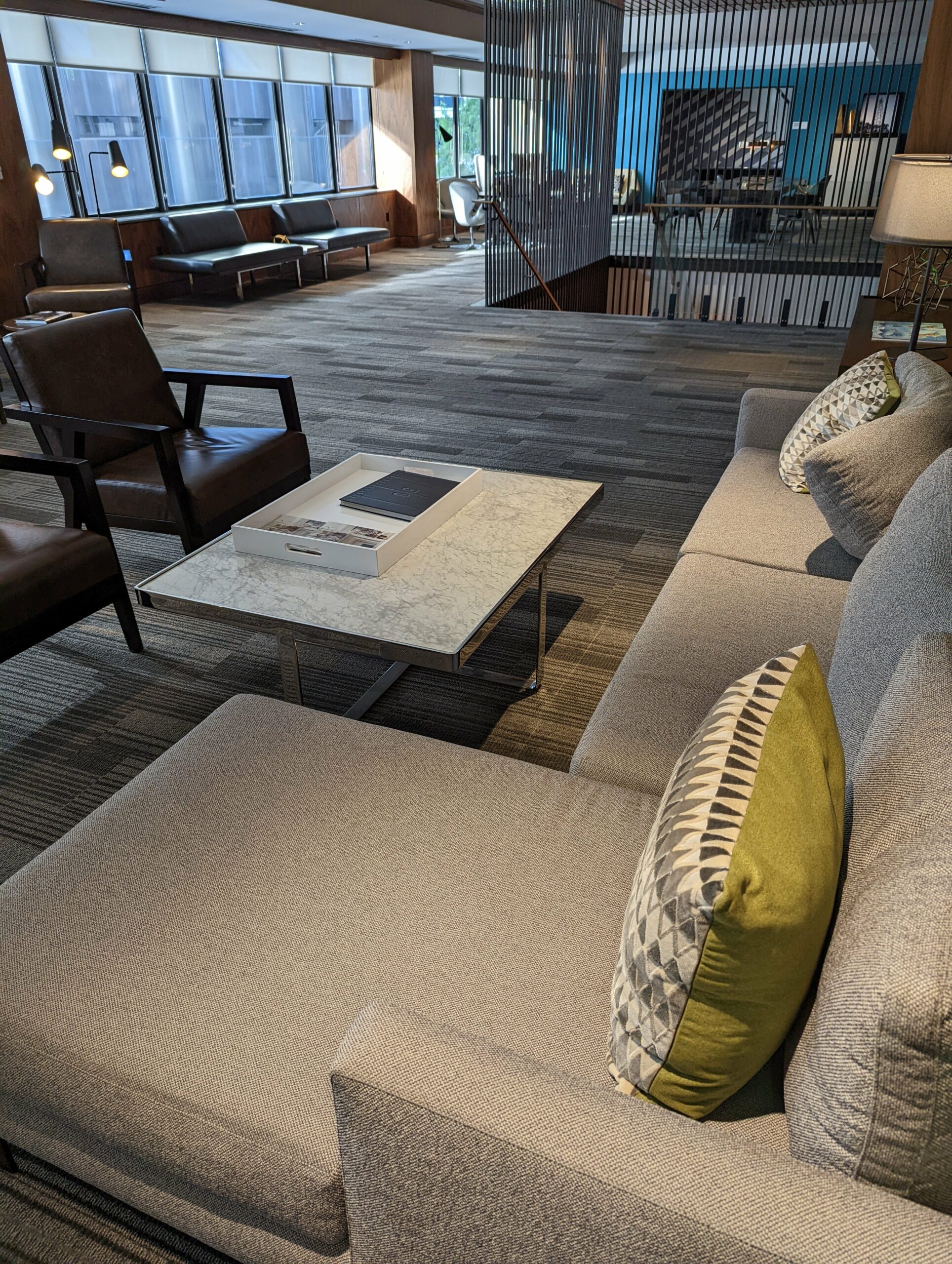 There's even some art (fitting with Houston having the world's 12th-largest museum, which is worth a visit).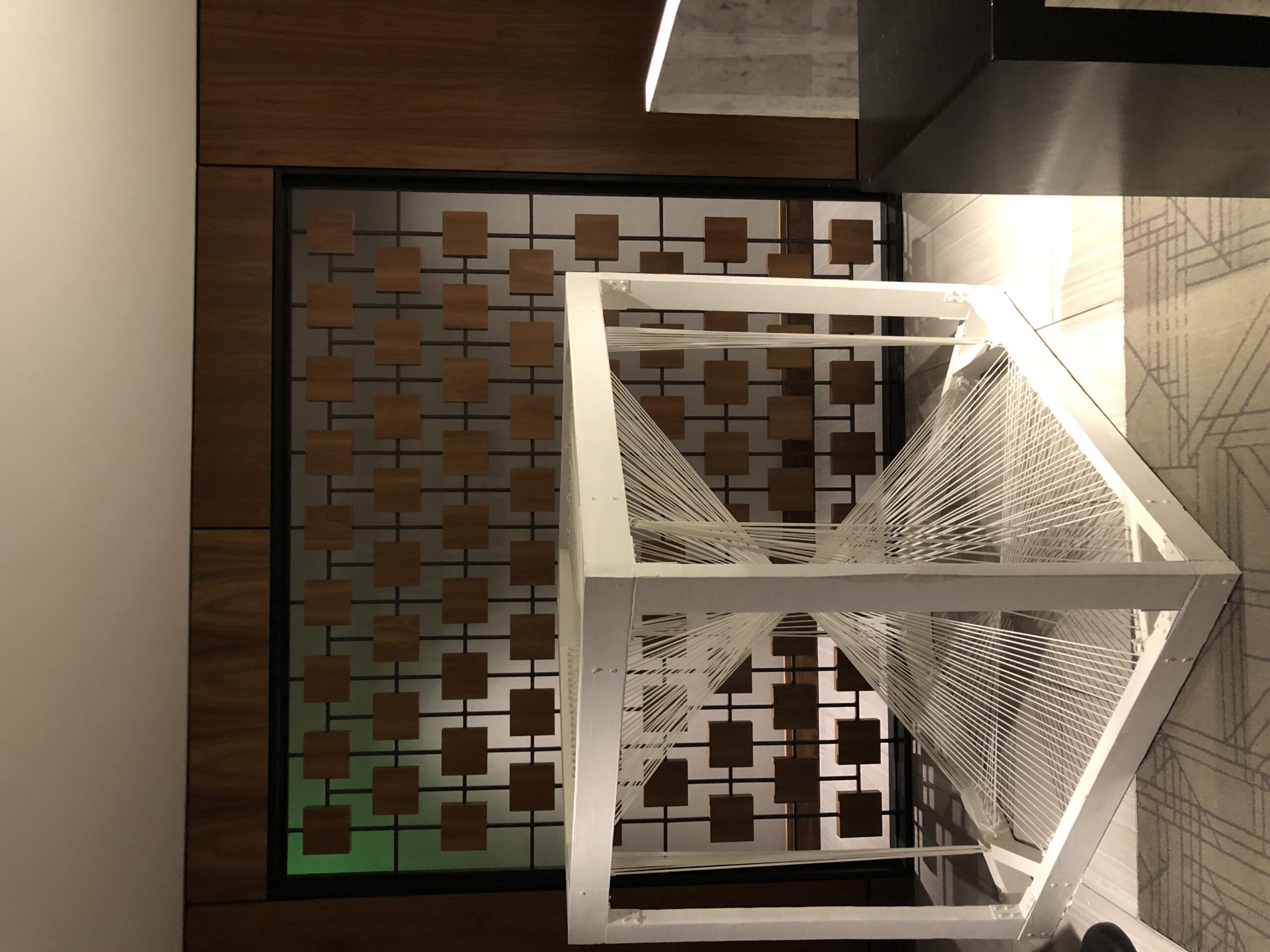 Apart from the main elevators, there's also a staircase that leads you directly to the restaurant.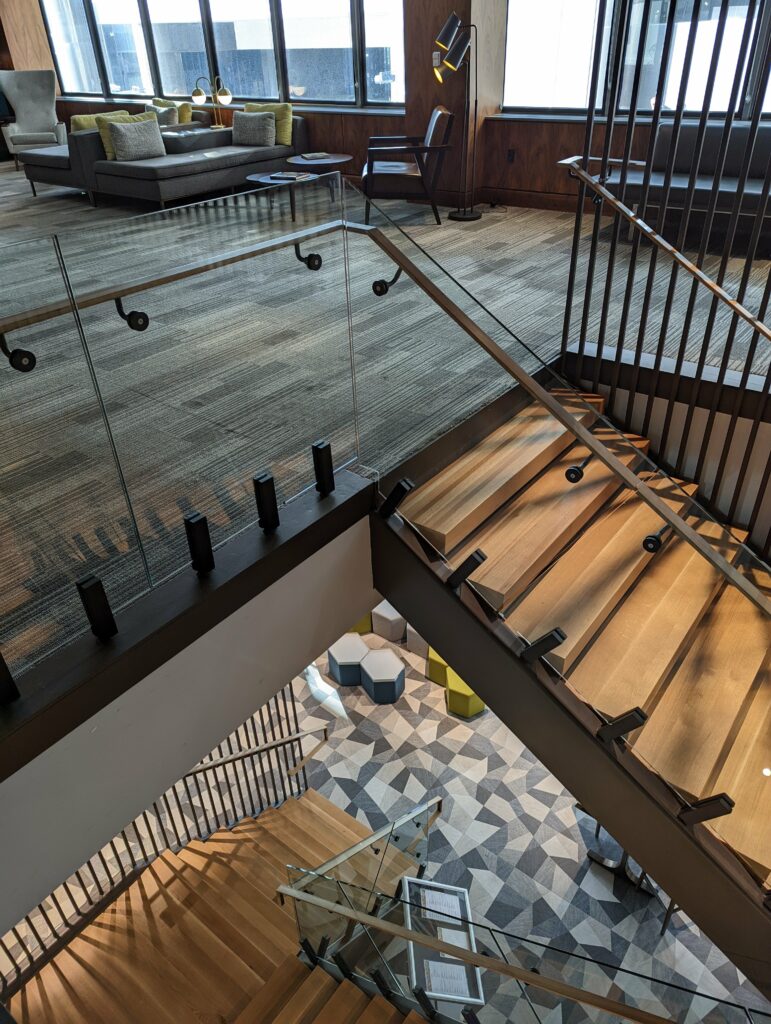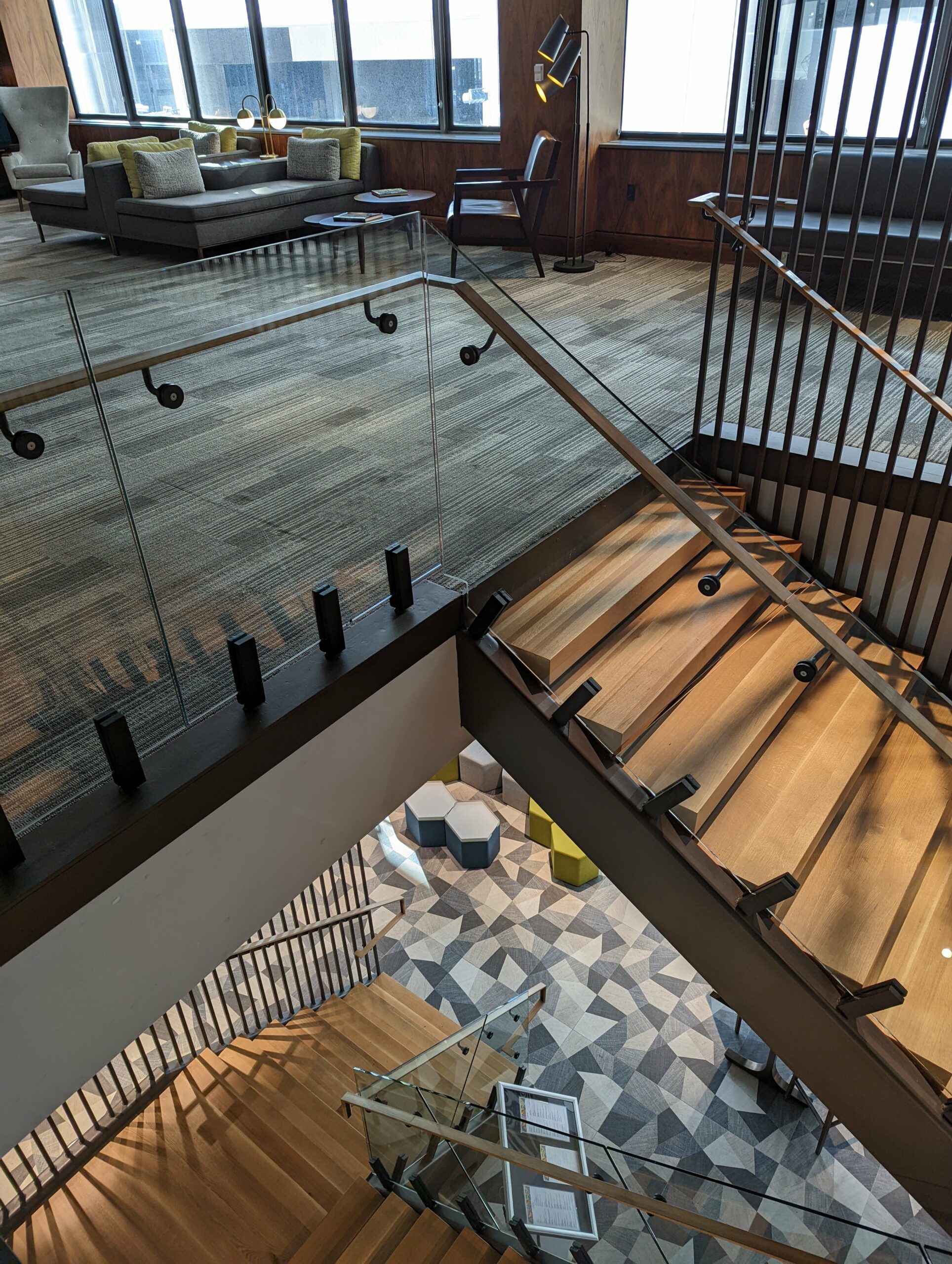 Finally, the gym is well-equipped.
Le Méridien Houston Downtown — Food
The Le Méridien Houston Downtown's main restaurant is called Zutro and serves American cuisine.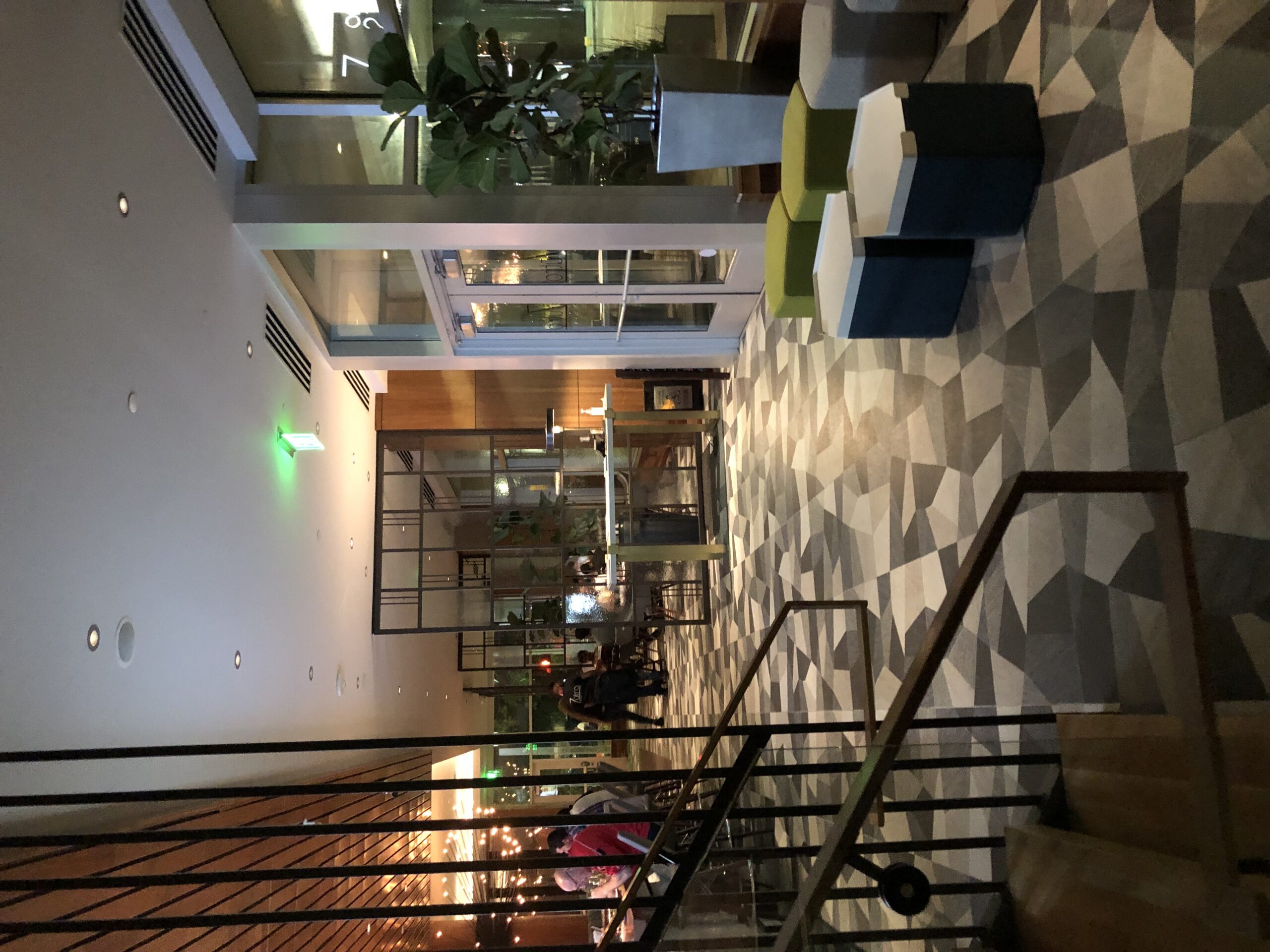 It's as stylish as the rest of the hotel and is located on the ground floor below the lobby.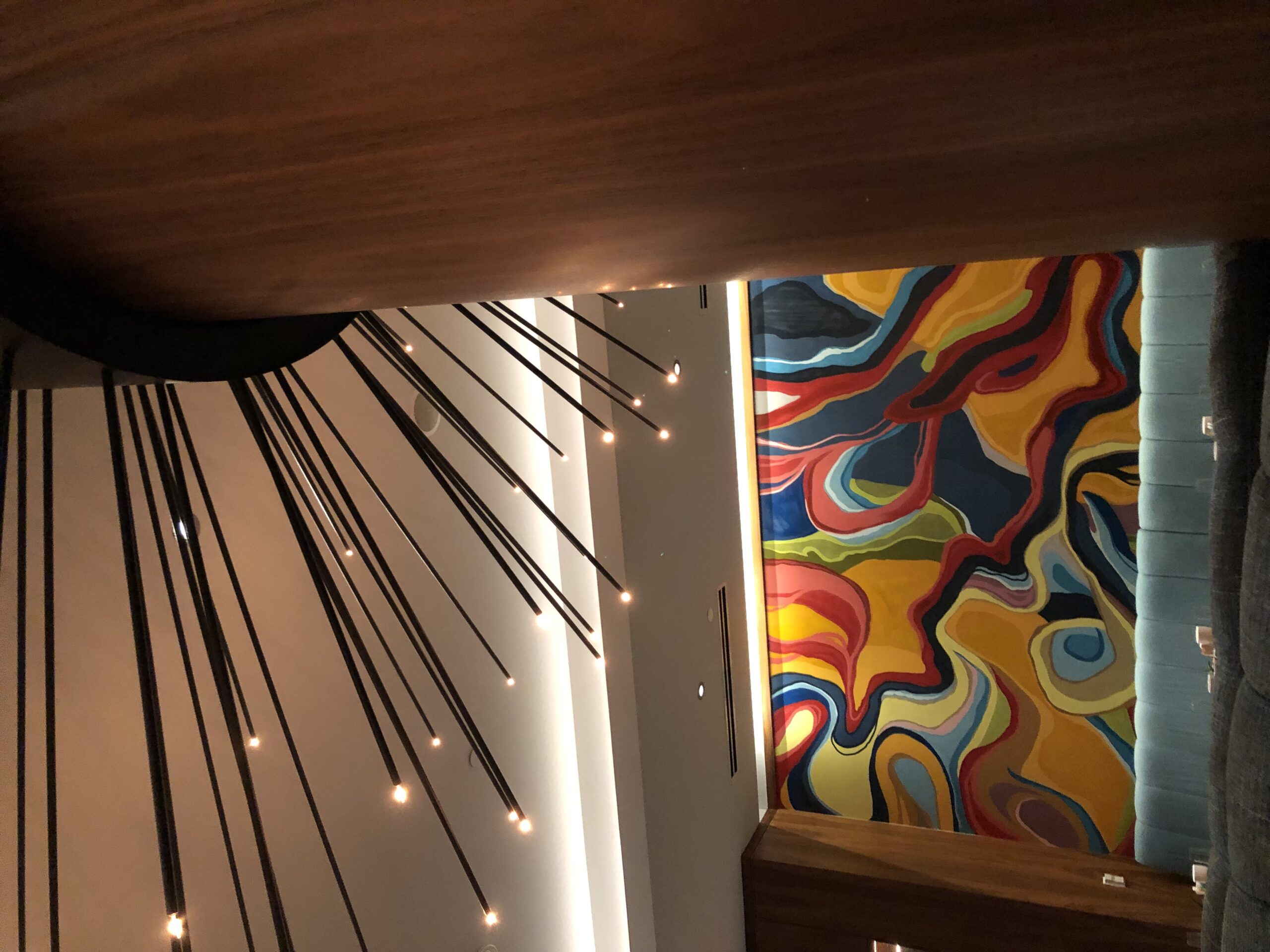 When in Texas, of course meat is the way to go. We ate the beef sliders and they were very good.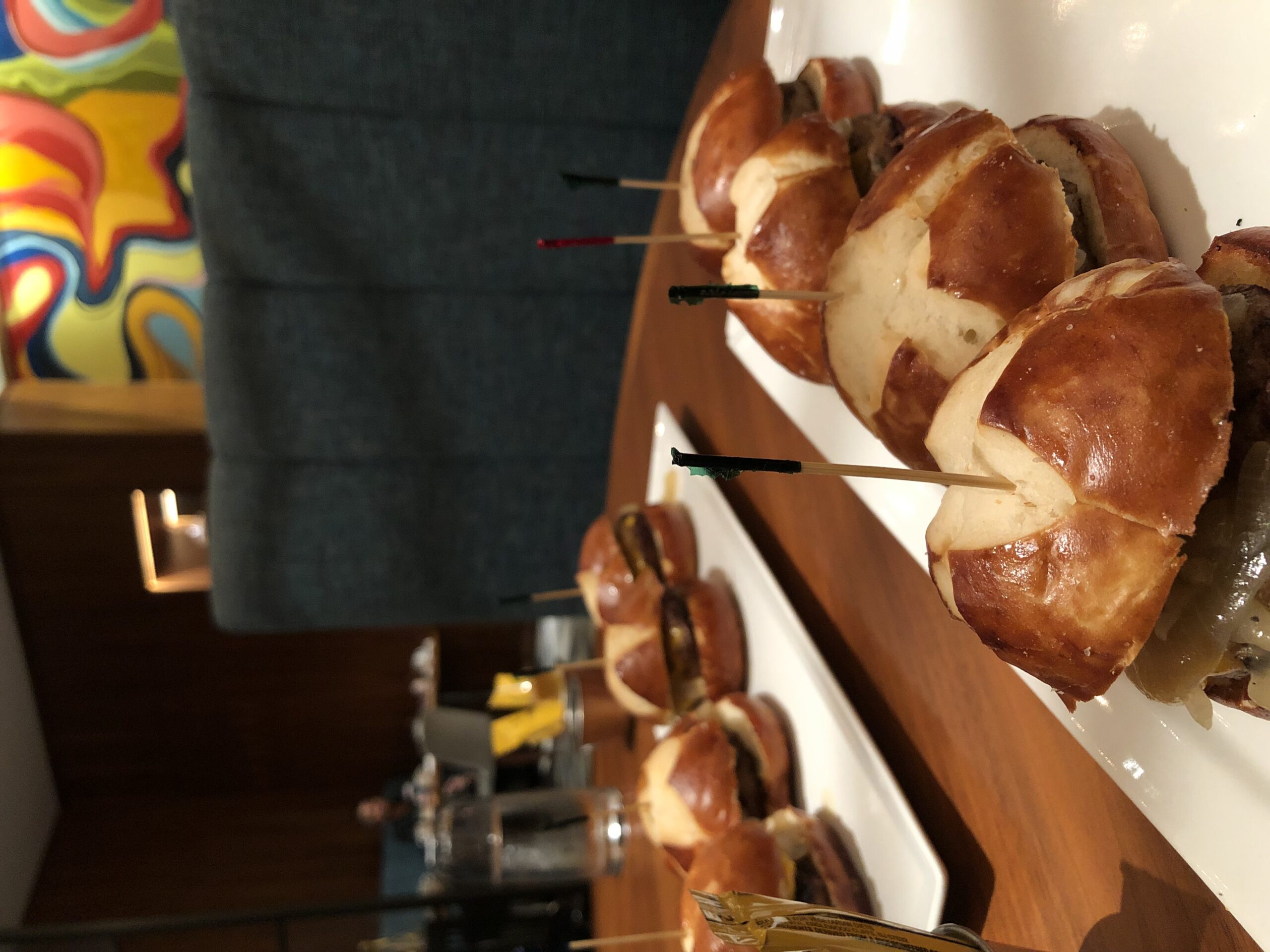 With the evening happy hour deal, it was actually very affordable too at $7 for that plate.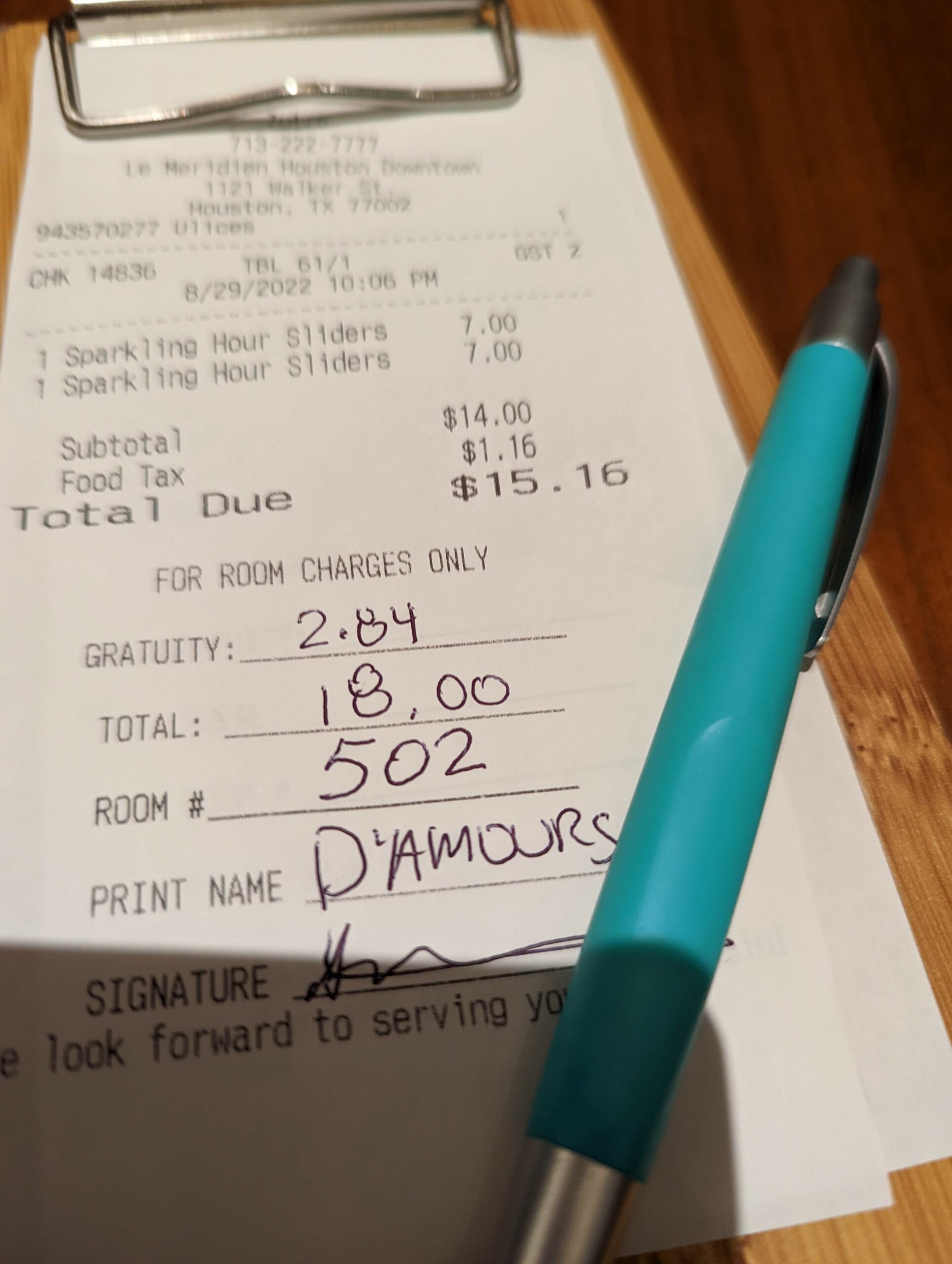 I always try to eat as many meals in more local (and often more affordable) restaurants outside of hotels as possible, as a personal preference.
But when I do eat inside Marriott hotels, I always bill it to the room as I will always earn ~18 points per $C on the food too, by having the Marriott Bonvoy Amex Card and Marriott Titanium elite status.
The menu has a little bit of everything so it's definitely a good option if you want the convenience of eating within the property itself (as was the case when we got in from the airport late in the evening).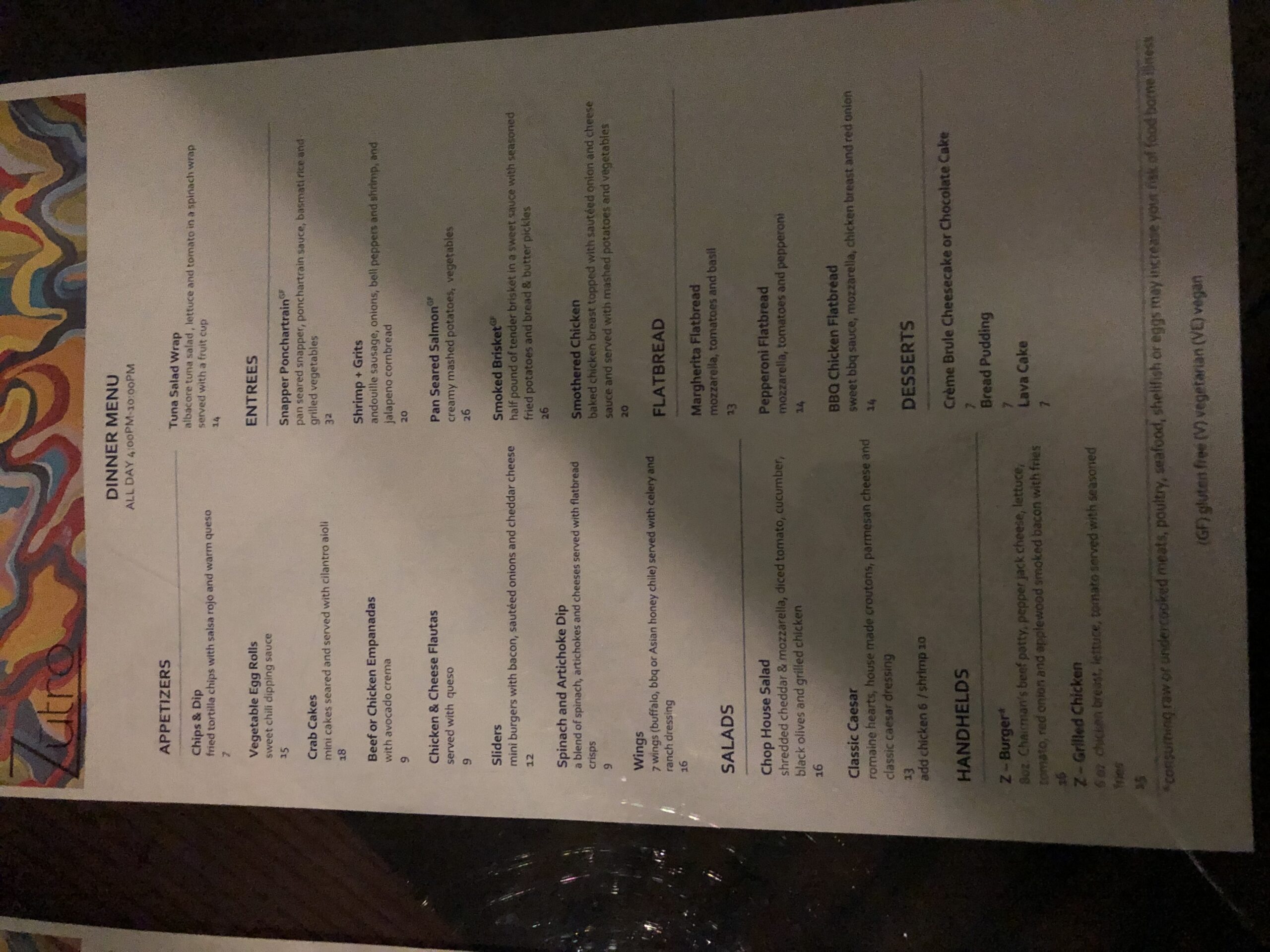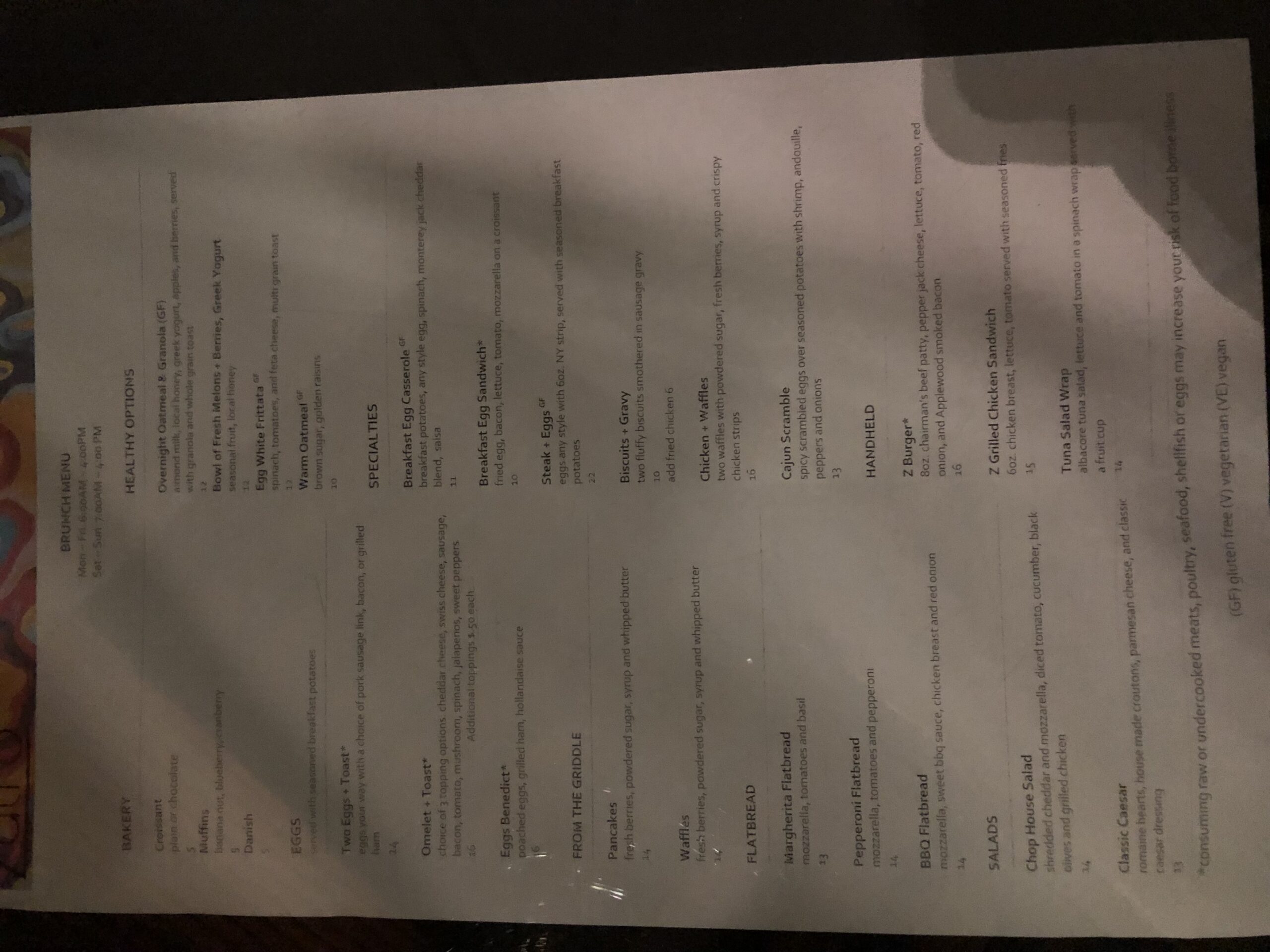 As with most full-service premium hotels, breakfast is not included in the room price. You get it for free with the higher tiers of Marriott elite status (Platinum and above) if you choose it as your welcome gift and it's offered at Zutro.
I tried the chicken and waffles and it was also very good.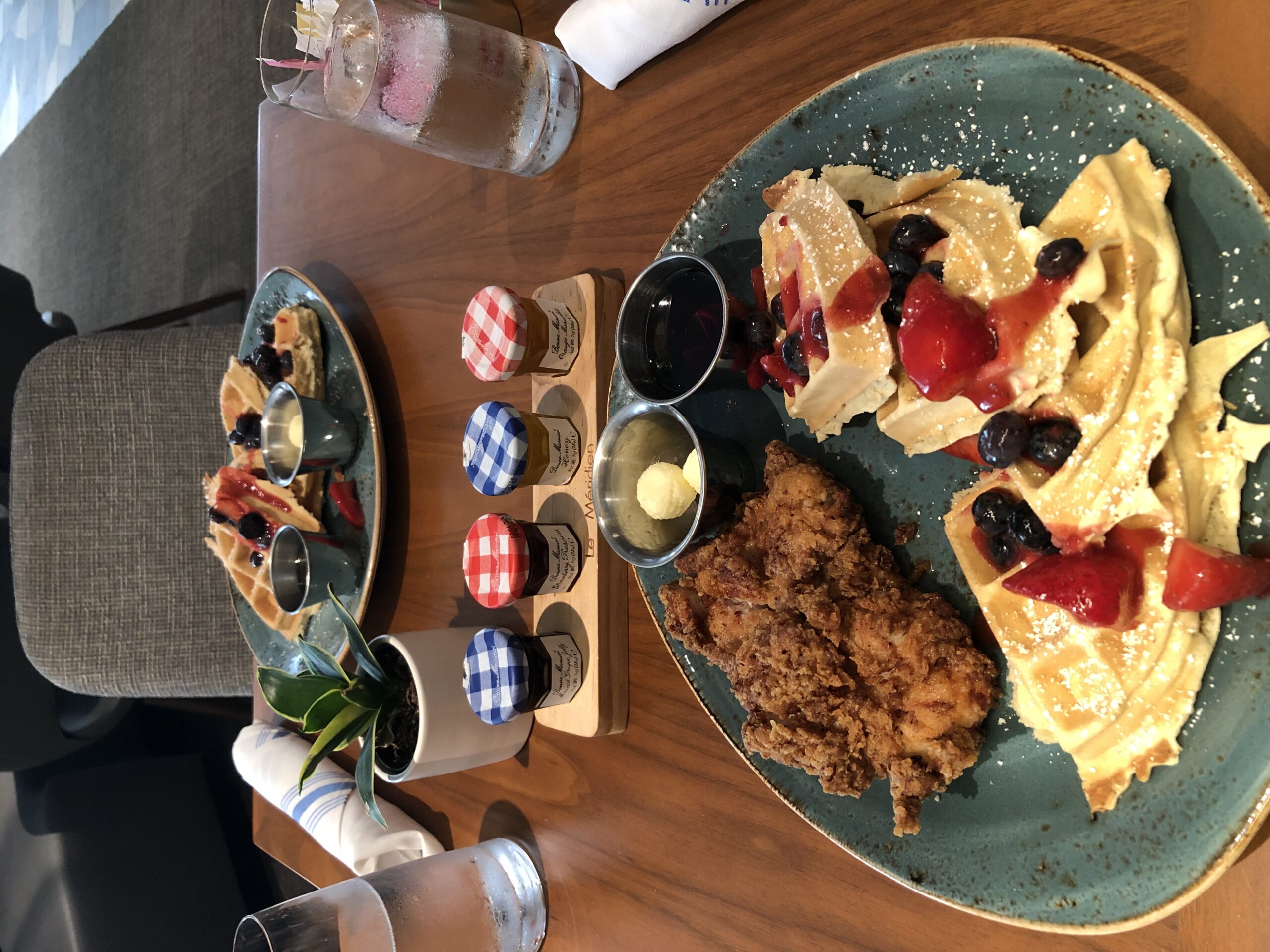 Another morning, my girlfriend got the eggs plate while I got another burger (come on, it's Texas).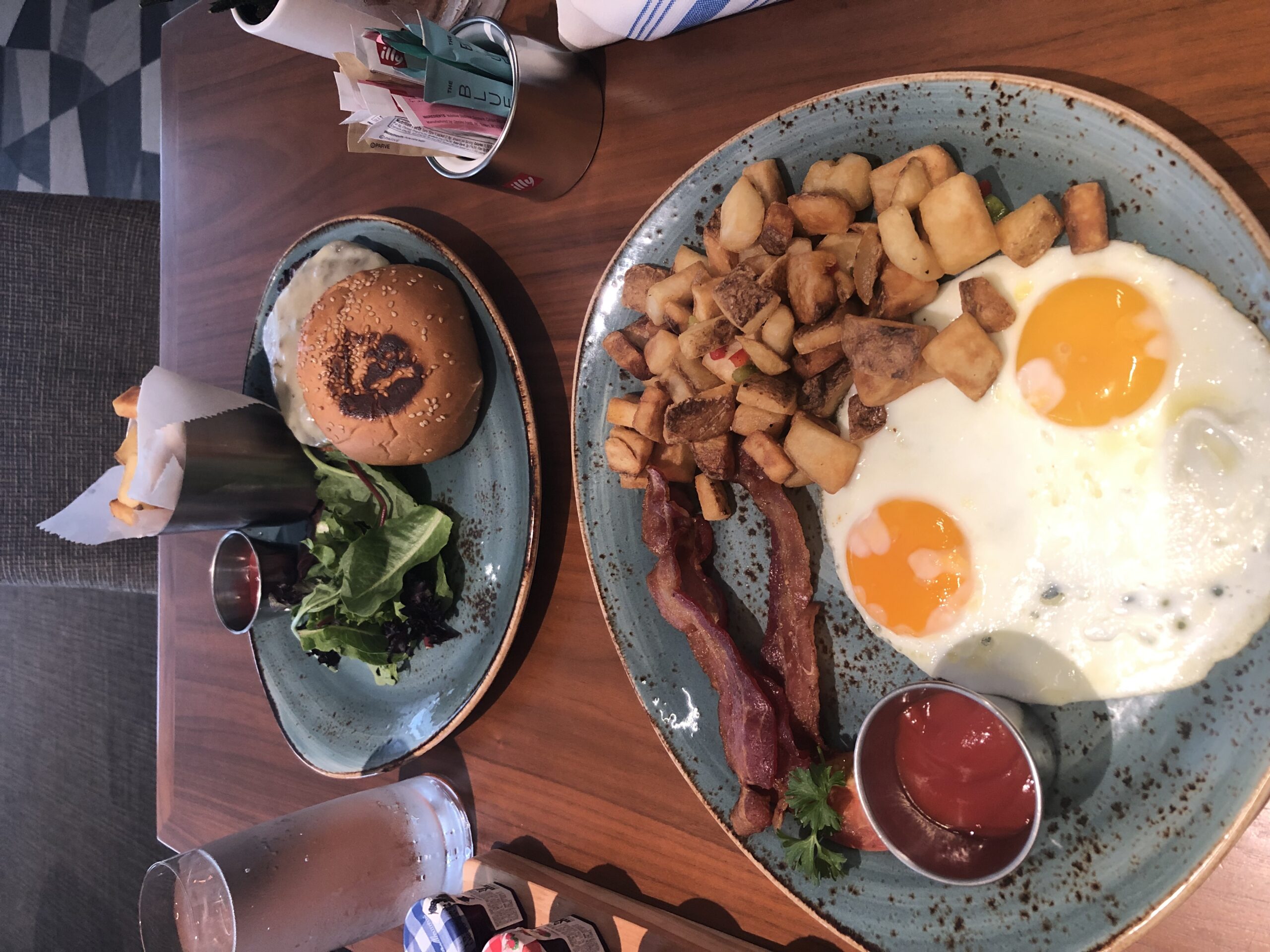 There's also food in the evening at the Z on 23 rooftop terrace.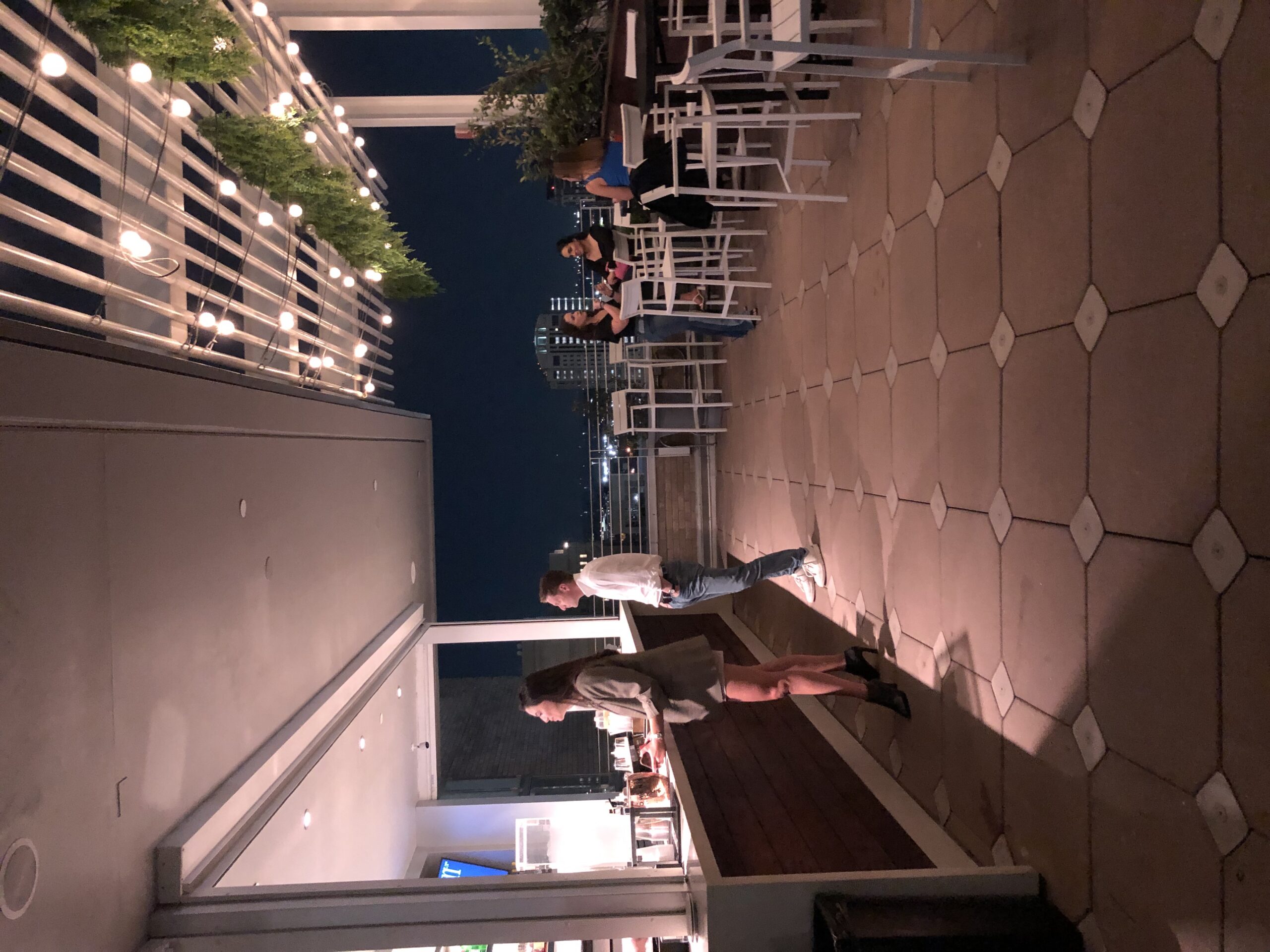 And there's an Illy coffeeshop in the hotel.
Want to get more content about hotels?
Summary
The Le Méridien Houston Downtown is definitely a great option if you want a central location to explore Houston. Especially to earn or redeem Marriott Bonvoy points. The modern and stylish hotel has beautiful rooms and a very nice rooftop terrace.
What would you like to know about the Le Méridien Houston Downtown? Tell us in the comments below.
See the deals we spot: Cheap flights
Explore awesome destinations: Travel inspiration
Learn pro tricks: Travel tips
Discover free travel: Travel rewards
Featured image: Le Méridien Houston Downtown rooftop (photo credit: Andrew D'Amours/Flytrippers)
Share this post to help us help more people travel more for less: