Last year, Marriott launched its new rebranded rewards program: Marriott Bonvoy. The merger with SPG and Ritz-Carlton makes Marriott one of the world's largest hotel chains… and with 29 different hotel brands, it's sometimes hard to understand what each one of them is supposed to represent.
Marriott also happens to be by far the best hotel points program for Canadians. And now is the best time to earn Marriott points with the Marriott Bonvoy Card and the Cobalt Card.
So we believe there will be a lot of people browsing the different Marriott hotels for their first post-lockdown trip.
Exclusively for our subscribers, here's an overview of each Marriott hotel brand's positioning (and soon you'll receive a detailed guide to each brand, including my personal experience in 20 of the 29 brands).
Marriott categories vs. Marriott brands
First, hotel brands are not to be confused with Marriott's 8 hotel categories:
hotel brands: the name on the hotel's sign
hotel categories: a classification for pricing
The categories are what determines the number of points you need for a free night. That's the most vital classification. The brands are what determines what the experience in that hotel is meant to be; the hotel's positioning.
Categories and hotel brands are unrelated: within the same brand, some hotels are in Category 1 while others are in Category 5. There's no correlation. Categories depend on many factors, most importantly the hotel's location and the cost of living there.
Why care about hotel brands
With 29 brands, it can be confusing to search for hotels. I mean you probably have heard of Ritz-Carlton, and you know right away that it is a very luxurious brand. But you probably don't know the 28 others, unless you're a total travel rewards nerd like. That's normal!
So if I tell you to choose between "St. Regis" and "SpringHill Suites" and you don't know those brands, you might think they're comparable… but they're worlds apart. Without knowing, you'll have to check each time.
The point is that if you at least knowing the brands' overall positioning, it will definitely make your searches a lot easier and faster. If you see a St. Regis that is cheap (with cash or with points), you'll know right away that that's a way better deal than a SpringHill Suites at the same price.
You won't have to always check every hotel to get an idea of what to expect. It's useful to help you decide between properties, by knowing which hotel brands are meant to be more upscale or offer more services.
But I'd recommend also considering Marriott members' reviews, the score out of 5 that is always prominently displayed or each individual hotel on the Marriott website.
That's because a brand-new hotel from an "inferior" brand can often offer a better overall experience than an older more dated "superior" brand, depending on each traveler's priorities. So brands are not the only thing to consider, but it helps you plan your next free stays with your Marriott Points.
Marriott brands overview
Marriott's marketing department (yes, the same people who came up with the perplexing Bonvoy name) groups all 29 hotel brands under 4 levels:
Luxury
Premium
Select
Longer Stays
Finally, all 4 of those levels are further split into 2 separate groups:
If you're more of a visual person, boy do we have just the image for you: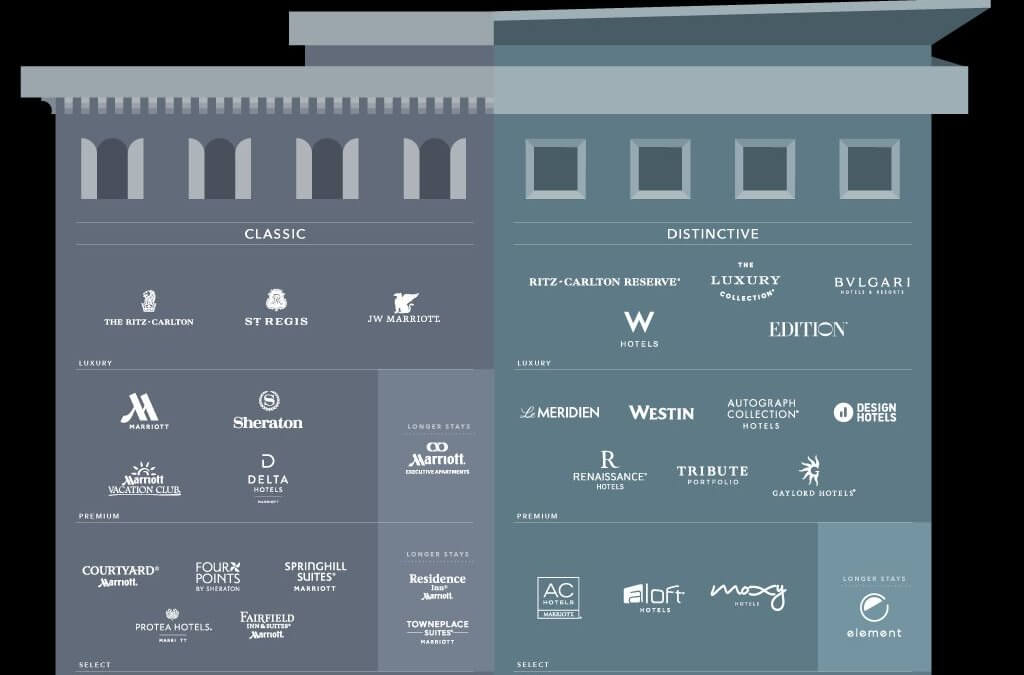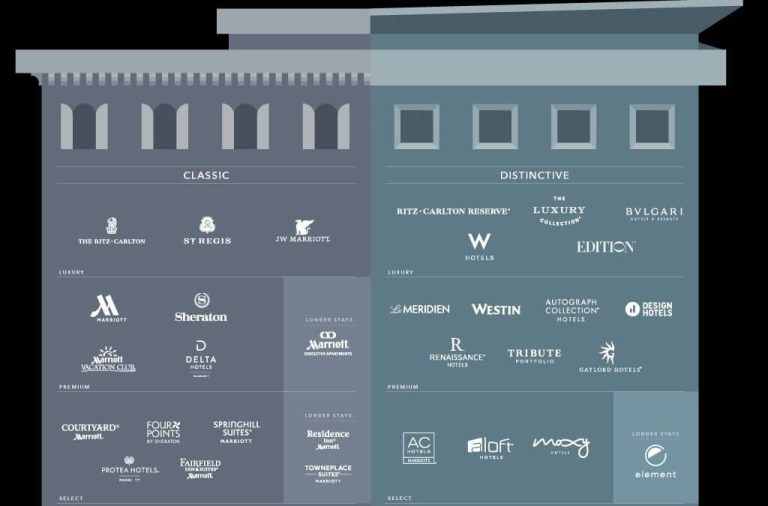 So here's our own interpretation of those categories to summarize.
First with the classic vs. distinctive divide, it's really about the style and overall feel:
distinctive hotels are trendy and modern, a bit more of a hip and young vibe
classic is, well, classic… or more traditional, not meant to wow you through design
And finally the 4 levels:
luxury hotels are the most upscale hotels you can find
premium hotels are the other "full-service" brands
select hotels are entry-level affordable "limited-service" brands
longer stays are quite simply "extended-stay" hotels
Let's take a closer look.
Luxury hotels
We are not luxury travelers, and our travel rewards points section is mostly geared towards people who want to travel more often and for free, not necessarily in luxury.
That said, in some destinations with a low cost of living countries, luxury hotels are extremely affordable (in cash or in points) and most importantly, if you are going to splurge on high-end hotels, it's often a good idea to use points instead of cash.
Here are the 3 Marriott Classic Luxury brands:
The Ritz-Carlton
St. Regis
JW Marriott
And the 5 Marriott Distinctive Luxury brands:
The Luxury Collection
EDITION
W Hotels
Ritz-Carlton Reserve (more of a sub-brand of Ritz-Carlton)
Bvlgari (only brand that does not participate in Marriott Bonvoy)
Premium hotels
This is the sweet spot and the great compromise for those looking to splurge and use points, as there is great value to be found for premium hotels in affordable countries. And everything is more luxurious outside of North America, always keep that in mind.
Here are the 4 Marriott Classic Premium brands:
Marriott
Sheraton
Delta
Marriott Vacation Club
And the 7 Marriott Distinctive Premium brands:
Le Méridien
Renaissance
Westin
Autograph Collection
Tribute Portfolio
Design Hotels
Gaylord
Select hotels
This collection is where most of our own stays are in, because we love to stretch our points as much as we can.
The best value can be found in Category 1 and Category 2 hotels, the ones that require the least amount of points. Most are select hotels, although in many destinations premium hotels can be Category 1 and Category 2 hotels quite often.
In our post about all the Marriott Category 1 hotels, we've mentioned the brands that stand out.
Here are the 5 Marriott Classic Select brands:
Courtyard
Four Points
SpringHill Suites
Fairfield
Protea
And here are the 3 Marriott Distinctive Select brands:
Longer stay hotels
Finally, a less common type of hotel is what is known as an extended-stay hotel. These will often include amenities like a kitchenette, which can be a very interesting perk for families or even for any long stay. They're especially found in North America.
Here are the 4 Marriott Longer Stays brands:
Element (distinctive select)
Residence Inn (classic select)
TownePlace Suites (classic select)
Marriott Executive Apartments (classic premium)
Summary
Here is a good overview of all the 29 Marriott Bonvoy program hotel brands to help you plan out your future travels. Check out for our upcoming Ultimate Guide to the Marriott Bonvoy program for a lot more information on maximizing your points. And thanks for subscribing!