It's vital to remind all Canadian travelers of the importance of not canceling one specific card if you have it (or getting one if you don't). One of its best benefits, apart from the huge welcome bonus, is the free night certificate you get each year. I decided to use my certificate in Fiji to try and get one of those iconic overwater bungalows worth $1147 per night for free… and I am glad I did!
If you got the Marriott Bonvoy American Express Card, you might be wondering why we keep saying you should never cancel it.
It's true that for many cards (most cards even), we recommend not keeping it after the 1st year, since the key to earning over $1000 in free travel each year (as we do easily) is to understand that welcome bonuses are the key. That's the most important thing about travel rewards.
But the Marriott Bonvoy Amex Card is one that shouldn't be canceled!!!
Because unlike most, it gives you an incredible benefit every year, one that can save you hundreds of dollars: The annual free night certificate. It's one of our favorite travel rewards tricks and one of our favorite card benefits!
It really doesn't make sense to cancel the card, none at all! For any traveler.
(We'll soon share a lot of new Marriott content to help you earn more points, sign up for free!)
I'll briefly explain the certificate and give you a real-life example of my use of the certificate for a superb overwater bungalow in Fiji.
The Marriott Annual Free Night Certificate
So I won't repeat all the benefits of getting the card. With the 53,000 points from the welcome bonus, it's pretty obvious: you can get 8 free nights just by getting the card, which can easily be worth $500 (17 free nightsif your travel buddy gets a card too).
You can read all the details about the Marriott Bonvoy Amex Card and also a list of destinations where you can easily get 17 free nights if you simply plan a trip around those hotels.
So, yes, the reason my then-girlfriend and I both got a card is the welcome bonus.
But the reason we keep this one is that now, like everyone who has the card, each year we get the beloved free night certificate. It gives you a free hotel night, with no taxes to pay (unlike with airline points).


The certificate is good for a full year so be strategic and don't cancel the Marriott Bonvoy Amex Card!
The certificate is valid in thousands of hotels around the world: All Marriott hotels worth up to 35,000 points. Many are incredible 5-star hotels worth hundreds of dollars a night.
The certificate will appear in your Marriott account shortly after your card account anniversary: If you applied for the card on March 20th, each year on March 20th (well, shortly after) you'll get a new certificate that is easy to use online.
The certificate is worth up to 35,000 points, but you can also add 15,000 points if you want even more choice. But we don't necessarily recommend that, as you already have thousands of options and most importantly, those 15,000 points can give you 3 full nights in the right countries (or at least 1 extra night in even more destinations).
The certificate more than erases the card's $120 fee, if you do the math: For sure you'll stay one night in a hotel in a year… and that hotel will almost surely cost you more than $120 after taxes.
So there's unquestionably at least no cost to keep the card.
But if you're even slightly strategic, the certificate can give you a night worth $500! And easily give you a night worth $200 or $300 without trying too hard and without limiting your destination options too much.
This is what we love the most about travel reward points: Maximizing value!
So it's literally like paying $120 for a night that's worth double or triple that amount (or more). In other words, you're exchanging a hotel night (that you would have definitely used) for a night in a luxury hotel completely free. You get a beautiful hotel instead of something very basic that costs $120 ($100 + taxes), for free.
This 5-star resort in Fiji is an excellent example: My overwater bungalow was worth over $1000 per night!!!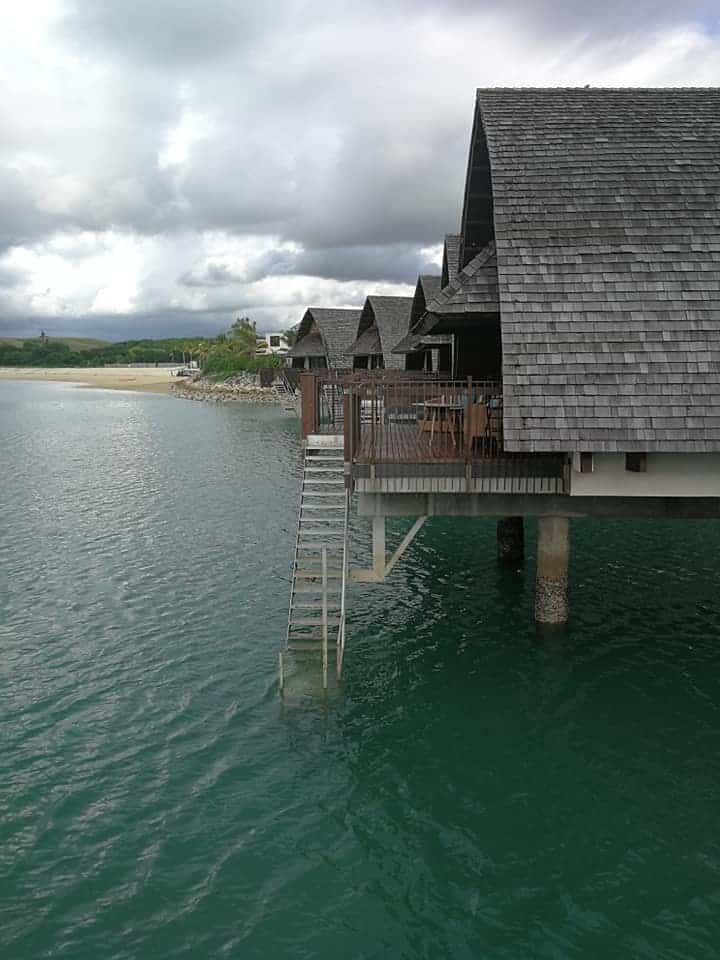 But there are plenty of other examples. Your $120 could give you a night in a 5-star hotel like the Ritz-Carlton Resort Penha Longa in a historic monastery in Portugal that was selling for $600 a night when Flytrippers' other co-founder Andrew had booked with his certificate.
Prefer Greece? The Domes Miramare Luxury Collection Resort Corfu is a luxury waterfront hotel with an incredible view. I could go on for hours, there are literally thousands.
That's why it's illogical to cancel this card when the certificate is so profitable and can give you such outsized value!
And it also allows you to keep earning points with your card for more free nights (in 2019 I got a few dozen free with my points and Andrew even got over 50), and if you're interested, it also allows you to keep Marriott Silver Elite status and a shortcut to Gold Elite for free upgrades and other advantages.
More details to come on how to apply a certificate to a booking, an up-to-date list of the best hotels where you can use it, and how to find eligible hotels.
Subscribe for free to our new rewards points newsletter and don't hesitate if you have any questions about anything that you'd like us to include—I am a Platinum Elite member and Andrew is Titanium Elite, so we know very well how to maximize the Marriott program.
My Free Stay At The Fiji Marriott Resort Momi Bay
My then-girlfriend and I were in Fiji as part of our one-year-and-a-half-long around-the-world trip (interrupted against our will this week by the pandemic).
The Fiji Marriott Resort Momi Bay is a Category 5 hotel that seemed to be an excellent property to use my annual free night certificate, for a bit of rest and luxury and a change of pace, since we're not really the resort type. And I had done some research and knew that they had overwater bungalows.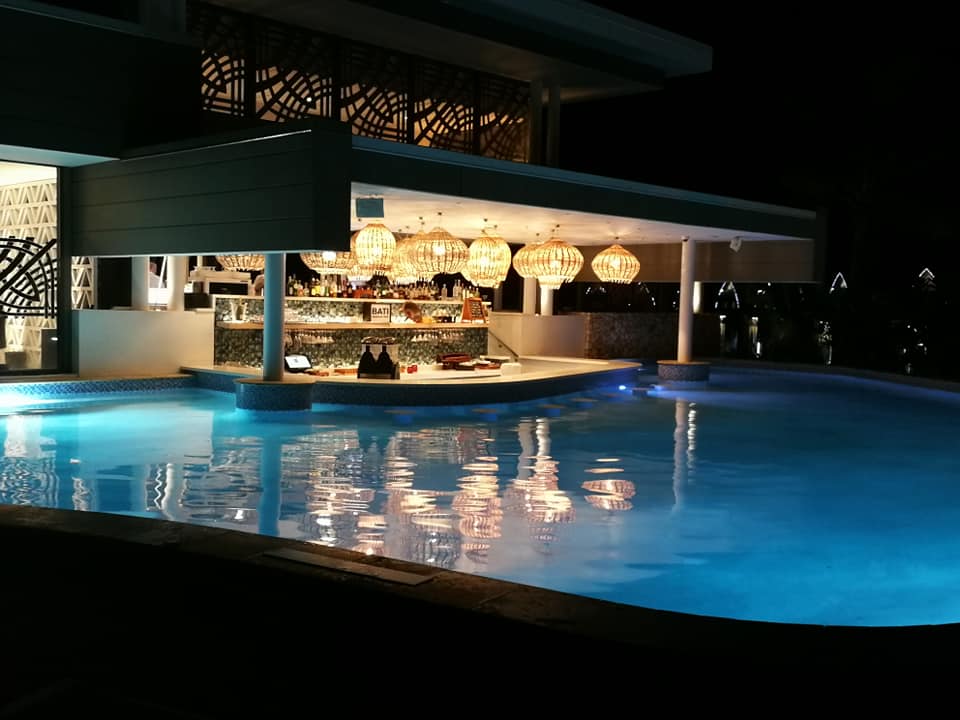 Even the standard rooms in this heavenly hotel are very nice and are worth a few hundred dollars a night. Keep in mind that by default, that is what you'll get, not a bungalow. But it's still a pretty good use of the certificate.
Here is an example of average nightly prices in September for a regular room:
(100 FJD ≈ 61 CAD so the cheapest is ≈ C$324/night, before taxes)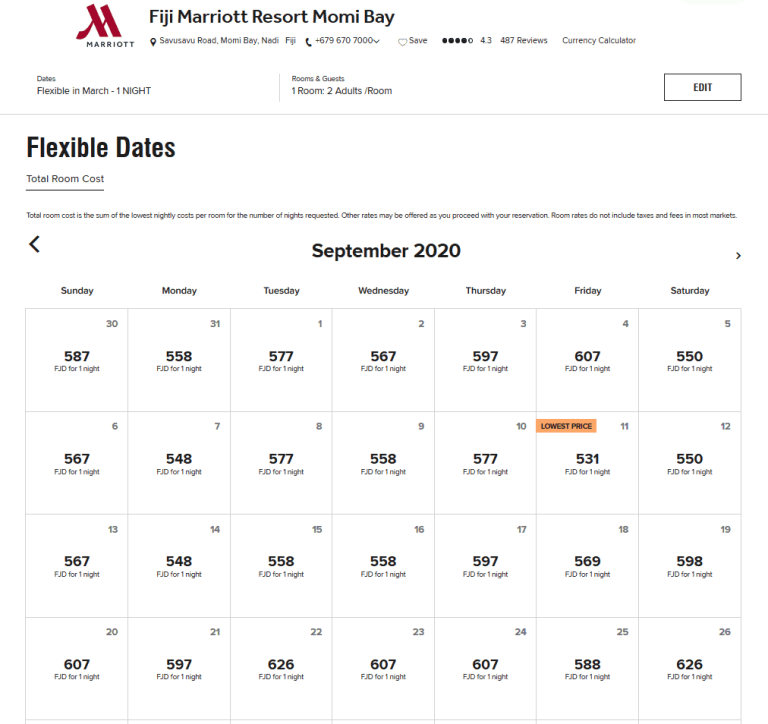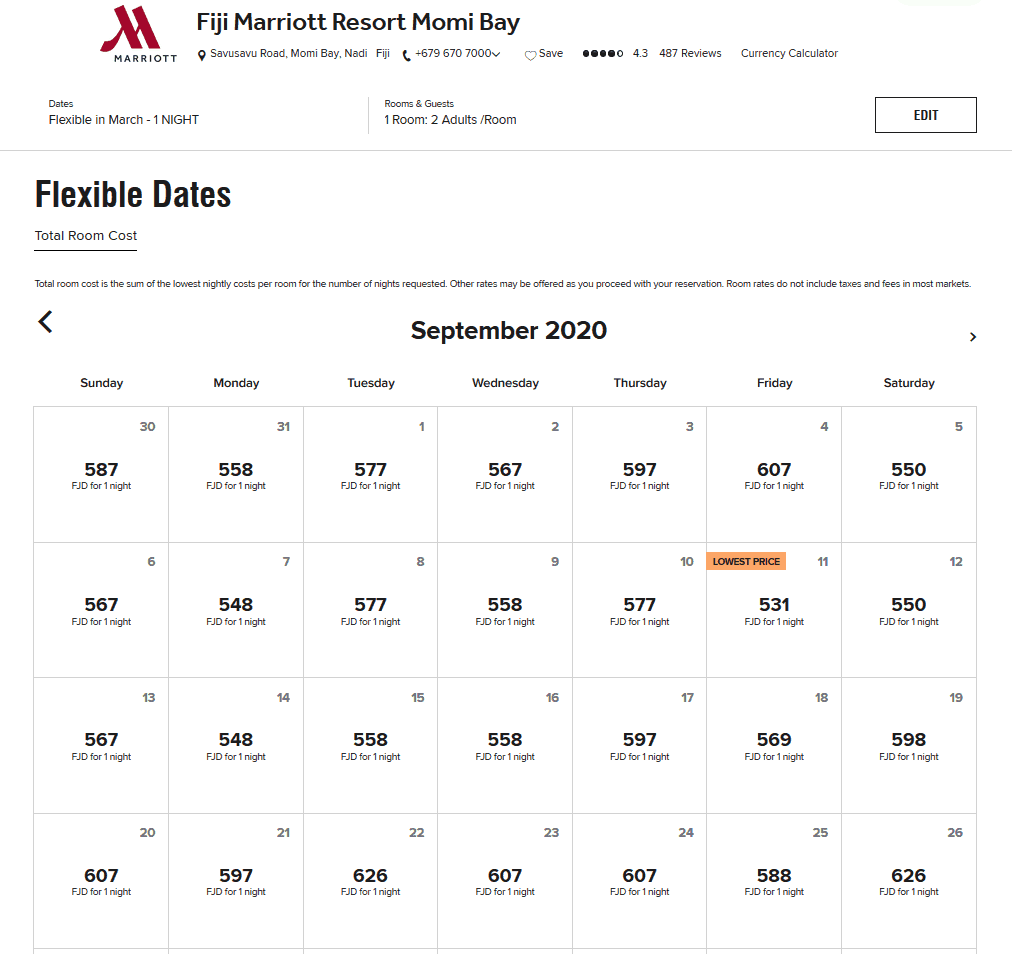 Paying $120 (the card fee) for a room worth three times more, that's maximizing travel reward points!
But since I am a Marriott Bonvoy Platinum Elite member (which you can reach with just 35 nights/year instead of 50 by having the Marriott Card), I was able to get a free upgrade to the best room they have. The hotel was almost full, so I was lucky that one of the overwater bungalows was available.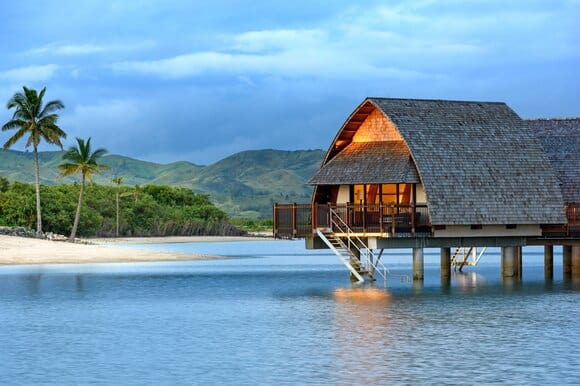 The cost of this room was $1,147 PER NIGHT. I also got the $41 per person breakfast for free as a Platinum member.
So in short, simply by paying the $120 card fee, I got $1,229 worth of value with the certificate!
Nights paid with points count towards the 35 nights required to be a Platinum Elite member, so considering you can transfer your travel buddy's points to your account and can get 17 nights with the welcome bonuses alone, that status is not that unattainable if you travel a lot (we have many other tips if you subscribe for free).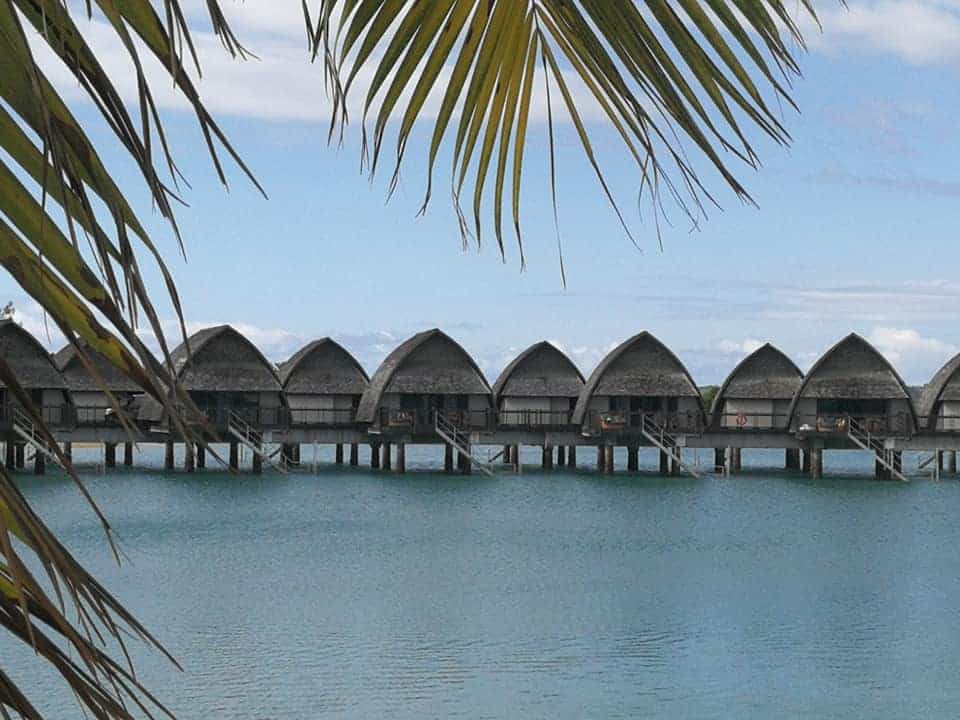 Service was great: while waiting for our bungalow to be ready, we were offered free drinks in the very pretty lobby.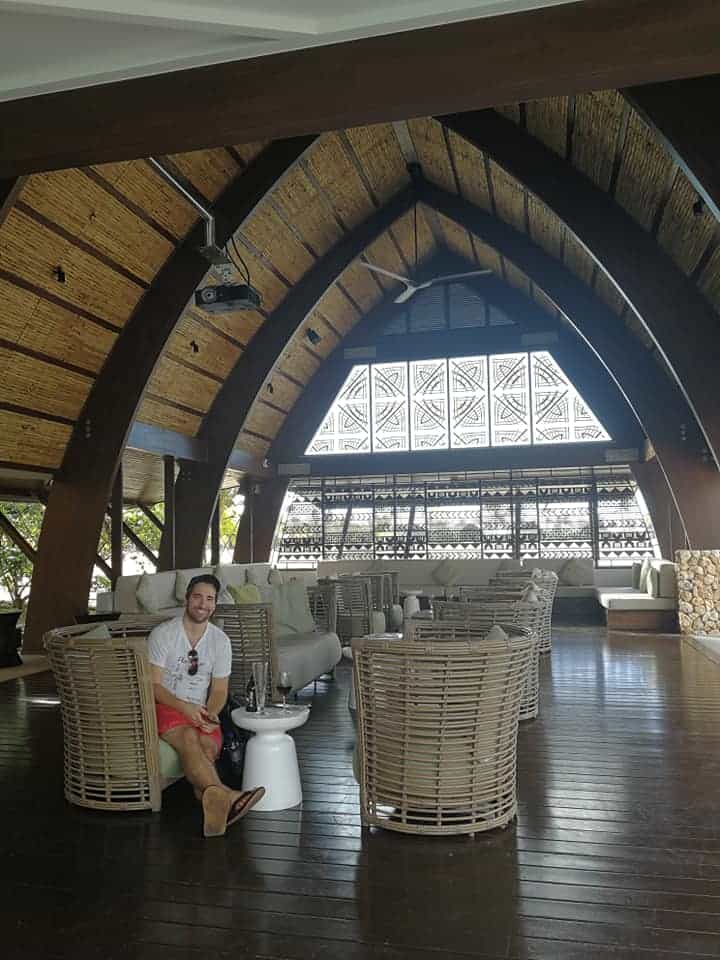 The room itself was beautiful, unsurprisingly.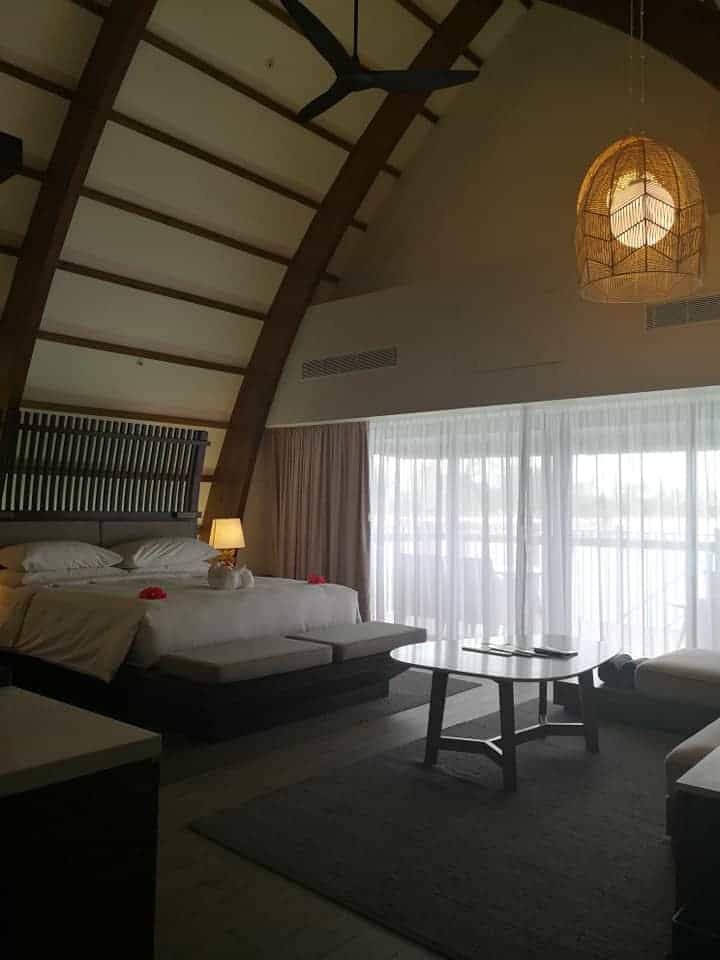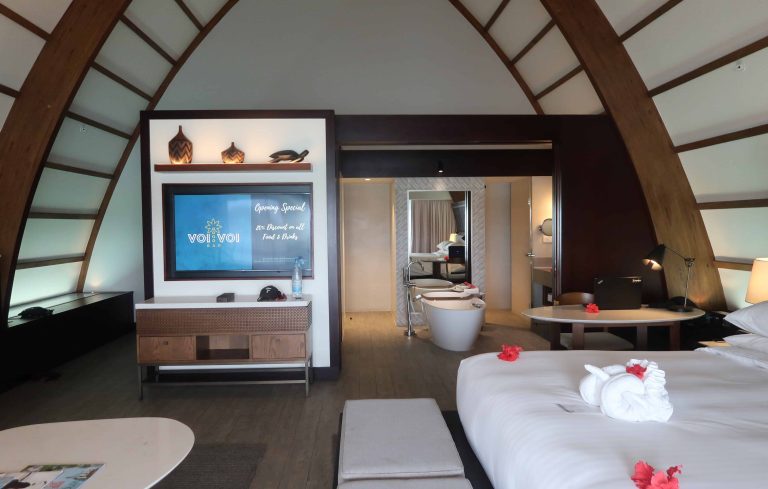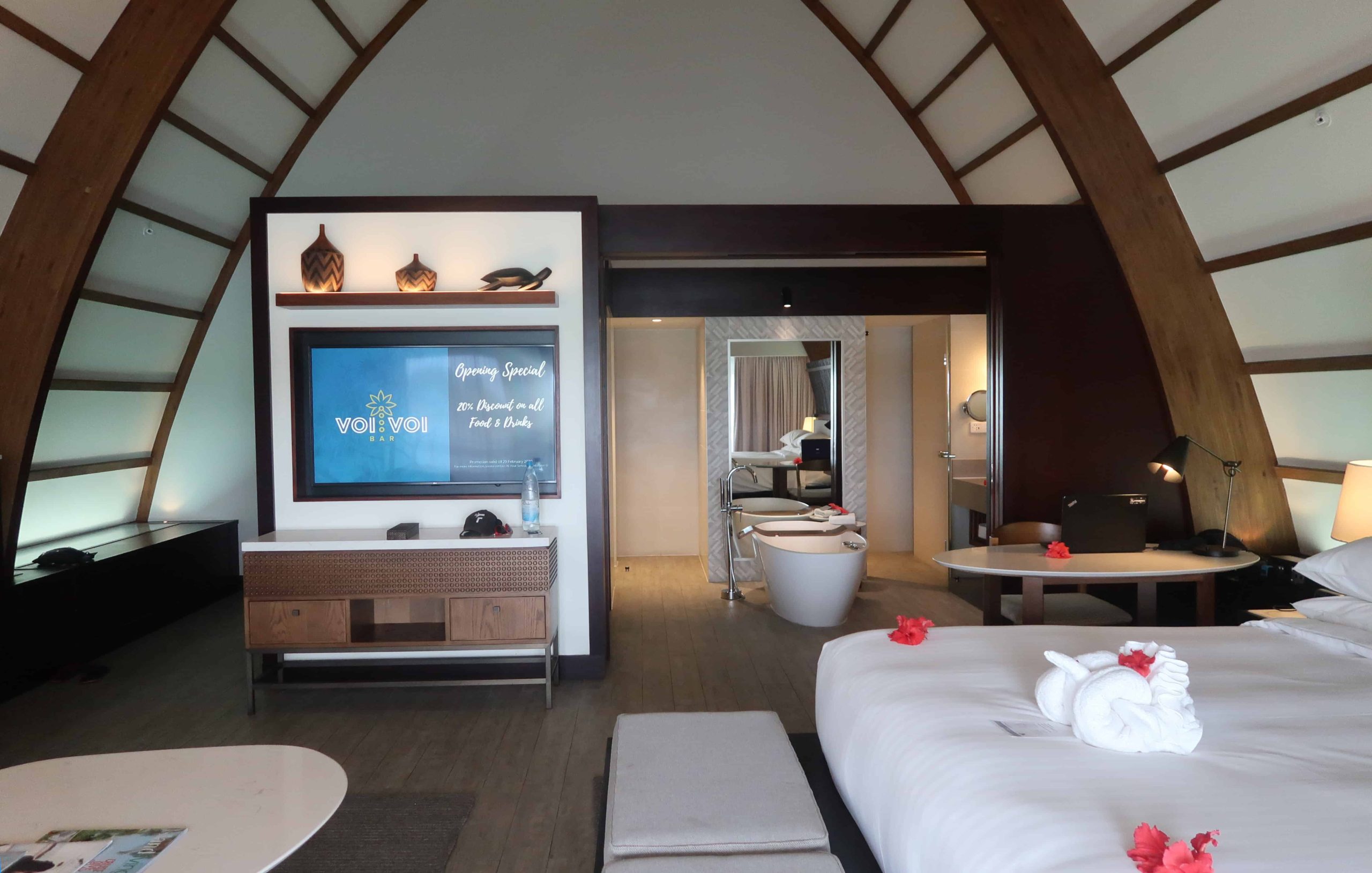 We had access to the water directly from our balcony.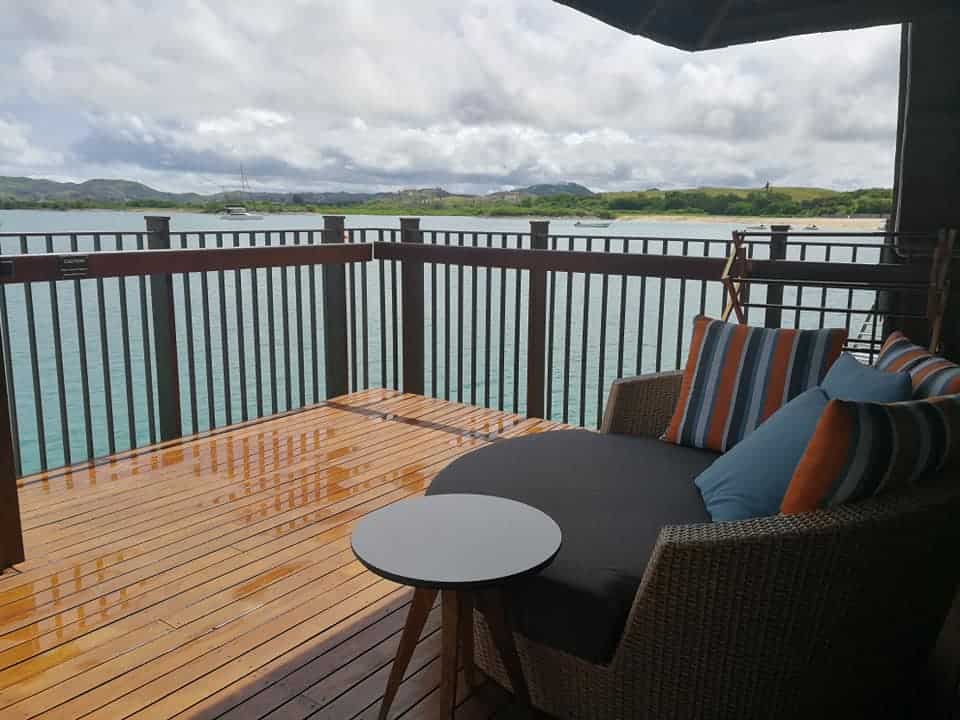 The hotel has a few pools and restaurants.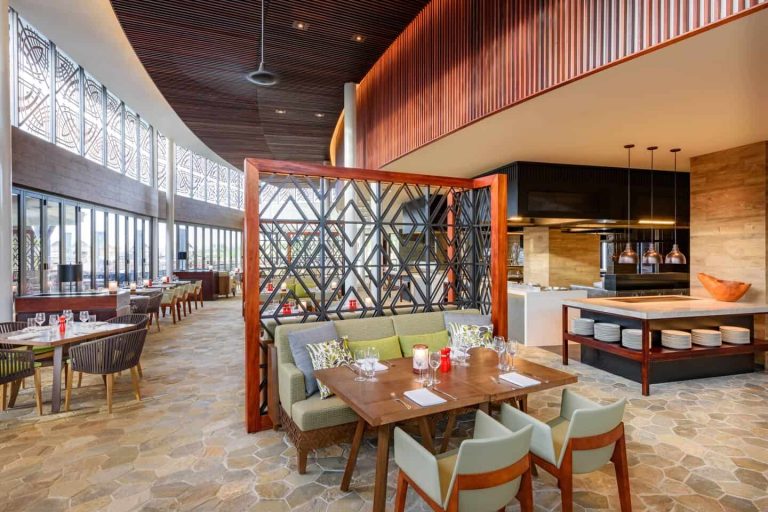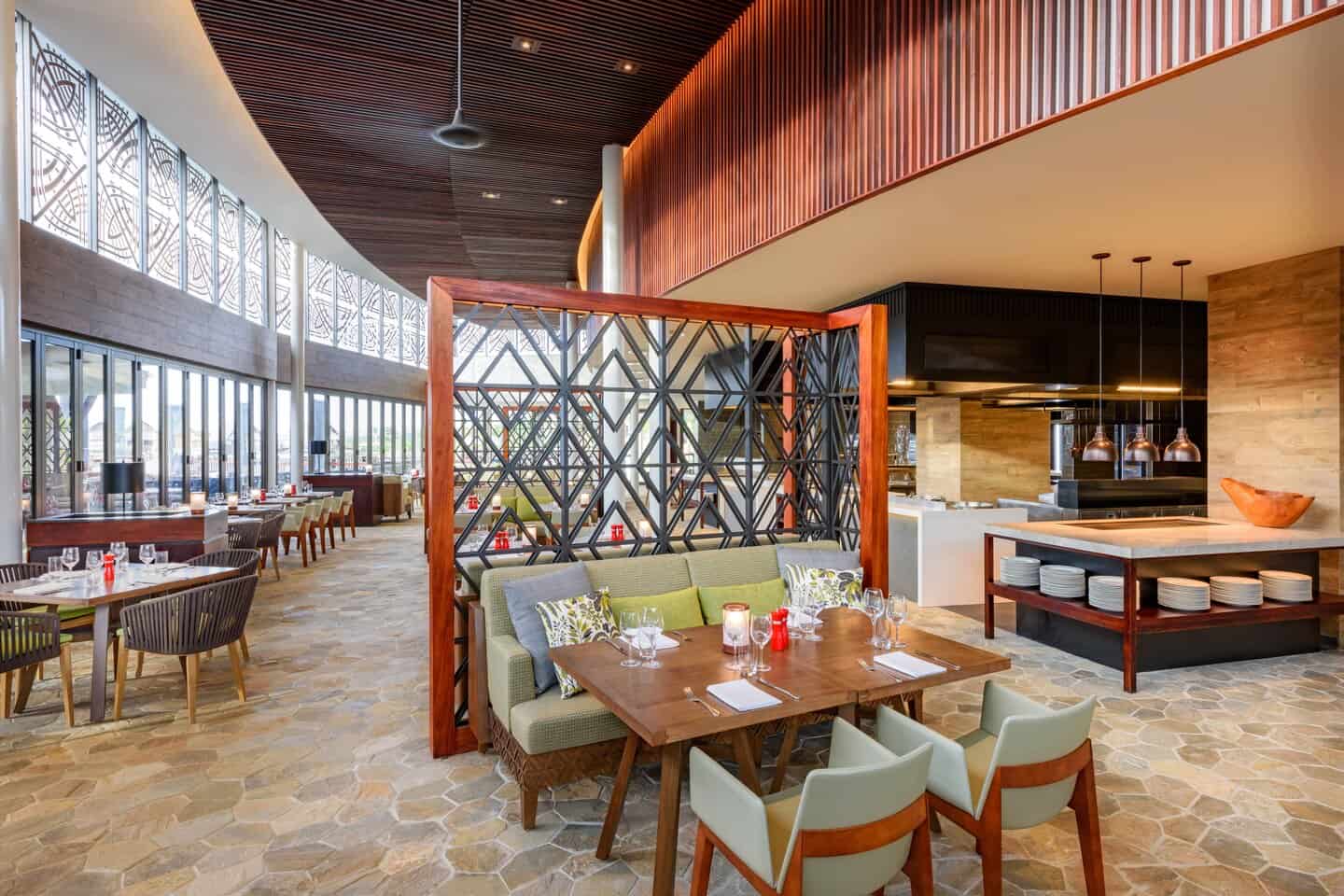 It had a gym with a great view, as well as activities for kids.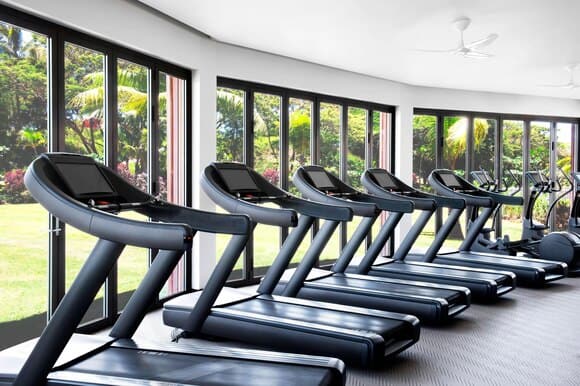 Other than the overwater bungalows, the hotel also has villas that are directly on the beach.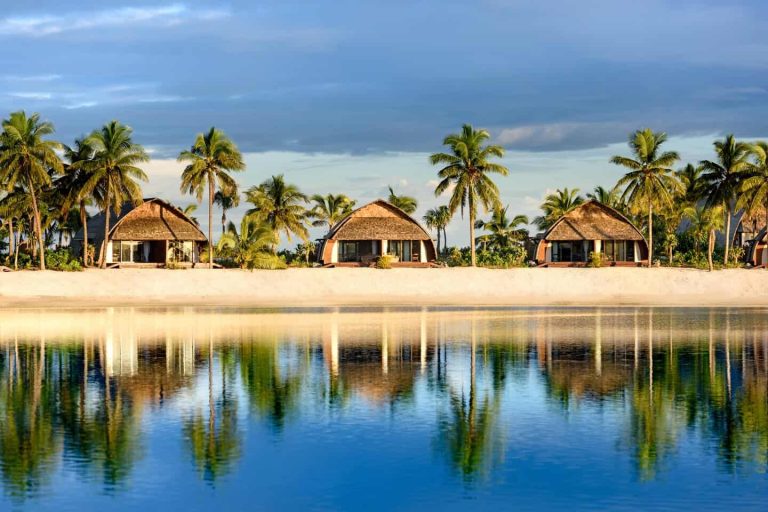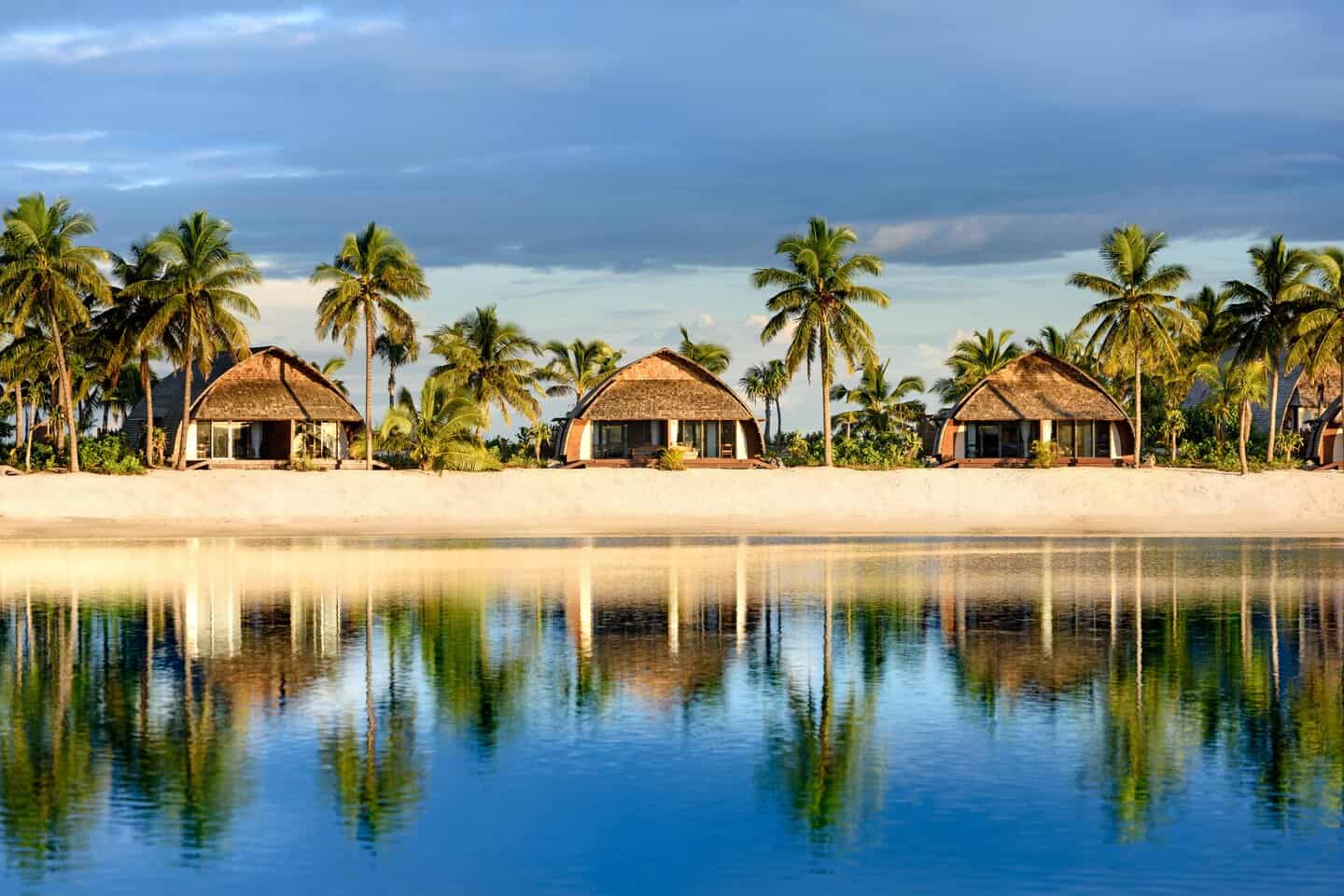 There's no doubt that if you enjoy luxury travel, by far the best thing you can do is learn more about travel reward points!
Summary
As many of you approach the one-year anniversary of getting your Marriott Bonvoy Amex Card, it's important not to cancel it so you can get this amazing certificate every year. If you use it for the best available properties, you'll get a free night in a very luxurious hotel, like this resort in Fiji that made it possible for me to stay in a nice overwater bungalow completely free.
Have you ever been to Fiji? Do you want to go? Tell us in the comments!
Help us spread the word about our flight deals and travel tips by sharing this article and most importantly bookmark Flytrippers so we can help you navigate the world of low-cost travel!
Cover image: Aerial view of the Fiji Marriott Resort Momi Bay (photo credit: Marriott Website)

Advertiser Disclosure: Flytrippers receives a commission on links featured in this blog post. We appreciate if you use them, especially given it never costs you anything more to do so, and we thank you for supporting the site and making it possible for us to keep finding the best travel deals and content for you. In the interest of transparency, know that we will NEVER recommend a product or service we do not believe in or that we do not use ourselves, as our reputation and credibility is worth far more than any commission. This principle is an essential and non-negotiable part of all our partnerships: we will never give any third-party any control whatsoever on our content. For more information on our advertiser disclosure, click here.
Share this post to help us help more people travel more for less: