The brand new Marriott Bonvoy™ American Express® Card is one of our favourite cards in Canada and one that we believe every Canadian traveller who likes free hotel stays should have. You can easily get up to 8 free nights with the Welcome Bonus alone if you maximize it (it can range from 1 free night to 12 free nights, but 8 nights is the most common). Yes, 8 free nights!
Formerly known as the American Express SPG Card, the card has just been refreshed to match the new Marriott Rewards program branding: Bonvoy!
If you like free hotels, you should definitely get this card. Unlike the also newly-refreshed American Express Platinum Card that is a high-end metal card for frequent travelers only, I honestly do not see any reason for you not to get the Marriott Bonvoy American Express Card if you love to travel (and if you are financially responsible).
Especially now with the incredible promo: in addition to the Welcome Bonus, the card will earn 5 points per dollar on food until August 31st (groceries, delivery, restaurants, etc.)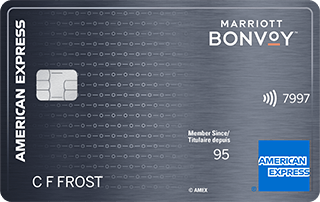 Marriott Bonvoy AMEX Card Overview
It is one of the best cards in Canada, if not the best. Both Flytrippers cofounders have it (and we got our respective girlfriends to get one each too, for even more free nights).
Marriott Bonvoy is the new name of the combined Marriott / SPG / Ritz-Carlton hotel chain's loyalty program. Marriott is one of the world's largest hotel chains, with 29 brands and 7,000+ properties in 130 countries. This is their co-branded card issued by AMEX. It is one of the very few hotel-affiliated credit cards in Canada, and by far the best in our opinion.
The first reason is the Welcome Bonus: just by getting the card, you get 50,000 Marriott Bonvoy Points. We'll tell you more about this in case you aren't familiar with variable-value points or Travel Hacking, but this is a great offer (it had been 60,000 but that probably won't be back for a while).
It could give you 8 free nights if you maximize it (or even almost a free roundtrip flight if you prefer). If your travel buddy also gets one, that becomes 17 free nights.
The second reason is the earn rate: if you are like us and are very flexible, you can often find flights at a very good price, much cheaper than most do. That means airline miles aren't as useful and that accumulating hotel points is the best way to get even more free travel, as hotels aren't often discounted. And this card allows you to earn lots of points on your everyday purchases.
Finally, there are also other benefits: you get complimentary Silver Elite status at Marriott (and a shortcut to Gold Elite), you get great travel insurance coverage (car rental, flight delay, baggage delay, retail protections, etc.) and you can get an additional card for a family member for free to earn points faster.
The best thing is that the card is always essentially free thanks to the exceptional value of its ongoing annual free night benefit (in stunning hotels), so there's really no reason to miss out. There's no minimum income requirement either, all you need is a good credit score.
Here is a quick overview of the Marriott Bonvoy American Express Card and its benefits, with links to supporting articles if you want even more details (with more to come). You can subscribe to our new free Travel Hacking newsletter to get all our Marriott content and be the first to know when we launch our revamped Travel Hacking section.
And leave us a comment if you have any questions, we'll be glad to share our own experiences with this card that we enjoy so much that we stayed over 100 nights in Marriott hotels in the past 2 years between the both of us!
Welcome Bonus
The 50,000 Marriott Bonvoy Points Welcome Bonus can give you a whopping 8 free nights in Marriott Hotels if you maximize them by being flexible. Maximizing rewards is our specialty here at Flytrippers; we'll help you with that.
Even if you aren't as flexible, you still get hundreds of dollars worth of free hotels and getting the card is a no-brainer! You'll simply get less free nights if you can't/won't travel on off-peak dates or don't want to go to places where Category 1 hotels are located.
And hotel stays on points are completely free by the way, no taxes to pays unlike with airline miles.
How To Use The Welcome Bonus
Of course, getting 8 free nights means being flexible, not during peak dates and in more affordable destinations: in entry-level Category 1 hotels. There aren't a ton of them, although there are a few hundred and many of the are very very nice (and in beautiful destinations).
So it's definitely possible to stretch your points the furthest and get those 8 nights if you want to get the most value.
If you were going to stay in a hotel anyway, many of you would even value this 8 nights Welcome Bonus at over $800, considering the cash price for most hotels is at least $100 a night including taxes (or more). That's pretty hard to beat!
Here are a few examples of great Category 1 hotels:
(you can also see the Best Marriott Category 1 Hotels)
There is this very pretty Four Points by Sheraton Manado in Indonesia: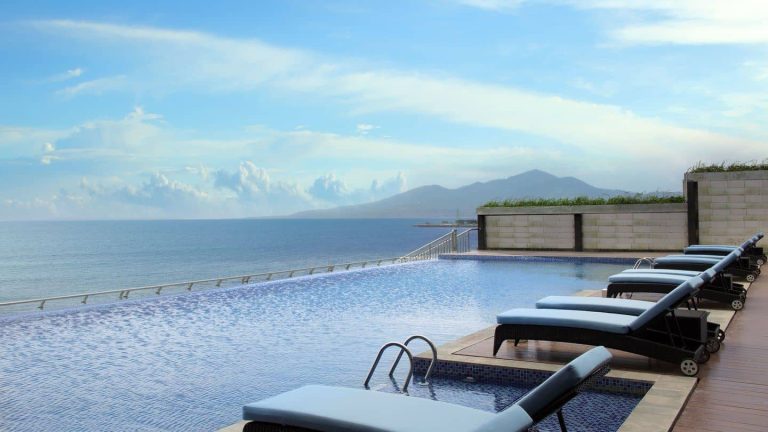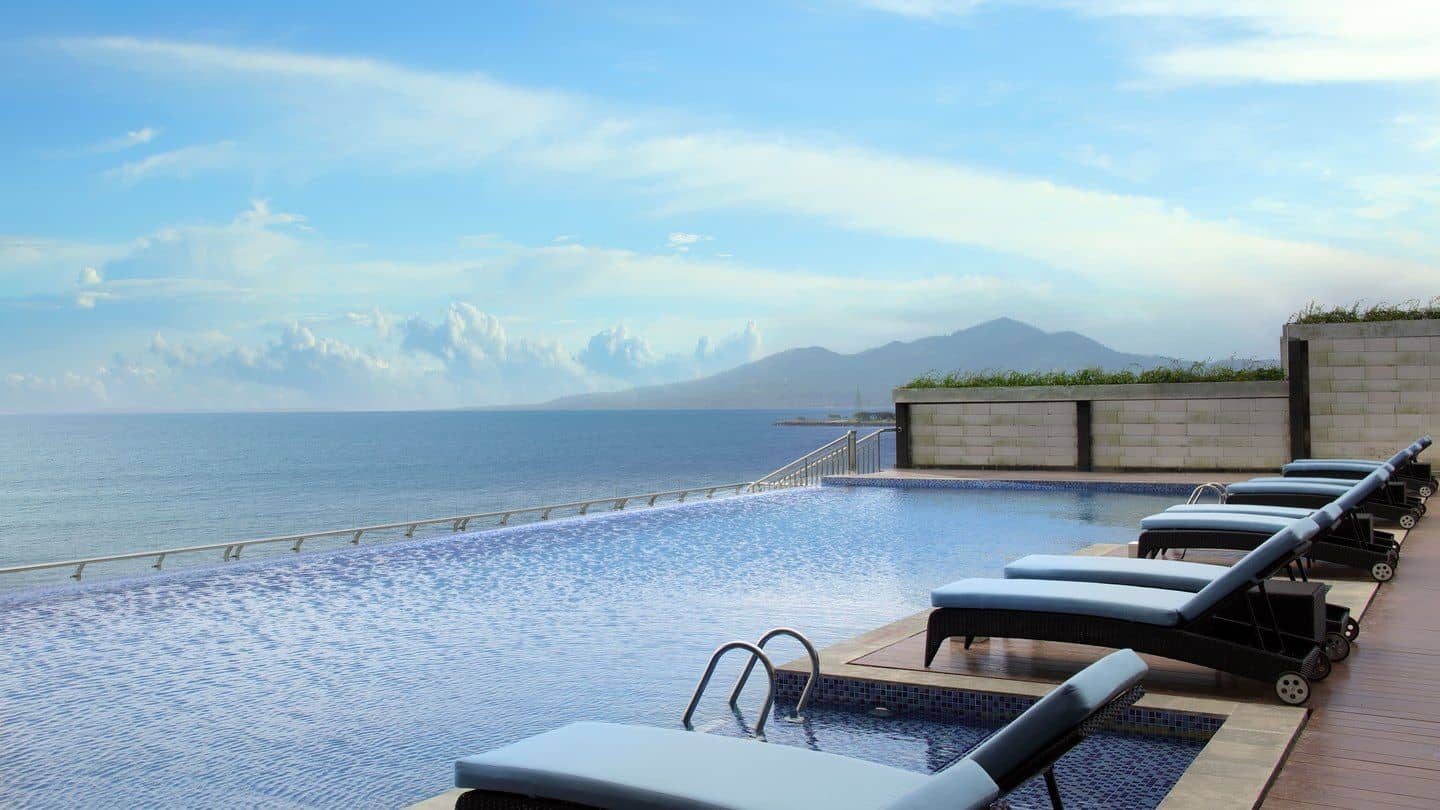 The AC Hotel Veracruz in Mexico, specifically in Boca del Rio: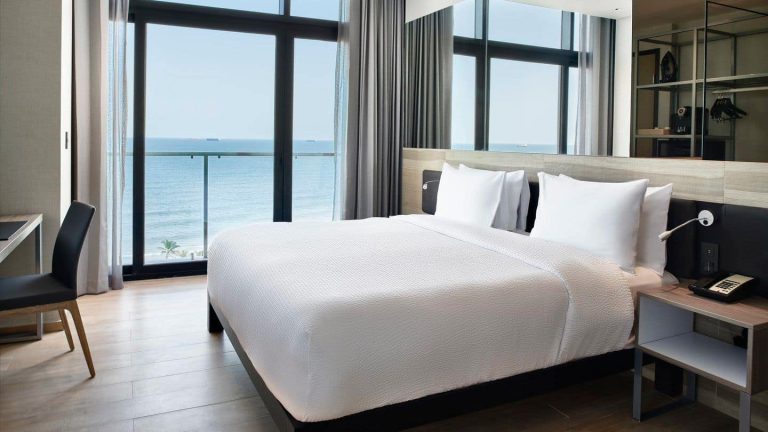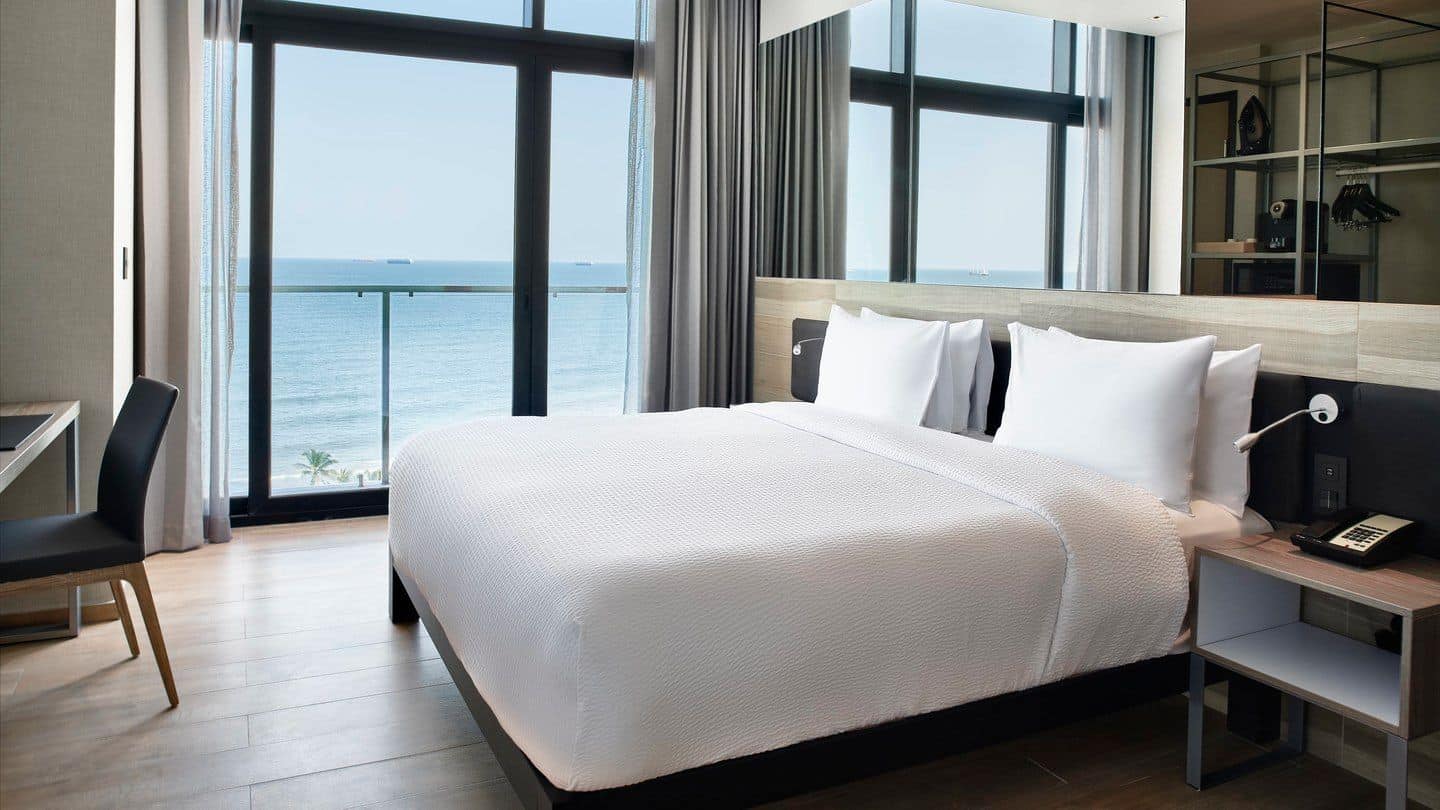 The AC Palacio de Santa Ana in Spain, a 5-star historic hotel.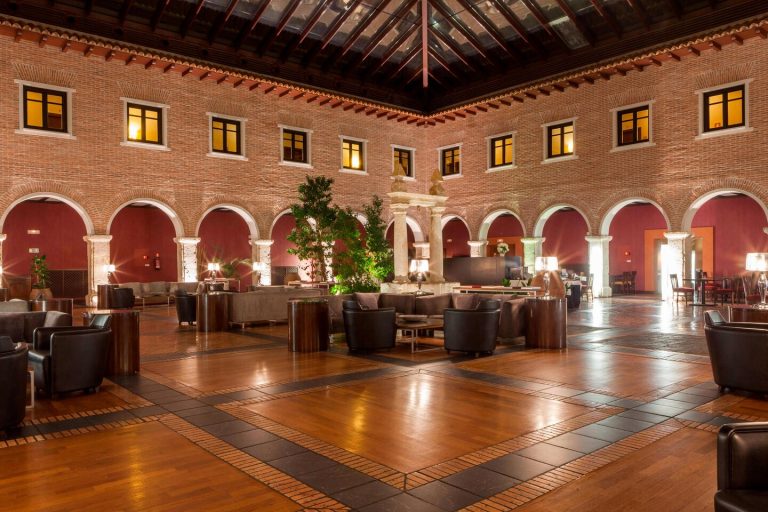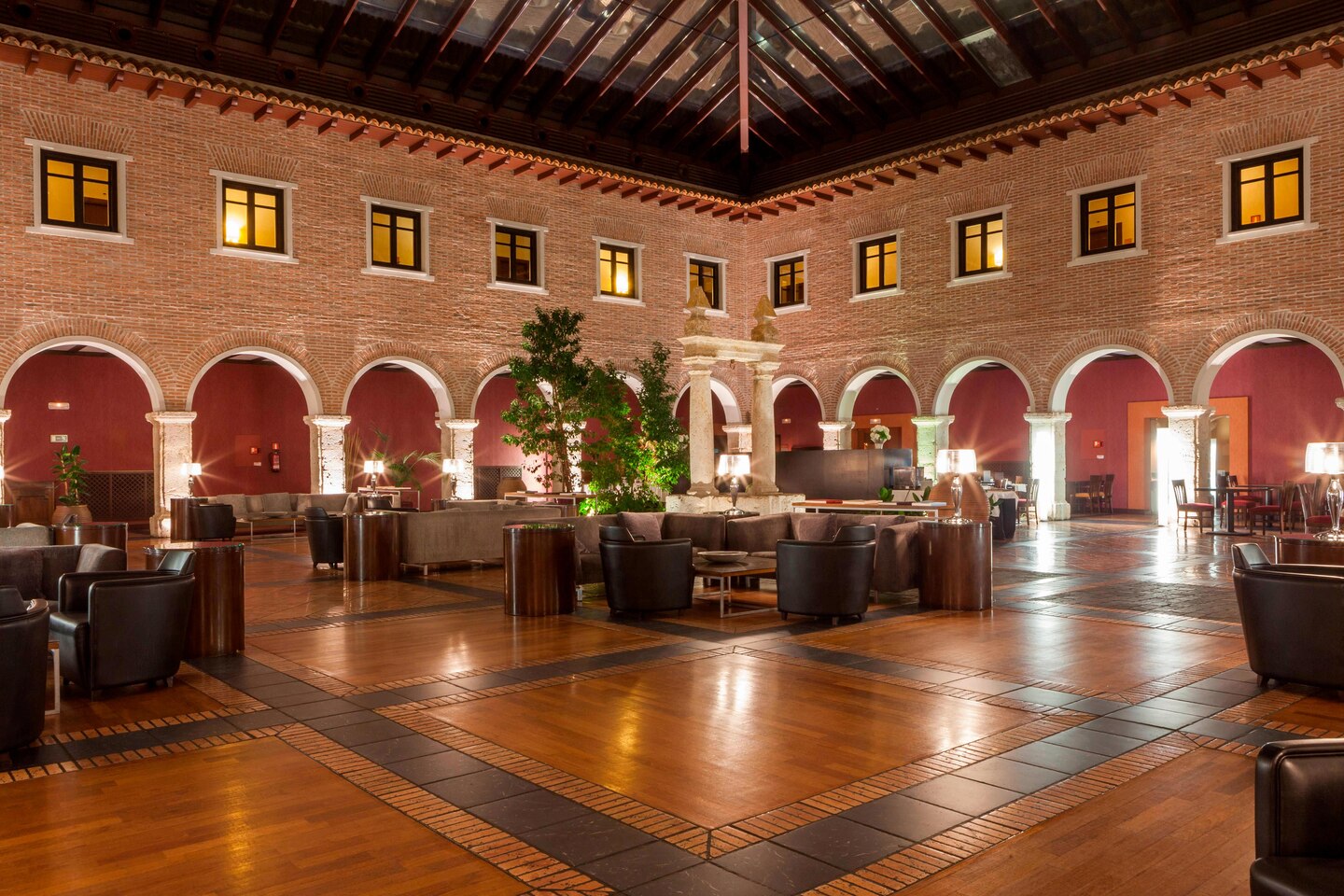 In short, there are a few hundred Category 1 Marriott Hotels where you can get 8 free nights simply by getting the Marriott Bonvoy American Express!
That's how variable-value hotel points work: hotels cost a fixed number of points per night based on which category they are in, according to Marriott's chart. It has regular pricing, peak pricing and off-peak pricing (peak and off-peak will be defined later this year).
As you can see below, the best way to maximize the value of Marriott Bonvoy Points for non-luxury travelers like us is to plan a trip around those Category 1 hotels (or Category 2 hotels if you want more flexibility) to get more free nights for the same amount of points.
Here is what you can get with your Welcome Bonus:
| FREE NIGHTS | HOTEL CATEGORY | TIMING | COST PER NIGHT |
| --- | --- | --- | --- |
| 12 free nights | 1 | Off-Peak | 5,000 |
| 8 free nights | 1 | Standard | 7,500 |
| 6 free nights | 1 | Peak | 10,000 |
| 6 free nights | 2 | Off-Peak | 10,000 |
| 5 free nights | 2 | Standard | 12,500 |
| 3.5 free nights | 2 | Peak | 15,000 |
| 2 free nights | 4 | Standard | 25,000 |
*By the way, those examples include Marriott's 5th night free benefit as well, so if you don't want to stay 5 nights at the same hotel, you get a bit less value obviously (you'd get 7 nights instead of 8 for the best redemption).
We highly recommend that you read our article about How To Use Marriott Bonvoy Points To Maximize Their Value… but the bottom line is that 50,000 Points is an amazing deal that you can maximize by planning a trip or vacation around those 8 potential free nights! Or at the very least, these are multiple free hotel nights that are very easy to get!
If you want detailed examples of trips you can go on, read these (with more to come):
Other Things To Know About The Welcome Bonus
To unlock your Marriott Bonvoy AMEX Card's Welcome Bonus, all you need to need to do is charge $1,500 in purchases during the first 3 months, which should be pretty easy and will give you 3,000 additional Points for a total of 53,000 Points. (That is extended to 6 months during the coronavirus crisis.)
You could also potentially use the Welcome Bonus for a free flight to anywhere in North America if you prefer airline miles, but for a vast majority of travelers that won't give as much value. That's because Marriott Points are transferable, but not at a very good rate. You can read more details about Transferring Marriott Bonvoy Points To Airline Miles if you are interested.
Annual Fee (And Amazing Annual Free Night Award)
The card has a $120 annual fee. It is still mind-boggling to us that many travelers refuse to pay annual fees by principle alone: it makes no sense whatsoever. But it's a hard-wired reflex for some.
The annual fee does not matter: what matters is the net value. A card that gives you a Welcome Bonus worth over $400 that has a $120 fee is better than a card that gives you a $0 Welcome Bonus and costs $0 right? It's pretty basic stuff!
Remember, the earn rate is as good on this card as any other (better even, we'll get to that in a second) so look at the overall net value of just getting the card and understand that the fact it has an annual fee is entirely irrelevant (especially given the annual free night I'm getting to in a second).
So if you know how to count, you'll see that clearly you get more value with the Marriott Bonvoy American Express Card than with a no-annual fee card with no Welcome Bonus… and not just in year 1.
First Year Value
So for the first year, it's pretty simple: we even value the net value of the card at ~$357, and yes the annual fee has been deducted already. And that excludes what you'll earn on all of your purchases of course, it's just by getting the Card and Welcome Bonus.
That's because your Welcome Bonus of 50,000 Marriott Points is worth an estimated ~$450 and you'll earn an extra $27 worth of points by unlocking the Welcome Bonus, for ~$567 in free travel. Less the $120 fee, that's a net of ~$447 in free travel according to Flytrippers valuations.
~$450 Welcome Bonus
+
~$27 earned to unlock Welcome Bonus
=
~$477 worth of travel
(less)
$120 fee
=
~$357 in free travel
And as mentioned, that's a conservative average for those who are a little less flexible: if you are strategic and you maximize your points and get 8 nights out of it, it's worth so much more!
Subsequent Years Value
While many credit cards give you a lot less value after year one, that's definitely not the case with the Marriott Bonvoy AMEX Card. Quite the opposite.
Every year, you will get a free night certificate redeemable at any hotel up to Category 5, the annual free night award. Needless to say, Category 5 hotels are pretty amazing. Some are even exceptional.
You can read Kevin's detailed experience in a $1,000-a-night overwater bungalow in Fiji for free with his Marriott annual free night certificate.
Here are a few luxury Category 5 hotels:
(you can also see the 35 Best Marriott Category 5 Hotels)
There is the gorgeous Fiji Marriott Resort Momi Bay in Fiji: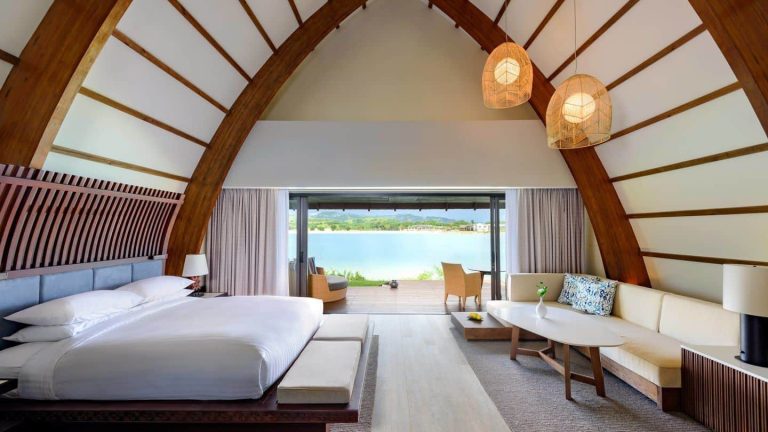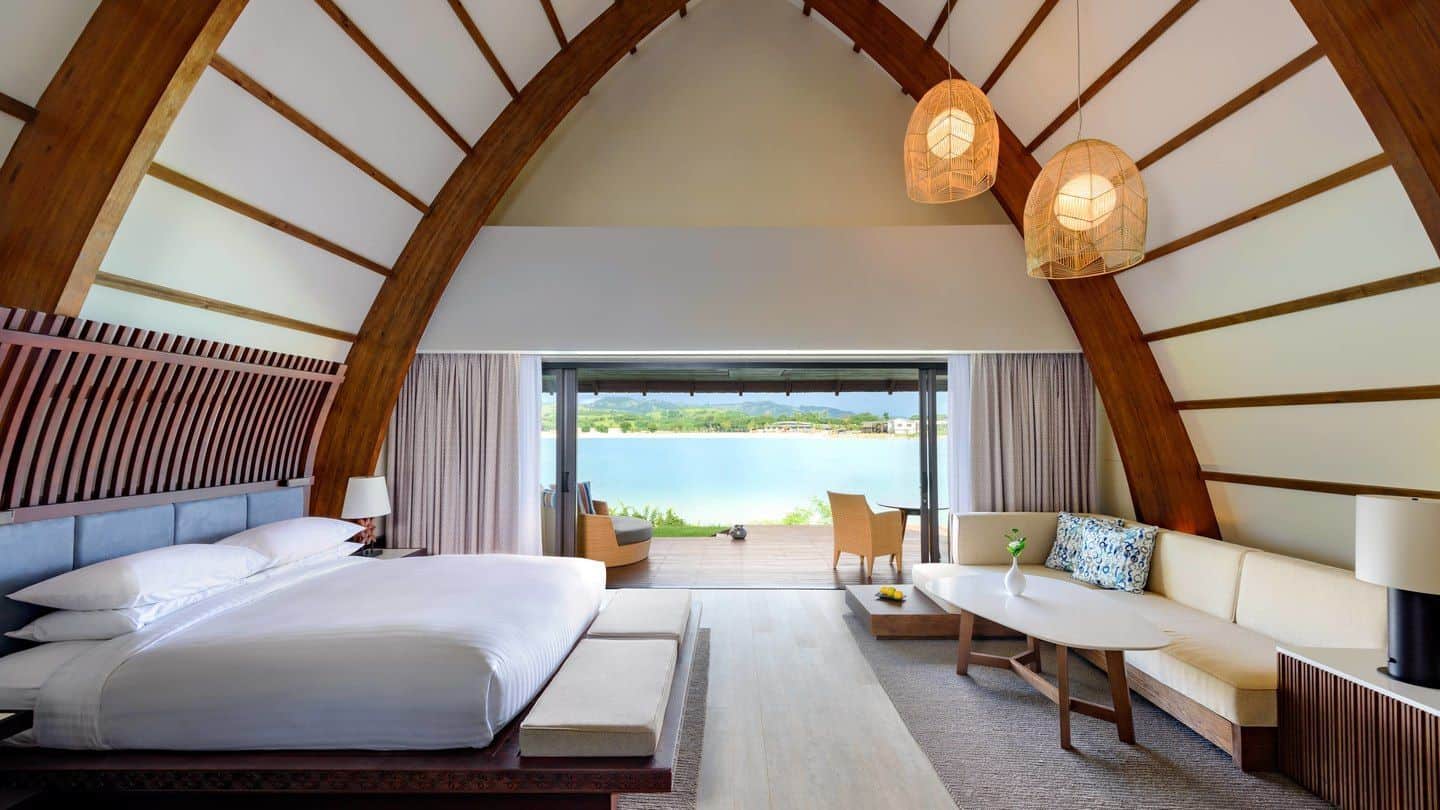 The Le Méridien Etoile Paris in the heart of France's capital city: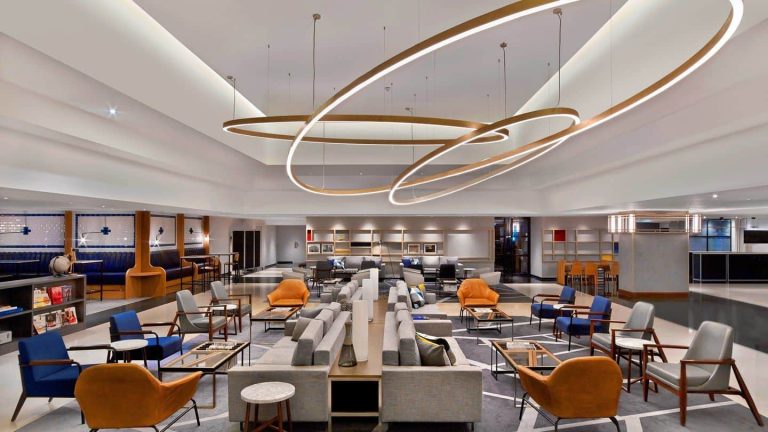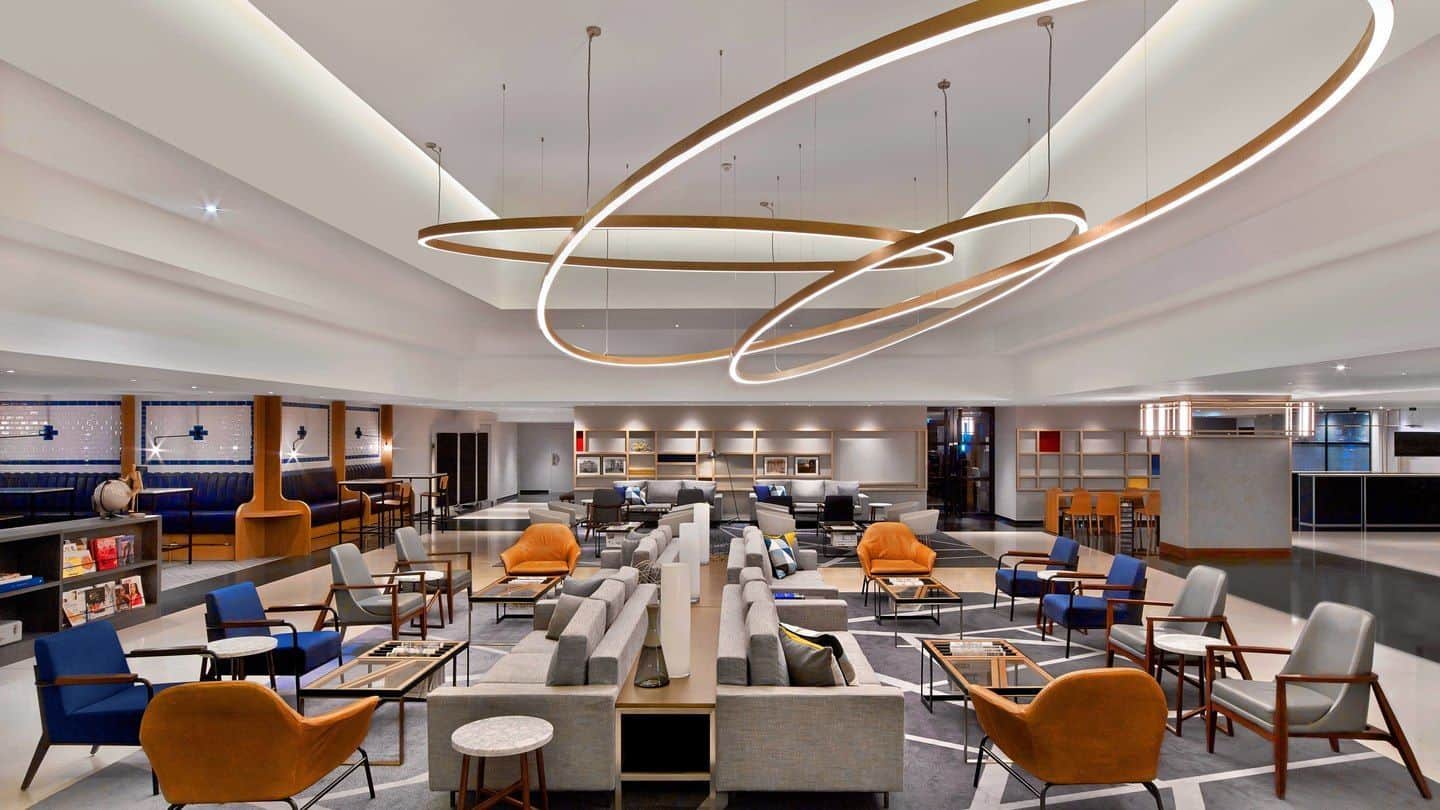 The superb Ritz-Carlton Resort Penha Longa in Portugal, in an old 14th century monastery: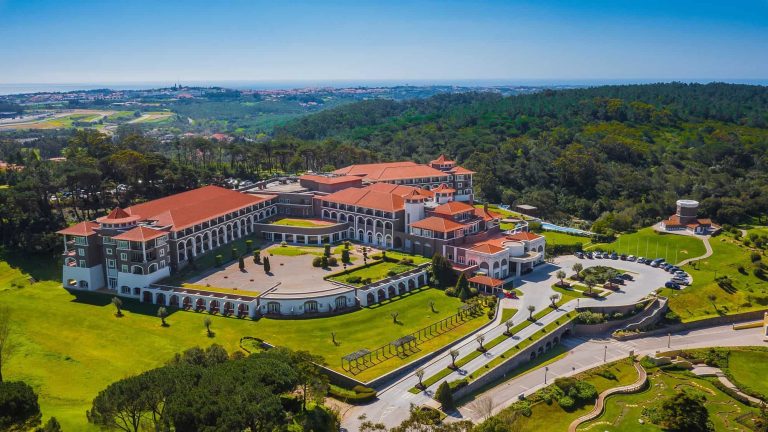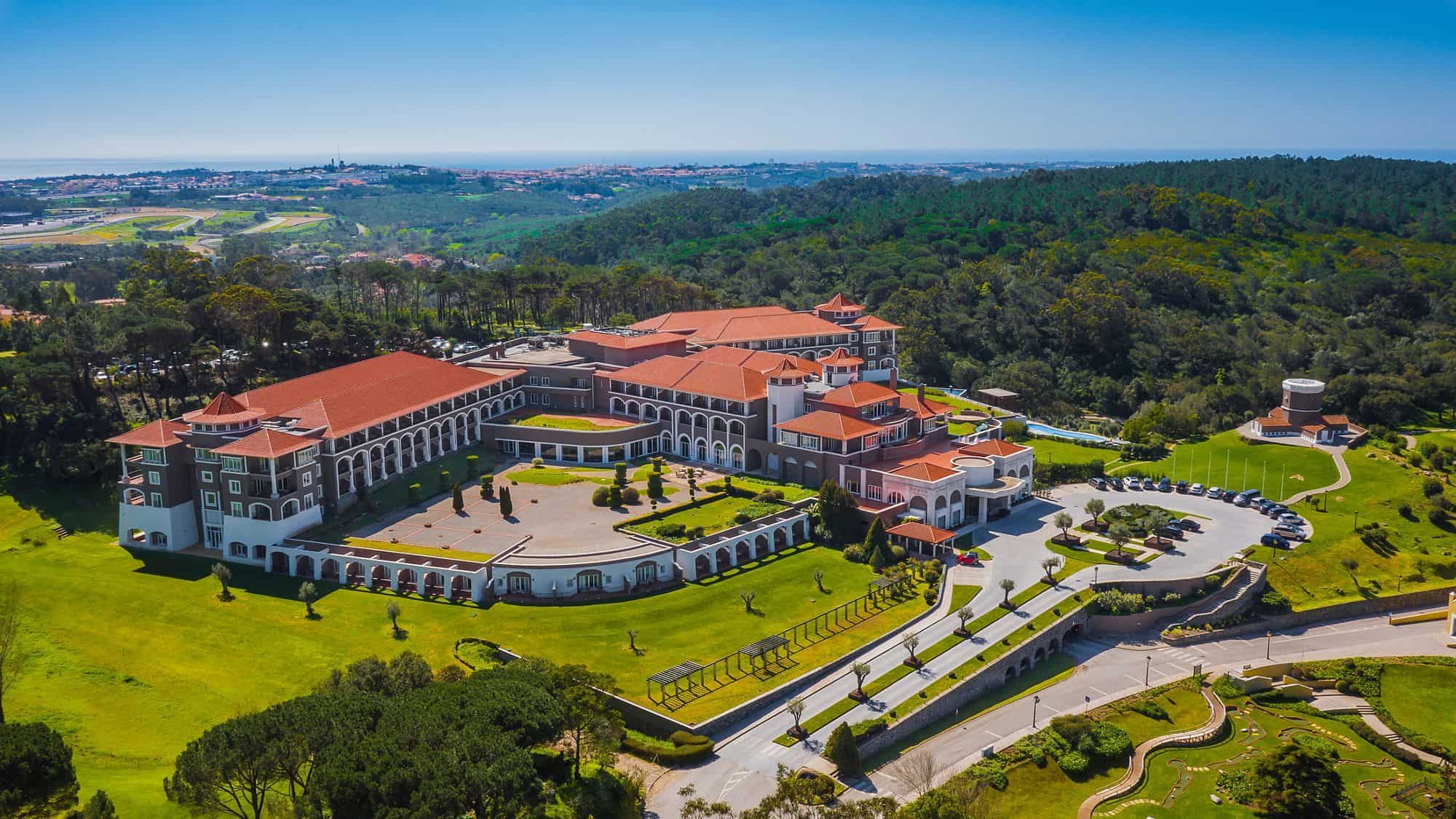 Basically, Category 5 hotels that are simply stunning are incredibly easy to find.
So again, even in the subsequent years, there is no way that you can't justify the $120 fee, thanks to this amazing yearly free night certificate.
You surely book at least one hotel every year and it probably costs you more than C$120 including taxes… and it's almost sure that for C$120 including taxes, that hotel is nowhere near as nice as a Marriott Category 5 hotel.
We've had this card since 2017, and we're never going to cancel it as long as the annual free night benefit is offered. And you should have it too if you want to change a very ordinary $100 + tax hotel stay to a very nice luxury Category 5 stay each year for the same price.
All of that was without even considering the points you'll earn with the card, one of the best advantages of the Marriott Bonvoy Card…
Earn Rate
One of the greatest features of the Marriott Bonvoy Card is that the earn rate is excellent, with 2 Marriott Points per dollar everywhere and a whopping 5 Points per dollar at Marriott Hotels.
Most cards in Canada will earn you only around 1% back on non-bonused categories, which means on everyday purchases, but this one gives you ~ 1.8 % (a 80% bonus) based on our valuation estimates for Marriott Bonvoy Points.
Variable-value points can give you way more value than simple cashbacks or travel credits in general (because if you maximize them, you get a lot more for your money points that with a fixed-value point that is obviously always worth the same thing). But with this Card's amazing earn rate, it is even more true.
Also, hotel points are more lucrative than airline miles, at least for those who are generally able to find cheap flights as I mentioned. I personally put almost all of my spending on my Marriott Bonvoy American Express (on non-bonused categories of course).
You can read all the details about the Marriott Bonvoy American Express Card's Earn Rate, including how you can earn an obscene amount of points on your paid Marriott stays (especially during the upcoming Double Points promo).
Other Benefits
There are 3 other benefits that are worth mentioning: elite status, travel insurance and additional cards.
Elite Status
Just by being a Cardmember, you get complimentary Marriott Bonvoy Silver Elite status at all Marriott Hotels.
It's not much honestly, since it's the entry-level elite status, but you still get a few benefits. But most importantly, you get a shortcut to reach Gold Elite status quite easily, and that level is more interesting.
You can read more details about Marriott Bonvoy Elite Status.
Travel Insurance
We just talked about the fact that annual fees were irrelevant, well in fact it's even a good thing when there's an annual fee (at least with good cards that give you huge value with the Welcome Bonus and the subsequent years' benefits).
That's because cards with annual fees have travel insurance, and it's one of the best reasons to get good travel cards like the Marriott Bonvoy AMEX Card. Two of the most easily avoided complaints in the world of travel will be covered with this card's insurance: flight delay insurance and car rental insurance.
Airlines owe you nothing if weather delays your flight. It makes sense, since they don't control the weather. But your flight delay insurance coverage will give you $500 for hotels and meals if your flight is delayed, as long as you charge the flight to your card.
Renting a car doesn't have to be expensive. It can be very cheap in North America if you decline the very high insurance fees. You can do that thanks to the car rental theft and damage coverage, as long as you charge the rental to your card.
There are also a few other types of coverage: baggage delay insurance, lost or stolen baggage insurance, hotel burglary insurance, travel accident insurance, emergency assistance, purchase protection plan and buyer's assurance protection.
The only key insurance coverages that this card doesn't include is the medical travel insurance and trip cancelation insurance, which you can get from carrying another card as almost all travel cards have it. You can read more about travel insurance in general in upcoming articles.
Additional Cards
Finally, another interesting benefit is the no annual fee additional card. That means if you want someone in your household to help you earn points, you can get them a card on your account completely free.
Although we'd recommend each getting a card in your own right instead if you want to maximize your Welcome Bonus, especially with such a great offer. For a couple, this means a potential of 17 free hotel nights this year by each getting a card!
Bottom Line
If you like free hotels, you should get the Marriott Bonvoy American Express Card. The 50,000 Marriott Bonvoy Points Welcome Bonus alone is a good reason for any Canadian traveler to get the card. You'll then earn even more free nights with your everyday purchases and combined with the other travel benefits, this makes the Card one of our favorite cards in Canada.
Do you have any questions about the Marriott Bonvoy Card or the Marriott Bonvoy program? Ask us in the comments below!
Help us spread the word about our flight deals and travel tips by sharing this article and most importantly bookmark Flytrippers so we can help you navigate the world of low-cost travel!
Advertiser Disclosure:
This post was sponsored by Amex Bank of Canada. The views and opinions expressed in this blog, however, are purely our own. Redemption values evoked are also Flytrippers' own and solely based on our own points valuation estimates as described.
All offers described on the Flytrippers website are subject to the financial institutions' latest terms and conditions that can be found on their website.
Offers from financial institutions change quickly; it is your responsibility to ensure the accuracy of these offers on their website when applying for a card. Flytrippers will not accept any responsibility for the accuracy of the offers or the result of your actions.
American Express is not responsible for maintaining or monitoring the accuracy of information on this website. For full details and current product information click on the provided links to proceed to product website. All the information was independently collected by Flytrippers and not provided by financial institutions.
Some links on this page are affiliate links that may allow Flytrippers to earn a commission. Thank you for using our links and encouraging us at no additional cost to you.
Flytrippers' website does not contain all available credit card offers or all available credit card companies on the market. Flytrippers never shares an offer if it is not considered advantageous for certain travelers, at its sole discretion.
No author on Flytrippers' website is a financial advisor, a financial planner, a legal professional or a tax professional and no author on Flytrippers' website can in any way be considered as such.
All articles and pages on Flytrippers' website are merely personal opinions of a general nature and are for informational purposes only and should not be considered as advice for specific situations. It is your responsibility to perform your own personal research to make sure that Travel Hacking is appropriate for your own situation.
The opinions expressed on Flytrippers' website are those of the authors only and have not been provided, approved, endorsed or ratified by any third party mentioned on the site.
You can learn more about our terms of use here.