If you still don't have the only credit card that we recommend literally every Canadian traveler should get, now is a good time to get it! It's one of our favorite cards, it has no minimum income… and it can give you 11 completely free nights in great hotels, including in beautiful Bali. This deal is one of the best-kept "secrets"… but it works and it's amazing (and easy)!
As a reminder since it's so vitally important: do not cancel your old cards, as mentioned in our free checklist for when you get a new card—it's one of the most common and damaging mistakes those who are beginners in the fabulous world of travel rewards make.
So…
First, you can watch our video presentation of the Marriott Bonvoy™ American Express® Card if you prefer that format (the welcome bonus amount has changed slightly since, but the rest of the card has not):
If not, read on.
Million-dollar sidenote
You might have learned about Flytrippers from the 50%-off flight deals we spot…
But did you know that since we launched just a few years ago, travelers who follow us have earned a whopping one million dollars in welcome bonuses alone? Yes, you read that right; a million dollars!!!
That is just with welcome bonuses. And just with the best credit cards in Canada that we've recommended, because we only recommend the very best deals… the ones with huge welcome bonuses.
Like this very huge increased welcome bonus on the Marriott Bonvoy American Express Card, giving you up to 11 free nights… and many of the eligible hotels are very beautiful, both for those who love nature or cities!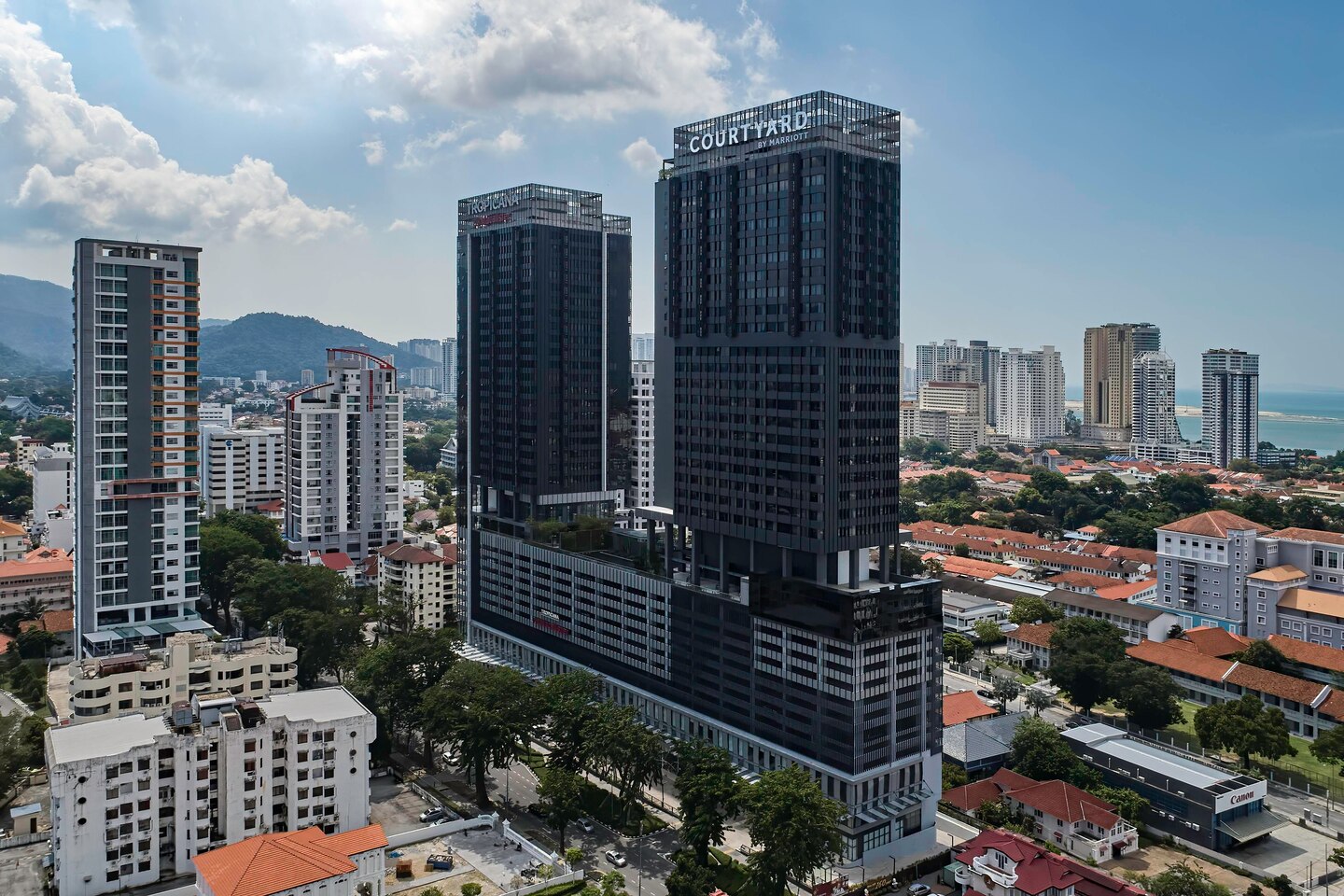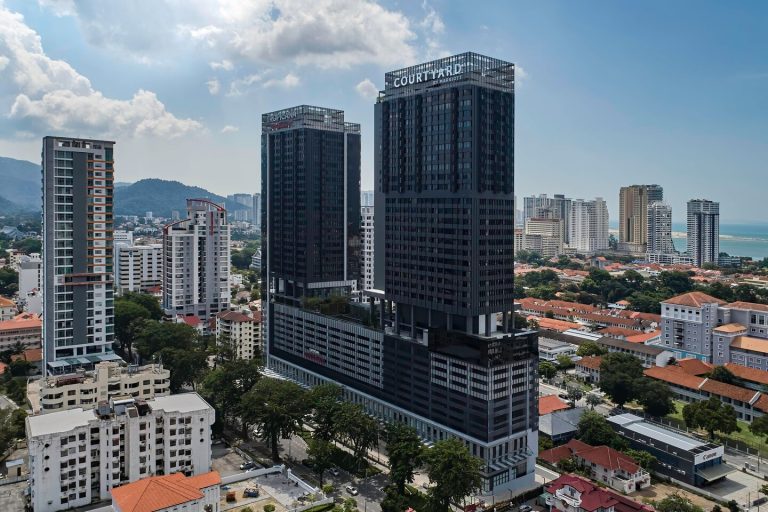 Anyway, we're so happy about that million-dollar stat, since helping you travel more for less is our mission… and travel rewards are such a huge part of doing that.
How much did you earn in welcome bonuses? I get well over $1,000 every year… and if you want to stop missing out, this is really the best card to get started right now very easily!
Overview of Flytrippers' take on the Marriott Bonvoy Card

Let's start with a summary of:
Why you should get the card
Who should get the card
Highlights of the Marriott Bonvoy American Express Card
The 5 reasons why you should definitely get the Marriott Bonvoy American Express Card are:
The incredible welcome bonus worth up to 11 free nights
The flexibility of having points that won't expire
The amazing annual free night certificate for very luxurious hotels
The great base earn rate
The other benefits: free additional card, insurance, and elite status
Who should consider the Marriott Bonvoy American Express Card
The simple answer is:
Again… we rarely—if ever—have just one at-large bullet like that, but the Marriott Bonvoy American Express Card really is that good.
It's a no-brainer. It's one of the best cards.
The deal is so good, I will even gladly personally answer any question you may have about it; just send it to hello@flytrippers.com or fill in this form!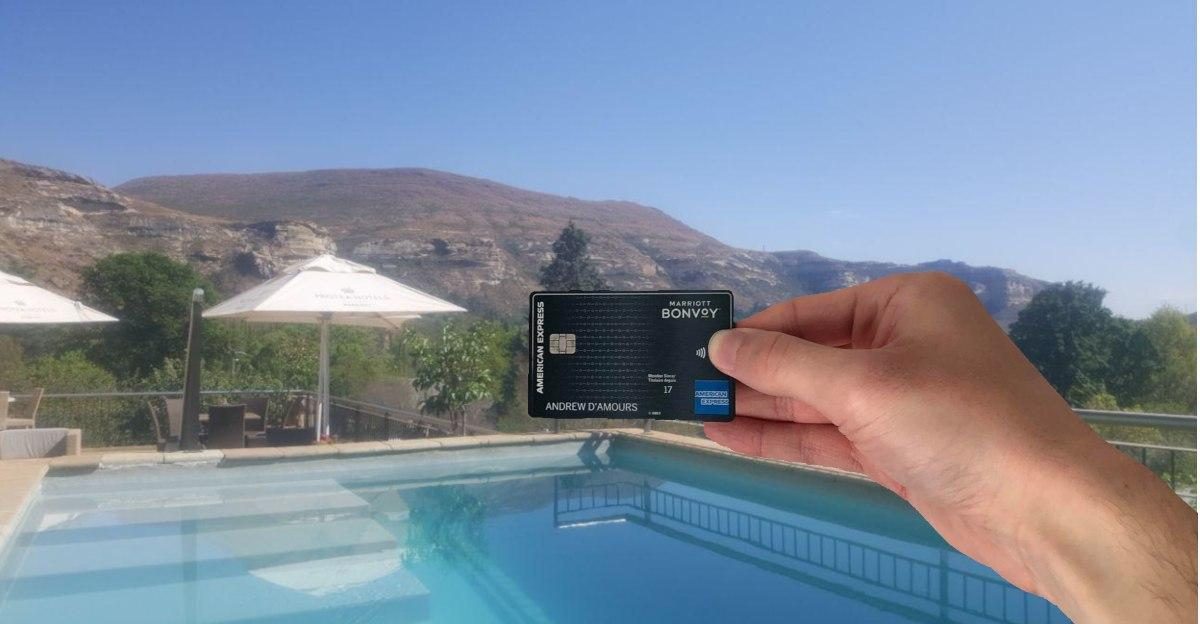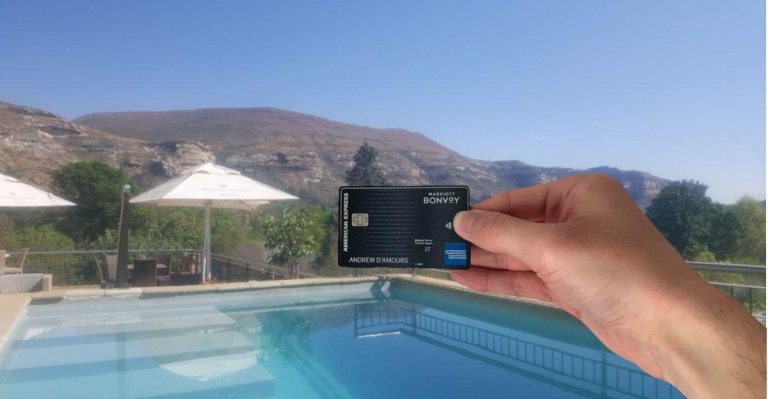 The 3-step deal summary
For those who want the simple to-the-point version, here is how the Marriott Bonvoy American Express Card deal works… with more information below if you want it (by the way, you can also read the deal's even shorter summary page if you prefer that):
How to use the welcome bonus
How to unlock the welcome bonus
The card fee
1. Using 73,000 Marriott Bonvoy points
The points you get after unlocking the welcome bonus are enough for 11 free nights in many amazing destinations like Indonesia, Malaysia, India, South Africa, and Spain on a majority of dates… or even 6 free nights in 1,100+ hotels in 50+ countries if you prefer even more great options.
See the next section below for more details, but basically: simply plan a trip around those specific destinations and hotels and it's that easy.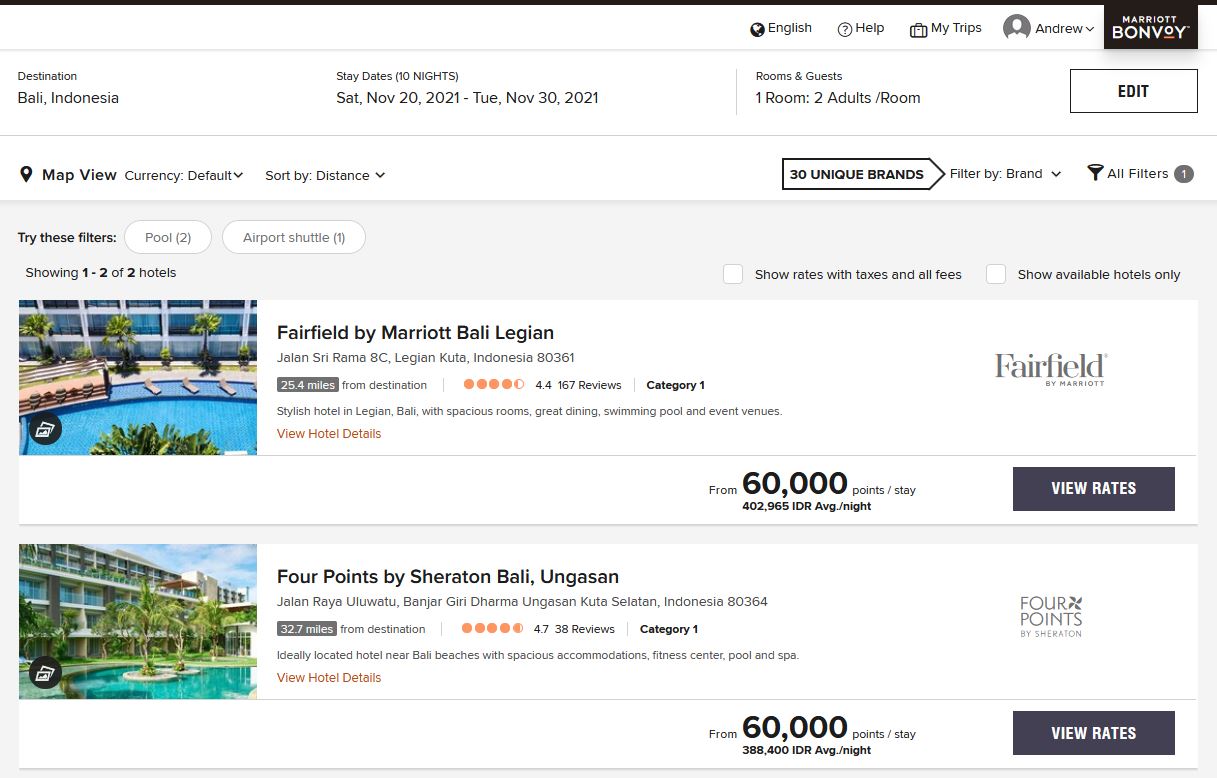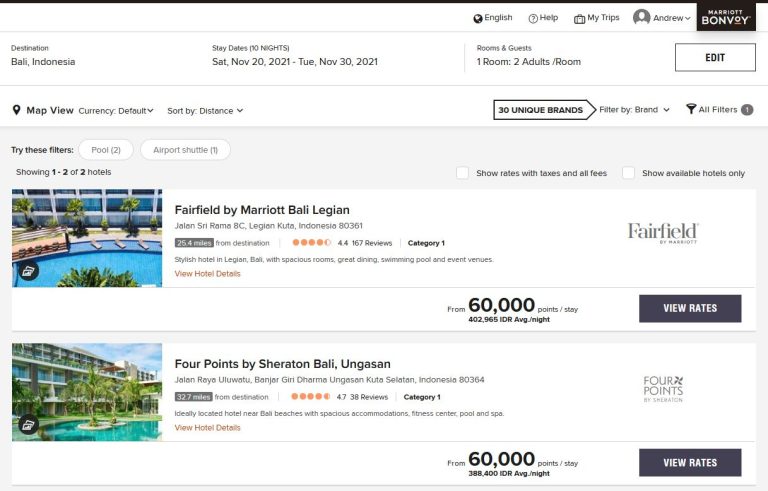 The welcome bonus is worth multiple hundreds of dollars in free hotel nights in the 8,000+ hotels of the world's largest hotel chain's 30 brands. The points you get are worth ≈ $657 based on our Flytrippers Valuation, but it can be more or less depending on how well you use it.
Oh and with hotel points, free nights are really completely free. No taxes or fees to pay (unlike with some airline rewards programs). And there's no time limit to book or anything like that. You can act now to be ready and have your points earned for when you will be ready to travel.
2. Unlocking the welcome bonus
As with almost all good cards and welcome bonuses, all you need to do to unlock it is spend a set amount in the first few months: It is now $1,500 in the first 3 months in this case.
While it seems high, that's just the equivalent of $115 per week (3 months = 13 weeks), which is doable with our 5 tips… especially if you switch to one of the grocery stores in Canada that accept Amex cards (and buy gift cards there). For such a high welcome bonus, it's worth the slight effort.
If you can't reach that amount, the Scotiabank Gold American Express® Card is a great alternative that will give you $350 in value with the welcome bonus after just $1,000 in 3 months. That's not nearly as much as 11 or 6 free nights, but the points are a lot more flexible, it earns 5 points per dollar at many retailers and is one of the very rare cards in Canada that doesn't charge the 2.5% foreign transaction fee.
3. Card fee
The card has a $120 fee that is more than offset by the huge welcome bonus the first year, for a Flytrippers Valuation of ≈ $537 for the welcome bonus alone ($657 minus $120).
Again, it's a great example of why it makes no sense to avoid cards with annual fees just for the sake of avoiding fees. Annual fees alone are irrelevant: It's the total net value that matters, always. A $120 card that gives you $657 is obviously better than a $0 card that gives you $0… if you know how to do the math.
Look… it's a good reflex to avoid fees normally. But with travel rewards, it just doesn't make sense (the world of travel rewards is a very counter-intuitive one).
In the following years, there is obviously no obligation to keep the Marriott Bonvoy American Express Card… but you really should, since the incredible annual free night certificate also more than offsets the fee.
Every year, it will give you a free night in hotels up to Marriott's category 5, so we're talking thousands of hotels almost everywhere in the world, many of which are 5-star hotels. Definitely worth more than $120. See our example in an overwater bungalow in Fiji.
So in short, the Marriott Bonvoy American Express Card is one of the best deals for Canadian travelers, giving you a nice ≈ $537 in value… or a lot more if you its welcome bonus for those 11 or 6 completely free hotel nights.
Detailed look at the 5 reasons to get the card
Here is more information about each part of this deal.
1. The amazing welcome bonus
Once you unlock the Marriott Bonvoy American Express Card's welcome bonus, you will have 73,000 Marriott Bonvoy points (welcome bonus of 70,000 points + 3,000 points earned on the minimum spend).
1.1 What you can get with the welcome bonus
That is enough for 11 free nights in 250+ hotels in many amazing destinations like Indonesia, Malaysia, India, South Africa, and Spain on a majority of dates (these are called Marriott category 1 hotels).


Want even more destination options?
You can instead get 6 free nights in 1,100+ hotels in 50+ countries on a majority of dates (these are called Marriott category 2 hotels). Getting 6 free nights is still a pretty amazing deal and that gives you so much more choices in terms of destinations, like Egypt, Thailand, Cambodia, many European/South American countries, etc.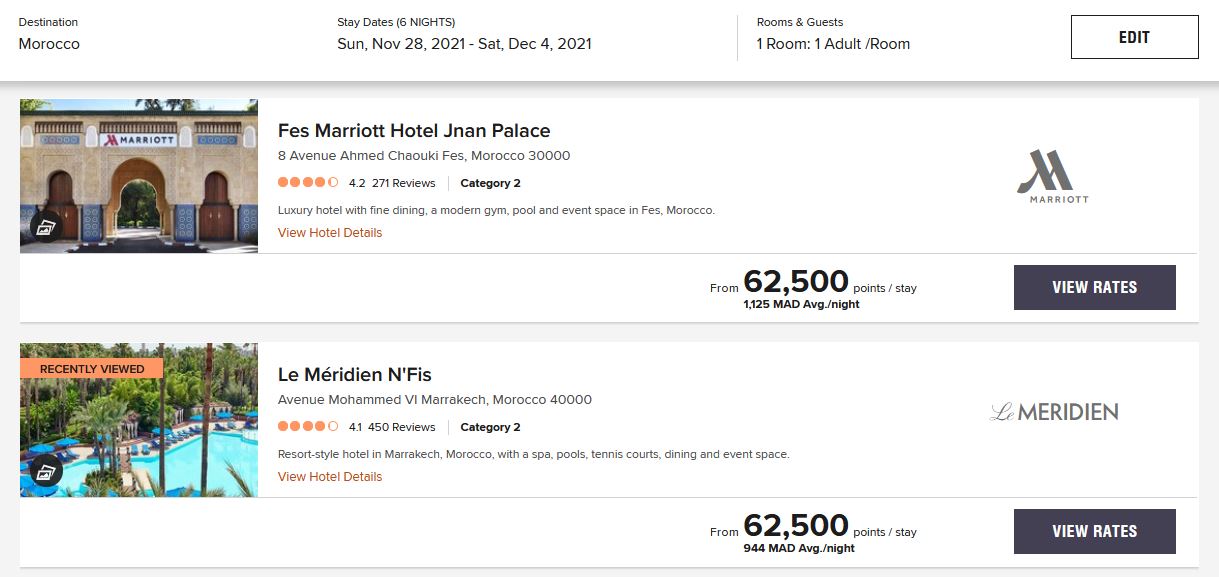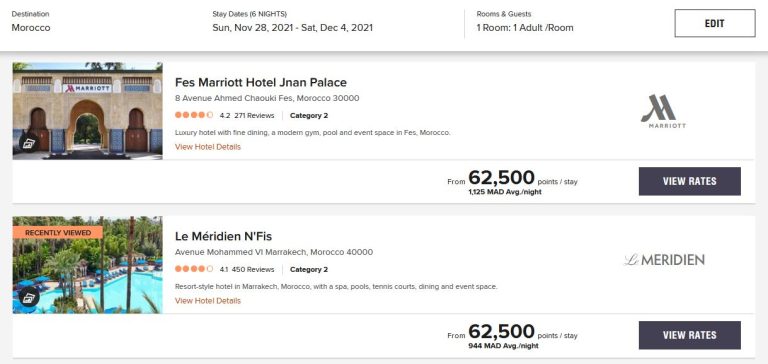 And even the most affordable of Marriott's 30 hotel brands are not cheap basic hotels. They're very nice.
So it's pretty easy to plan trips around those amazing destinations and around those beautiful hotels and therefore get many free nights in nice hotels.
For more details about the hotels and destinations, with photos:
Where does that 23 come from? Well, if your favorite travel buddy gets the card too… you'll share a whopping 23 free hotel nights together (or 13 free nights for more options). That's what I did with my girlfriend and we enjoyed an epic trip to Spain in October 2019 with our points.
In Indonesia and Malaysia for example, you can go on a nearly 3-week trip for about $1,100 total (flights included)! We'll have that itinerary and other itineraries, great pro tips, and more info in the coming weeks to help you maximize this deal.
And if you don't want to plan trips around those hotels, you'll still get 5 free nights in another 2,500 hotels… 5 free nights with one welcome bonus is not bad—but it's not 11 nights.
But you can save just as much money this way, especially if you usually pay for expensive hotels. No matter the price of those hotels in cash, the price in points are fixed based on Marriott's price chart. That's why Marriott points are variable-value rewards: They save you a variable amount of money.
This is the most amazing type of rewards for deal-lovers: Because it can provide outsized value and unlimited value, as opposed to bank points (or worse; cashback) that can never be worth more.
That's why the Marriott Bonvoy American Express Card is such an amazing deal.
Now for the details: you need to stay in 5-night increments to maximize and get those numbers since Marriott has a "Stay for 5, Pay for 4" policy (most of you probably already usually stay 5 consecutive nights anyway). In other words, the 11 free nights are actually two 5-night stays and 1 other night. And as mentioned, the math for those free nights works on the majority of dates. But Marriott also classifies a few dates as Peak or Off-Peak so it will sometimes be a bit more or a bit less than 11 nights… but even with no flexibility at all on dates, it's a minimum of 9 free nights in those hotels (or 5 for more options). Still pretty good!
Here's a summary:
| | Category 1 hotels | Category 2 hotels | Category 3 hotels |
| --- | --- | --- | --- |
| Number of hotel options | 300+ | 1,100+ | 2,500+ |
| Free nights (majority of dates) | 11 | 6 | 5 |
| Free nights (any dates) | 9 | 5 | 3 |
And here is the same table for a couple (or 2 friends):
| | Category 1 hotels | Category 2 hotels | Category 3 hotels |
| --- | --- | --- | --- |
| Number of hotel options | 300+ | 1,100+ | 2,500+ |
| Free nights (majority of dates) | 23 | 13 | 10 |
| Free nights (any dates) | 17 | 11 | 8 |
1.2. The welcome bonus math
So again, while our Flytrippers Valuation is ≈ $537 for the welcome bonus (points worth ≈ $657 with a $120 fee), you can get more value with the Marriott Bonvoy American Express Card depending on how you use it.
Unfortunately, many people still stick to their irrational avoidance of cards with fees and miss out on getting over $1,000 a year in net value from welcome bonuses like I have gotten every single year for over a decade.
Fees are good… as long as you choose the right cards that have good welcome bonuses (some people pay annual fees for cards that don't give them value… that's really not the same thing). If the card no longer offers value the next year, you downgrade it or close it—depending on your experience level.
But the Marriott Bonvoy American Express Card should definitely be kept. The value you get every subsequent year with the amazing luxury hotel free night certificate is almost as good as with the welcome bonus, as I'll show you in a few seconds.
1.3. The minimum spend
If the $1,500 in the first 3 months minimum spend requirement is not an issue for you, we have a pro tip for those who want to earn even more rewards very easily.
In terms of a two-player mode strategy, if you can't spend $1,500 in 3 months on 2 cards simultaneously, you're probably better off waiting a bit to get your travel buddy's card so you can concentrate all your spending on one card at a time. Tp help you spread out the total minimum spend requirement for the 2 cards over a longer period (and take advantage of another tip we'll share only to subscribers to our free travel-rewards-only newsletter).
2. The flexibility of having points that don't expire
Your points earned with the Marriott Bonvoy American Express Card won't expire, and you don't have to book anything in advance or anything. There's no time limit whatsoever. It's really as flexible as it can be.
So you can act now and be ready by already have your points for whenever international travel will be simpler, which should be in the fall at the very latest… but regardless, there is no risk at all since the points don't expire if you just use your card for a $1 purchase once every 2 years…
Also, Marriott is the world's largest hotel chain (by the number of rooms) and Marriott Bonvoy is the world's largest loyalty program (by the number of members). There are 30 different Marriott hotel brands and over 8,000 hotels in nearly every country (with about half a million other new rooms under development)…
So nothing to worry about: They will still be going strong no matter when you are ready to travel.
3. The amazing annual free night certificate
Every year, you will get an incredibly valuable certificate for a free night that can be used in thousands of very luxurious hotels in many many many destinations around the world (up to Marriott category 5 hotels).
Unlike category 1s or 2s that you need to plan around to maximize the welcome bonus, the hotels for the free night certificate can be found pretty much everywhere.
It's one of the best reasons to get the Marriott Bonvoy American Express Card.
Flytrippers' other co-founder Kevin used his for a $1,000-a-night overwater bungalow at the 5-star Marriott Momi Bay Resort in Fiji.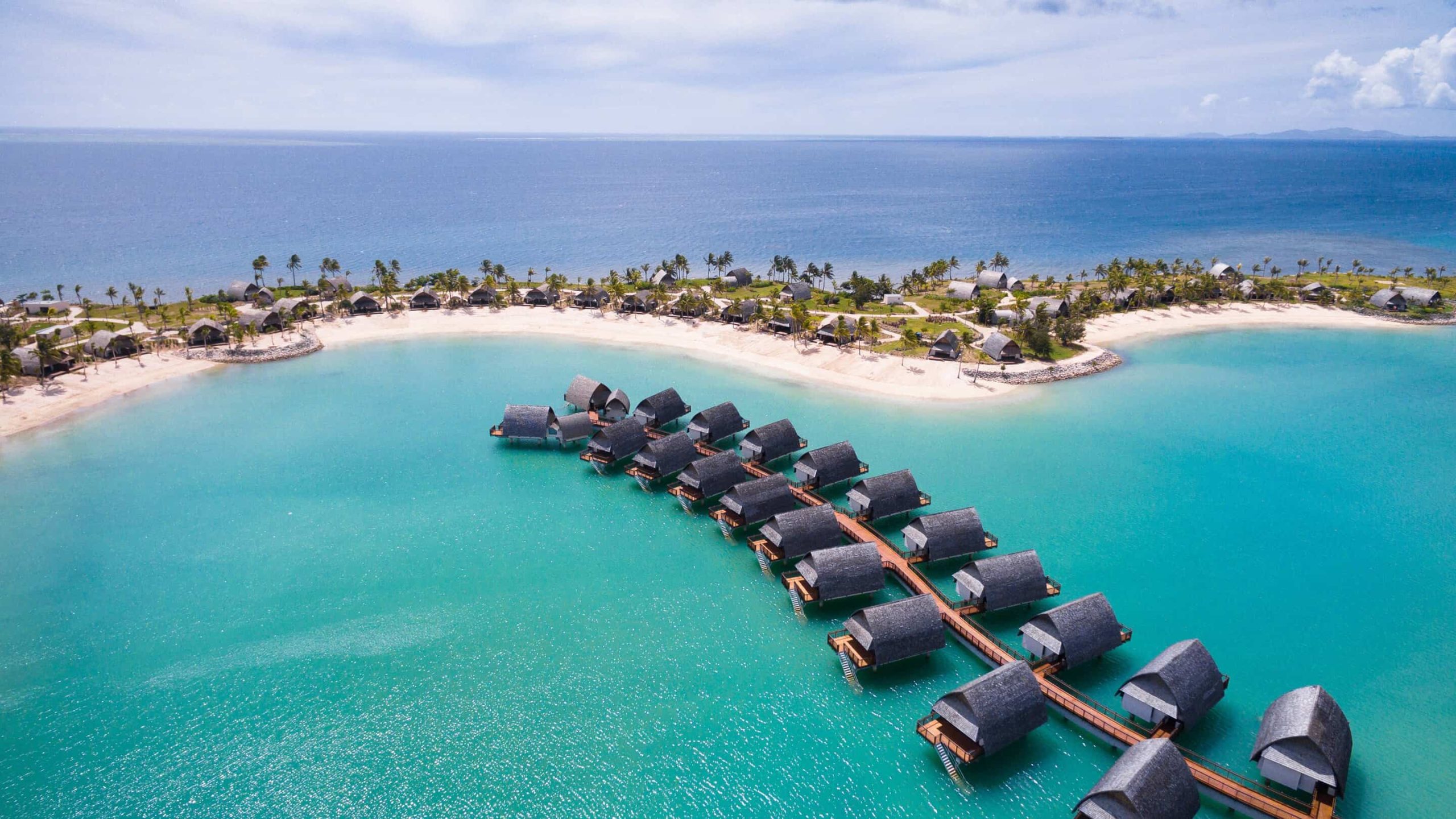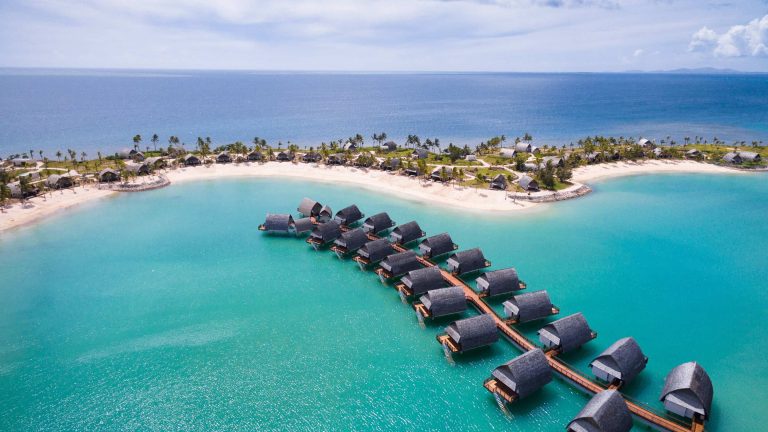 That's an extreme example because of his free upgrade as an Elite member, but even the basic room you would get there is worth over $300.
Our Flytrippers Valuation of the certificate is ≈ $315 so it just makes no sense to cancel this card (ever).
As a traveler, you certainly spend at least one night in a hotel in a year, and it almost certainly costs you $120 with taxes. So keep the card and trade that very basic $100+tax room for a luxury room with the certificate that costs you the same $120.
4. The great base earn rate and free additional card
The Marriott Bonvoy American Express Card has a great earn rate (even though this isn't as important as many believe).
Here's what you'll earn:
2 pts/$ (≈ 1.8%) on all eligible purchases
5 pts/$ (≈ 4.5%) on Marriott purchases
The effective return rate in parentheses is based on our Flytrippers Valuation of ≈ 0.9¢ per Marriott point, but you can obviously get much more value if you use your Marriott points well.
They are variable-value rewards so in other words for a better return, use them for the lower categories of hotels to get more free nights or use them if the price of a hotel in cash is more than the value of the required points.
So there are always 2 things when looking at earn rates:
The base earn rate
The category bonuses (or category multipliers)
4.1. Base earn rate
First, the base earn rate. It is excellent for everywhere that isn't included in any other card's category bonuses. Getting ≈ 1.8% on all the non-bonused categories is even among the best rates in Canada.
Personally, despite having many cards, I use my Marriott Bonvoy American Express Card for all purchases that aren't bonused on any other card (when I'm not unlocking new welcome bonuses, of course). It's one of the reasons I was able to get 53 free nights in Marriott hotels in 2019 alone.
4.2. Category bonuses
Second, the card only has one bonus category: Every Marriott purchase will earn a whopping ≈ 4.5% back.
The best part is that this is in addition to the ≈ 8% back in points earned directly from Marriott's rewards program when you stay in one of their hotels and pay in cash, for a total of at least 12% back… but there are also near-constant seasonal promos, like the current one offering double points (with that one, you get a very nice ≈ 20% total return on your Marriott stays with the card).
This is very valuable if you plan to stay in Marriott hotels more often to take advantage of benefit #5.1..
5. The other benefits
Here are 3 other benefits.
5.1. Elite status
The Marriott Bonvoy American Express Card gives you automatic Silver Elite status with Marriott, which is admittedly not much since it's the entry-level elite status. But you still get a few benefits at over 8,000 hotels, like bonus points and free late check-out.
But most importantly, you get a shortcut to reach Gold Elite status quite easily, and that level is more interesting since it can start giving you free room upgrades.
You can read more details about Marriott Bonvoy Elite Status.
5.2. Free additional card
Another interesting benefit is the no-annual-fee additional card. That means if you want someone in your household to help you earn points, you can get them their own card on your account completely free.
Of course, we'd recommend each getting a Marriott Bonvoy American Express Card in your own right instead if you want to maximize your welcome bonuses (especially with such a great offer) and get 2 annual certificates.
But once the bonuses are unlocked, some might prefer earning in one same account to make things simpler. That said, points from different accounts can be pooled together for free (up to 100,000 points per year) if you share the same address… or rather if your Marriott accounts share the same address 😉
5.3. The good insurance coverage included
I talked about the fact that annual fees were irrelevant, well in fact it's even a good thing when there's an annual fee (at least with good cards that give you huge value with the welcome bonus and the subsequent years' benefits).
That's because cards with annual fees have travel insurance coverage, and it's one of the best reasons to get good travel cards like the Marriott Bonvoy American Express Card. Two of the most easily avoided complaints in the world of travel will be covered with this card's insurance: flight delay insurance and car rental insurance.
Airlines owe you nothing if the weather delays your flight. It makes sense since they don't control the weather. But your flight delay insurance coverage will give you $500 for hotels and meals if your flight is delayed, as long as you charge the flight to your card.
Renting a car doesn't have to be expensive. It can be very cheap in North America if you decline the very high damage insurance fees. You can do that thanks to the car rental theft and damage coverage, as long as you charge the rental to your card.
There are also a few other types of coverage: baggage delay insurance, lost or stolen baggage insurance, hotel burglary insurance, travel accident insurance, emergency assistance, purchase protection plan, and buyer's assurance protection.
The only key insurance coverages that this card doesn't include are medical travel insurance and trip cancelation insurance, which you can get from carrying another card as many other travel cards have it. You can read more about travel insurance in general in upcoming articles.
Summary
The Marriott Bonvoy American Express Card offer is excellent if you want to travel more for less. The welcome bonus is excellent, so you should consider this card soon if you are interested in getting free hotel nights in amazing countries.
Have any questions about the Marriott Bonvoy Card offer? Tell us in the comments below.
Want to be the first to get our travel rewards beginners course and all our content?
Explore awesome destinations: travel inspiration
Learn pro tricks: travel tips
Discover free travel: travel rewards
Featured image: Four Points by Sheraton Manado, Indonesia (photo credit: Marriott)
Advertiser Disclosure: In the interest of transparency, Flytrippers may receive a commission on links featured in this post, at no cost to you. Thank you for using our links to support us for free, we appreciate it! You allow us to keep finding the best travel deals for free and to keep offering interesting content for free. Since we care deeply about our mission to help travelers and our reputation and credibility prevail over everything, we will NEVER recommend a product or service that we do not believe in or that we do not use ourselves, and we will never give any third-party any control whatsoever on our content. For more information on our advertiser disclosure, click here.
The views and opinions expressed in this blog are purely our own. Redemption values evoked are also Flytrippers' own and solely based on our own points valuation estimates as described. All offers described on the Flytrippers website are subject to the financial institutions' latest terms and conditions that can be found on their website.
Offers from financial institutions change quickly; it is your responsibility to ensure the accuracy of these offers on their website when applying for a card. Flytrippers will not accept any responsibility for the accuracy of the offers or the result of your actions.
American Express is not responsible for maintaining or monitoring the accuracy of information on this website. For full details and current product information click on the provided links to proceed to product website. All the information was independently collected by Flytrippers and not provided by financial institutions.
Flytrippers' website does not contain all available credit card offers or all available credit card companies on the market. Flytrippers never shares an offer if it is not considered advantageous for certain travelers, at its sole discretion.
No author on Flytrippers' website is a financial advisor, a financial planner, a legal professional, or a tax professional and no author on Flytrippers' website can in any way be considered as such.
All articles and pages on Flytrippers' website are merely personal opinions of a general nature and are for informational purposes only and should not be considered as advice for specific situations. It is your responsibility to perform your own personal research to make sure that travel rewards points are appropriate for your own situation.
The opinions expressed on Flytrippers' website are those of the authors only and have not been provided, approved, endorsed, or ratified by any third party mentioned on the site.
You can learn more about our terms of use here.
Share this post to help us help more people travel more for less: