Flytrippers readers have now earned over 1 million dollars in free travel thanks to our welcome bonus recommendations! That's a lot of travel! It's so easy to get free travel when you know how travel rewards work… and it's more than time to get on board.
Travel rewards can seem too good to be true (it's not at all), too intimidating (it's simpler than it sounds), or too counter-intuitive (that one's true, so you have to learn the facts)…
But it's definitely worth looking into if you like to travel and if you like to get free travel especially.
Here are the 6 basics to understand for those who haven't yet been able to join our free webinar for beginners (the next one is coming up on August 9) and while waiting for our free course (coming soon).
The 6 essential basics
There's obviously a lot to learn and I can't share with you my 10+ years of experience (which has personally earned me $20,000+ in free travel) in just one post…
But just understanding these 6 basic learnings is absolutely vital to get started:
Welcome bonuses are the key
You always have to pay everything on time and there's no "scam"
Having multiple cards is better for your credit score
Don't close your old cards
Annual fees alone are irrelevant
There are 2 types of travel rewards that work very differently
Let's go over them one at a time and remember, we're happy to answer any of your questions if you sign up for our free newsletter specifically for travel rewards. Ask us anything and we'll help you!
1. Welcome bonuses are the key
No one who earns a lot of points does so with their regular purchases. No one!
Welcome bonuses that credit cards offer are what makes it go faster. Much faster.
That's really the key. If you remember just one thing, remember this! A crappy and very slow 1% or 2% earn rate is not what will make you earn a lot of rewards. It's really not fast if you do it that way obviously.
Welcome bonuses often give you ≈ $300 by only having to spend $1,500 to unlock them. That gives you 20% back, that's a lot better than 2%, right?
It would take you $15,000 in spending instead of $1,500 (10 times more!!!) if you wanted to earn that $300 the slow way — the way that just about everyone who is "normal" considers the right way to earn rewards.
This is why everyone who is "normal" earns very little and therefore… don't be like everyone who is "normal"!
Welcome bonuses are the most important thing, focus on that!
This is also why it really doesn't matter if you can't use a specific card for 100% of your purchases (it's the welcome bonus that counts, ALWAYS… not using your card for every single purchase).
That's something to keep in mind, especially for American Express cards, which often have the best offers but are a little less widely accepted.
Does it matter that they are a little less widely accepted? NO. What matters is the welcome bonus. All you need to do is unlock the welcome bonus. And it's easy to unlock with our pro tips, even with an Amex card. That's what's important.
2. You always have to pay everything on time and there's no "scam"
Everyone can take advantage of travel rewards.
As long as you always pay everything in full on time of course.
That's the only prerequisite to get into the world of travel rewards. You don't have to earn a lot, you don't have to spend a lot… there's absolutely no requirement other than paying everything in full on time always.
If you don't pay everything on time always, get your financial house in order first. Use the fact that you'll be able to rack up thousands of dollars in free travel as motivation, because you won't be able to do that until you pay everything on time.
By paying on time, there's no "scam."
Basically, banks want you as a customer, so they give you hundreds of dollars as a welcome bonus. All you have to do to get them is to spend a minimum amount in the first few months (very very easy with our 5 pro tips).
It works very well, as our readers who've now earned over 1 million dollars just with welcome bonuses can attest to!
3. Having multiple cards is better for your credit score
Contrary to the very common (and completely 100% false) myth, having more cards is better for your credit score. Not the other way around.
If you pay everything on time always, having more cards will improve your credit score, it's just mathematical and factual… that's how the score is calculated. I have many many cards and my credit score is well over 800. It's not surprising or anything, that's just how the formula works.
The "normal" advice to avoid having multiple cards is for "normal" people who don't pay their cards in full. That's a terrible financial strategy of course… and if you don't pay everything on time, of course it's better not to have multiple cards!
When you pay everything off on time, you'll see your credit score increase in the medium term by getting more cards… while getting thousands of dollars in free travel!
The short explanation is that having more cards lowers your credit utilization rate (a huge portion of your score at 30%) and also give you more on-time payments (the largest portion of your score at 35%). You can read more about credit scores.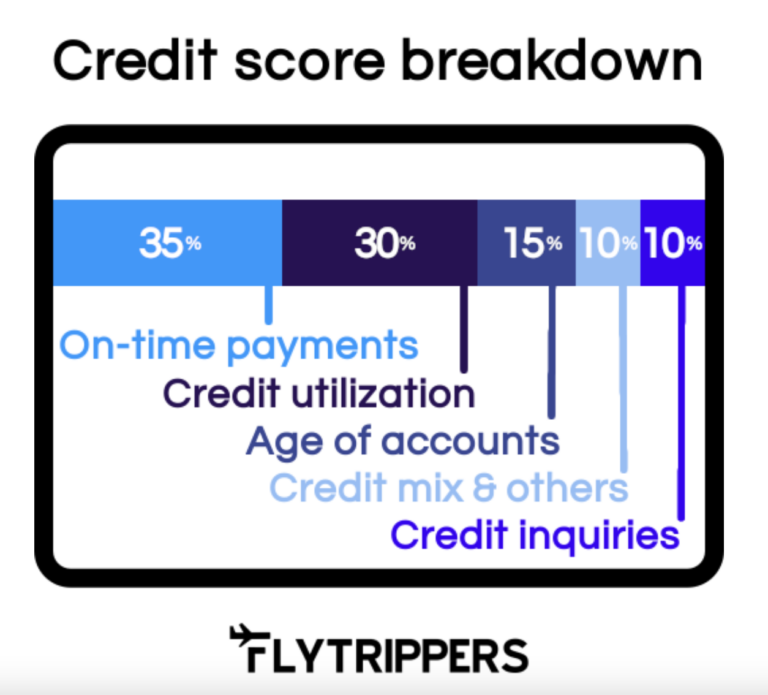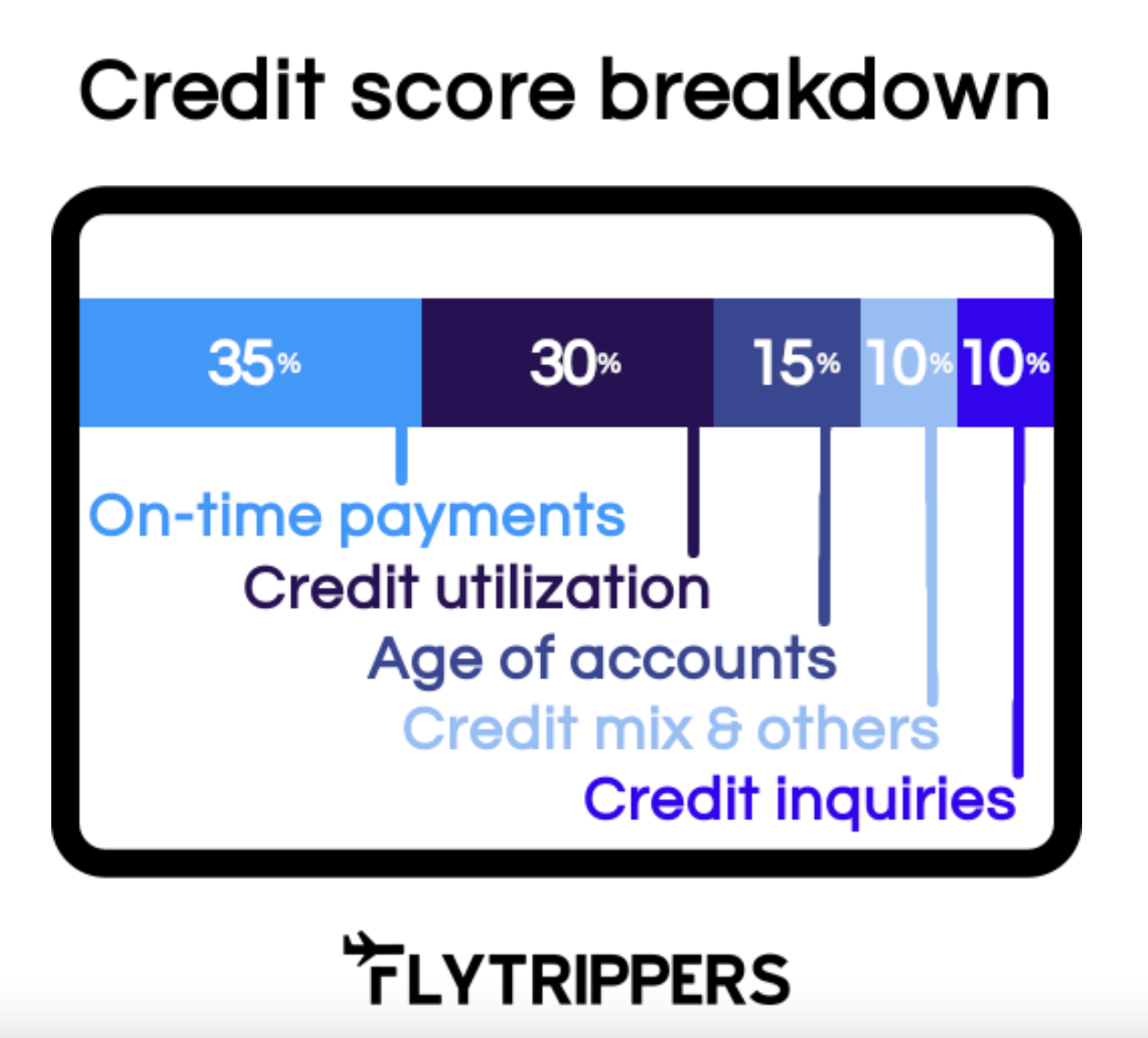 4. Don't close your old cards
Often, people will close or cancel their current old cards when they get a new one.
This is literally the most costly mistake most people starting out in travel rewards make.
It's a normal reflex when you just don't know better… and when you believe the myth that having multiple cards is bad.
But the fact that old cards are being closed or canceled feeds the myth, in part. People will apply for a new card… and close the old one they've had for 5 years, the only one they have in most cases too!
And then their credit score will drop and they will think it's because of the new card!
No! It's because of the closing of the old one. The age of accounts is a component of the credit score! And closing an old one is terrible for your score, especially if you have just one.
Never close cards you've had for a long time. Ever. Not to be gruesome, but you'll literally hold onto them until your last breath.
You can of course downgrade them to no-annual-fee versions by calling your banks (if your old cards have a fee and no longer give you value).
That way, it doesn't cost you anything. And it keeps them open. You can then even put them in your sock drawer, depending on how their earn rates and insurance coverage compare to the new cards you get.
Just to be clear: we're talking about the OLD cards. The ones you have now when you start your journey in the world of travel rewards.
The ones you're going to get from now on are not old. You can cancel those. As long as you keep the old ones.
For all of your cards, as explained in our free checklist, you need to re-evaluate them before each renewal and determine if they still give you value based on your own situation… and cancel them if not.
Except for the old ones: those you should only downgrade, not close.
5. Annual fees alone are irrelevant
Let's do some basic math together.
You have to look at the annual fee AND the value obtained. Not the annual fee alone. Not the value alone either.
Both!
A card that costs $120 but gives you $1065 is better than a card that costs $0 but gives you $0 (!!!)
It's crazy that we even need to say this but so many people are conditioned to avoid fees. And it almost always makes sense
6. There are 2 types of travel rewards that work very differently
Now that you know the basics of cards, choosing cards is what's left.
There are fixed-value rewards and variable-value rewards.
These are the 2 types. No matter who issues the rewards (airlines, hotel chains, banks, booking sites, retail stores…) they either have a fixed value or a variable value.
This is the most important thing to understand about how rewards work.
Basically:
Fixed-value rewards are MORE simple and LESS valuable

Always worth the same fixed value no matter how you use them
Gives you more flexibility
Almost always less valuable, in exchange for simplicity/flexibility

Variable-value rewards are LESS simple and MORE valuable

Worth a variable value depending on how you use them
Requires you to have more flexibility
Gives you the potential for outsized value and unlimited value
For example, if you use Scotia Scene+ rewards for travel, a point will always have a fixed value of 1¢. It will always give you a 1¢ discount. It's simple. But it can never save you more.
On the other hand, if you use the newly-revamped Aeroplan program for travel, a point can have a variable value… either 1¢ or even 5¢. That can give you a discount that is 5 times higher!
But it's a bit more complicated and you have to use them properly. With variable-value rewards, not all points uses are good! Some are incredibly good… but some are bad.
Anyway, like anything in the travel world (or in life even) you can always choose between more simplicity or more value.
And there are points like Amex points that are hybrid, which give you the option to use them both ways. Ideal for those who aren't yet sure about what type of free travel they want.
Make your card choices accordingly. We'll have a lot more content to help you in the coming weeks!
Want to get more content to learn how to earn free travel?
Summary
Here are the basics of travel rewards so you can start earning free travel. We'll have lots more articles and videos to help you, but in the meantime, sign up for our free newsletter specifically for travel rewards and we'll answer all your questions.
What would you like to know about travel rewards? Tell us in the comments below.
See the deals we spot: Cheap flights
Explore awesome destinations: Travel inspiration
Learn pro tricks: Travel tips
Discover free travel: Travel rewards
Featured image: Vietnam (photo credit: Jakob Owens)
Advertiser Disclosure: In the interest of transparency, Flytrippers may receive a commission on links featured in this post, at no cost to you. Thank you for using our links to support us for free, we appreciate it! You allow us to keep finding the best travel deals for free and to keep offering interesting content for free. Since we care deeply about our mission to help travelers and our reputation and credibility prevail over everything, we will NEVER recommend a product or service that we do not believe in or that we do not use ourselves, and we will never give any third-party any control whatsoever on our content. For more information on our advertiser disclosure, click here.
Share this post to help us help more people travel more for less: