American Express points are our favorites among the dozens of types of rewards we earn. They're also a favorite of most travel rewards pros in Canada. They're so versatile… but more importantly, they're so valuable.
The American Express Cobalt Card is currently offering the highest welcome bonus in Canada (excluding the very premium Platinum Card from American Express with an annual fee of $699) and it also happens to be the best overall card in Canada.
Basically, you'll earn 60,000 American Express points by unlocking the somewhat unique welcome bonus. You can read all the details in our review of the American Express Cobalt Card (which also includes a video presentation if you prefer that format).
We'll have a lot more content, tips, and guides on all the major programs (including Amex, Aeroplan, Avios, Marriott, etc.) very soon…
But right now we're just going to look at 37 good uses for those 60,000 Amex points.
Hybrid points
As you know, Amex points are hybrid points, so we will divide the article into the 6 different ways that Amex points can work:
Transfer to Aeroplan (18 good uses)
Transfer to Avios (11 good uses)
Transfer to Flying Blue and others (1 good use)
Transfer to Marriott or Hilton (5 good uses)
Reward flights with the Amex price chart (1 good use)
Travel credit to erase any travel expense (1 good use)
1. Transfer to Aeroplan (18 good uses)
This is almost always going to be the best use, because Aeroplan is such a great program since it was revamped in November 2020.
We've put together an article that lists 18 great uses for 65,000 Aeroplan points to give you plenty of easy-to-see real-world examples.
Note that 60,000 Amex points = 60,000 Aeroplan points.
This option can give you up to 10 one-way short-distance reward flights!
2. Transfer to Avios (11 good uses)
The Avios program is a bit more niche, but depending on your travel preferences it can be very valuable too.
We've put together an article that lists 11 good uses for 52,000 Avios points, so add 5 few more flights than what it says in there (the 52,000 is for the HSBC World Elite Mastercard which you should definitely get, if you are eligible… that one has a minimum income unlike the Cobalt Card).
Again, 60,000 Amex points = 60,000 Avios points.
This option is very similar and can also give you 10 one-way short-distance flights, but with much fewer options compared to Aeroplan.
3. Transfer to Flying Blue and others (1 good use)
Okay, there is more than 1 good use with the other airline partner programs, but it's really a lot rarer that it's a good value.
First, because the other 4 partner programs have a worse transfer rate: 60,000 Amex points = 45,000 points from these programs (1 to 0.75 rate… instead of the 1 to 1 rate for Aeroplan and Avios).
The other airline program partners are:
Air France / KLM Flying Blue
Delta SkyMiles
Etihad Guest
Cathay Pacific Asia Miles
We'll talk about it in more detail, but the main attraction is when Flying Blue has monthly promotions like in February: only 32,250 Flying Blue points for Montreal-Paris roundtrip.
So 60,000 Amex points would give you 3 one-ways to France, which is not bad at all. More details to come.
4. Transfer to Marriott and Hilton (5 good uses)
On the hotel side, it's not exceptional compared to how much it can be valuable to use Amex points for flights.
We've put together an article that lists 5 countries where you can get 11 free hotel nights with your 60,000 Amex points (the article says 17 but that's with the welcome bonus from the Marriott Bonvoy American Express Card if 2 travel buddies each get one).
This time, 60,000 Amex points = 72,000 Marriott points. That sounds much better, but hotel points are worth much less than airline points.
So you really have to maximize them well if you're using Amex points for this.
As for Hilton, the other hotel transfer partner, that's almost never a good use (60,000 Amex points = 60,000 Hilton points… and those are worth less than Marriott points on top of that).
5. Reward flights with the Amex price chart (1 good use)
We're back to flights for the first of the 2 uses of Amex points that don't involve transferring to another program.
I'll do a separate article for you soon, but basically, the Amex award chart has only one good use: when airline tickets are very expensive in cash.
The thing is the price chart will give you a ticket for a fixed number of points, regardless of the cash price (with a maximum though). And it's much more restrictive than the airline program partners: you have to book a roundtrip absolutely and only from Canada.
So for example, let's say I use my 60,000 Amex points for 4 roundtrip flights at 15,000 points… I could save $1200 ($300 x 4)!
However, that means I'd be paying for very, very expensive tickets, so it's just a good use if you were really going to pay a lot of money for those flights (if you didn't have any flexibility for example).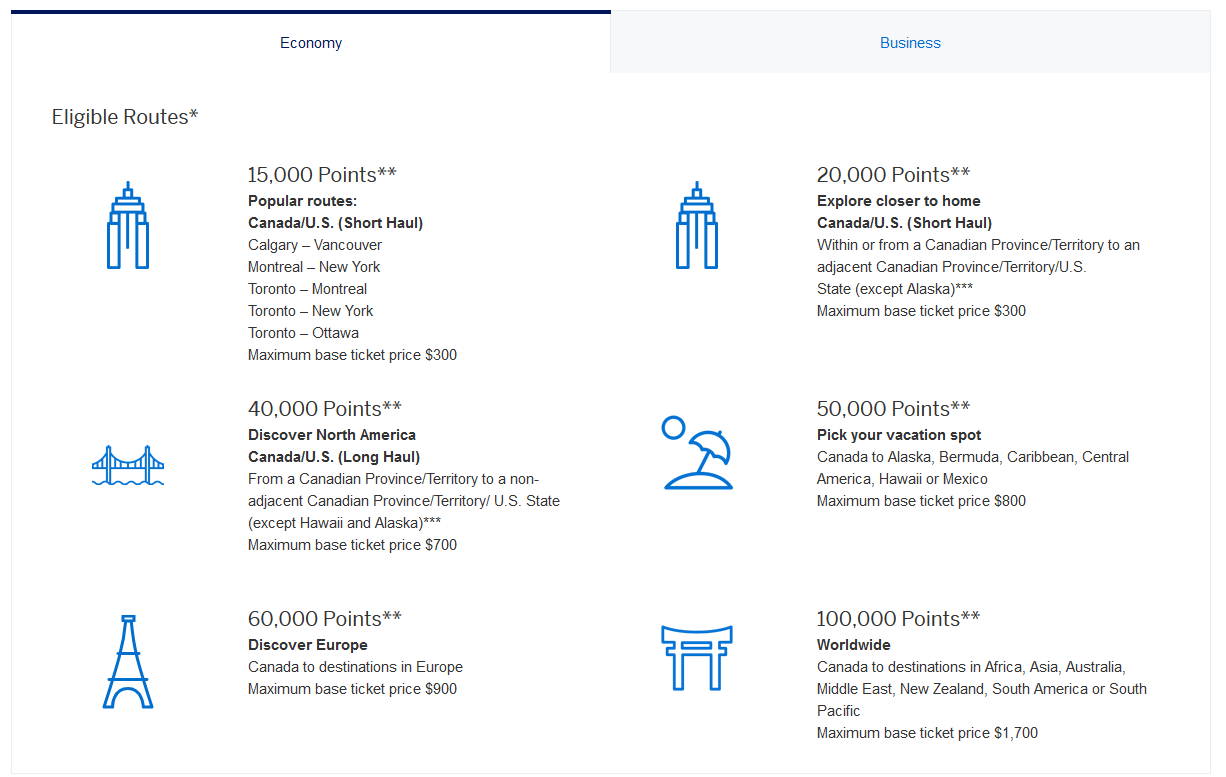 6. Travel credit to erase any travel expense (1 good use)
Finally, the only option that has a fixed value… isn't really a good use at in fact.
It's a "good" use only if you want to keep it simple and are willing to get a lot less value in return, as so many people are.
Instead of being worth ≈ $744, the American Express Cobalt Card's welcome bonus is worth a flat $444 if you use it like this. Because as a travel credt, 60,000 Amex points = $600.
But it's much simpler: you can apply the points to any travel expense.
You don't have to think anything through, you don't have to maximize anything, you don't have to take any specific flights, you don't have to book on any particular site… it's really as simple as it gets.
Any travel expense. Very simple.
That's why the other options are about 50% more valuable…
Summary
The American Express Cobalt Card is the best card in Canada. These examples may give you a good idea of what you could do with the enhanced welcome bonus, while you wait for our more comprehensive guides.
Have any questions about the American Express Cobalt Card? Ask me in the comments below.
Want to be the first to get our free travel rewards course and all our content?
See the deals we spot: Cheap flights
Explore awesome destinations: Travel inspiration
Learn pro tricks: Travel tips
Discover free travel: Travel rewards
Featured image: Ecuador landscape (photo credit: Robinson Recalde)

Advertiser Disclosure: In the interest of transparency, Flytrippers may receive a commission on links featured in this post, at no cost to you. Thank you for using our links to support us for free, we appreciate it! You allow us to keep finding the best travel deals for free and to keep offering interesting content for free. Since we care deeply about our mission to help travelers and our reputation and credibility prevail over everything, we will NEVER recommend a product or service that we do not believe in or that we do not use ourselves, and we will never give any third-party any control whatsoever on our content. For more information on our advertiser disclosure, click here.
The views and opinions expressed in this blog are purely our own. Redemption values evoked are also Flytrippers' own and solely based on our own points valuation estimates as described. All offers described on the Flytrippers website are subject to the financial institutions' latest terms and conditions that can be found on their website.
Offers from financial institutions change quickly; it is your responsibility to ensure the accuracy of these offers on their website when applying for a card. Flytrippers will not accept any responsibility for the accuracy of the offers or the result of your actions.
American Express is not responsible for maintaining or monitoring the accuracy of information on this website. For full details and current product information click on the provided links to proceed to product website. All the information was independently collected by Flytrippers and not provided by financial institutions.
Flytrippers' website does not contain all available credit card offers or all available credit card companies on the market. Flytrippers never shares an offer if it is not considered advantageous for certain travelers, at its sole discretion.
No author on Flytrippers' website is a financial advisor, a financial planner, a legal professional, or a tax professional and no author on Flytrippers' website can in any way be considered as such.
All articles and pages on Flytrippers' website are merely personal opinions of a general nature and are for informational purposes only and should not be considered as advice for specific situations. It is your responsibility to perform your own personal research to make sure that travel rewards points are appropriate for your own situation.
The opinions expressed on Flytrippers' website are those of the authors only and have not been provided, approved, endorsed, or ratified by any third party mentioned on the site.
You can learn more about our terms of use here.
Share this post to help us help more people travel more for less: