The Door to Hell. The Gates of Hell. A Pit of Fire. However you want to call it, this eternally-burning crater is sure to wow travelers who love distinctive spots.
I'm always on the lookout for new adventures, sights, and cultures to explore around this big, beautiful planet.
This unique spot in Turkmenistan is another great reason I want to visit this country—one of the most obscure ones in the world (my kind of destination: far from the hoards of tourists).
We don't often spot low prices to Turkmenistan on our cheap flight deals page, but we'll soon share a great tip on how to go to Central Asia for less.
The Door To Hell
If you're into awesome natural phenomena and wonders of the world, the Door to Hell will not disappoint.
Officially named the Darvaza Gas Crater, this natural site has been gaining more attention in the past decade.
But as of now, this crater is still unknown to most of the world. As I said, as a traveler, I love visiting sights off-the-beaten-path myself. My experiences are more genuine and authentic. If you plan to visit this site, go soon because its popularity is only going to grow from here.
Fun fact: The Darvaza Gas Crater is not entirely a natural creation, but one of human influence.
In the heart of the Karakura Desert in Derweze, the crater sits about 160 miles north of Ashgabat, the capital of Turkmenistan. As you can see from the map below, Turkmenistan is one of the countries known fondly as the "Stans" in Central Asia.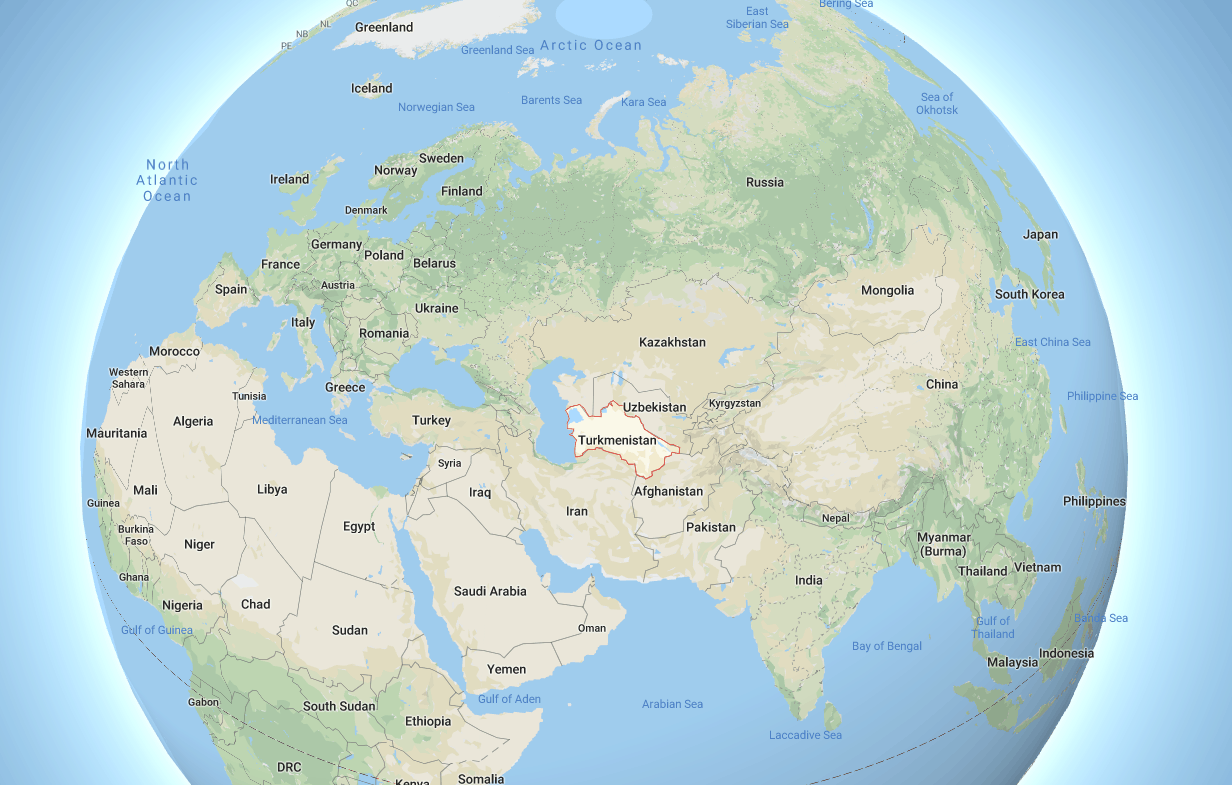 A Quick History Of The Door To Hell
To give you some historical context, the Soviets originally discovered the site to drill for oil in 1971. After setting up oil rigs and starting to drill, they hit a pocket of unstable natural gas (methane). The digging caused the entire camp to collapse and disappear into what is now the crater.
The Soviets left the site later the same year. At this point, geologists set the crater ablaze to protect the surrounding area from excessive methane gas production.
It was only meant to burn for a couple of weeks but still burns to this day—that's nearly 5 decades!
The crater today measures at 69 meters wide and 30 meters deep. A marvel, no doubt.
Check out these impressive photos from travelers who recently visited the Door to Hell!
https://www.instagram.com/p/B1OTi6LAHDL/
Turkmenistan's Eccentric Leader
Turkmenistan is widely considered by experts to be run by an authoritarian regime. You might not often hear about their President in the news, but he surely has a notable personality, from his love of horses and affinity for Guinness World Records to his out-of-the-ordinary publicity stunts.
President Gurbanguly Berdimuhamedow of Turkmenistan has taken some action in preserving the crater. He closed the crater in 2010 for safety concerns; then, in 2013, he declared the crater, and the desert it's in, to be a natural reserve.
In 2019, President Berdimuhamedow contributed to the growing popularity of this natural wonder by filming himself doing donuts next to the crater. His reasoning? To prove he is still alive among rumors of his death.
Obviously, this video served as great publicity for the Darvaza Gas Crater. The government hopes that it will soon become a tourist destination attracting many international travelers.
On top of proving that he is very much alive, President Berdimuhamedow also loves to ride horses. Unfortunately, there's footage of him competing in a horse race where he accidentally falls off the horse.
Also, if you appreciate comedy and a good laugh, there's a video dedicated to the intrigue that surrounds President Berdimuhamedow from the TV show Last Week Tonight with John Oliver. It's definitely worth a watch (it's hilarious).
Visiting Turkmenistan
This wondrous crater is one of many sights and cultural experiences that Turkmenistan has to offer.
Below, I've compiled a list of other things you can do when you visit this spectacular country.
The Silk Road: an ancient trade route that is home to many archaeological ruins, like the Nisa and Merv.
Karakum Desert: location of the Darvaza Gas Crater, where you can also partake in desert camping. Experience warm days, cold nights, and beautiful starry skies.
Ashgabat: Turkmenistan's capital, rebuilt in Soviet-style architecture in the mid-20th century. It now has the highest concentration of white marble buildings. Many monuments still exist today that honor the former president, Saparmurat Niyazov.
Gypjak Mosque: inaugurated in 2004, it serves as a place of holy worship for Muslims, known for its gold-crowned domes and beautiful fountains.
Independence Monument: this obelisk, inspired by the traditional tents and headwear of Turkmen girls, commemorates October 27, 1991—the date that Turkmenistan gained independence from the Soviet Union.
Tomb of Ahmed Sanjar: constructed in 1157 following the death of Emperor Ahmed Sanjar of the Seljuk Empire. For its time, the tomb's architecture is astounding with its crisp edging and dome roof.
Summary
This unique human-made, yet natural crater in Turkmenistan is high on my list of must-sees in the world! Since the government preserves it, travelers can visit easily… once you make it into Turkmenistan. It's undoubtedly a remarkable opportunity to take beautiful and surreal photographs.
If you ever get the chance to go, make sure to share your photos on Instagram and tag us using #flytrippers or @Flytrippers!
(for any trip really, we love to see where you go)
What do you think about the Door to Hell? Do you want to see for yourself? Tell us in the comments!
Want to see our current discounted plane tickets?
Click here to see our flight deals
Want more travel tips and inspiration?
Click here to see the blog homepage
You'll probably enjoy this article:
Travel Hacking: Free Travel (really)
Help us spread the word about our flight deals and travel tips by sharing this article and, most importantly, bookmark Flytrippers so we can help you navigate the world of low-cost travel!
Featured image: Door to Hell, Turkmenistan (Photo Credit: Wikipedia)
Advertiser Disclosure: Flytrippers receives a commission on links featured in this blog post. We appreciate it if you use them, especially given it never costs you anything more to do so, and we thank you for supporting the site and making it possible for us to keep finding the best travel deals and content for you. In the interest of transparency, know that we will NEVER recommend a product or service we do not believe in or that we do not use ourselves, as our reputation and credibility is worth far more than any commission. This principle is an essential and non-negotiable part of all our partnerships: we will never give any third-party any control whatsoever on our content. For more information on our advertiser disclosure, click here.
Share this post to help us help more people travel more for less: