In an absolutely surprising move, in the span of less than 24 hours, all 3 major legacy airlines in the United States have announced that they are eliminating change fees permanently (well, 2 of the 3 used the word "permanent"). This is without a doubt one of the most consumer-friendly (and major) changes in the industry in quite a while.
So at least there is some positive to come of this whole obviously extremely terrible coronavirus situation. Leverage has clearly shifted back from airlines to travelers.
What do these changes mean exactly? And most importantly… will Canadian airlines like Air Canada and WestJet follow suit? Because one US airline has included Canada in its policy!
Here are the details.
Change fee basics
Historically, airlines have charged pretty steep fees to change a plane ticket (often in the hundreds of dollars; not an insignificant amount). To be clear, this is obviously a fee in addition to the fare difference.
And to be honest these change fees actually make a lot of sense. Airfare pricing is extremely complex. When you buy a plane ticket the day before a flight, you are purchasing a very different service than when you buy it 4 months in advance, even if it's the same flight. Hence the change fee.
But with the current pandemic, virtually every airline has implemented special limited-time flexibility policies to allow free changes, given the high uncertainty.
They need to stimulate demand and reassure travelers that booking flights is not financially risky. Thanks to those policies, I actually just booked 3 future trips in the past week, after months of not booking anything. We'll talk more about these policies in our soon-to-come article with tips about booking flights during the pandemic.
Anyway, those were temporary change policies and no one really expected these to be permanent. No one expected airlines to make a hugely positive change.
Yet… here we are.
US airlines' announcements
On Sunday, United Airlines shocked the industry by announcing that they were removing change fees "forever" for domestic flights (I'll go into the details of the policy changes below).
The move itself is very surprising, but the fact that it came from United was even more surprising: they haven't exactly led the way in being customer friendly.
Less than 24 hours later, the other of the US' Big 3—the largest airline in the world in terms of revenue (Delta Air Lines) and the largest airline in the world in terms of passengers (American Airlines)—matched United and announced the same change (although AA stopped short of saying it was permanent).
And just like that, and out of nowhere, flight change fees basically no longer exist in the US.
Wow.
The Big 3 (and their biggest domestic competitor Southwest, who had always stood out by never charging change fees) flew over 700 million passengers last year, so this is really a very major change in the industry.
There are a couple of minor caveats that I'll list below, but still… this is simply amazing news for us travelers.
It's not just the added flexibility… with at least one of these airlines, it's also that if the price of your flight goes down after you bought it, you can simply change it and get the difference back, just like you can currently do with most hotels and rental cars.
That is really major.
What this means for us Canadians
As of now, of the 3, only American Airlines has included Canada in the destinations where change fees no longer apply. That said, they were the last to announce their new policy and actually have the most generous one, so it's not impossible that others eventually match that aspect as well.
American Airlines often has great fares from Canada to all over the US, so this is potentially great news for those who fly there and want more flexibility. They serve 7 major airports: YYZ, YVR, YUL, YYC, YOW, YQB, and YHZ.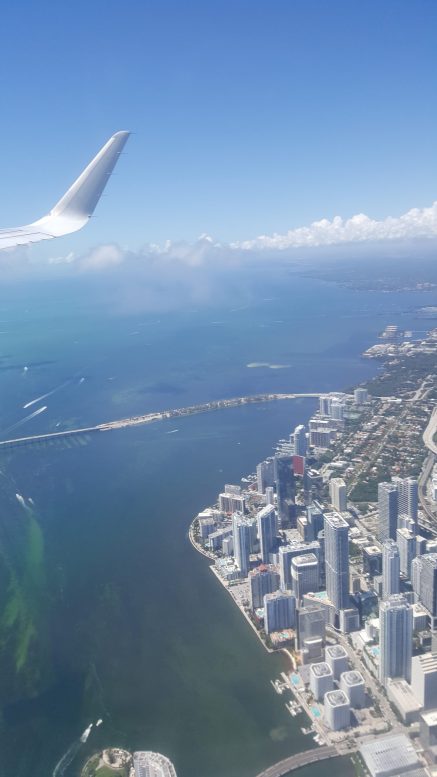 Now the question is… will Canadian airlines follow suit?
The aviation industry is as global as industries get. Our airlines compete with US airlines as much as they do with each other. And the transborder market (Canada-USA flights) is an important one for both Air Canada and WestJet.
They are both in competition with American Airlines on so many routes. Ironically both are in joint ventures with the other 2 US legacy carriers (Air Canada with United; WestJet with Delta) so it will be interesting to see if everyone decides to let American Airlines have that clear competitive advantage for the entire Canadian market.
It's worth mentioning that for many travelers, sadly there is already a pretty significant (unrelated) benefit of booking with US airlines: if they cancel your flight, they'll actually refund you as explicitly and clearly required for US flights by US regulation for every airline (foreign or domestic). WestJet has apparently started refunding US flights, but Air Canada has not.
Anyway… since not many Canadians are flying to the US these days (it is allowed, but it's not the most popular destination to visit at the moment), I don't think Air Canada or WestJet will be in a rush to match this new policy.
Especially with their current temporary policies that have the same effect, there's not much of a benefit in announcing that right away… other than getting great coverage and generating goodwill with customers. We've seen with the refund issue how that is not really a priority now for Canadian airlines (they don't have the luxury of having received tens of billions in a bailout like US airlines).
But once transborder flying picks up again… the pressure will be strong. Especially if United and Delta add Canada to their policies.
Air Canada has grown tremendously in the past decade in part by positioning itself as an alternative to the big 3 US carriers for US travelers, so they might be the most affected if they have a less generous policy. Even though they have the most to lose in terms of revenue.
WestJet has a much smaller footprint in the US (they're also a smaller airline overall too) and since they are a lot less reliant on business travelers (compared to AC), it would make the most sense for them to lead the way and implement this change.
Which would hopefully force Air Canada to follow suit.
Flytrippers has reached out to both airlines for comment, we'll let you know once we hear back and we'll follow the situation closely.
Details of the new change fee policies
The 3 US legacy airlines all have their own version with a few minor differences.
Basic Economy fares
United: excluded
Delta: excluded
American: excluded
It's the major caveat and it's the aspect of this that is common to all 3: "basic economy" fares are excluded. For years now the economy class seats have been segmented into a few fare classes. It's the same seat, but with different restrictions and different prices.
Basic Economy exists to offer the lowest-priced precisely for those who don't want to pay more for things like flexibility and prefer a cheaper ticket, so those fares will not give you free changes.
Keep in mind that with the special current coronavirus flexibility policies (see the last point), basic economy tickets do get the free change: they are simply excluded from the "permanent" policy (same thing for the international destinations: still included in the temporary policy).
Permanent change
United: "forever"
Delta: "permanent"
American: N/A
American undoubtedly has the most generous new policy… and they're the only ones not to have described it as permanent. Which is probably wise on their part. Permanent is a strong word. Not many things are really permanent.
I mean… what if the next CEO of United decides this no longer makes sense? How can you walk back the policy after marketing it as "F-o-r-e-v-e-r. Forever"?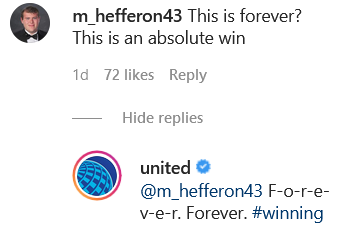 Destinations
United: US only
Delta: US only
American: US, Canada, Caribbean, Mexico
As mentioned, for us Canadians, American Airlines is the clear winner: you could book a flight from Canada and change the dates for free if your plans change.
AA also happens to be the one with hubs in leisure destinations that are very popular with Canadians like Miami (MIA) and Phoenix (PHX). They also have a very large network in Central and Southern America.
Residual value
United: lost
Delta: undetermined
American: maintained as a voucher
Again, kudos to United for leading the way… but losing the residual value is a major downside. American could've just matched that but once again they have the best policy: they went further and said that you will keep the residual value of the ticket. That is great!
In other words, if you use your free change to move from a $400 ticket to a $250 ticket, you'll get a $150 voucher instead of losing that with United's policy. Delta has not yet announced that detail.
Flights with rewards points
United: domestic included, international no fee 30 days out
Delta: undetermined
American: no fee 60 days out
I happened to have mentioned this just this weekend as 1 of the 9 lessons about to take away from a travel rewards points flight deal: tickets booked with points are a lot more flexible than those booked with cash.
That's why 2 of the 3 future trips I booked this week were with points (just €25 to get a refund with Avios and Aeroplan is offering completely free changes until October—don't miss our list of the destinations to book before the new program takes effect in November, if you already have points).
Temporary change fee waiver
United: until December 31
Delta: until December 31
American: until December 31
Regardless of the new policy, any new ticket (including Basic Economy and including international destinations) will have a one-time change fee waiver, as is the case with Air Canada and WestJet too.
Both Canadian airlines currently offer this policy up until September 30th, while the US airlines have now extended this all the way to the end of 2020… and it definitely could be in place longer if the travel situation remains as murky as it is now.
Want to get more content about the new reality of travel?
Summary
All 3 US legacy airlines in the United States have eliminated change fees for plane tickets, which is an amazing development for travelers. It will be interesting to see if Canadian airlines match what their competitors south of the border are doing.
What do you think of these changes? Tell us in the comments below.
Explore awesome destinations: travel inspiration
Learn pro tricks: travel tips
Discover free travel: travel rewards
Featured image: Sedona, Arizona (photo credit: Clay Banks)
Advertiser Disclosure: In the interest of transparency, Flytrippers may receive a commission on links featured in this post, at no cost to you. Thank you for using our links to support us for free, we appreciate it! You allow us to keep finding the best travel deals for free and to keep offering interesting content for free. Since we care deeply about our mission to help travelers and our reputation and credibility prevail over everything, we will NEVER recommend a product or service that we do not believe in or that we do not use ourselves, and we will never give any third-party any control whatsoever on our content. For more information on our advertiser disclosure, click here.
Share this post to help us help more people travel more for less: