Even for those who know a thing or two about plane tickets, some terms and concepts can be quite confusing. I can only imagine it's even worse for those who are less experienced in this world! Today we wanted to shed a bit of light on the different fare classes for plane tickets.
There is a new fare class on many airlines since last year… that has more limitations than "regular" economy. We can only applaud this: it gives travelers more choice about what they want to pay for and what they don't want to pay for.
Here's an overview as a reminder.
The 3 main plane seat classes

For a very long time, there were only three major seat classes in airplanes: First Class, Business Class and finally the Economy Class (also known as coach).
If you want to find a ticket at a very low price like one of those on our deals page, obviously you will have to forget about first class and business class. The price of those tickets can be quite exorbitant.
Here is just an example: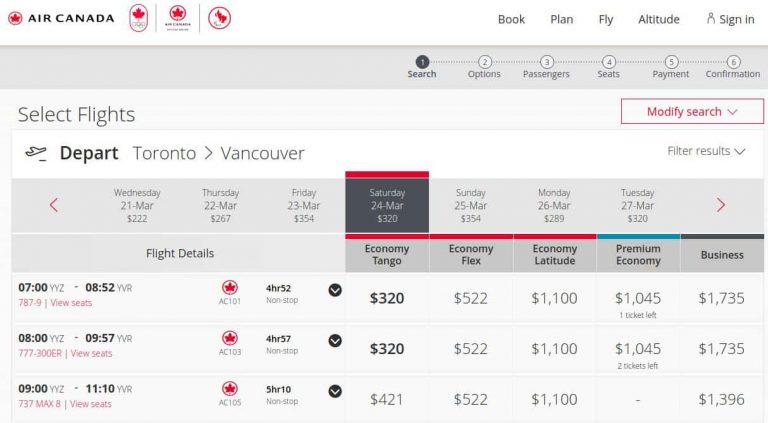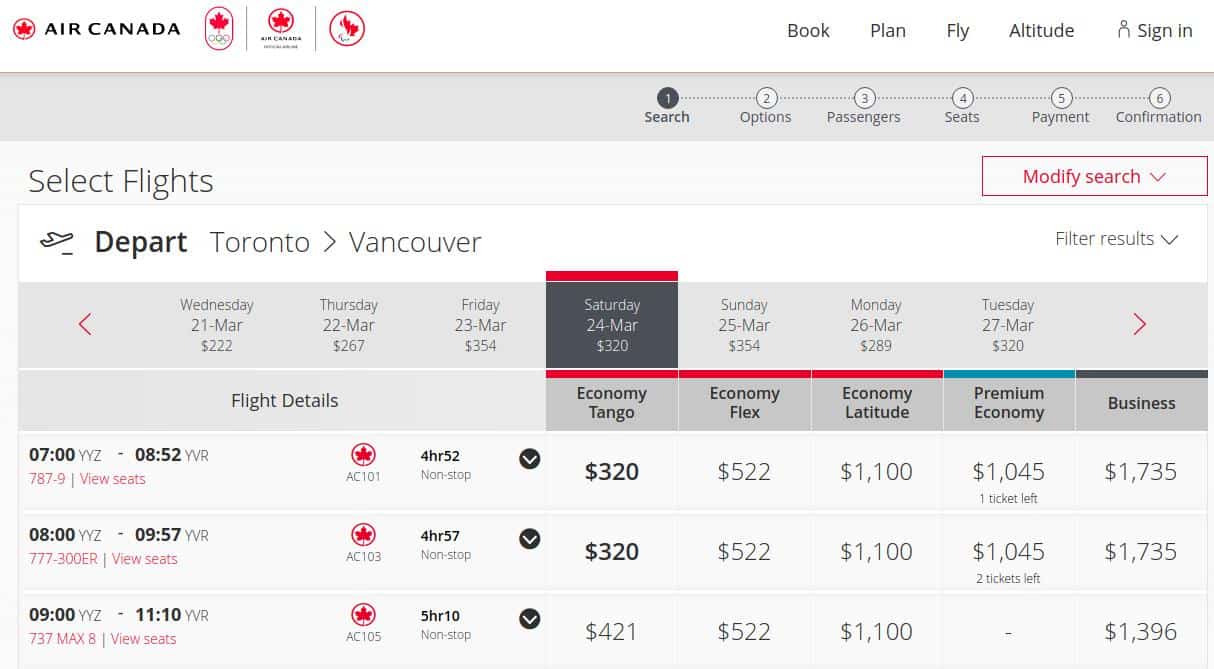 This screenshot was randomly taken only to give you an example with a Toronto-Vancouver flight from the Air Canada website. Here, you can choose between a flight at $320 in economy class (Tango) for a one-way trip or $1,735 flight for the same one-way in business class. That's a difference of more than $1,000 (imagine on airlines with first class) !
The premium you have to pay is completely crazy for those types of seats and that's why we recommend always traveling in economy class. Having 5 tickets or only one for the same price? The choice is easy.
Just a side note: the only time that it can be reasonable to travel in business class (and again, we never did it ourselves and we aren't planning to splurge for this), is with Points and Miles. This is called "travel hacking" and we have an entire section about it (and we are re-launching it soon with even more content and a cool new way to start travel hacking).
But even if many use "travel hacking" for luxury travel, we encourage you to use it to travel more often, not more luxuriously, by getting a couple of free flights every year.
Now let's get back to the economy class.
Economy Class (There Are Three of Them Now)
It used to be simple when there was only one "economy", but that's no longer the case. There are now three types of "economy" classes, which obviously makes comparisons between all airlines a bit more complex.
The regular economy class remains the most represented aboard planes, with the overwhelming majority of seats. That said, there are also two other variations, the premium economy and now the basic economy class.
Premium Economy
This one has been around for a few years. It has several names, depending on the airline (Economy Plus, Economy Premium, Economy Privilege, Comfort Plus, XL Seat, Big Front Seat, etc.) but the concept is the same. It's a new fare class, that is in between the business class and the economy class. There are special rows dedicated to this class, with some advantages over normal seats.
What makes it even more confusing is that each airline offers different benefits in their premium economy class (just like in business and first class in fact, those too vary a lot).
Basically, it always includes more legroom, that's the basic premise. Sometimes the seat is also wider (or in the case of WestJet, the middle seat is left empty, so more elbow space). Sometimes it comes with priority boarding, sometimes with increased baggage allowances, food, and so on. It gives you a few more privileges than the "normal" economy class.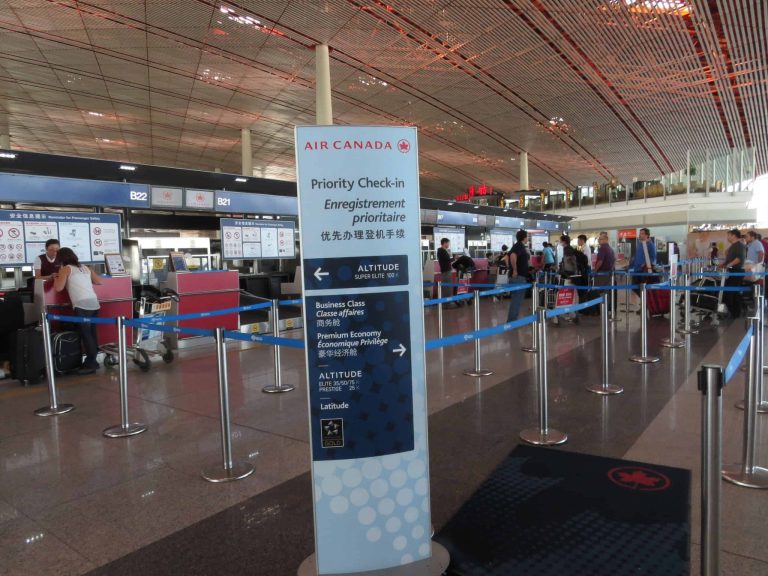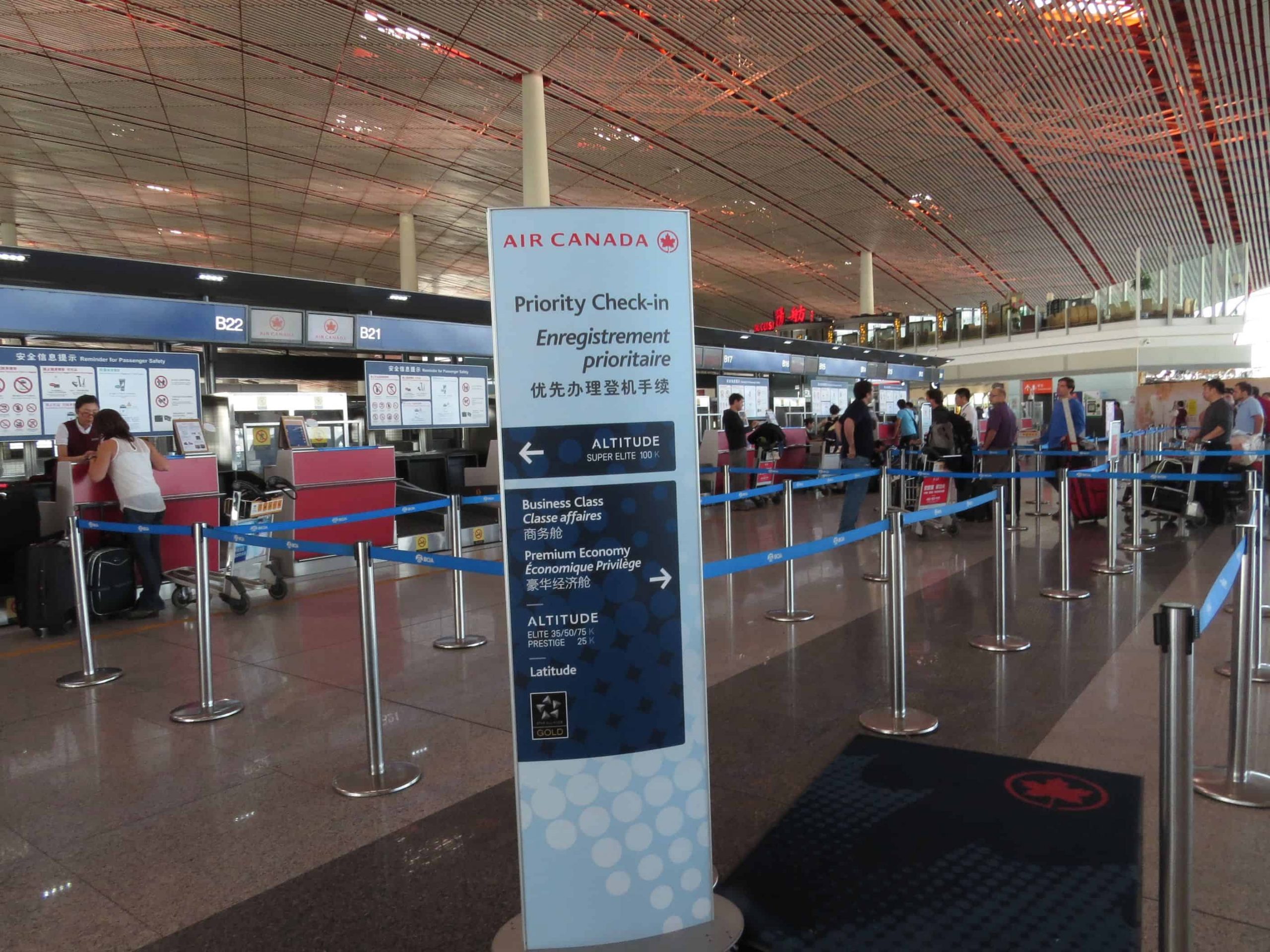 But again, we've never paid for these premium seats ourselves because the price difference is still significant most of the time compared to the cheapest option available. Enduring a few hours in economy and having enough money for another flight or… slightly more comfort for a short while but not being able to make another trip. Everyone chooses their priorities: in our case, we want to travel more!
Basic Economy
Now is the part where it gets really confusing… with this brand new category. In fact, it has just been launched in Canada, but was already very common in the United States. It's called Basic Economy, and that one is a level below the normal economy class.
Just to be clear, these are not different seats, there is no dedicated rows like with first class, business class or premium economy. The difference is just what's included with the seat.
The Basic Economy class is the regular airlines' response to the rise in popularity of Ultra Low-Cost Carriers (ULCCs). To be able to offer lower prices, you can now choose to reduce what is included with your ticket by selecting the Basic Economy class.
ALSO READ: How ULCCs (Ultra Low-Cost Carriers) Work
What is included, again, varies by carrier. On United for example, by choosing the basic economy fare, you are only entitled to a small personal bag (no carry-on baggage), just like if you were on a ULCC (Delta, American, WestJet and Air Canada have decided to include carry-on luggage in their Basic Economy fare).
Other restrictions in the US (but not on Air Canada) include automatically-assigned seats with no option to pay to select specific seats, for example. It's like buying a ticket on a ULCC, but on a regular airline.
This new fare class offered by the three major US carriers is quite controversial, many are dissatisfied with this offer because apparently, prices are not actually lower. Many observers have noted that they only took the ticket at the lowest price and added restrictions and that you must now pay more to get what used to be included for free before.
Personally, we believe the more options there are, the better it is. Why shouldn't you be able to pay less if you want less services and inclusions? What do you think? This option theoretically reduces prices for those who can travel light and just want to get from point A to point B at the best price. We tested it recently, and all the warnings are clearly indicated throughout the reservation process to let you know what is included, to be as transparent as possible.
Summary
In addition to the traditional economy class, airlines have introduced the Basic Economy, with fewer inclusions, to compete with ultra-low cost airlines. With the premium economy fare class, that means there are now 3 main types of economy fare classes to choose from.
What do you think of this new option?
Help us spread the word about our flight deals and travel tips by sharing this article and most importantly bookmark Flytrippers so we can help you navigate the world of low-cost travel!
Cover image: passenger in the Economy Plus section of a WestJet 737
Advertiser Disclosure: Flytrippers receives a commission on links featured in this blog post. We appreciate if you use them, especially given it never costs you anything more to do so, and we thank you for supporting the site and making it possible for us to keep finding the best travel deals and content for you. In the interest of transparency, know that we will NEVER recommend a product or service we do not believe in or that we do not use ourselves, as our reputation and credibility is worth far more than any commission. This principle is an essential and non-negotiable part of all our partnerships: we will never give any third-party any control whatsoever on our content. For more information on our advertiser disclosure, click here.
Published February 25th 2018 and September 4th 2018
Share this post to help us help more people travel more for less: