The only remaining requirement for vaccinated travelers entering Canada is an administrative requirement that is very simple, which is to fill out a declaration in Canada's ArriveCAN app (or on the website). It's extremely easy: you just answer the questions, it takes 3 minutes. Setting up your profile the first time takes at most a few minutes, it's also pretty easy.
Here's how the ArriveCAN app works (it's really very very very simple).
What to know about the ArriveCAN app (basics)
You have 2 options to access ArriveCAN:
And then you fill out the form by answering the questions, that's all. Nothing else is required to enter Canada (if you've had 2 vaccine doses; or 1 dose of the Johnson & Johnson vaccine).
I'm not exaggerating when I say it takes just 3 minutes, it's really that fast. I timed it last week. I'll show you exactly how to do it all in a video (or screenshots) at the end of this guide.
But first, I'll give you all the information you might want.
How to know if you need to fill out the ArriveCAN app
Many ask us questions like: "Do I need to fill out ArriveCAN if…"
So we made this simple infographic.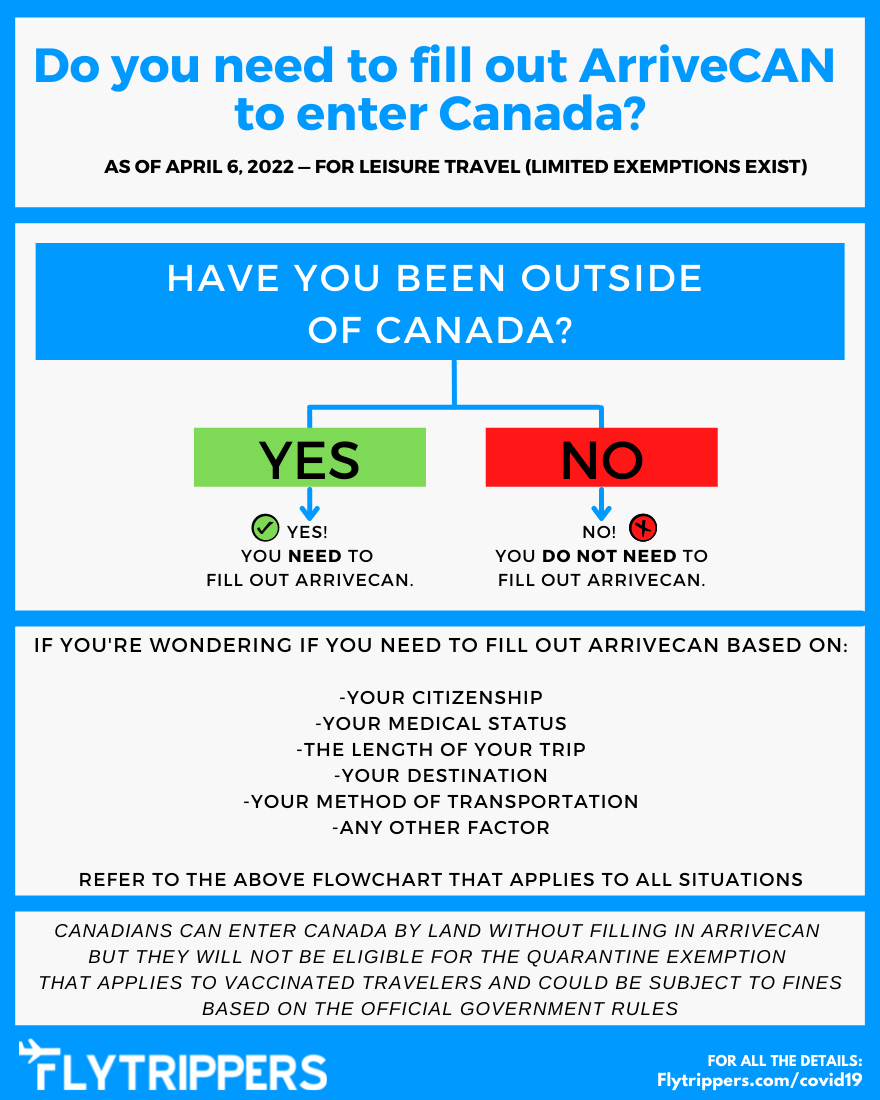 Basically, if you are Arrive-ing into CANada, you need to fill out the ArriveCAN app. It's that simple!
Why you need to fill out the ArriveCAN app
Like many COVID-19 rules, the main valid reason… is to avoid the punishment that will be imposed for not following the rule (and certainly not the actual logic behind the rule)!
If you're entering by air, it's simple: you won't be allowed to board the flight if you don't show proof that you filled out ArriveCAN.
If you're entering by land, it's even worse: you will be forced to do a 14-day quarantine and 2 arrival tests — in addition to potentially being fined by our dear government — if you didn't fill out ArriveCAN (even if you're fully vaccinated).
(I don't know what's "The Science™" behind forcing those who haven't filled out a form to quarantine, but it's not like the government ever really followed the science for travel rules anyway).

Anyway, just fill out your declaration if you want to travel. It takes 3 minutes.
When to fill out the ArriveCAN app
If you are entering Canada by air, you need to fill out the ArriveCAN app before checking in for your flight (online or at the airport). If you are entering Canada by land, you need to fill out the ArriveCAN app before arriving at the border crossing.
You cannot fill out the ArriveCAN app too early: you can only do it starting 72 hours before your arrival in Canada; so not quite the same 72 hours time frame as for the pre-departure test that used to be required and that is still required for unvaccinated Canadians, including kids over the age of 5 (that is 72 hours before your flight's scheduled departure time).
However, you can (and you should) download the app and create your account in advance (at any time) to be ready!
How to fill out ArriveCAN when traveling with other people
You can complete just one declaration for members of the same family traveling together to avoid having to complete plenty of individual declarations. Including for children traveling with you, no matter their vaccination status.
However, there is a maximum of 8 travelers per declaration.
How to fill out ArriveCAN if you don't have Internet access or tech skills
There is surely one spot with free Wi-Fi somewhere close in the 72 hours before your entry. And if you can read this post, you can surely read the questions in ArriveCAN and input the answer.
But if not, don't worry.
You can ask your loved ones to fill out the ArriveCAN app for you even if they are not traveling with you.
Give them all your info, tell them to complete the declaration for you remotely (the Internet is such a beautiful invention!), and ask them to simply send you the screenshot with the ArriveCAN receipt.
So if you have loved ones who are not comfortable with technology, you can do it for them without a problem.
How to prove you've completed the ArriveCAN app
When you complete your declaration, it gives you an ArriveCAN "receipt" (basically just a screen with a letter-based code and a QR code).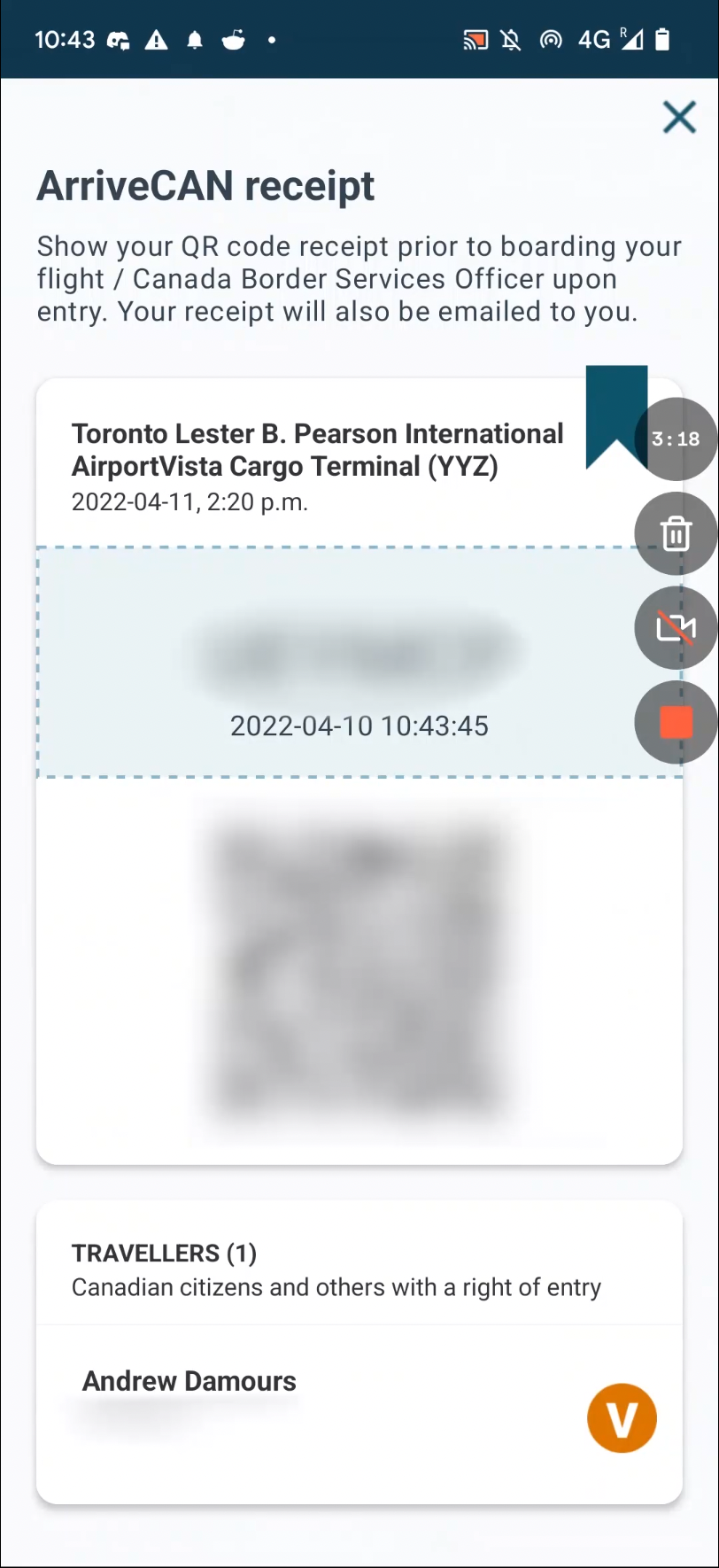 This receipt is precisely what you need to board the plane and/or enter the country.
You obviously don't need to print anything, the digital version is enough (the same as for the proof of vaccination required to avoid the test and quarantine when entering Canada; the same as for the pre-departure test that most unvaccinated travelers still need).
Credit where credit is due (especially since our government so rarely deserves it) but at least Canada acts like we're in 2022 and never requires anything to be printed.
Why customs agents don't ask for your ArriveCAN receipt
It's crazy how many comments we see that say "the customs agents didn't ask for my ArriveCAN, so I did that for nothing." In all cases, you pretty much did it for nothing, yes, but that's a whole other topic.
Anyway, the customs agents don't always ask to see your receipt because you have to enter your passport (or NEXUS card) number in your ArriveCAN declaration, so when you give them your ID at customs and they scan it, it's magic: everything is linked!
The customs agents see your ArriveCAN declaration automatically because it's linked to your ID.
Okay, it's true that it's surprising that they are even able to do something tech-savvy like that, considering how everything else is done haphazardly (see all the conflicting emails travelers still get 2 years into this, for just one of many many examples)…
How to modify your declaration in the ArriveCAN app
Officially, the government says to fill out a new declaration if your info changes. You simply start a new one and it will override the old one.
In my experience, if your time of arrival changes just a bit, it's not an issue. I've entered a few times at a different time (with a difference of only a few hours though) without ever changing anything.
I once even arrived on a different flight (arriving from a different city) than the one I had filled out in ArriveCAN, due to IRROPS (irregular operations, AKA the aviation world's term for a flight delay). I didn't feel like changing my declaration since the arrival time was close enough to the original.
I had no issues: like every other time, it took me 2 minutes to enter Canada (but of course, that speed is mostly thanks to my NEXUS card). My point is that I was not asked anything about my ArriveCAN declaration, like every other time.
Obviously, it's up to you to decide. But for sure, if something major like your point of entry into Canada changes, it's better to fill out a new declaration. Did I mention it takes just 3 minutes?
Why the ArriveCAN app still asks for a place of quarantine
Because they never changed it even though the 14-day quarantine requirement ended in July 2021.
And most importantly, in case you do develop symptoms after your trip (it's well known that the virus is more present everywhere else, we don't have it here🤡), they want to know that you have a suitable place of quarantine.
So don't worry about the fact that they ask that. You do not need to quarantine.
I had always entered my home address, but this week, as soon as I entered Canada I was actually flying on the inaugural flight for Canada's newest ULCC offering $39 flights (you can read my Lynx Air review) which meant I was going to spend a few nights at a Calgary hotel instead of going home.
I entered the hotel address as my place of potential quarantine in the ArriveCAN app. And just like every other time, I did not get a single question about that when I went through customs. So even inputting a random address doesn't raise any special questions, it's really just a bureaucratic formality.
(Uhhhhhh I mean: asking this is essential to protect Canadians, the whole thing is a vital tool 25 months into this, okay! Trust the experts! Just not the World Health Organization experts who've been recommending removing all travel requirements for months; the much smarter Canadian experts!🤣)
What to know about health/administrative forms (basics)
By the way, many countries require some sort of form to be filled out to enter for travel during the pandemic.
So just to be clear, in our guide to each country's entry rules (it was just updated Tuesday, April 19th by the way), we focus on the requirements that are restrictive (testing and quarantine) but as it says in the important notes, there are often administrative requirements as well now.
It is obviously free everywhere and not very complicated, but it is still mandatory to enter many countries (including Canada obviously). The link to the forms for each country is in our guide.
By the way, I really understand people who complained about the pre-departure test (even if it was not as complicated or expensive as many people seemed to think, it was still restrictive), but I honestly don't understand why some people are so outraged about having to fill out a form!
Of course, it sucks and we too hope that it will be lifted soon. But of all the restrictions on travel (or freedom in general) that governments have imposed in the past 2 years, this really isn't the most dramatic one…
How to fill out the ArriveCAN application (video and screenshots)
Here is a video of how to fill out the ArriveCAN application step by step based on my experience entering Canada from the USA last week.
It took me 3 minutes total (we sped up the video to 2 minutes because I personally hate videos in general since they're so slow). Filling out ArriveCAN was just as easy as the 7 times before.
I'm not sure anyone really needs help with just answering simple questions, but maybe some people are curious to see what is asked.
And now here's the text version for those who prefer that.
So first, you download the app and create an account.
We recommend LastPass to save all your info and protect your accounts.
I'm going to assume that you know how to create an account. This is where you'll add your travel documents (such as your passport or NEXUS card) and proof of vaccination.
Once that's done, you click on the only button that exists in the middle of the screen to get started.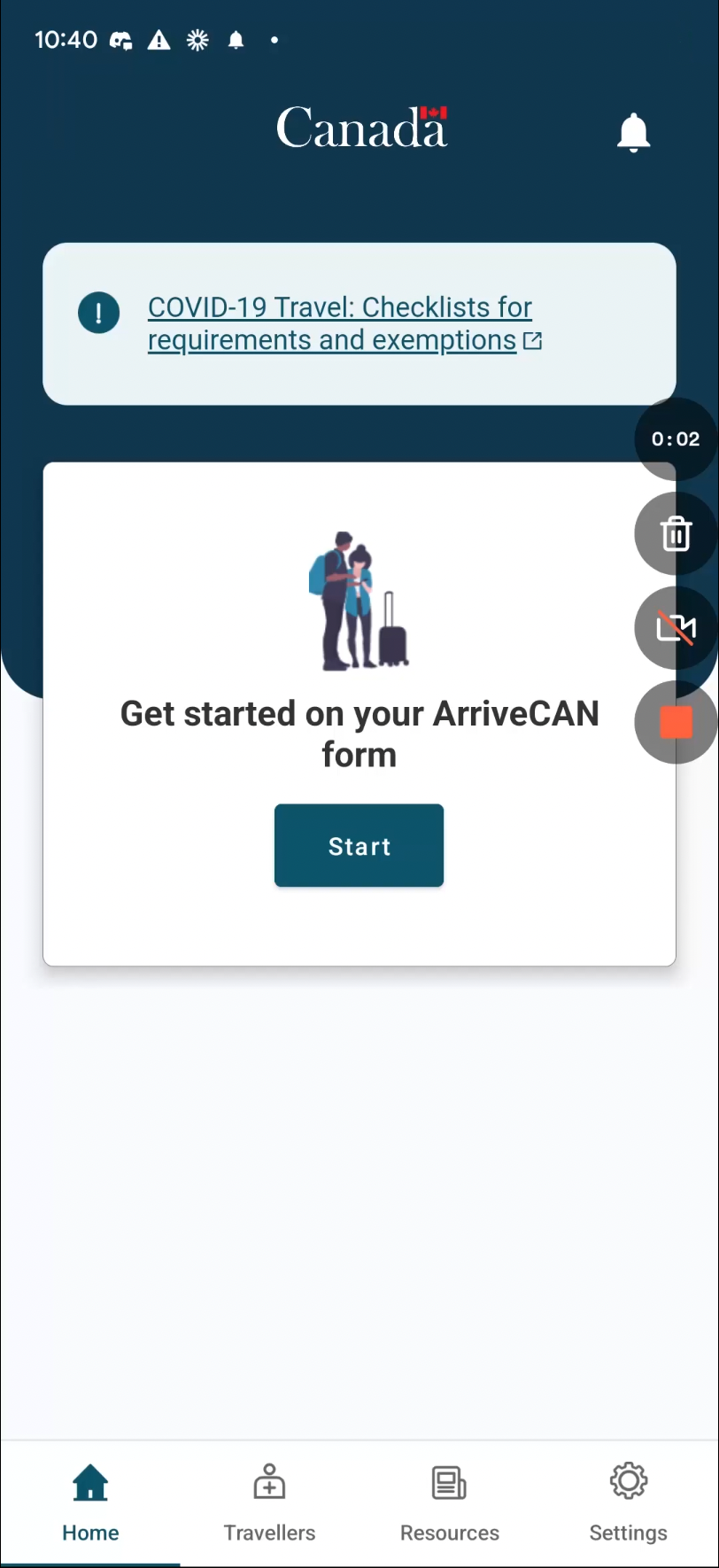 First of all, it asks you to describe who you are or your reason for entering Canada. You choose "Canadian citizens" if you are a Canadian citizen.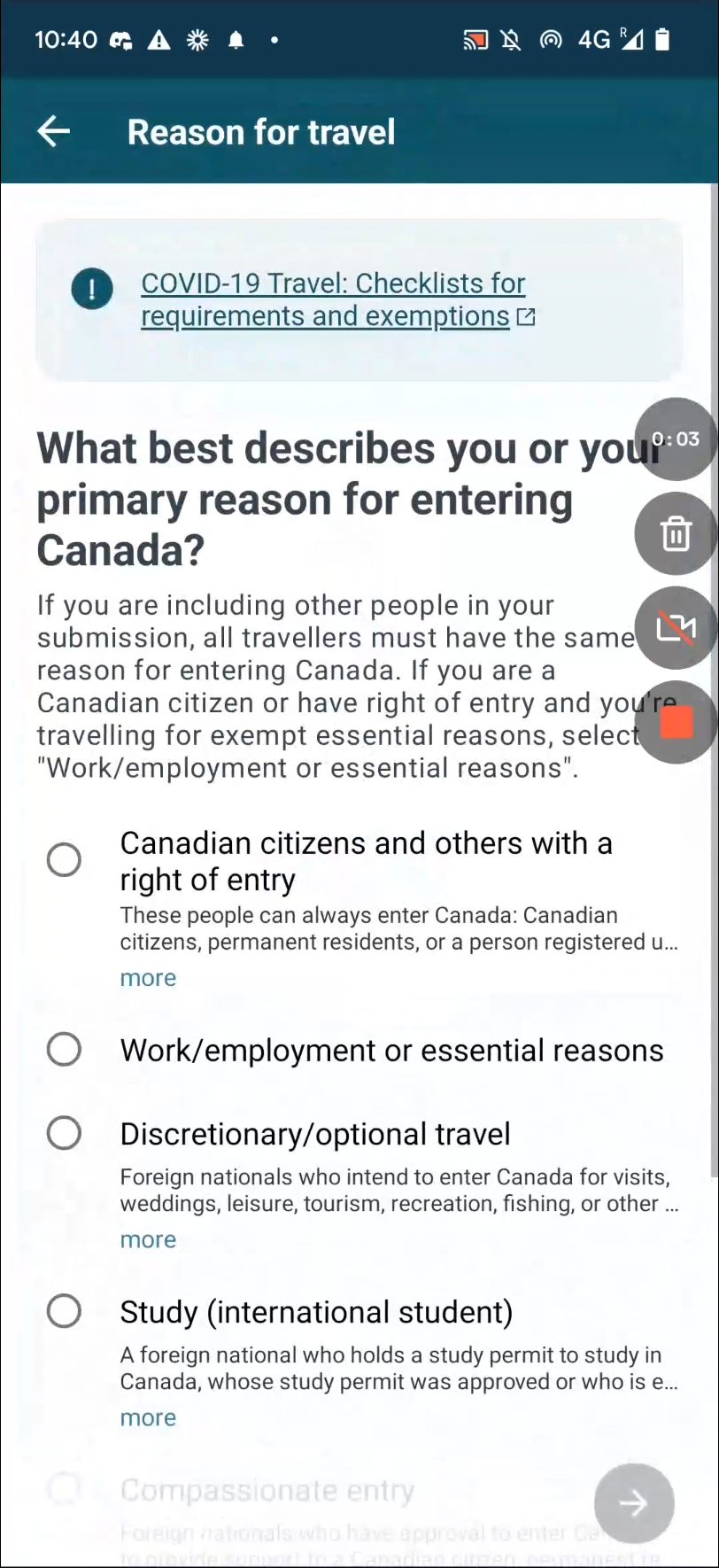 Then, you need to select how you're entering Canada, which is either by air (plane), by land (car or train), or by marine (boat).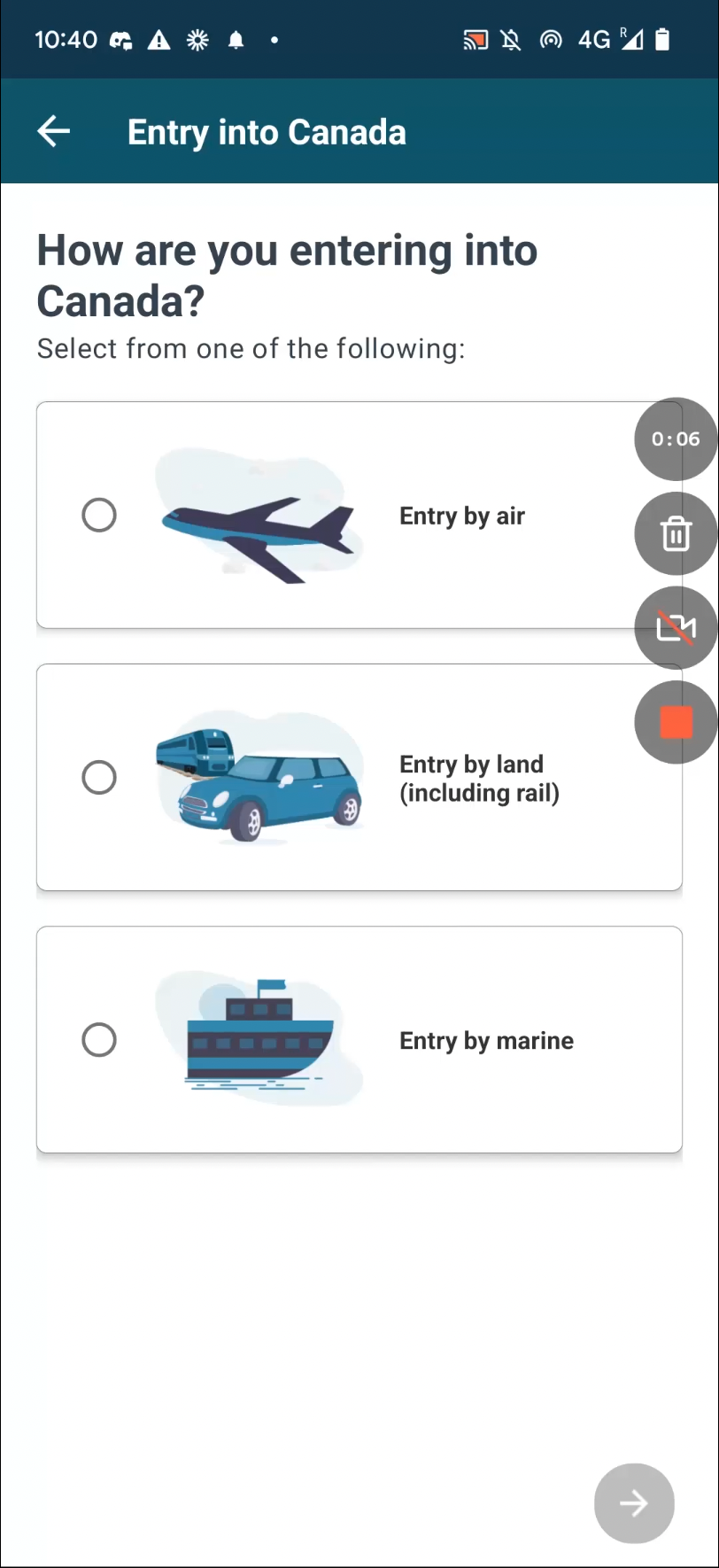 After that, you get a warning for air travelers about possible COVID-19 testing on arrival. These are random tests that only a minority of travelers will have to do if selected.
They suggest pre-registering, but I would personally not do that in case it makes their lives easier to choose you instead of someone else who hasn't pre-registered (apparently the selection truly is random according to the government, but as you probably know by now, I don't trust them).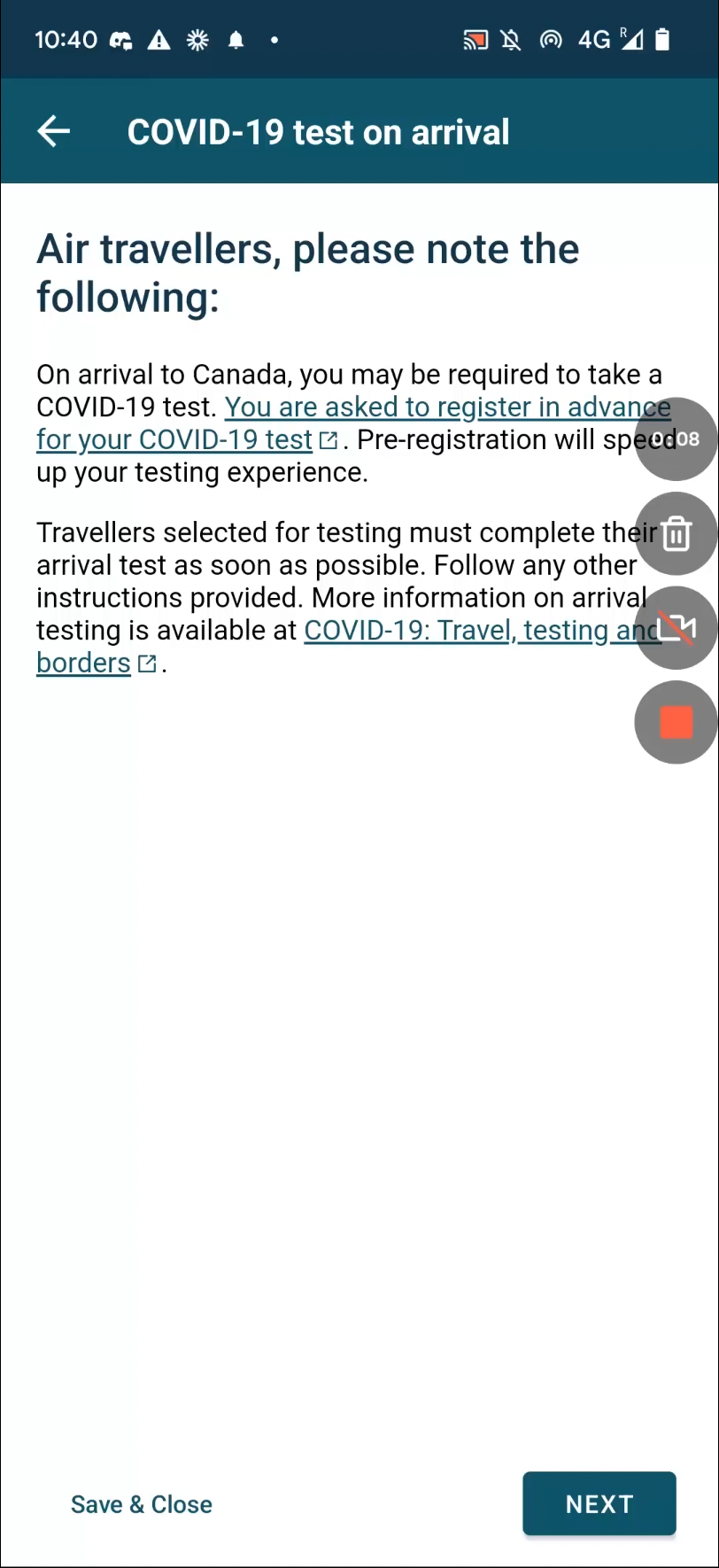 The app then asks you for information about your flight that ENTERS Canada.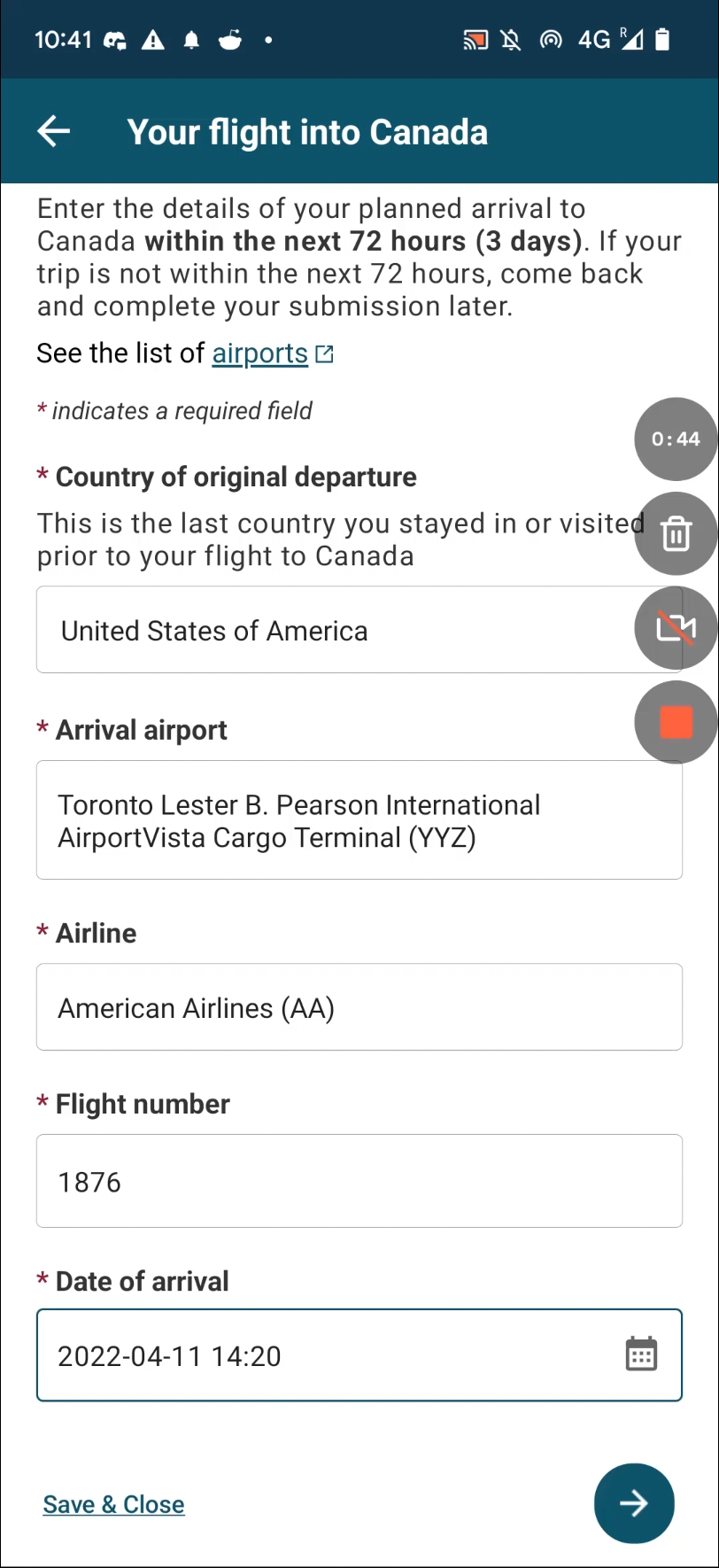 These are ENTRY requirements so it's the flight that ENTERS the country that counts.
My full itinerary was from Columbus (CMH) to Toronto (YYZ) on American Airlines, with a stopover in Charlotte (CLT), but the government doesn't care at all about the full itinerary, they just want to know on which flight I am ARRIVING into Canada (exactly like on almost all customs declaration forms for all countries pre-pandemic).
So in this case, it's the flight from Charlotte to Toronto.
Here, the government also doesn't care where I'm going after Toronto, they are asking about my ARRIVAL info! So forget your connection after, if you have one. They don't care.
After that, it asks you for your contact information (they already have your email with your account) and your desired language.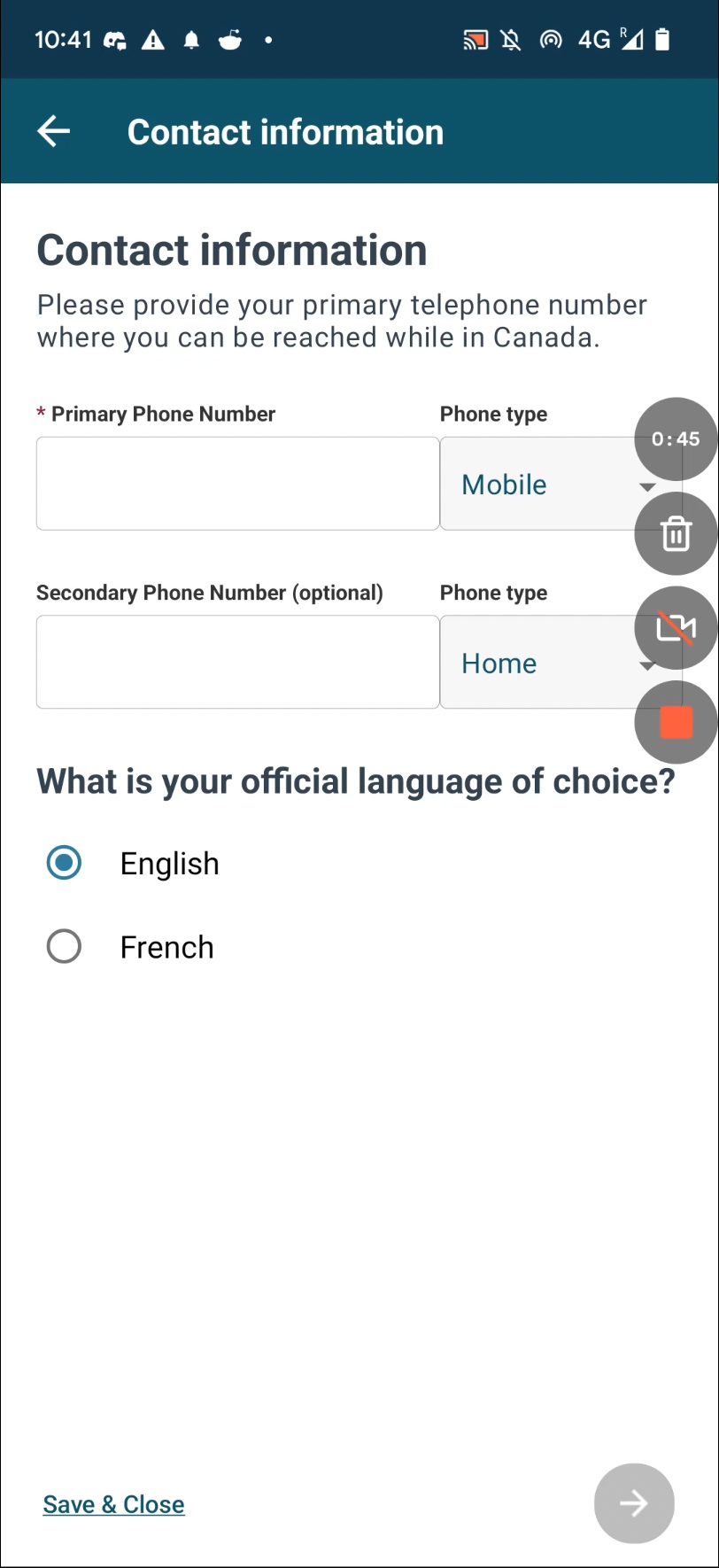 Then, select the travelers you want to fill the form for (this info will already be saved from when you create your profile when you first download the app).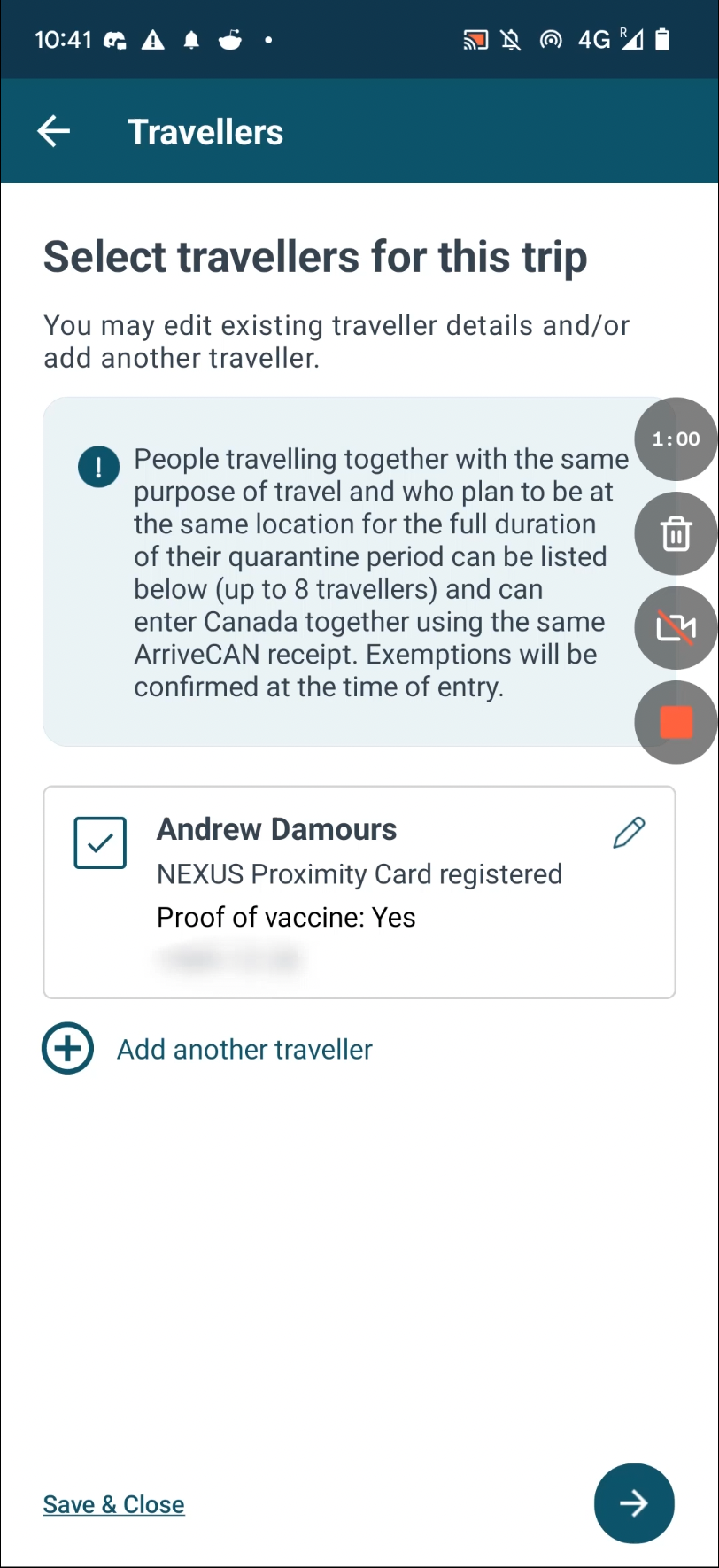 Depending on if you used your passport or a NEXUS card to create your profile, what appears under your name might be slightly different I guess, but the steps are the same.
You are then prompted to read another warning about COVID-19 testing (which you don't need if you are fully vaccinated). Click "I understand."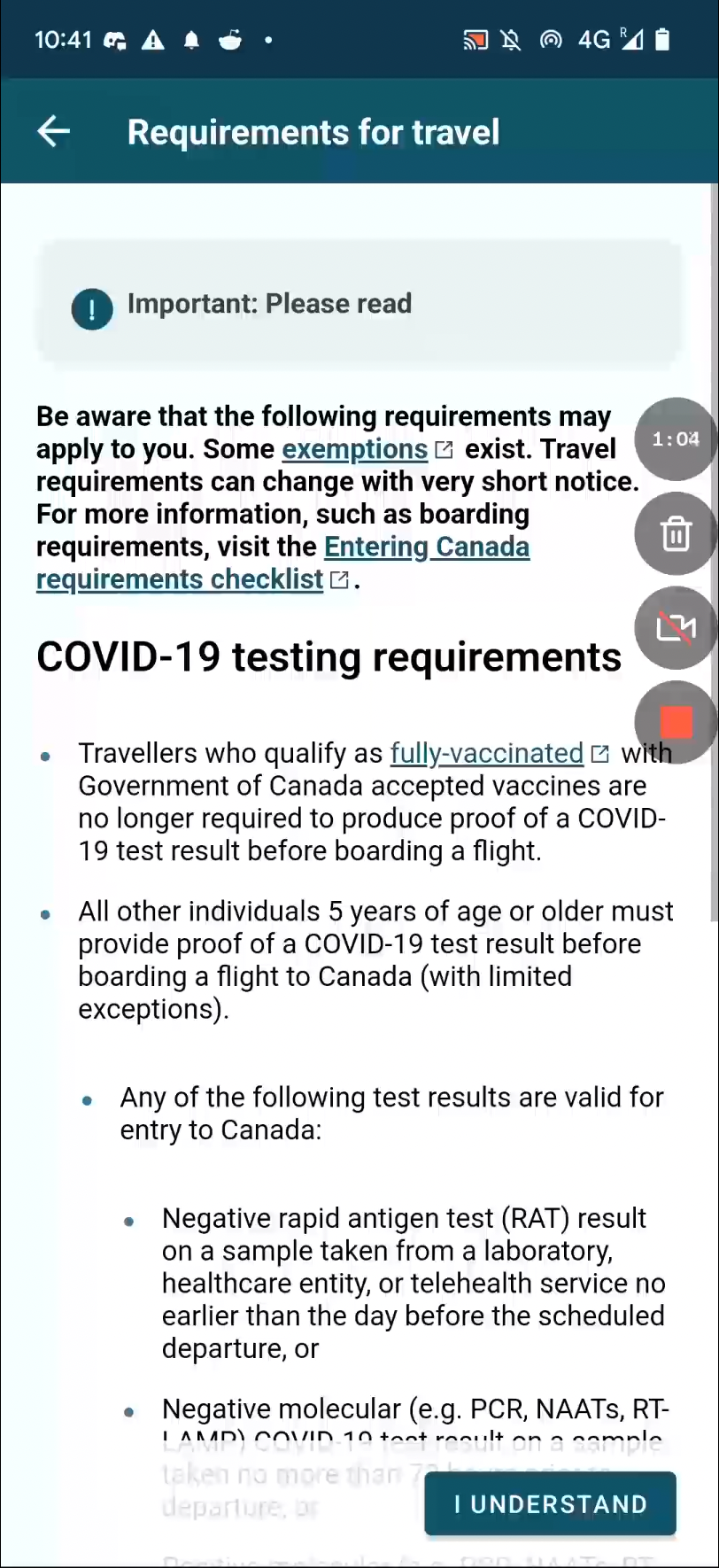 You then have to declare if you have been in other countries than the United States in the past 14 days. Since it wasn't my case, I clicked "No."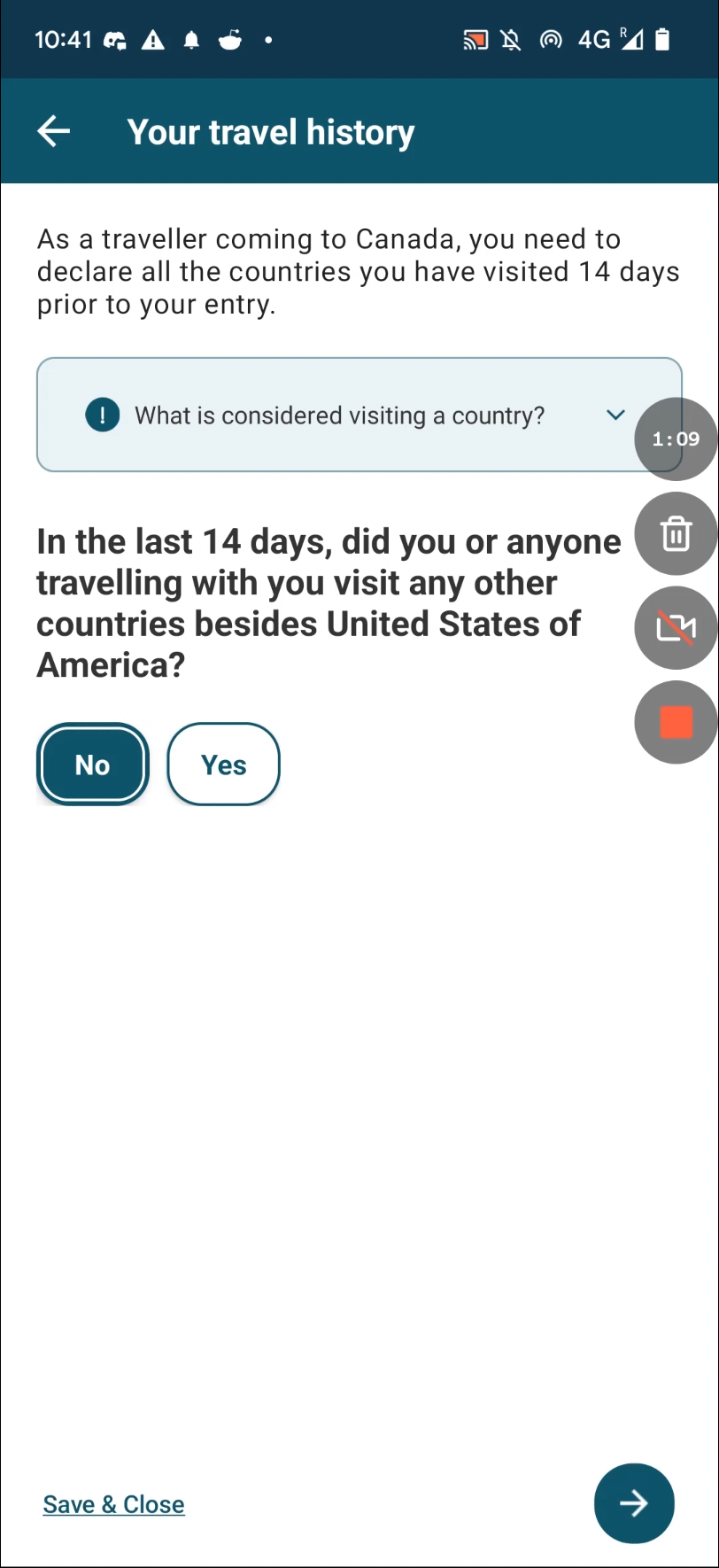 If you have visited other countries, you can simply click "Yes" and you'll then have to add the name of the countries you visited in the last 14 days (it's really that easy).
You'll also need to answer a few standard quarantine questions.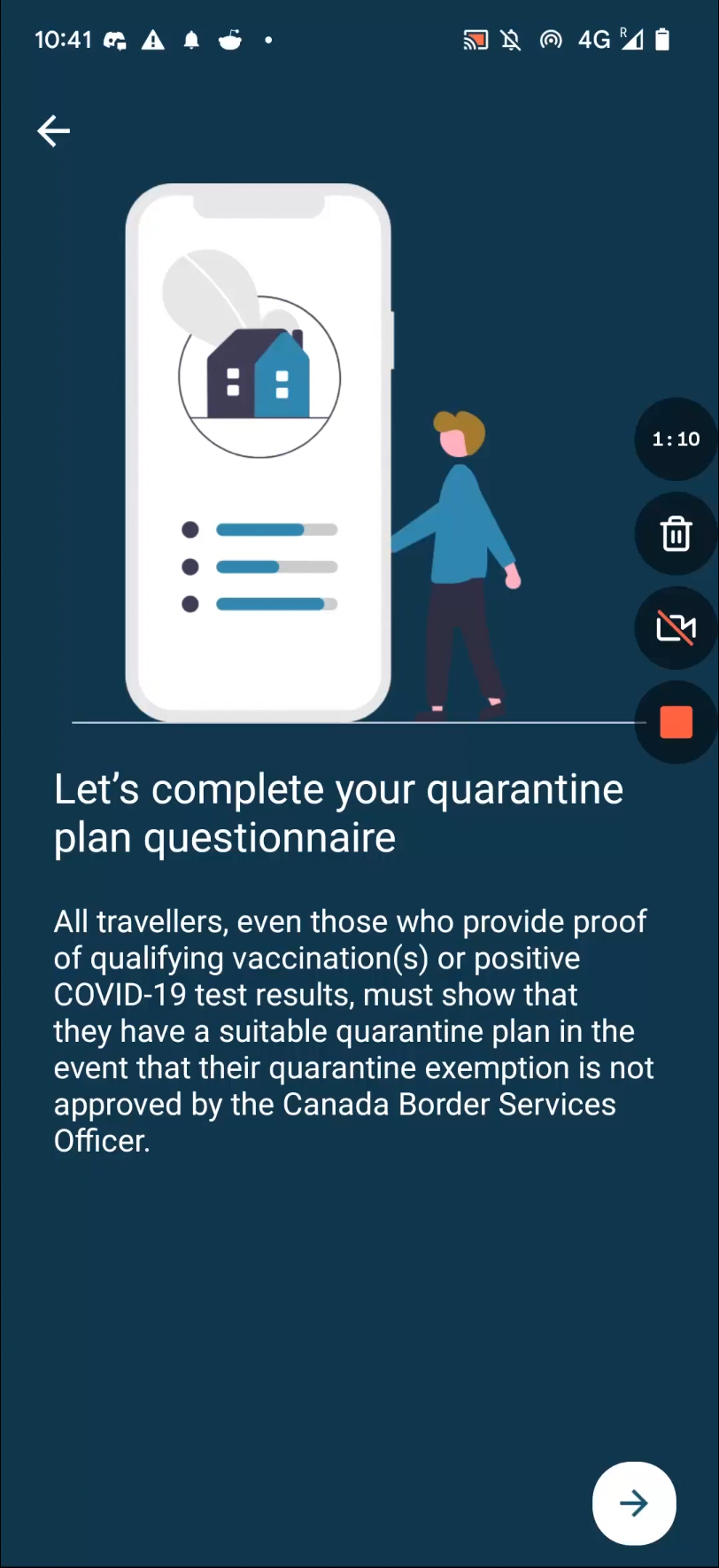 Yes, they ask this even if you are exempt from quarantine by being fully vaccinated. It's just because if you were to develop symptoms, they want to make sure you can self-isolate somewhere.
In short, you need a quarantine plan to enter Canada even if you don't need to quarantine when entering Canada.
So they ask you 6 short questions about who you might be in contact with, access to food, water, medication, etc.
The last one asks you for the exact address of where you would be quarantining (as I mentioned before, I was on my way to Calgary on Lynx Air's inaugural flight, so I entered the address of my hotel, but if you're returning home, you can just type in your home address — it will be filled automatically for the next times as well).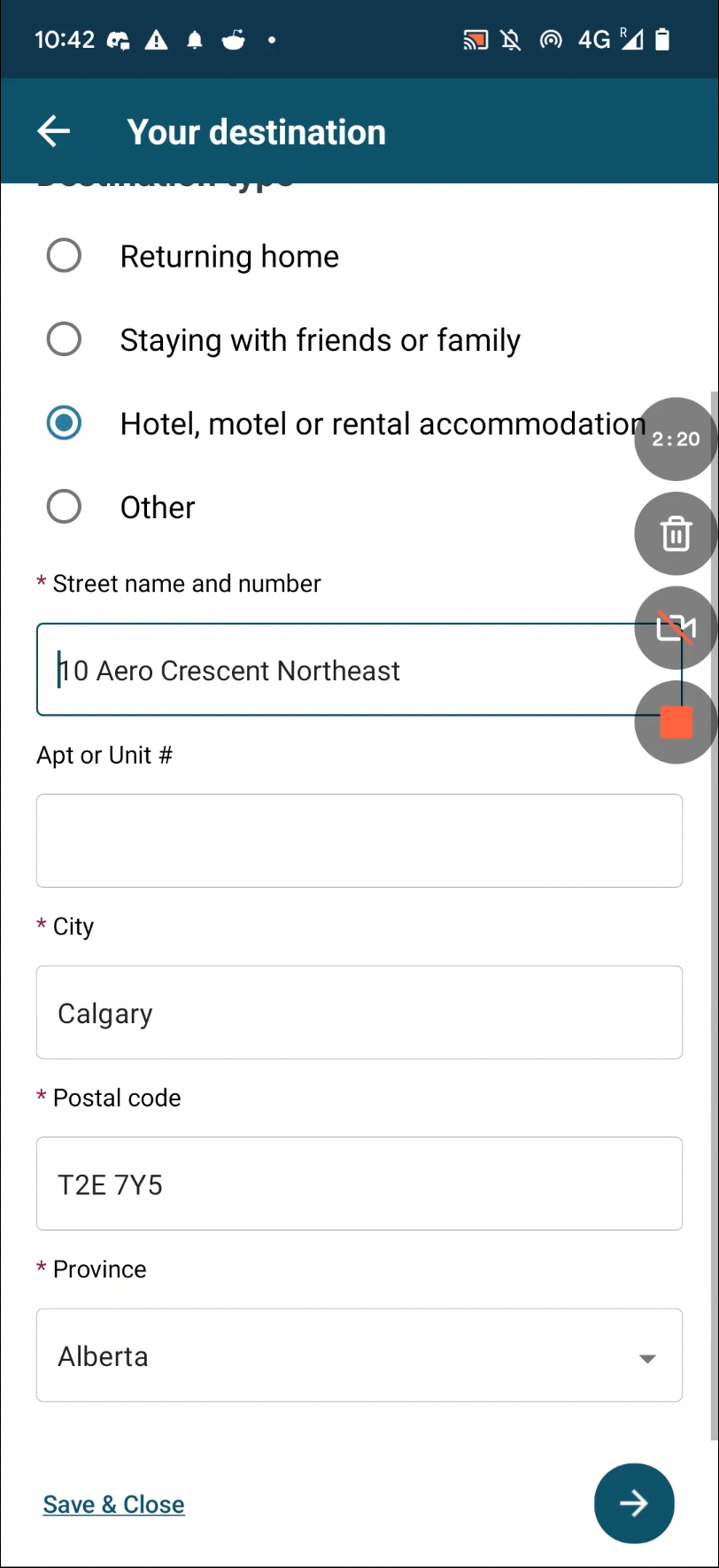 Lastly, they ask you to complete a COVID-19 self-assessment.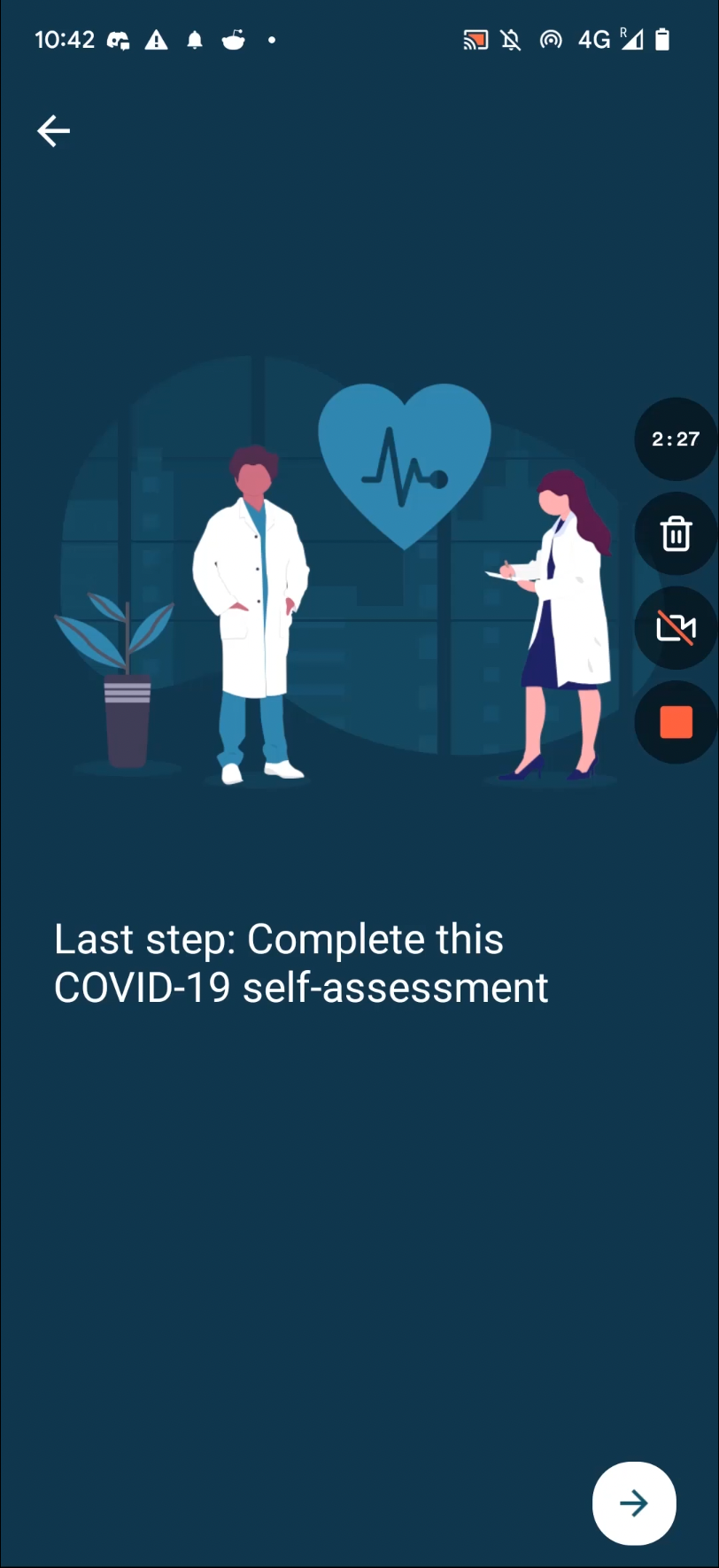 The only question they ask is if you currently have any symptoms of COVID-19.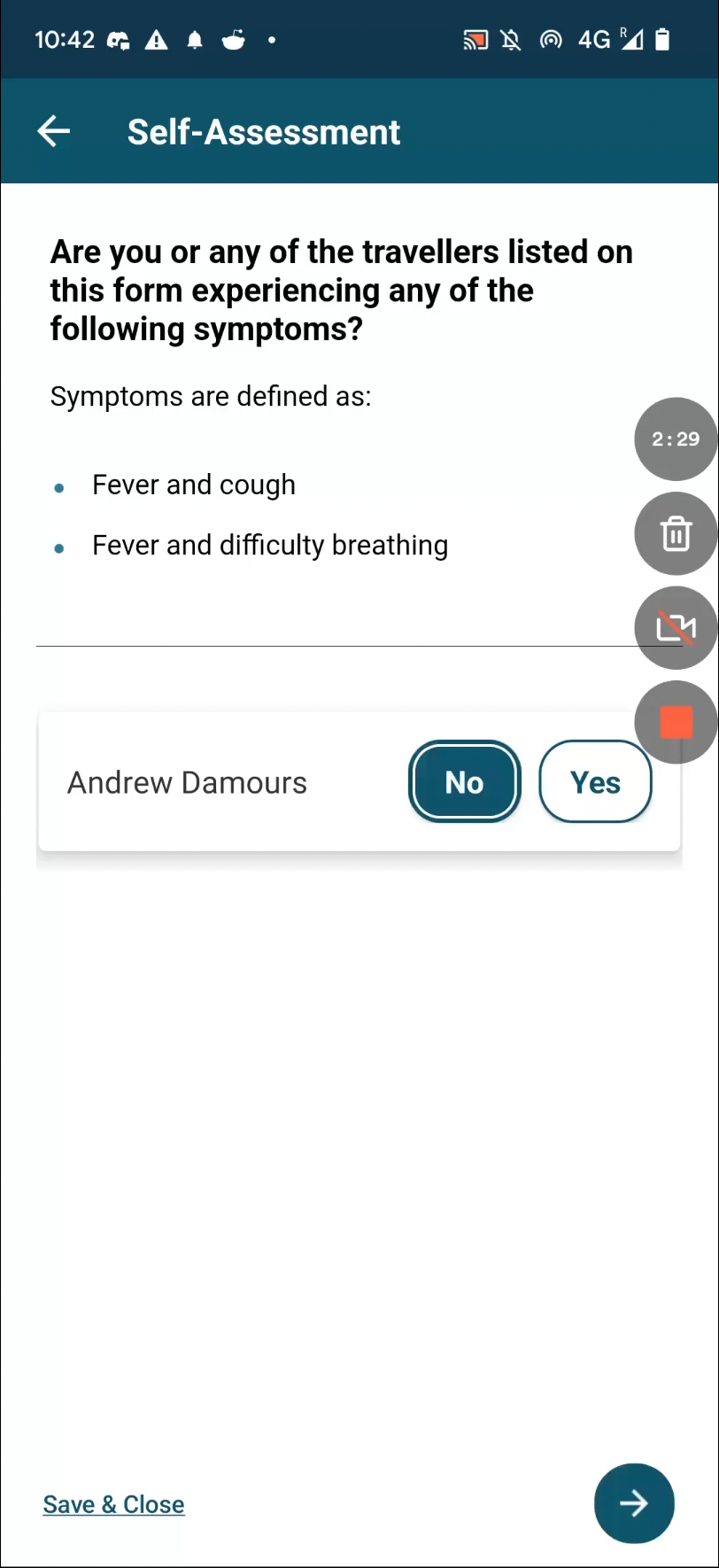 And that's it!
It gives you a summary to double-check before submitting it to the government.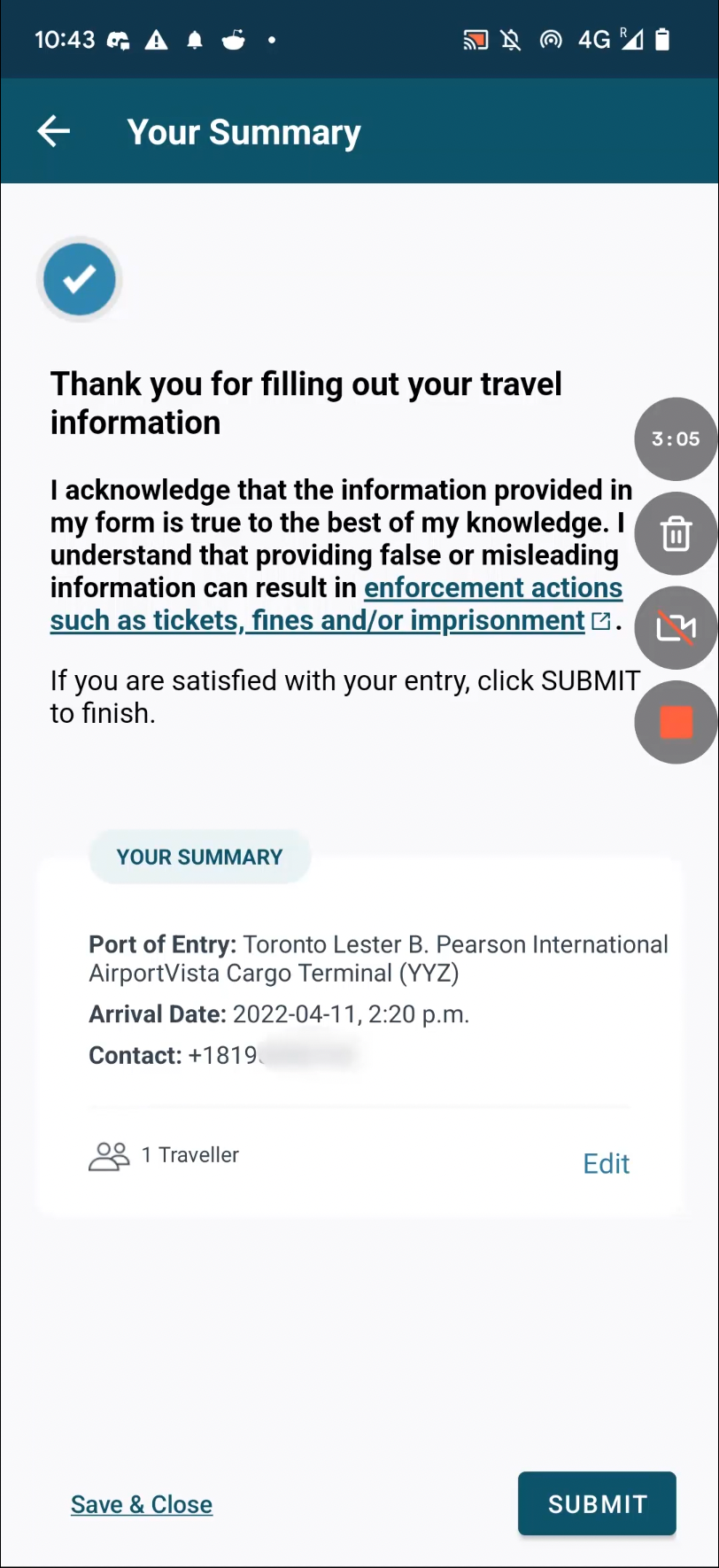 If everything is accurate, you submit it. I didn't even choose the right YYZ option (it says Vista Cargo there) and clearly, nobody cares.
It takes a few seconds to send.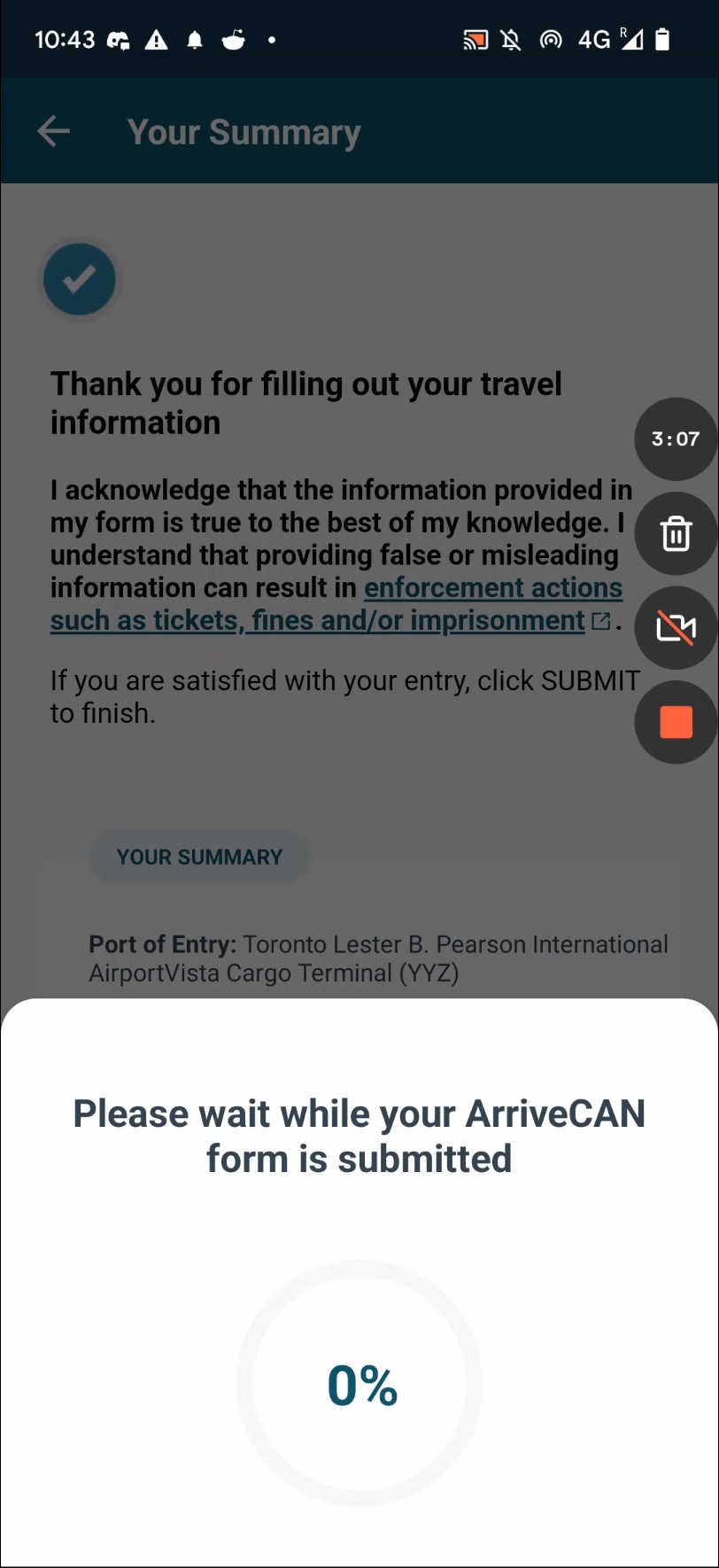 And once submitted, that's when you get the important code.
Take a screenshot of it and email it to yourself too!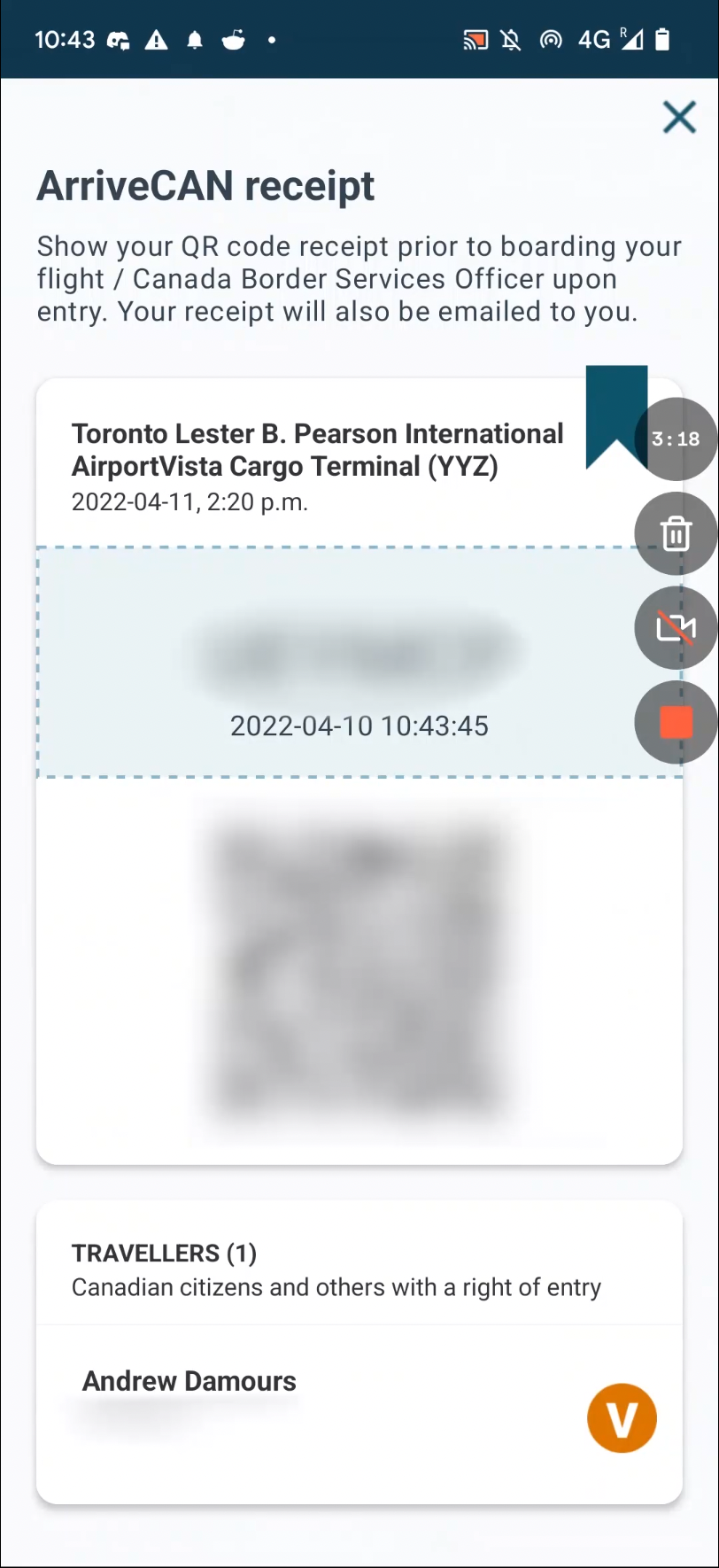 Who verifies your declaration in the ArriveCAN app
If you enter by land, customs officials will ask to see this QR code. Or sometimes just by showing the same passport or NEXUS card that you entered in the ArriveCAN app, they will automatically find your declaration without you having to show the actual receipt.
If you enter by air, the airline agents will ask to see this QR code before your departure and possibly again before the last direct flight to Canada if you have a layover. Then at customs, it's the same as by land.
In one of my previous experiences, I had a United flight (paid with my Aeroplan points of course, especially with the record amounts easily available currently) and the agent in Louisiana checked my QR code from ArriveCAN and my test before my first flight.
During my layover in Chicago, the Air Canada agent only rechecked my test, not ArriveCAN. I'm sure this can vary though.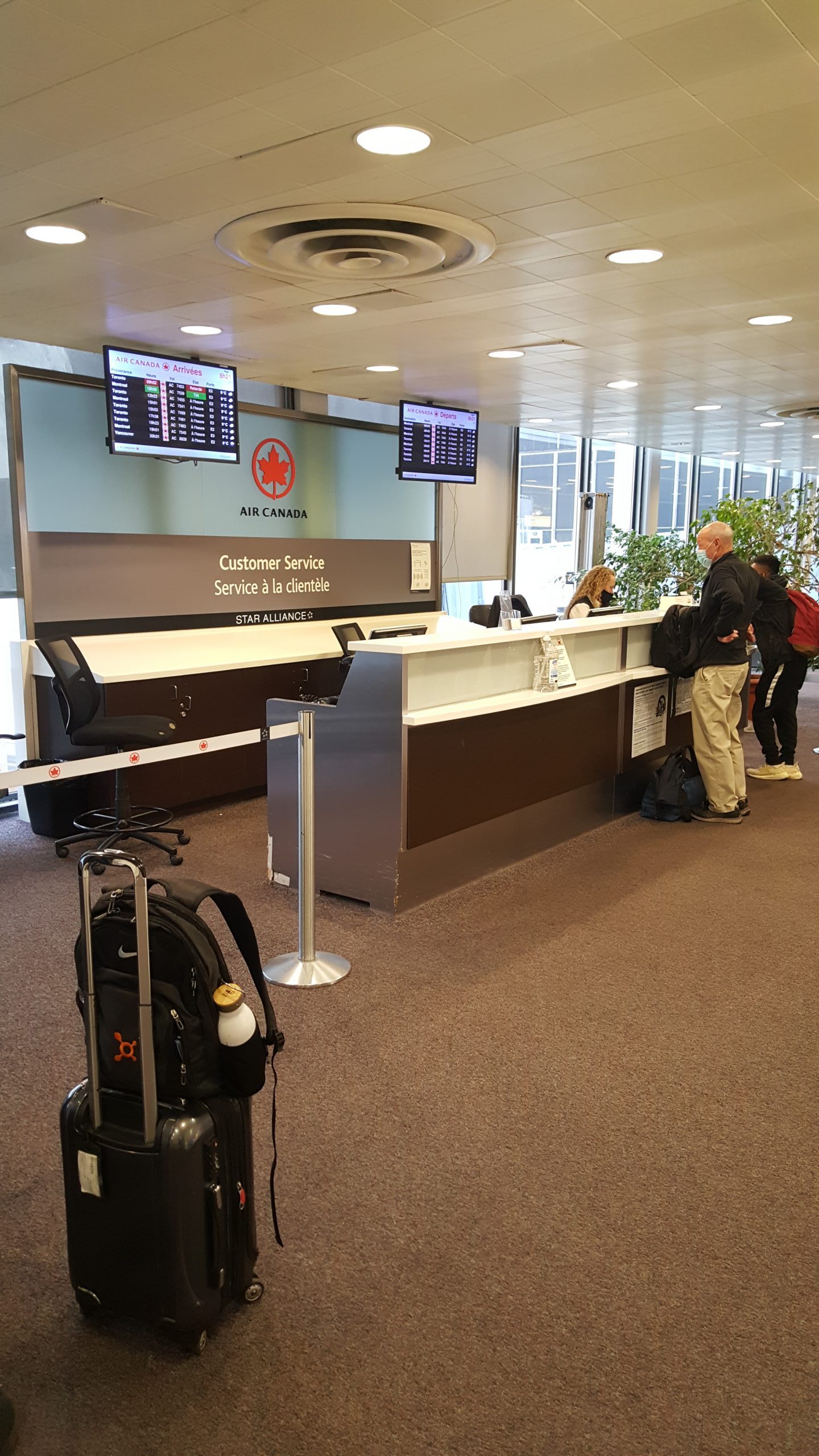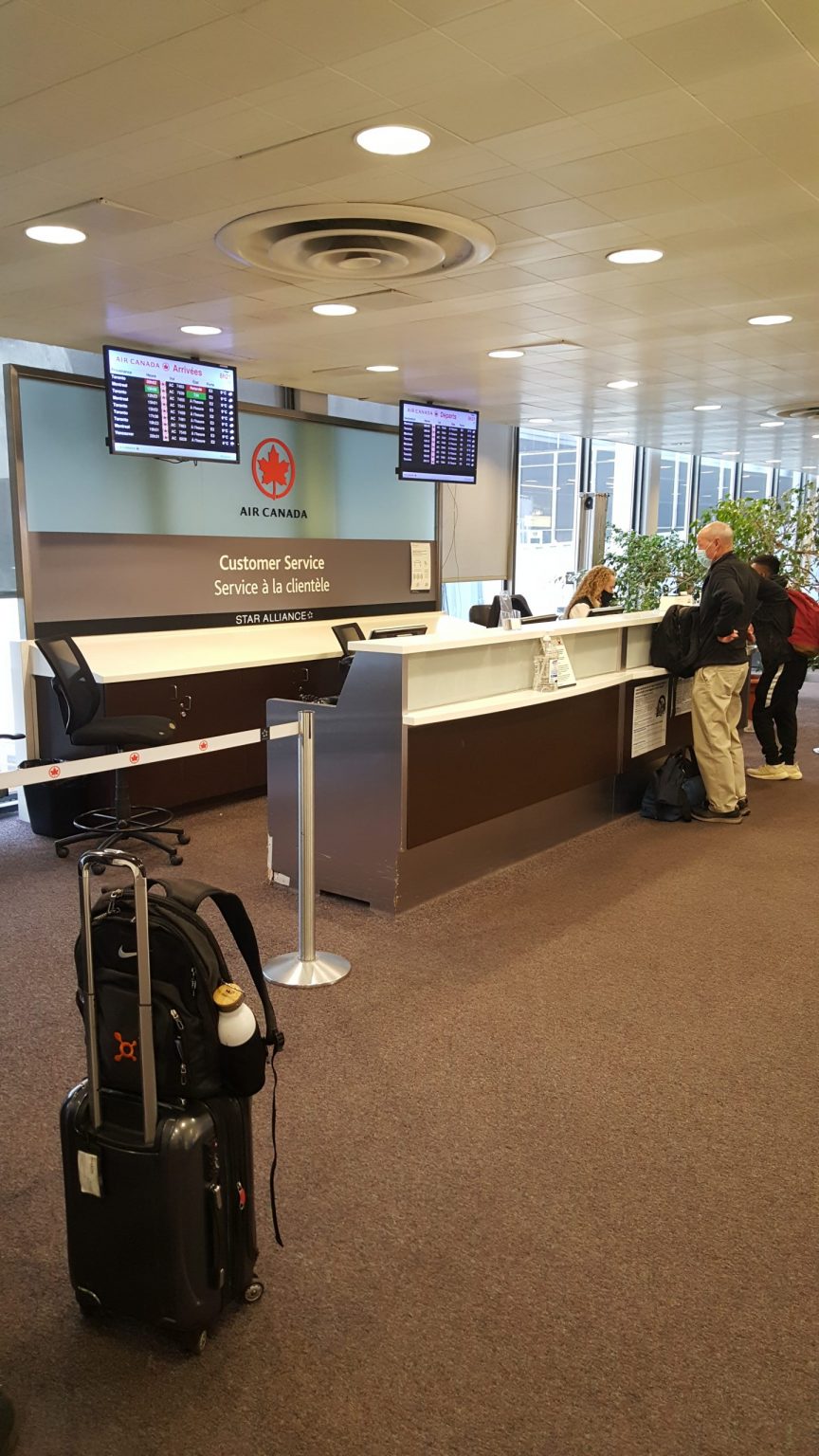 Upon arrival in Montreal, I showed my ArriveCAN app QR code to the customs officer. From the plane to outside of the airport, it took just 7 minutes total, so it's very fast for travel pros despite the pandemic requirements.
On the other hand, when I entered by land in April and May, I didn't have to show the ArriveCAN receipt at all because everything was linked in their system.
One of the customs officers explained to me that when I scanned my NEXUS card (it's the same as a passport) it automatically pulled up my ArriveCAN declaration on his screen since it was the ID I had used when filling out the declaration.
It's really surprising that something technological is so effective with the government, but credit where credit is due!
Want to get all coronavirus updates for Canadian travelers?
Summary
The requirement to fill out a declaration in the ArriveCAN app is very quick and easy. And it's mandatory for everyone entering Canada.
What would you like to know about the ArriveCAN app? Tell us in the comments below.
See the deals we spot: Cheap flights
Explore awesome destinations: Travel inspiration
Learn pro tricks: Travel tips
Discover free travel: Travel rewards
Featured image: ArriveCAN application (photo credit: Andrew D'Amours/Flytrippers)
Advertiser Disclosure: In the interest of transparency, Flytrippers may receive a commission on links featured in this post, at no cost to you. Thank you for using our links to support us for free, we appreciate it! You allow us to keep finding the best travel deals for free and to keep offering interesting content for free. Since we care deeply about our mission to help travelers and our reputation and credibility prevail over everything, we will NEVER recommend a product or service that we do not believe in or that we do not use ourselves, and we will never give any third-party any control whatsoever on our content. For more information on our advertiser disclosure, click here.
Share this post to help us help more people travel more for less: