Why "travel like it's 2019"? Because it's time to do like ≈ 40 European countries (and 40+ others around the world) and remove travel requirements. Or at the very least end the Canadian government's irrational insistence on keeping the ArriveCAN app. It's now been over 7 months since the World Health Organization recommended removing all travel restrictions, by the way.
The mandatory ArriveCAN app obviously slows down the already chaotic airports.
Also, having the NEXUS card is the single best pro tip for Canadian travelers, but for over 2 years, Canadian enrolment centers have been closed.
(To be clear, the US ones are open at the land border, which is easy enough for most Canadians to get to — and we'll have a pro tip on how to find more appointment time slots soon, along with a video and an update on this must-know trick to bypass all waiting lines when traveling!)
So, to put pressure on the Canadian government to resolve both of those issues, the Canadian American Business Council recently launched the Travel like it's 2019 campaign so that in less than 30 seconds, you can easily send an email to the minister and to your Member of Parliament.
Here are the details.
Highlights of the "Travel like it's 2019" campaign
Here's how to easily add your voice to the thousands who've already filled out this form:
Go to the Travel like it's 2019 official website
Enter just your name, email, and postal code (the message is pre-populated; there's nothing to do)
Click "Send e-mail" to automatically send that to both:

The federal minister of transport (Omar Alghabra)
The MP that represents you in Ottawa (automatically based on your postal code)
This is really the only part you need to do, it's very quick.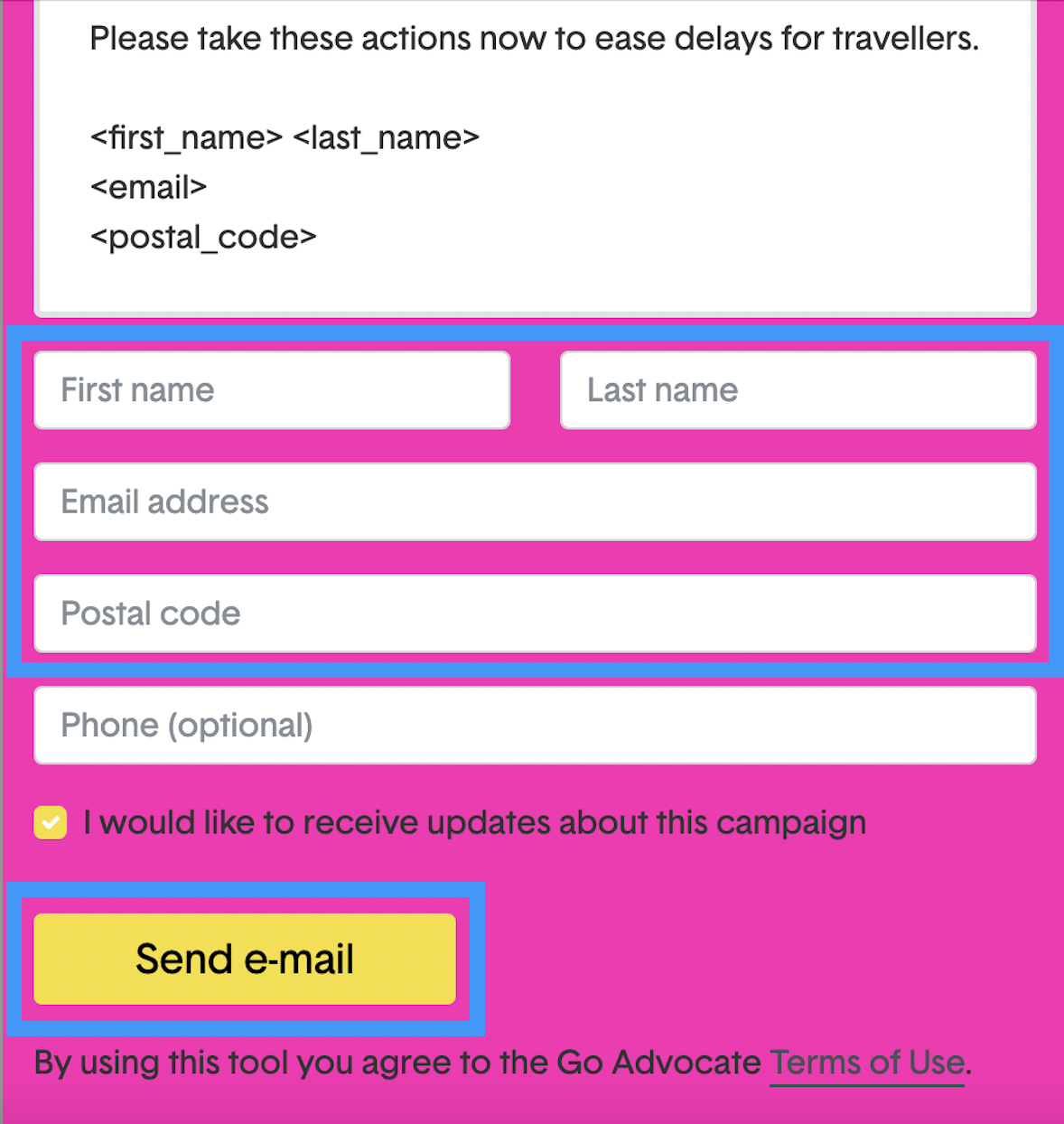 Anyone who knows anything about travel, like all those who watched the absurd and irrational travel rules for the past 2 years, knows that public opinion is the only thing that guides the federal government's decision on travel rules.
So take 30 seconds and put a bit of pressure on the federal government. And share the page with your travel buddies too, of course.
Flytrippers' mission is to help you travel more for less, and removing ArriveCAN and easing NEXUS access will definitely do that.
ArriveCAN app aspect of "Travel like it's 2019"
The ArriveCAN app is mandatory for everyone who Arrives into CANada, so that part is very simple at least.
(Well, you can enter as a Canadian without it, but you'll have to quarantine for 14 days and face a potential $5000 fine — except a one-time exception by land only if you're vaccinated…)
Here are the 7 main reasons why the app has been almost unanimously criticized by travel experts, but even by public health experts who all find it pretty useless at this point:
It's not aligned with the pandemic's current phase (AKA not a single provincial government has any rules left)
It slows down the entry procedures (Canadian airports are world leaders in flight delays based on the data)
It can be complicated for people without basic technological skills
It has lots of bugs and it sometimes crashes or doesn't save the information
It has never been supported by any facts or public health data showing it has any effect (no evidence, ever)
It discourages foreigners from visiting Canada (why come here when 80+ countries have removed ALL rules)
So that's why the Travel like it's 2019 campaign organizers want the government to eliminate the ArriveCAN app.
It's an opinion that has been expressed by so many travelers, by Members of Parliament from all opposition parties here in Canada, and also by Members of Congress in the USA (from both parties).
NEXUS aspect of "Travel like it's 2019"
The NEXUS card is absolutely amazing.
I've traveled plenty this year and I haven't faced any waits at all in Canada or the USA, because I get to entirely skip the lines at:
security checkpoints at airports in Canada and the USA
customs at airports in Canada and the USA
customs at the land border between Canada and the USA
I just smile smugly at all those travelers stuck in hours-long lines while I go straight to the front, being so happy that I know about this tip as a savvy traveler. And being grateful that I am not waiting in those lines (while simultaneously being very sad that so many people don't know how simple it is to avoid the lines; it's a great microcosm of travel tips in general really… so many people don't know the simplest ones, unfortunately!)
Our ultimate guide to the NEXUS card already has plenty of info (including how to get NEXUS for free… along with getting ≈ $1000 in net value in travel rewards and free airport lounge access too) but it will be updated very soon with even more content, as I mentioned.
The Travel like it's 2019 campaign organizers want the government to reopen the Canadian enrolment centers.
That way, more travelers will be able to join the savvy travelers who have a NEXUS card without having to go to the land border to finalize the online application, and without needing our upcoming tip to find appointments (those who attended our last free webinar got that scoop).
Organizers of "Travel like it's 2019"
The Travel like it's 2019 campaign is an initiative of the Canadian American Business Council. Its mission is to promote the unique relationship between Canada and the United States.
Their CEO Maryscott Greenwood has given several interviews about Travel like it's 2019 in the mainstream media in the last few days. None of those outlets included the rather useful link to participate in the campaign, so we wanted to do it.
Impact of "Travel Like 2019"
It's brand new so it's obviously too early to tell if Travel like it's 2019 will have an impact.
The ArriveCAN app has been criticized from all sides for so long and the federal government's only priority for so long has been to please the public, so it's easy to imagine that this campaign could be the final straw for this measure.
At least if enough people participate, which is why we're sharing it.
But at the same time, the government also LOVES to do some hygiene theater and give the impression that it's taking so many precautions (except abroad).
And the votes of those suffering from Covidanxiety who want to stay in a pandemic crisis until 2026 and who are irrationally scared of travelers crossing imaginary lines clearly seem to be very important, considering we're one of the only Western countries that still have mask requirements on planes and one of the only ones in the world with entry rules that depend on an obsolete definition of vaccination.
It's impossible to predict since political science is not an exact science. It's all very subjective, just like since day 1.
Nothing is based on facts or data. Everyone has been asking the government for over a year to at least say what the measurable data will be considered and that will determine if rules are removed. And there still hasn't been anything objective or quantifiable. They will play it by ear, I mean by polls.
So Flytrippers will obviously keep you informed, as we did all throughout the pandemic.
Want to get more content to learn how to travel for less?
Summary
The Travel like it's 2019 campaign lets you send an e-mail to your Member of Parliament and to the minister to put pressure on the government to remove the ArriveCAN app. Take 30 seconds to add your voice, to make travel simpler… like it was in 2019. It's about time.
What would you like to know about the "Travel like it's 2019" campaign? Tell us in the comments below.
See the deals we spot: Cheap flights
Explore awesome destinations: Travel inspiration
Learn pro tricks: Travel tips
Discover free travel: Travel rewards
Featured image: Campaign art (image credit: Travel like it's 2019)
Share this post to help us help more people travel more for less: