I only had one flight to cancel with the whole coronavirus crisis (our Delta deal to Sri Lanka), since all my other trips booked are in May or later. So I wanted to share my experience getting the full cash refund I was entitled to, and how hassle-free it was thanks to the 4 reasons below (including using Twitter, and not only because I profoundly despise customer service phone lines).
Here are the 4 reasons I got the full refund quickly and easily:
I waited strategically
I knew my rights
I was flying to/from the US
I did it all on Twitter to avoid long waits
I secured this full refund before yesterday's enforcement notice issued by the US Department of Transportation reaffirming the right to a refund for canceled flights.
But these lessons below are still quite valid, since there is no guarantee that airlines will change their current practices of denying refunds: that notice did not change the regulations at all, refunds were already mandatory and airlines just decided to ignore them (as many EU carriers are also doing even though the EU rules are very clear too).
We've been talking about getting refunds a lot, since it's important for you to try and get a cash refund instead of a credit, and since that's the travel activity most travelers will be involved in for the next few weeks at least…
But there's another travel-related thing Canadian travelers should definitely do: start preparing future trips and learning how to travel for less with our tips. The best way to travel more is truly to take the time to plan your trips thoroughly (we'll have more content to help you put this downtime to good use, sign up for free).
So here's my experience canceling my flight due to the coronavirus (with those 4 reasons).
1. My Most Important Move
My best move is very simple: waiting.
I was supposed to fly to Sri Lanka on March 24th, 11 days after the government issued a travel advisory to avoid all non-essential travel. Of course, I did not cancel immediately (and not before the advisory was issued either). Many unfortunately overreacted and didn't heed our advice to not cancel right away (which also made it harder for those stuck abroad to get home).
Most importantly, these travelers who canceled way too early only got a travel credit (which is very bad for you—don't miss a detailed post about that), because they canceled before their airline canceled their flight (including many of our readers who had booked that same amazing Montreal-Sri Lanka deal for C$480 roundtrip I had booked).
That's the key, as I will explain in the post with the list of airline change policies for the coronavirus. If you are the one who cancels, you're stuck with a travel credit in the best case… but if the airline cancels your flight, you should get a full refund in many jurisdictions (here's what you can do to try to get a refund).
So I waited until 3 days before, and what do you know? The airline canceled my flight that week.
Bye bye voucher, hello cash refund.
By the way, I booked that flight on a smaller third-party flight booking website, not with the airline… as I always do when they offer lower prices (which is very often the case).
As I also do for every flight, I simply connected my reservation to my Delta account online (which you should have to earn airline miles) to get email notifications.
Booking with smaller booking websites doesn't change anything as long as YOU don't want to make changes at all, as is the case for 99% of flights booked. And if the airline makes a change, I have never had a problem, no matter where I booked.
That's because the few times something happened (like this one because of the coronavirus and for example a delayed and then canceled flight from Warsaw to Paris this summer), I just simply dealt with the airline directly.
By flying with an airline, you have a contract directly with them, regardless of the fact you've booked with them or not… and if they change your flight, they are obligated to resolve the situation. (It's more complicated if YOU want to make a change, so that's why I always take responsibility and book with a travel credit card that offers trip cancelation insurance instead of being dependent on other parties, as you always should. Therefore, you can take advantage of the lower prices on the smaller booking websites with no risk).
2. My Rights
The US Department of Transportation is very clear: no matter the reason for the cancelation, if the airline cancels your flight, you are entitled to a refund. By the way, this applies to any flight to or from the US no matter the airline (as opposed to the EU regulation that requires either flying on an EU carrier or only applies to the flight segment departing from the EU).
(So that's an option to look into if your Canadian airline won't refund you due to the "decision" by the CTA that isn't really one.)
Knowing my rights, I knew what to ask the airline. Of course, by default, they offer travel credits and hope travelers don't know better. That strategy is quite understandable given the airlines' current situation.
Again: it's best to always take responsibility and not expect others to do what's in your best interest!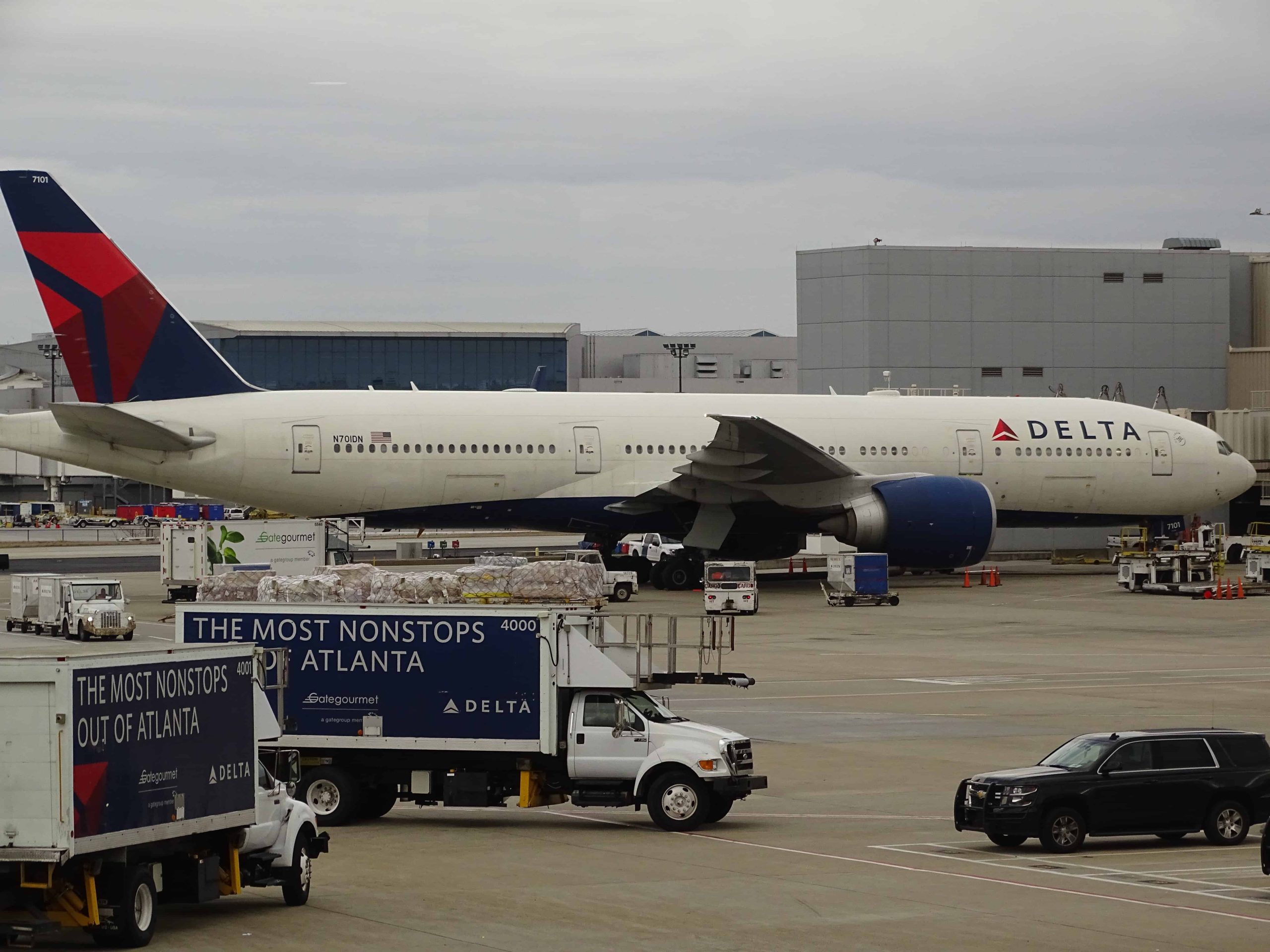 3. My US Flights
This factor is obviously out of your control at this point, but I listed all your options based on your destination and airline in the post about what you can do to try to get a refund.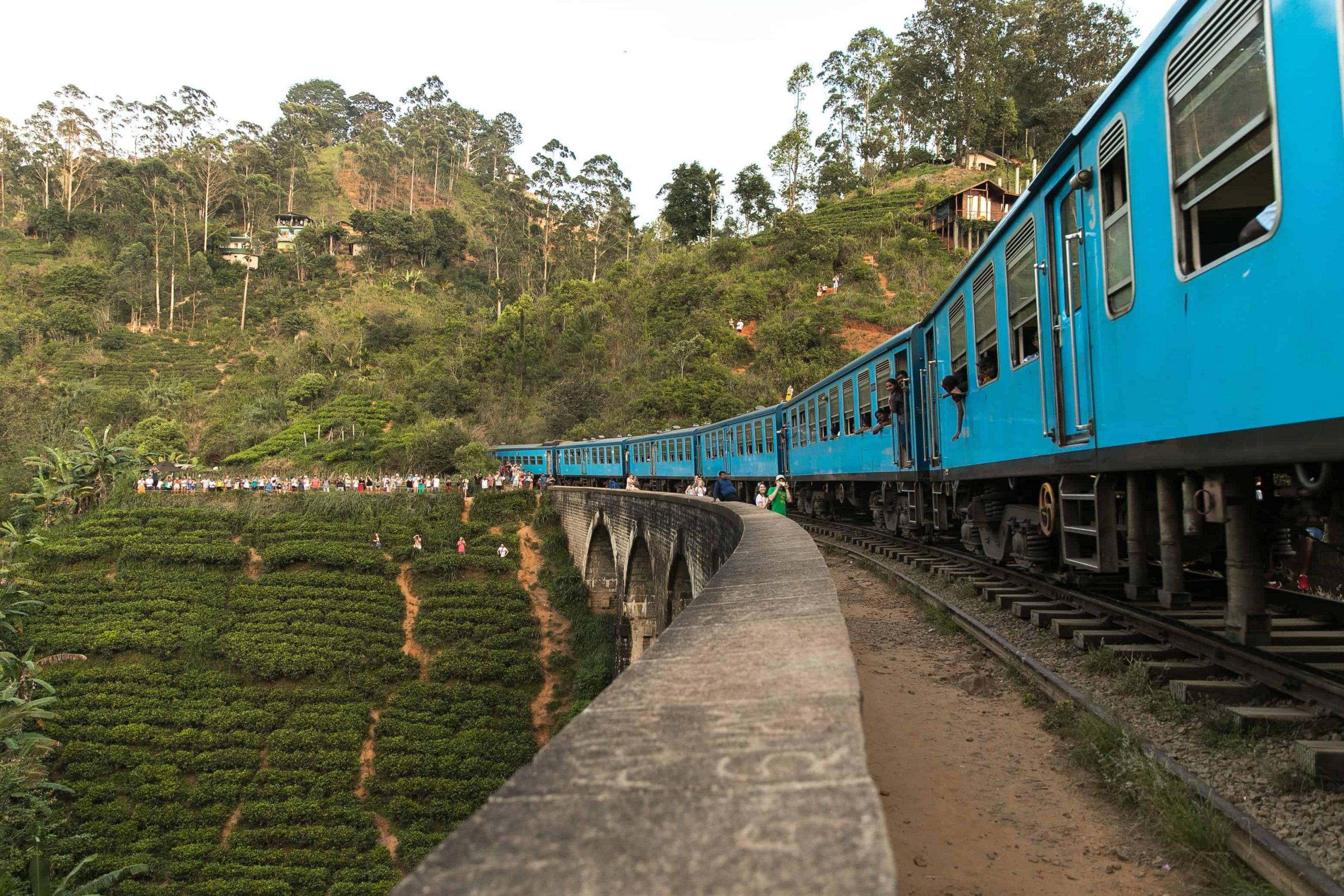 4. My Conversation With Delta
Having waited for the flight to be canceled and knowing my rights, it was time to get a refund.
Personally, there are few things I hate more than wasting time speaking on the phone when a quick online chat can do the trick. Many do not know this, but you can often do pretty much everything on Twitter or Facebook Messenger, at least with US airlines with whom I deal with often (and probably others—it's worth a shot).
That way, you don't give away control of your time to someone else and you decide when to take care of the situation, as you can reply when it's convenient for you.
Side note: so many people tell us that not having enough time is the #1 thing keeping them from traveling more or traveling for less, yet so many people still waste time on the phone, waiting for bags at the carousel, or shopping for everything in physical stores instead of using Amazon or using online shopping portals—although that one about online shopping might be finally changing these days!
Anyway, my point is: many of you now have lots of time on your hands, and as I said: the better you plan your trips (the more time you invest in preparation and learning pro tips), the cheaper a trip will be, it's undeniable. And if trips are cheaper, you can go on more trips. Even if it's just for a weekend getaway. We'd really love for you sign up for free so we can help you do that, so you can be ready when this is all over.
Back to the refund, you can also simply call the airline if for some reason you prefer that.
Instead of waiting hours on the phone to talk to someone, I chose to just reach out to Delta on Twitter.
At first, I told them I did not want a travel credit under any circumstances and told them that I knew about the US DOT regulation entitling me to a refund, and the agent then immediately pivoted to offering a full refund. Delta was great in that aspect I must say, it was no hassle at all!
But I asked if by any chance they knew when the route was going to resume, so I could try to get a date change for free instead of a refund. That would have obviously been the best option, because I doubt we'll ever spot a deal to Sri Lanka in the C$400s roundtrip and I was really looking forward to the trip (especially since I really love getting good deals like that). That's the main reason travel credits are bad by the way, we'll have a full article about that soon as I said.
As I expected, they did not have a scheduled date for the New York-Mumbai flight to restart, so I would have to settle for a refund (at least it's not a credit).
It took just over an hour to get my full refund confirmed… and nearly 100% of that "wait time" was just due to me not replying to their messages right away, since I was doing something else.
Here's a screenshot of the end of that conversation confirming a refund: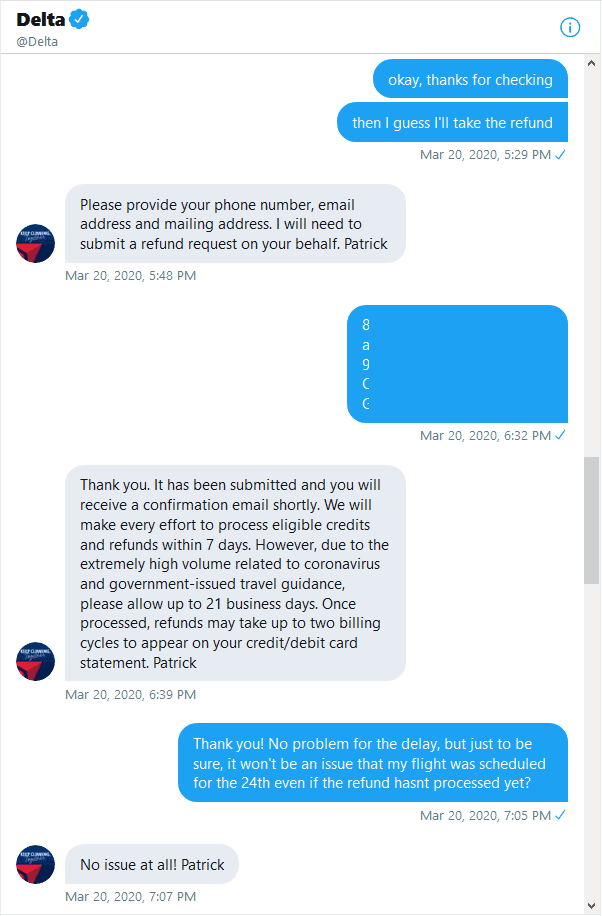 Lastly, we haven't talked about hotel cancelations yet, but unlike flights, most hotel bookings are fully-refundable anyway (at least with our favorite hotel search tools). That said, with the coronavirus crisis, most hotels have also implemented flexible change policies whether or not the booking was refundable or not.
As you can see below, canceling a non-refundable hotel reservation for the next day and getting a refund was just as easy with Hilton: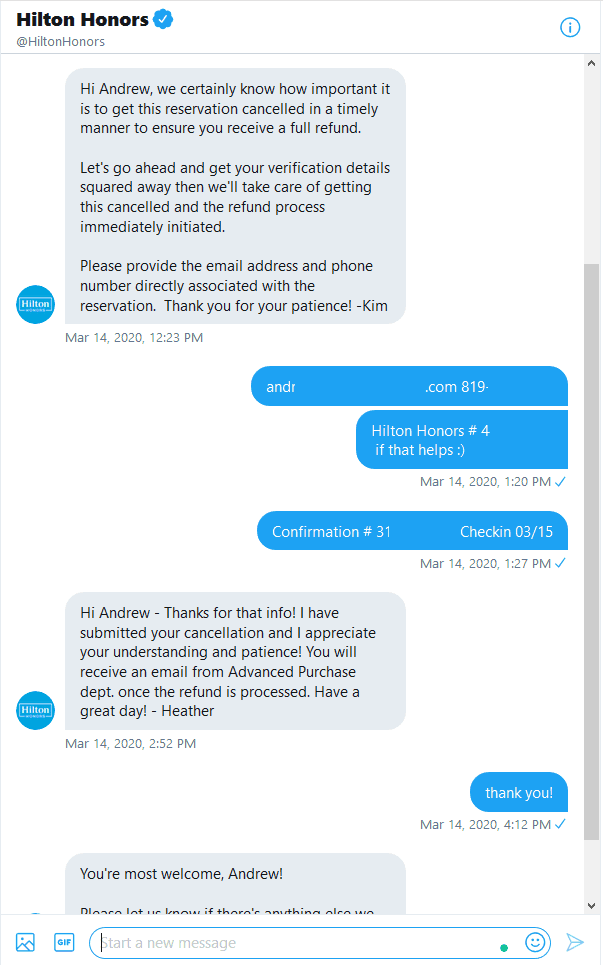 Want to get all our content for Canadian travelers?
Summary
In my case, getting a full refund was was easy since I waited for the flight to be canceled instead of canceling early for no reason, it was for US flights, I knew my rights, and I did the process on Twitter instead of the phone. So wait; once your trip is very close, follow the step-by-step tips in here's what you can do to try to get a refund if your flight is canceled, or read our upcoming list of airline change policies for the coronavirus.
Share this post to help us help more people travel more for less: