Experts from the World Health Organization (WHO) have recommended eliminating all travel restrictions and requirements for several months, including vaccination requirements. Many countries around the world actually do follow the experts' recommendations, not just when it suits them like Canada.
Of course, for fully vaccinated travelers, there are 171 countries open with no test requirement, so that's a lot of countries where travel is pretty much back to normal for most people.
(That guide to every country's entry rules will be updated again soon, as we regularly do so!)
But in the meantime, we think it's worth highlighting the countries that follow what the experts say and are over this by now: the 53 countries that have lifted all travel restrictions and requirements for everyone.
No test, no form; nothing.
Finished!
Maybe they deserve your travel dollars if you're interested in encouraging them! Or maybe they should be avoided if you're scared of people who are not vaccinated, as seems to be the case for many people in Canada, sadly.
Entry restrictions and requirements
As you know if you've read our summary of how to travel during the pandemic or our guide to the entry rules of each country, it's very easy to know the rules of any country: they're all on the same website.
And there's nothing more beautiful to see than this message on that database.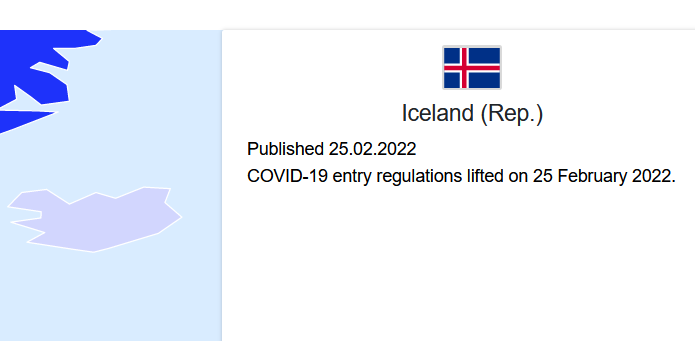 It's not very complicated to travel if you choose one of these 53 countries. You just have to fill out the ArriveCAN app, and that's it for your entire trip. If you're vaccinated, of course.
Obviously, for those who are not vaccinated, the lifting of entry requirements in other countries doesn't change the fact that Canada is pretty much the only country in the world that (almost) bans its citizens from *leaving*, unfortunately. If you managed to leave, for example by land by not abiding by the US rules, you could then enter a lot of countries. And you could then obviously fly back to Canada directly. (Yes, the vaccination requirement applies only to flights that leave from a Canadian airport, contrary to a popular belief that can be attributed to the fact that everyone has a hard time understanding the simple concept that the rules are all separate — and always mix them together).
Map of the 53 countries without any restrictions
So here's the map of countries that have lifted all pandemic-related travel restrictions and requirements.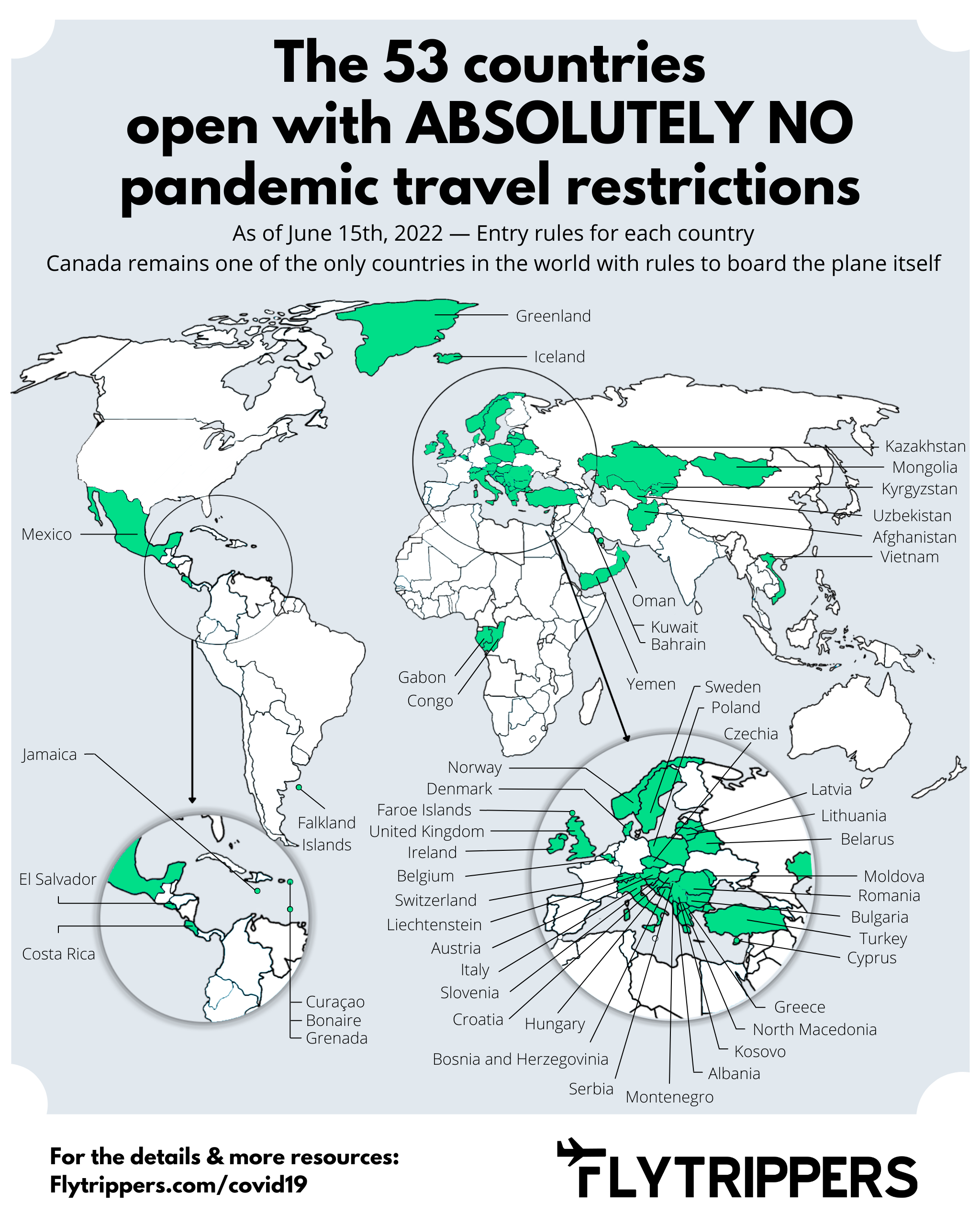 List of the 53 countries without any restrictions
And here's the complete list of those same countries:
(With the date everything was lifted there according to IATA, which doesn't really seem accurate — we went to El Salvador in January specifically because they had already removed everything and we wanted to encourage them — but what matters is that today all restrictions are gone in all these countries!)
Mexico (January 4, 2022)

El Salvador (February 24, 2022)

Iceland (February 25, 2022)

Norway (March 2, 2022)

Ireland (March 6, 2022)

Hungary (March 7, 2022)

Montenegro (March 11, 2022)

Romania (March 13, 2022)

Bahrain (March 15, 2022)

Mongolia (March 15, 2022)

Gabon (March 17, 2022)

Yemen (March 17, 2022)

United Kingdom (March 17, 2022)

Poland (March 28, 2022)

Costa Rica (March 31, 2022)

Latvia (March 31, 2022)

Sweden (April 1, 2022)

Grenada (April 4, 2022)

Czechia (April 9, 2022)

Jamaica (April 16, 2022)

North Macedonia (April 21, 2022)

Slovenia (April 25, 2022)

Albania (May 1, 2022)

Bulgaria (May 1, 2022)

Croatia (May 1, 2022)

Greece (May 1, 2022)

Kosovo (May 1, 2022)

Kuwait (May 1, 2022)

Kyrgyzstan (May 1, 2022)

Liechtenstein (May 1, 2022)

Lithuania (May 1, 2022)

Switzerland (May 1, 2022)

Moldova (May 3, 2022)

Serbia (May 3, 2022)

Congo (May 5, 2022)

Falkland Islands (May 5, 2022)

Afghanistan (May 10, 2022)

Vietnam (May 15, 2022)

Austria (May 16, 2022)

Oman (May 22, 2022)

Belgium (May 23, 2022)

Denmark (May 24, 2022)

Faroe Islands (May 24, 2022)

Greenland (May 24, 2022)

Bosnia and Herzegovina (May 27, 2022)

Belarus (May 28, 2022)
Bonaire (June 1, 2022)
Cyprus (June 1, 2022)
Italy (June 1, 2022)
Turkey (June 1, 2022)
Curaçao (June 5, 2022)
Kazakhstan (June 8, 2022)
Uzbekistan (June 10, 2022)
Want to get all the coronavirus updates for travelers?
Summary
More and more countries are relaxing their travel rules, but did you know that there are already 53 countries that have no restrictions or requirements in place (no tests, no vaccinations, no forms, nothing)? That's good to know if you want to prioritize them… or avoid them.
What would you like to know about countries without COVID-19 restrictions? Tell us in the comments below.
See the deals we spot: Cheap flights
Explore awesome destinations: Travel inspiration
Learn pro tricks: Travel tips
Discover free travel: Travel rewards
Featured image: Parga, Greece (photo credit: Calin Stan)
Advertiser Disclosure: In the interest of transparency, Flytrippers may receive a commission on links featured in this post, at no cost to you. Thank you for using our links to support us for free, we appreciate it! You allow us to keep finding the best travel deals for free and to keep offering interesting content for free. Since we care deeply about our mission to help travelers and our reputation and credibility prevail over everything, we will NEVER recommend a product or service that we do not believe in or that we do not use ourselves, and we will never give any third-party any control whatsoever on our content. For more information on our advertiser disclosure, click here.
Share this post to help us help more people travel more for less: