Being just about anywhere other than Canada is a real breath of fresh air right now, so we decided to spend a few weeks in Central America in January for a work retreat. And to visit a bit of course. And most importantly, to add to our many pandemic travel experiences to better help you.
I left for 3 weeks in total. I went to Guatemala, El Salvador, and Miami. Flytrippers' other co-founder Kevin went to Mexico afterward and he's not coming back here, lucky him.
I'll be doing separate articles soon to give more info on all aspects of the trip:
A simple summary of how to plan a pandemic trip (it's really not that complicated!)
The logistics of this trip (planning, booking it on the same day we left, etc.)
The COVID-19 tests for $40 here in Canada
The even cheaper tests to come back to Canada

A teaser on how to find them in any country, it's awfully easy (contrary to the myth that comes from who knows where)
An update on free tests in the USA (spoiler alert: it's still super easy!)

The tests on arrival in Canada (which I was able to avoid with a few pro tips)
Detailed information on each destination
Videos and many more pictures
(By the way, you can take a few seconds to answer the one-question survey to tell us what topic interests you the most, and of course, subscribe to our free newsletter if you haven't already done so to receive all our content.)
But to start, here are a few photos from the trip (you've already seen all this if you follow me on Instagram, but for everyone else, I wanted to give you a first taste of the trip and have something different instead of always having articles about the damn travel rules imposed by governments).
1. Volcanoes in Lake Atitlán, Guatemala
My favorite part of the trip. It is considered one of the most beautiful lakes in the world. It's true that it's impressive, but I don't think I've seen enough lakes to say it's one of the most beautiful in the world though.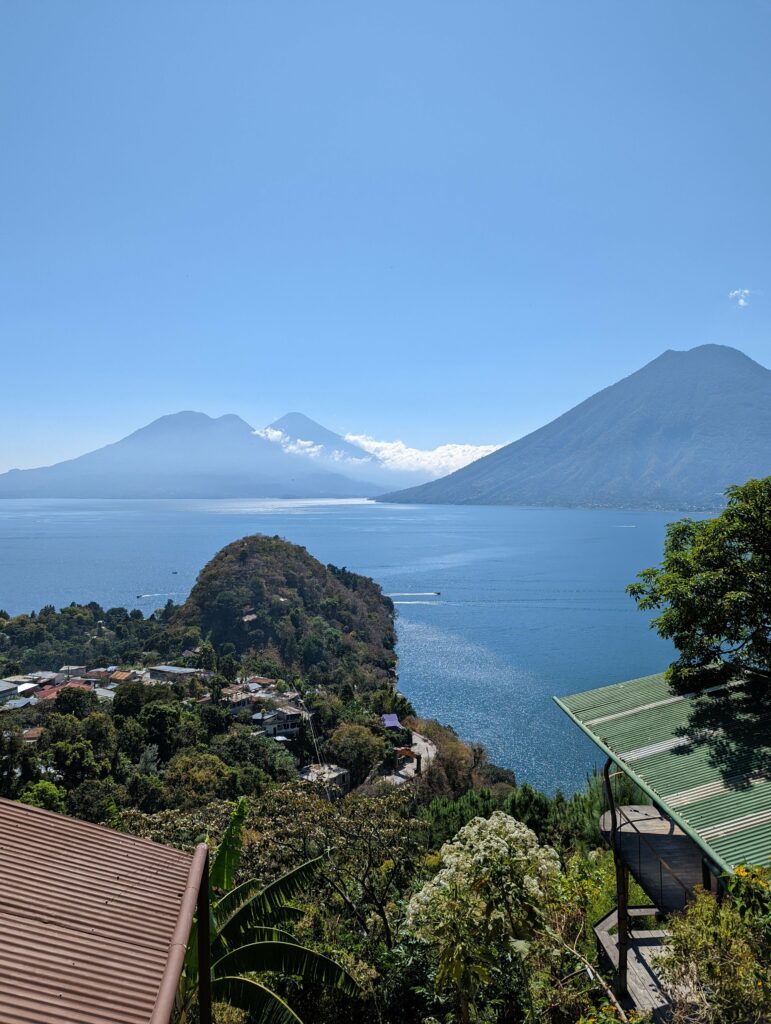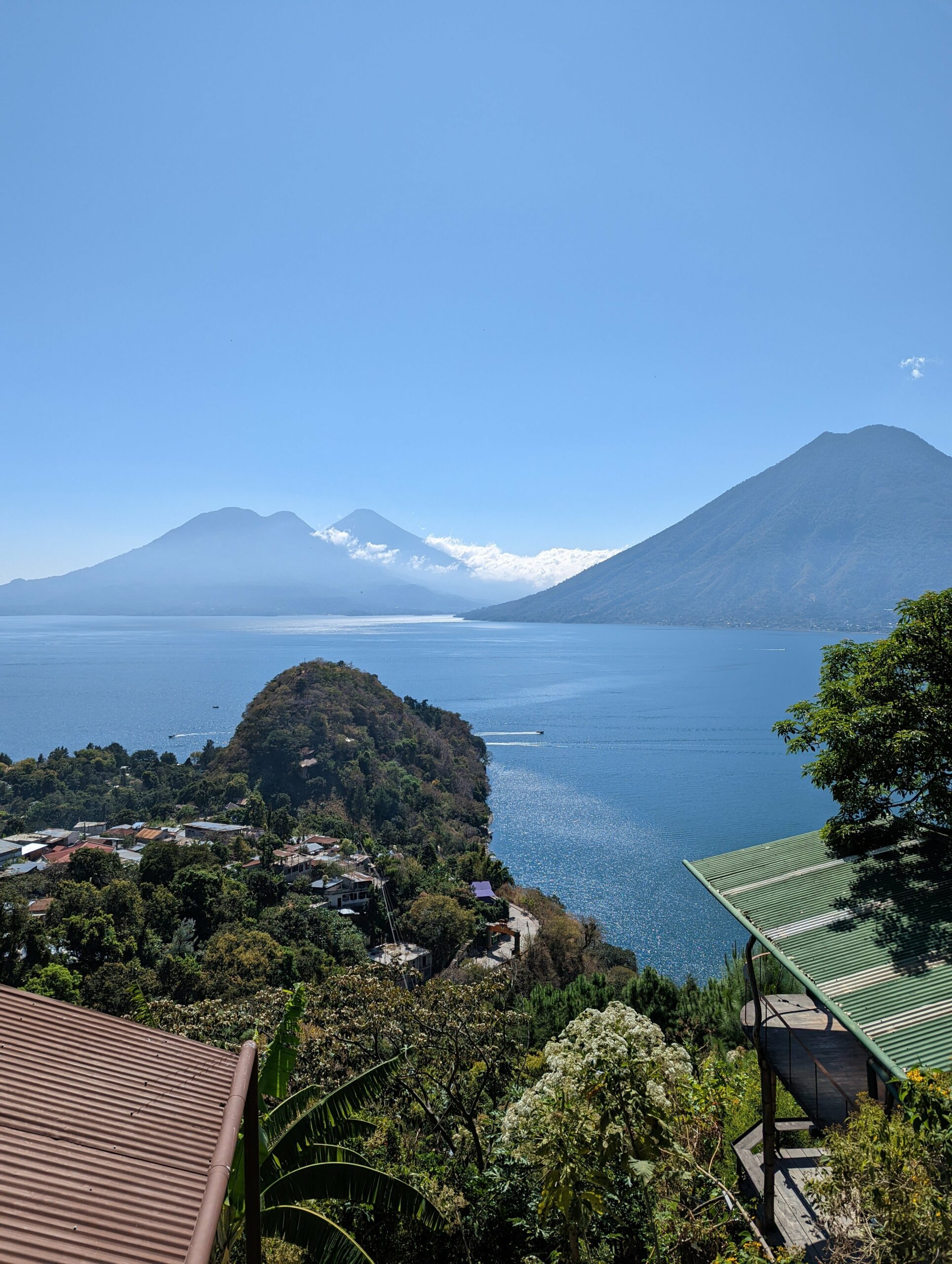 2. Village of San Pedro, Guatemala
The landscapes are beautiful with the 3 volcanoes of course, but the pretty villages all around Lake Atitlán are very beautiful too. San Pedro is nice, but San Marcos has a really unique vibe.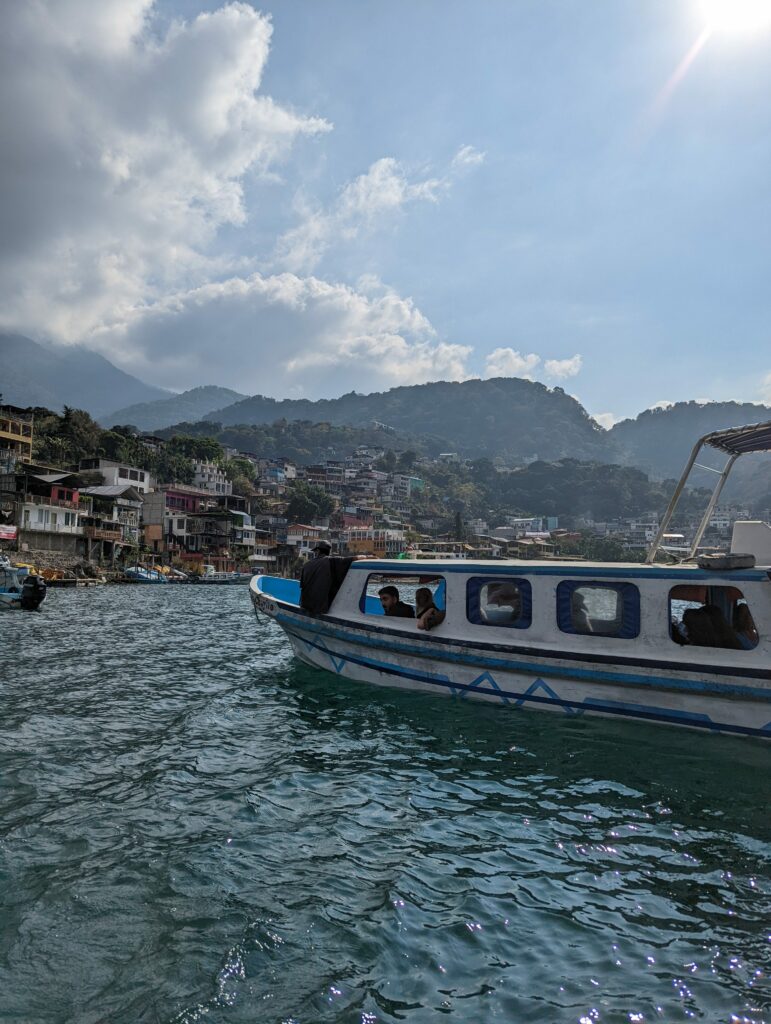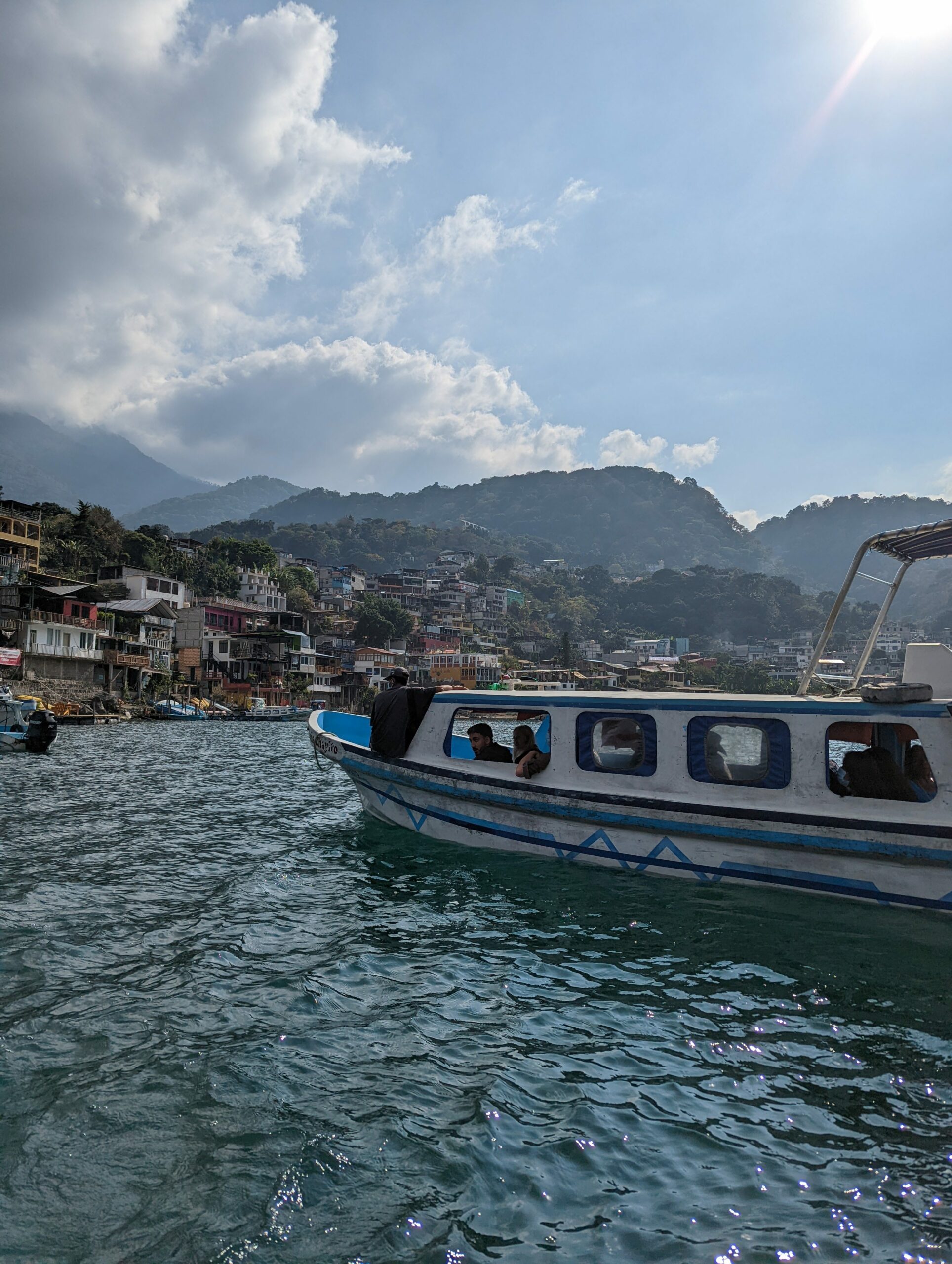 3. Sunset at Lake Atitlán, Guatemala
One last picture of Lake Atitlán, it's such a beautiful place. Both from the shore (like here in Panajachel) and from the boats that take you from one village to another.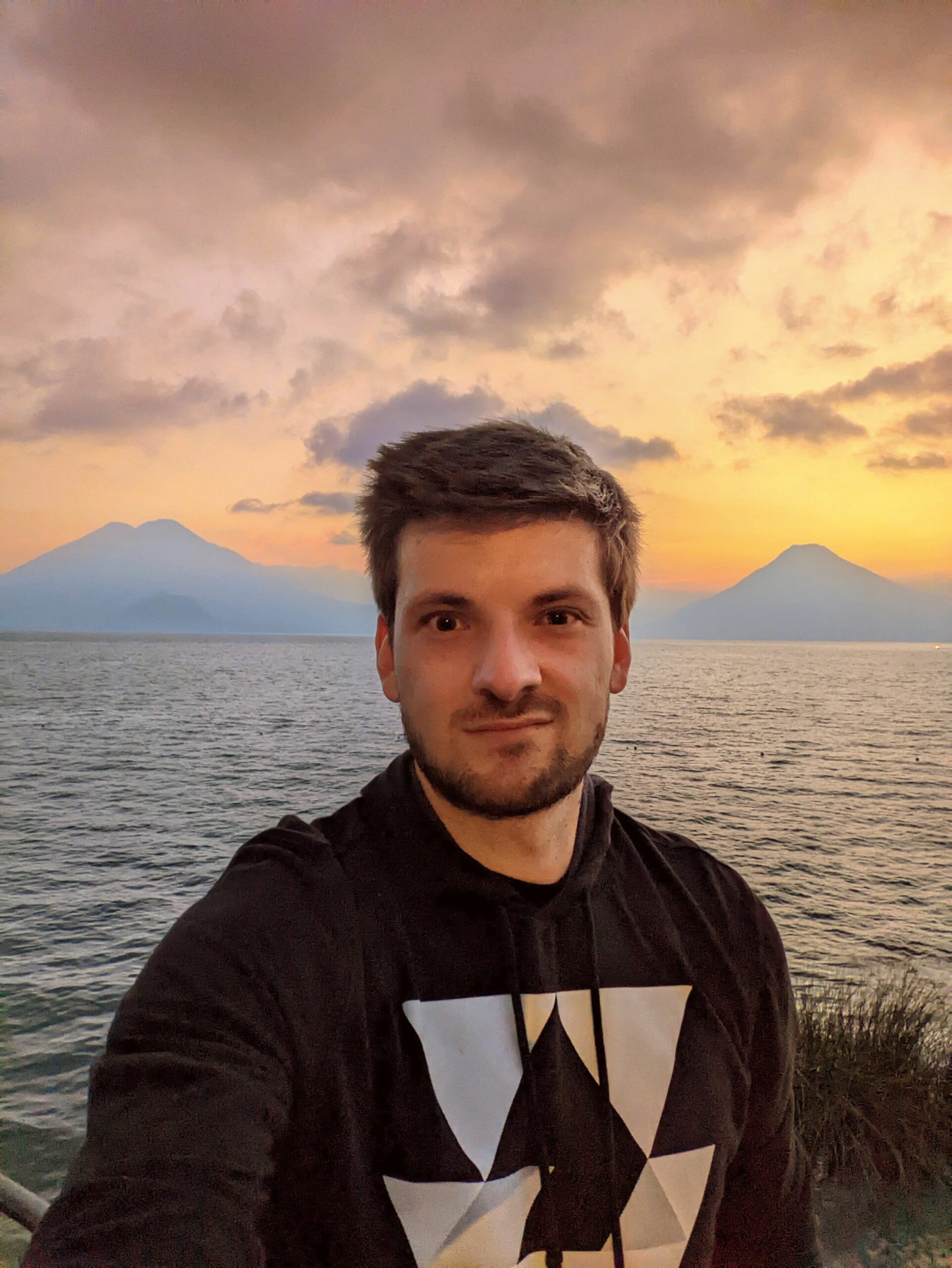 4. City of Antigua, Guatemala
By far the most popular destination in the country, the historic colonial city of Antigua is indeed very pretty.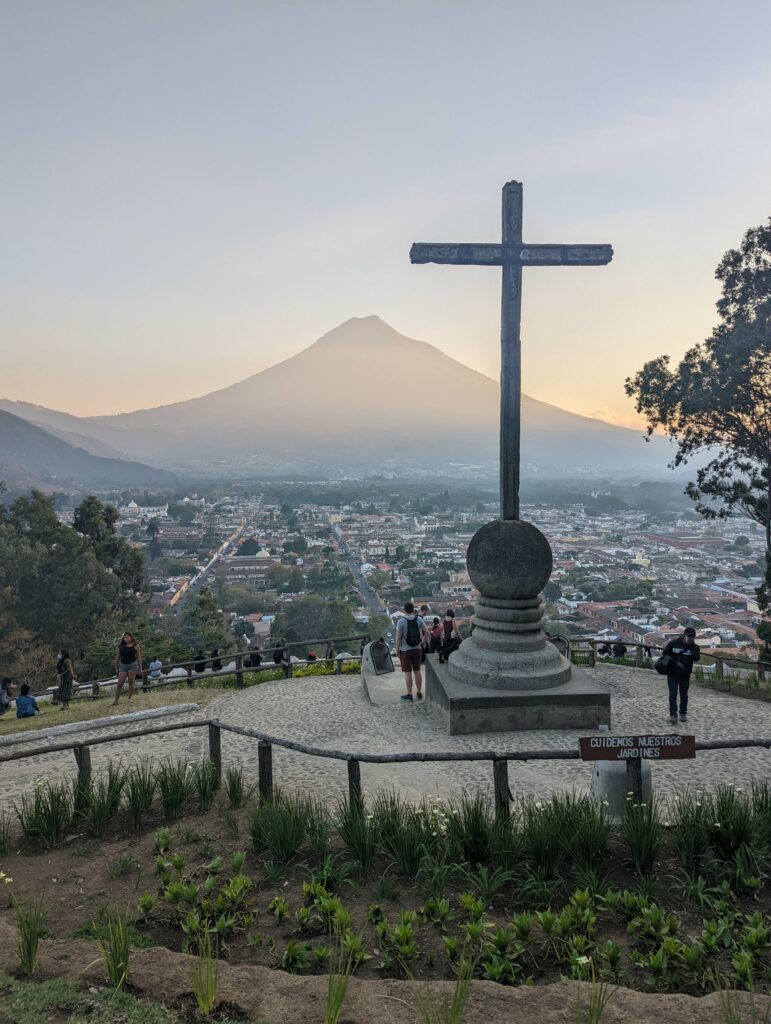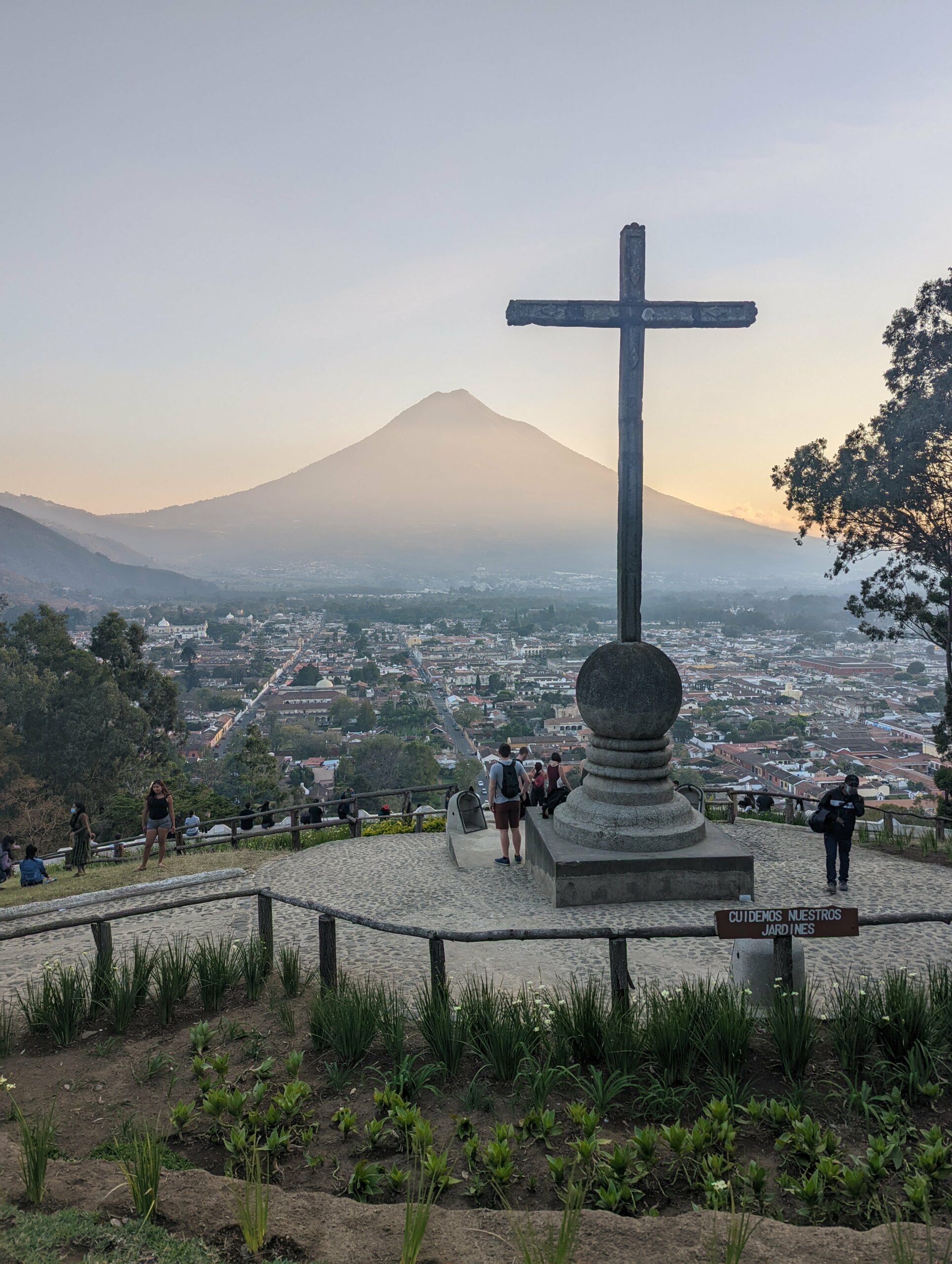 5. Arch of Antigua, Guatemala
The most well-known landmark of the city is the famous arch, but those who are architecture fans like me will love the whole city.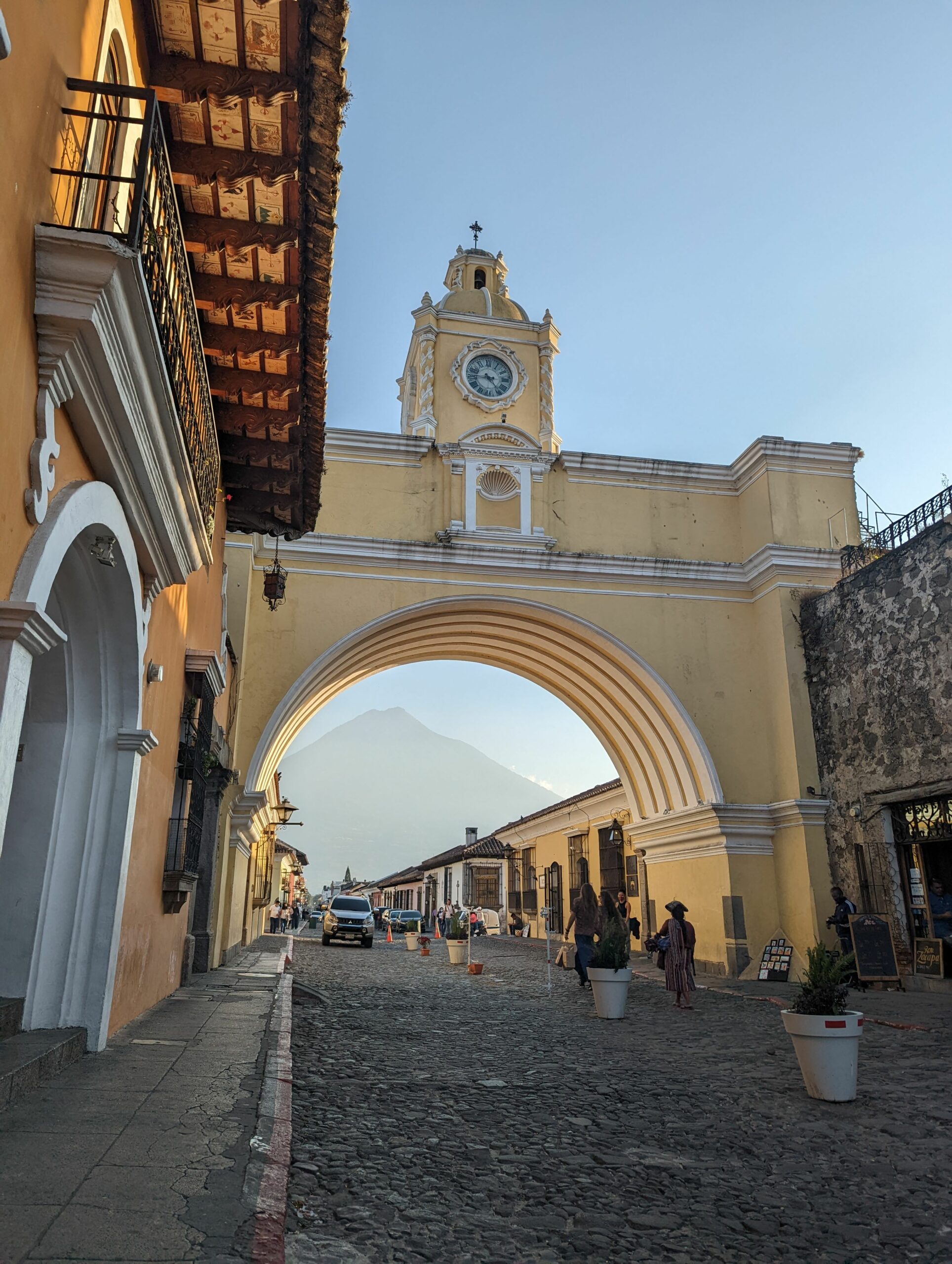 6. Terrace in Antigua, Guatemala
Well, another picture of a volcano, I know… but it's really a beautiful and exotic view.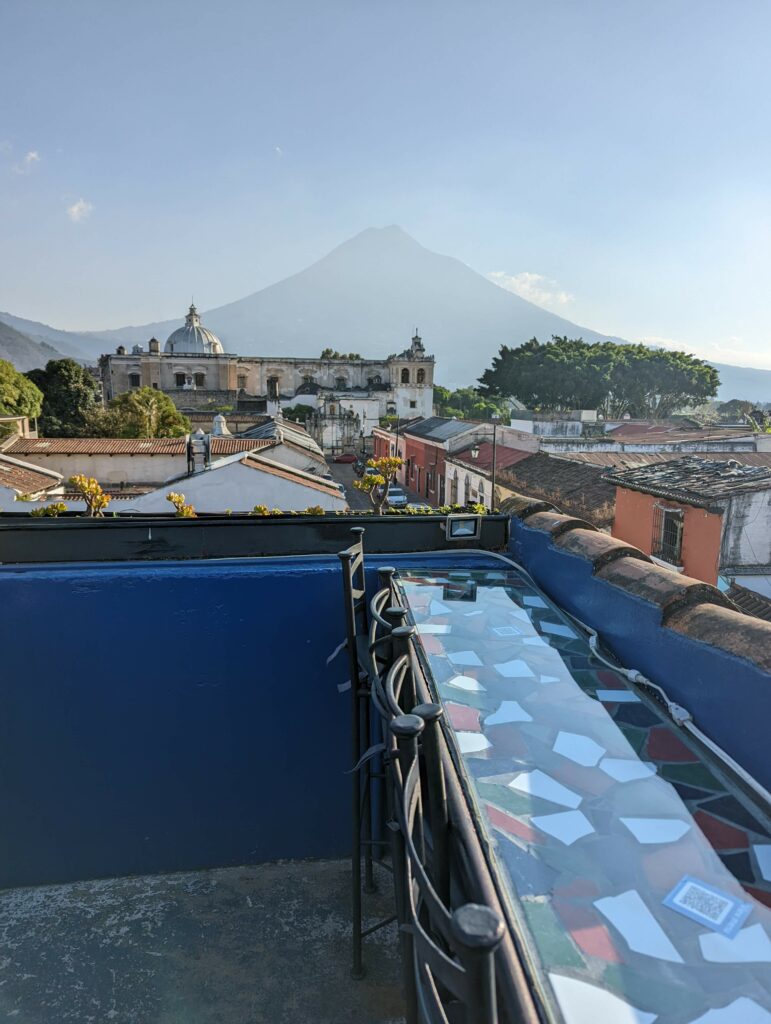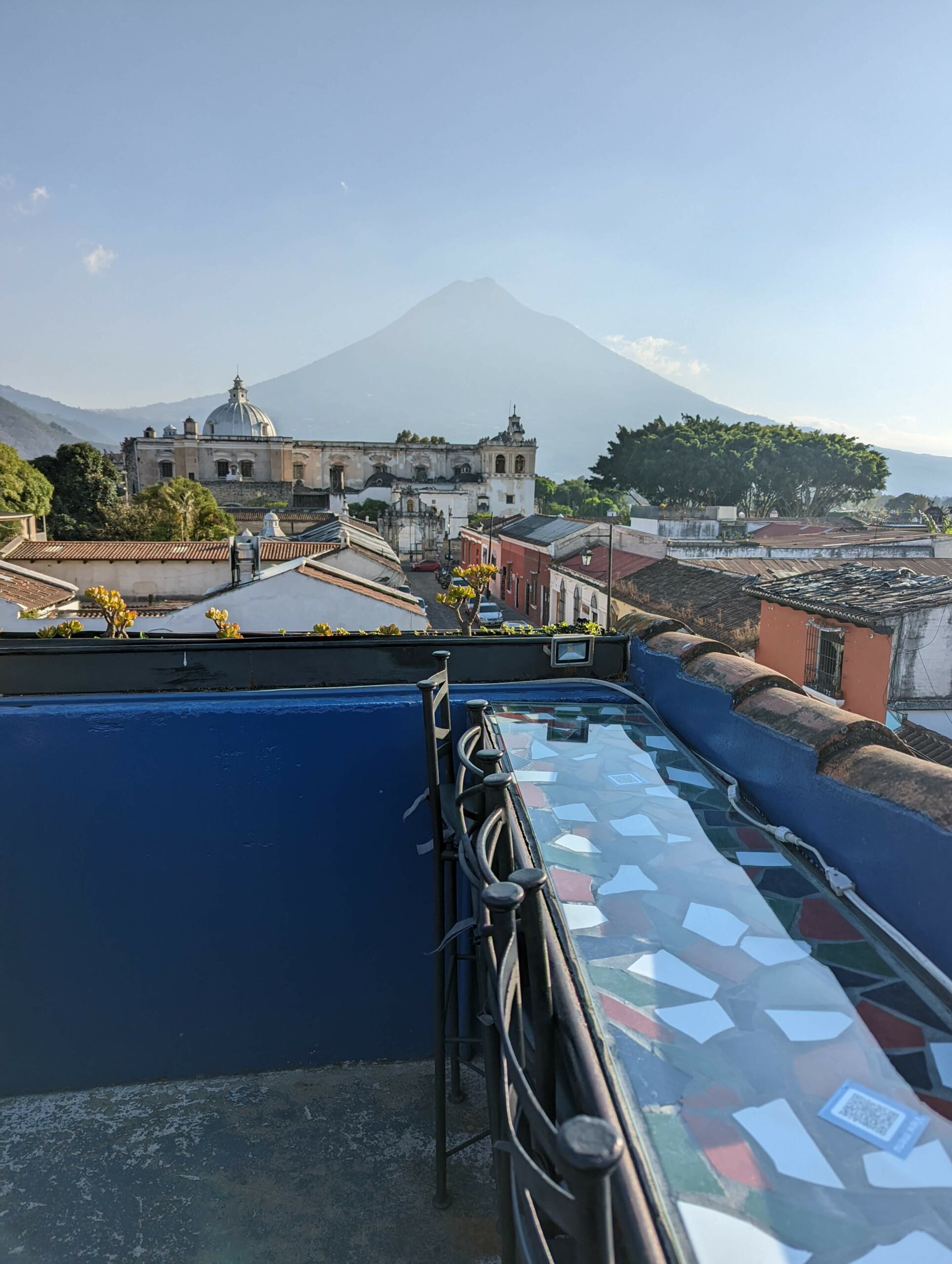 7. Historical center of Guatemala City, Guatemala
Most travelers don't even pass through the capital (and the most populous city in all of Central America) but we still enjoyed discovering the city where the most Guatemalans live.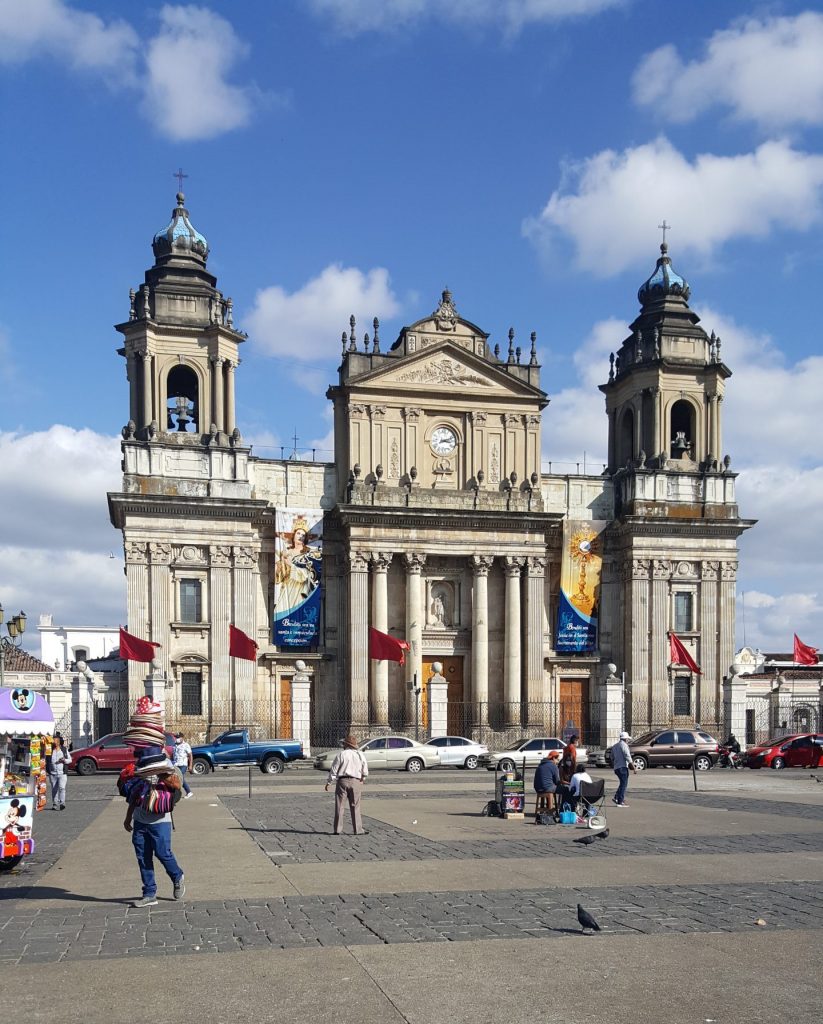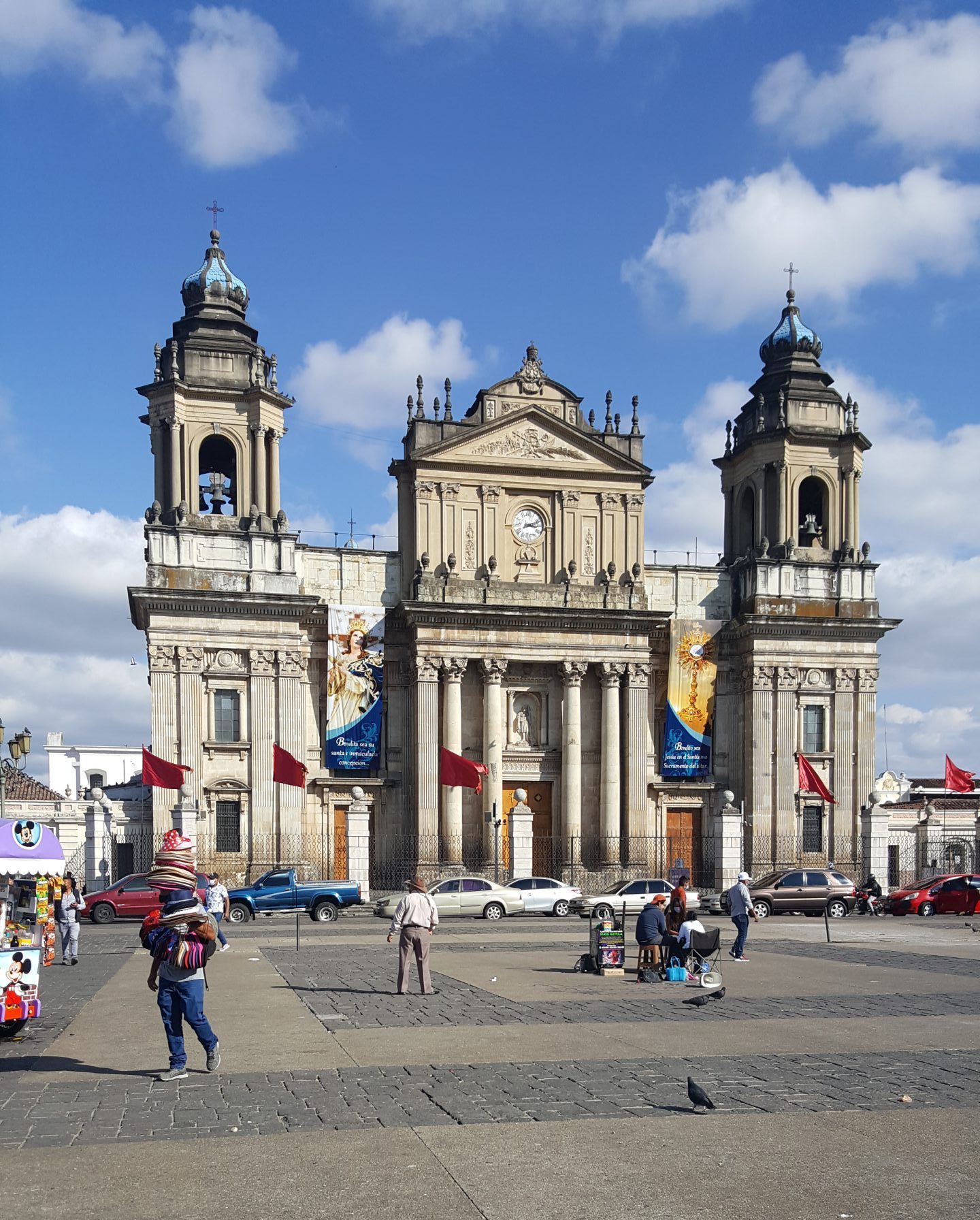 8. Modern neighborhood in Guatemala City, Guatemala
I will have to talk about the "safety" aspect another time, but in short, you still have to take more precautions in this part of the world than almost anywhere else… but even in the capital, several neighborhoods are very safe.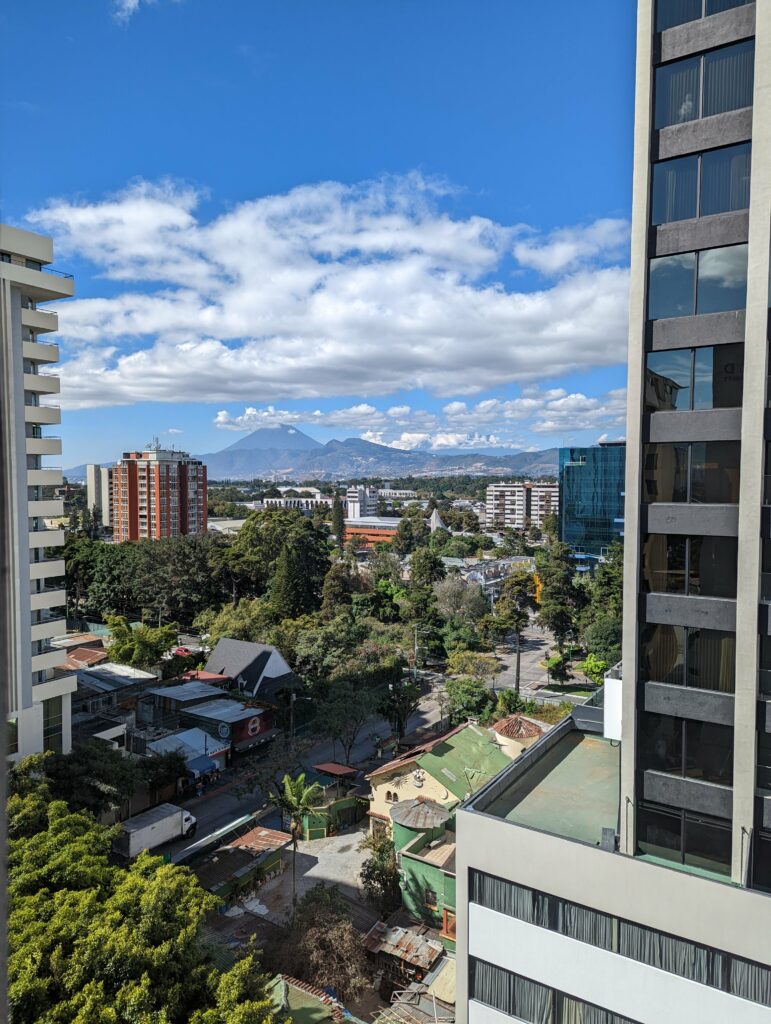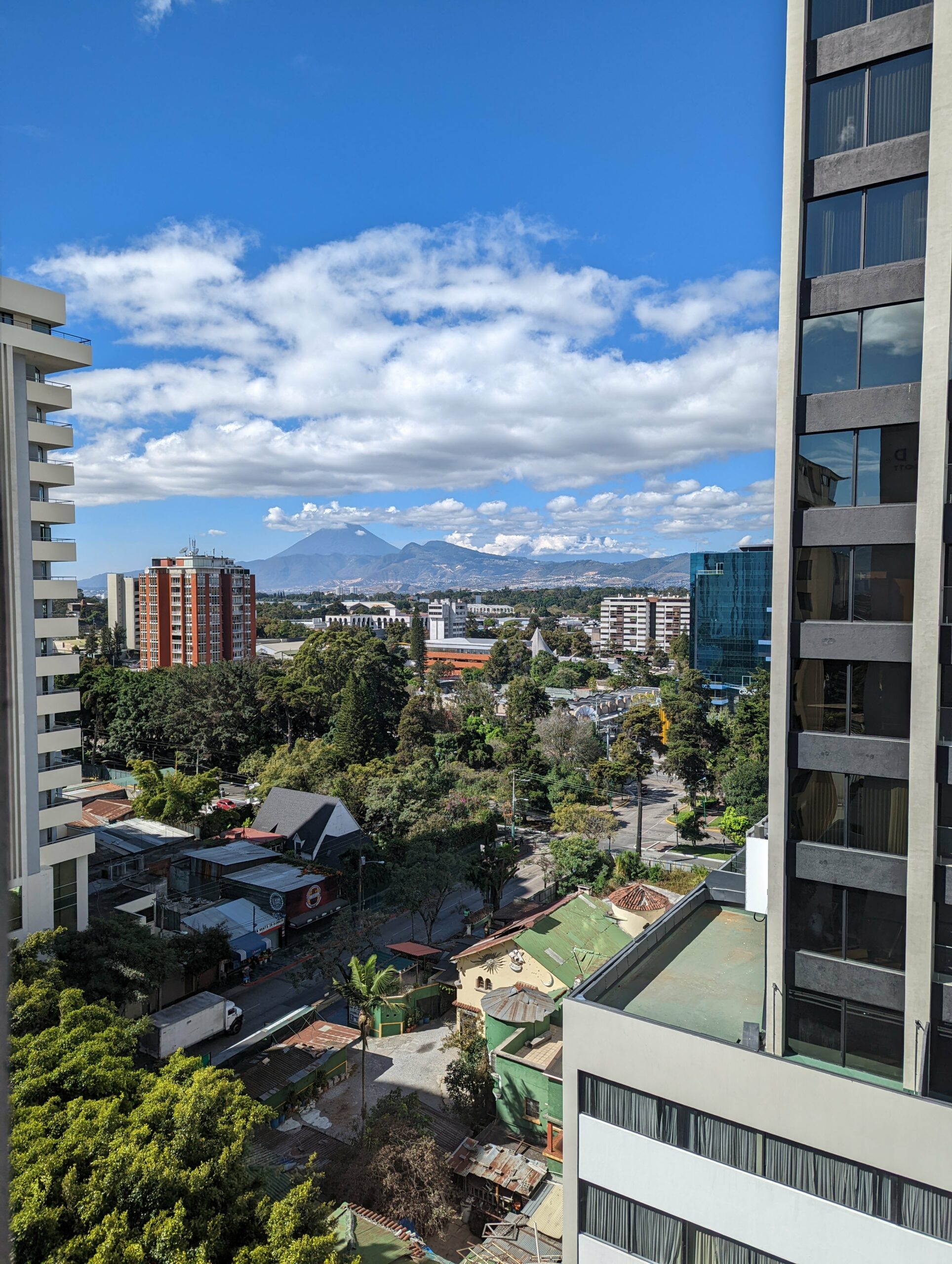 8. Nice hotel in Guatemala City, Guatemala
I won't give too many details about booking the trip thanks to our Aeroplan points in this article (it's quite a story though: we booked the tickets at 11:45 AM to fly out of Montreal at 5:55 PM… and I live 2 hours from the airport).
But we also got 15 free nights in nice Marriott hotels, including 5 at the very nice Courtyard Guatemala City.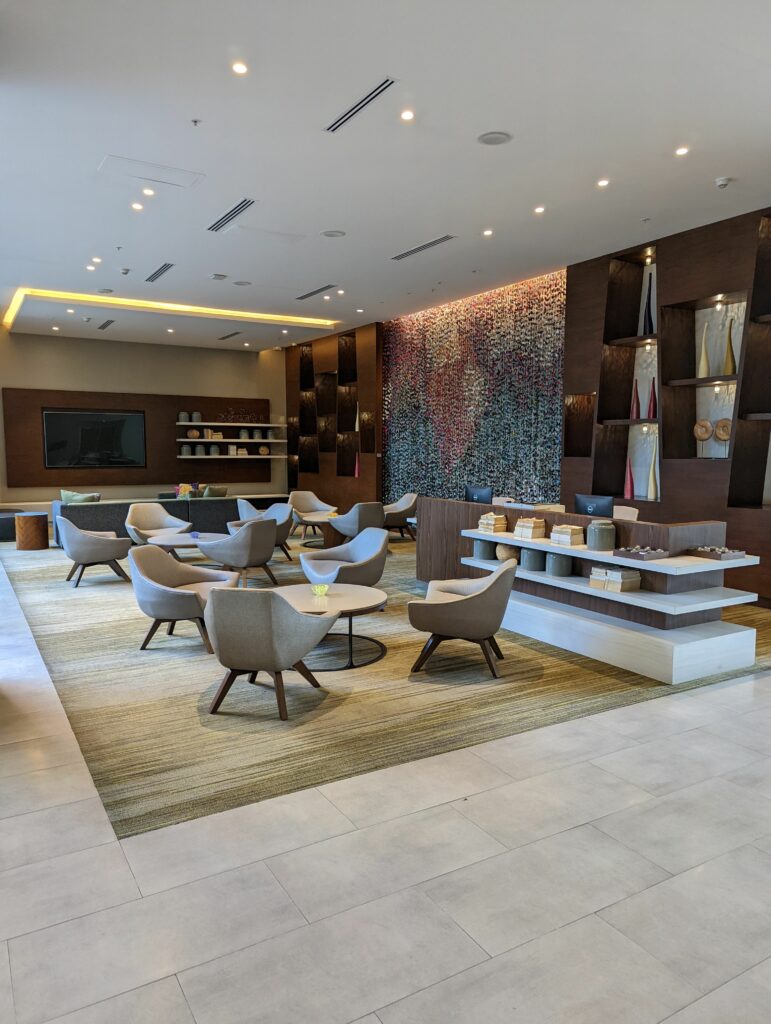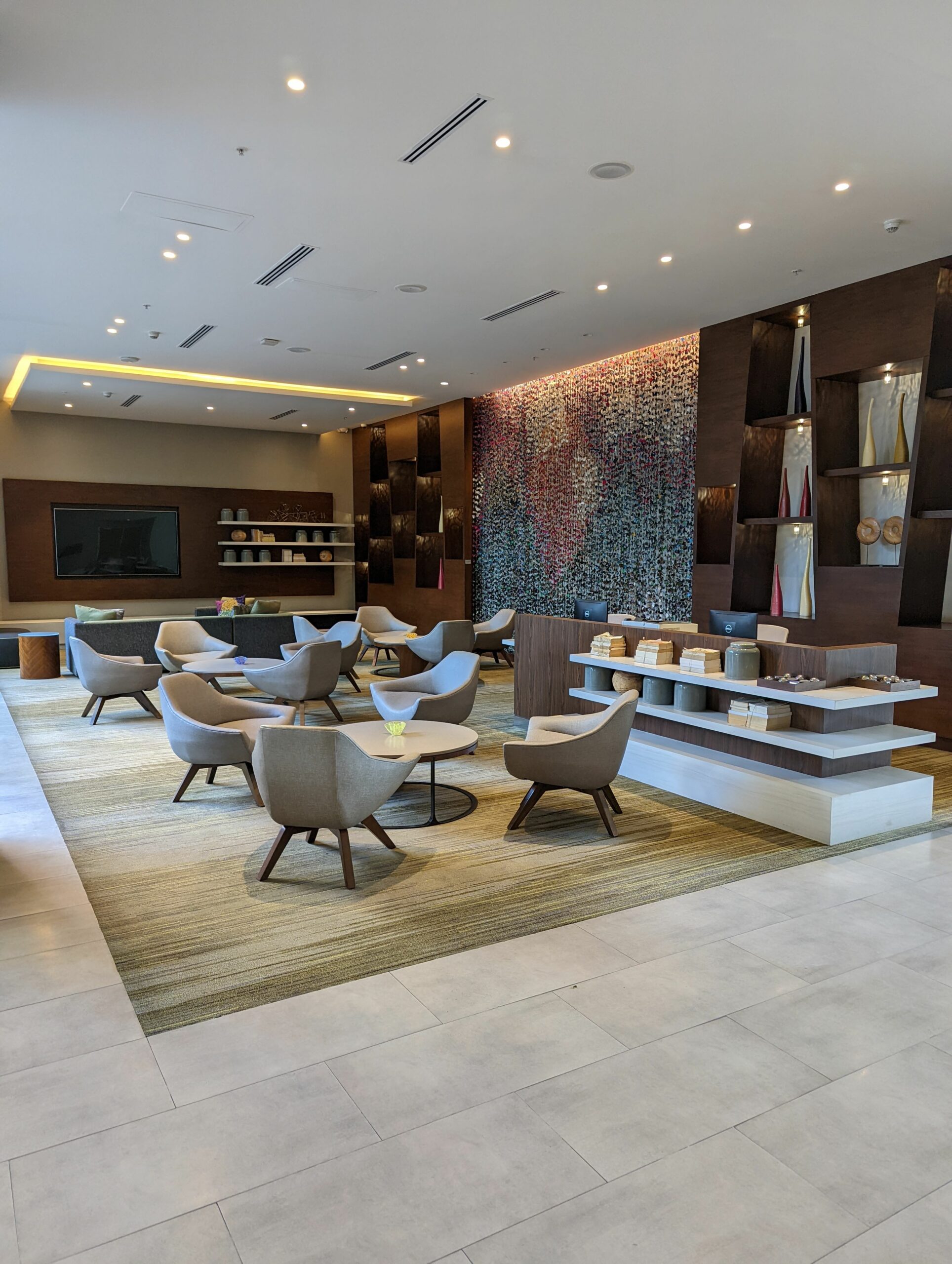 9. "Chicken bus" in Guatemala
It's an obligatory rite of passage in this country (and everywhere, shared transportation is always by far the most affordable option to get around of course).
And we really enjoyed our few trips in "chicken buses", even if these colorful ancient school buses are not super comfortable.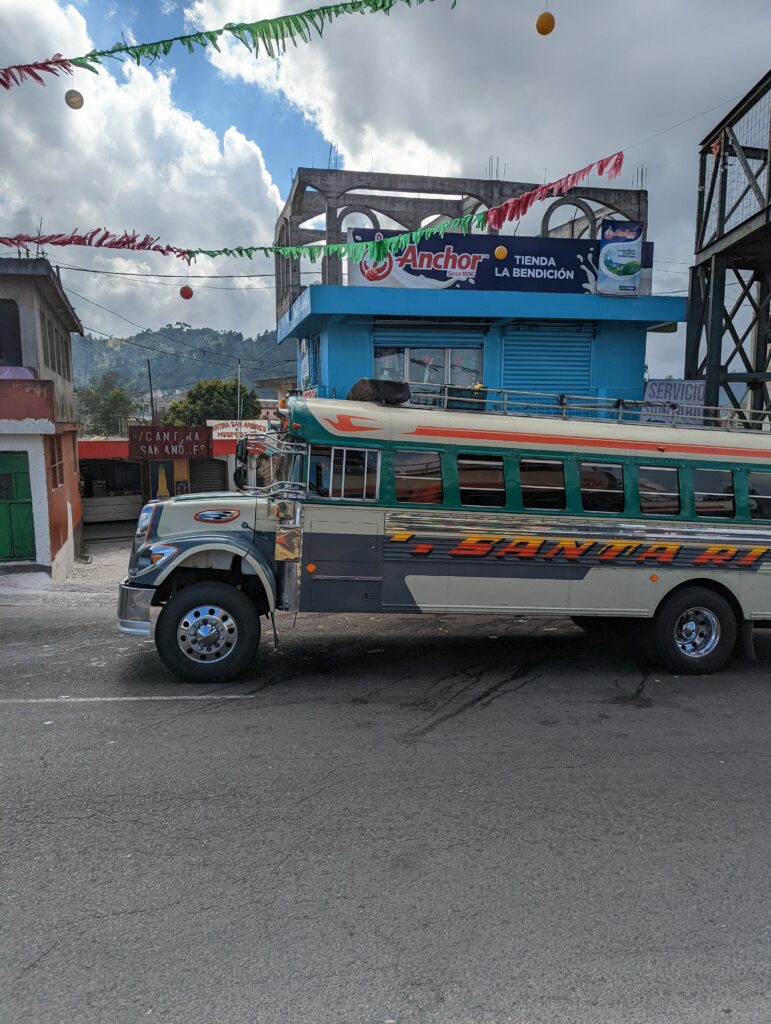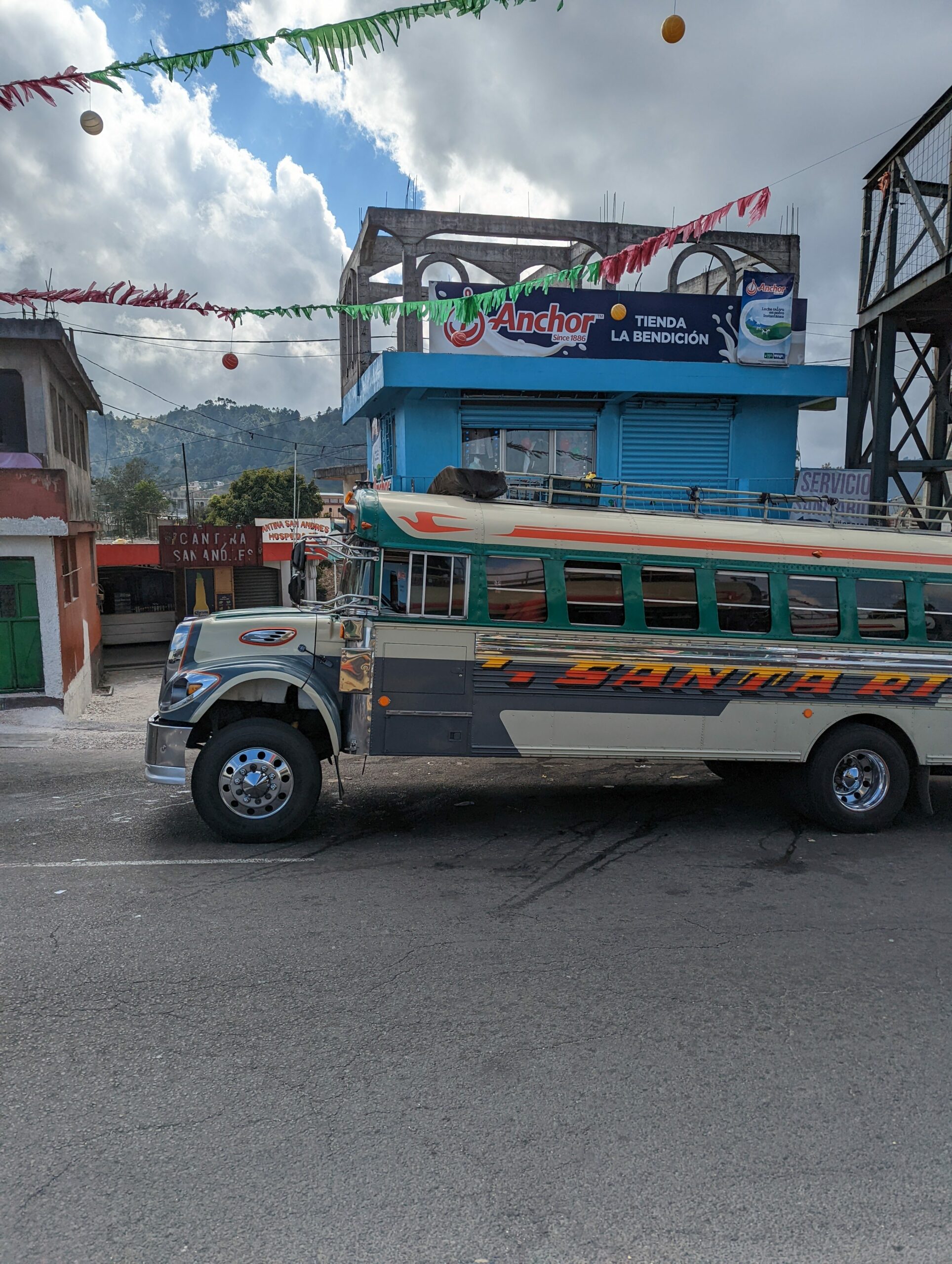 10. Rural landscape in Guatemala
I like to see the less-visited parts of the country, even if it's just in passing. It gives you a better idea of what life is like there.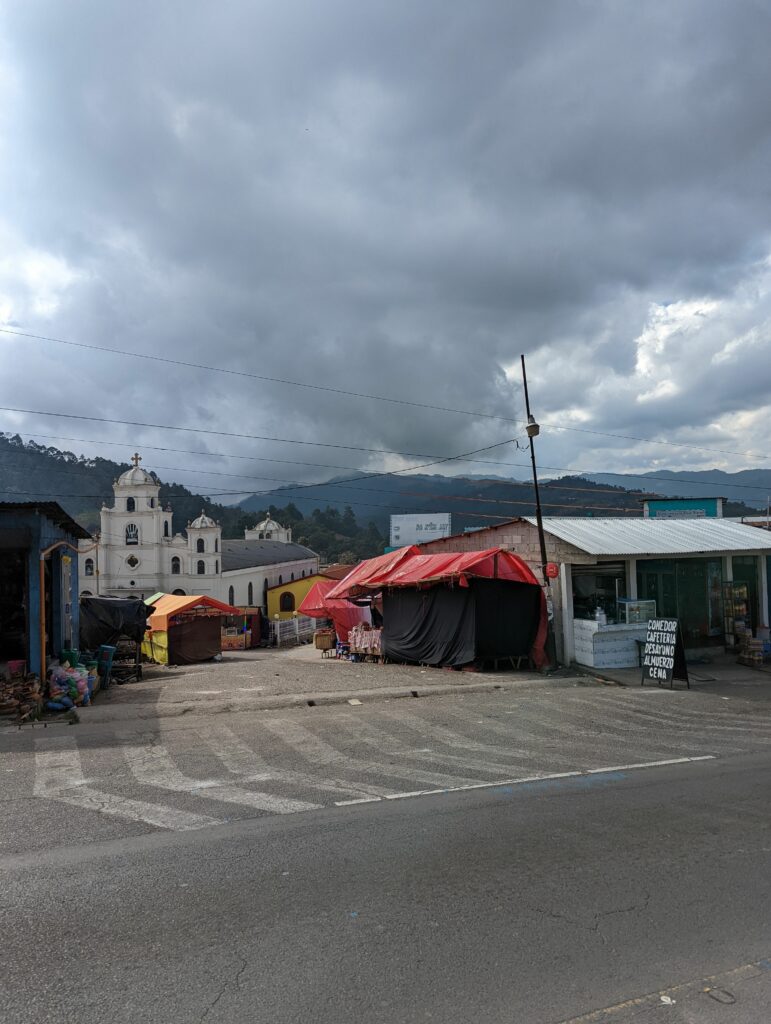 11. Tuk-tuks in Guatemala
I didn't know that tuk-tuks were so prevalent in this part of the world, but I have to say that I was never personally attracted to Central America so this was my first trip there, despite having been to 60+ countries.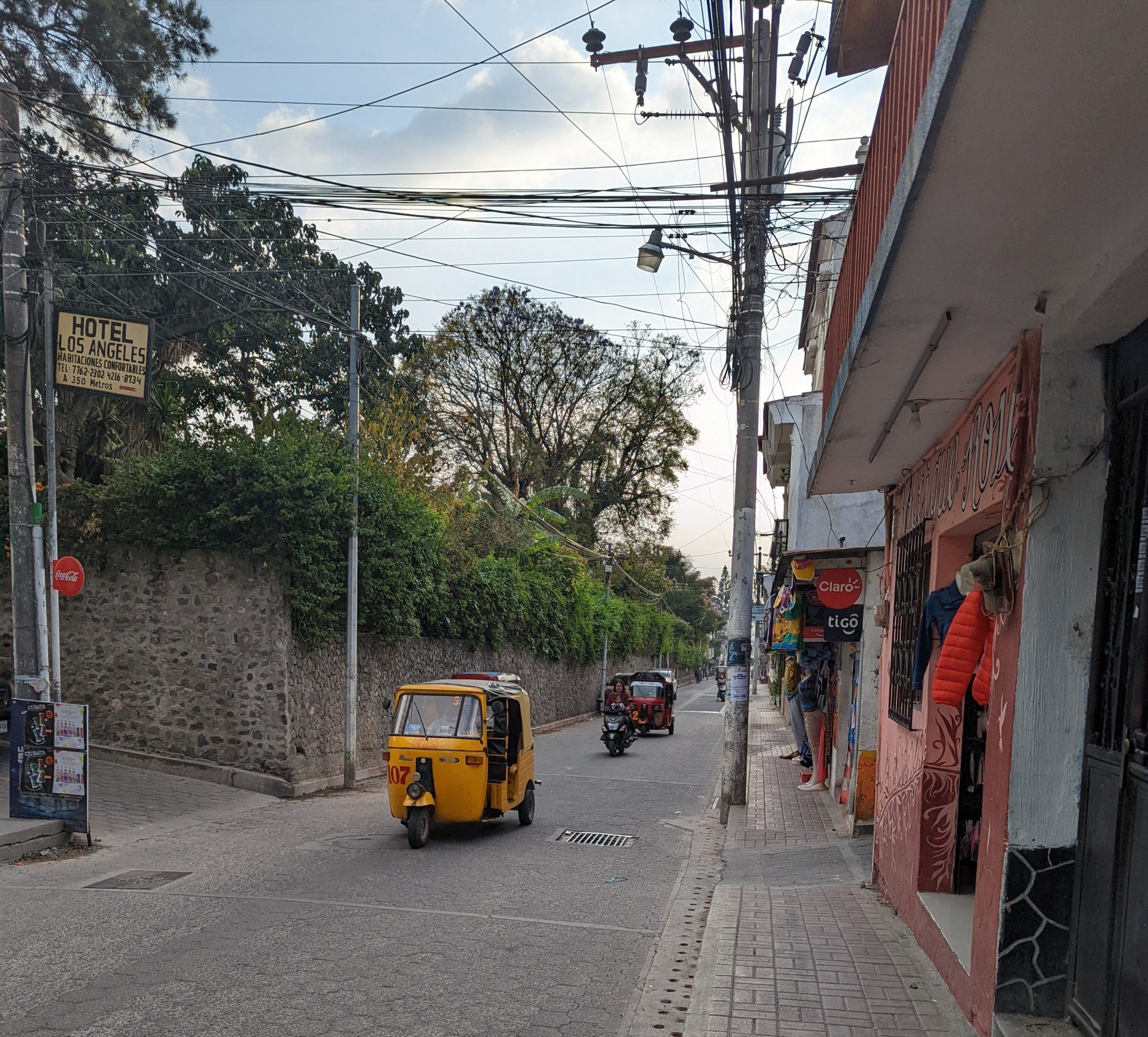 12. Hostel in Panajachel, Guatemala
We didn't go hiking to see the exotic wildlife, but our hostel in Panajachel at Lake Atitlán (Hospedaje El Viajero) had its own bird on site.
Accommodations are not as affordable as in other destinations on the list of the most affordable countries to travel to, but our nights that we had to pay in cash (where there was no Marriott hotel) were still not very expensive ($16/night each for a private room in this one for example).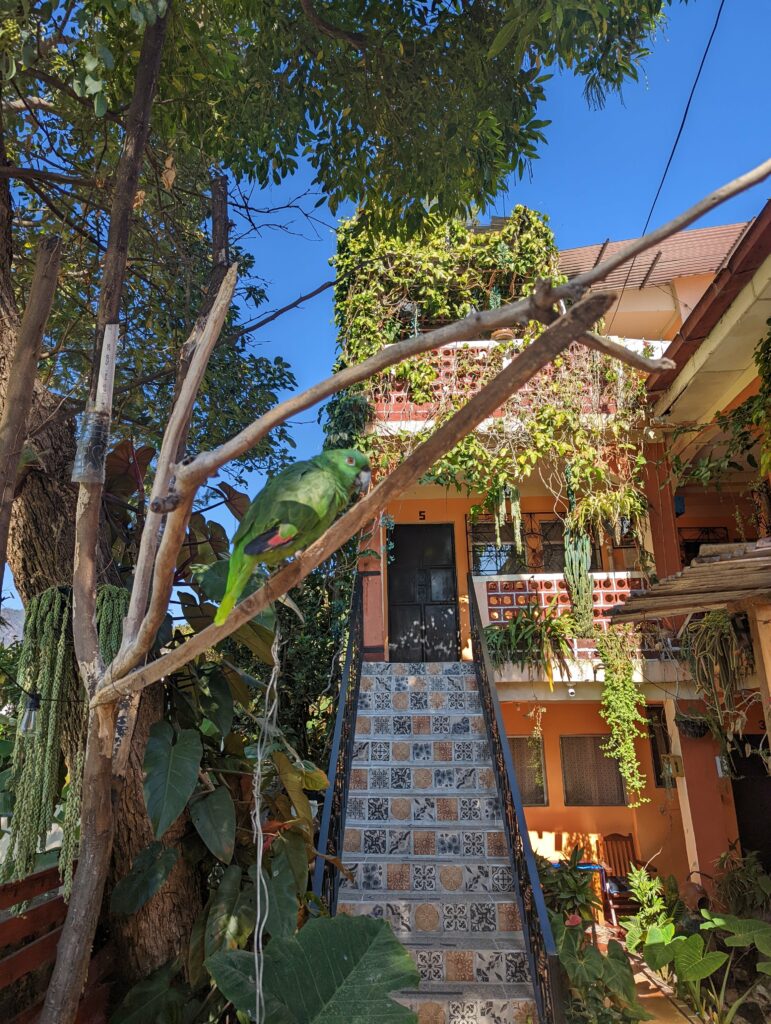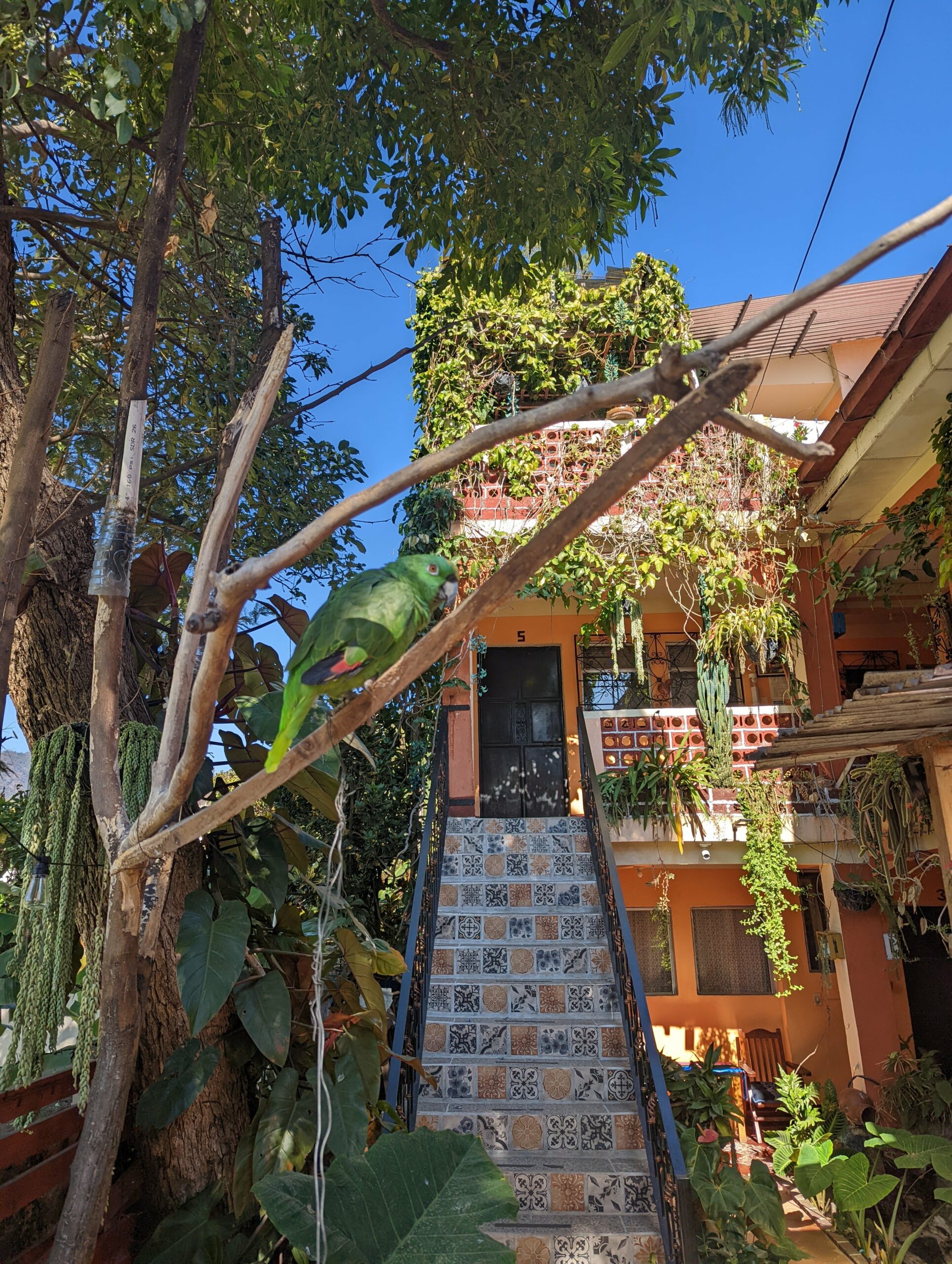 13. Unique airport lounge in Guatemala
We're going to have a very comprehensive guide on how to access airport lounges for free soon, because it's really awesome.
But the one at Guatemala City Airport (GUA) was very unique as well: It was actually a lounge with a local Guatemalan rum theme.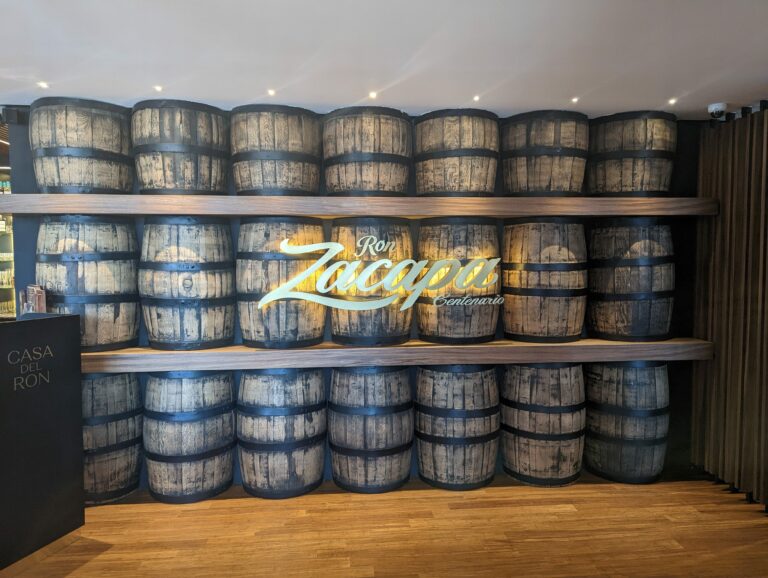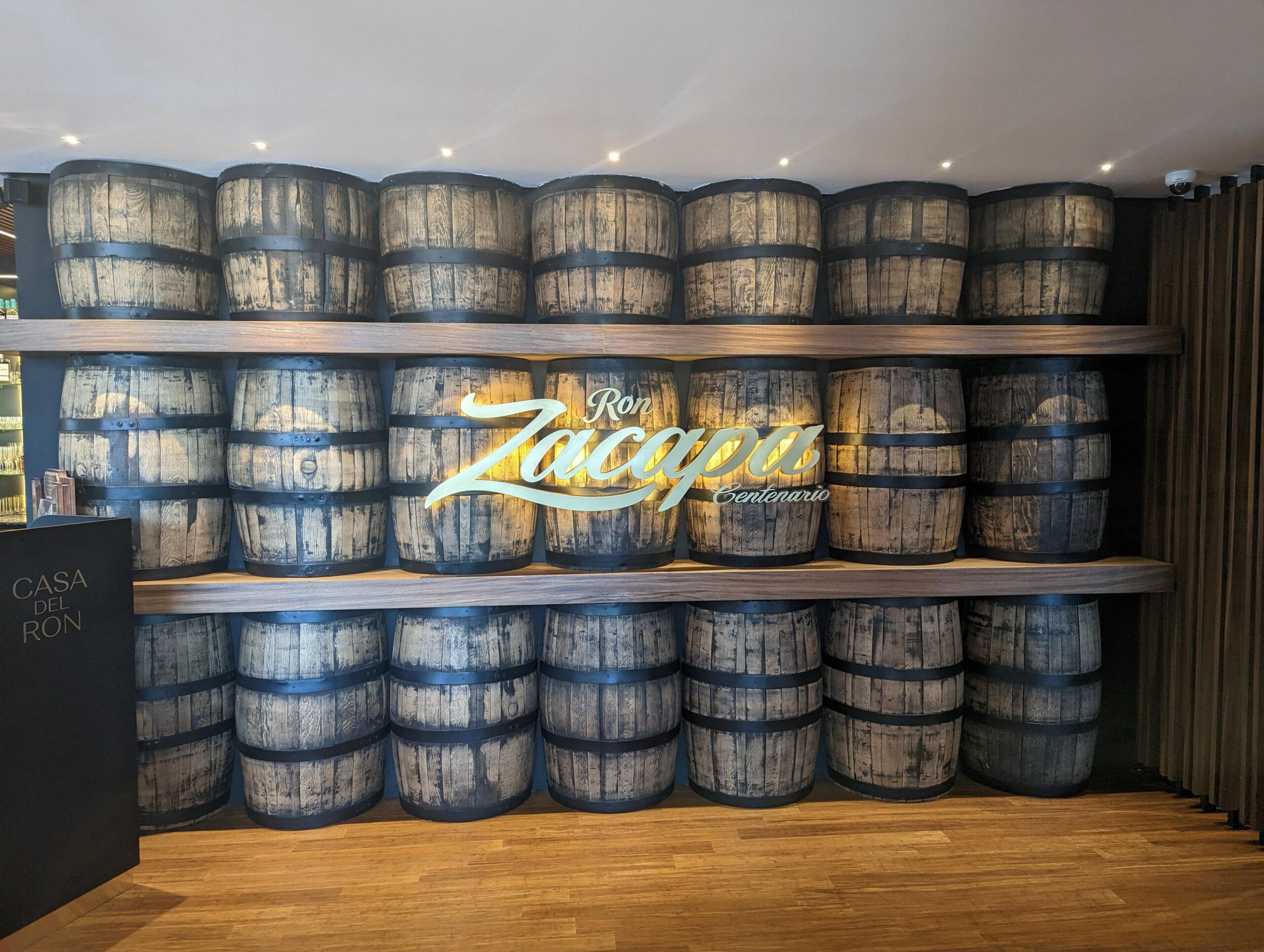 14. Aerial view of El Salvador
On the way to neighboring El Salvador (it's so close that it would have been almost faster by car than by plane, honestly), we saw some really nice green landscapes.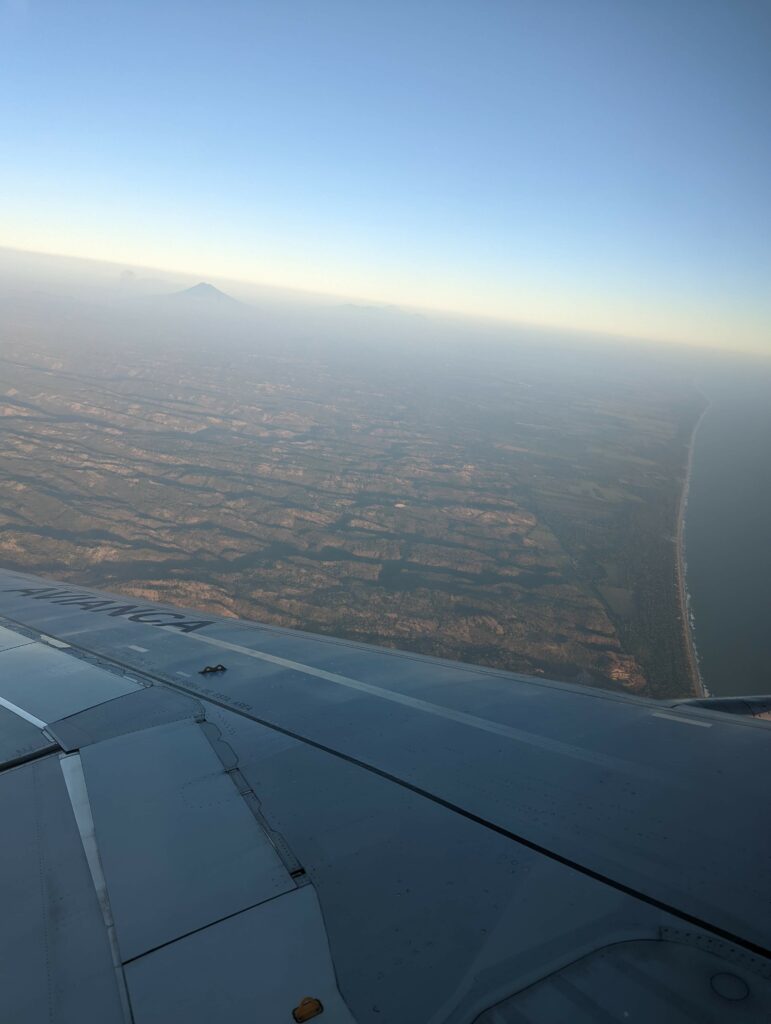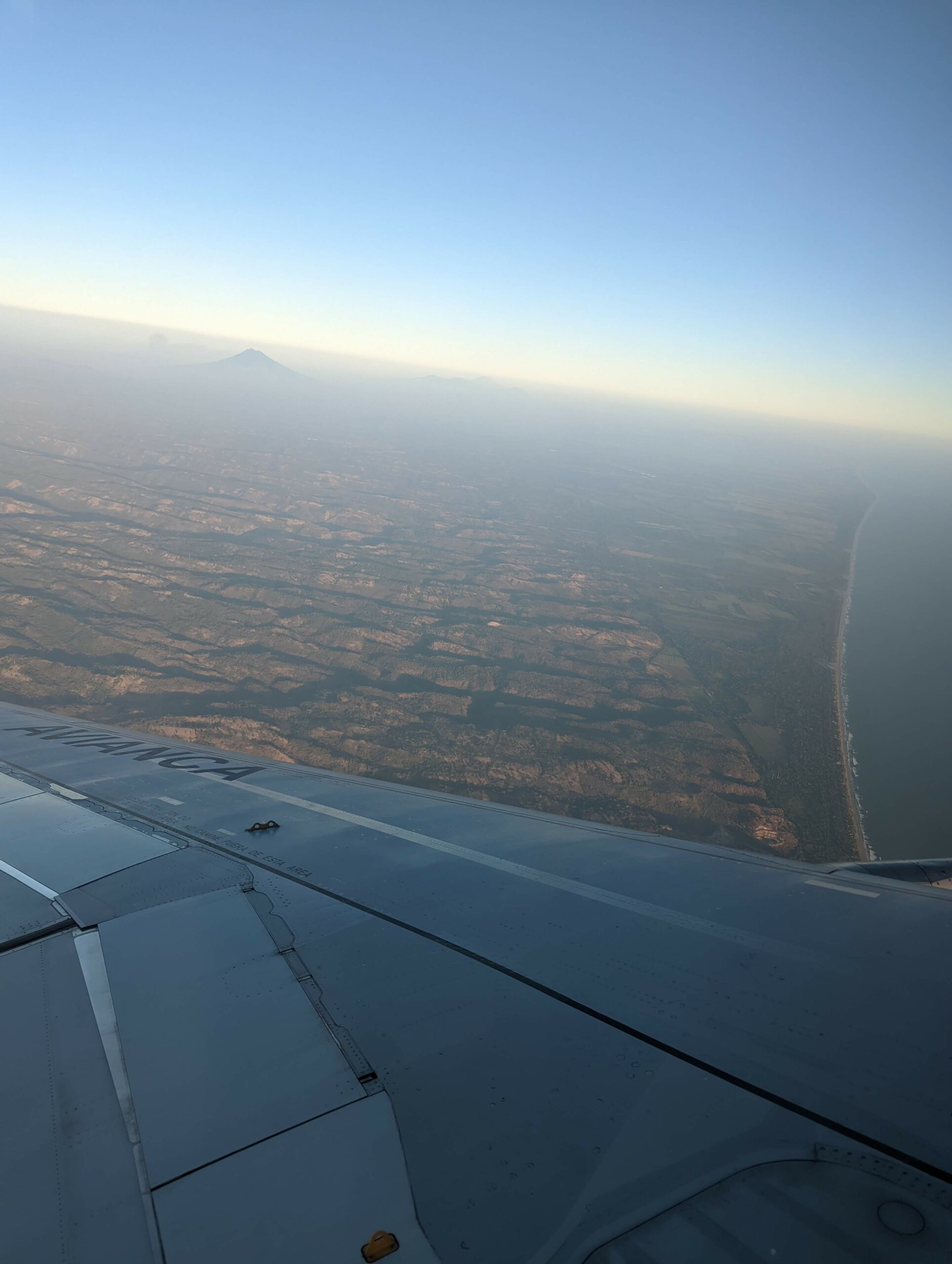 15. Historical center of San Salvador, El Salvador
We settled in the capital, San Salvador. Without being the most attractive city, it was still pleasant to discover the historical center.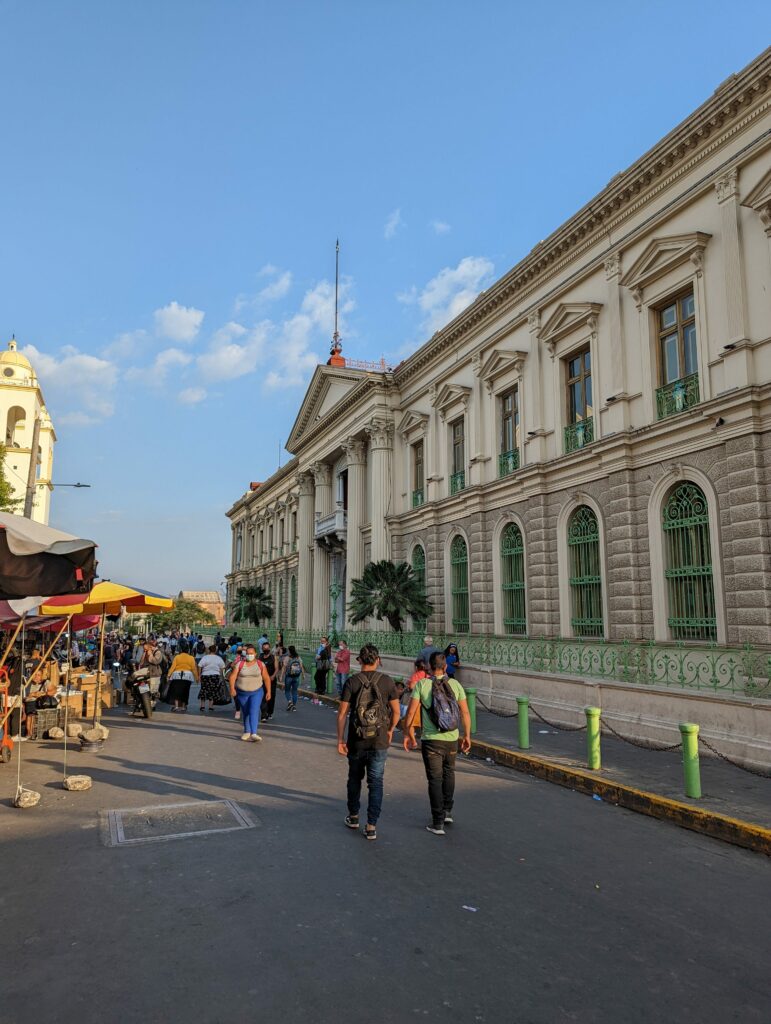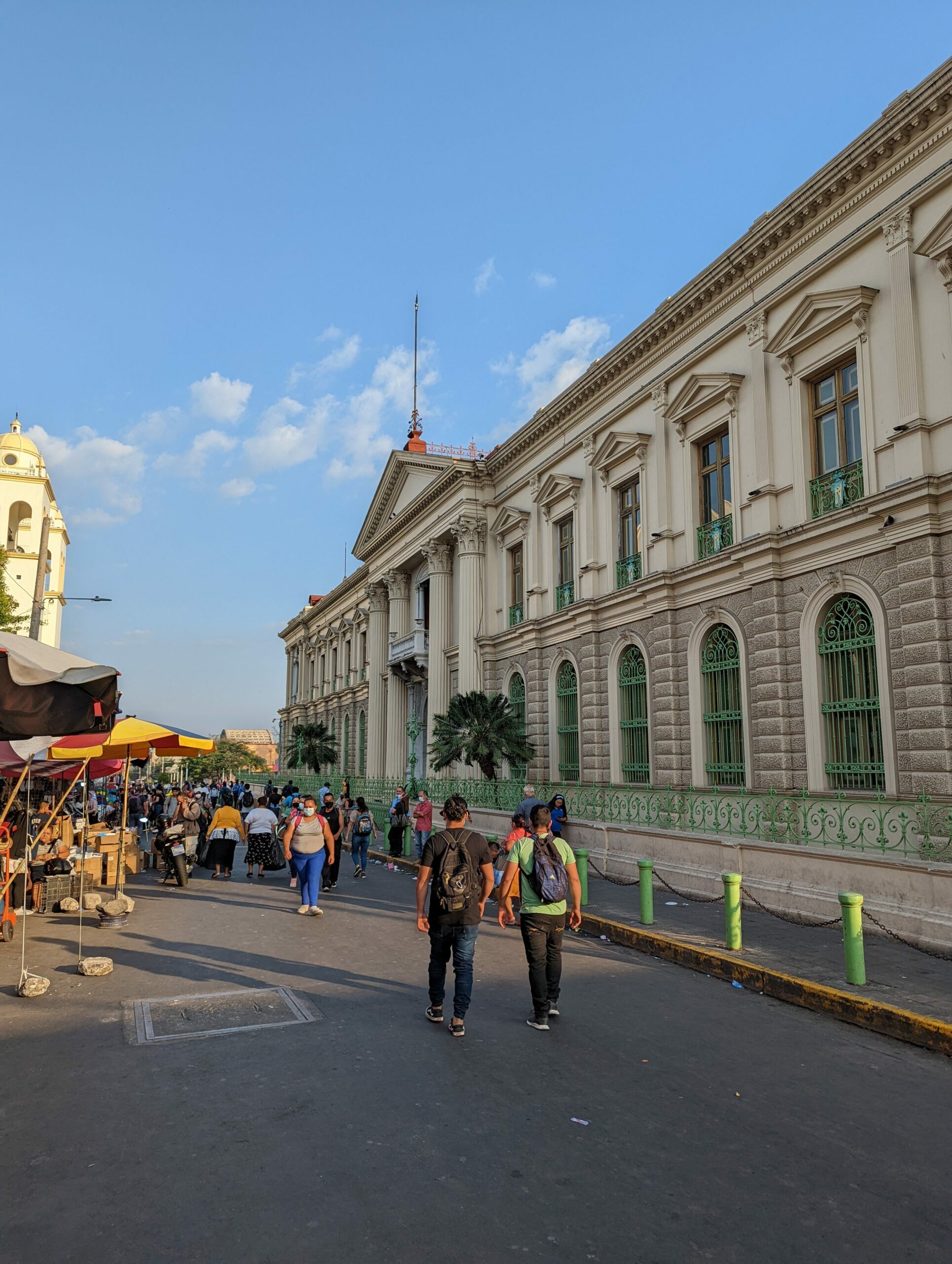 16. Lively streets of San Salvador, El Salvador
It was really special, with streets and streets full of various kiosks in every direction. It felt like being in a big Asian market almost.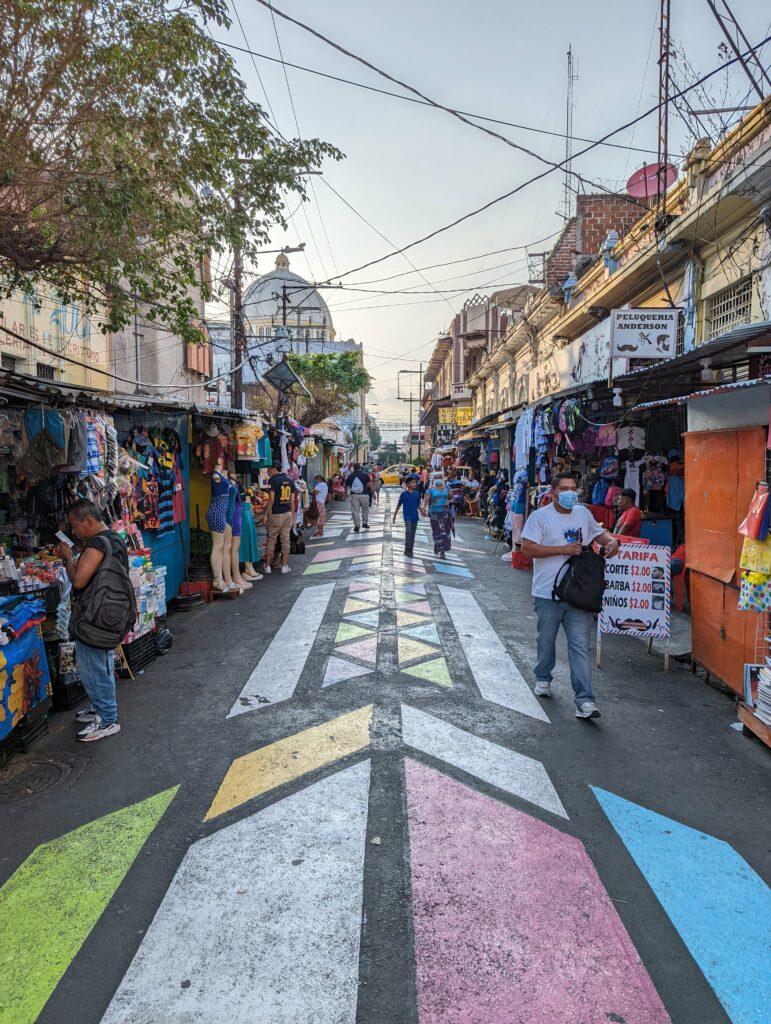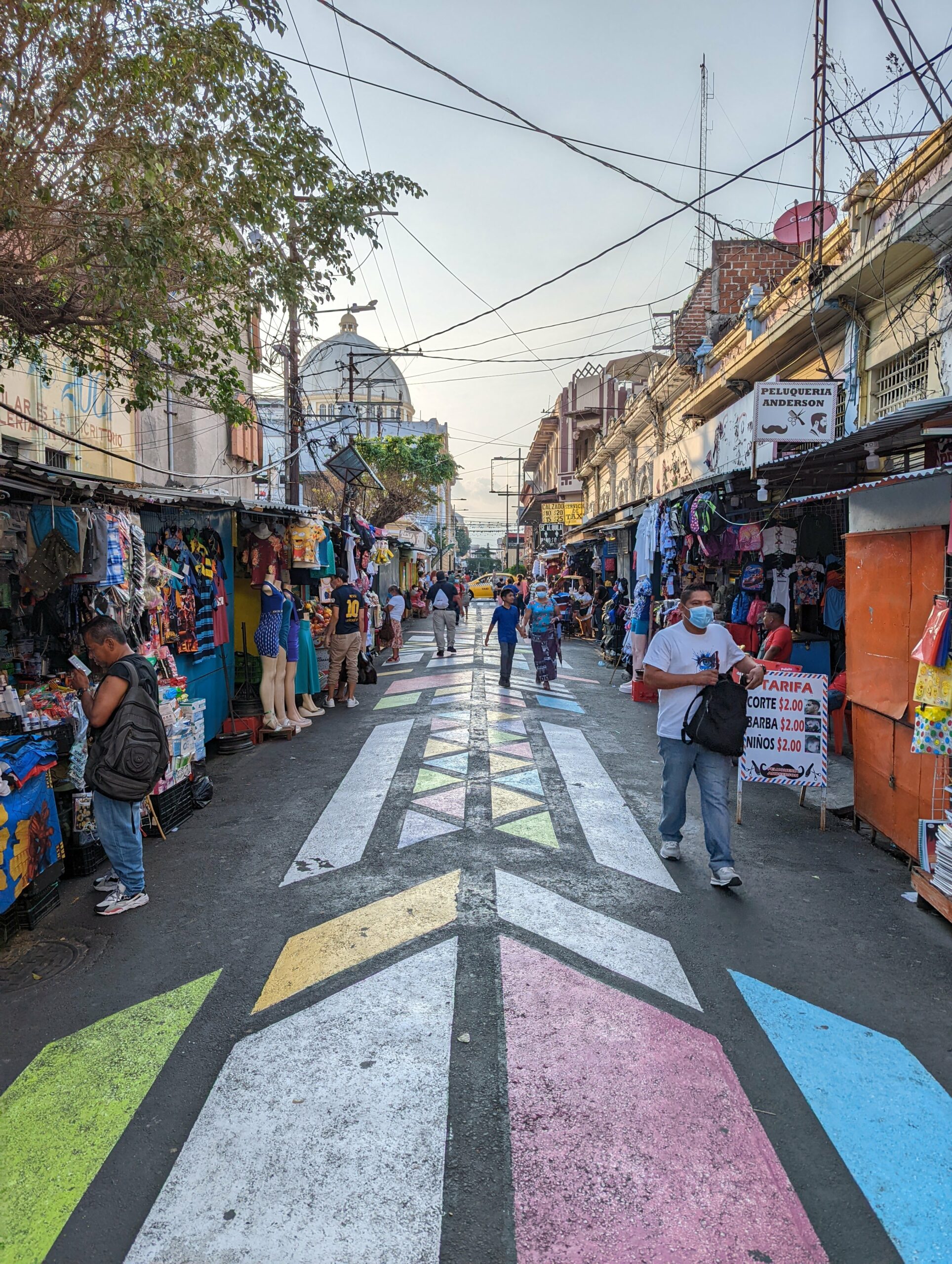 17. Roadtrip in El Salvador
I've gotten rental cars on 4 continents and in countless countries and I've never had so much trouble getting one as I did in El Salvador.
But we persevered and were able to explore the small country a little bit, with the freedom that only a car offers.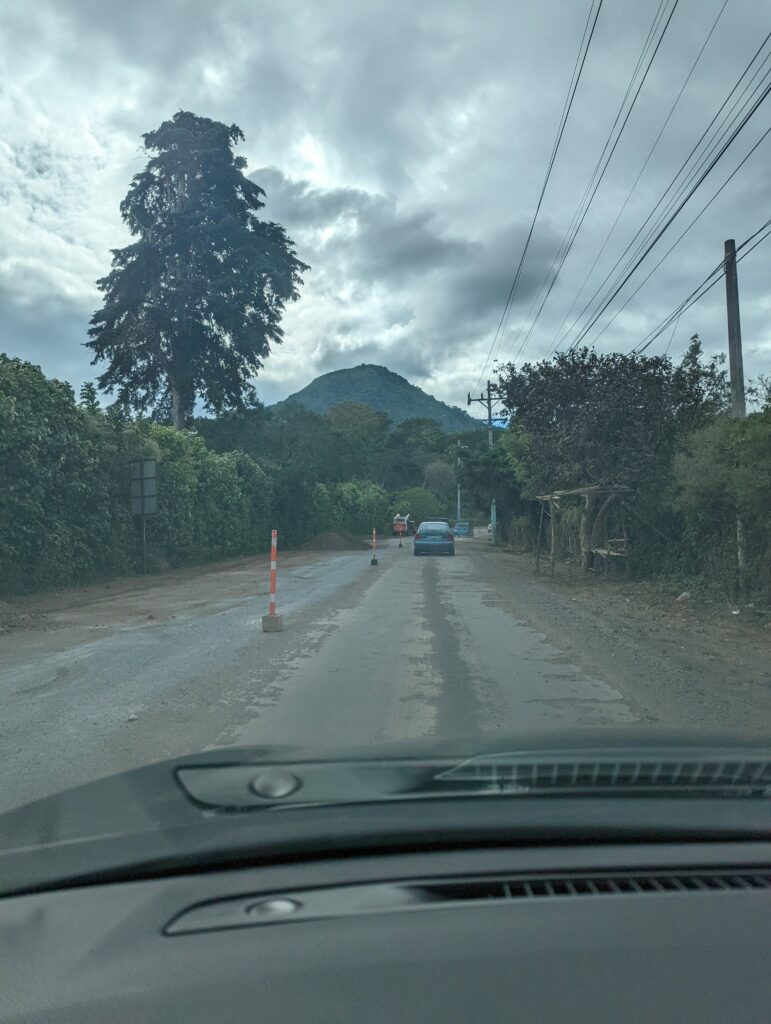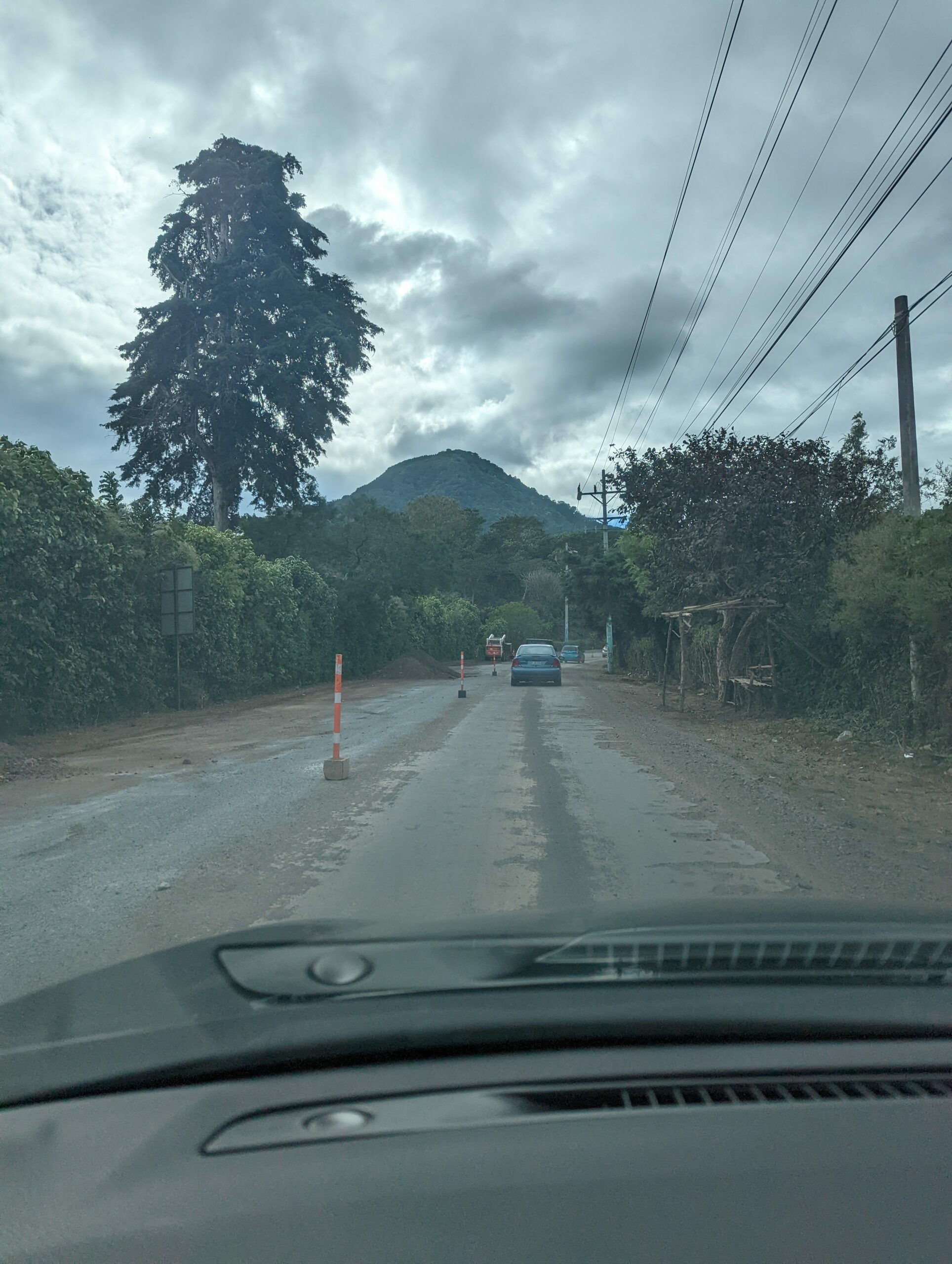 18. Signs on the coast, El Salvador
El Salvador made the news recently by being the first country in the world to make bitcoin legal tender and so this cryptocurrency is accepted absolutely everywhere (but mostly for the locals).
Note the «DontSkipElSalvador» hashtag that comes from the fact that many travelers who passed through all of Central America would skip El Salvador entirely, especially due to the violent past (it has changed a lot). Otherwise, the country also wants to be known for surfing; the coast even proudly uses the "Surf City" nickname.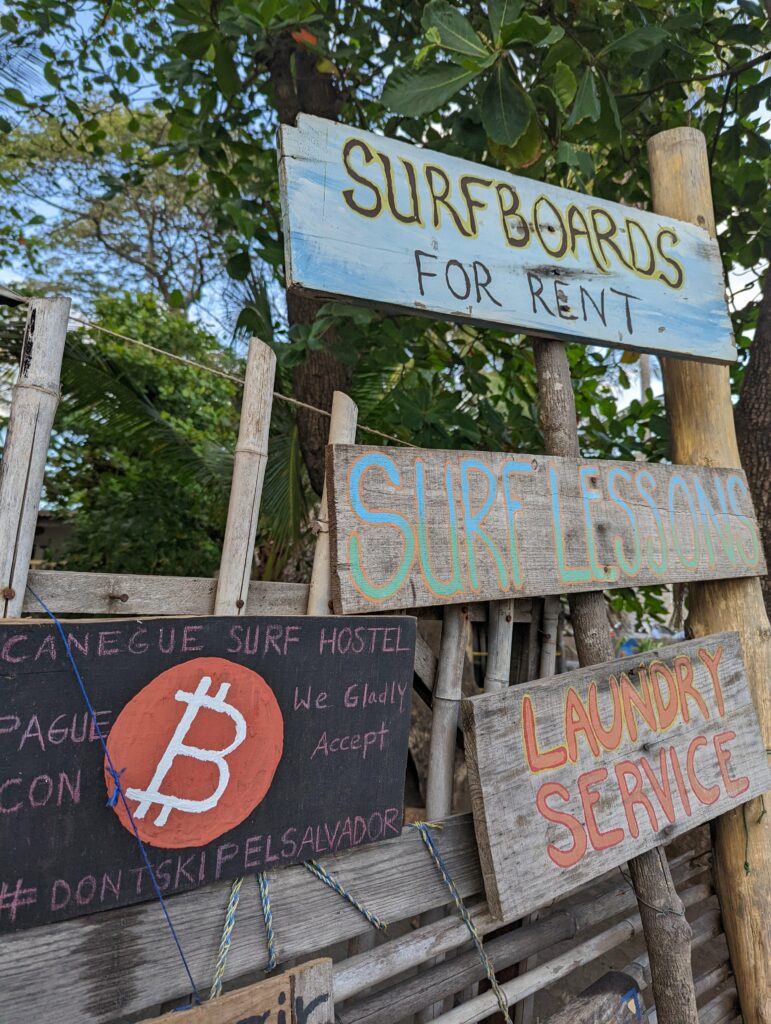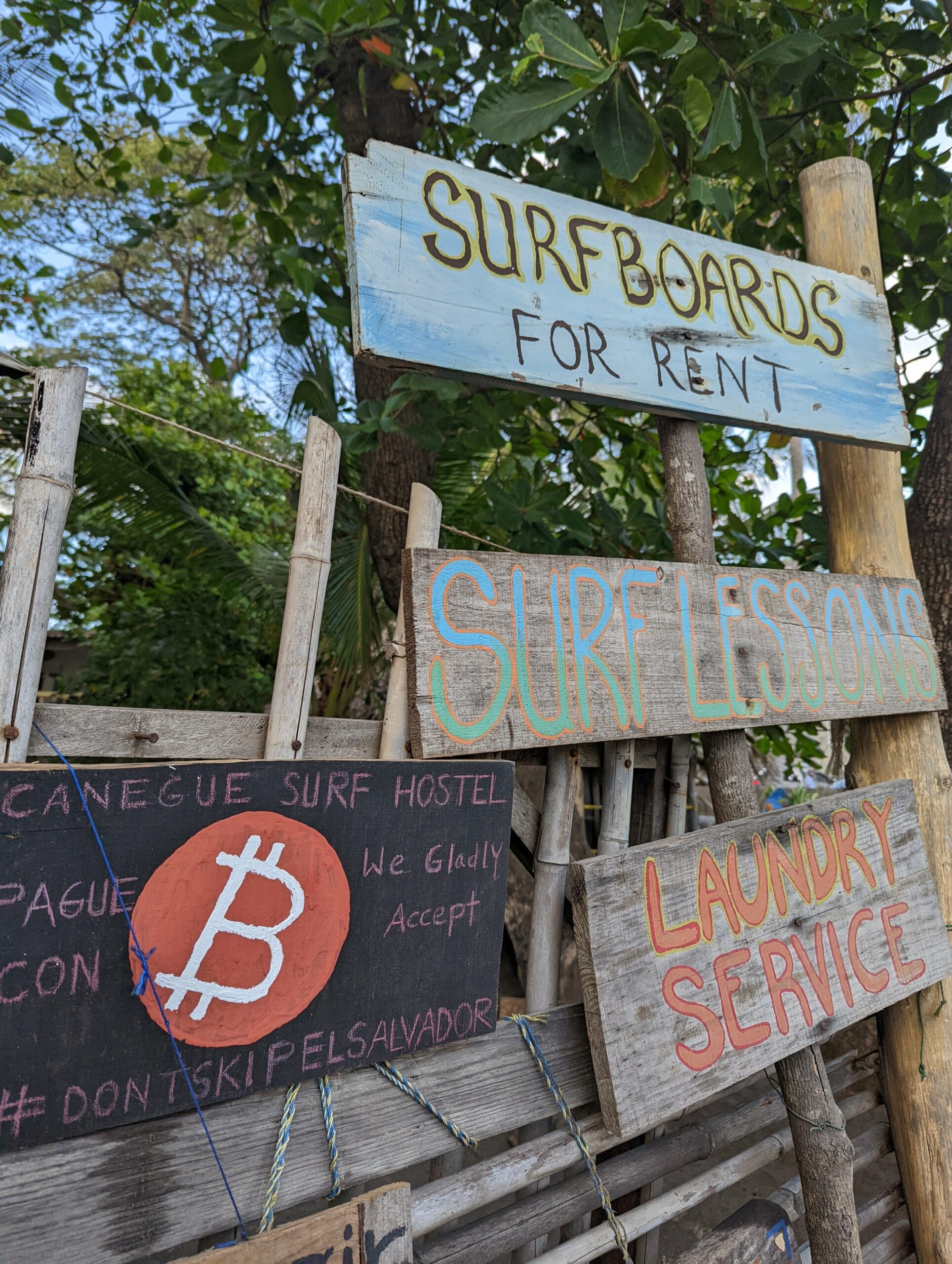 19. Beach in El Tunco, El Salvador
Note that El Salvador is one of the very few countries in the world with NO travel restrictions related to COVID-19 (as now recommended by the experts at the WHO, the World Health Organization).
No vaccination required, no test required, no quarantine required, no form required… nothing at all! For everyone, without any discrimination!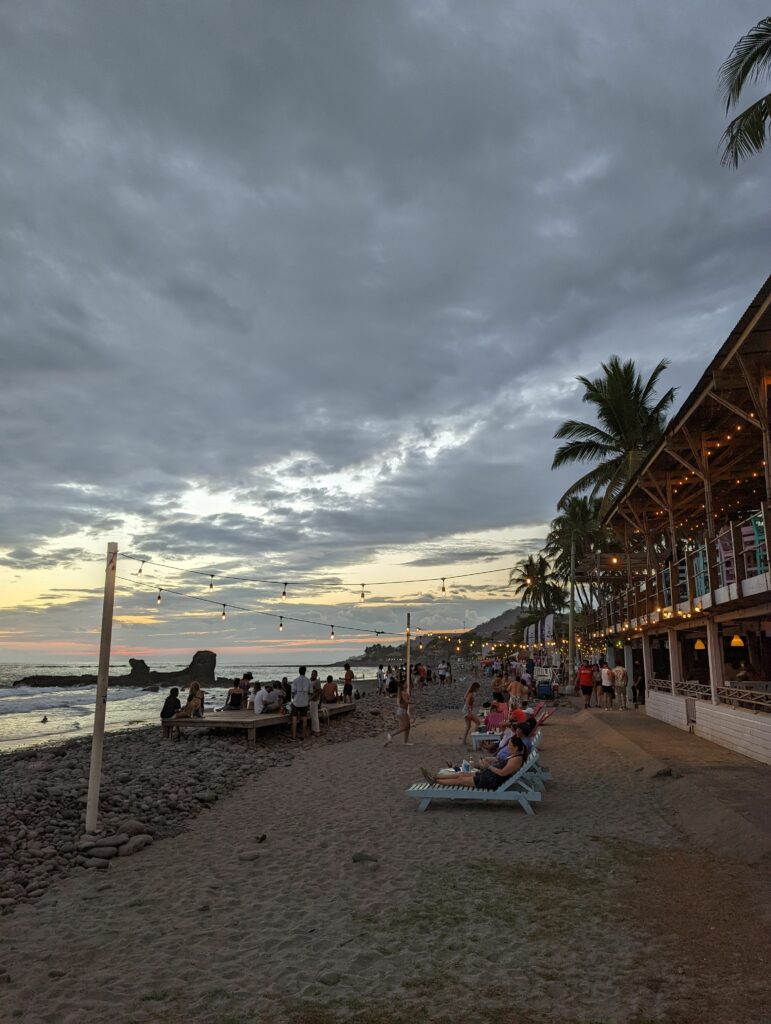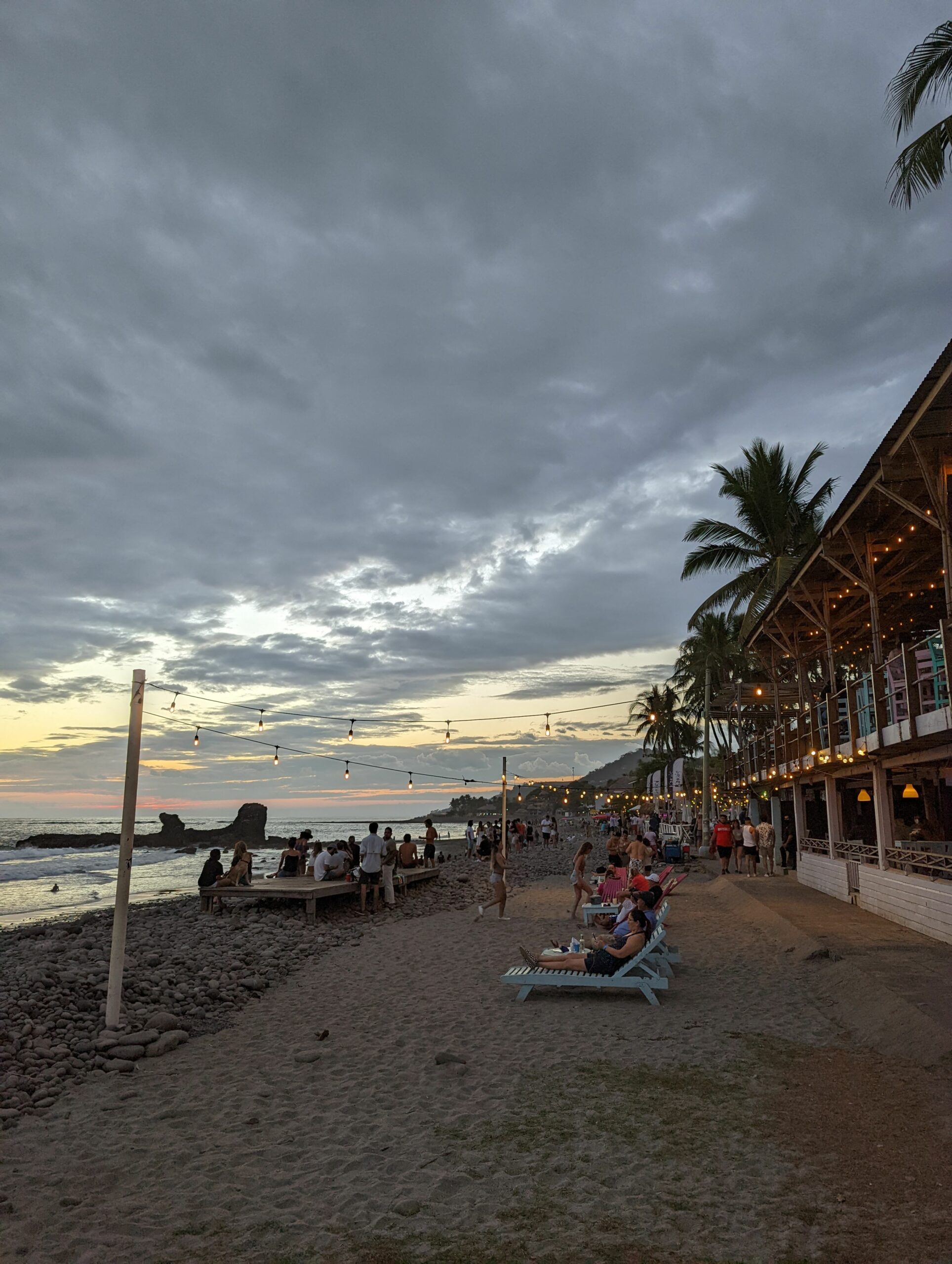 20. Beach in El Zonte, El Salvador
The villages along the coast are quite small and fortunately still seem to be quite safe from mass tourism and vacationers who love artificial all-inclusive resorts!
El Tunco and El Zonte seem to be the most popular places near the capital and El Zonte definitely seemed to be the quieter of the two.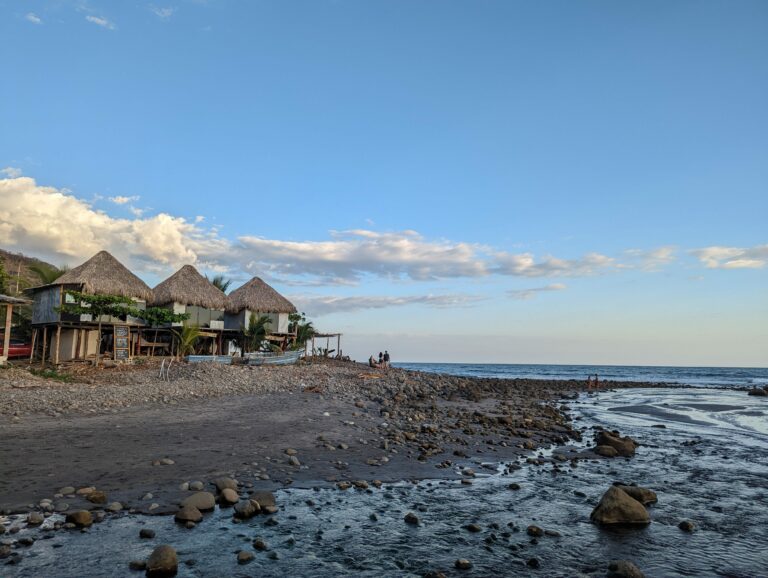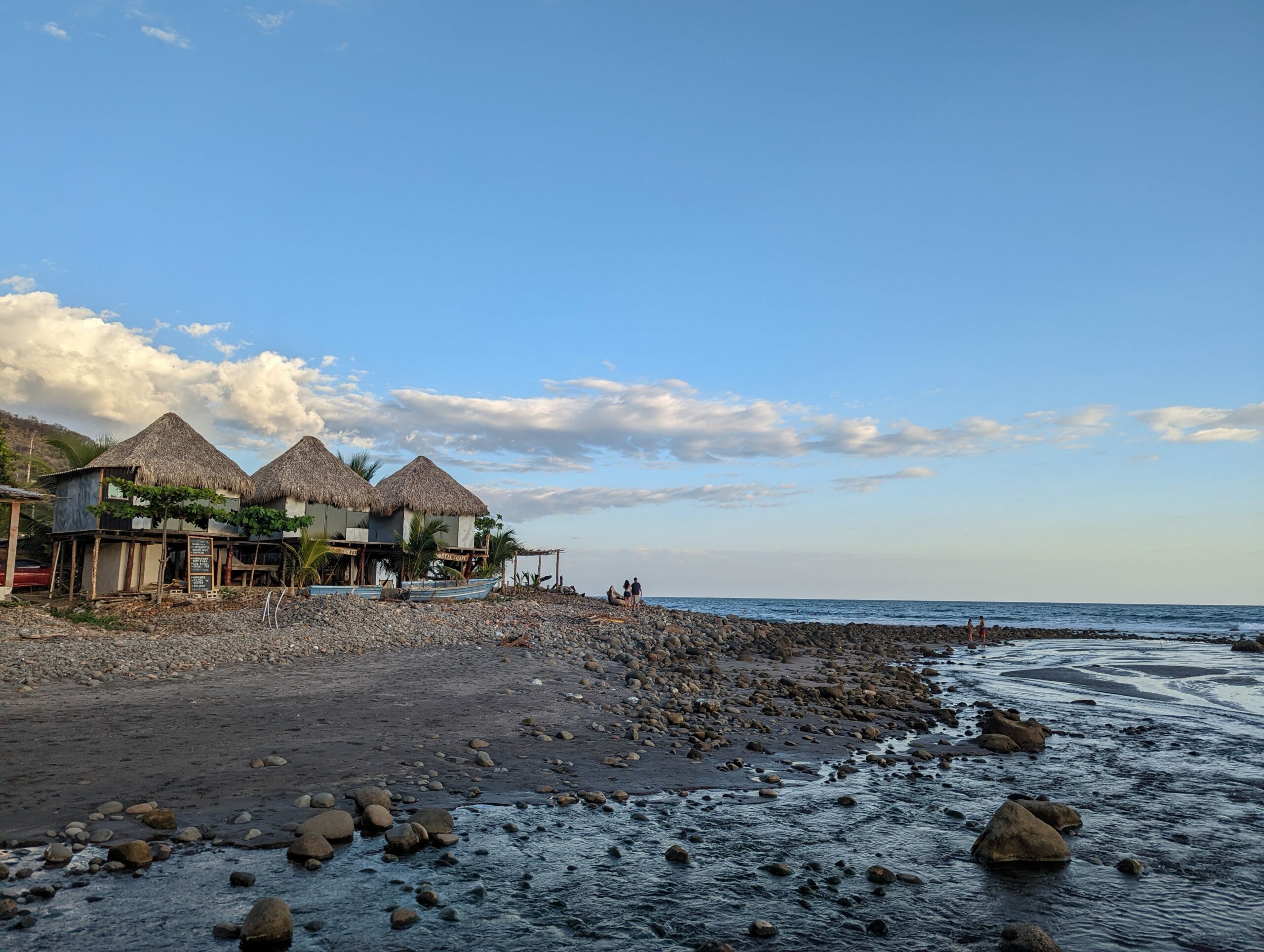 21. View of the Pacific Ocean, El Salvador
Coastal cliffs are always so stunning. El Salvador has beautiful black sand beaches that are often the norm in volcanic areas.
By the way, speaking of the effects of volcanic activity, during our stay our hotel vibrated very strongly during an earthquake that hit 4.9 on the Richter scale, by far the strongest I have ever experienced. It's a pretty special feeling.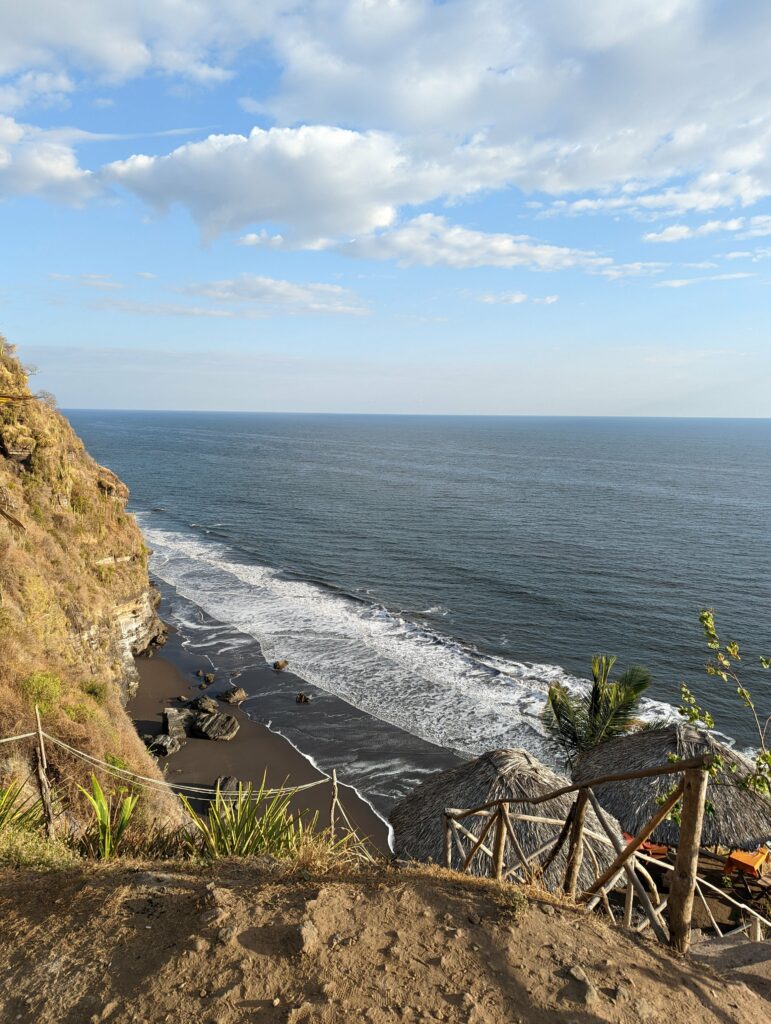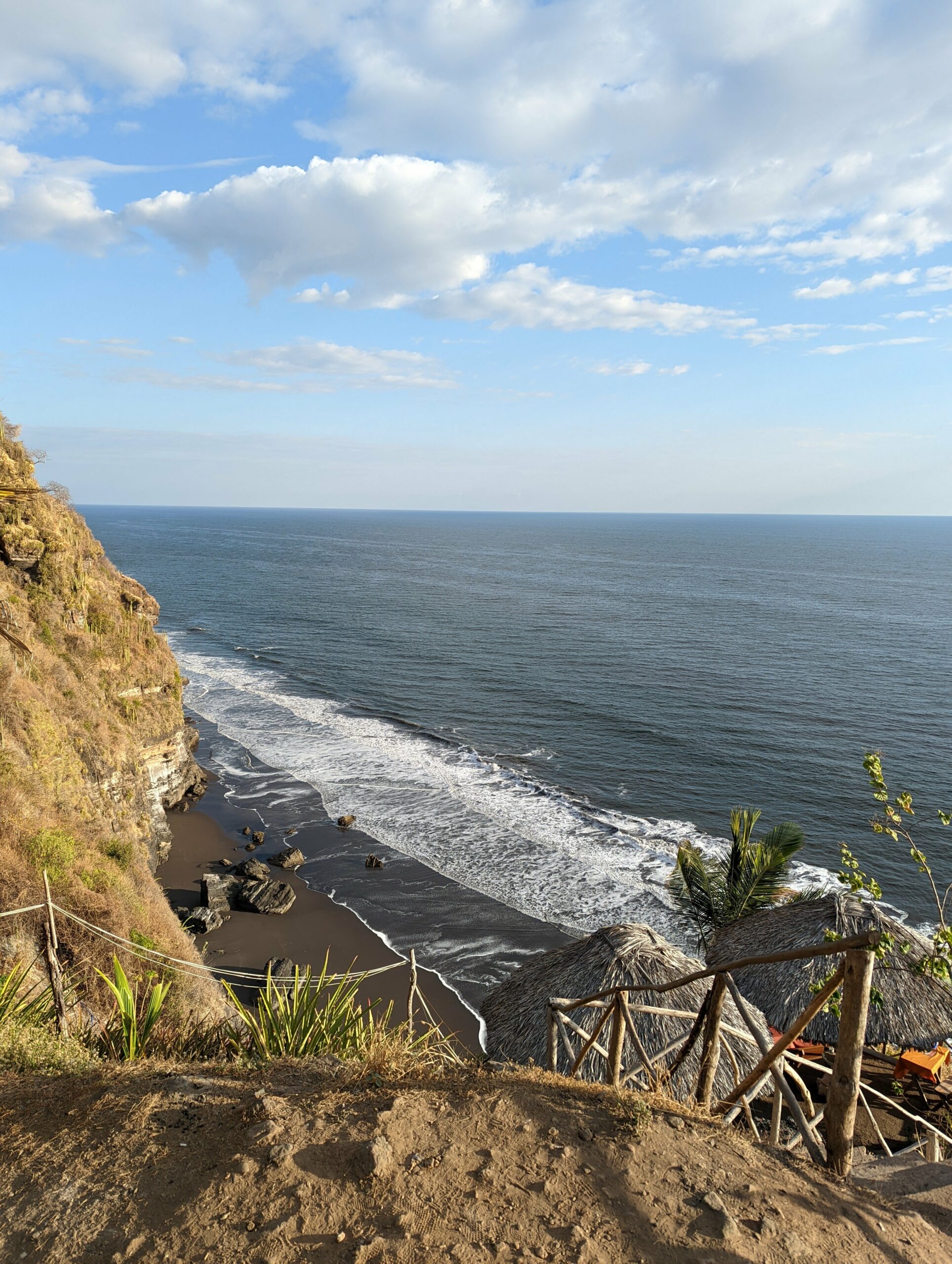 22. Ruta de las Flores, El Salvador
In the west of the country, the Ruta de las Flores (the "road of flowers" as you probably deduced) is a short itinerary that takes you through some pretty villages.
They have colonial buildings, murals, coffee plantations, waterfalls, and supposedly quite a few flowers (though I didn't find it as flowery as I would have expected from the name).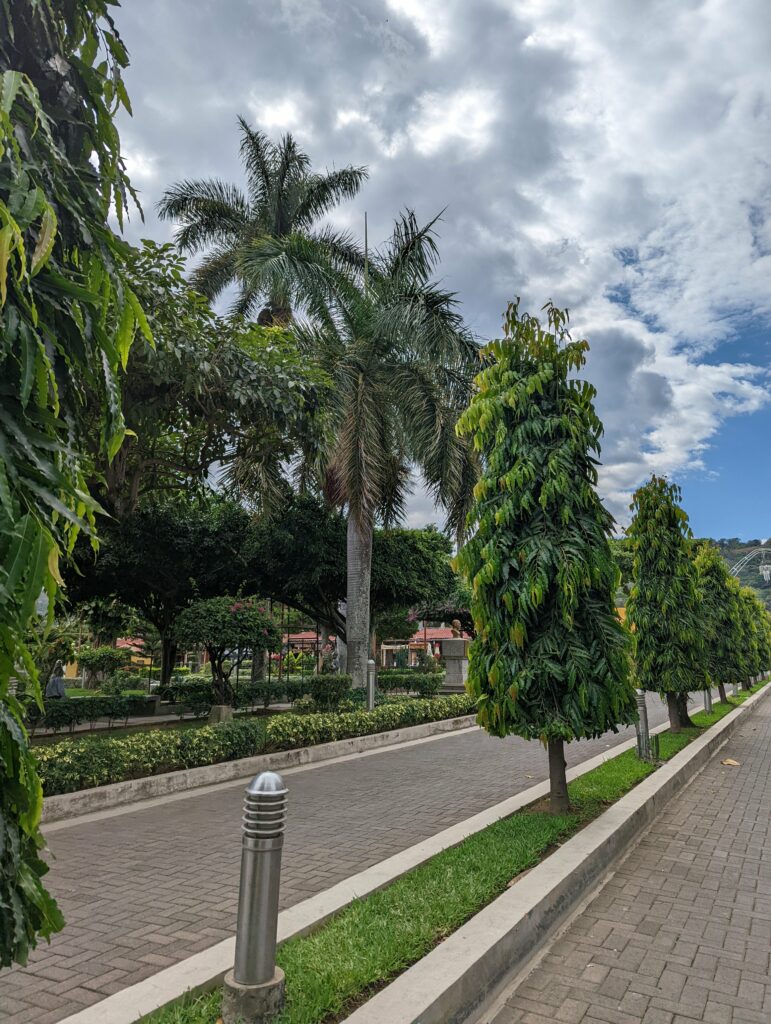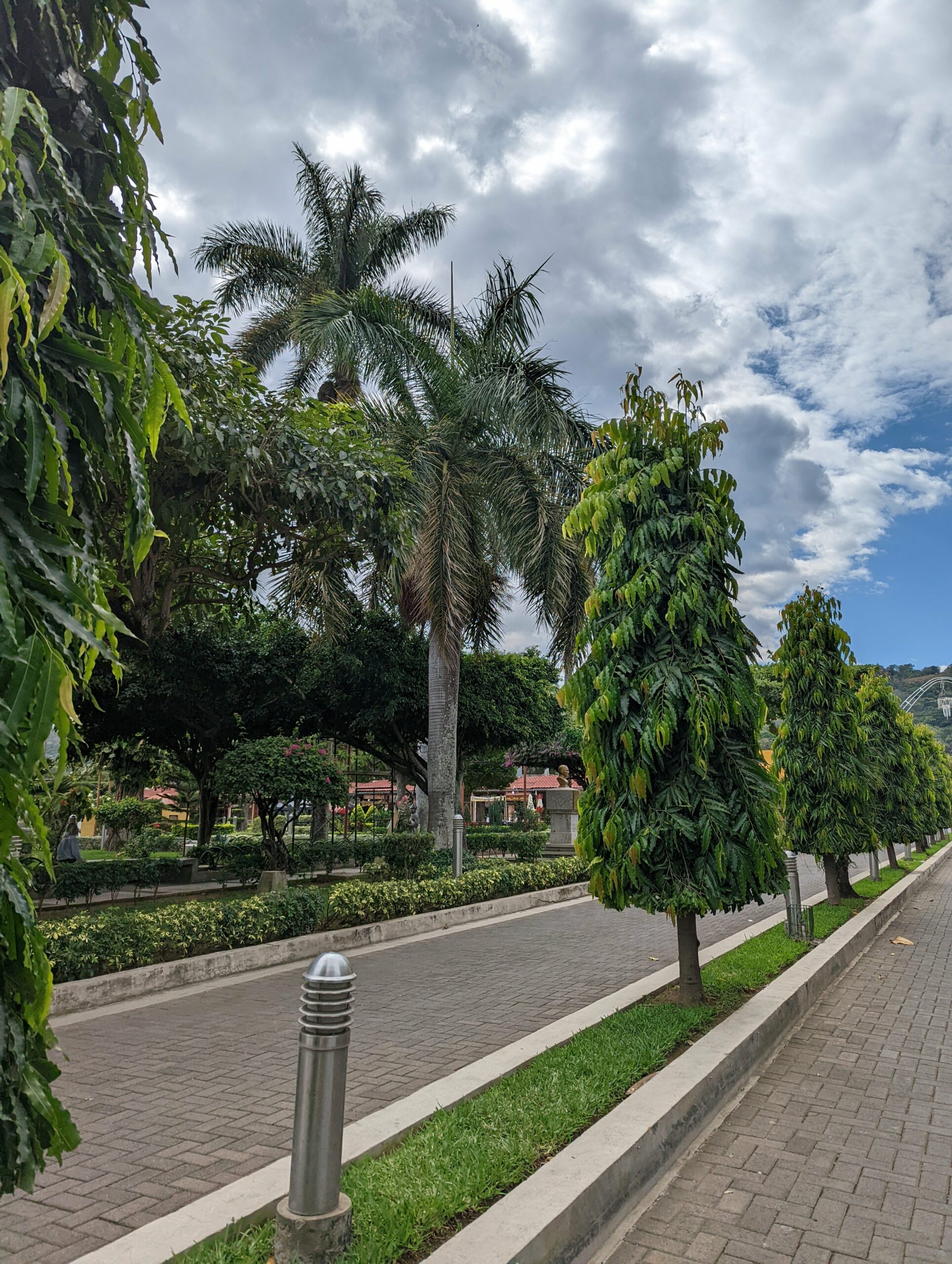 23. Coatepeque Lake, El Salvador
Not nearly as beautiful as Lake Atitlán, but still very nice (we weren't able to make it to Lake Ilopango which is apparently pretty too).
Enjoying a meal on the waterfront was very pleasant but you have to know that the lake is really not very developed, so there aren't any villages like there are around Lake Atitlán in Guatemala.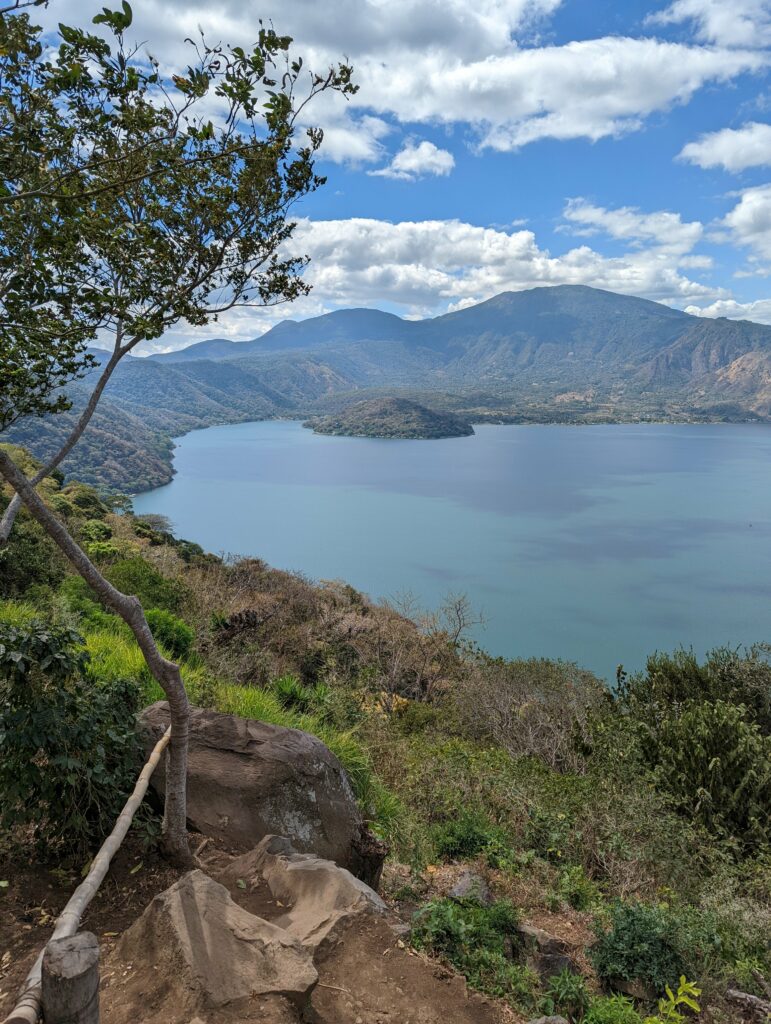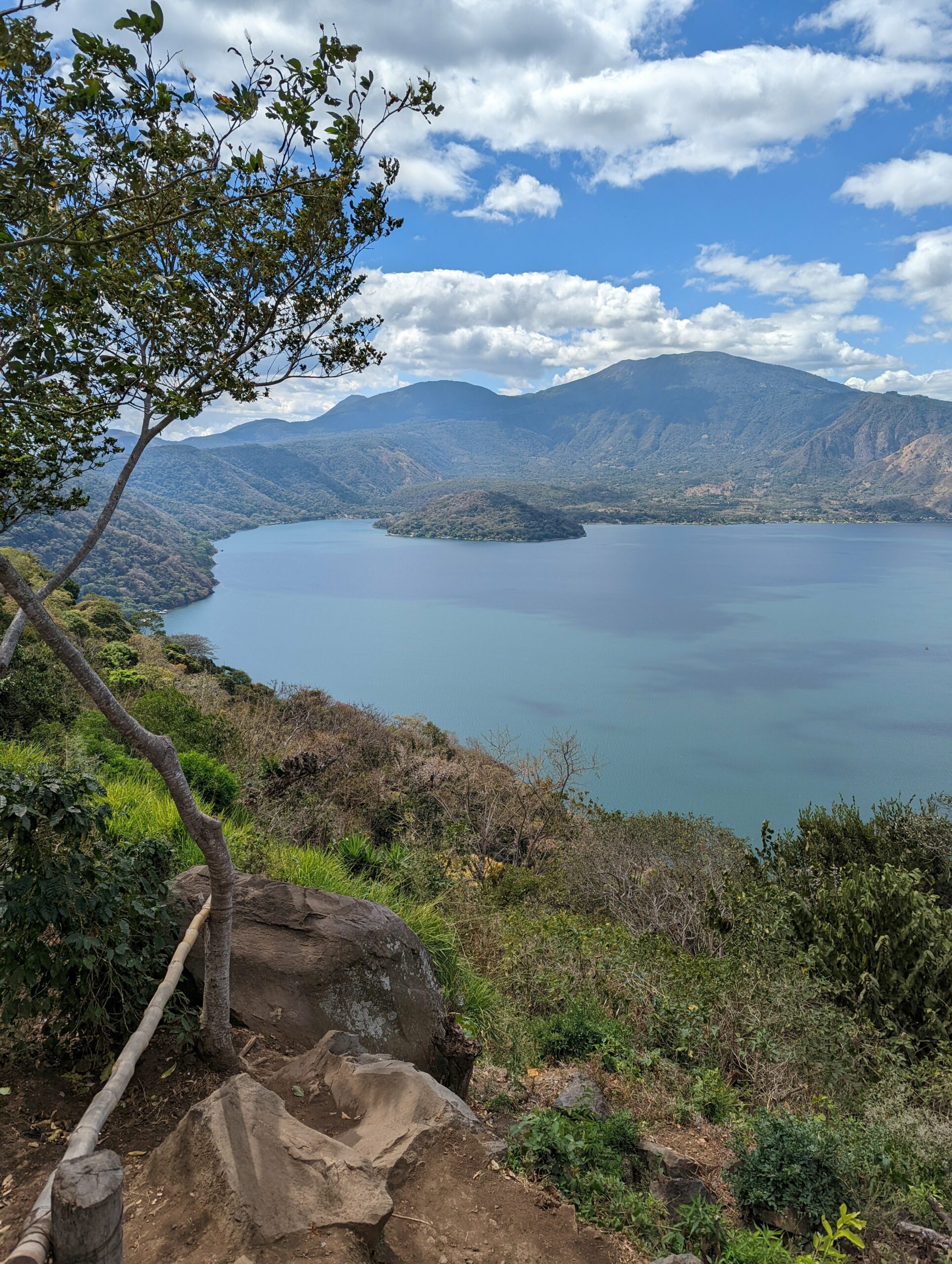 24. Random landscape in El Salvador
Roadtrips are obviously more expensive (unless there are like 4 of you… and even then) but it's always nice to be able to take the time to admire landscapes that you can't see otherwise.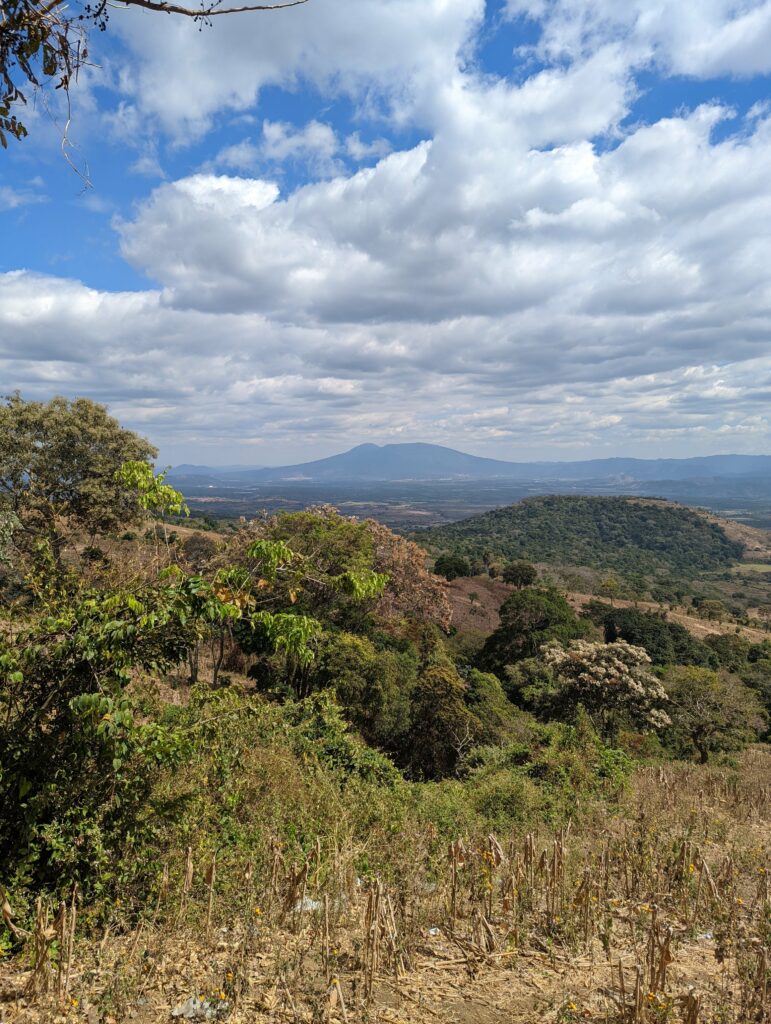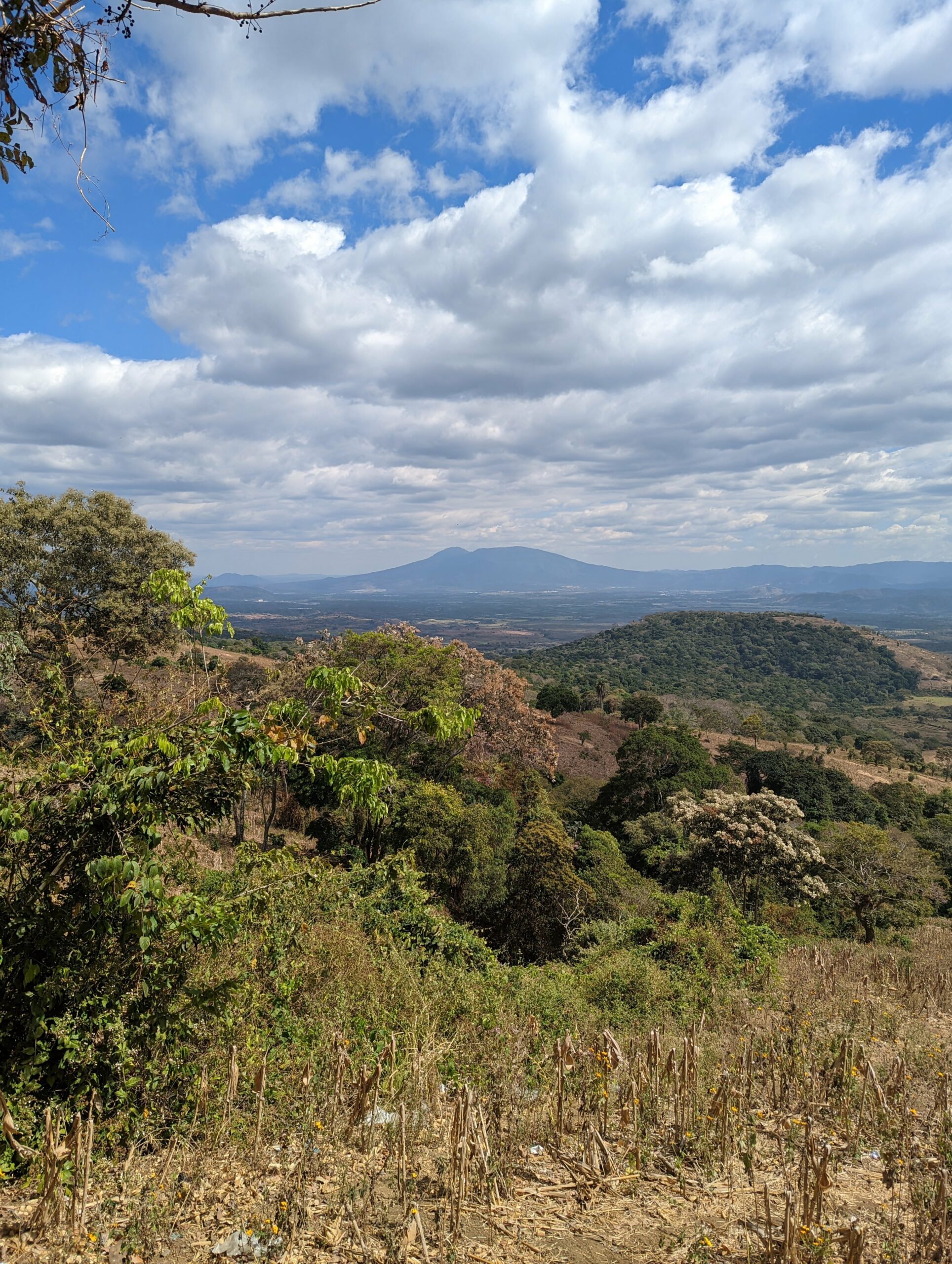 25. Another nice hotel, El Salvador
We spent the majority of our work retreat in the comfort of the Courtyard San Salvador, which without being luxurious, was a very good use of Marriott points.
Another tip for those who travel more: Thanks to my Marriott Titanium Elite status (obtained with the shortcut to Elite status that comes with the Marriott Bonvoy American Express Card), we also had US$20 in free meals every day.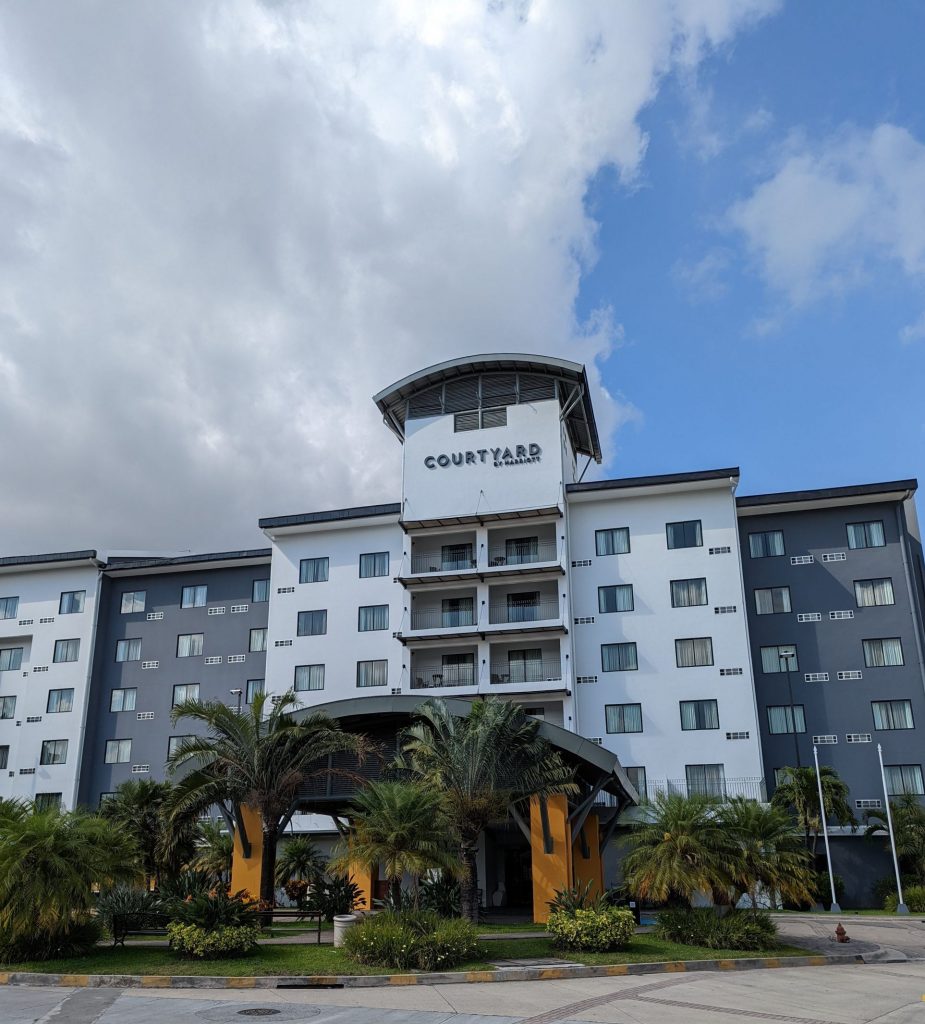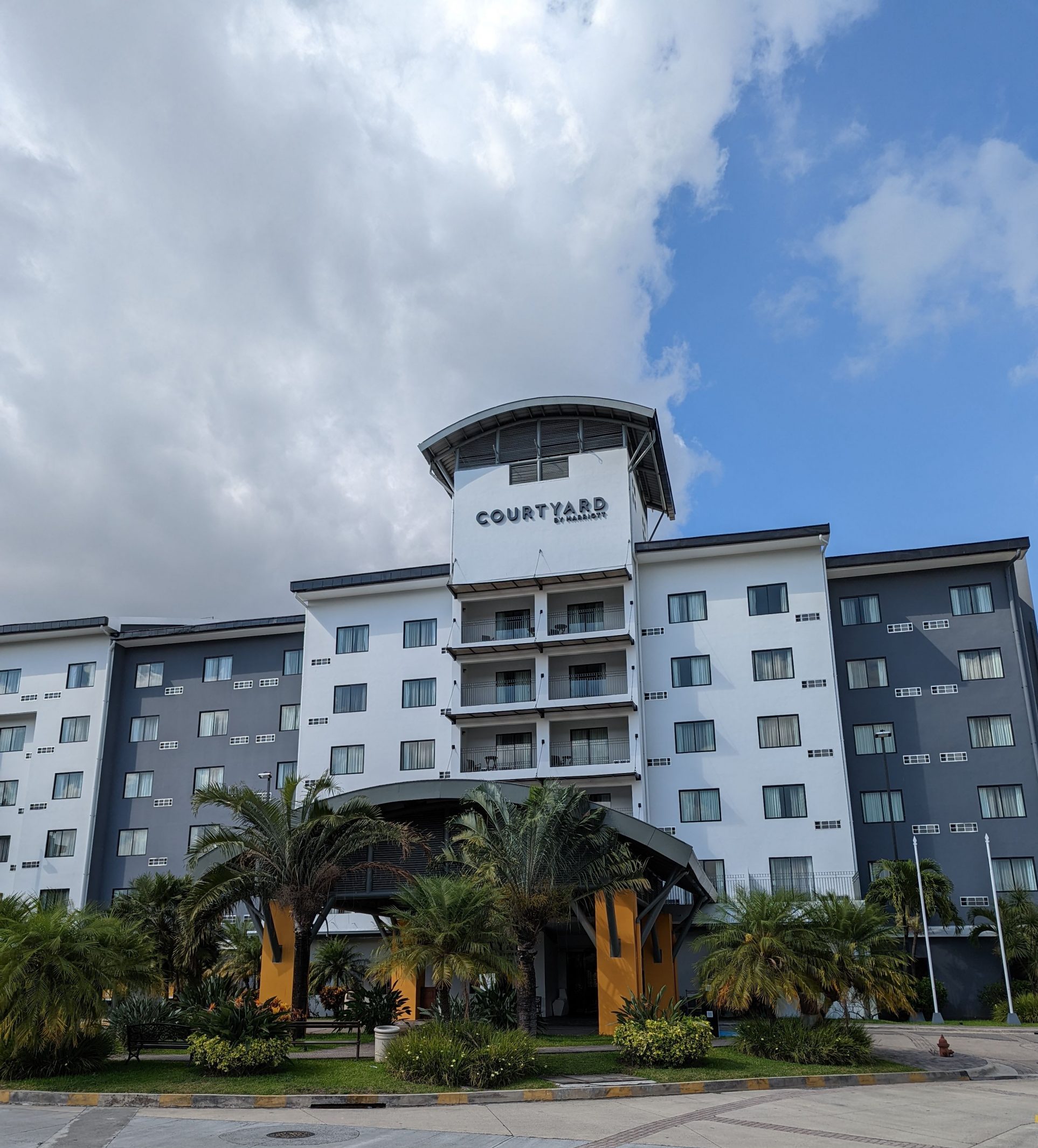 26. Hotel gym in El Salvador
I'm really not the "gym selfie" type on social media (my first ever)… but I couldn't resist and I had to thank the governments of *literally every place in the world except Québec* for not closing the gyms "fOr oUr hEaLtH" when factually, being overweight is one of the most serious risk factors for COVID-19…
To return to the subject of travel, one of the great advantages of chain hotels (and therefore a great advantage of hotel points) is having access to a very complete and well-equipped gym while traveling.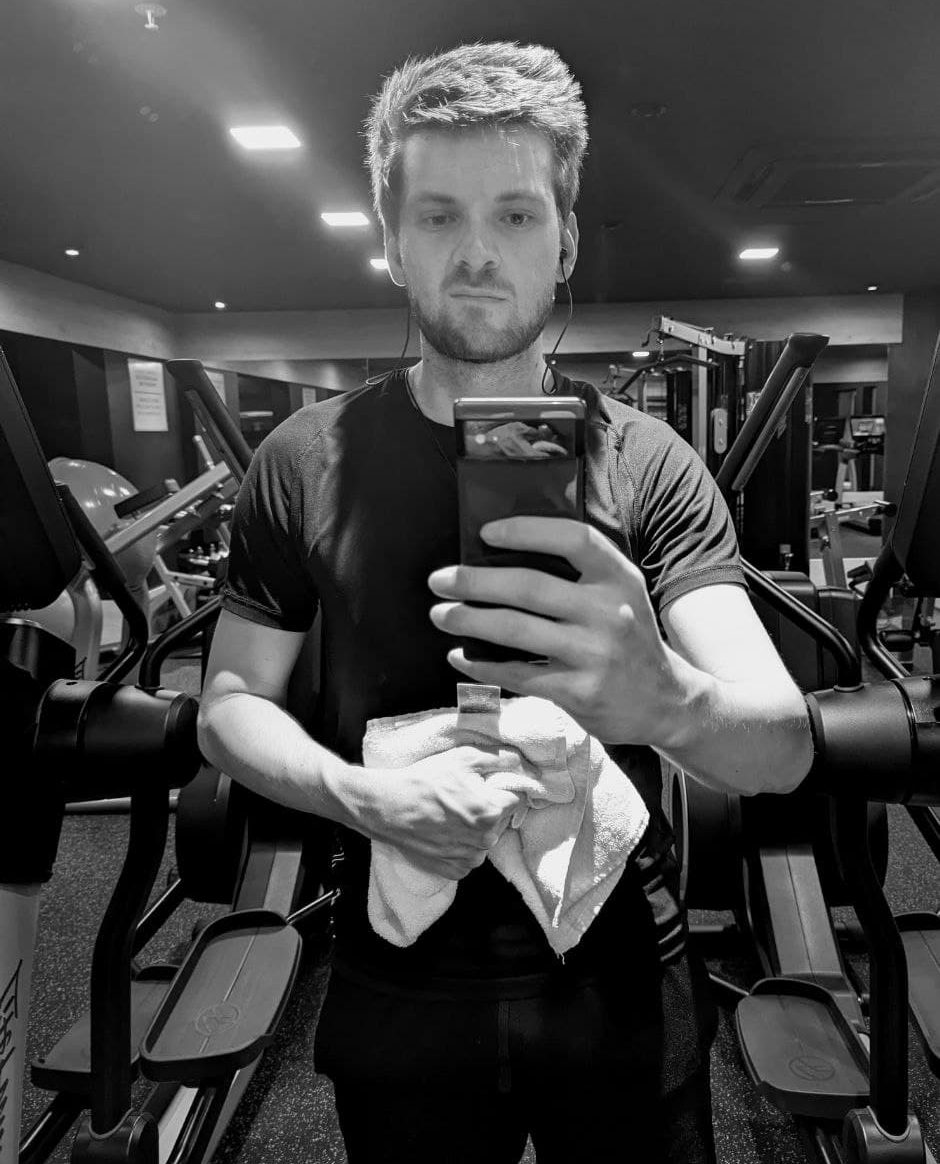 27. Aerial view of South Florida
Miami is probably the most pleasant place in the world to be during the pandemic, at least for some people (obviously not for those who want to stay locked inside until 2025, and even not for those who still want to mask up indoors actually; it's good-to-know information before deciding to go there).
Besides, why pay a lot of money for a PCR test in El Salvador when they are free in the USA and I can spend some more time in a city I love?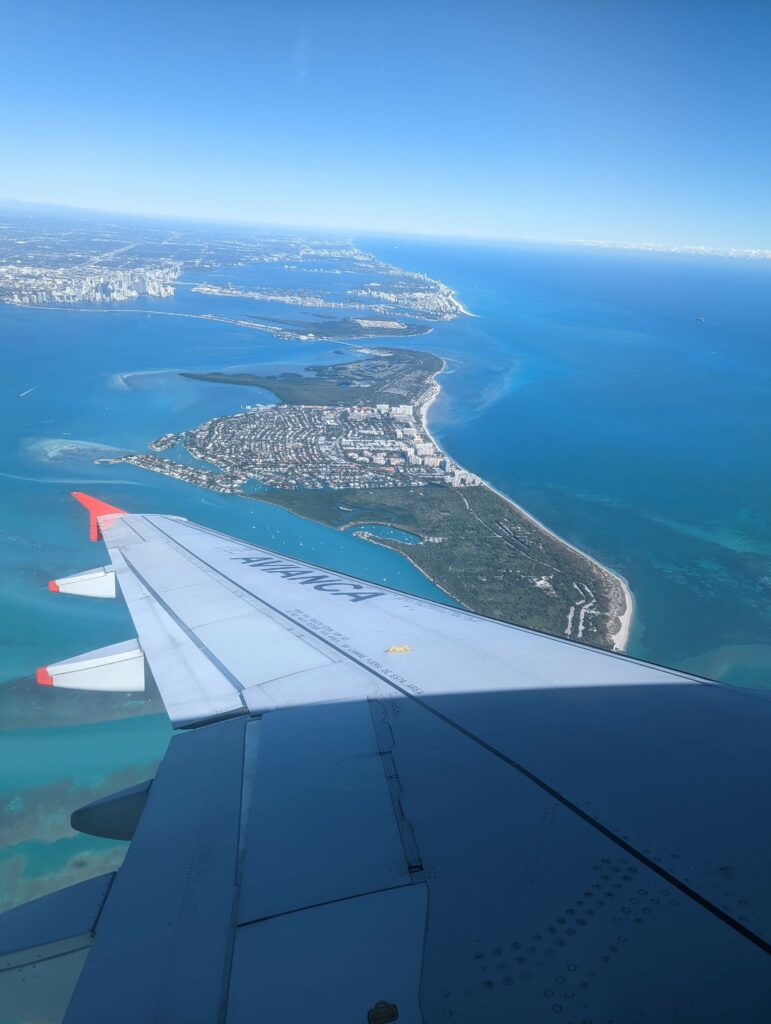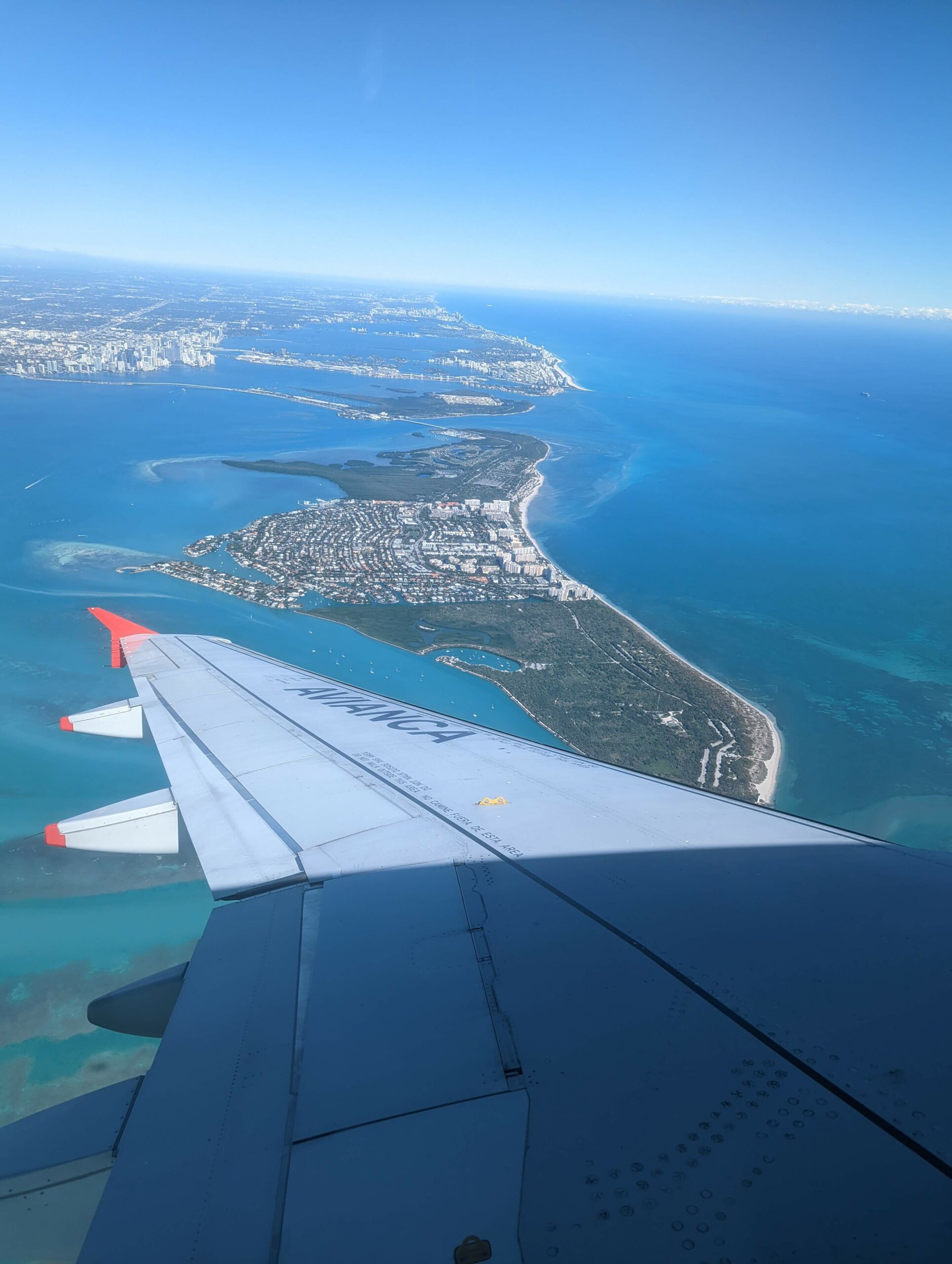 Bonus: Stroll in Miami and Miami Beach, Florida
We often add bonuses to our posts since we love giving you more for your money.
I'm going to talk about this later, about how my week in Miami in December changed me… for those who are interested of course.
The time spent there in January just reconfirmed it for me, even if it was a lot shorter.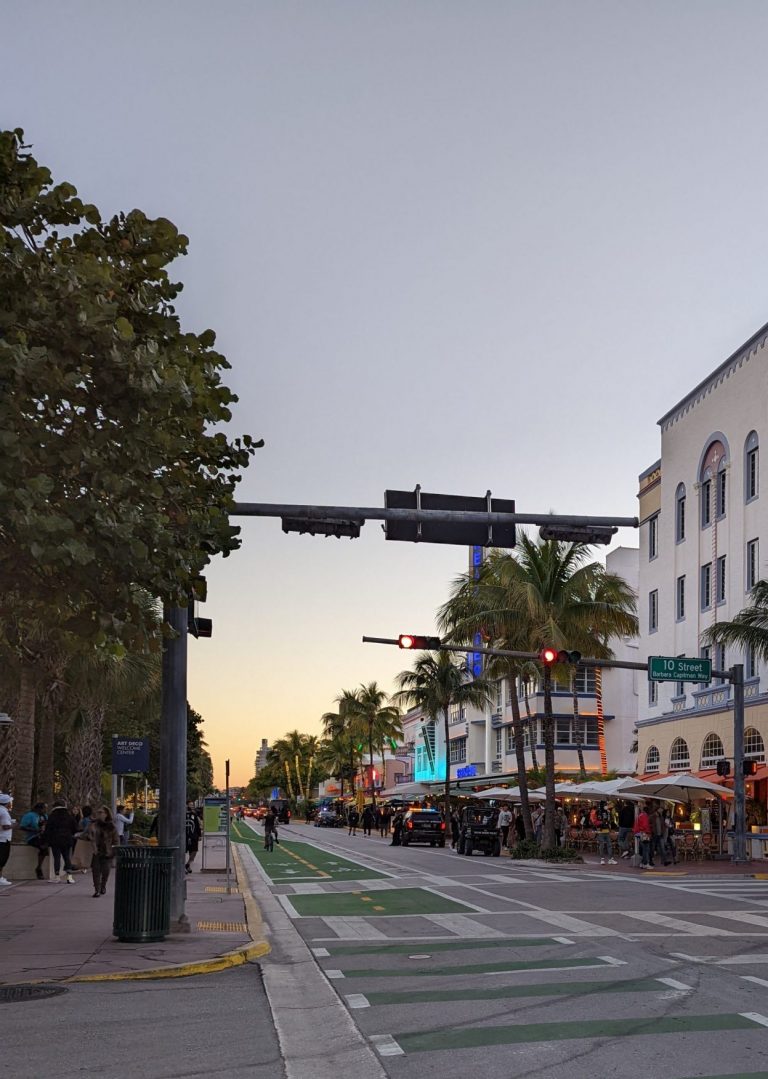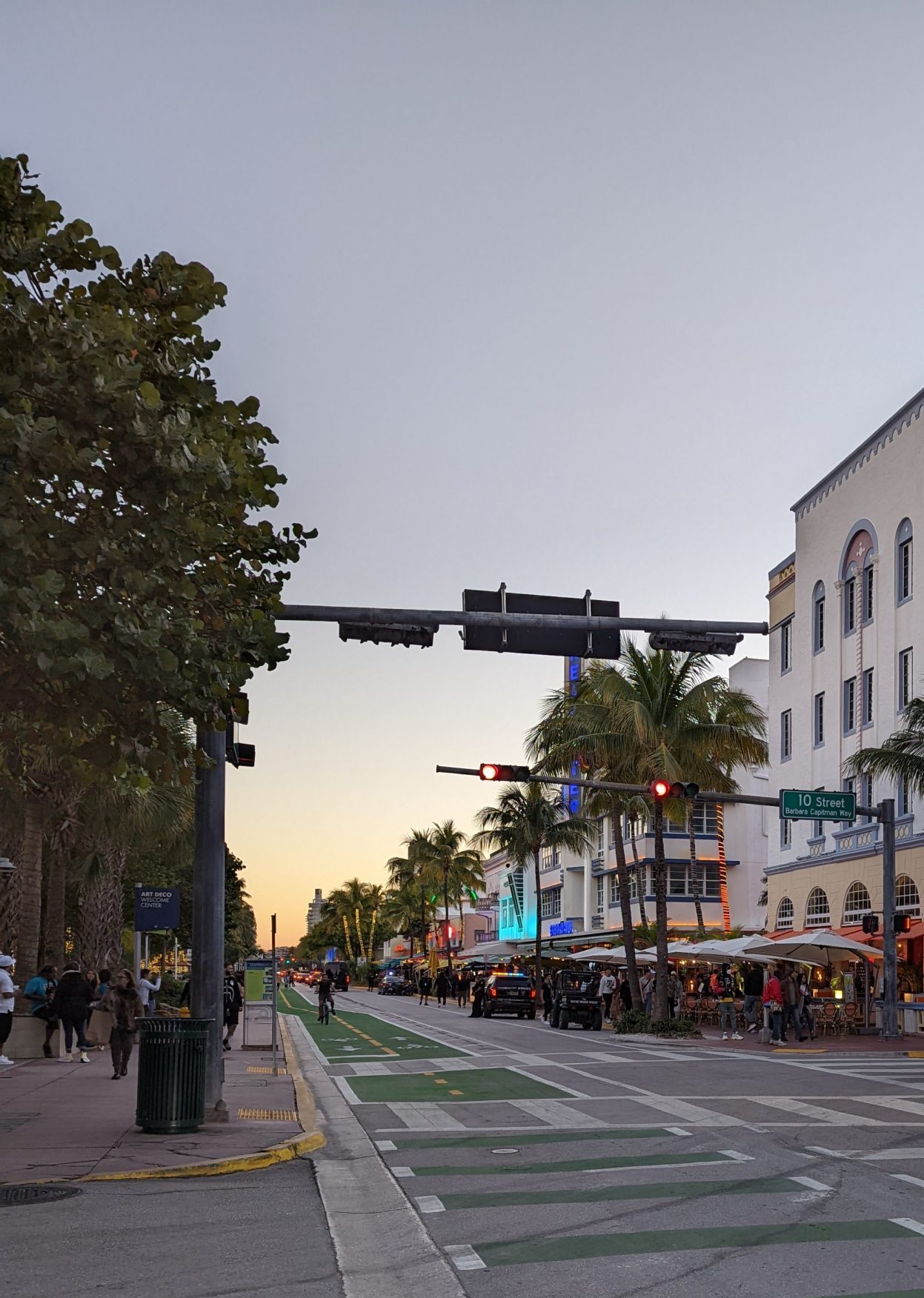 Want to get more content to learn how to travel during the pandemic?
Summary
This is the first look at our January trip to Central America, stay tuned for more content to help you travel during the pandemic (wherever you want to go) or to discover these specific destinations.
What would you like to know about this trip? Tell us in the comments below.
See the deals we spot: Cheap flights
Explore awesome destinations: Travel inspiration
Learn pro tricks: Travel tips
Discover free travel: Travel rewards
Featured image: Lake Atitlán (photo credit: Andrew D'Amours/Flytrippers)
Advertiser Disclosure: In the interest of transparency, Flytrippers may receive a commission on links featured in this post, at no cost to you. Thank you for using our links to support us for free, we appreciate it! You allow us to keep finding the best travel deals for free and to keep offering interesting content for free. Since we care deeply about our mission to help travelers and our reputation and credibility prevail over everything, we will NEVER recommend a product or service that we do not believe in or that we do not use ourselves, and we will never give any third-party any control whatsoever on our content. For more information on our advertiser disclosure, click here.
Share this post to help us help more people travel more for less: