We've already told you about the extreme distortion that our world maps generate, but here's another fact that impresses a lot of people when I mention it to them, so I'm sharing it with you: Yes, Greenland fits into Africa over 14 times despite the fact that our misleading maps distort it to the point that it looks like a giant island.
Personally, I love maps, geography, and anything else that has to do with them. And one of the reasons I love to travel is to learn more about our world. So I guess other travelers are very intellectually curious too!
The Mercator projection
The Earth is round. And representing that on a 2-dimensional map is not easy.
Our well-known world map uses the so-called Mercator projection… and it completely distorts the real size of the countries.
It is highly disproportionate. Especially the countries far from the center of the planet. They are not as huge as you might think.
Everything far from the Equator looks much bigger than it really is. The farther countries are from the Equator, the more 2-dimensional maps "exaggerate" their true size.
Including Canada, which is much smaller than it looks (I'll get to that in a minute).
Yes, maps have been lying to you all along!
The real size of Greenland
Anyway, Greenland is an excellent example.
Here is the real size of Greenland (in blue) when the Danish territory is brought back to the size it would be if it were on the Equator.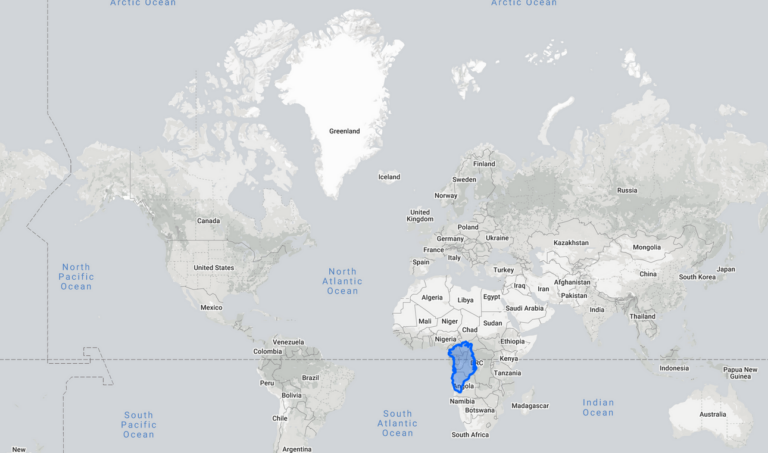 In short, it's a lot smaller than it looks on our maps, isn't it?
And Africa, like all the areas near the Equator (did you know that Peru is the 19th largest country in the world?), is much bigger than it looks.
Greenland is 2.166 million square kilometers.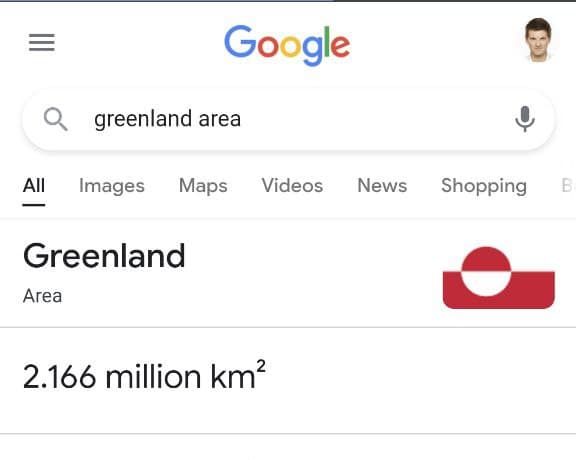 While Africa is 30.37 million, or 14 times bigger.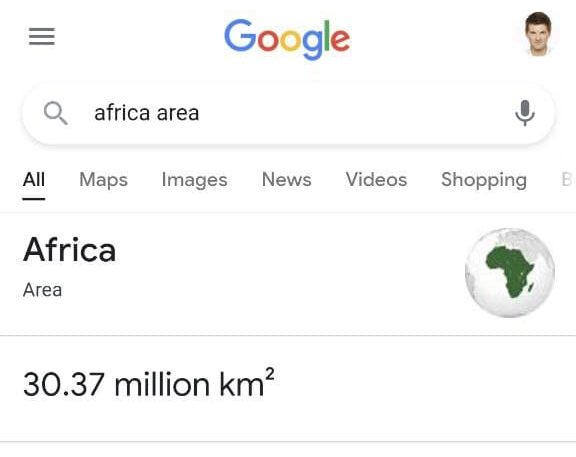 The Peters projection
The Peters projection is one that is more faithful to reality, but unfortunately, there doesn't seem to be a great appetite for using it.
It allows you to see the real size of all countries.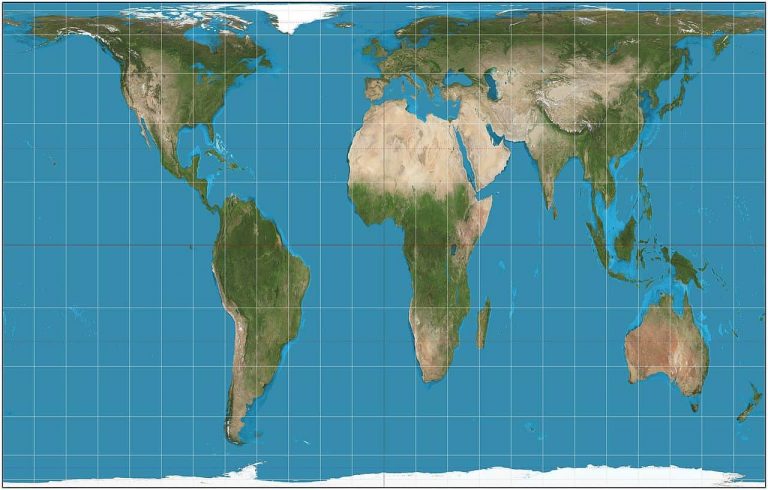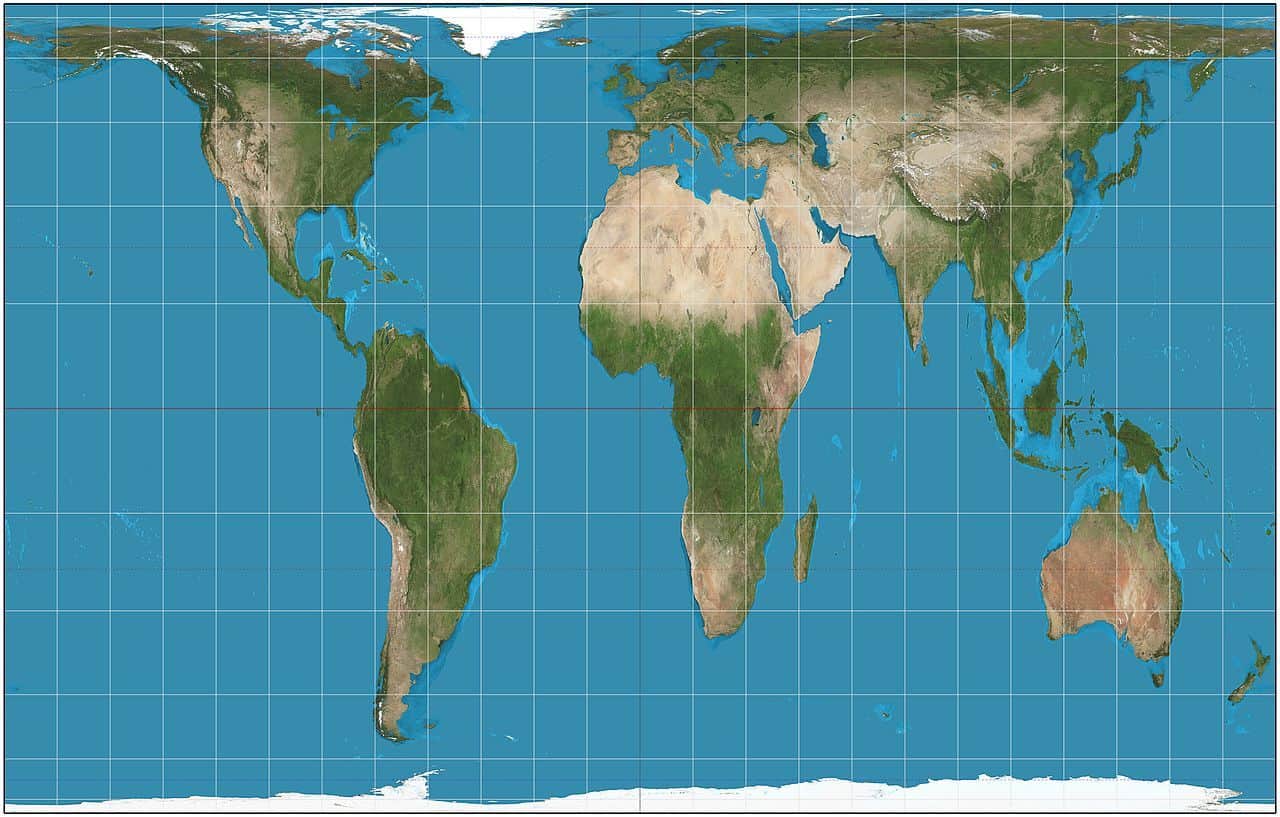 On this one, it is clearer that Africa is 14 times bigger than Greenland.
It also shows that Canada, which is of course still very big… but still quite a bit smaller than what the "normal" maps project.
The false size of Canada
See how big Canada looks.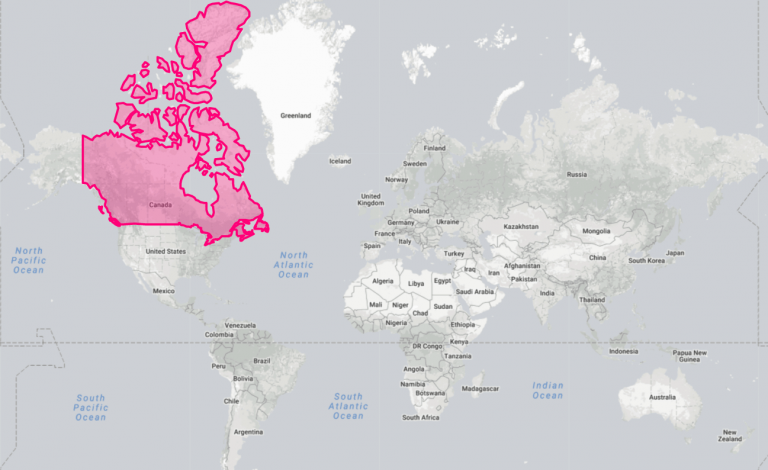 And then look at the same map, but with the "real" size of Canada.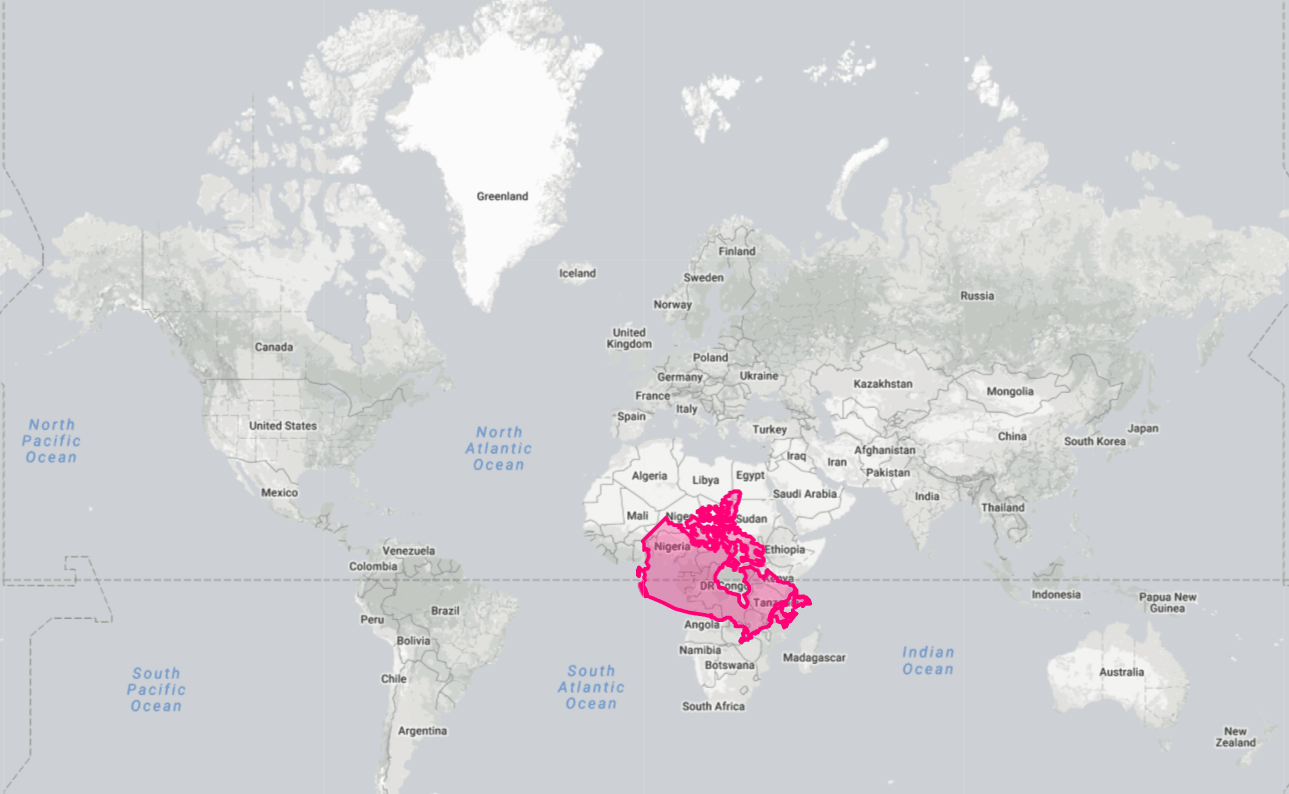 It also shows that Africa is really huge…
The True Size tool
If you want to play around with this a bit and find out how big each country really is (like I said, the further away a country is from the Equator, the bigger it looks on a map), you can use the interactive map on The True Size, a site that was created to educate people about this reality of cartography!
You write the name of the country on the left, and then you can move it around to see the size adjust to the true relative size it represents. It's pretty interesting!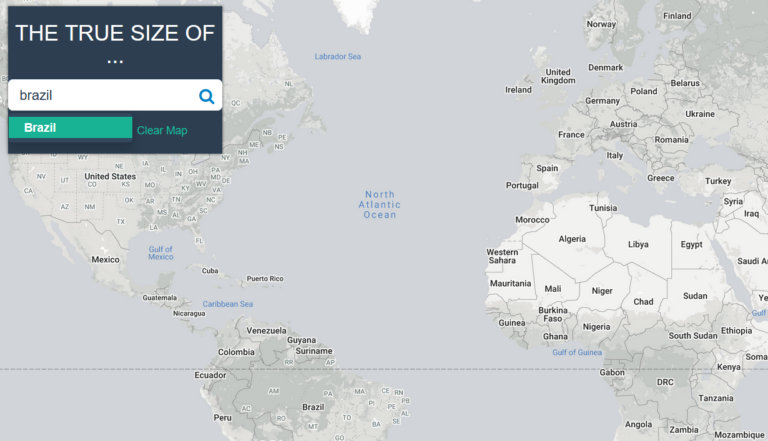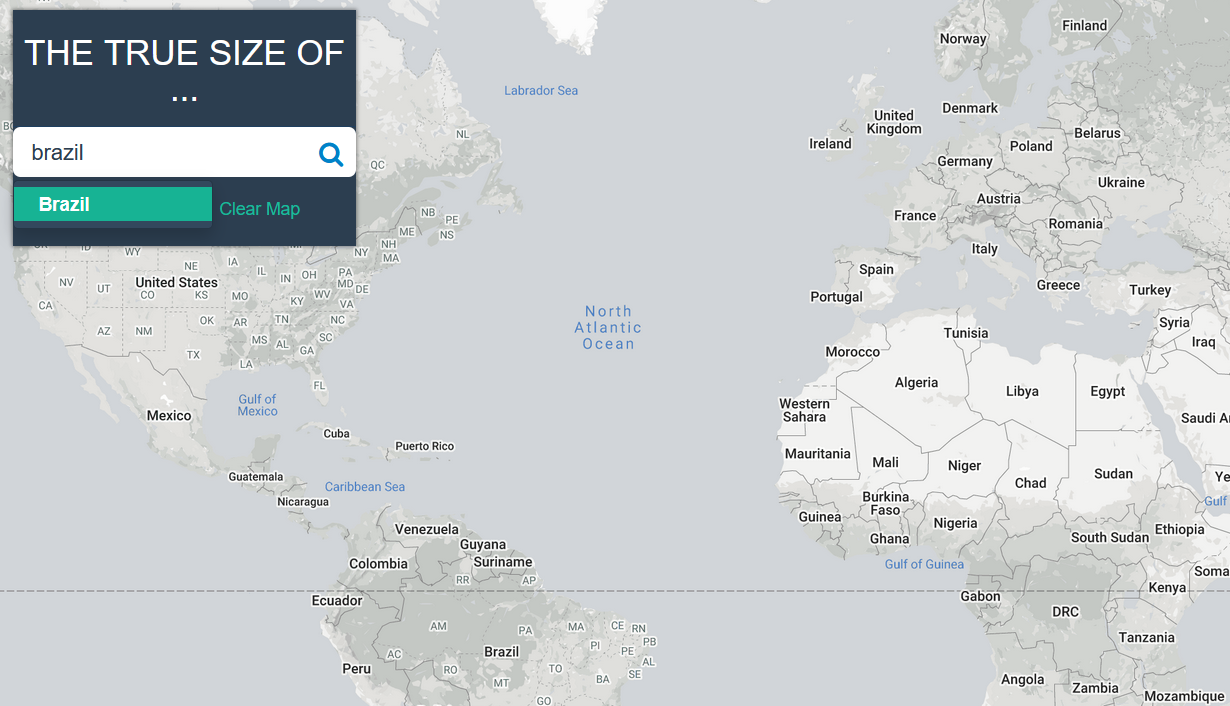 It especially makes you notice how much bigger the countries near the Equator are than you might think.
The African continent, for example, is really huge, much more than most people realize.
It's fascinating to see how many different places there are to explore in this enormous mass of 54 countries (a continent I loved to discover twice in the year before the pandemic).
In fact, at a travel rewards conference in Chicago, I met a really interesting American who used his credit card points to visit all 193 countries in the world, including every African country of course, an incredible feat in itself.
ALSO READ: Highest credit card offer ever seen in Canada
Animation to visualize the optical illusion
Finally, someone developed this little animated gif that shows you quickly and clearly that traditional maps are very misleading.
Here is the real size of all the countries (animation).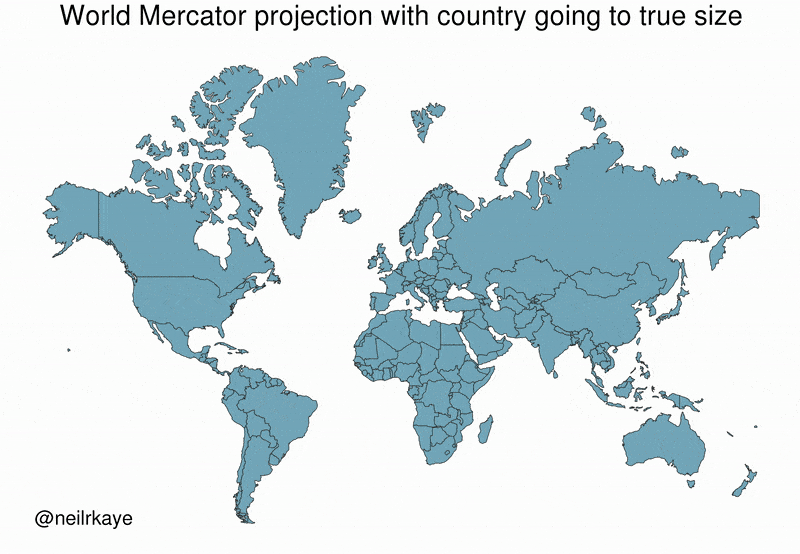 Quite striking to see how Canada shrinks in an animation like this (Greenland is pretty crazy too).
You can also see the comparison easily with this image of the two projections superimposed.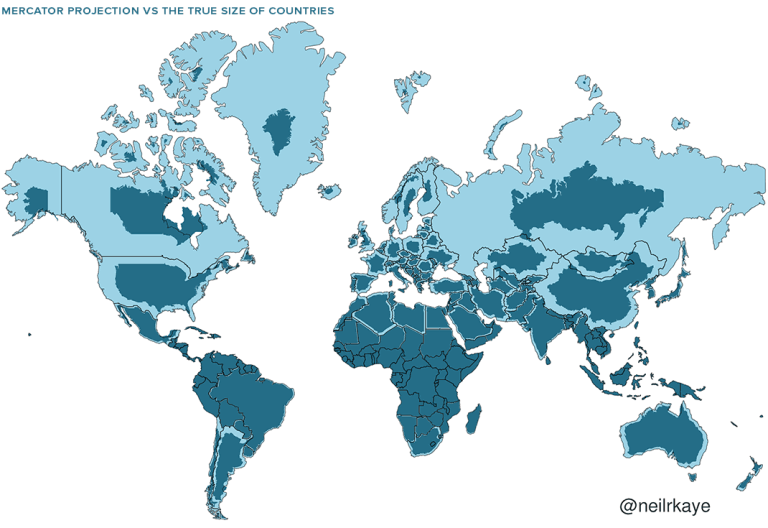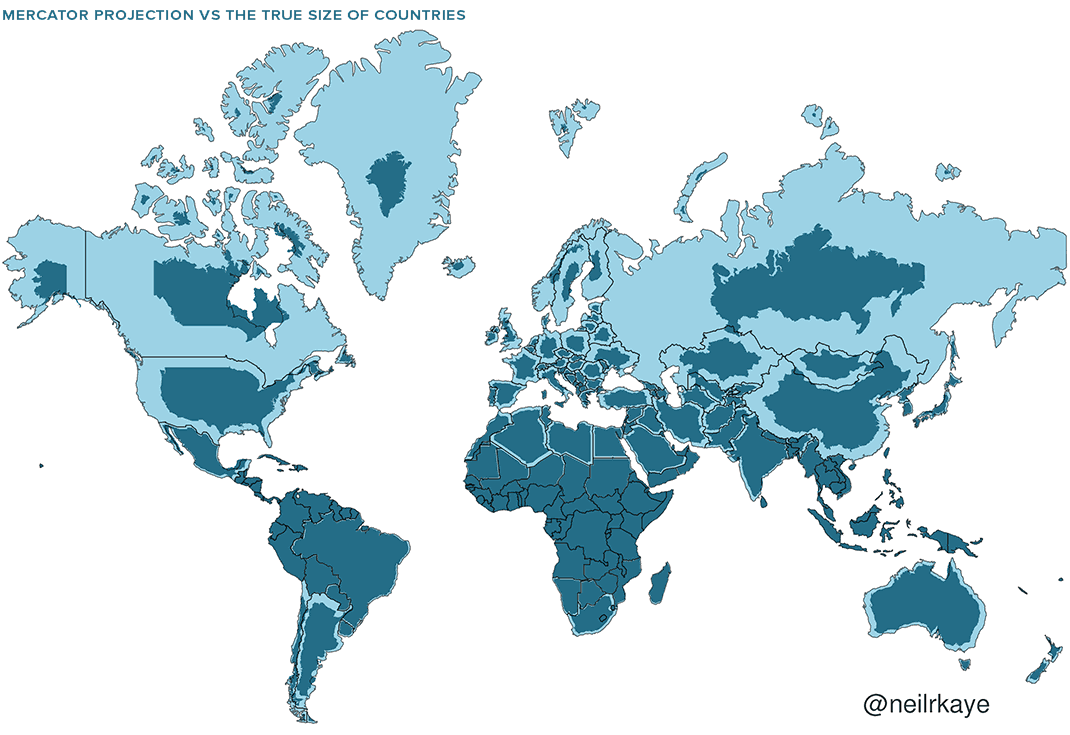 Want to get more content to learn about our world?
Summary
The real size of Greenland is much smaller than you probably thought.
What would you like to know about this destination? Tell us in the comments below.
See the deals we spot: Cheap flights
Explore awesome destinations: Travel inspiration
Learn pro tricks: Travel tips
Discover free travel: Travel rewards
Featured image: Greenland's fake size (photo credit: TheTrueSize)
Advertiser Disclosure: In the interest of transparency, Flytrippers may receive a commission on links featured in this post, at no cost to you. Thank you for using our links to support us for free, we appreciate it! You allow us to keep finding the best travel deals for free and to keep offering interesting content for free. Since we care deeply about our mission to help travelers and our reputation and credibility prevail over everything, we will NEVER recommend a product or service that we do not believe in or that we do not use ourselves, and we will never give any third-party any control whatsoever on our content. For more information on our advertiser disclosure, click here.
Share this post to help us help more people travel more for less: