UPDATE: New and improved offer (the highest ever in Canada for a non-premium card) and new option to transfer Cobalt Card points to Aeroplan. See details here, this article will be updated shortly.
Even if you aren't traveling right now, you should definitely be preparing your next trips by taking action now to earn rewards that will give you free trips. My own favorite card is a great way to do earn a lot: it is one of the best cards to do so for many Canadian travelers.
The American Express Cobalt Card was revolutionary and unique when it came out 3 years ago, with an earn rate of 5 points per dollar (and the flexibility of transferring points to Marriott to actually earn 6 points per dollar). It's a phenomenal earn rate. The best in Canada.
Like most other experts, we consider this card the best overall in Canada for travelers, even if we don't like the "best card" concept…
As a reminder, unlike what many travel rewards beginners usually think, there is no such thing as a "best card". What makes a card great is its welcome bonus, and those often change. And the "best card" is getting multiple cards: welcome bonuses are the key to getting thousands in free travel every year like I've been doing for over a decade.
You won't ever get that with just one card (and you're hurting your credit score by having just one card). Just with welcome bonuses, Flytrippers readers got over half a million dollars in travel rewards already! Don't miss out.
But yes, when looking at individual cards without the bonuses… the American Express Cobalt Card is pretty much the best.
This review explains why.
6 types of travelers who should get the Cobalt Card
First, even though it also has no minimum income requirement, the American Express Cobalt Card is not for everyone—unlike the Marriott Bonvoy American Express Card that every Canadian traveler should get.
I just did a great head-to-head comparison of the Marriott Bonvoy Card and the Cobalt Card to help you choose.
The American Express Cobalt Card is especially good for those who check ONE of these 6 main boxes.
Travelers who…
Can spend $500 per month on the card
Shop at grocery stores that accept Amex cards (many do)
Want more Marriott Bonvoy points for free hotels
Want the highest possible simple easy-to-use travel credit
Are just getting started in the world of travel rewards
Don't want to maximize their free travel by getting multiple cards
If you don't check at least one of those 6 boxes, you can take advantage of the Marriott Bonvoy American Express Card's increased welcome bonus of ≈ $474, consider the Choice Card from American Express (the Cobalt's basic version) that has a welcome bonus of ≈ $119… or check out our monthly ranking of the best credit card offers.
I'll explain why the card is great for each of those 6 types of travelers in greater detail throughout the card review, but I'll also summarize them at the end in case you want the simplified version to help you make a decision.
5 Reasons why the Cobalt Card is great
My American Express Cobalt Card is my favorite among all of my many cards.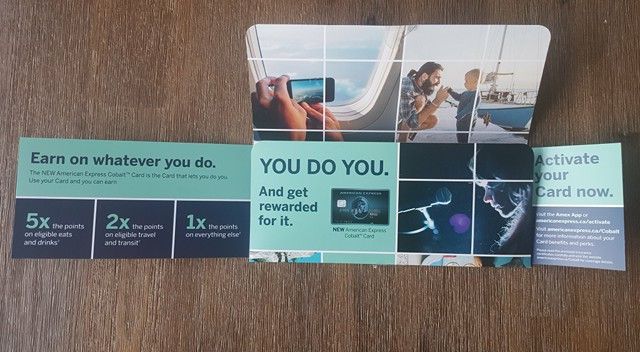 It's so good that even those in the US are jealous of us Canadians, and that NEVER happens in the world of travel rewards (sadly).
It's pretty easy to see why with these 5 reasons.
The card gives you:
The option to redeem as fixed-value points or variable-value points
The best earn rate on most purchases at 5X/6X
A great welcome bonus of ≈ $528

Free additional cards
Good insurance coverage
1. Flexibility of having many redemption options
Some want points to be flexible so that they are easy to use even if they are worth a little less (as a simple travel credit; fixed-value rewards), while others prefer being flexible and investing a bit more time to maximize points that can be worth exponentially more (as slightly more complex points; variable-value rewards).
The American Express Cobalt Card gives you the option to do both.
And most importantly, it's amazingly rewarding no matter the option you choose. Although of course, it's more potentially more rewarding if you use the points as variable-value rewards, as always.
In short…
If you want it to be simple, your points give you a travel credit that can be used for literally any travel expense of your choice. It's super flexible. The most flexible type of rewards out there.
If you want more potential value, your points give you discounts on specific flights and can be transferred to Marriott points for free hotels. If you choose the right hotels and plan trips around them, it can give you literally twice as much value as you'll see below.
You can mix and match any way you like too, it's really 100% flexible. Points never expire.
2. Best earn rate in Canada at 5X/6X
You'll earn 5 Amex Membership Rewards Select points per dollar on many purchases. For your info, 5 Amex points = 6 Marriott points.
Here is what 5 Amex points per dollar gives you:
5% back as a simple travel credit
≈ 5.4% (or even 10% if you maximize them) as Marriott points
The American Express Cobalt Card earns 5 points per dollar on food: groceries, restaurants, food delivery, coffee shops, bars, etc.
But it's not just on food. Pro tip: buy gift cards at your grocery store and you'll get 5X/6X on just about every purchase from major retailers, since most of them offer gift cards at the grocery store.
For example, at most grocery stores, you can also buy gift cards for gas stations, giving you 5X/6X on gas too! Clothing stores, hardware stores, Amazon, IKEA… it works almost everywhere.
Many grocery stores in Canada accept Amex cards, and 5X/6X is worth switching grocery stores for.
Needless to say, the 5% is simply phenomenal value.
Most get 1% or 2% back, now we're talking 5 times more on so many of your purchases with the American Express Cobalt Card. The exact same purchases, but 5 times more free travel.
You'll earn 2% on gas, transit, and travel expenses (or 2.4X Marriott points) directly, and 1% (or 1.2X Marriott points) everywhere else. Not recommended.
3. Great welcome bonus worth ≈ $528
Almost every card in Canada has a very simple bonus structure: spend X amount in the first 3, 4, or 6 months, and you unlock the welcome bonus.
The American Express Cobalt Card is unique: the welcome bonus is monthly. That's why it requires a lot more spending and why the card is not for everyone.
The welcome bonus is actually 12 separate parts:
Spend $500/month for the first 12 months
This is easier to attain than it looks. Remember to read our 4 best tips to reach card minimum spend requirements as we also share important mistakes to avoid.
The $500 per month is not that much (just $115 per week), especially if you switch for one of the many grocery stores that accept Amex cards in Canada. You can also skip any month and get the other ones, each month is really considered separately (so those with lower spending could concentrate all their expenses in the first 2 months of each 3-month period to reach two-thirds of the bonus instead of missing out by not much every month).
Here is our Flytrippers Valuation of the offer (the full math is below):
Welcome bonus is worth ≈ $528 (60,000 Amex points)
At our Flytrippers Valuation, your effective rate of return is ≈ 9% on the welcome bonus (value you get/amount you spend).
If you want the simple travel credits, it's worth a bit less.
But it's still very rewarding and the best in Canada:
Welcome bonus is worth $480 as a fixed-value travel credit
The $120 fee (billed $10/month) is obviously already deducted from that as always; it's the net value, the profit. I will come back to the irrational obsession that many have about avoiding annual fees in a second.
More concretely, the welcome bonus can give you:
If you don't want to plan around those hotels:
As for flights, it's especially valuable if you usually buy expensive flights.
(To be clear, Amex Select points are not the same points as those on the American Express Gold Rewards Card and The Platinum Card from American Express and they cannot be transferred to Aeroplan or Avios. They can however be transferred to Hilton, but that is not often a great redemption.)
For flights, you can get:
Enough for $900 off specific expensive flights
In short, the American Express Cobalt Card's bonus can be worth a lot more than our conservative estimate if you make choice to maximize value, especially with hotels.
Our Flytrippers Valuation of Amex Select points is ≈ 1.08¢ per point, but they have a minimum value of 1¢ and can be worth three times more too. That's the beauty of variable-value rewards with outsized value and unlimited value.
For those who are interested, here is the detail of our Flytrippers Valuation.
The welcome bonus will give you 60,000 Amex points (72,000 Marriott points):
Get 2,500 points every month if you spend $500 (for the first 12 months)
That will give you 2,500 points per month with the 5X earn rate on that $500/month
Just as a reminder… it's a great example of why it makes no sense to avoid cards with annual fees just for the sake of avoiding fees. Annual fees alone are irrelevant: it's the total net value that matters, always. A $120 card that gives you $648 is obviously better than a $0 card that gives you $0… if you know how to do the math.
(Look… it's a good reflex to avoid fees normally. But with travel rewards, it just doesn't make sense—the world of travel rewards is a very counter-intuitive one.)
4. Free additional cards
The American Express Cobalt Card also gives you free additional cards (sometimes called supplementary cards). In other words, you can get cards for others in your household so that you can all use them separately to reach the minimum spend requirement for the welcome bonus—and earn more points all the time too. You can get 9 free cards.
Usually, the key to earning more free travel in two-player mode (the travel rewards hobby for couples) is to each get the same card to double up the rewards from the welcome bonuses. It's logical: if you're using points for two, you need to earn points for two.
But since the Cobalt Card Card's welcome bonus is unique and requires more spending, unless you can easily spend $1,000 per month, it's best to get just one now and another next year (and we have a pro tip for that second card, sign up below if you want to get it).
5. Good insurance coverage
Apart from the free travel you earn, the best reason to get into the travel credit cards hobby is to get free insurance coverage, as you might already know. It makes no sense not to be covered since you can get it for free!
The American Express Cobalt Card includes:
Where Amex cards are accepted
As I mentioned earlier, in terms of grocery stores… while not all grocery stores accept Amex cards, many do.
Yes, it's true: American Express cards are a little bit less widely accepted than Visa and Mastercard. But only very slightly, and it's really not as true as most people think, or as it once was—even Walmart, Tim Hortons, and Dollarama now accept them!
In 2018 alone, there were 96,000 locations in Canada that started accepting Amex. There are hundreds of thousands of businesses where you can pay with Amex.
I haven't updated this figure yet, but during the first half of 2019, over 80% of my own personal expenses (outside of unlocking my many new welcome bonuses) were on one of my 4 Amex cards. Over 80% of expenses is pretty good.
Even if you can't use it for 100% of your expenses, it would be crazy to deprive yourself of the amazing benefits just because of that.
Anyway, with the earn rates, you should use the American Express Cobalt Card pretty much for food only and get a better credit card for your other purchases.
Deciding if the Cobalt Card is right for you
Hopefully, all the information in this American Express Cobalt Card review was useful to make a decision. In all cases, I'll recap by circling back to the 6 types of travelers as promised.
Here's why the American Express Cobalt Card is right for you based on your situation.
1. Travelers who can easily spend $500 per month on the card
If you can spend $500 every month to unlock the unique yearlong welcome bonus, it's a great card. If you don't spend a lot more than that though, just keep in mind the opportunity cost of no longer being able to reach the minimum spend requirements for other cards (an opportunity cost is the loss arising from a certain decision).
For example, the Marriott Bonvoy American Express Card gives you potentially over $600 in free hotels if you spend $3,000 in 3 months, and all year long other cards have great offers in that range. If you're stuck with just getting one welcome bonus for the entire year, that's a very slow travel rewards earning rate overall, so do the math for your own spending levels.
Short version: the American Express Cobalt Card's welcome bonus is great for just one card, but getting 4 welcome bonuses that are worse is still better than just one, even this excellent one.
2. Travelers who shop at grocery stores that accept Amex cards
See previous section about Amex acceptance. If you absolutely do not want to (or can't) change your grocery store and yours doesn't accept Amex, it's a lot less lucrative. It's still pretty good, but not a no-brainer like with the 5X on groceries.
You could still try to maximize the American Express Cobalt Card with restaurants and with an occasional visit to a different grocery store to load up on various gift cards.
3. Travelers who want more Marriott Bonvoy points for free hotels
If you got the Marriott Bonvoy American Express Card and are now addicted to free hotels, the American Express Cobalt Card is by far your best option to earn a lot more.
Alternatively, if you any type of side income, you can also consider the Marriott Bonvoy Business American Express Card, which offers a 60,000 point welcome bonus (10 free nights) by spending $5,000 in 3 months. And the best thing is you'll get a second amazing annual free night certificate with that card.
4. Travelers who want the highest possible simple easy-to-use travel credit
As I mentioned, even if you can't maximize the welcome bonus and don't want hotel points… earning 5% back as a travel credit with the American Express Cobalt Card for so much of your purchases is an amazing deal in and of itself.
5. Travelers who are just getting started in the world of travel rewards
This is related to the opportunity cost mentioned in point #1 just above. It's more lucrative to use your spending to unlock many welcome bonuses, since that's how to earn lots of rewards quickly. But if you're just getting started in the world of travel rewards, you need to go a little slower at first and maybe only apply for 3-4 new cards the first year, depending on how high your credit score is.
Having multiple cards is better for your credit score, contrary to the very widespread (and very wrong) myth. But when starting, you often don't have many credit accounts that have been open for a long time, affecting your all-important "age of accounts" component in your credit score.
The short version is that you should keep your old card (or cards) open (ALWAYS) and get the American Express Cobalt Card now. So while the Cobalt becomes an older account over time (by being open for a longer time), you'll be earning the maximum amount you can. As opposed to if you get a regular less lucrative welcome bonus and have to wait a few months before getting more cards, you'll be stuck only earning the regular 1% or 2% earn rate.
And if you read all this, hopefully you now know how terrible 1% or 2% is, and you should avoid it.
6. Travelers who don't want to maximize their free travel by getting multiple cards
Essentially the exact same reasoning as that previous one. If you're going to deprive yourself of hundreds or thousands of dollars in free travel by not getting multiple cards, then at least get the card with the best earn rate.
The earn rate is absolutely less important and less lucrative than welcome bonuses. There's absolutely no debate. But if you're not going to get welcome bonuses, then and only then the earn rate is vital. And the American Express Cobalt Card has the best earn rate.
Want to be the first to get our free travel rewards course and all our content?
Summary
The American Express Cobalt Card is one of the best in Canada, if not the best. If you want to maximize your free travel, chances are it's a great card for you. With the redemption flexibility, the amazing earn rate, the great welcome bonus, the free additional cards, and the good insurance coverage, it's no surprise that we at Flytrippers love it.
Have any questions on the Cobalt Card? Ask me in the comments below.
Explore awesome destinations: travel inspiration
Learn pro tricks: travel tips
Discover free travel: travel rewards
Featured image: Bali landscape (photo credit: Andrey Bond)

Advertiser Disclosure: In the interest of transparency, Flytrippers may receive a commission on links featured in this post, at no cost to you. Thank you for using our links to support us for free, we appreciate it! You allow us to keep finding the best travel deals for free and to keep offering interesting content for free. Since we care deeply about our mission to help travelers and our reputation and credibility prevail over everything, we will NEVER recommend a product or service that we do not believe in or that we do not use ourselves, and we will never give any third-party any control whatsoever on our content. For more information on our advertiser disclosure, click here.
The views and opinions expressed in this blog are purely our own. Redemption values evoked are also Flytrippers' own and solely based on our own points valuation estimates as described. All offers described on the Flytrippers website are subject to the financial institutions' latest terms and conditions that can be found on their website.
Offers from financial institutions change quickly; it is your responsibility to ensure the accuracy of these offers on their website when applying for a card. Flytrippers will not accept any responsibility for the accuracy of the offers or the result of your actions.
American Express is not responsible for maintaining or monitoring the accuracy of information on this website. For full details and current product information click on the provided links to proceed to product website. All the information was independently collected by Flytrippers and not provided by financial institutions.
Flytrippers' website does not contain all available credit card offers or all available credit card companies on the market. Flytrippers never shares an offer if it is not considered advantageous for certain travelers, at its sole discretion.
No author on Flytrippers' website is a financial advisor, a financial planner, a legal professional, or a tax professional and no author on Flytrippers' website can in any way be considered as such.
All articles and pages on Flytrippers' website are merely personal opinions of a general nature and are for informational purposes only and should not be considered as advice for specific situations. It is your responsibility to perform your own personal research to make sure that travel rewards points are appropriate for your own situation.
The opinions expressed on Flytrippers' website are those of the authors only and have not been provided, approved, endorsed, or ratified by any third party mentioned on the site.
You can learn more about our terms of use here.
Share this post to help us help more people travel more for less: