Earning travel rewards allows you to travel more for less. Earning 5X the points makes it go way faster. And you can do this at over 100 retailers with the simple trick of buying gift cards at the grocery store. Here's the list of retailers — and the explanations.
Of course, welcome bonuses worth hundreds of dollars are how you earn the most travel rewards.
But it can't hurt to also get 5X the points on lots of spending for all the times you're not unlocking welcome bonuses.
Basics of the gift card trick
Here's a simple summary:
Grocery stores sell many gift cards with no fees
So you can get 5X the points at lots of other places for free
Step by step:
You buy a gift card at the grocery store with your credit card
You get 5X the points if you have the right cards below
You then use the gift card at the 100+ retailers below
So you get 5X the points indirectly even if it's not a grocery store
Pretty simple, right?
It pays to know the pro tricks in the world of travel rewards.
Here are the cards that earn the most at the grocery store:
And for Amex cards specifically, which are not as widely accepted but have the best welcome bonuses, there are many grocery stores that accept Amex cards in Canada.
You can find a lot of gift cards there.
Some convenience stores code as groceries too if you don't pay at the pump (Circle K, Mac's, Couche-Tard, etc.) and they have gift cards too.
To give you just one example, I had a $700 purchase to make at Canadian Tire. Why would I take my credit card directly to Canadian Tire and earn just 1 point per dollar since it's not a grocery store?
I took my card with a promo offering 10X the points on groceries, I bought $700 in Canadian Tire gift cards at Couche-Tard, and then paid with the gift cards at Canadian Tire. This gave me 7,000 points (literally a free flight to Vancouver) instead of just 700 points.
Exact same purchase: 10X more points, 10X more free travel.
Even without that 10X promo, the American Express Cobalt Card's regular 5X the points rate is amazing and gives you 5 times more rewards so easily.
One warning: By paying with a gift card or prepaid credit card, you won't be covered by the purchase protections (for theft, loss, damage, etc.) and extended warranties that come free with almost all good credit cards. So only use this tip for purchases where you don't want to have these protections (that's still a lot of purchases).
Gift cards vs. prepaid credit cards
Gift cards are free, but note that you can also buy $500 Mastercard prepaid credit cards at some locations and some of them only have a $5.95 fee.
That's only a 1.2% fee, far less than what you earn in rewards with 5X the points. It's important to know how to do the math in the world of travel rewards!
That gets you a net of ≈ 6.3% back everywhere with the American Express Cobalt Card, including at Costco for example (because you won't find no-fee Costco gift cards at the grocery store… and Costco only accepts Mastercards).
Even with the more common prepaid cards with a $7.95 fee, that's still just a 1.6% fee!
The same insurance warning applies, but I would also recommend keeping your empty prepaid cards in case you would have to do a return for a refund (sometimes the original card is required).
List of retailers that can indirectly count as a grocery store
Some gift cards are available at just one of the retailers, some are available everywhere, some are not always in stock everywhere either… but this gives you a good idea of the possibilities, at least based on my own findings here in Québec (I would assume the selection is similar Canada-wide).
General retailers
Walmart
Hudson's Bay
Amazon
Ebay
Hardware & home
Ikea
Canadian Tire
The Home Depot
Wayfair
HomeSense
Travel
Uber
Disney
Various packages
Sports
SportChek/Sports Experts
Atmosphere
Decathlon
Golf Town
Bass Pro Shops
Cabela's
Entertainment
Apple
Best Buy
ToysRus
Indigo
Cineplex Cinemas
Guzzo Cinemas
Ticketmaster
Netflix
Spotify
SiriusXM
Archambault
Renaud-Bray
Clothing
H&M
Winners
Marshalls
Reitmans
RW&CO
Penningtons
Lululemon
American Eagle Outfitters
GAP
Old Navy
Banana Republic
Saks Off 5th
Ardene
La Vie en Rose
Beauty
Sephora
Bath & Body Works
Telecommunications
Bell
Rogers
Telus
Fido
Virgin Mobile
Koodo
Chatr Mobile
Freedom Mobile
Lucky Mobile
Public Mobile
Various calling cards
Games
EB Games
App Store / iTunes
Google Play
Kobo
Xbox
Steam
PlayStation Store
Nintendo eShop
Fortnite
League of Legends
World of Warcraft
Blizzard
Roblox
KarmaKoin
Valorant
Food & Gas
Petro-Canada
Esso / Mobil
Irving
Ultramar
Metro
Super C
SAQ
DavidsTea
Couche-Tard
Restaurants
Uber Eats (Uber card)
Door Dash
McDonald's
Tim Hortons
Subway
Starbucks
Dairy Queen
Burger King
Harvey's
Pizza Hut
KFC
Taco Bell
The Keg
Swiss Chalet
Scores
Pizza Delight
Kelsey's
Montana's
Milestones
East Side Marios
BierMarkt
The Landing
Fionns
Vinnie Gambini
St-Hubert
Cora
La Cage
La Belle & La Bœuf
Nickels
Scores
Mike's
Baton Rouge
Ben & Florentine
Première Moisson
Microbreweries (Packages)
Images of the gift card displays
This is a typical convenience store gift card display (Couche-Tard in Québec).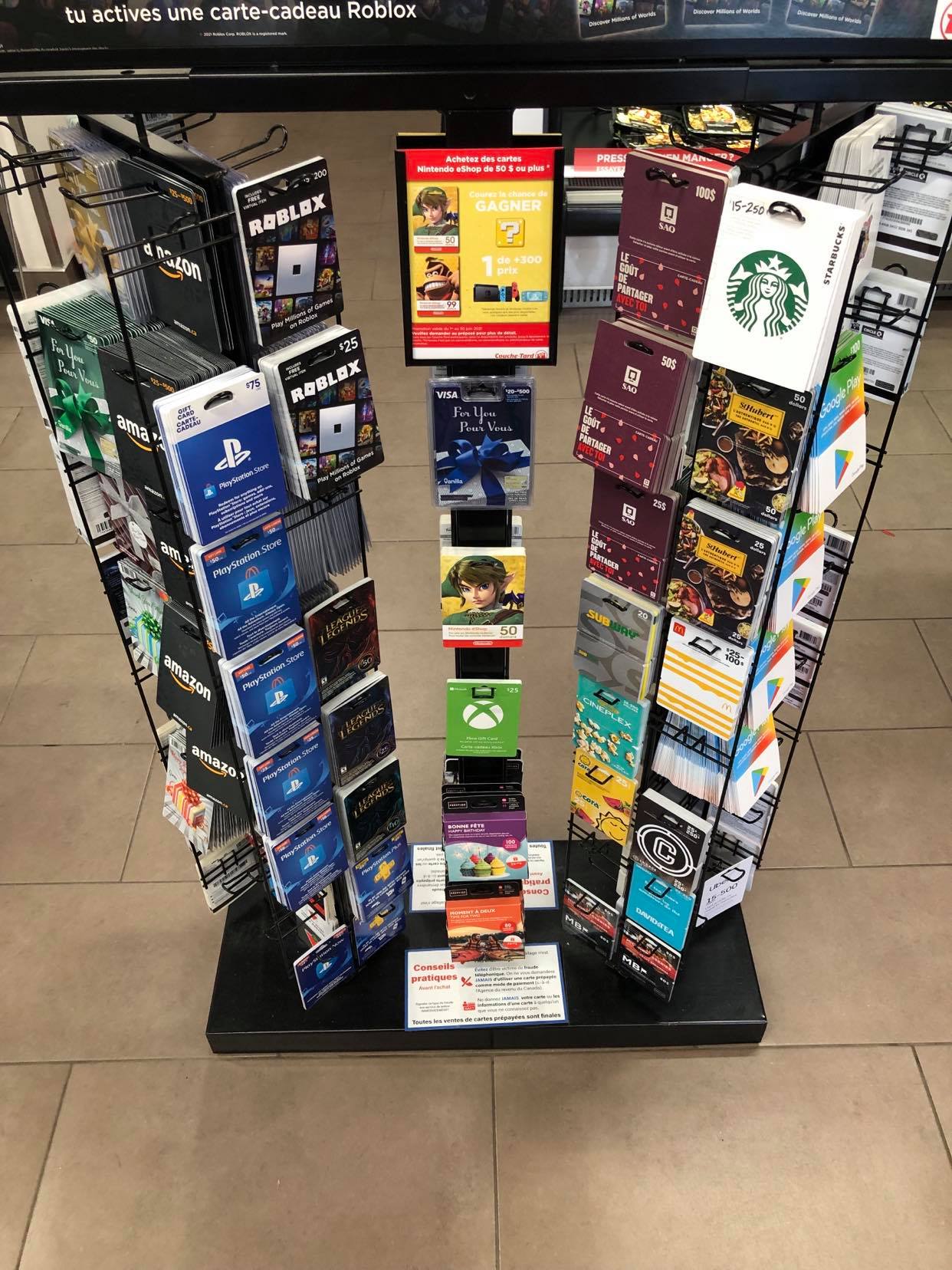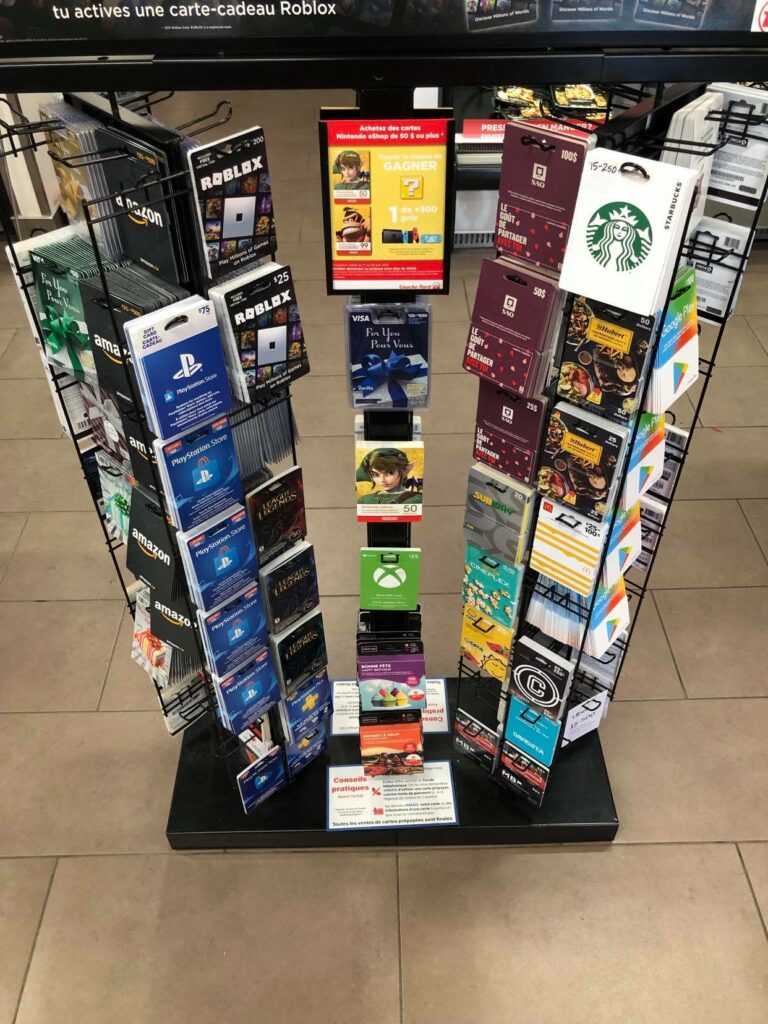 This is a typical Giant Tiger gift card display.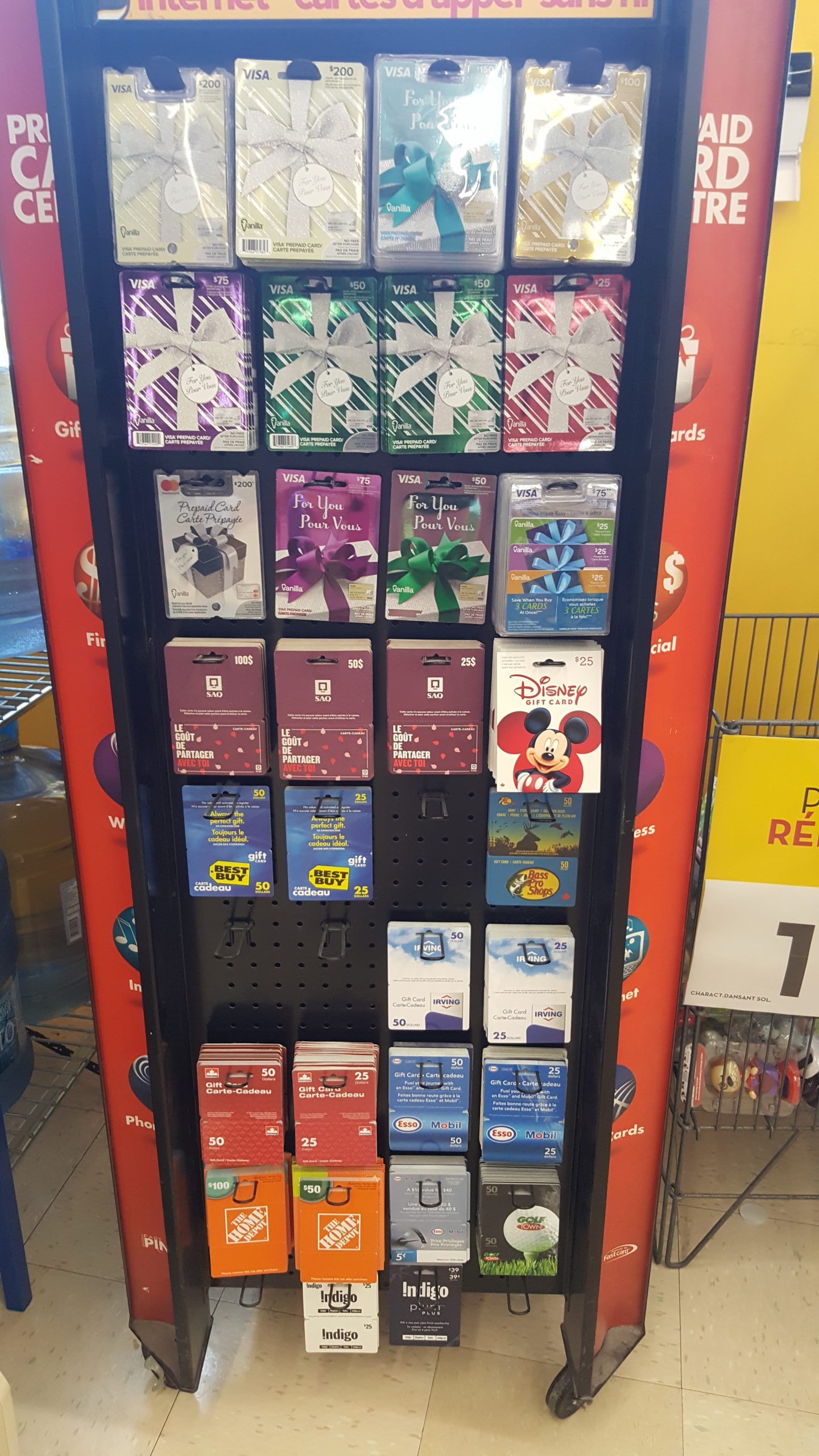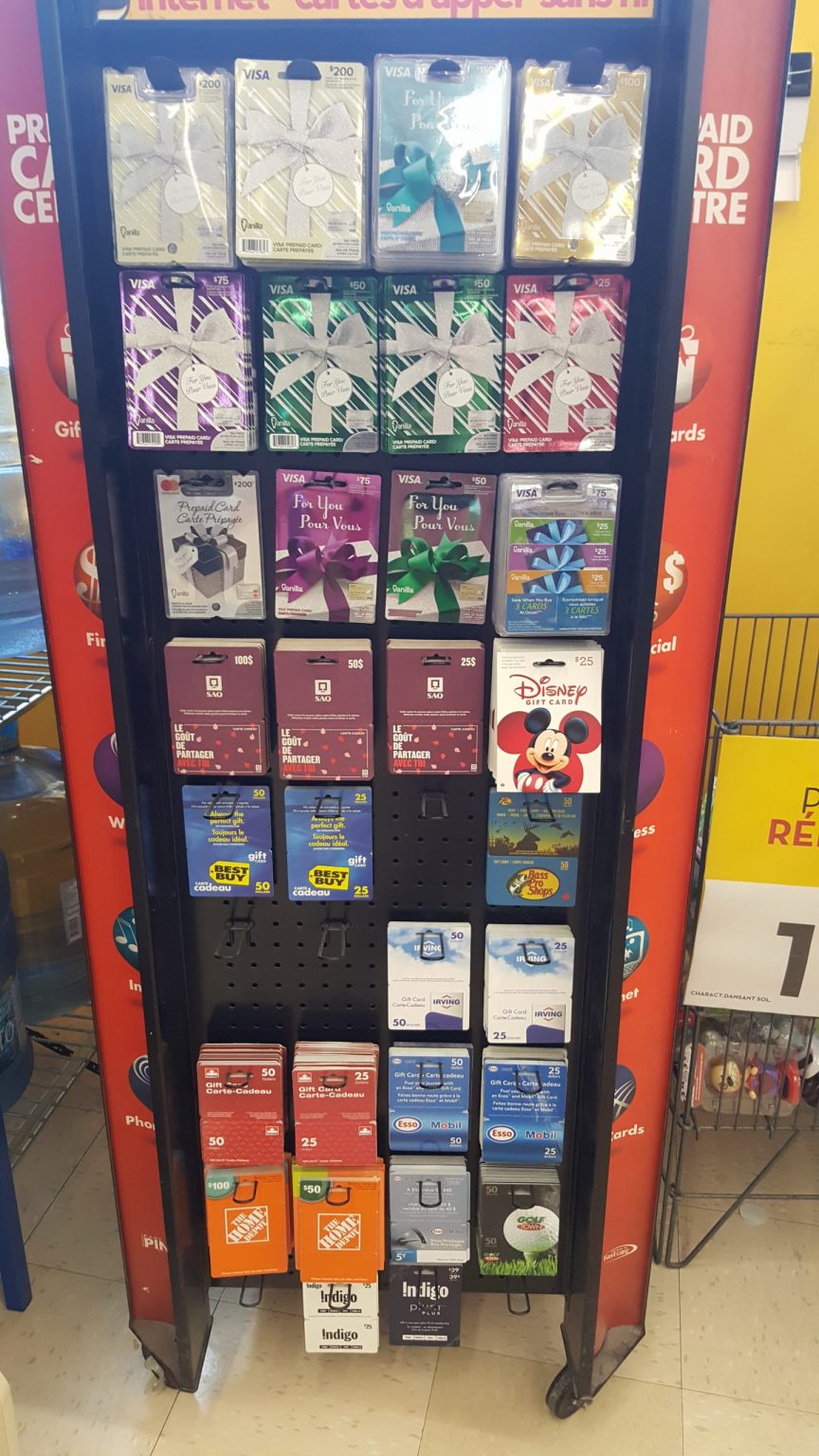 This is a typical grocery store gift card display (Super C or Metro in Québec; many use the same displays).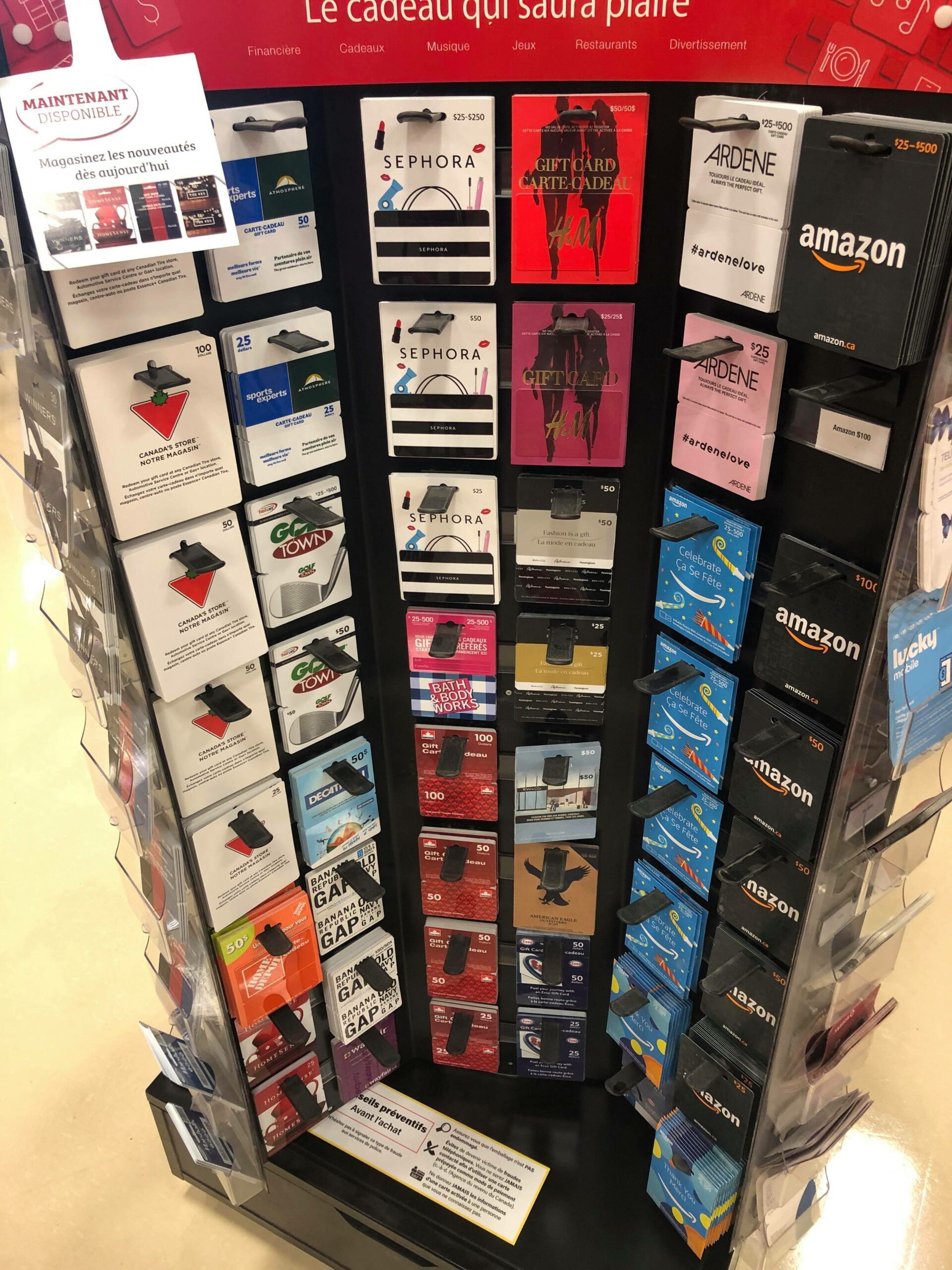 Want to get more content to learn how to earn more free travel?
Summary
Gift cards purchased at the grocery store will get you the phenomenal 5X the points earn rate at 100+ retailers instead of just at the grocery store. This is a great pro tip for those who have the American Express Cobalt Card or Scotiabank Gold American Express Card that both earn 5X the points.
What do you want to know about this tip? Tell us in the comments below.
See the deals we spot: Cheap flights
Explore awesome destinations: Travel inspiration
Learn pro tricks: Travel tips
Discover free travel: Travel rewards
Featured image: Gift card display at Super C (photo credit: Andrew, Flytrippers co-founder)

Advertiser Disclosure: In the interest of transparency, Flytrippers may receive a commission on links featured in this post, at no cost to you. Thank you for using our links to support us for free, we appreciate it! You allow us to keep finding the best travel deals for free and to keep offering interesting content for free. Since we care deeply about our mission to help travelers and our reputation and credibility prevail over everything, we will NEVER recommend a product or service that we do not believe in or that we do not use ourselves, and we will never give any third-party any control whatsoever on our content. For more information on our advertiser disclosure, click here.
Share this post to help us help more people travel more for less: