I've been in Vancouver since Friday night for my first-ever visit to the lovely West Coast city. So by popular demand, I'm already going to at least share all the background, booking, planning, and logistics of the trip (instead of including it all in the full trip overview coming later).
You can follow me on Instagram to see some images and videos in my stories more quickly, but to be clear: I'm not going to talk about the actual destination here right away.
It's just going to be the details of my trip, as many are asking us to share more logistical content about our own travels and also our personal travel tips.
If you aren't amongst those who are interested in the logistics… by all means, skip this post and wait for the more inspirational ones to come (and check out all our other destination content in the meantime).
Background of my trip to Vancouver
Even though Vancouver was the city in Canada I was most looking forward to discovering, it's pretty well documented that I don't particularly like to travel within Canada (at least not for more than a few days).
Not because Canada isn't beautiful (of course it is), but just because first of all it's way too expensive, and secondly, by definition, it's guaranteed to be less of a culture shock than literally any other country.
For me personally, the time available to travel is just too limited to spend it here (but even Flytrippers's other co-founder Kevin, a digital nomad who travels full-time, prioritizes affordable countries and that's precisely how he can travel full-time; makes sense, right?).
And even a pandemic is not enough to convince me to travel within Canada, unlike many. I found my many trips to Europe and Asia since August 2020 very enjoyable despite the pandemic… and certainly better than staying within my province, at least according to my own tastes😛!
But no, after 60+ countries visited, I had never visited Vancouver even once.
I also hadn't traveled since returning from Uzbekistan in late May, which is an eternity for me (I had been on 12 international trips in 2019 to give you a comparison).
But last Saturday there was a travel rewards event at the JW Marriott Parq Vancouver, actually the very first travel rewards in-person event since the pandemic!!!
There are few topics I enjoy more than earning free travel with points, so it was decided: I would go to Vancouver.
(By the way, we'll help you join the Flytrippers readers who have now earned over $1 million in travel rewards with welcome bonuses: Attend our next free webinar on the subject, spots are limited.)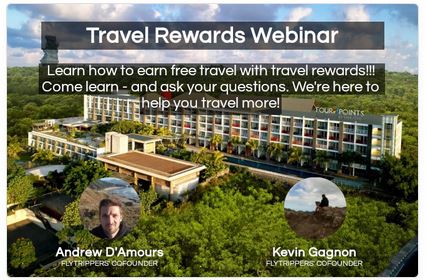 Plus, some of Flytrippers' major advertising partners are based in Vancouver so it gave me a great excuse to get to meet them in person for the first time while I was here.
So for the logistical portion, let's say that this is even more of a business trip than our usual trips (where we work during the trip but just because we work from everywhere), so very different from how I usually decide to travel and how I book and everything.
That being said, I actually attend several events about travel rewards or travel in general every year and find that it's a great way to experience urban destinations by staying in the city longer (which I almost always do).
Tip for those who have a job that might give them an excuse to attend conferences: Take advantage of it, volunteer, express your interest. Many employers will gladly cover the expenses for a conference where you can network or upgrade your skills. Then you extend the trip at your own expense, at least the airfare will already be paid for. That's what "bleisure travel" is, a trend that has been on the rise for the past few years (a contraction of "business travel" and "leisure travel", since it's a combination of the two).
Booking accommodation for my trip to Vancouver
I decided to stay only 5 nights since the cost of traveling in Vancouver is just so disgusting for a budget traveler like me. Especially when traveling solo.
I'd rather save my money to maybe do a trip to Southeast Asia soon in addition to my trip to the Middle East already planned for November.
I found a hostel for $47 a night (the Cambie Hostel Gastown), which is literally 50% more expensive than the TOTAL daily cost of my trips to affordable countries ($30 total per day) just for a bed.
Yes, 50% more expensive just for lodging compared to the cost of all expenses… we can't say it often enough: If you want to travel for less, choose cheaper countries!
There was actually another cheaper hostel at $37 (HI Vancouver Jericho Beach) that would be perfect if you want to go enjoy the beach for a few days and just relax.
The problem is that this hostel is farther from downtown (≈ 30 minutes by bus) but it would be perfect for a change of scenery, just to get away for a few days for cheap. It's in a neighborhood near a beach, a park, and a university (UBC).
You could combine this with the ≈ $105 roundtrip flights we spot to Vancouver that are now extremely common from most Canadian cities.
It could be something like my 5-day long weekends for $385 total in Miami (detailed post about those to come soon):
Transportation to your airport: $20 roundtrip
Flights to Vancouver: $105 roundtrip
Transportation to Vancouver airport: $15 roundtrip
Accommodation: $160 ($40 x 4 nights)
Food and activities: $0 (you would have paid for that at home anyway)
TOTAL: $300 for 5 days/4 nights in Vancouver
Anyway, probably not as appealing as Miami for most people (can't blame you), but it's a different vibe.
And it's always good to have more options. Long live ultra low-cost carriers (ULCCs)! I already feel like coming back to Vancouver to do this and at the same time add another ULCC to the 15 I've tested all over the world.
Well, this time I wanted to be downtown though, so I took the option in the lively and historic Gastown neighborhood for a few days. It was very nice.
I booked it on Hotels.com to get 10% back with Hotels.com Rewards, the easiest hotel rewards program for all travelers.
I do this for all my hotels that are not part of a hotel chain, as long as the price on Hotels.com is the same (or at most 10% higher) as it is on Booking.com (or Hostelworld in the case of hostels).
You always have to compare everything in the travel world of course.
I paid with my Scotiabank Gold Card to unlock my welcome bonus (I took advantage of the current $350 bonus that is completely free) and because Scotia Scene+ points are flexible and can be applied to any travel expense.
I will be able to "erase" the hostel expense of $163 for the 3 nights with my Scotia points.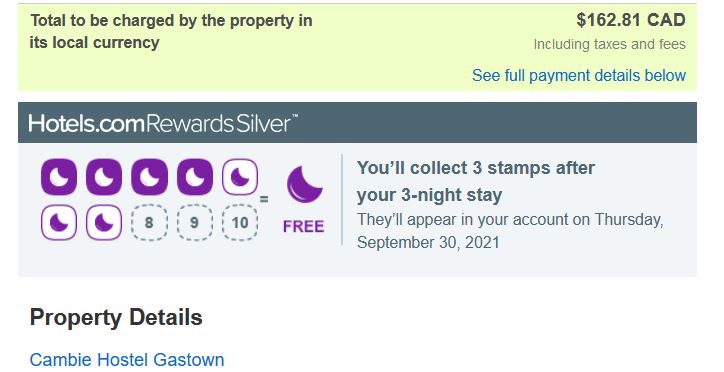 And finally, I am completing my trip with 2 nights at the beautiful Delta Vancouver Downtown Suites.
A detailed review will follow if you want an option in Vancouver that is a lot more luxurious than a hostel.
I usually keep my luxurious Marriott stays for affordable countries (and usually pay with points), but they kindly invited me so I could share my experience at the hotel with all of you.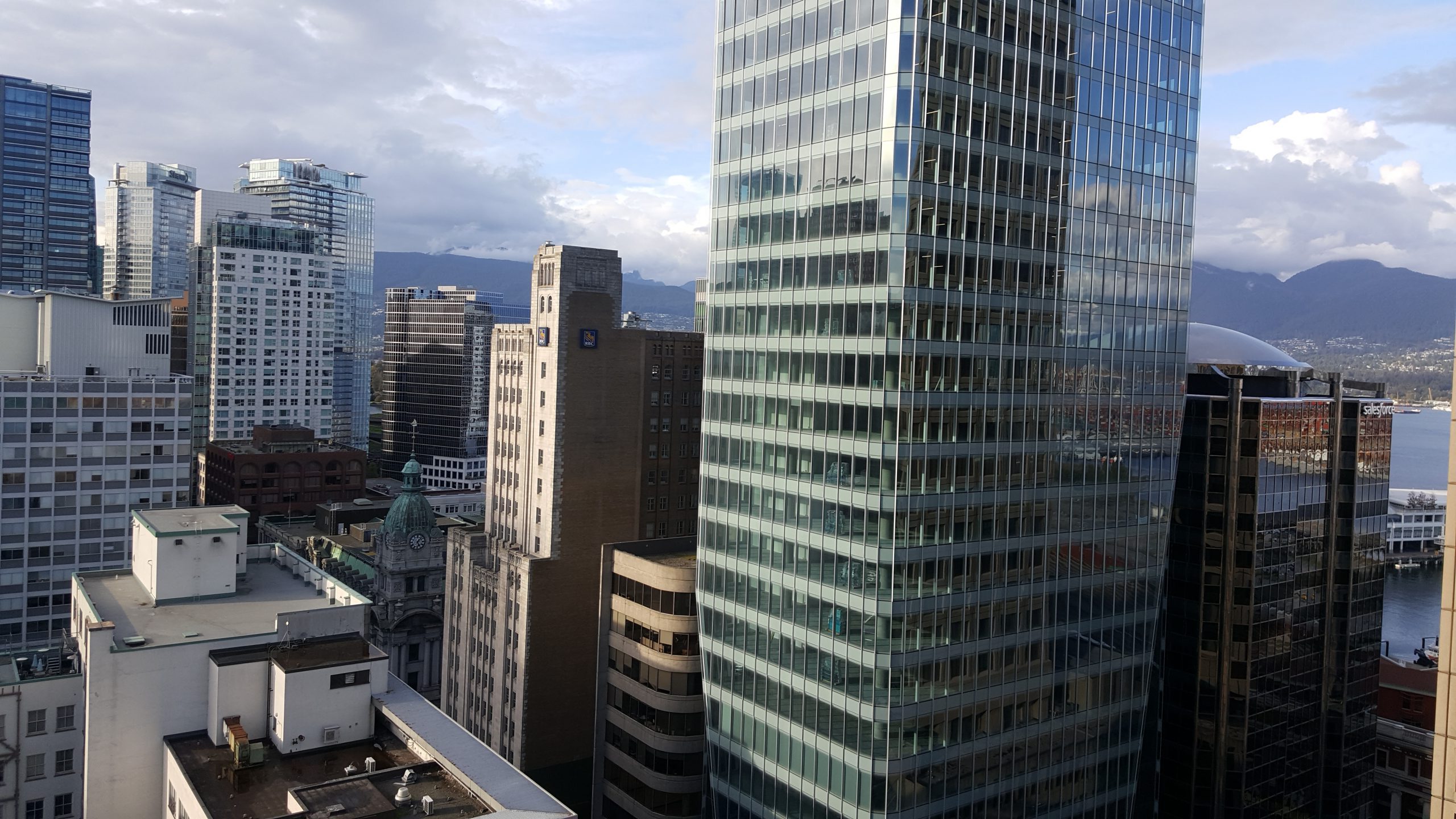 This is a hotel that is part of the Marriott Bonvoy program, which is by far the most lucrative hotel rewards program for Canadian travelers.
The Marriott Bonvoy American Express Card currently has a welcome bonus of ≈ $357 (giving you up to 8 free nights in awesome places like Bali, South Africa, or Spain).
Marriott Bonvoy® American Express®* Card

Flytrippers Valuation
of Welcome Bonus alone

≈ $

minimum income required: $0

spend $1,500
in 3 months

Terms and conditions apply. Flytrippers editorial opinion only. Amex is not responsible for maintaining the content on this site. Please click "Apply Now" to see most up-to-date information.
Marriott Bonvoy® American Express®* Card

Flytrippers Valuation
of Welcome Bonus alone

≈ $

minimum income
required: $0

spend $1,500
in 3 months

Terms and conditions apply. Flytrippers editorial opinion only. Amex is not responsible for maintaining the content on this site. Please click "Apply Now" to see most up-to-date information.
Booking flights for my trip to Vancouver
In my case, I did not take a $105 roundtrip ULCC flight because THE only thing to understand to be a pro at finding cheap flights is that you have to be FLEXIBLE:
Either be flexible on the destination (there are cheap flights for almost every date)
Or be flexible on the date (there are cheap flights for almost all destinations)
It is not more complicated than that (being flexible can be complicated, but the principle of how it works is extremely simple).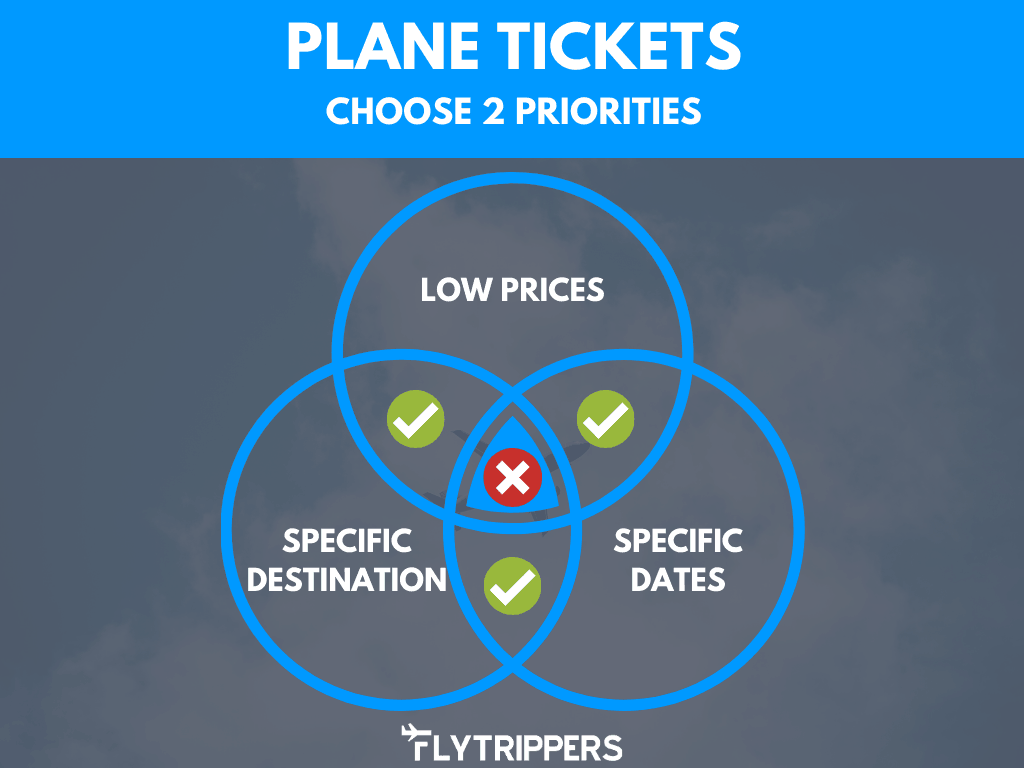 (Here are our related tips on how to be ready to take advantage of deals, it's important.)
So for me… to go to an event at a specific destination on a specific date = no flexibility.
But by being quick to book (last-minute flights are almost always more expensive, contrary to the widespread but very false myth), I still found a great deal.
Only 13,900 Aeroplan points for the Montreal-Vancouver roundtrip on Air Canada.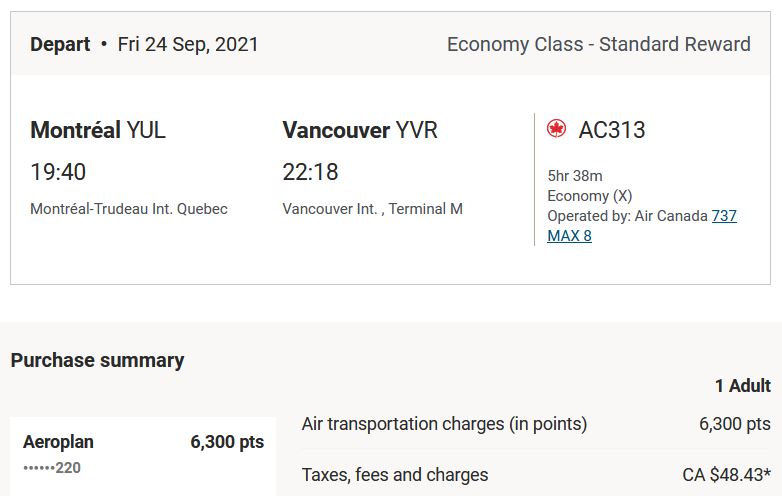 That's amazing!
For those who don't know, there are currently record-high offers on many Aeroplan cards! Offers that give you up to 87,500 points (so 6 roundtrips to Vancouver with just a welcome bonus, just crazy!).
Best credit cards for Aeroplan points

WELCOME BONUS
( VALUATION)
Aeroplan
points

Bonus: spend $500/mo for 12 mos.

60,000 pts
+ 5X the points

Bonus: spend $3k in 3 mos.

44,500 pts
+ 4 lounge passes

Bonus: spend $6k in 3 mos.

66,000 pts
+ unlimited lounges

Bonus: spend $1.5k in 3 mos.

29,000 pts
+ a free bag

Bonus: spend $3k in 3 mos.

43,750 pts
+ Air Canada

Terms and conditions apply. Flytrippers editorial opinion only. Financial institutions are not responsible for maintaining the content on this site. Please click "See More" to see most up-to-date information.
Best credit cards for Aeroplan points

American Express Cobalt® Card

Card:

Bonus: spend $500/mo for 12 mos.

WELCOME BONUS

≈

Welcome bonus: $900

Card Fee: $156

Aeroplan points: 60,000 pts + 5X the points
highest-ever bonus
American Express® Gold Rewards Card

Card:

Bonus: spend $3k in 3 mos.

WELCOME BONUS

≈

Welcome bonus: $768

Card Fee: $250

Aeroplan points: 44,500 pts + 4 lounge passes
and $100 travel credit
Platinum Card® from American Express

Card:

Bonus: spend $6k in 3 mos.

WELCOME BONUS

≈

Welcome bonus: $1190

Card Fee: $699

Aeroplan points: 66,000 pts + unlimited lounges
and $200 travel credit
American Express® Aeroplan®* Card

Card:

Bonus: spend $1.5k in 3 mos.

WELCOME BONUS

≈

Welcome bonus: $436

Card Fee: $120

Aeroplan points: 29,000 pts + a free bag
on Air Canada
American Express® Aeroplan®* Reserve Card

Card:

Bonus: spend $3k in 3 mos.

WELCOME BONUS

≈

Welcome bonus: $656

Card Fee: $599

Aeroplan points: 43,750 pts + Air Canada
lounge access (on *A)
Terms and conditions apply. Flytrippers editorial opinion only. Financial institutions are not responsible for maintaining the content on this site. Please click "See More" to see most up-to-date information.
To think that some people still think that earning 1 point per dollar spent is the way to earn fast. For example, accumulating 54,000 points one dollar at a time would require $54,000 in spending, that's demented.
The new American Express Gold Rewards Card gives you that same 54,000 points by spending only $3,000. Welcome bonuses are the key!
Anyway, my flight did not require many points. And the taxes were $82 and I'll take this opportunity to remind you that it doesn't matter if there are taxes or not, at least the taxes alone don't matter: It's the total savings that counts, always.
We'll soon have an ultimate guide to the Aeroplan program to help you travel for free a lot more than you ever thought possible.
I obviously paid my taxes with my new American Express Aeroplan Reserve Card to earn 3X the points and especially to get $1,000 with my insurance if by chance one of my flights was delayed.
By the way, I was once again the only one in the whole plane to have my entire row to myself, as it happens to me frighteningly often. Yet it's so easy to multiply our chances of this happening when you know the tips.
My outbound flight was my very first on the Boeing 737 MAX, now probably the safest plane in the world given the most expensive industrial saga in history, but one that still irrationally scares many people.
While it makes no sense not to want to take this aircraft, our mission at Flytrippers is to help all travelers so we'll soon share the article we promised on how to see what type of aircraft will operate your flight if you want to avoid it, now that more and more people are starting to travel again.
Itinerary of my trip to Vancouver
Many people ask me what kind of travel I like. The reality is that I like variety, as you may have gathered from the many countries I've visited.
But traveling so often allows me to try many different experiences.
Although I have nothing against nature-focused destinations, I really like cities.
That said, it also depends: I do most of my trips solo, but I do a few every year with my girlfriend and a few with Kevin.
Anyway, it depends. Sometimes I go for a nature escape, or a bit of both. The only thing I never do personally is traveling vacationing to go do nothing on a beach for 7 days.
So back to this trip, as much as nature looks beautiful around Vancouver, the price of car rentals when traveling solo in an expensive country is horrible. Paying that would be the best way to make sure I would not be able to travel more (just $100 saved pays for 3 full days of travel in countries where 30$/day total is enough, remember).
And unlike in affordable countries, transportation is so poorly developed here (actually, that's more about the North American car culture than about the fact that it's expensive here).
So in the end, since I don't want to just travel 3-4 times a year as most people do, I make decisions accordingly and chose to spend the whole trip in Vancouver, where transportation costs are a big fat zero dollars.
Anyway, with the little time I was here, I had more than enough to see in the city of Vancouver. It's the 3rd largest in Canada after all. I will share my highlights.
Getting around is very easy in the very compact downtown, I walked everywhere, even to the famous Stanley Park at one end or to Granville Island at the other end.
The SkyTrain from the airport to downtown costs $13 roundtrip and it's easy and fast, so Vancouver is a perfect city for a 100% car-free urban getaway.
Pandemic rules for my trip to Vancouver
By the way, if you haven't already done so, it's vital that you check out Flytrippers' ultimate guide to pandemic travel.
Yes, even for travel within Canada there can be travel rules (restrictions and requirements). But as indicated on our map of travel restrictions for Canadian provinces, British Columbia (like the other 3 of the 4 most populous and popular provinces; Ontario, Québec, and Alberta) has no entry restrictions or entry requirements for Canadian travelers (whether fully vaccinated or not).
That said, once there, they do have a vaccine passport for certain activities. But that has nothing to do with booking and planning the trip, so I'll cover that in the article about the trip.
Want to get more content to learn how to travel more?
Summary
Here are the more logistical details of my current trip to Vancouver for those of you who often ask us to provide such information about our own trips.
What would you like to know about this destination? Tell us in the comments below.
See the deals we spot: Cheap flights
Explore awesome destinations: Travel inspiration
Learn pro tricks: Travel tips
Discover free travel: Travel rewards
Featured image: Vancouver and Stanley Park (Photo credit: Andrew D'Amours/Flytrippers)

Advertiser Disclosure: In the interest of transparency, Flytrippers may receive a commission on links featured in this post, at no cost to you. Thank you for using our links to support us for free, we appreciate it! You allow us to keep finding the best travel deals for free and to keep offering interesting content for free. Since we care deeply about our mission to help travelers and our reputation and credibility prevail over everything, we will NEVER recommend a product or service that we do not believe in or that we do not use ourselves, and we will never give any third-party any control whatsoever on our content. For more information on our advertiser disclosure, click here.
Share this post to help us help more people travel more for less: