If you're not the type to enjoy doing absolutely nothing for a whole week but still want to escape the cold Canadian winter, or if you are a diver, this is a great opportunity if you have Marriott points—and a great example of why you should have some if you don't.
Even though I went there mostly because it was free thanks to my points, and because my girlfriend wanted somewhere exotic not too far away — I still very much enjoyed the laid-back, quiet, not-too-touristy island of Bonaire.
So here is an overview of my free week in Bonaire.
Context of my trip to Bonaire
First of all, there are many places where you can get a lot more free nights thanks to the 106,000 points welcome bonus a couple can get by each getting the Marriott Bonvoy American Express Card. I went to Spain and South Africa in 2019, where you can get 17 free nights—and there are many other options! And those are destinations with a lot more things to discover, for sure.
But this is still a great deal: in 2019 I got 7 nights in the Caribbean for 75,000 points at the Courtyard Bonaire Dive Resort. This hotel got more popular and the Marriott pricing has changed since, now it's about 68,000 points for 5 nights on many dates.
So I wanted to share more details about my experience. Getting over one week in a hotel for free with just one card's welcome bonus each is a fantastic value.
Of the 53 free nights I got in Marriott hotels in 2019, it was the only hotel in the Caribbean. There aren't many hotels that don't cost many Marriott points there, and it's not my favorite region personally. In fact, it's the only one of my 30+ trips in the past 3 years that was to the Caribbean.
So last May, I spent a week on the Dutch Caribbean island of Bonaire with my girlfriend. I hate all-inclusive resorts and "vacations," and to be very clear, if that's what you like, the hotel I'm about to tell you about probably won't interest you. It's beautiful, but it's just not that type of hotel at all.
But if like me you want to visit a new destination and actually visit things and places, or if you are into diving, it's a great hotel. There's no risk; you can always cancel for free when booking with points.
Bonaire's nature is beautiful, and it's not overrun by mass tourism. You'll find pink flamingos like in neighboring Aruba (without the hordes of vacationers), beautiful pink salt lakes, desert landscapes, mangroves where you can go kayaking, and of course, outstanding diving and snorkeling. It's one of the world's best diving spots.
Why visit Bonaire
I'll cover the destination first, and then the actual hotel since, as I said, this isn't a place recommended for those who don't want to leave the hotel.
It's just not what it's for, so it's important not to have that kind of expectation if you book this hotel. Although it could be a good option if you are used to doing that and want to get out of your comfort zone and try actual traveling; it's a good option if you want to try something that is not an all-inclusive, but still want something similar enough as a first step, instead of trying a completely new type of trip/something too different!
So, this is a great free hotel deal if you want to explore Bonaire, a beautiful island. It is lovely, and I found the Dutch-influenced culture to be unique.
For those who've never heard of Bonaire, it's part of the Dutch ABC islands (Aruba, Bonaire, Curaçao), just off the coast of Venezuela and South America. It is the least touristy, but also the one that is less known, and with the least inhabitants: only 20,000, while the two others are over 100,000.
There are so many misconceptions about so many places in the world, and Bonaire is no exception. Even though it is in the Caribbean, Bonaire does not have a rainy season and is not in the hurricane belt. Its weather is remarkably stable year-round.
Bonaire is a great option at any time. No hurricanes, no rain.
Many think "the Caribbean" is one monolithic block where the climate is all the same like many think "the Middle East" as a whole is unsafe because a few countries are at war. Our world is not that simple, as most travelers know.
Bonaire is especially known for diving, but this quiet and beautiful island, with its preserved nature, has much more to offer. The entire shores and surrounding waters are protected areas, and they seemed to care a lot about safeguarding the beauty of the island. The reefs are what make this island one of the best spots for diving (I'll talk more about that in the hotel section).
First, the beach. I am not the beach type, but I know most people are.
The hotel offers a free shuttle to Te Amo Beach, which is just 2 minutes away, for some beach time. If you're an aviation geek like me, you'll appreciate the fact that you can see planes land from pretty close here (not like on the other Dutch Caribbean island of Sint Marteen, but still). And if you're not, it's not too disturbing because there aren't many flights to this small island in a day.
The beach also has shade provided by a few trees.
There is a food truck most days on Te Amo Beach, but we also went to the nearby grocery store to stock up on healthier and more affordable options for the trip, as the room had a mini-fridge.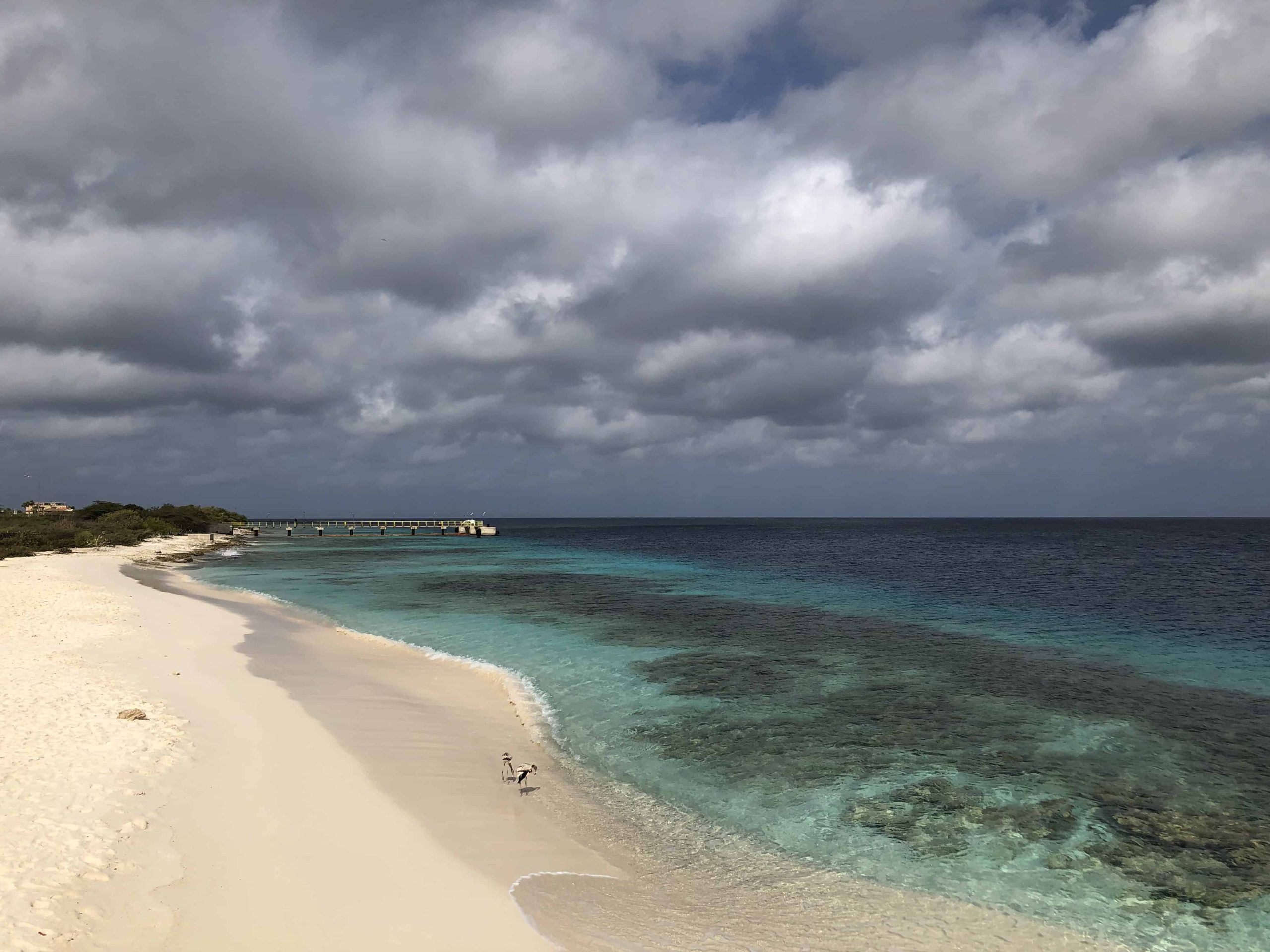 The same free hotel shuttle also goes to the Kralendijk city center, which is just 3 minutes away. It's the main town on the island, and while it's pretty quiet overall, the waterfront is nice, and there is even a local market on some days, often coinciding with cruise ships docking in the city.
The city started out as a Dutch fort in the 1600s.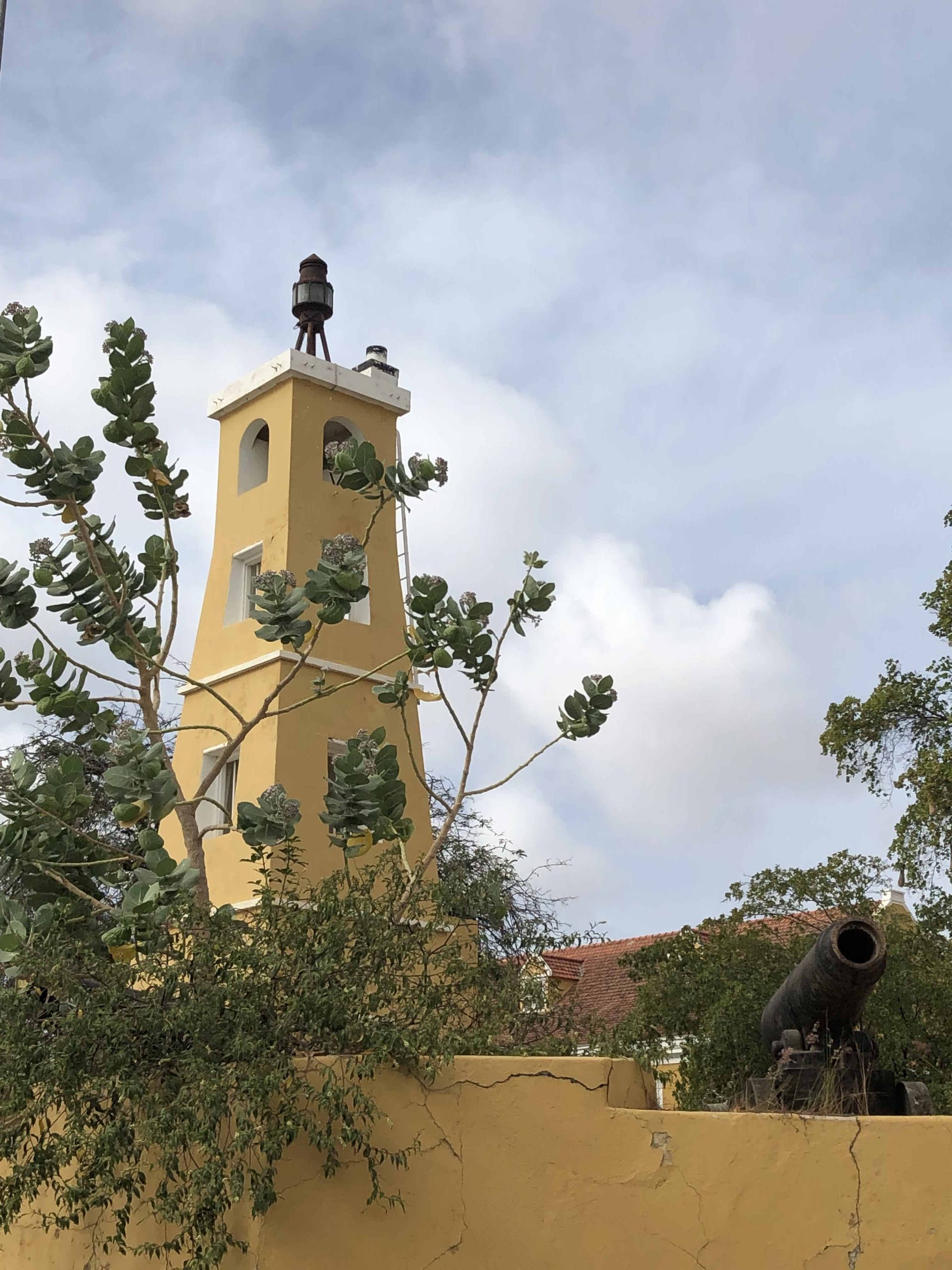 We opted for a car rental, but not for the whole trip. We still went all around the island, since it's pretty small. As a reminder, your Marriott Bonvoy Card, like most good travel credit cards, has free car rental insurance, so don't pay anything extra for that! Renting a scooter seemed to be very popular on the island too.
But local company Bonaire Tours & Vacations also offered us a nice half-day tour to see the main sights—a great alternative if you don't want to drive. They offer many activities, but this particular tour covered the key attractions.
First was the famous pink lakes. It's impressive, and they seem even pinker in real life.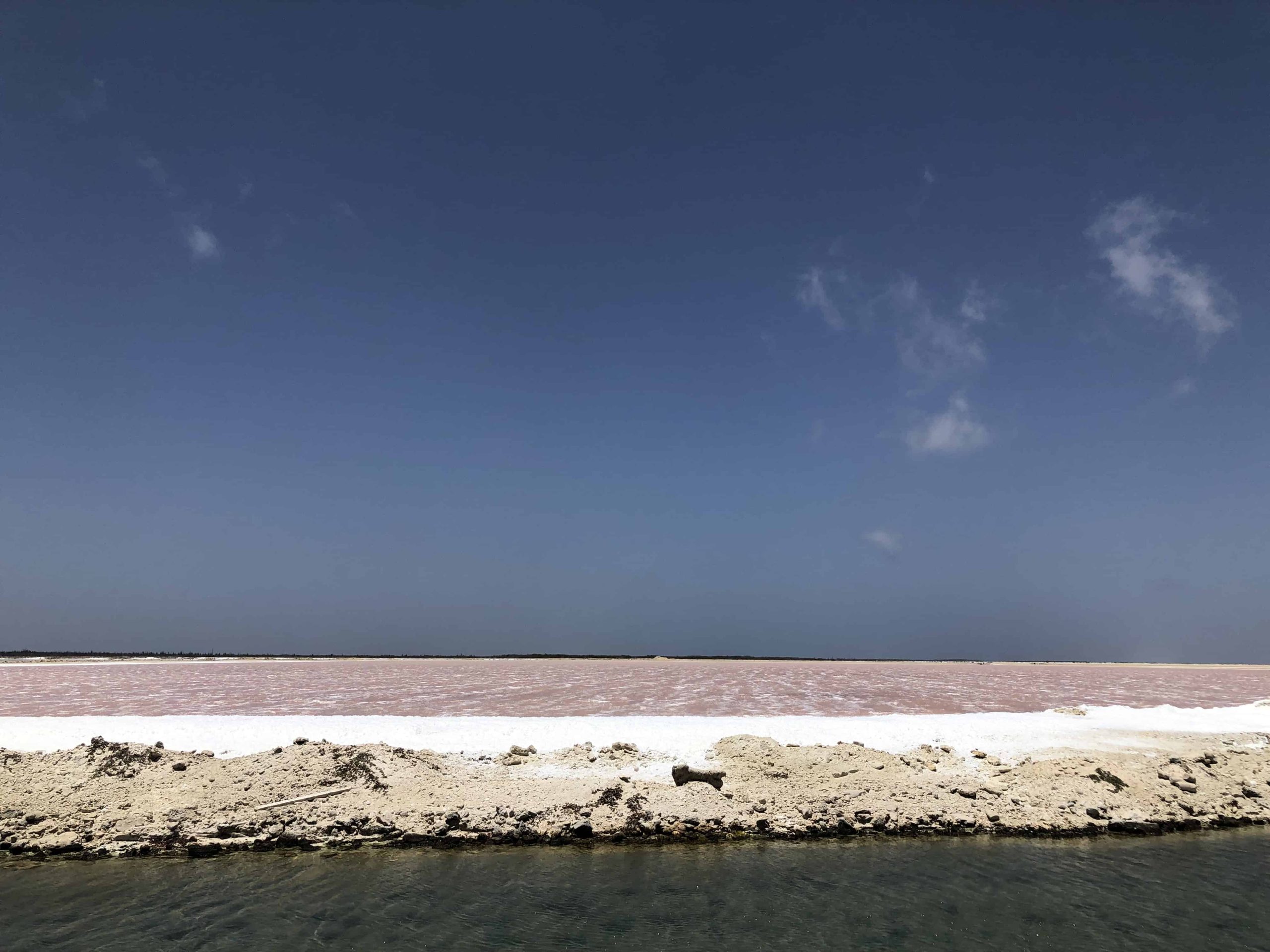 It's the process of making salt that results in these large pink reservoirs.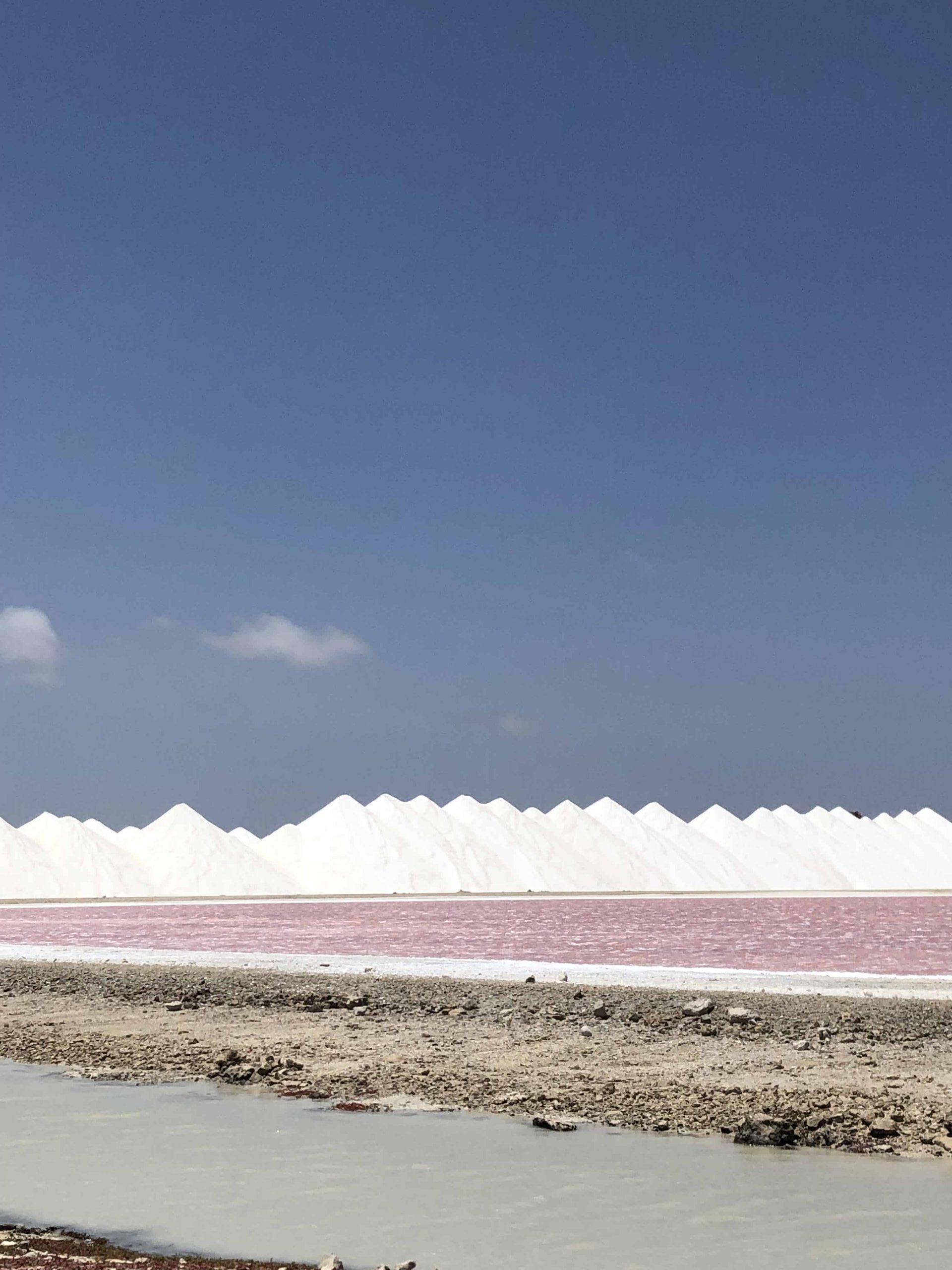 Speaking of pink, there are lots of pink flamingoes on Bonaire.
Near the pink lakes, there were a bunch in the southern part of the island.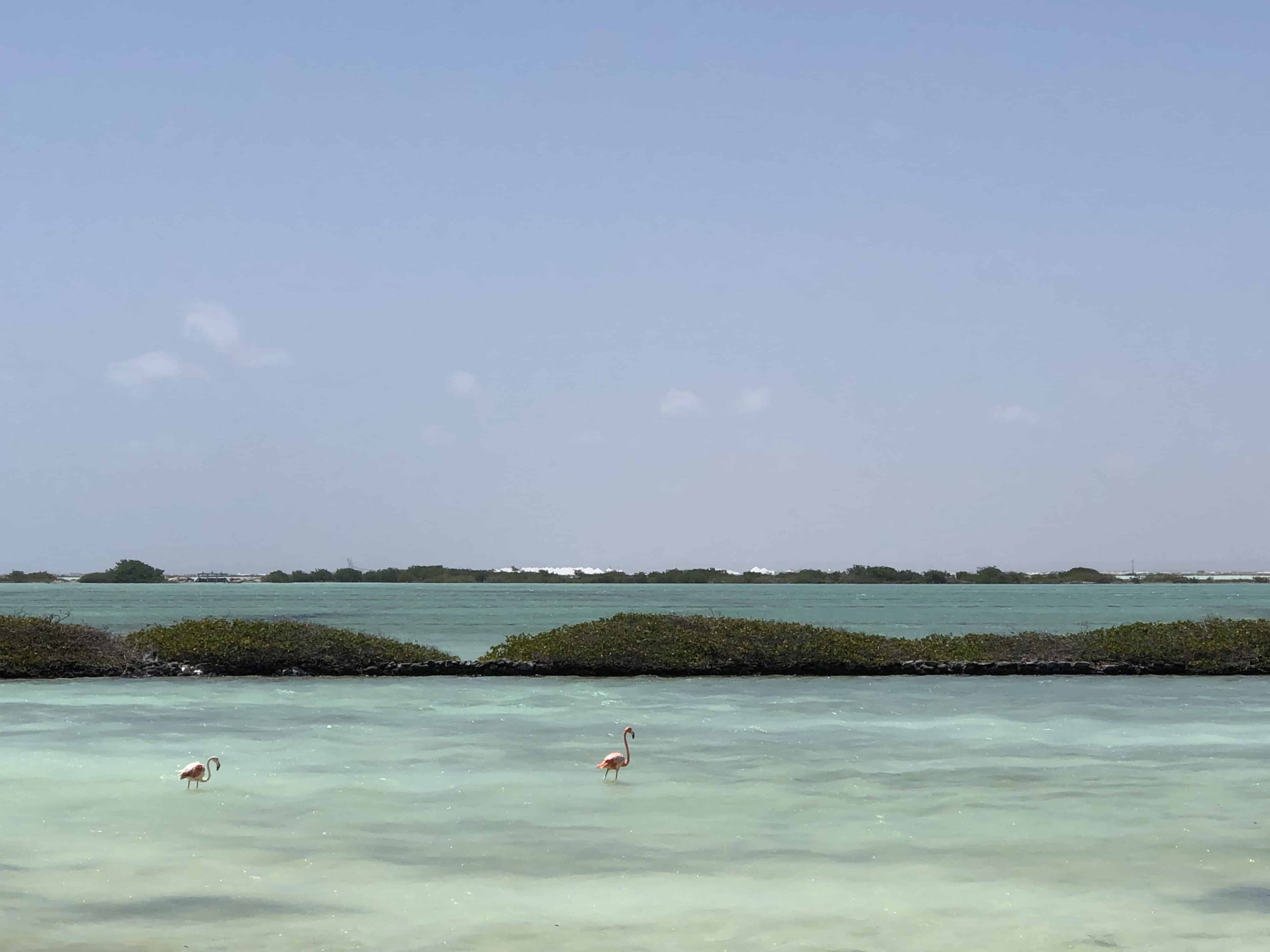 But there were some in the northern part as well, which is more off-the-beaten-path, near the Goto Meer Lagoon. You can get pretty close to them here.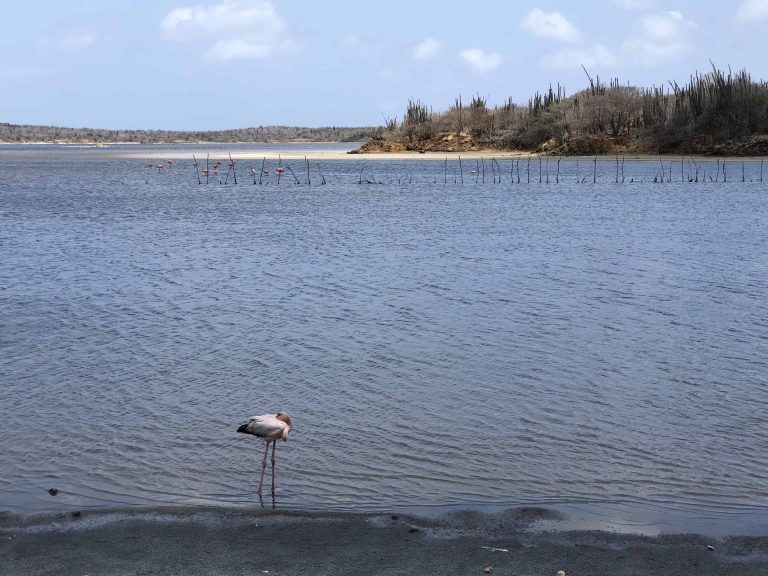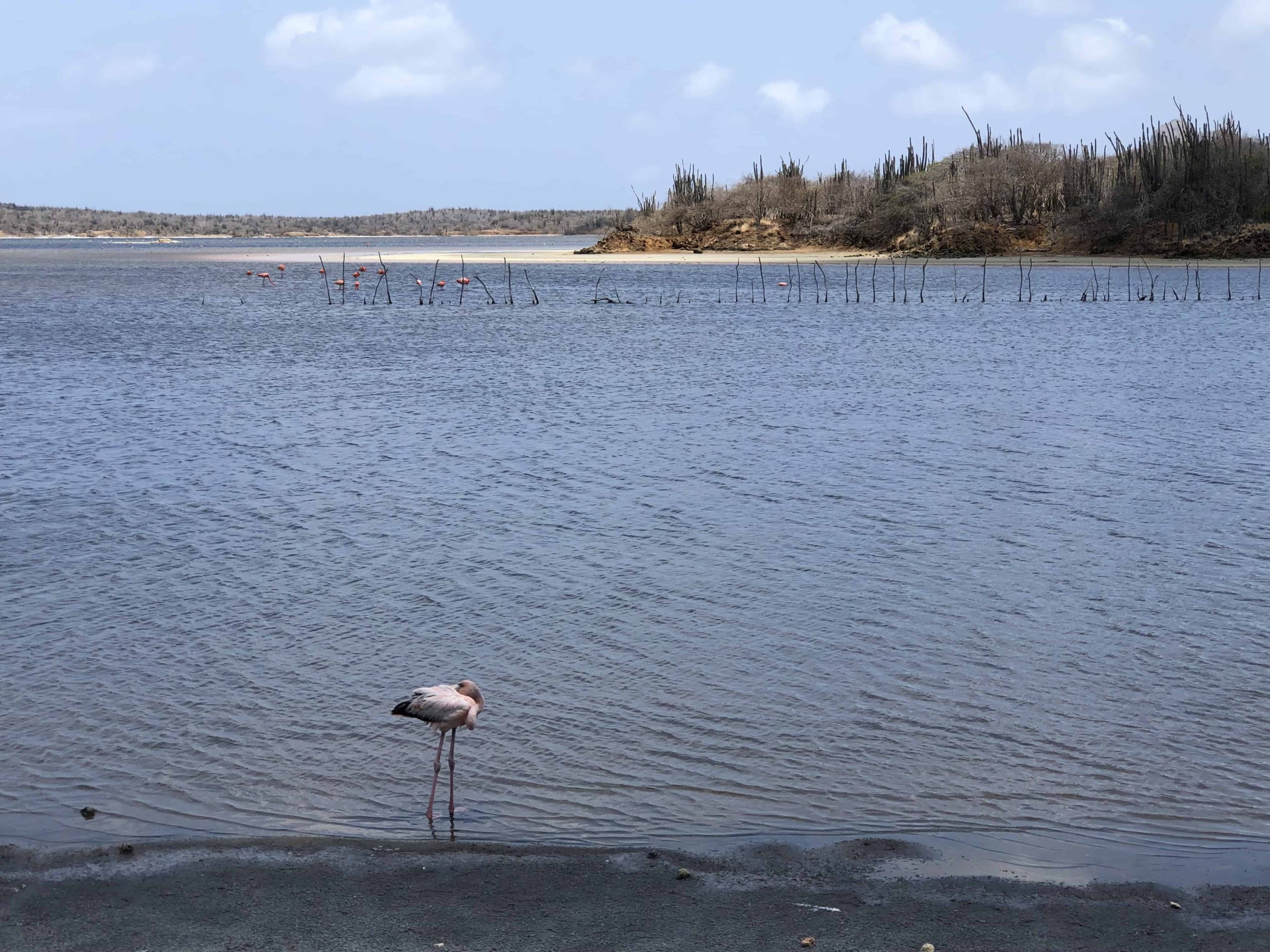 To get there, you'll go by one of the most famous beaches, 1000 Steps Beach. Don't worry; there are fewer than 1,000—only 67 in fact. It got its name because on a hot day (which is every day in Bonaire, essentially), going up these steps under the sun makes it seem like there are 1,000.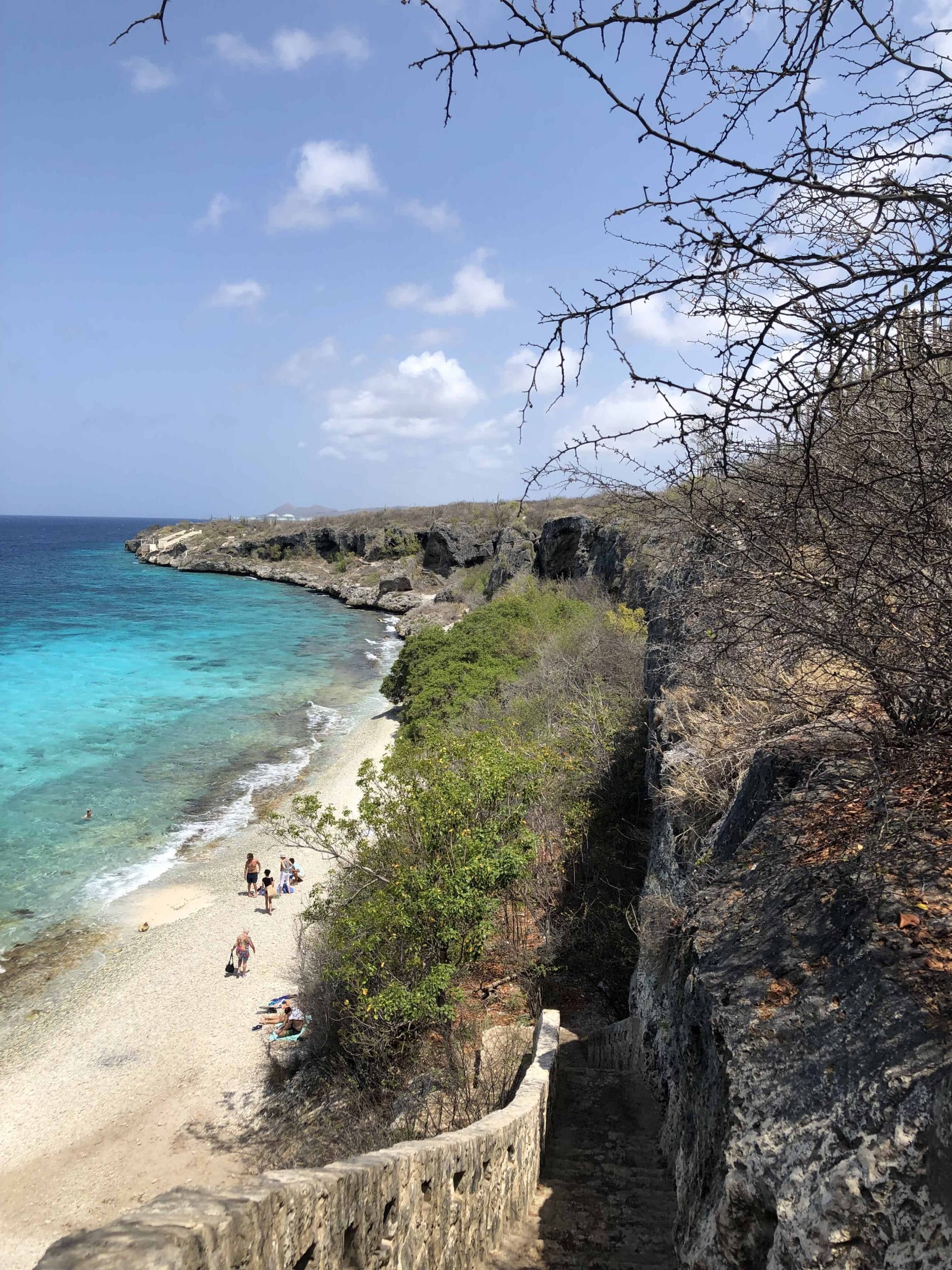 There are apparently sea turtles in this spot very often.
Bonaire has both sandy beaches and beaches like one pictured, made of shells and coral. These are pretty unique, and that's what I was looking at in the picture below. And by the way, that's also proof of what I told you before: on all my trips, I always use that handy $22 daypack!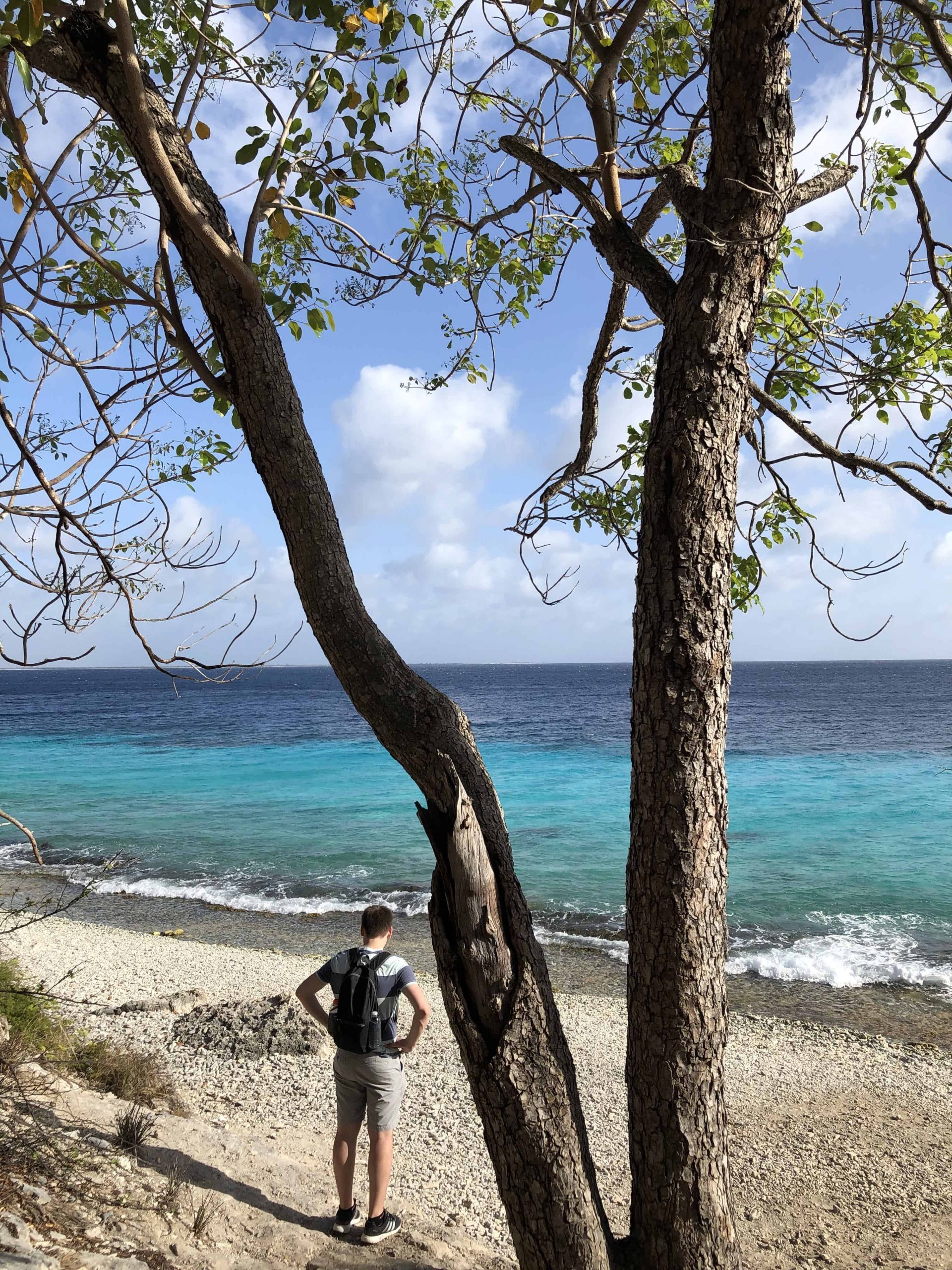 The color of the water is simply stunning, isn't it?
That's why Bonaire is known, especially for its shore-diving, in other words diving from the shore instead of from a boat. There are countless spots marked by a yellow rock on the side of the road, where divers can simply park their car, and go diving right there. They are almost all located on the western side of the island.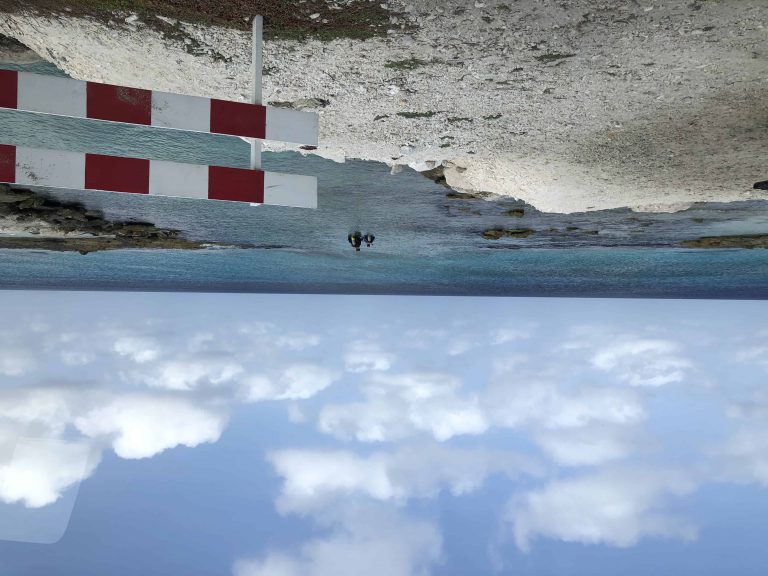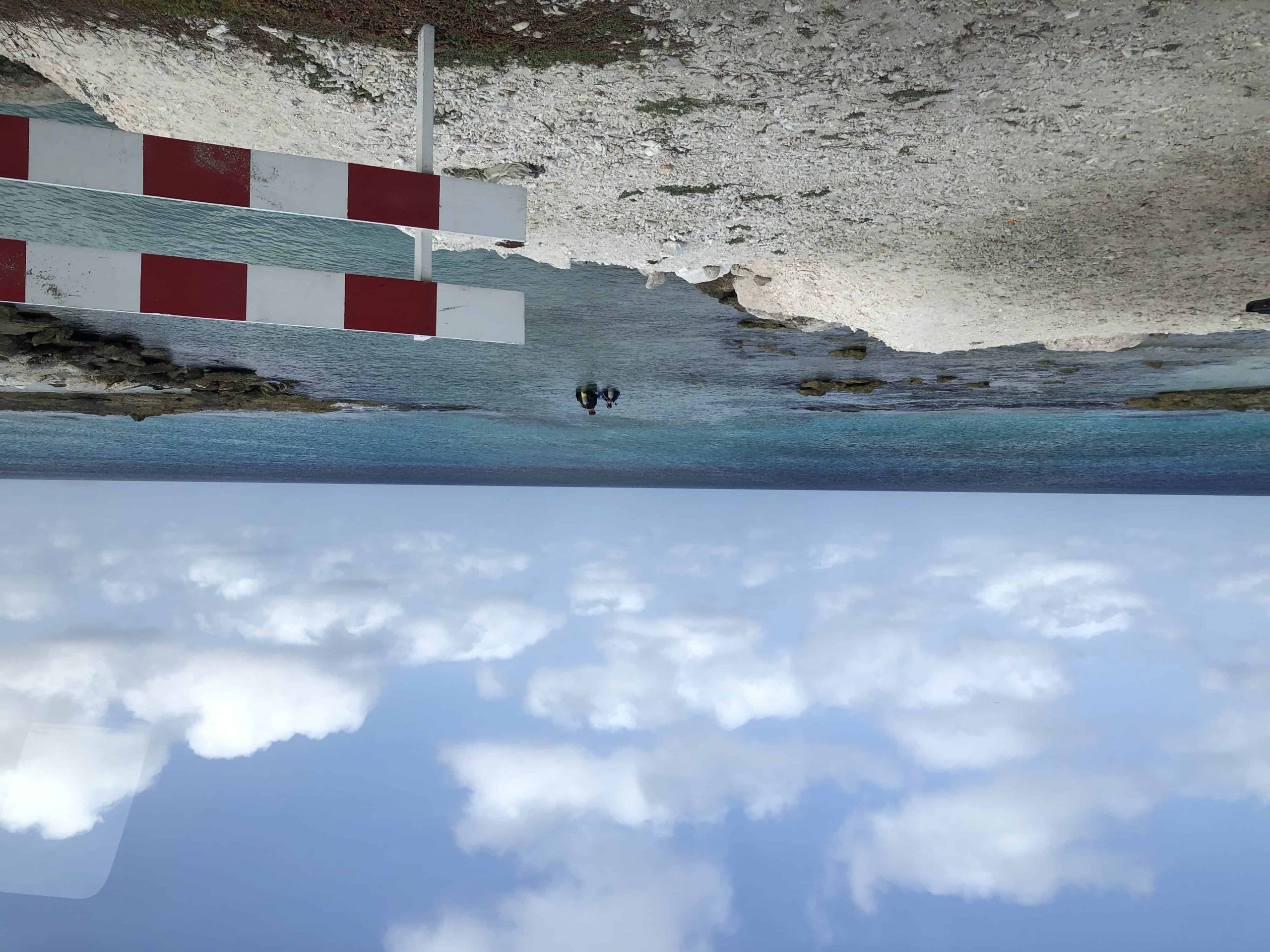 As I said, Bonaire is very arid, and many of the landscapes reminded me of one of my most memorable trips, the Canary Islands (without the volcanoes, of course).
While many parts of the island are flat, there is a bit of variety too.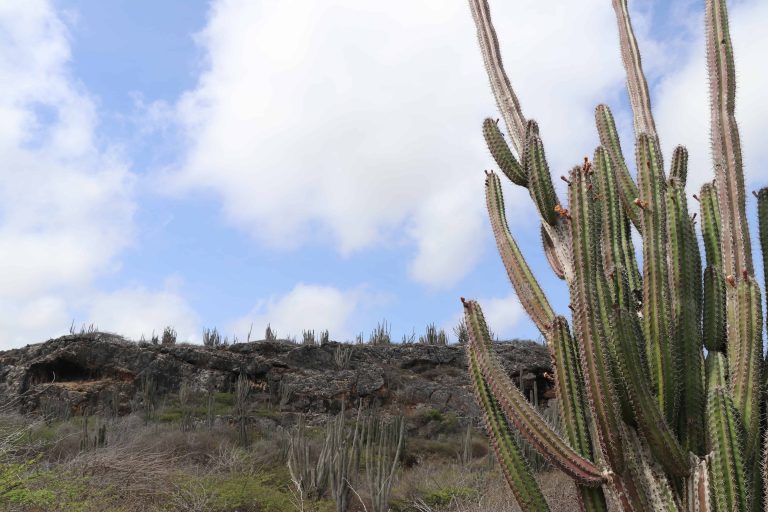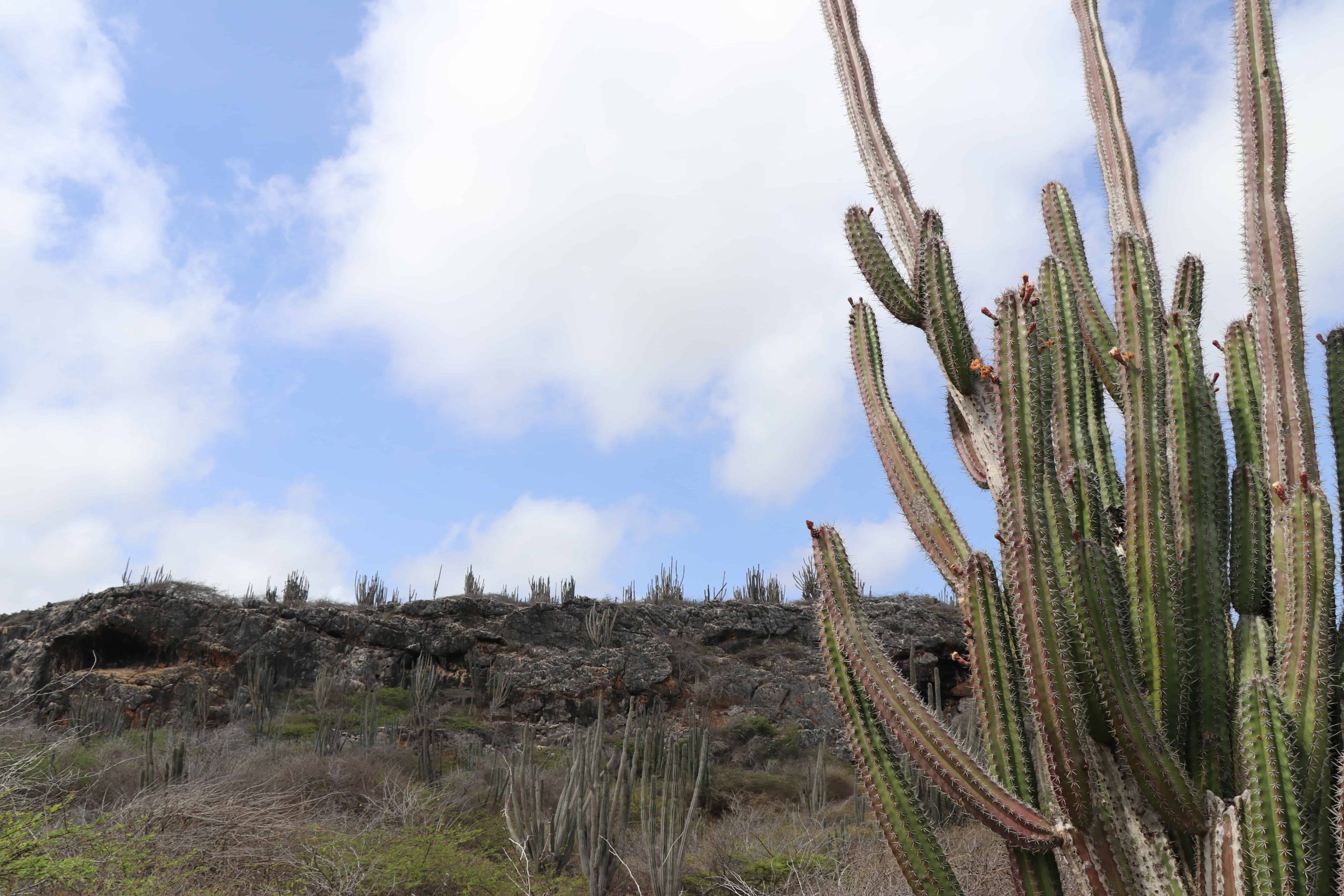 And the further north you go, away from the inhabited parts, the more varied it is. It is somewhat surprising for such a small island.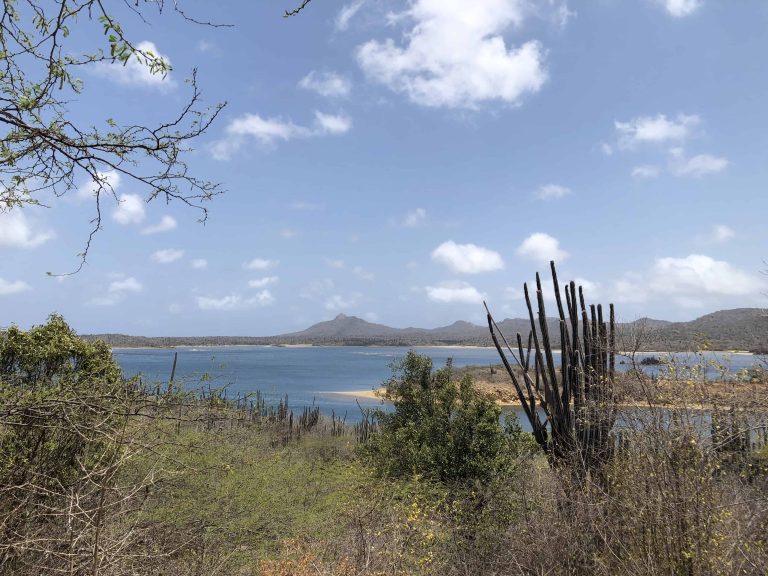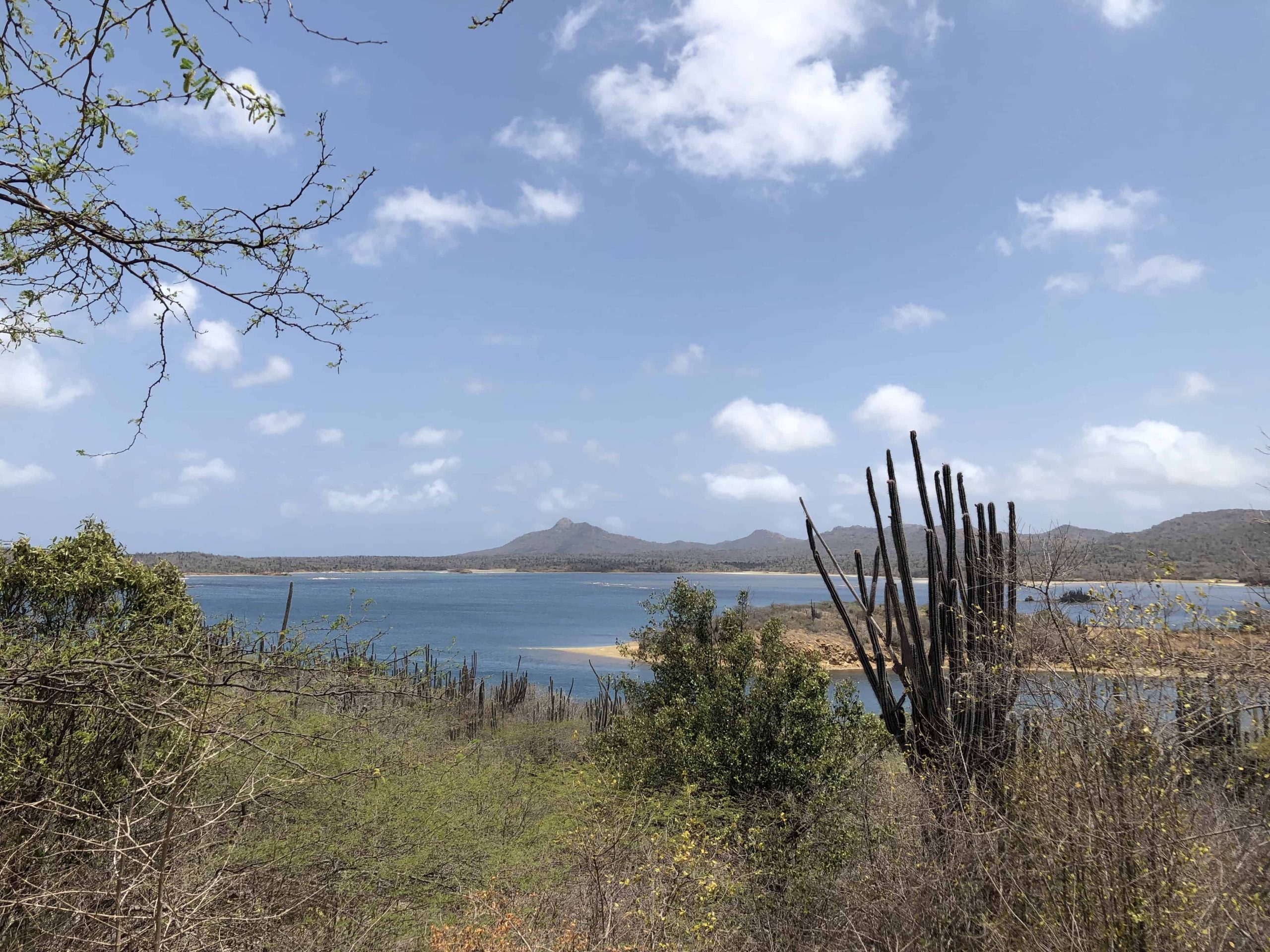 We went to the southeastern coast, near Lac Bay, which is much less developed and where winds and currents from the Caribbean Sea are very powerful. A lot of people go windsurfing in Bonaire, and there's even "landsailing" which I wish I would have tried.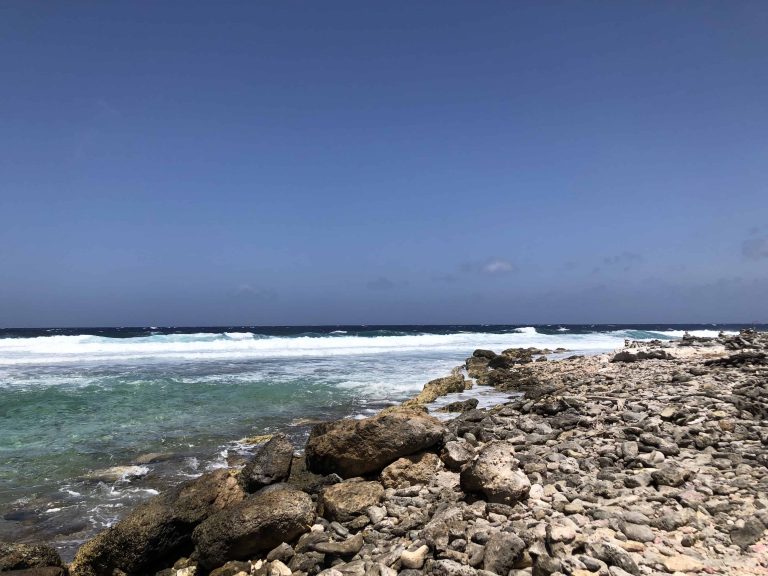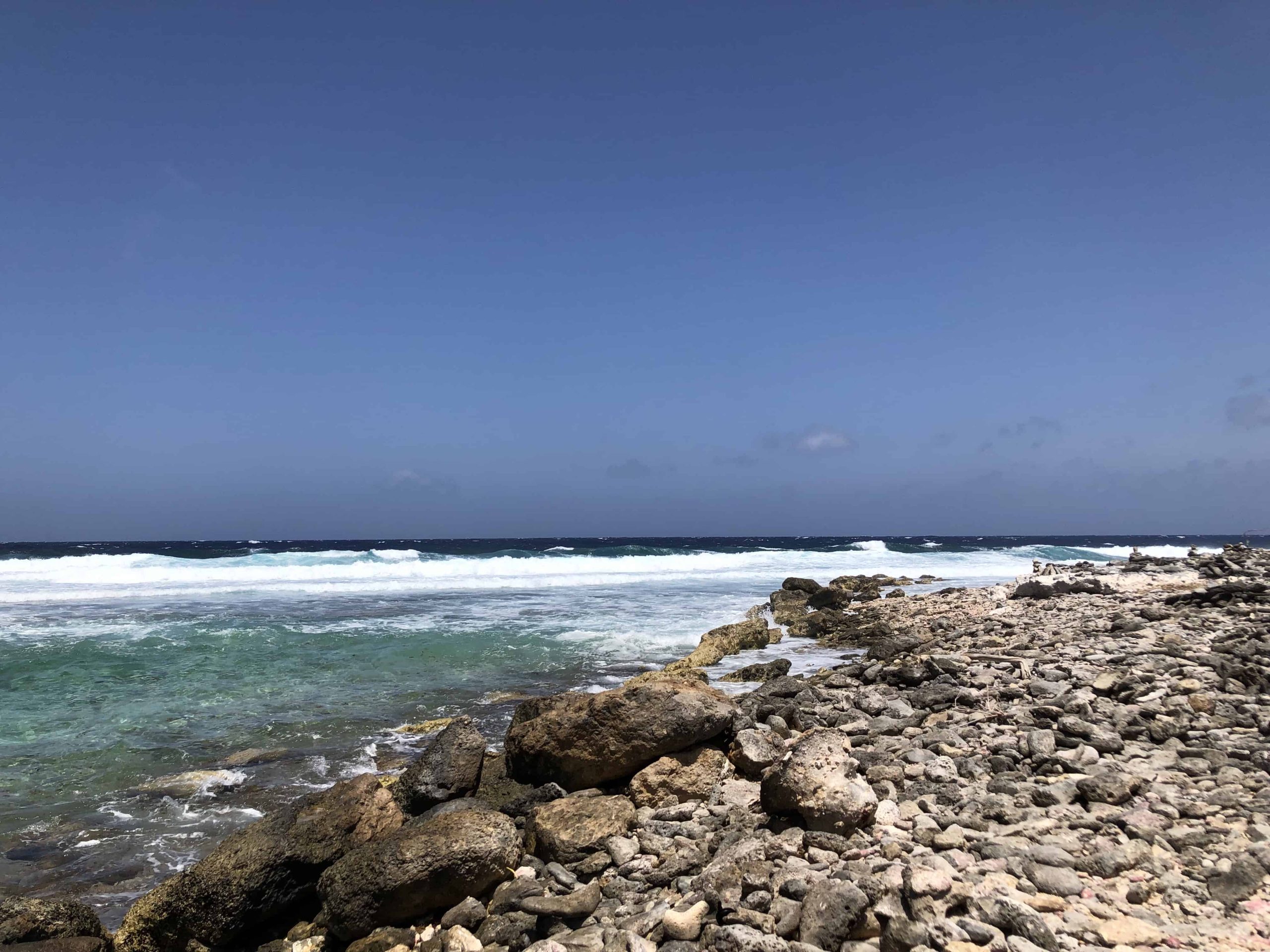 On the history side, we visited a few of the slave huts that have survived as a reminder of the terrible conditions many of the island's inhabitants once lived in.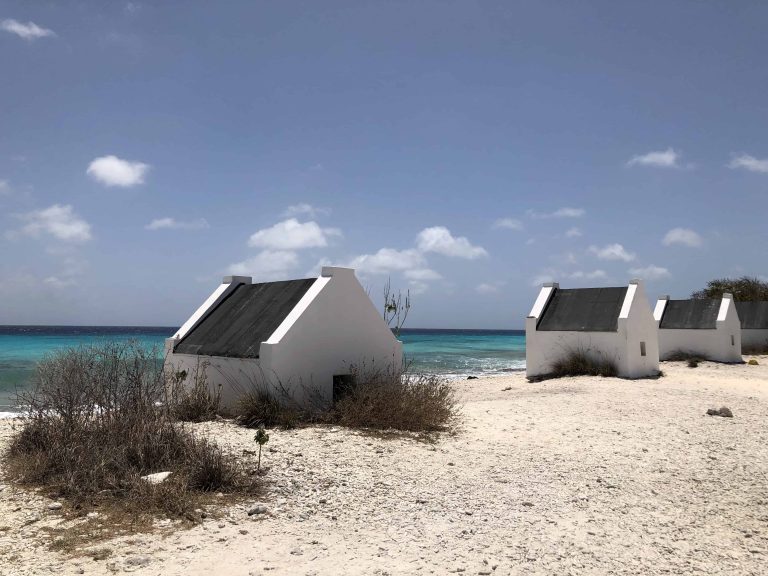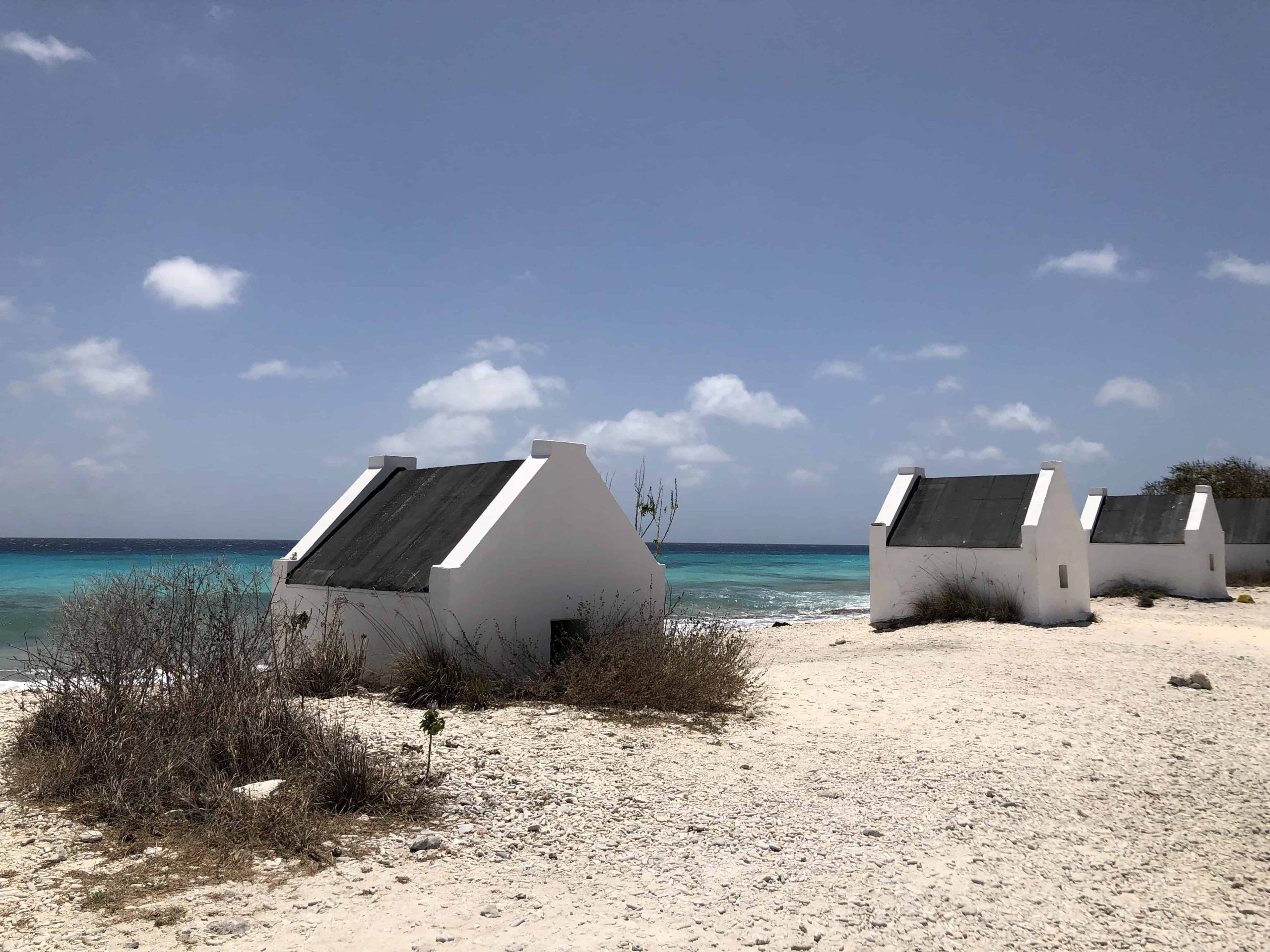 A few colored obelisks on the waterfront marked where ships were to pick up salt in the colonial days.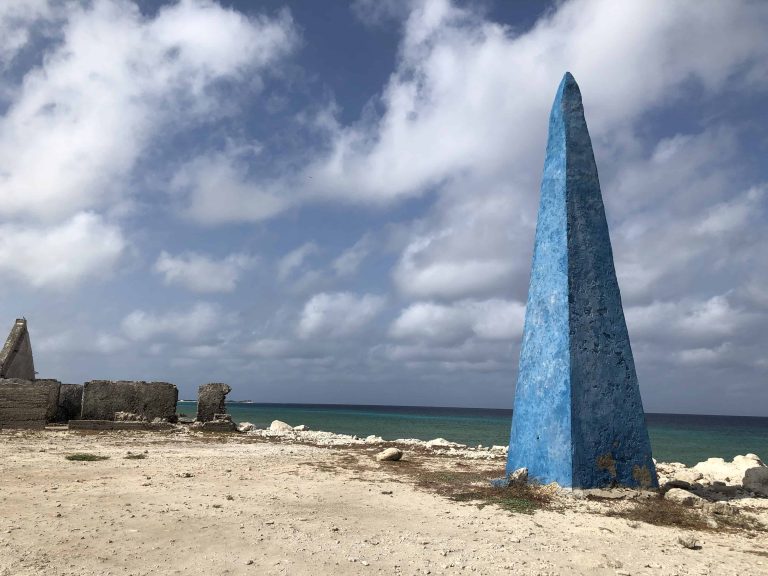 Our friendly guide Amina also took us to the Cadushy Distillery in Rincón village, where they make bright green liquor out of cacti.
Notice the shape of the bottles on the counter. Yes, these are inspired by those obelisks.
They likely won't run out of raw materials, as there are many cacti in Bonaire.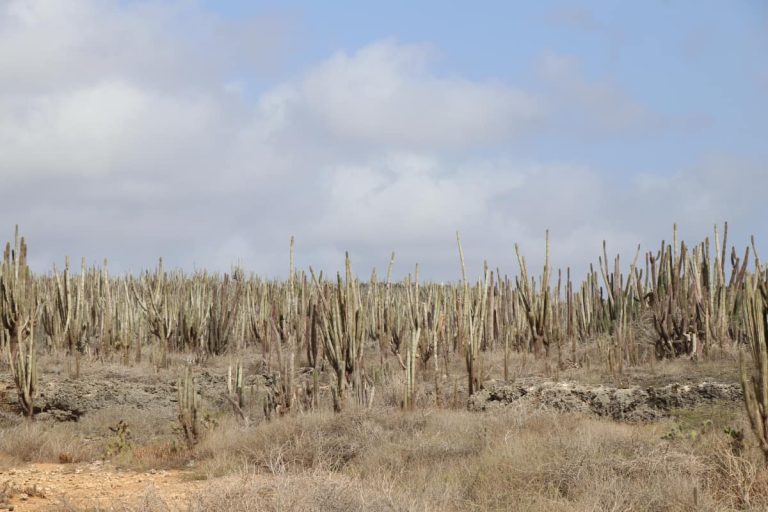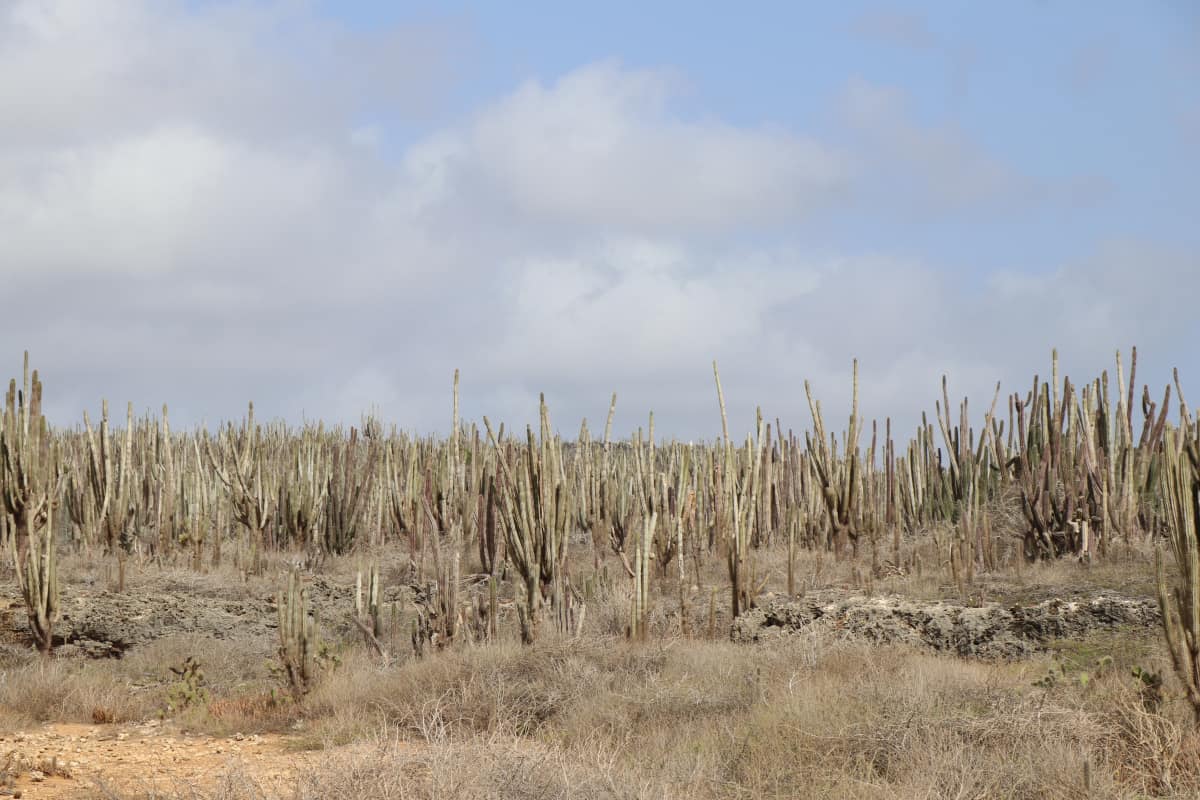 Driving around made for a very different roadtrip, with vegetation and landscapes we aren't used to seeing.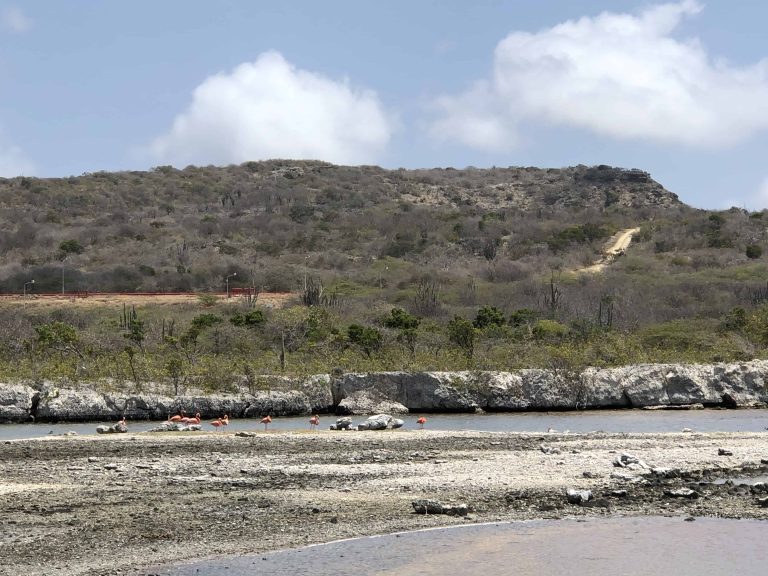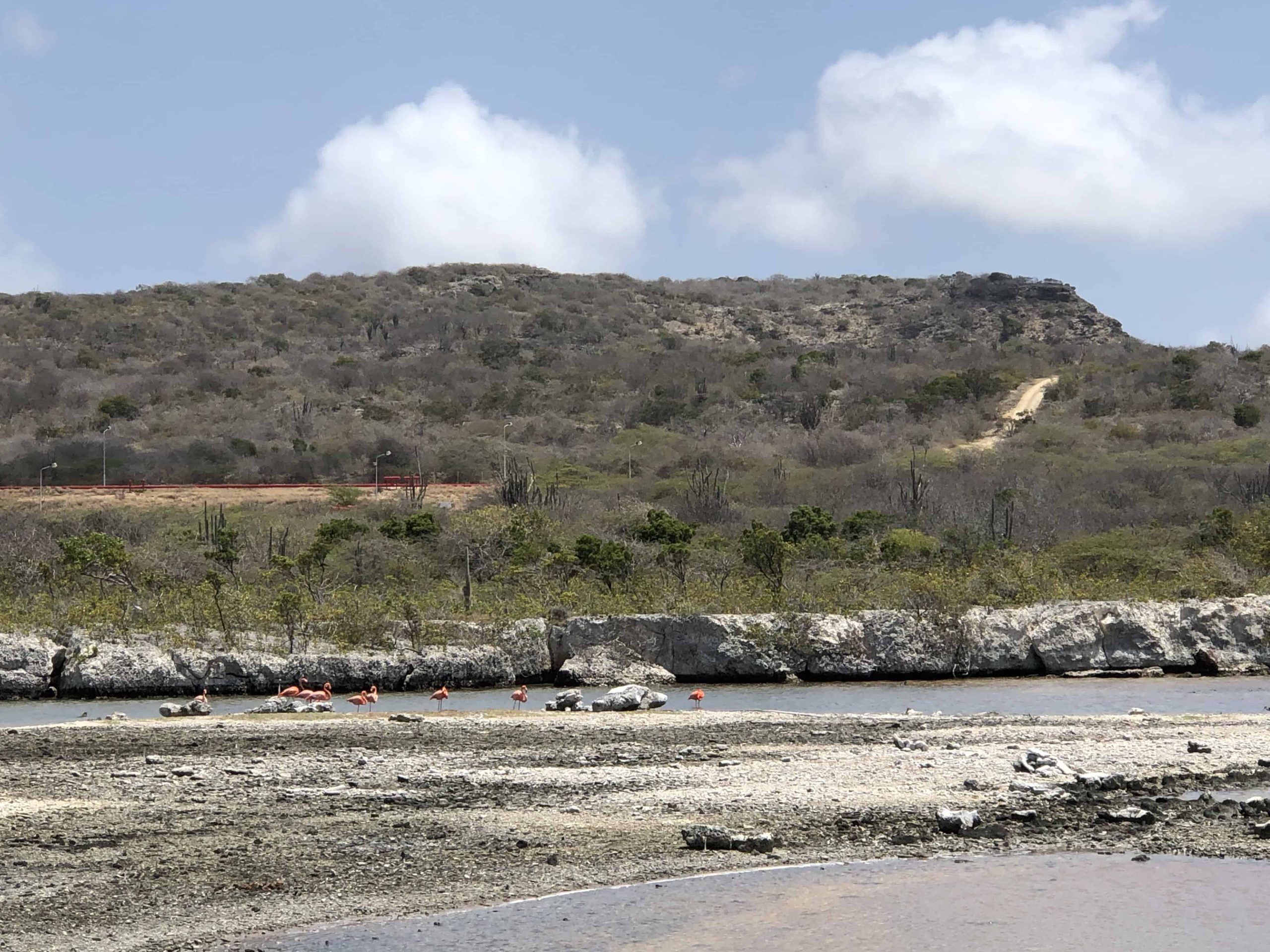 When we drove around on our own, it allowed us to go to places where not many people go, including in cool small secondary roads lined with cacti.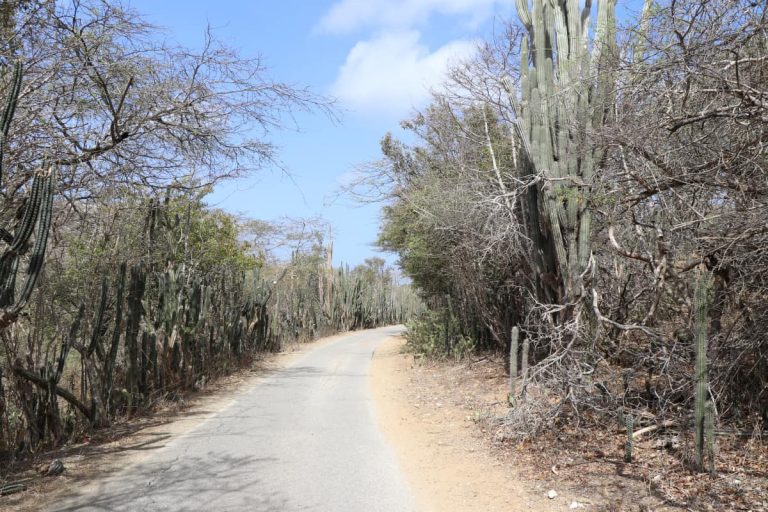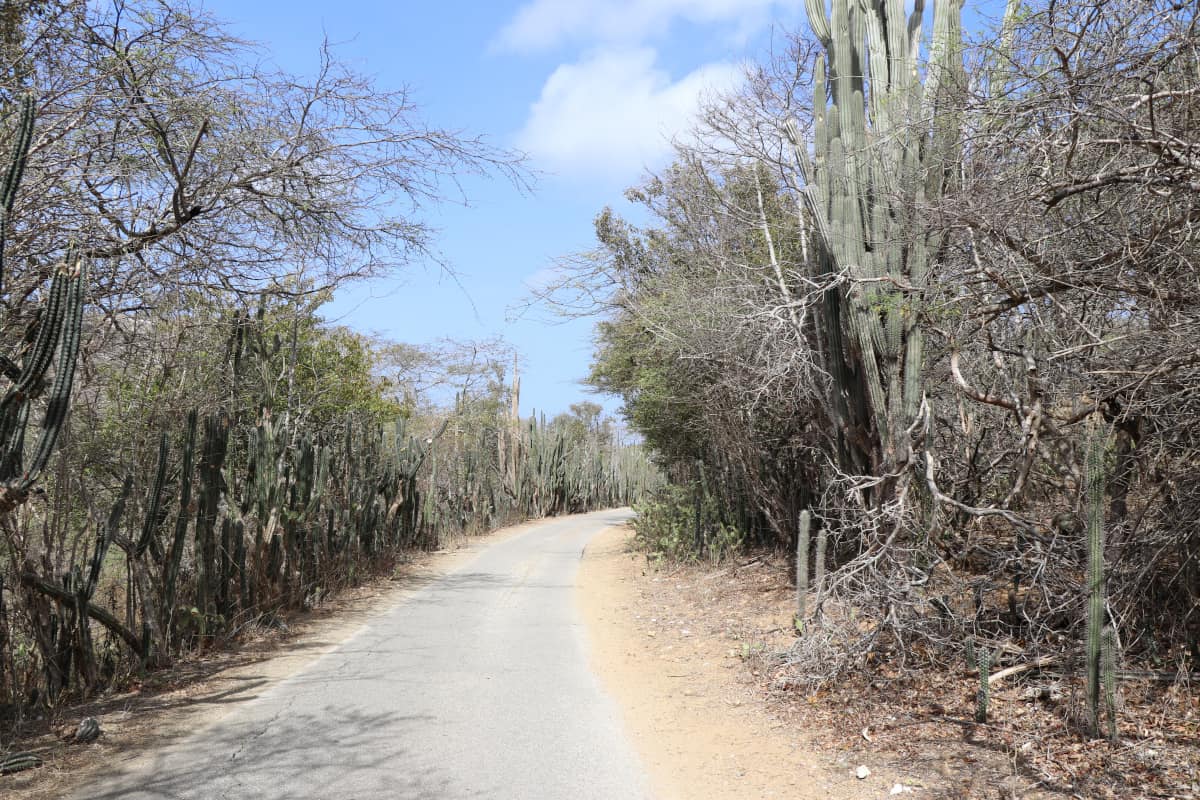 Bonaire is known for having many wild donkeys, and I even had to stop once while driving around, because one of them really didn't want to move out of the road.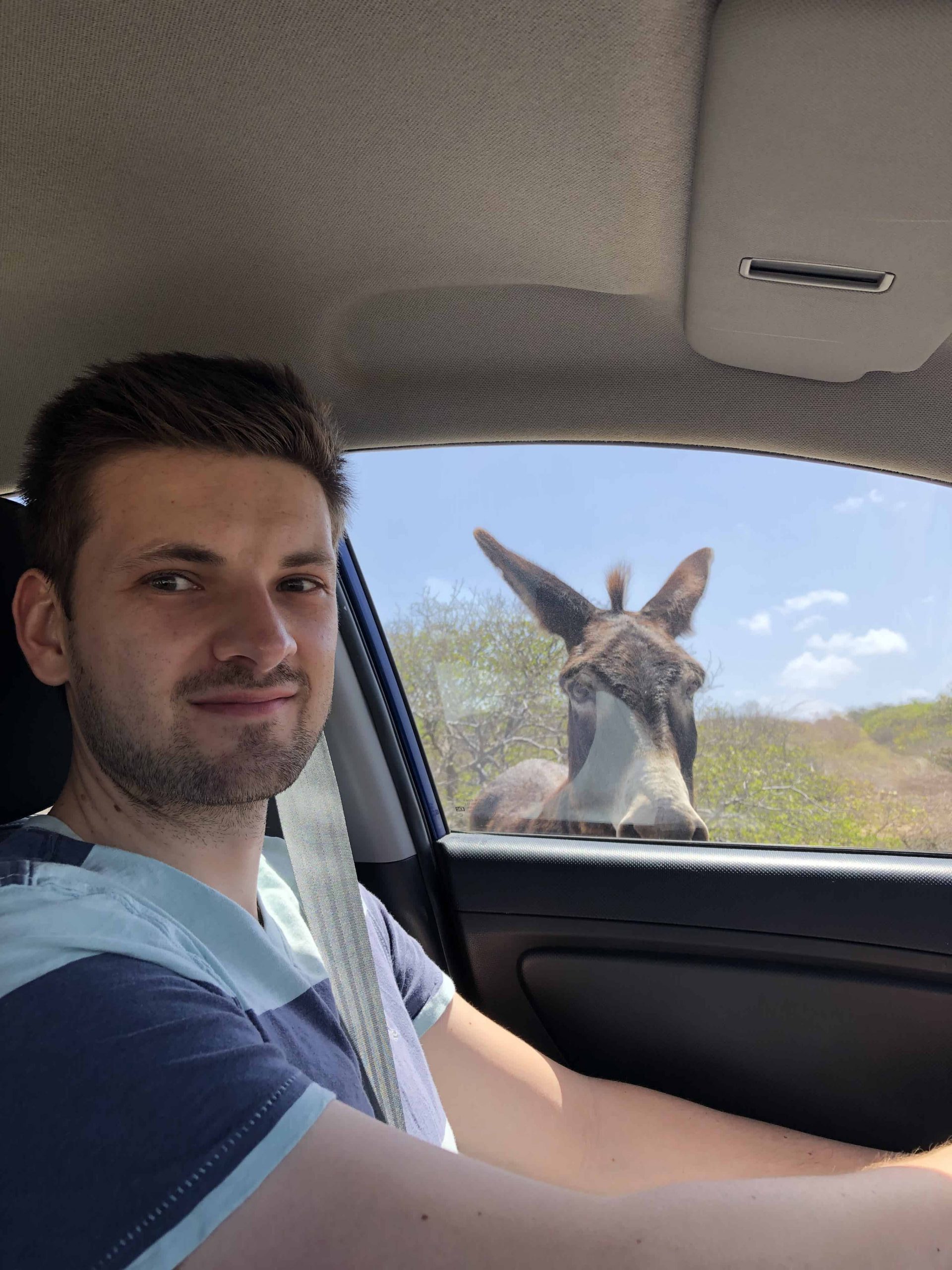 And if you like bird-watching like my girlfriend, there are many opportunities.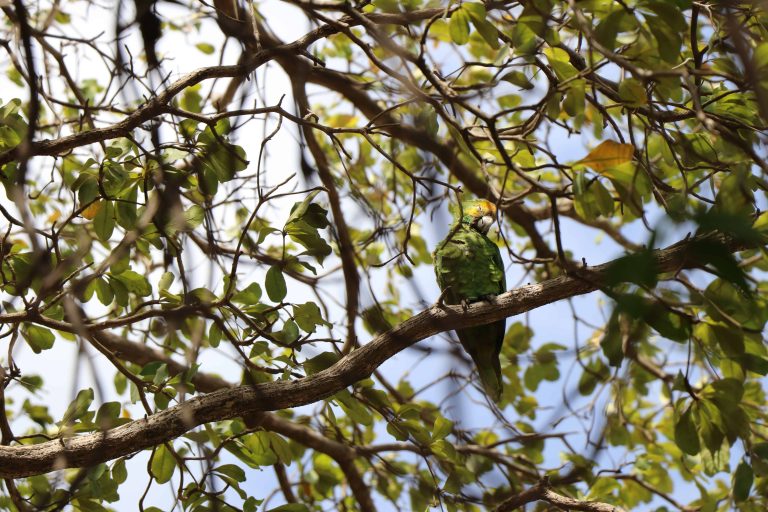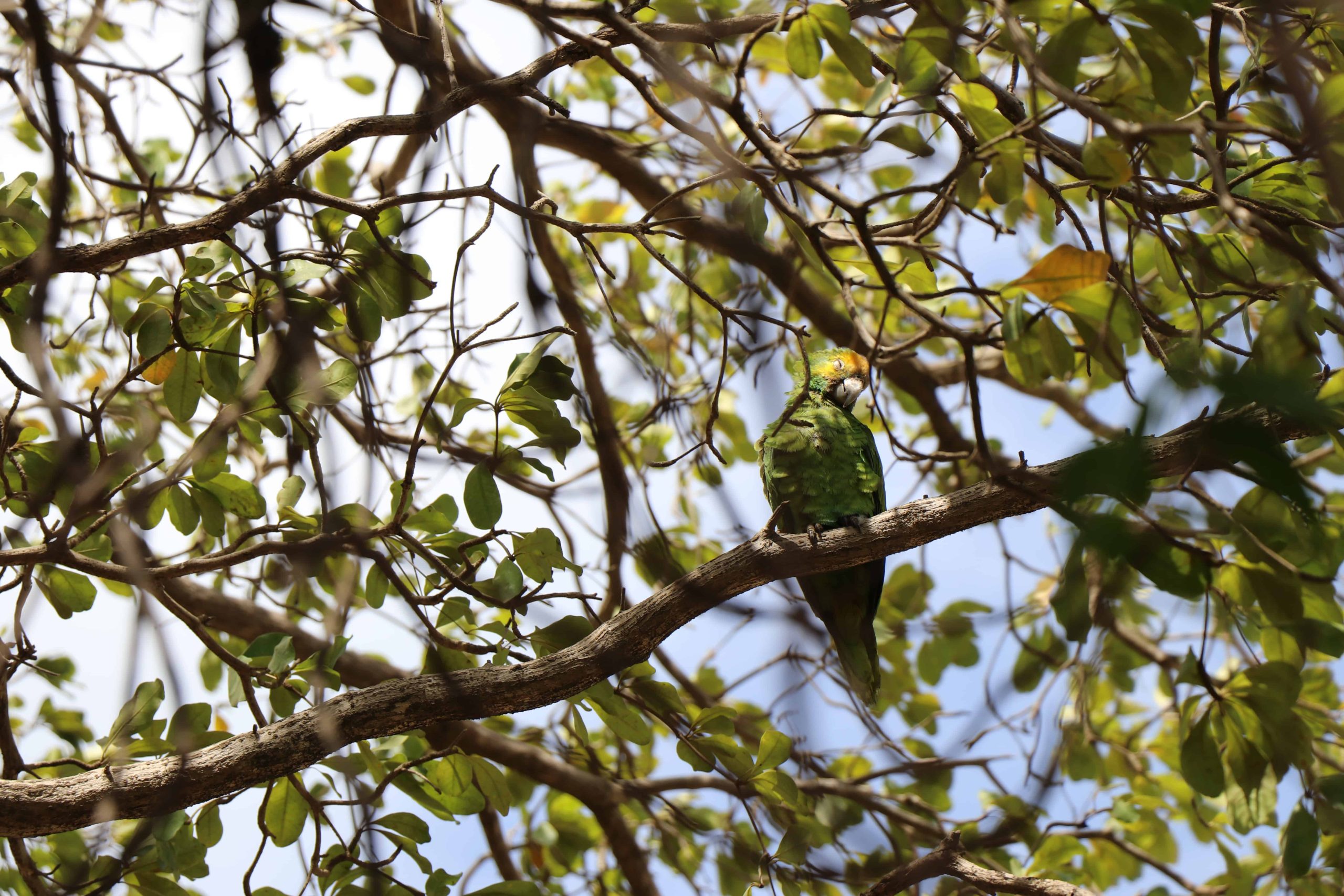 The island even has a National Park, and another activity you can do is visit the small uninhabited island of Klein Bonaire for the day, just off the coast from Kralendijk.
Finally, Bonaire Tours & Vacations also offered us a very cool half-day of kayaking through the mangroves, in clear bottom kayaks. The activity also included a bit of snorkeling.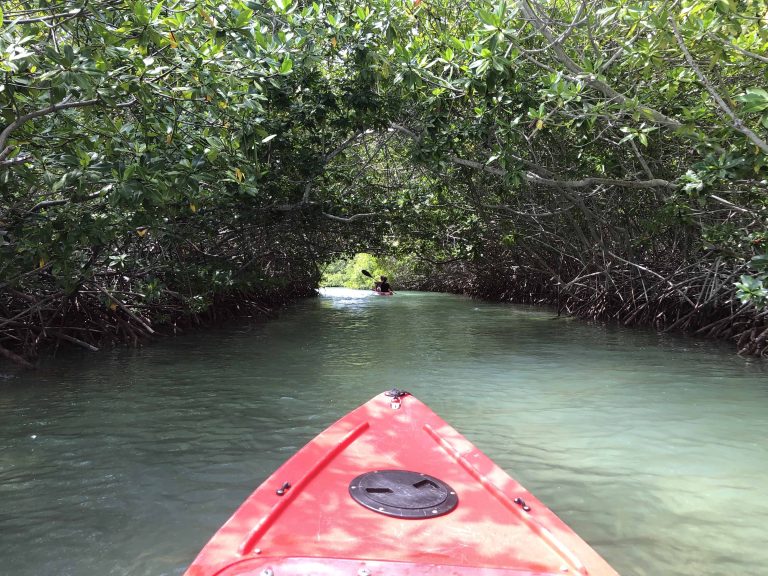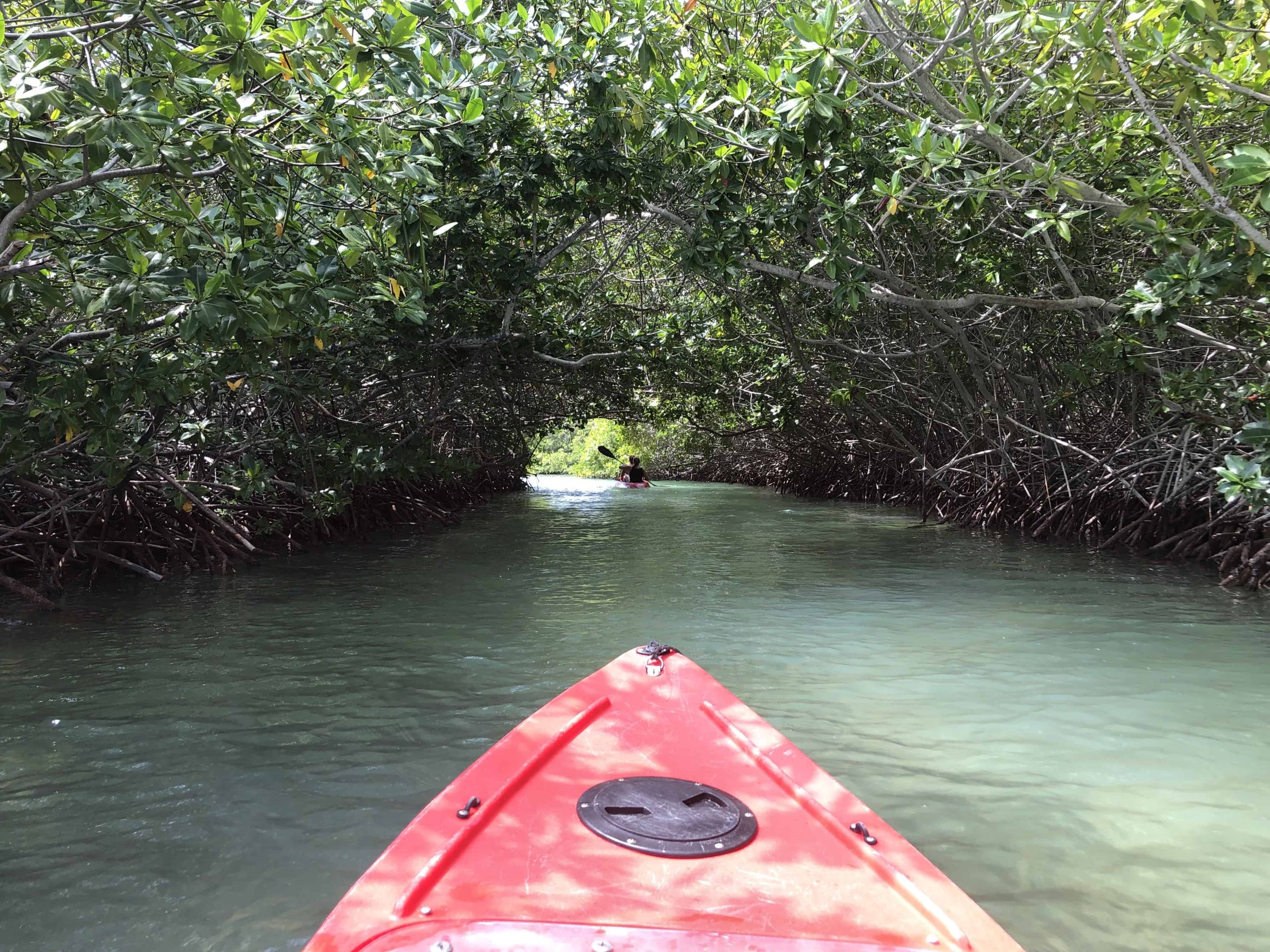 Overall, I had a great time in Bonaire. Even if I usually prefer trips that are more cultural and urban, there's no doubt that this island is absolutely beautiful.
The Courtyard Bonaire Hotel
The Courtyard Bonaire Dive Resort is called a Dive "resort," but it's more like a regular hotel than a resort. It's relatively small, with 115 rooms, which is a positive thing in my book.
The colorful Dutch Caribbean architecture of the hotel is beautiful, and canals surround it on 3 sides, so while it's not on the ocean, it's on the water at least.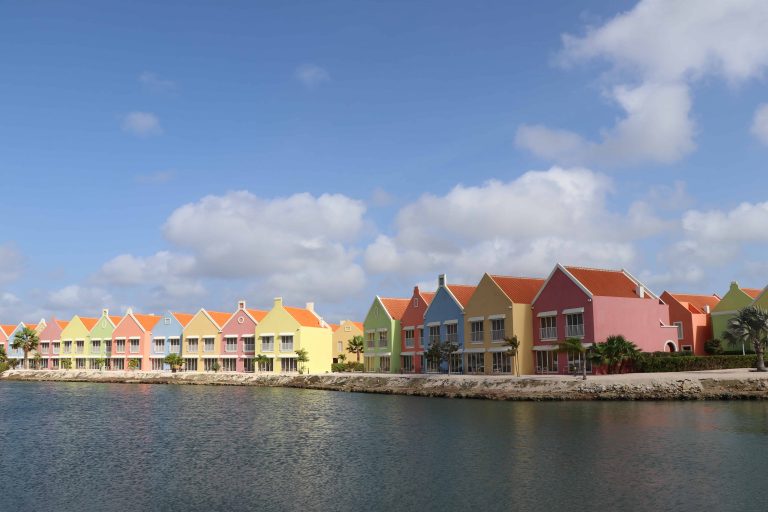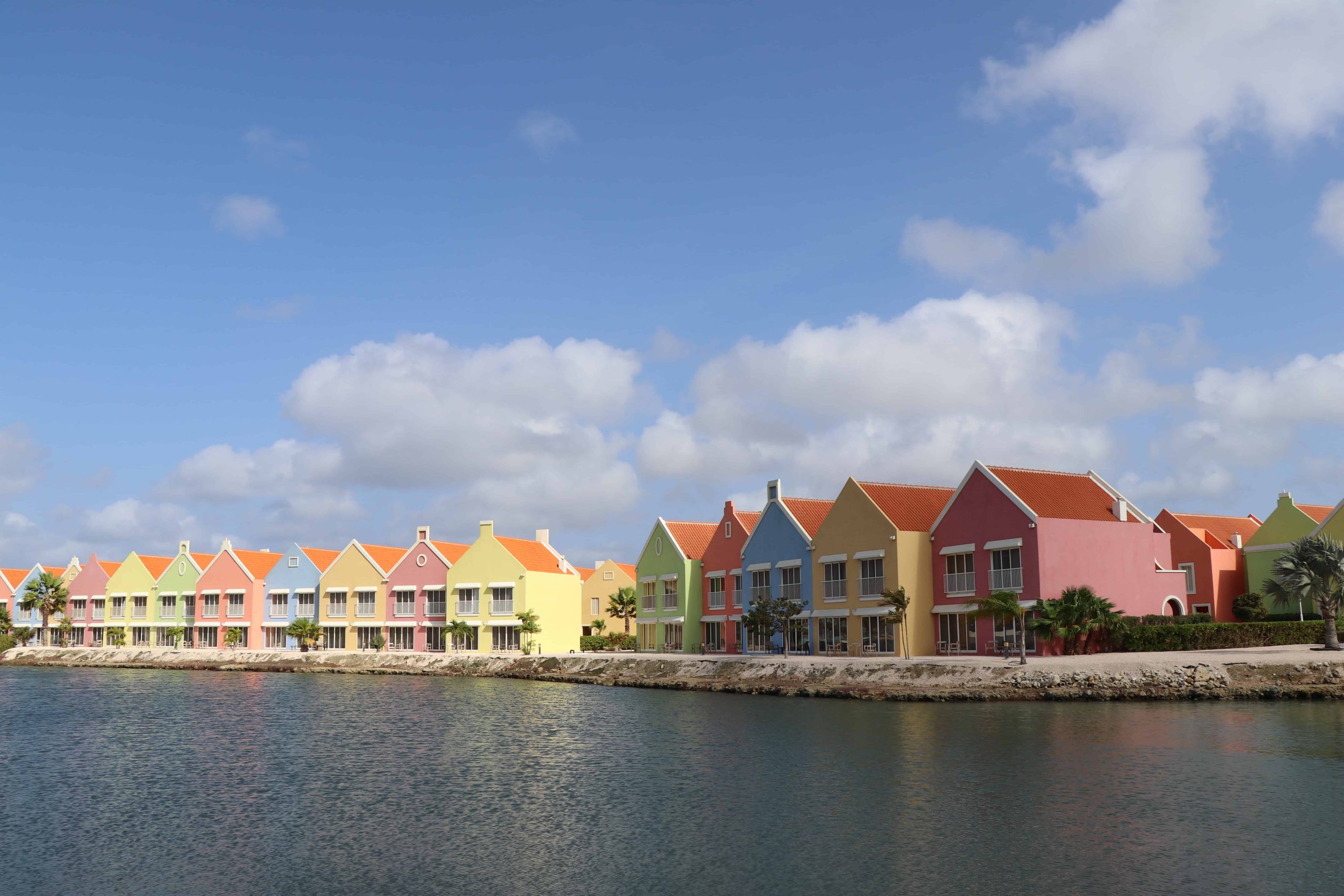 The hotel is very close to the airport and offers a free shuttle. The lobby is in a separate building at the entrance, which also houses the gym.
Every interaction we had with employees was very pleasant, from check-in to check-out.
I did not get a suite upgrade at my then-Platinum Elite status, as the hotel has only 4 suites. And while I usually don't care since I don't travel to stay shacked up inside a hotel room, I must admit that the more I do get suites as a now-Titanium member, the more addictive it gets. It's not quite like with airport lounges, which I could no longer live without, but as a non-luxury traveler, free suites are pretty nice too.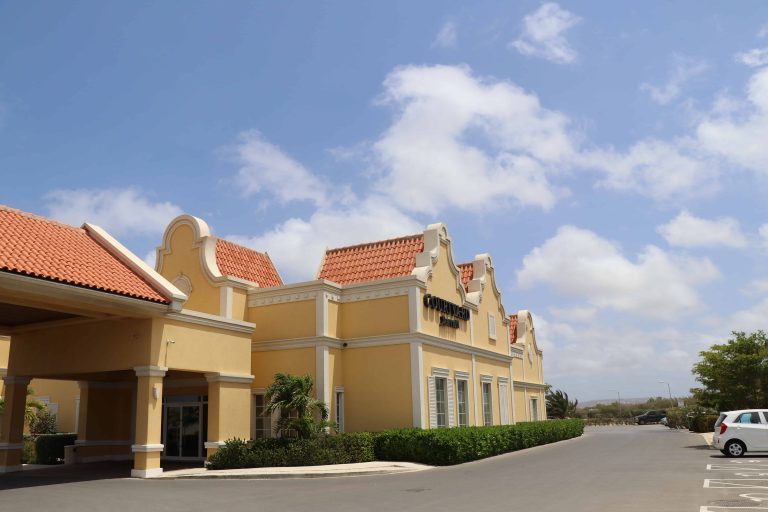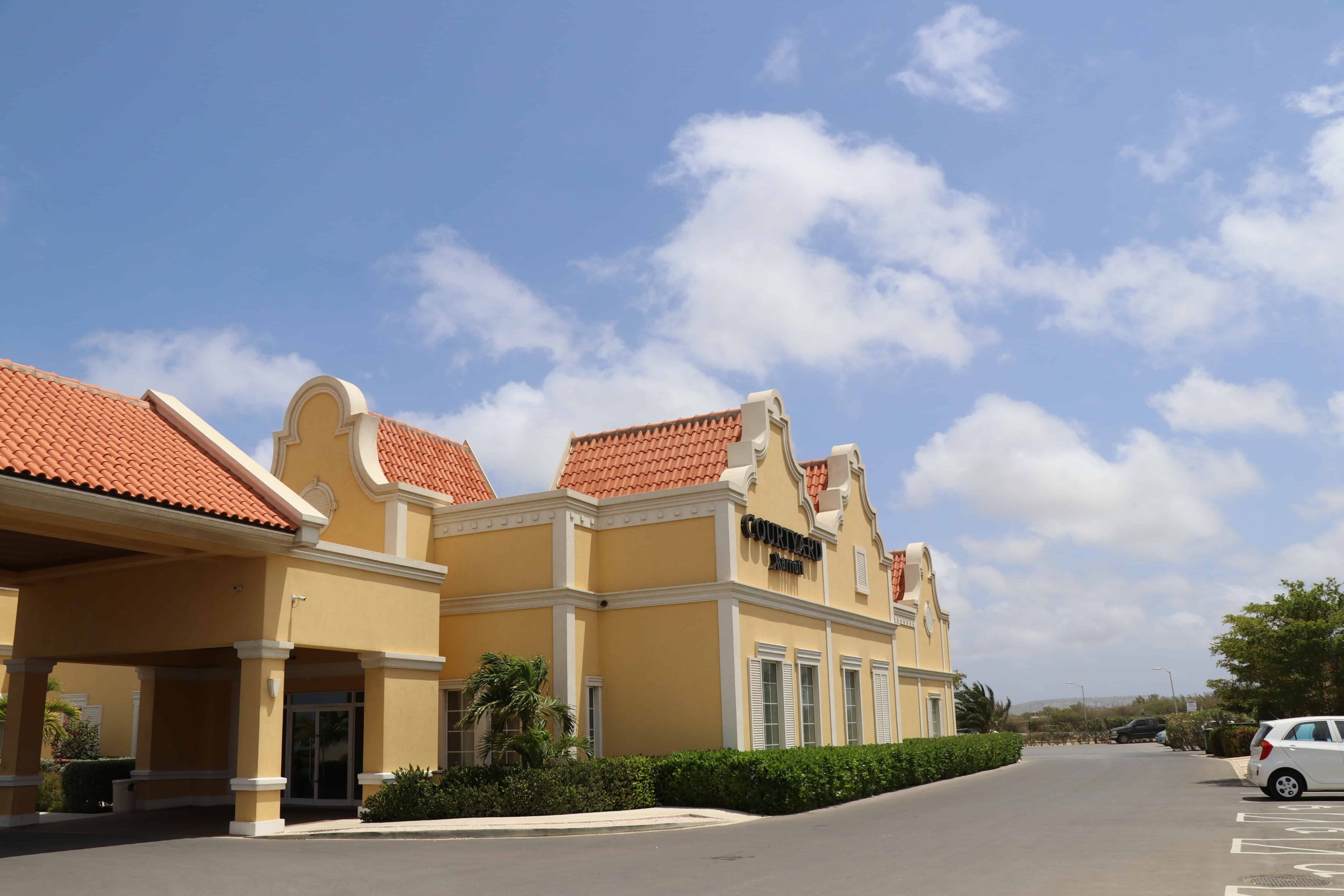 There was a limited amount of daily activities, for example, sunset yoga.
The infinity pool and hot tub were located at the end of the complex, near the restaurant.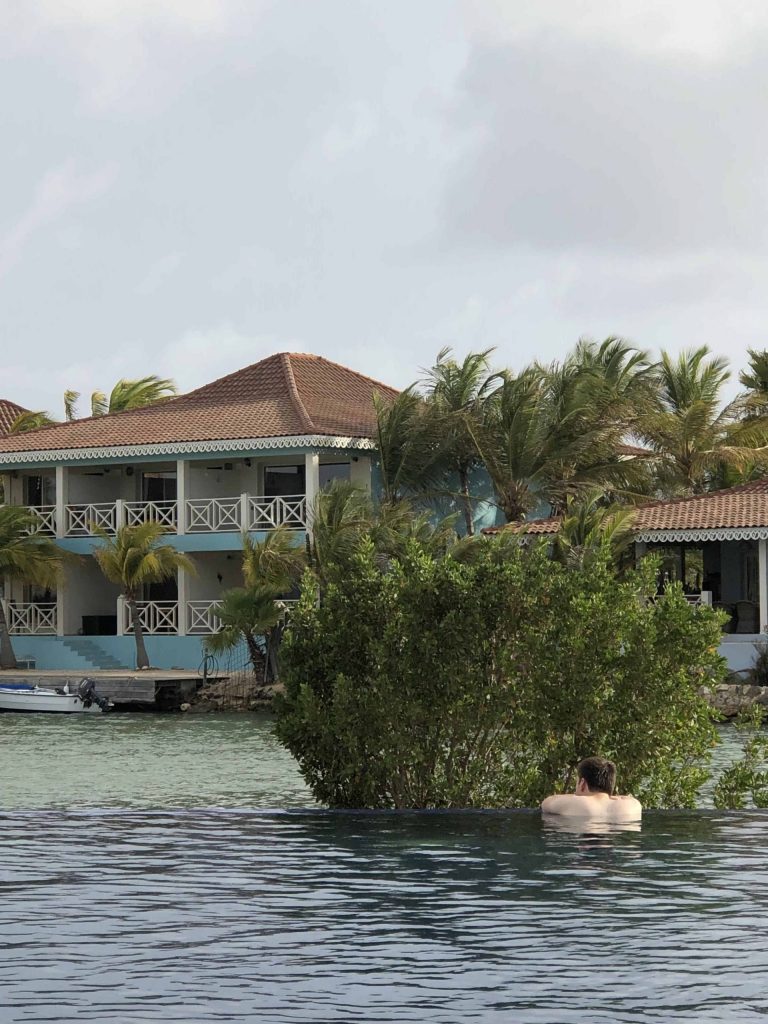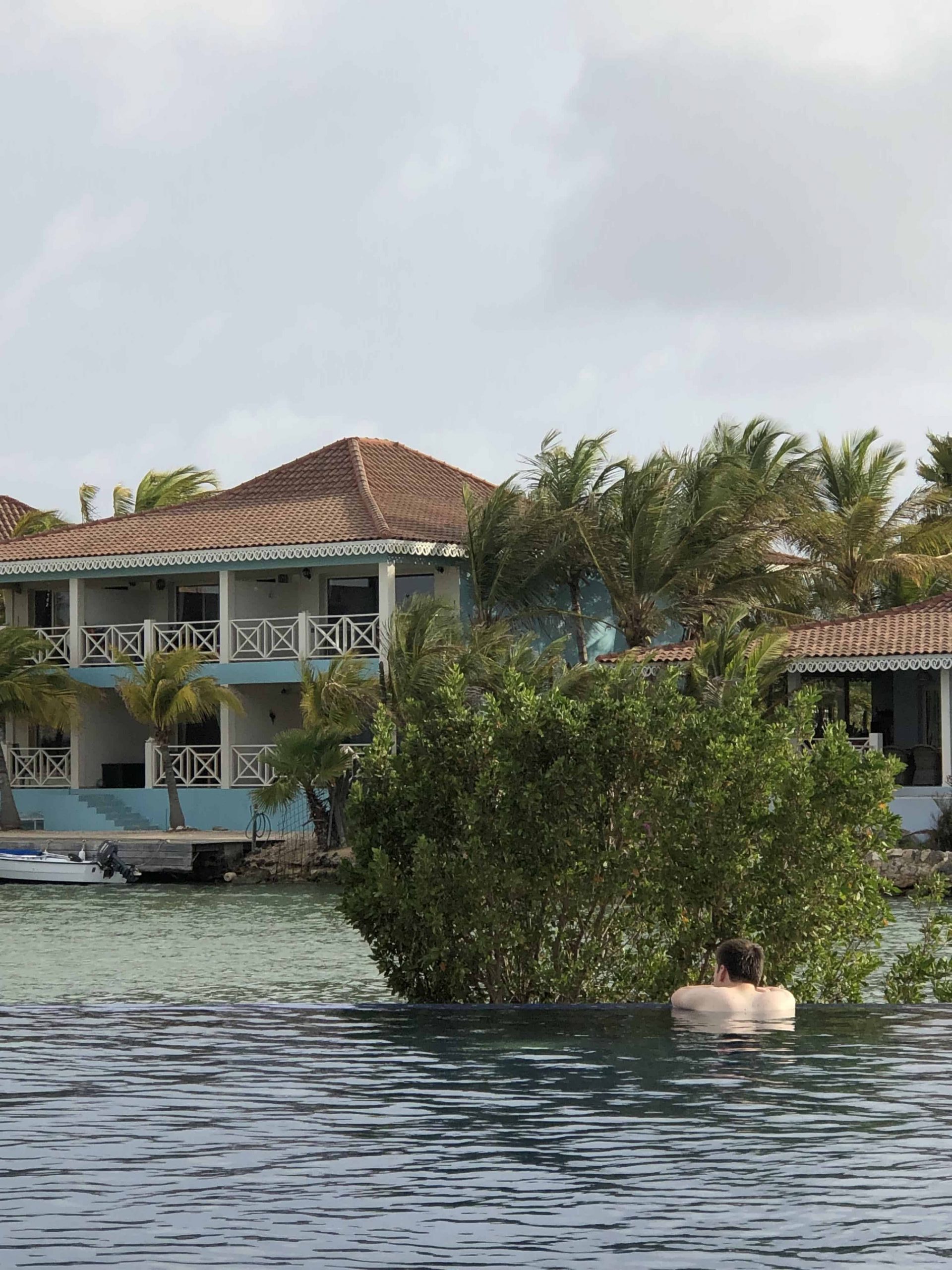 The room itself was very modern and clean, with a typical Courtyard brand design. There was a desk, and the couch that is now very common in most Courtyard properties.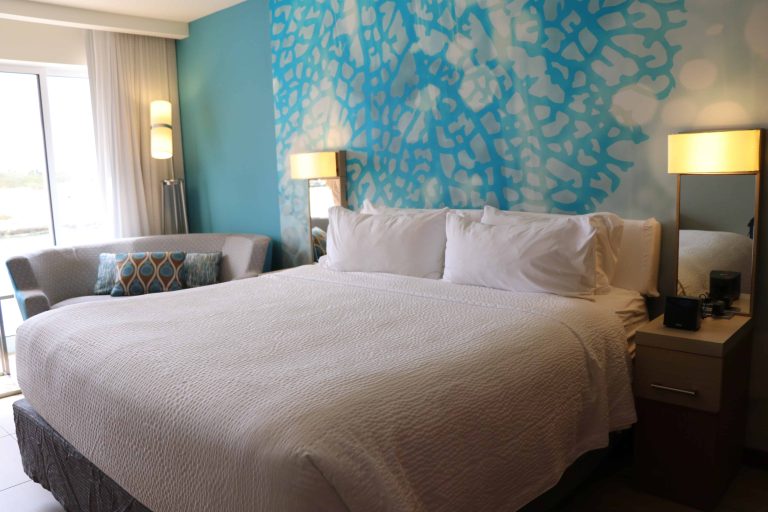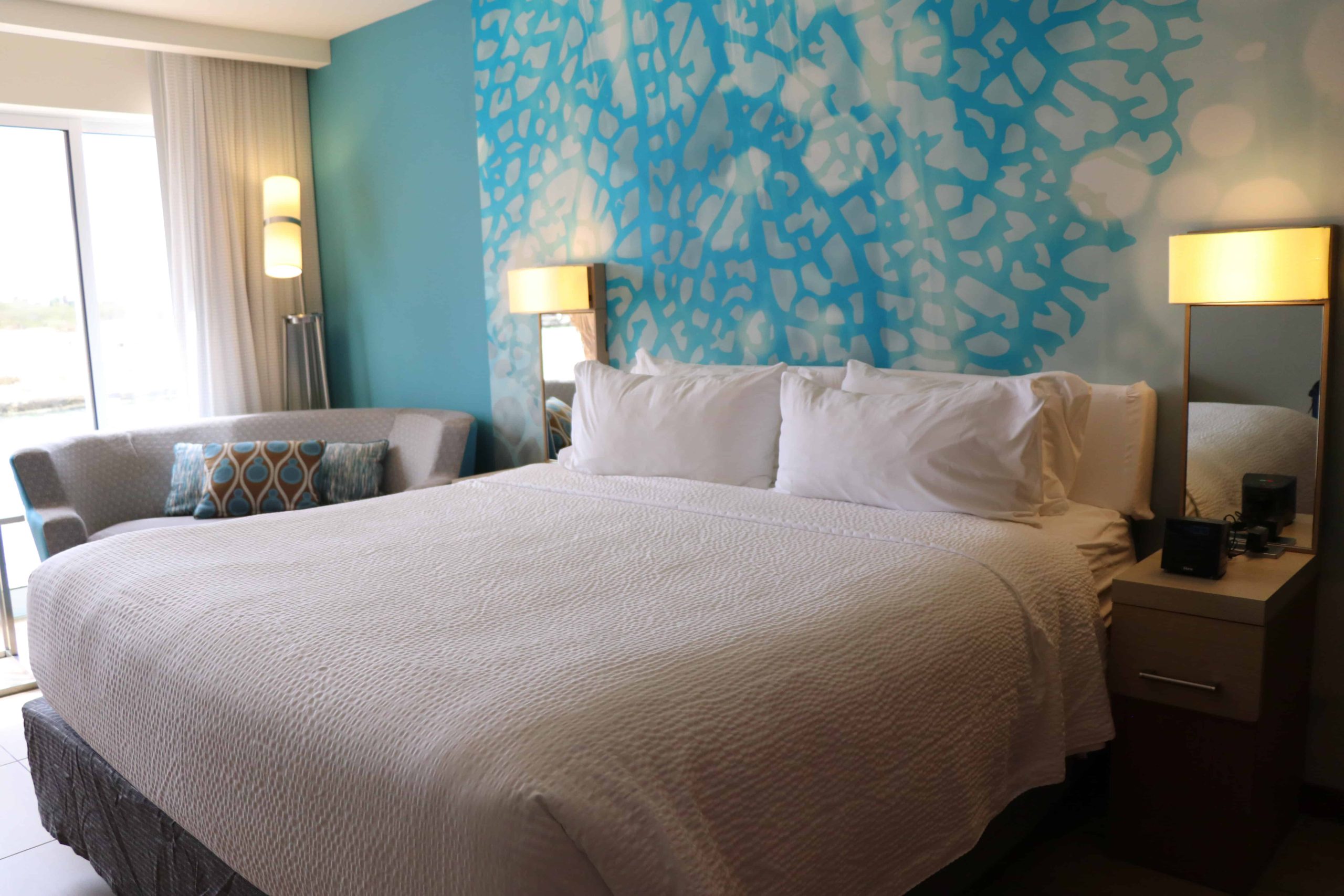 I asked for a ground-level room to be able to go outside to the kind of terrace, where many iguanas and reptiles were often casually strolling by. The rooms upstairs do not have a balcony.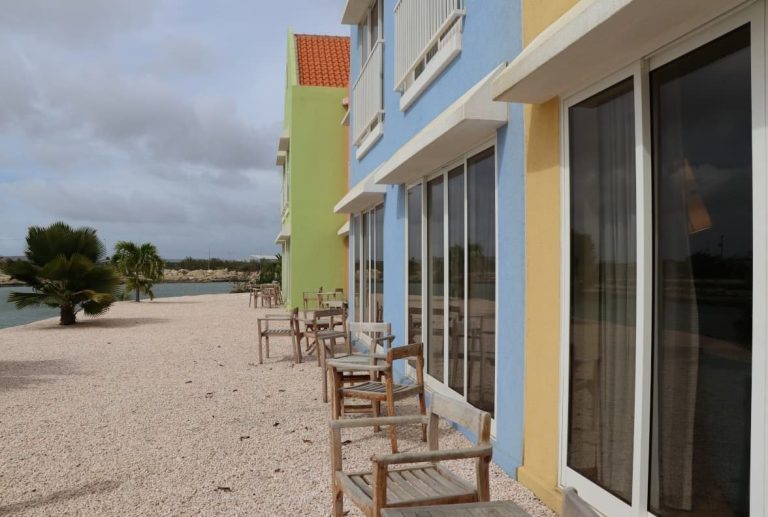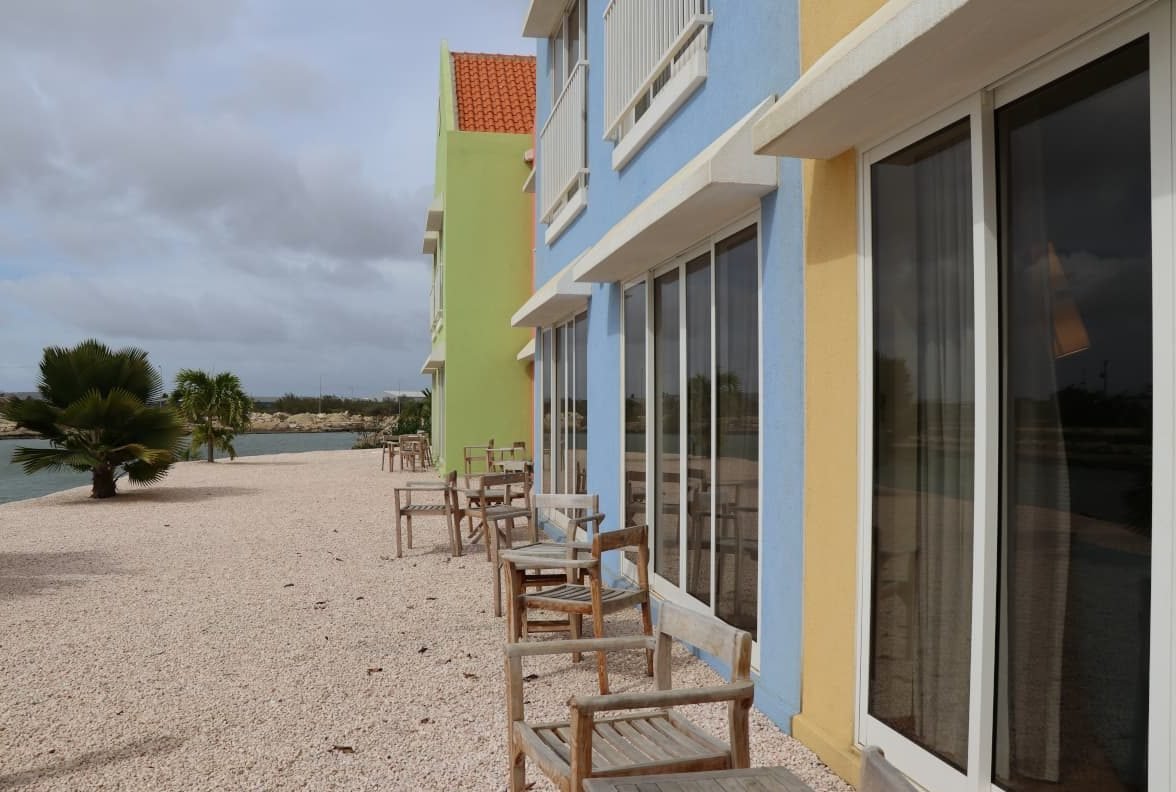 We didn't eat all of our meals at the hotel restaurant because one of the fun parts of traveling is trying local places, like the many available in Kralendijk!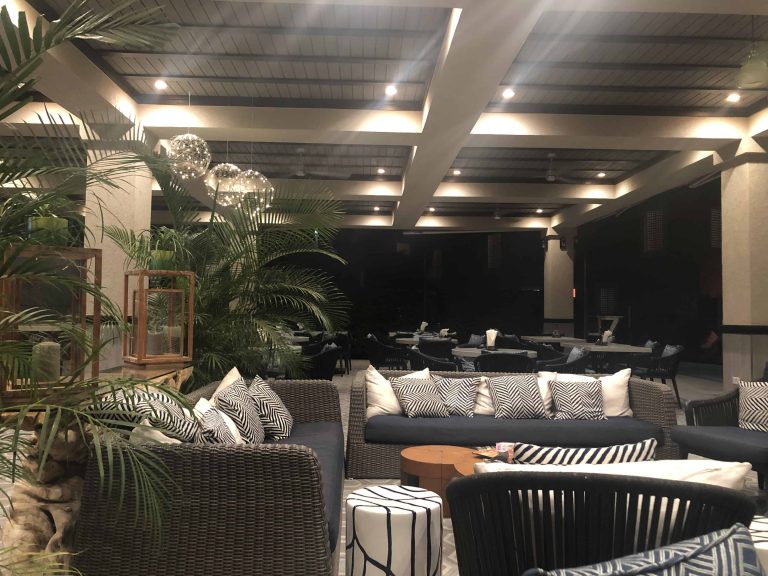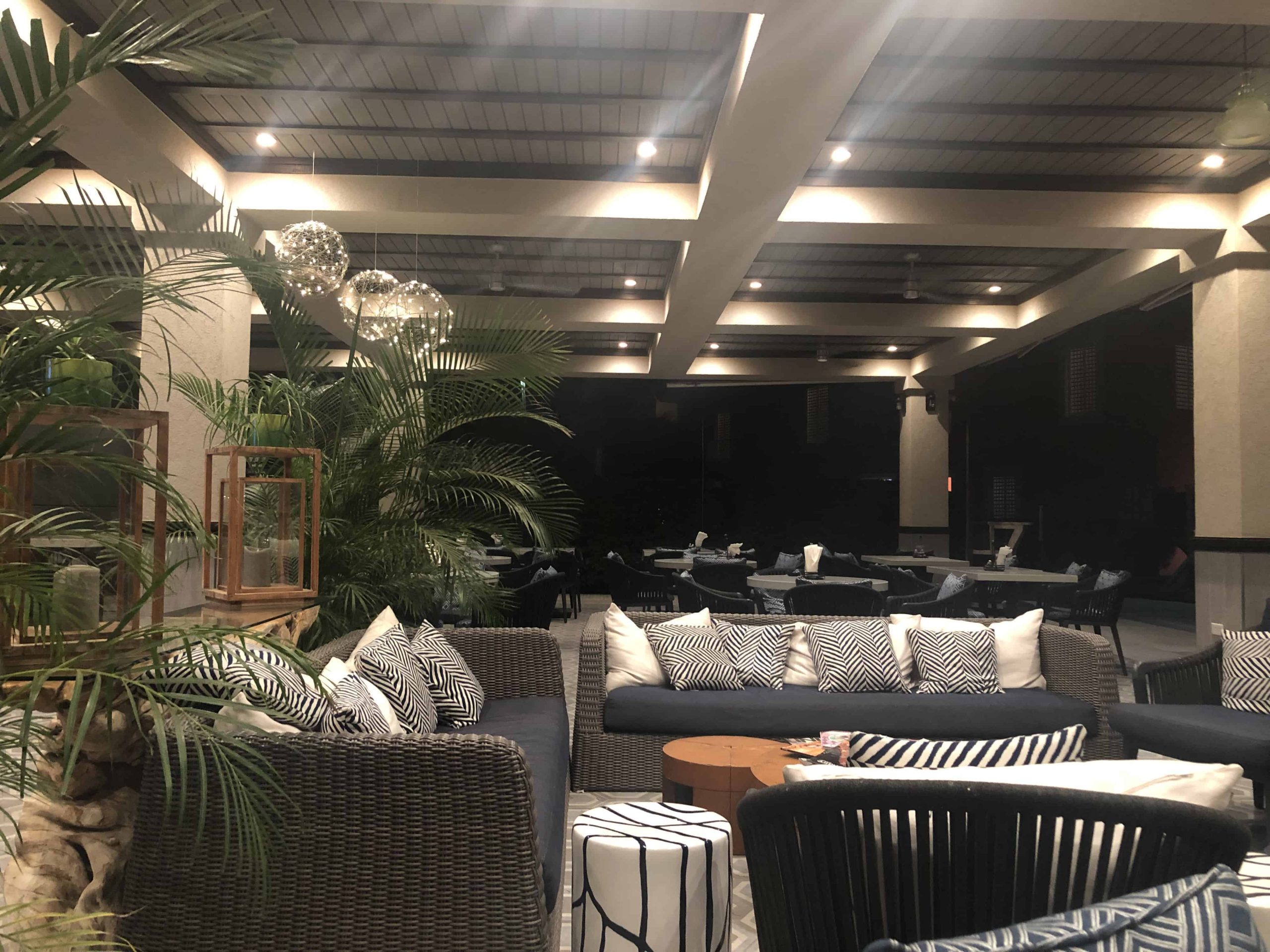 But we did have many meals there and tried quite a few items on the menu. Everything was delicious, and that includes the breakfast buffet as well, although everything was a bit pricey for a low-budget traveler like me (like most chain-hotel food prices are around the world).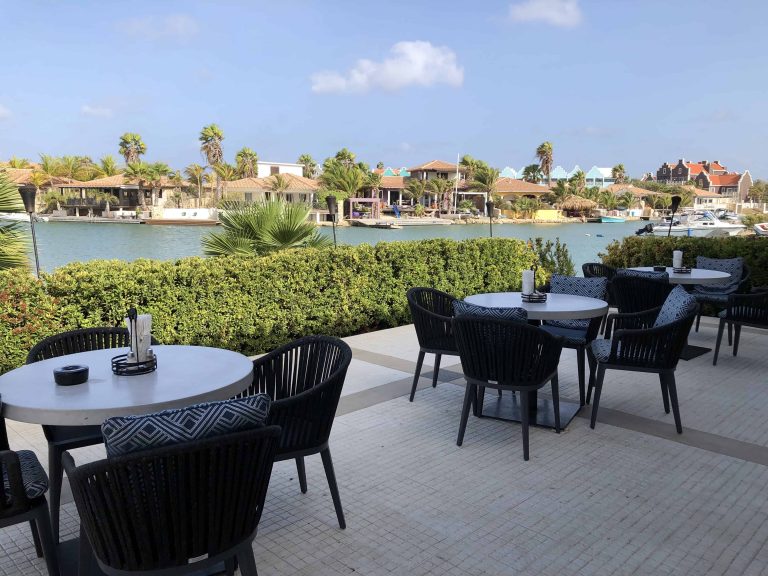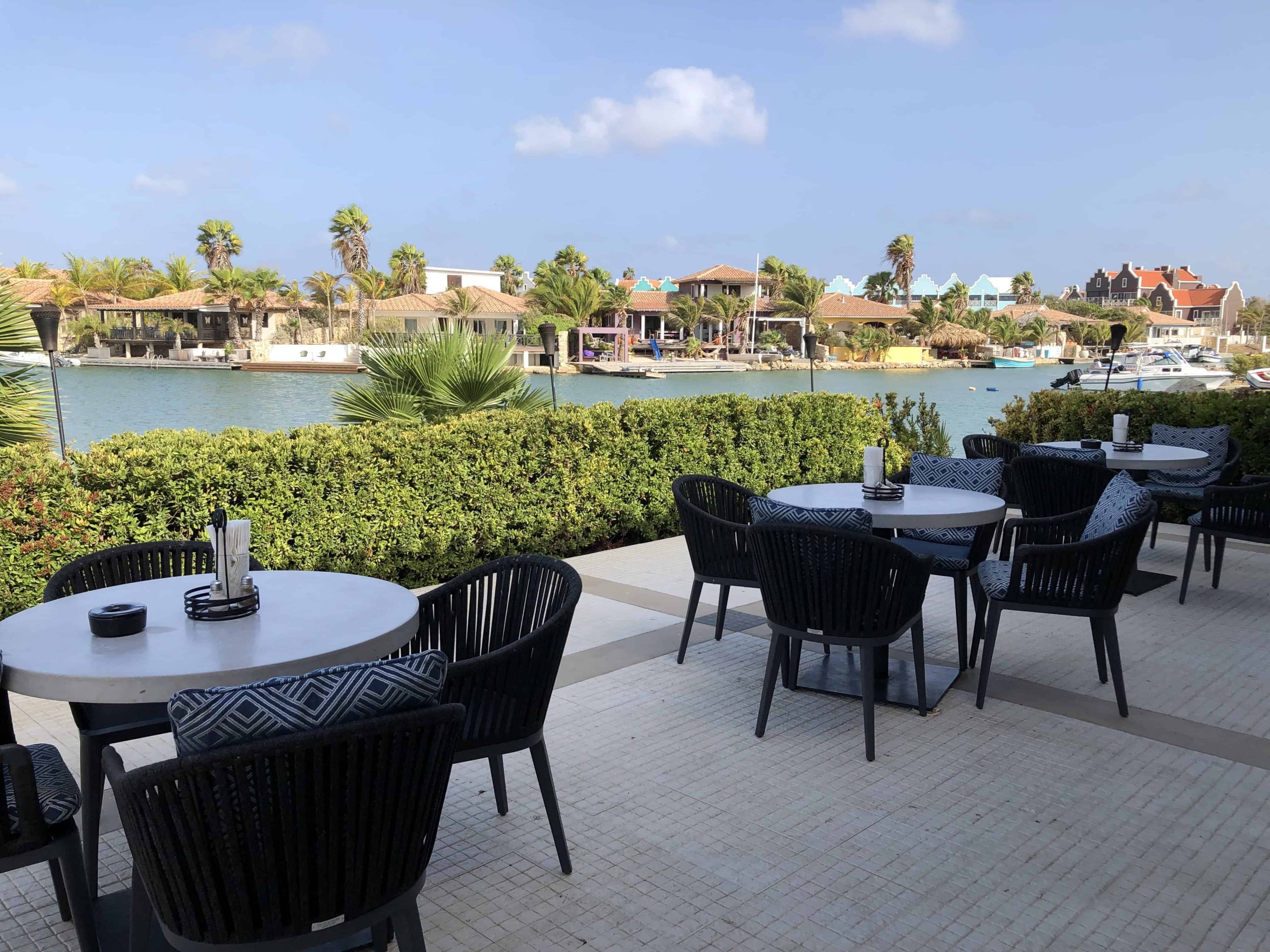 And the best part of the hotel—well, apart from the fact the stay was free of course—is that it was very quiet. No partiers, no loud people in general, and not many noisy kids either. It was a very nice experience.
I recommend it if you are looking for a base to visit an interesting island or if you are a diver.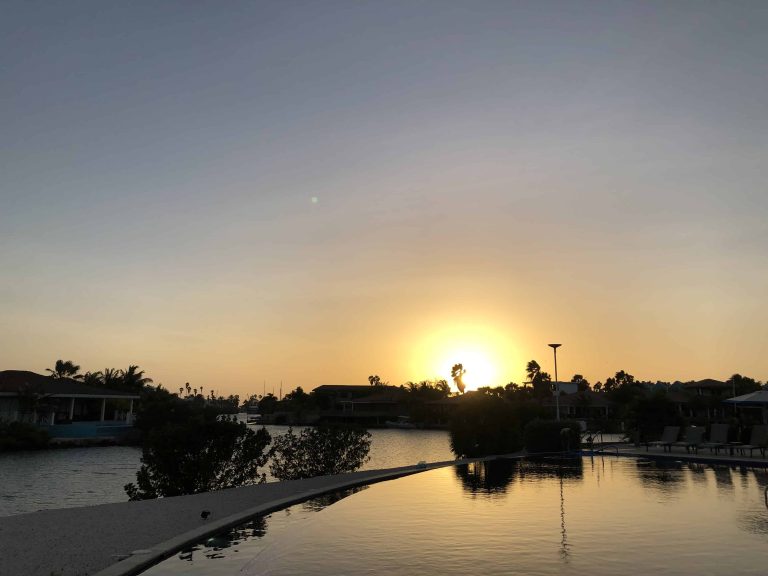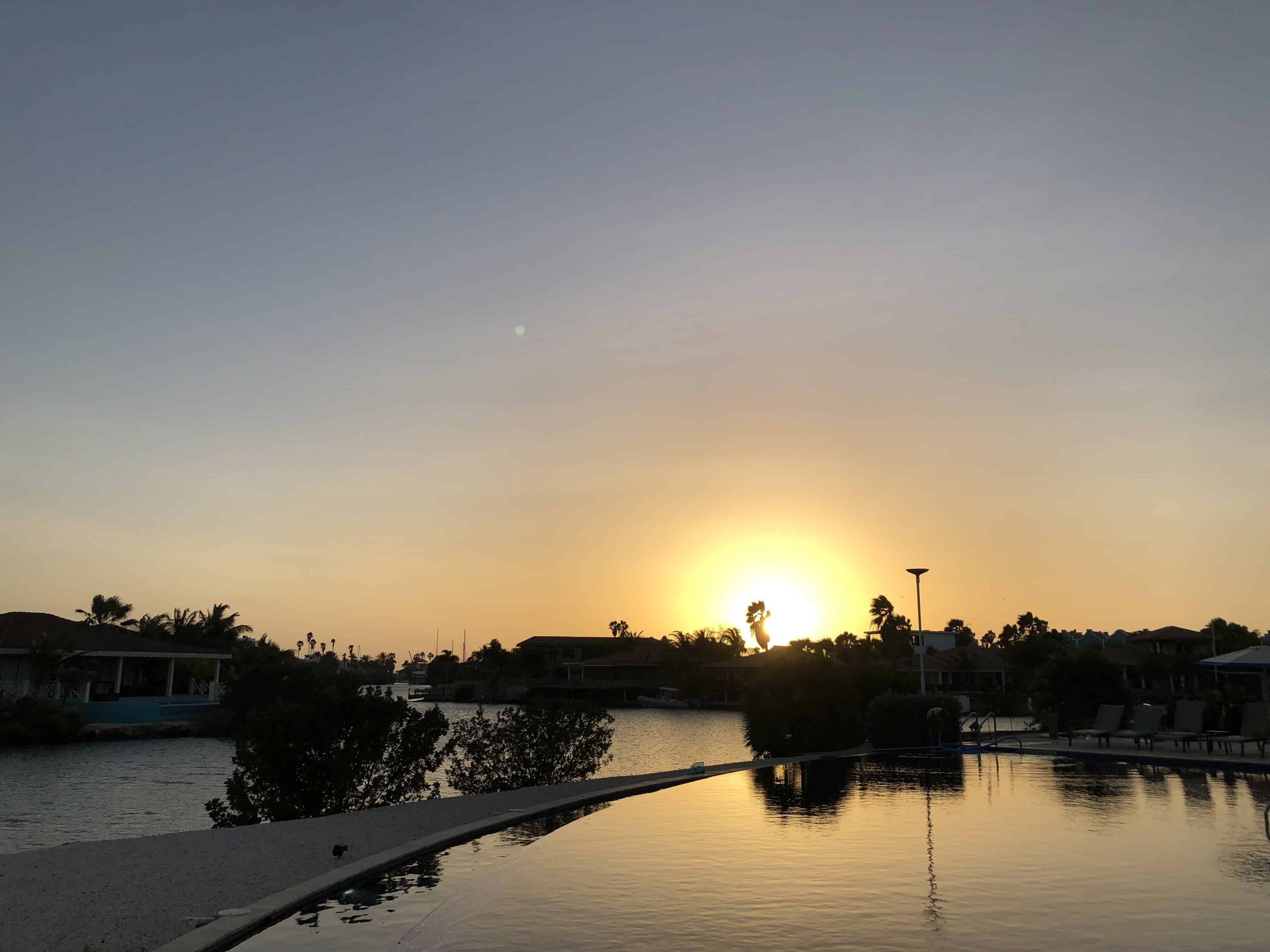 Speaking of those who are there to dive, the highlight is the diving center that is located directly on the premises. It seemed like most guests were divers, which is true of most hotels on the island.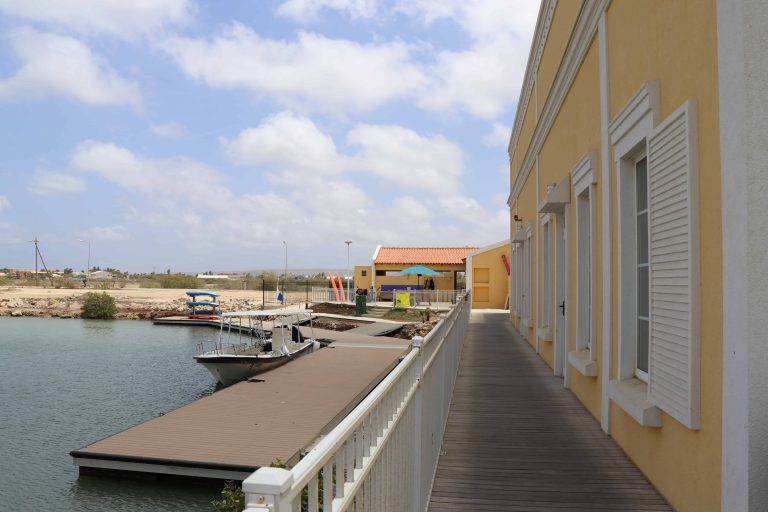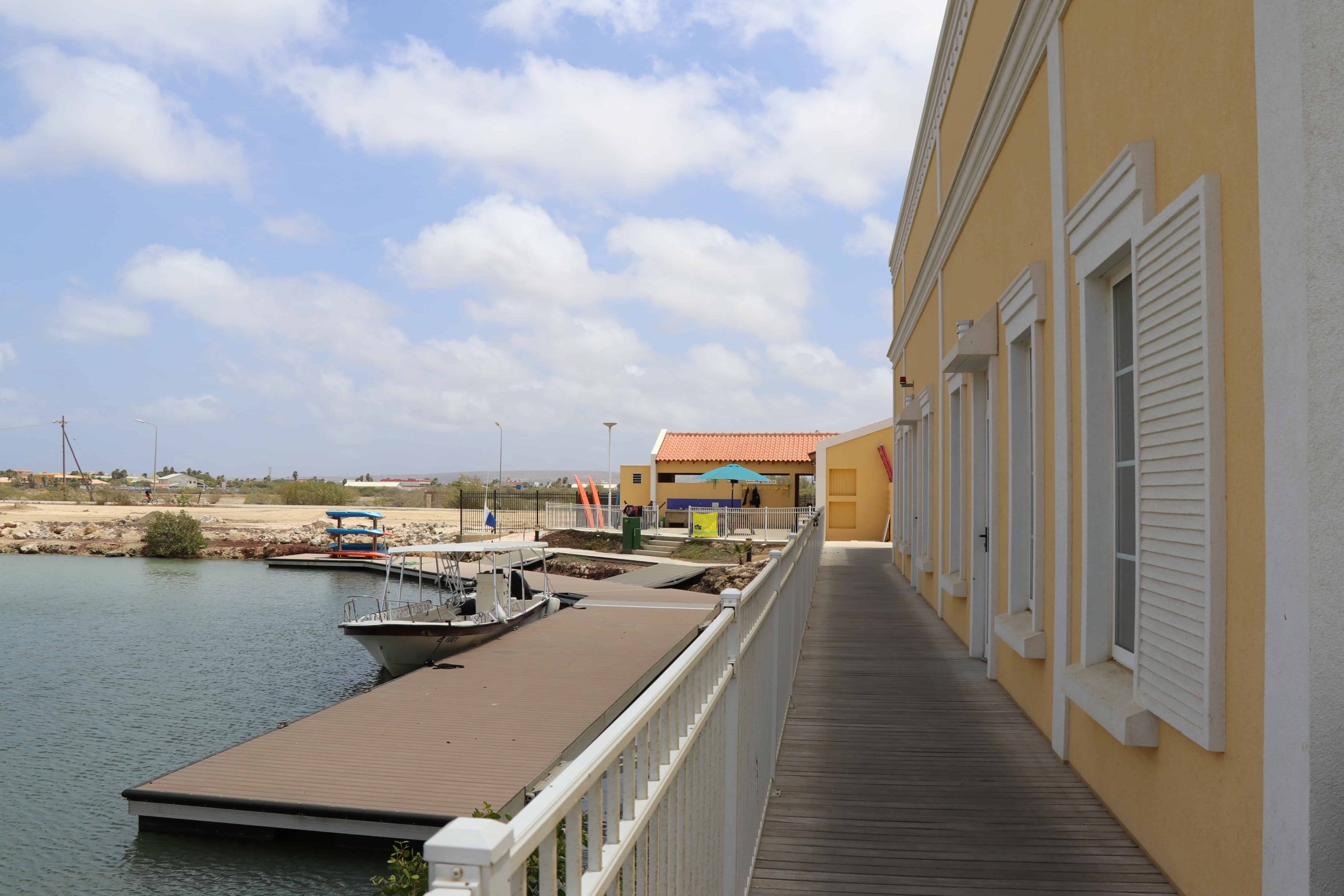 It's a great opportunity for travelers who want to get a free stay in the Caribbean, but it's especially interesting for divers. I know packaged diving trips can be super expensive (my in-laws have been on a few of them). So as is almost always the case in the world of travel, it can be a lot cheaper if you organize it yourself.
This is especially true if you get 5 or more free nights at a hotel with a diving center located directly on the premises. You can rent your equipment and go do some shore diving on your own, or choose a complete daily or weekly package and let the hotel take care of everything if you prefer convenience.
Detailed logistics
The Courtyard Bonaire Dive Resort is a hotel that costs about 17,000 points a night for standard dates. And you'll get a 5th night free if you pay for 4, as always.
I redeemed 75,000 Points for 7 nights, and it was one of the very few places in the world where taxes weren't included for a points booking (everywhere else but there and Malaysia, I've always paid $0). It was just US$6.50 a night, though, but it's still not 100% free like it usually is elsewhere.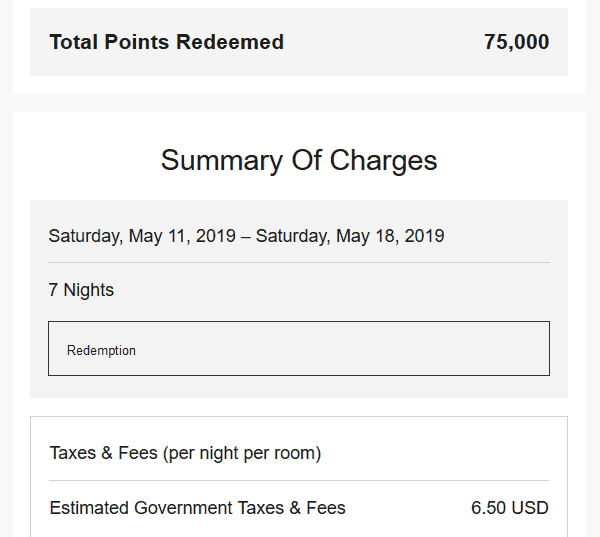 The number of points required may vary a little (either up or down) based on your dates now that Marriott's new pricing has taken effect. But remember that you can see the price for an entire month with the Marriott calendar, both for stays paid in cash or points. (These are the kind of tips you'll get with our Ultimate Guide To Marriott!)
As you can see, in 2019 many dates priced out at the lower off-peak price (10,000), while most nights are at the standard price (12,500), and 8 nights are at the peak price (15,000).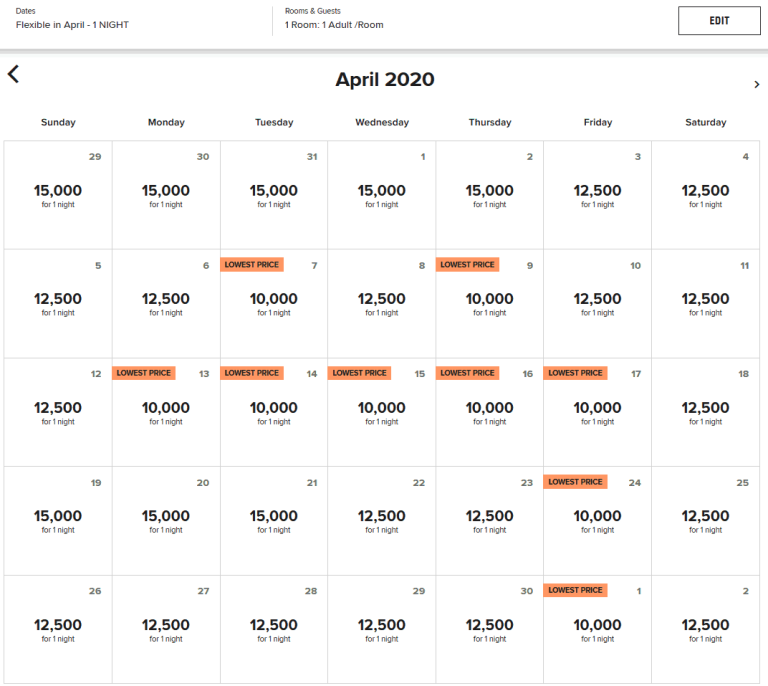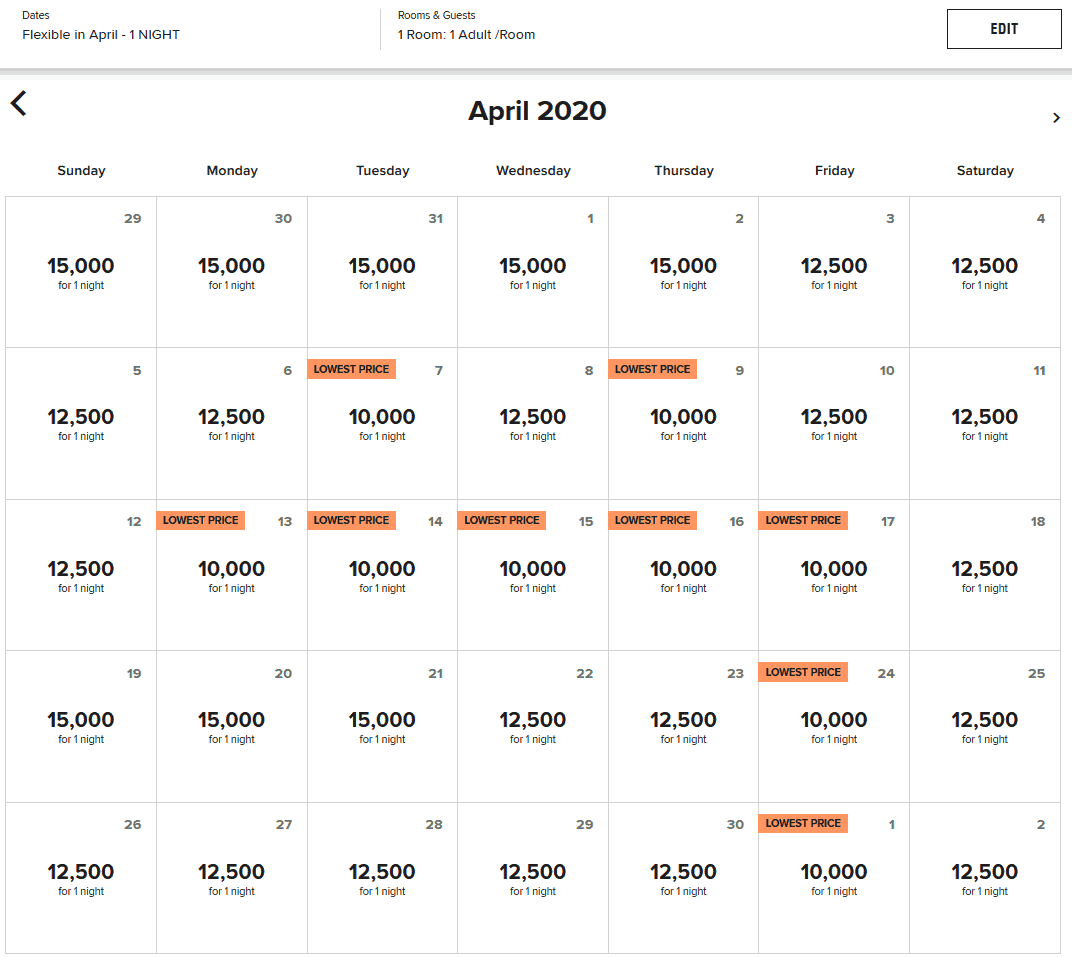 As mentioned, you can cancel points bookings for free up until 1 or 2 days to check-in for most hotels (although always double-check, because some require 7 days advance cancelation). The Courtyard Bonaire Dive Resort seems to require 2 days advance notice, but my 2019 booking required 7, so read carefully.
Of course, being a small, less popular island, flights to Bonaire (BON) are pretty expensive, so take that into account too.
Getting a free hotel is great, but not if you pay a completely indecent amount for your flights. We often spot deals to Aruba and many other Caribbean islands in the $400s roundtrip, but never for Bonaire. The best-case scenario seems to be to pay around $600 for roundtrip flights, but it is often more, depending on where you live in Canada.
In my case, I was in Miami, so I paid 10,000 Avios + C$8 in taxes (transferred from my American Express points) for the one-way from there to Bonaire on American Airlines. And for the return, I paid 20,000 Aeroplan points + C$45 in taxes (also transferred from Amex) from Bonaire to Quebec City (YQB) on United Airlines.
Not the greatest flight redemption, but not bad either: cash prices were very high, and getting the 7 free nights was worth the splurge. We saved nearly $600 each on the flights by paying with points, giving me more than our Flytrippers Valuation for Avios and Aeroplan points.
Leaving directly from Canada means the roundtrip is 45,000 Aeroplan points if you find availability on United. Or if you live in Montreal or Toronto, you can use 44,000 Avios instead of 45,000 Aeroplan and get a stopover in Miami for as long as you like.
In terms of budget, it's obviously not an affordable destination. It's a Western European country after all, and it's an isolated island to boot. I would say it's pretty comparable to here in Canada, which is not affordable at all, despite what those who don't often go to real affordable countries think! Food was especially like here, and that was basically my only expense for the trip since my hotel and flights were paid with points.
Finally, rental cars were relatively expensive compared to many countries, at $50 per day. But I think it's worthwhile for at least a day or two to be free to go anywhere since you can manage to get to the city and the beach with the free shuttle the rest of the time.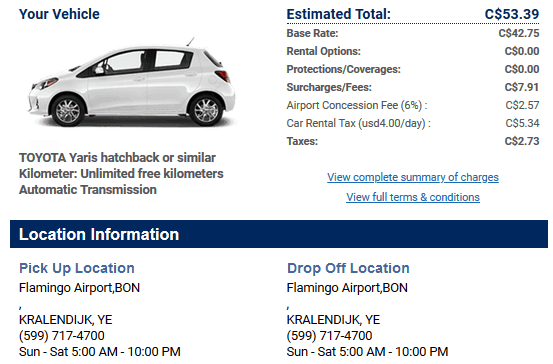 Want to get more content to learn how to earn free travel?
Summary
If you want to go on a trip that is part-vacation, part-exploring, getting free nights in the Caribbean is a pretty good deal. Although the same amount of points required for 5 nights in Bonaire will get you 11 nights in Bali…
What would you like to know about Bonaire? Tell us in the comments below.
See the deals we spot: Cheap flights
Explore awesome destinations: Travel inspiration
Learn pro tricks: Travel tips
Discover free travel: Travel rewards
Featured image: Bonaire (photo credit: Andrew D'Amours/Flytrippers)
Share this post to help us help more people travel more for less: