To many of you who don't follow our "the journey is the destination" motto, flying means being stuck in a metal tube with bland food, crying infants, layovers, and excruciating jet lag… and is anything but glamorous. But, what about the enchanting airports across the world with such unique features that you might actually look forward to your travel day?
As the resident "Aviation Geek" here at Flytrippers, I absolutely love airports. I wish I could visit them all. I love traveling so much that I love every part of traveling; not just some parts.

On my way to visit my 60th country (a very uncommon one, I'll share more details soon), I just visited one of the newest major airports in the world and that inspired me to compile this list of 10 (plus a bonus one) impressive, iconic or important airports for you to know about.
They're not worth paying more to fly into of course (I've only visited half of these myself), but if you ever have a choice to make between different layovers for the same price, you'll at least have a bit more knowledge about these 10 airports that stand out.

1. Singapore Changi Airport (SIN)
The Changi Airport in Singapore is so much more than just a transportation hub; it is truly one of the most admirable attractions in the city.

Its many features make Changi Airport one of the best global airports in the world, and it has won several titles to prove it: it has been named the best in the world for many years in a row.
Did you know that Singapore has an indoor waterfall, which is the world's largest? There is also a stunning indoor garden that spans five stories, the Shiseido Forest Valley. The Canopy Park that lies in the topmost level features facilities and gardens where you can spend some leisure time.
For those who enjoy free airport lounge access, Singapore has 12 (!!!) Priority Pass lounges: I had fun visiting every single one of them on my trip to Southeast Asia last year.
2. Hong Kong International Airport (HKG)
Hong Kong Airport has earned its reputation thanks to its construction: since the city of HK is already pretty much entirely built-up, they created an artificial island to build a new airport on. Japan has many of this type of airport and Kansai (KIX) even opened first, but HKG is the most well-known because it is the most used one.
Yes, it's also one of the busiest passenger airports in the world (#8). Hong Kong being a global hub for commerce, its airport is also the world's busiest cargo airport. You can read more about how Hong Kong is different from China.
Another fascinating thing about Hong Kong International Airport is that it has an ideal geographical location, which makes it approximately 5 hours flying time away from half of the globe's population. It replaces the old Kai Tak Airport, which had one of the most unique approaches through many skyscrapers.

3. Istanbul New Airport (IST)
I was there in mid-December, and it's hard not to notice that this airport is brand new (it opened in April). The new airport in Istanbul is the country's largest infrastructure project ever; it's really huge. By some measures, the airport terminal is the world's biggest.

Turkey plans to make this the world's busiest hub. Although many have that type of ambition, Istanbul's ideal location at the crossroads of Europe, Asia and Africa, combined with flag-carrier Turkish Airlines being the airline that flies to the most countries in the world, make this quite plausible.
They certainly have the infrastructure to do so now, as the old airport could no longer be expanded as it was in the very dense southern part of the city's European side.
Istanbul Airport showcases breathtaking contemporary design and revolutionary architecture inspired by the Ottoman legacy in Istanbul. Under a canopy dotted with skylights, you'll find transit halls shaped like the Bosphorus Strait (which separates Europe and Asia in the center of Istanbul), many potted plants, and floor-to-ceiling windows.
The terminal has the potential to hold around 90 million passengers currently; however, the terminal will be able to increase its capacity to 200 million when they build 6 more runaways and 4 other terminals as traffic grows. The dark side: officially, over 50 workers died during construction, but some estimate that the real figure could be closer to 400.
I'll soon share more content about Turkey as well; it's one of the most underrated destinations out there. And one of my favorite countries to visit.
4. Beijing Capital International Airport (PEK)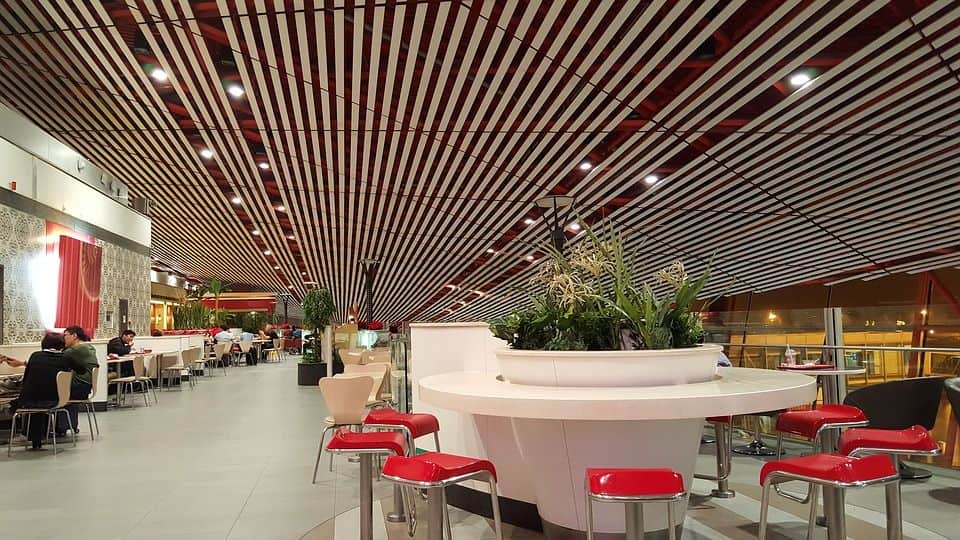 Known as the China Gateway, Beijing Capital International Airport is the main international airport serving Beijing. I've transited through PEK on both of my trips to Asia and it is truly impressive.
China offers a free 144-hour transit visa and the Great Wall is not too far, so I definitely recommend transiting through PEK if you have the opportunity.
Aside from the top-notch facilities, this airport is also the busiest and largest in China. More importantly, it's now the second busiest in the world. The airport also has seen one of the fastest growths in the world!
5. Beijing Daxing International Airport (PKX)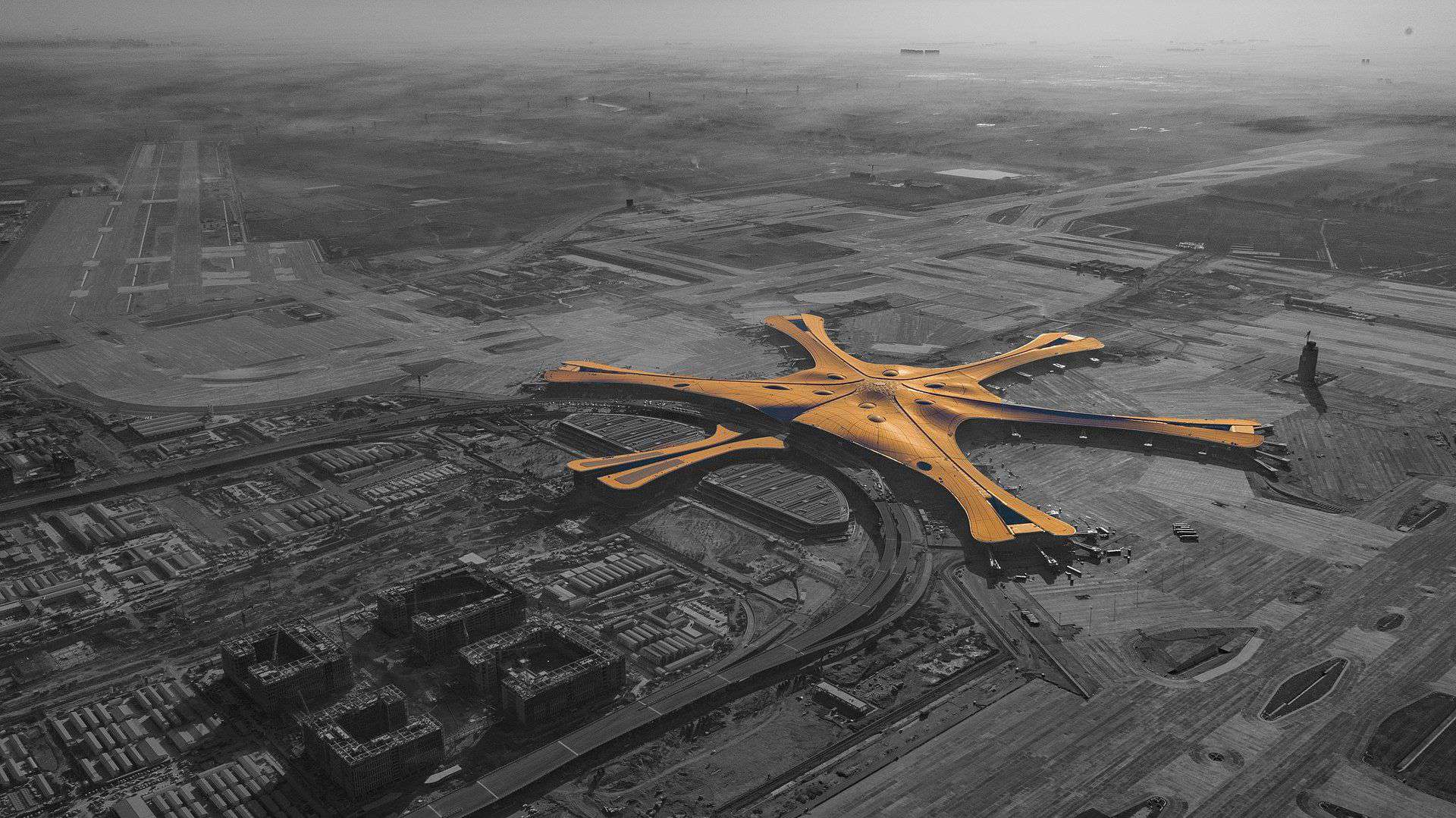 Wait, another Beijing airport? Yes. While it's not uncommon for large cities to have multiple airports (in fact, most do), it is uncommon for a city to have two massive major airports.
Daxing is the newest airport on this list, having just been inaugurated this fall. It's an additional airport to support the huge Chinese commercial aviation industry, expected to become the #1 market in the world soon.
Beijing will, therefore, be pretty unique among world airports: it will have two airports segregated mostly by airline alliances, which hasn't been done before. Usually, cities with two main airports have one mainly for international flights and one for domestic flights, or one for legacy airlines and one for low-cost and ultra low-cost airlines.
In Beijing, flag-carrier Air China and its Star Alliance partners are expected to remain at PEK, while SkyTeam and oneworld are mostly going to be based at PKX.
The experimental, monumental, and aggressively curvilinear work is by Zaha Hadid, the renowned Iraqi–British architect. The airport appears to be in the shape of a six-armed giant starfish that is squatting over the land.
It cost dozens of billions of dollars to build, which is even crazier when you think about the fact the other Beijing Airport is not very old! The terminal rivals the one above in Istanbul as the largest in the world.
By the year 2021, the Beijing Daxing International Airport will be handling 45 million passengers, which will increase to 72 million passengers by 2025; and by the year 2040, it will be 100 million. Three hundred landings and takeoffs will take place every hour.
6. Hartsfield–Jackson Atlanta International Airport (ATL)
This airport isn't as beautiful as the others, but I've included it for one simple reason: this airport has been the busiest in the world for almost two decades. Yes, Atlanta.
The world's second-largest airline is based here: Delta Air Lines. There's a running joke that wherever you want to fly on Delta, you'll go through Atlanta. Rest assured, it's not true, as Delta has many other hubs; in fact, they have more hubs than the other two US legacy carriers.
So a layover at the Atlanta International Airport is common for more than 300,000 passengers flying the skies every single day. This airport sees 2,700 departures and arrivals taking place every day, an average of about 2 every minute… but it's actually more than that most of the day, given how few flights operate in the overnight hours.
7. London Heathrow Airport (LHR)
In the long list of busiest global airports across the world, London Heathrow airport definitely earns a spot. It's the busiest airport in Europe (#7 worldwide).

London is one of the largest cities in the world, and Heathrow is its main airport. But it's not the only one: there are 6 total commercial airports in the London area. That said, most long-haul international flights are through Heathrow, although Gatwick has added many in recent years due to the congestion at Heathrow.
Heathrow is so congested that "landing slots" are worth millions. The record belongs to Oman Air, who paid 75M$ to purchase a morning slot from Air France-KLM in 2016. The airport got approval to build a long-awaited third runway, but it has been very controversial due to the impact on the neighborhood (even London Mayor Sadiq Khan is against the proposal).
If you're interested, here is the full list of London's commercial airports (but you don't need to know this; just be sure to input London the city and not a specific London airport in flight search aggregators and you'll see all your options): Heathrow (LHR), Gatwick (LGW), Stanstead (STN), Luton (LTN), London City (LCY) and Southend (SEN).
8. Dubai International Airport (DXB)
Dubai International Airport was the third busiest airport in the world in 2018 (after Atlanta and Beijing). Fittingly, as Dubai is a very flashy city, this great airport doesn't fail to offer stunning distractions, enticing indulgences, and fascinating entertainment for passengers who are waiting for their connecting flight.
This airport is especially busy because of its location: like Istanbul, Dubai is centrally-located. It can be considered Asia's westerly hub and Europe's easterly hub.
It also helps that Emirates, the local airline, is highly subsidized by the government, who wants to diversify the economy and not be too dependent on oil. Growth hasn't gone exactly as expected though: the city built a brand-new second airport (DWC), but it is still very much unused at this point.
I built in a long layover in Dubai in the summer of 2018 when I was on my way to Oman (because long layovers are awesome when you like to travel) and one of the things I found very useful was that the Dubai Metro brings you directly from the airport to the city center in around 30 minutes.
9. Doha Hamad International Airport (DOH)
It's often recommended to reach the airport 2 hours ahead of your departure time, but when it's Hamad International Airport in question, you will want to triple or quadruple that timeframe.
And, no, this isn't because of any security hassles. This ultra-modern, gleaming airport is undoubtedly the most luxurious aviation hub in the world. Diamond-shaped skylights allow the sun to illuminate the halls during the day. Stroll through and view the fancy artwork, and the adjacent mosque has a unique resemblance to a giant drop of water.
This airport is genuinely fascinating and luxurious. It's common to see DOH on a flight itinerary as Qatar Airways often has competitive international fares—at least for those who don't wait for deals and pay regular price—and if it comes up, you might want to stick around since you can explore Doha for free if you have a stopover there.
10. Tokyo Haneda International Airport (HND)
Tokyo's older airport doesn't seem like one of the global airports that stand out. But, it is worth including due to what's happening now.
The Japanese government decided to allow more competition and attributed a slew of new landing slots to US airlines at Haneda (while previously, most long-haul routes operated out of Narita Airport).
The result? We've seen incredible deals to Tokyo (in the $400s roundtrip from most Canadian cities) thanks to the move: new routes are often discounted heavily by airlines. These were the lowest prices ever spotted for Japan (let us know if you've taken advantage of these, we want to know.)

Haneda is the 4th busiest airport in the world, but despite that, it will rarely feel rushed or crowded. It has more than enough things to keep travelers interested. The best delicacies in Tokyo are available in a wide range of restaurants. Search for your favorite dish while you stroll through an indoor lantern-lit alleyway.
Bonus. New Mexico City Airport
We love giving you more than you came for at Flytrippers, so here's a bonus airport.
The upcoming airport in Mexico was supposed to be the largest and also the most expensive endeavor that has been undertaken in the country in the past century. It was a megaproject worthy of a megacity, one that would make Mexico City a major global hub for Latin America.

The new international airport was rumored to be North America's biggest airport. However, after the project was greenlit in the year 2014 by then-President of Mexico, Enrique Peña Nieto, he left office. His successor Andrés Obrador is strictly against the project, and construction was abruptly canceled in 2018.

It is especially shocking given that construction had already started and a lot of money had already been invested. Having transited through Mexico City's current airport (MEX), I can say it is definitely ripe for an upgrade, so it will be interesting to see what happens next after this missed opportunity.
Want to learn more about how to travel for less?
Summary
As you can see, some airports stand out and want you to enjoy your time by offering all these great amenities. Keep an eye out when searching for flights on or cheap deals page and see if you can check one of these global airports off your list!
Have you been to one of these airports? Are there any other outstanding airports that you would add to our list? Tell us in the comments!
Want to see our current discounted plane tickets?
Click here to see our flight deals
Want more travel tips and inspiration?
Click here to see the blog homepage
You'll probably enjoy this article:
Travel Hacking: Free Travel (really)
Help us spread the word about our flight deals and travel tips by sharing this article and, most importantly, bookmark Flytrippers so we can help you navigate the world of low-cost travel!
Featured image: Dubai International Airport
Advertiser Disclosure: Flytrippers receives a commission on links featured in this blog post. We appreciate it if you use them, especially given it never costs you anything more to do so, and we thank you for supporting the site and making it possible for us to keep finding the best travel deals and content for you. In the interest of transparency, know that we will NEVER recommend a product or service we do not believe in or that we do not use ourselves, as our reputation and credibility is worth far more than any commission. This principle is an essential and non-negotiable part of all our partnerships: we will never give any third-party any control whatsoever on our content. For more information on our advertiser disclosure, click here.