Do you like roadtrips? They happen to be a very American tradition and we found the perfect itinerary to visit every state in the continental USA during 1 epic roadtrip. A great trip idea for those who have a lot of time but want to stay closer to home.
Personally, I love roadtrips and I hit the road as much as I can, despite also being an aviation geek: you can like both, right? What matters is traveling and seeing new places, no matter how.
So here are the maps and details of the 2 itineraries that allow you to see all the lower 48 states at once, depending on your travel preference.
Basics of the 2 epic USA roadtrip itineraries
The USA is a huge country, almost as big as Europe (it's even larger than Canada when considering land area alone).
So the USA has a lot of variety in terms of landscapes, but even in terms of culture too (even if many who aren't from the country don't realize that).
If you aim to eventually visit every state, any 1 of these 2 itineraries is a great way to almost all of them at once. The only 2 states you'll have left to visit after this roadtrip will be Hawaii and Alaska.
There's a version for national parks and points of interest and a version for cities.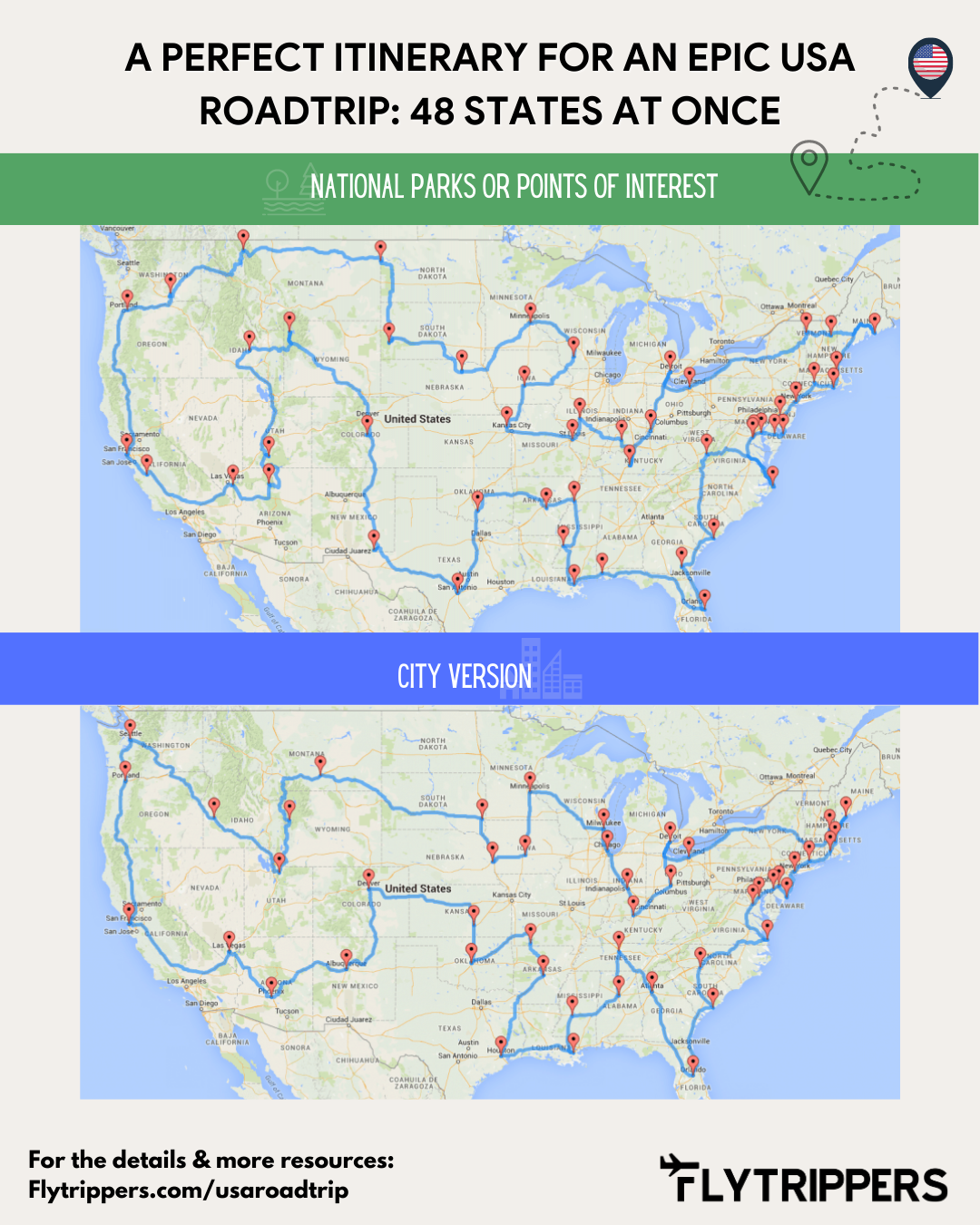 I'm on the quest to visit all 50 states myself (in addition to also visiting every country obviously), and I'm not doing too bad with 47 already.
But let's just say it would've been much quicker to get to 48 at once with this roadtrip instead of having to do it over dozens of trips.
Here are the details.
48-state roadtrip – national parks/points of interest version
Here's a map of the 1st itinerary.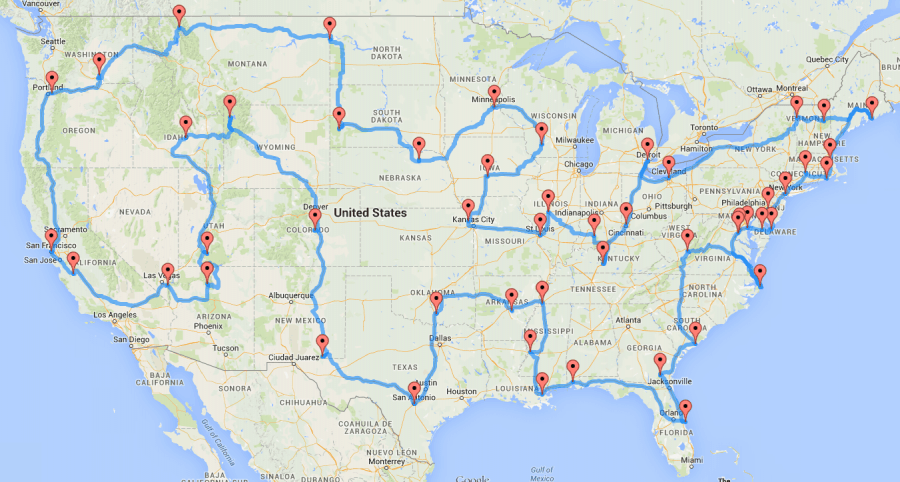 It was conceived by American Ph.D. student Randy Olson, on his blog, and it was done scientifically to optimize the routing: each stop represents a national park or a point of interest.
So you're not just seeing every state, you're seeing cool parts of every state (which sadly wasn't our case in North Dakota during our very random 1200-miles-nonstop-in-2-days Flytrippers roadtrip across the Midwest just for fun).
Good times. Roadtrips always make for great stories.
Anyway, the itinerary has also been optimized to be as efficient a route as possible to see all 48 states, so you can rest assured you won't be wasting any time.
If you only stop to sleep, you can complete this roadtrip in only 9 days, but we recommend taking at least a couple of weeks to explore all these places obviously.
And gas is significantly cheaper in the US in case you were wondering. You can start anywhere, it's a continuous loop, and it passes through many spots near the Canadian border.
You can even take a shortcut from Michigan to Vermont through Canada, as the stop in Cleveland is only to keep Americans without a passport from crossing into the Great White North.
Here is the complete list of all 50 landmarks (48 states + Washington, DC + a bonus stop in California):
1. Grand Canyon, AZ
2. Bryce Canyon National Park, UT
3. Craters of the Moon, ID
4. Yellowstone National Park, WY
5. Pikes Peak, CO
6. Carlsbad Caverns National Park, NM
7. The Alamo, TX
8. The Platt Historic District, OK
9. Toltec Mounds, AR
10. Elvis Presley's Graceland, TN
11. Vicksburg National Military Park, MS
12. French Quarter, LA
13. USS Alabama, AL
14. Cape Canaveral Air Force Station, FL
15. Okefenokee Swamp Park, GA
16. Fort Sumter National Monument, SC
17. Lost World Caverns, WV
18. Wright Brothers National Memorial Visitor Center, NC
19. Mount Vernon, VA
20. White House, Washington, D.C.
21. Colonial Annapolis Historic District, MD
22. New Castle Historic District, DE
23. Cape May Historic District, NJ
24. Liberty Bell, PA
25. Statue of Liberty, NY
26. The Mark Twain House & Museum, CT
27. The Breakers, RI
28. USS Constitution, MA
29. Acadia National Park, ME
30. Mount Washington Hotel, NH
31. Shelburne Farms, VT
32. Fox Theater, MI
33. Spring Grove Cemetery, OH
34. Mammoth Cave National Park, KY
35. West Baden Springs Hotel, IN
36. Abraham Lincoln's Home, IL
37. Gateway Arch, MO
38. C. W. Parker Carousel Museum, KS
39. Terrace Hill Governor's Mansion, IA
40. Taliesin, WI
41. Fort Snelling, MN
42. Ashfall Fossil Bed, NE
43. Mount Rushmore, SD
44. Fort Union Trading Post, ND
45. Glacier National Park, MT
46. Hanford Site, WA
47. Columbia River Highway, OR
48. San Francisco Cable Cars, CA
49. San Andreas Fault, CA
50. Hoover Dam, NV
These are all very enticing attractions, for the most part. It seems I've only seen 14 of those, so maybe I should hit the road again after all.
How about you? Tempted?
48-state roadtrip – city version
Here's a map of the 2nd itinerary.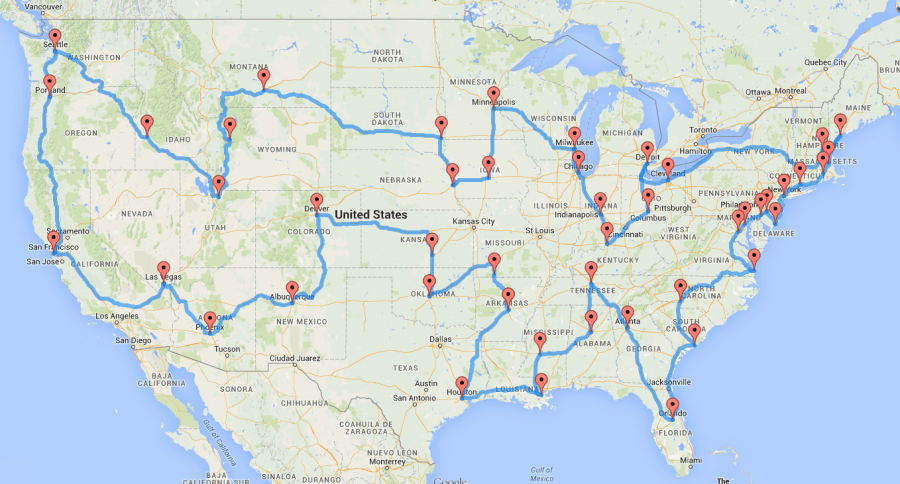 If you're more of a city slicker, the map's author has created a 2nd version that routes you through amazing cities instead.
It is slightly shorter but quite as impressive: it makes you go through the "Best City to Visit" in each state, according to TripAdvisor.
But you won't have all the lower 48 states, unlike the other itinerary. That's because no city in Vermont, West Virginia, or North Dakota made the top 400 cities to visit ranking, unfortunately. So plan on making a few extra detours if you want to hit all states at once with this version of the itinerary.
Here is the complete list of all cities:
Oklahoma City, Oklahoma
Wichita, Kansas
Denver, Colorado
Albuquerque, New Mexico
Phoenix, Arizona
Las Vegas, Nevada
San Francisco, California
Portland, Oregon
Seattle, Washington
Boise, Idaho
Park City, Utah
Jackson, Wyoming
Billings, Montana
Sioux Falls, South Dakota
Omaha, Nebraska
Des Moines, Iowa
Minneapolis, Minnesota
Milwaukee, Wisconsin
Chicago, Illinois
Indianapolis, Indiana
Louisville, Kentucky
Columbus, Ohio
Detroit, Michigan
Cleveland, Ohio
Manchester, New Hampshire
Portland, Maine
Boston, Massachusetts
Providence, Rhode Island
New Haven, Connecticut
New York City, New York
Ocean City, New Jersey
Philadelphia, Pennsylvania
Wilmington, Delaware
Baltimore, Maryland
Washington, D.C.
Virginia Beach, Virginia
Charlotte, North Carolina
Charleston, South Carolina
Orlando, Florida
Atlanta, Georgia
Nashville, Tennessee
Birmingham, Alabama
Jackson, Mississippi
New Orleans, Louisiana
Houston, Texas
Little Rock, Arkansas
Branson, Missouri
I do a little better on this list, with 31 already visited. You can see I love cities. How about you?
Want to get more content to discover awesome destinations?
Summary
If you were looking for an excuse to go on a roadtrip, this is it. And since we always enjoy giving you more for your money, we think 48 states instead of only 1 or 2 is something you'll enjoy!
What's the coolest roadtrip you've ever been on? Tell us in the comments below.
See the deals we spot: Cheap flights
Explore awesome destinations: Travel inspiration
Learn pro tricks: Travel tips
Discover free travel: Travel rewards
Featured image: The itinerary (image credit: Randy Olson)
Original publication date: May 29, 2018
Share this post to help us help more people travel more for less: