If you travel somewhat often, you know that you'll have no choice but to spend some time at the airport! Here is how you can access the Wi-Fi for free in dozens of airports in the world.
Here is a very interesting map for any traveler that plans to fly soon thanks to one of the cheap flights on our deals page.
We are also putting together a great article on how to use your cell phone to access the Internet while on the road, so you should be covered (come back to the blog soon).
A traveler has made it his mission to gather all the Wi-Fi passwords for airports and he published them in this easy-to-use map (it includes regular Wi-Fi networks as well as the ones from the airport VIP lounges).
Add this page to your bookmarks!!!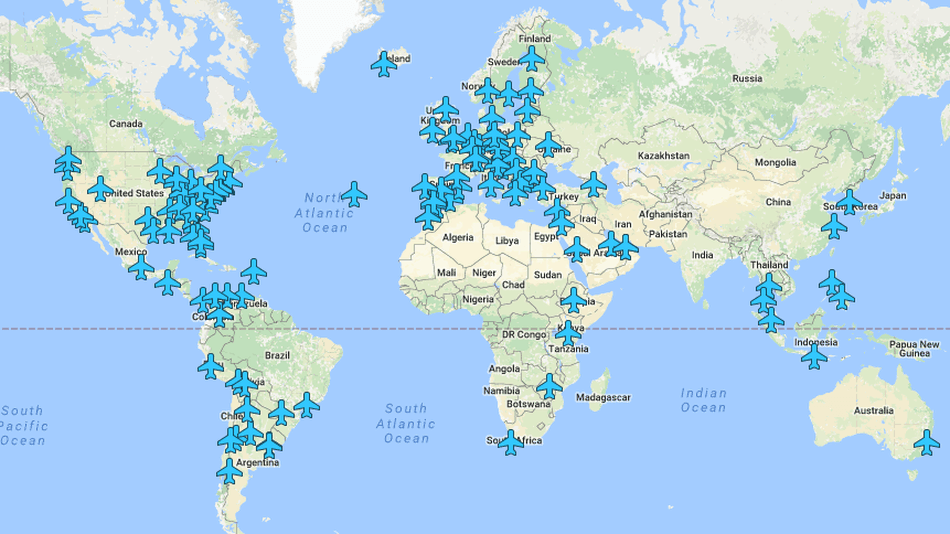 I'm a bit jealous, being an airport and aviation geek, I'd love to go around the world and visit all those airports to gather the Wi-Fi passwords!
Click here to see the map (it has nearly 42M views)
Offline versions are also available for when you won't have access to Wi-Fi yet:
For iOS
For Android
You can even contribute to this map when you got to an airport that is not yet featured on the map!
Share this with all your traveling friends! ?
Bottom Line
Having access to the Internet can be very useful on a trip. There are more articles coming up on how to have it once you arrive at your destination, but this one is useful for your airport layovers.
What do you think of this? What new topic would you like to read about in upcoming articles?
Help us spread the word about our flight deals and travel tips by sharing this article and most importantly bookmark Flytrippers so we can help you navigate the world of low-cost travel!
Advertiser Disclosure: Flytrippers receives a commission on links featured in this blog post. We appreciate if you use them, especially given it never costs you anything more to do so, and we thank you for supporting the site and making it possible for us to keep finding the best travel deals and content for you. In the interest of transparency, know that we will NEVER recommend a product or service we do not believe in or that we do not use ourselves, as our reputation and credibility is worth far more than any commission. This principle is an essential and non-negotiable part of all our partnerships: we will never give any third-party any control whatsoever on our content. For more information on our advertiser disclosure, click here.
Share this post to help us help more people travel more for less: