Laurence is a guest-blogger at Flytrippers. Follow her on Instagram and check out her bio at the bottom of this page.
---
There are so many apps on the market for travelers, either to stay organized or to plan the perfect trip. Here I want to share with you the 25 best free travel apps to make life on the road much easier. Don't forget to also share your own favorites!
Since Flytrippers' mission is to make it possible for you to travel more, you'll find many travel tips on this blog, including ways to help you beyond the 50% off flight deals Flytrippers spots every day.
So I went ahead and tested all these apps for you so you can know in advance which tools are the most useful for planning a trip, getting around, and saving money along the way. Note that they are all available both for iOS and Android.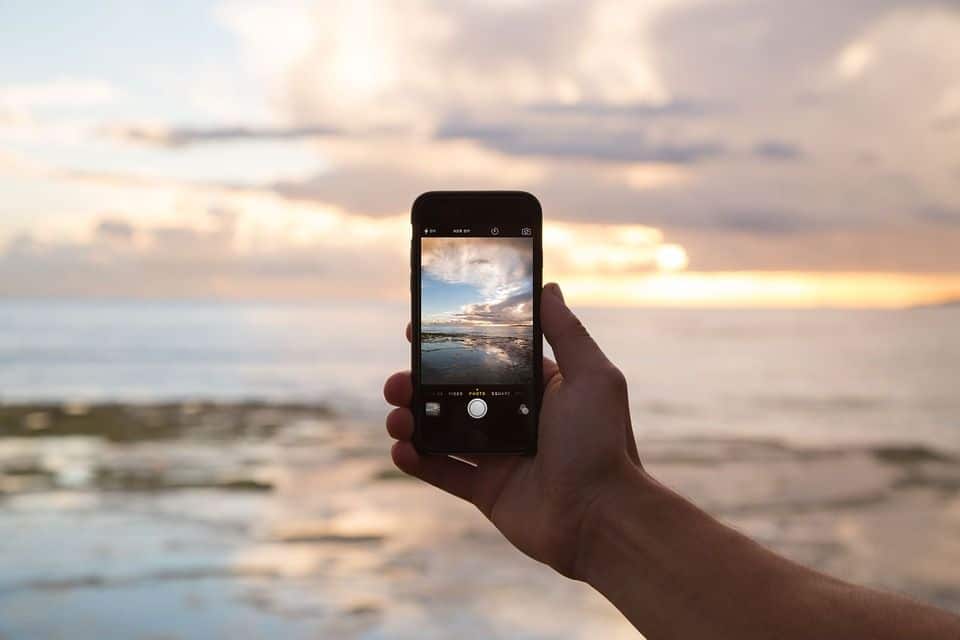 Air Travel
1. Flytrippers: Okay, Flytrippers doesn't have an app – yet – but you can create a shortcut to the flight deals page that will appear as an icon on your phone's home screen, just like an app. The deals page is optimized for mobile and so is the flight search tools page if you need to book a flight on the go, from anywhere in the world.

2. Airline Apps:
Once you have booked your flight, see if the airline has an app (most do). That way you can download your boarding pass onto your phone, have flight itinerary updates automatically and have access to entertainment during the flight.
3. Apple Wallet/Passbook or WalletPasses: If you travel on a lot of different airlines, these apps let you keep you boarding passes in one spot very easily, without needing a bevy of apps.
READ ALSO: Air Canada or WestJet? Which airline is the best?
4. FLIO: this app helps you navigate through airports with maps, guides, useful information, food discounts and even hels you track your flight status.
5. FlightAware: A global aviation software and data service that offers flight tracking information and notifications. It also shows you flight paths and airport maps with weather and aviation statistics. Perfect for AvGeeks – or those who just want to be well-informed about their flights.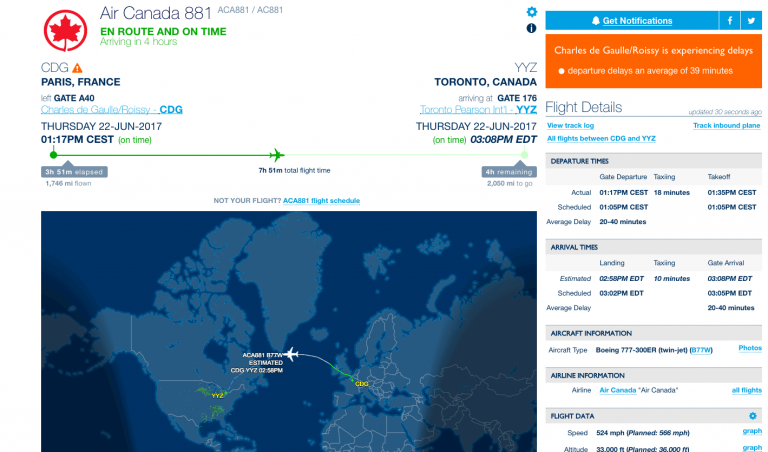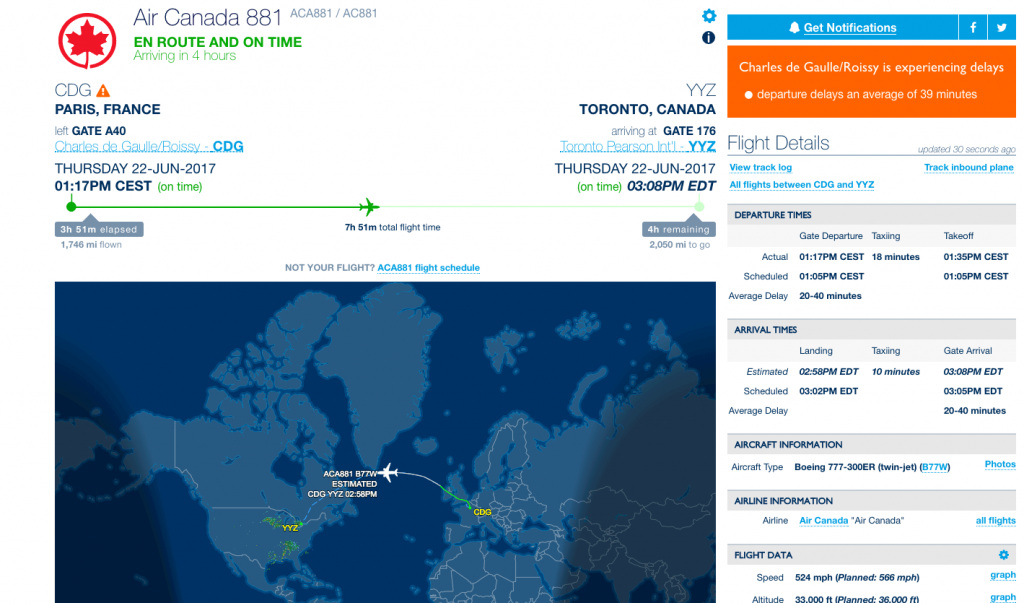 Accommodation
6. Airbnb: If you prefer staying in an apartment or home instead of a hotel room, this app is for you. Airbnb has an amazing and well-developed app to find many accommodation options easily. Click here to get a free $45 credit if you are new to Airbnb.

7. Booking.com: If you prefer to stay in a hotel, use Booking.com to find the perfect accommodation. There are lots of different filters you can use during your search to make sure you find what is best for you. Millions of hotels are included and every hotel has reliable customer reviews to help you make your choice on the go. You can support Flytrippers for free just by using their Booking.com referral link at no cost, even on mobile.
8. Hostelworld: If you are traveling on a budget or you just prefer the hostel atmosphere, this app is for you. It is the go-to app to book over 33,000 hostels globally. You can read our post with more details about hostels if you're interested. Again, you can use Flytrippers' link at no cost even on mobile so that they can keep sharing great free content.

Photography
9. Instagram: After editing your photos you can post them on Instagram. It is the best place to share your amazing travel shots, but also to find travel inspiration. Follow Flytrippers for inspiration.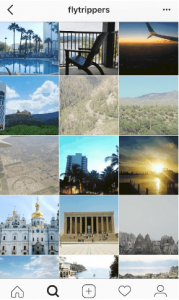 10. Snapseed: This app is really easy to use and allows you to edit your favorite photos. There are a lot of different effects, enhancements, and digital filters. You can then share the images directly on social media.
Communication
11. Skype: It allows you to communicate with texts, videos, photos, etc. You can use it to make voice calls to actual phone number and not just to other people with the app.
12. Viber or Whatsapp: With one of these two apps you can make calls, send messages and much more. You can also share your location with other users.
13. Google Translate: A great thing about Google Translate is that you can take a picture of a menu or a sign, then highlight the part you want to translate and it will translate your photo into text in the language of your choice. Also, you can hold your phone up to someone who is talking in a foreign language and it will automatically translate it, written in the language of your choice.
14. Wi-Fi Finder: This app will show you a map of everywhere you can get WiFi near your current location. It will tell you which ones are closest to you and if it is free or if you have to pay for it.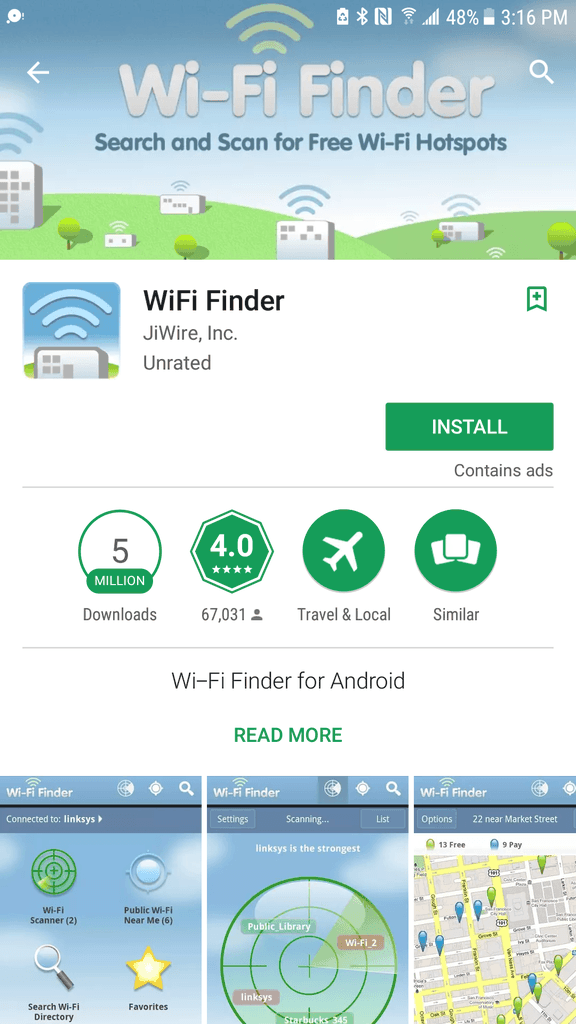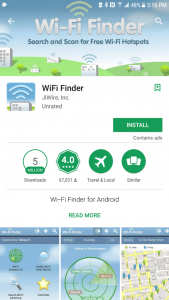 Navigation
15. Google Maps: When you have WiFi, download the map of the city or of the entire country. Then when you are offline, you can still use the saved maps. Also, you can create a custom map with your must-see places. Honorable mention to Maps.Me, a great alternative if you are visiting China (Google products are censored there).

16. Uber/Lyft/Grab/Careem: Most of you probably already know and use these transportation apps, but they are a must. Especially when travelling. No sketchy foreign taxis. No need to pay cash. Click here to get your first ride free if you are a new Uber user or here for Lyft. Both are pretty similar, although Lyft is in less cities. You should have both to get a free ride twice! Grab is the Uber of Southeast Asia and Careem is strong in the Middle East.
17. Waze: This app is perfect for roadtrips and useful to know about traffic. It is a GPS navigation app that uses data from its community of drivers to create an up-to-date map. Users share information about hazards, traffic and accidents.
18. Rome2Rio: This app will help you get from point A to point B (even when those two are not on the same continent). It offers route information from over 4,800 transport operators in over 158 countries. It also gives you the estimated travel times and fares.
Planning & Others
19. Foursquare: This app is really great for getting tips on where to eat or to get a coffee. When you have downloaded the map, reviews will pop up when you are walking through a city.
20. Yelp: This app also has many restaurant reviews that will help you decide where to eat, a decision that is often hard to make in new cities with so many delicious options available.
21. TripAdvisor: TripAdvisor ranks the top attractions, everywhere on the planet. There is a useful offline feature which lets you download reviews and city maps before you go on your trip. You can thus access the information on the go.
22. TripIt or Google Trips: You can set up these apps to scan your inbox so when you receive flight confirmations and accommodation confirmations, they automatically put them into the app in a day to day view. This way, you can see all your confirmations at the same place.
Budgeting
23. Splitwise: This is perfect for when you are travelling with friends. What is great about it is that the app gives you flexibility. Instead of always 'splitting', one person can pay for the whole thing, and then it tells you who owes how much so you can alternate and pay for different things as you go along.
24. Trail Wallet: This allows you to enter your budget for your whole trip and it will tell you how much you can spend every day. It will show you if you are over budget or under budget.
25. Currency Converter or XE currency: You pick your currency and they will tell you what the latest exchange rate is. These are really useful especially when the amounts to convert are bigger. They work even when you are not connected to WiFi but every time you are connected to Wifi it will update you to list currency variations.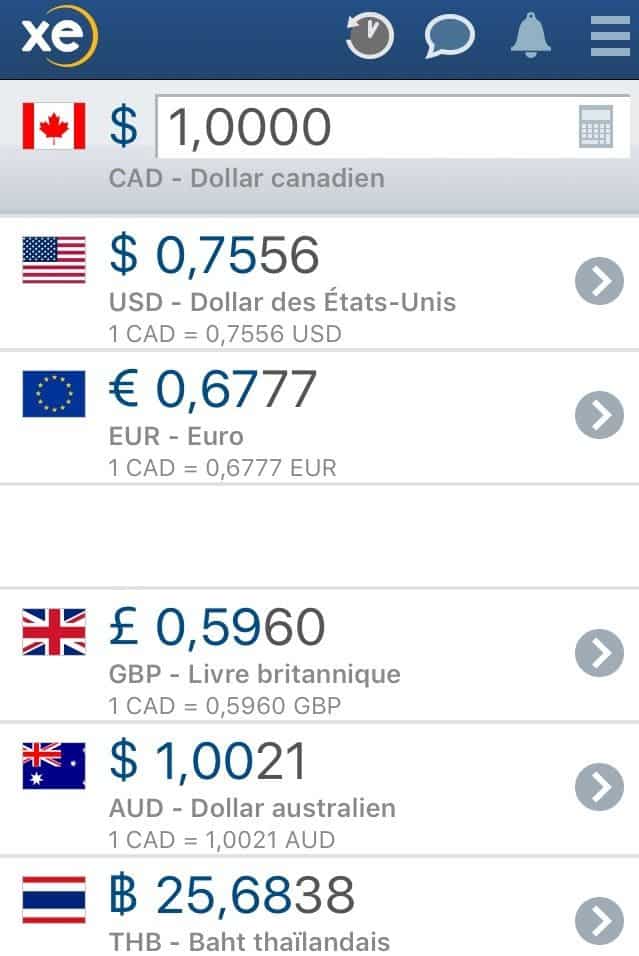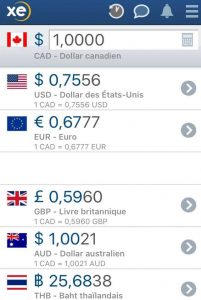 One Las Tip
To stay organized, put all your travel apps in one folder on your smartphone for an easier access. Then, you'll be on your way to a great trip!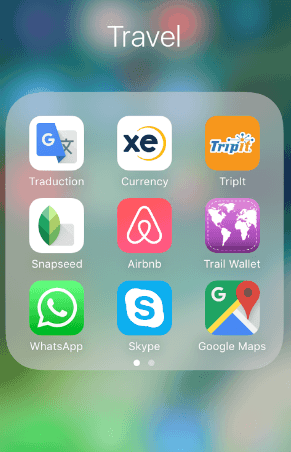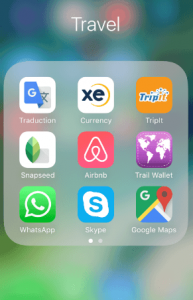 Bottom line
Those our the 25 best free travel apps to make your next trip even more convenient. Which ones did we forget?
What are your favorite travel apps? Which ones did we not mention? Let us know in the comments below!
Help us spread the word about our flight deals and travel tips by sharing this article and most importantly bookmark Flytrippers so we can help you navigate the world of low-cost travel!
Advertiser Disclosure: Flytrippers receives a commission on links featured in this blog post. We appreciate if you use them, especially given it never costs you anything more to do so, and we thank you for supporting the site and making it possible for us to keep finding the best travel deals and content for you. In the interest of transparency, know that we will NEVER recommend a product or service we do not believe in or that we do not use ourselves, as our reputation and credibility is worth far more than any commission. This principle is an essential and non-negotiable part of all our partnerships: we will never give any third-party any control whatsoever on our content. For more information on our advertiser disclosure, click here.
Posted July 6th 2017, updated March 3rd 2019
Share this post to help us help more people travel more for less: