Here's a great tip to go on an affordable romantic getaway in beautiful Spain, a fantastic destination. How affordable? How about 17 nights in very nice hotels… for only $120 total per person. Yes, you read that right.
Spain is an amazing destination. The history, the culture, the food, the cities, the sea, the countryside, the people… it's a great place to spend a couple of weeks in Europe with your loved one (or even with a friend, why not?).
But it's even more amazing thanks to this tip: 17 nights in nice hotels for $120 TOTAL per person is incredible. In our opinion, it's a tip worth planning a trip around (I did so last fall myself just for this, and Flytrippers' other co-founder Kevin went a year ago too).
This is a 2-week and a half trip that will cost you only $120 per person in lodging, an absurdly-low average of $7 each per night. For less than the price of a cheap hostel, you get beautiful 4-star hotels.
And it's super easy. Here's how.
17 (Almost) Free Hotel Nights In Spain
There are 11 beautiful AC Hotel branded properties around Spain that you can choose from to get 17 free nights. Many of them are centrally-located in beautiful authentic Spanish cities where you'll have a great time, even though it's in smaller towns. This hotel deal also works in a dozen other countries as you'll see below, and there, hotels are in "better" locations since the cost of living is lower than in Spain.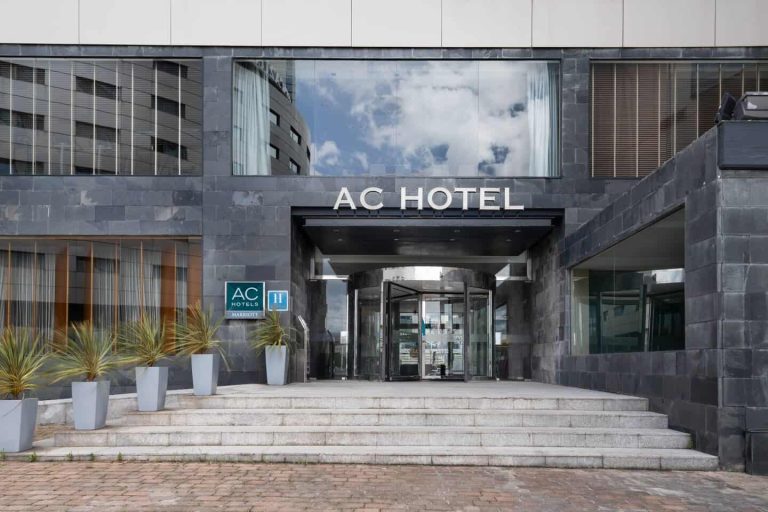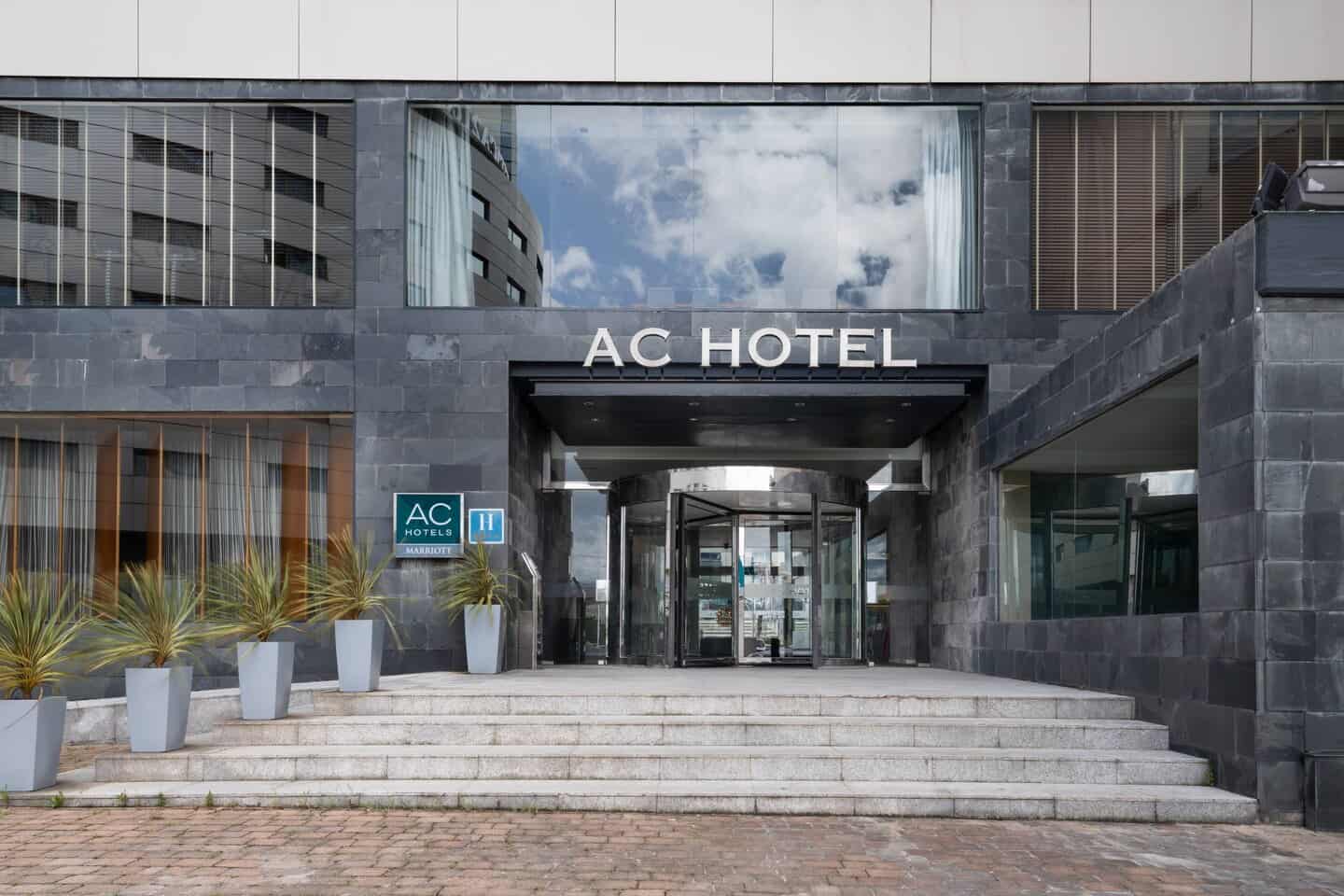 I'll share the complete list of hotels, but first here's the great tip.
You see, by paying with points, you only need about 100,000 Marriott Points for those 17 free nights.
And you'll get 50,000 Points as a Welcome Bonus by getting the Marriott Bonvoy American Express Card.
Voila! You and your loved one (or friend) each get this card and you have 17 free nights in nice hotels in Spain.
This is an outstanding deal for Canadian travelers. Assuming you normally pay about $100 per night (after taxes) for hotels, that's well over $1,000 in value. Incredible.
The card has a $120 fee, so that's why it's not completely free (but almost). Still: $120 per person for 17 nights is pretty hard to beat.
Travel reward points are awesome. And there are no taxes to pay either when booking hotels with points, unlike when booking flights with points.
We'll also share tips on how to find a cheap flight to Spain below.
But first, here is the link to apply for the Marriott Bonvoy Card if you're interested in these 17 free nights. There is no minimum income required, all you need is a good credit score. So it's not for everyone, but almost.
Both of us Flytrippers cofounders have this card… and both of our girlfriends have this card too, because we used this tip ourselves and highly recommend it. The card is truly an exceptional value with this Welcome Bonus, one of the highest in Canada.
The main rule to understand, apart from choosing hotels from the list, is that depending on the time of year, it is possible to get slightly less than 17 nights (but it's also possible to get slightly more than 17 nights). The minimum we see is 12, and it can go up to over 20. It's because instead of always costing the standard price of 7,500 Points per night, there are two new pricing levels: 5,000 and 10,000 for off-peak nights and peak nights.
The majority of nights are still at the standard price though, so it's still easy to find periods where you'll get 17 nights. And Marriott said that overall, there are as many off-peak nights as there are peak nights. It's still an exceptional deal, even at "only" 12 free nights: that's still just a cost of $10 per night per person! But 17 nights is still by far the most common quantity of free nights you'll get.
The only other restriction is that to maximize the number of free nights, you need to book your 17 nights in five-night increments. Basically you get 3 free 5-night stays, plus 2 other nights. You could stay for less than 5 nights at a time, but you'd get only 14 free nights instead of 17. That's because when using points, you only pay for 4 nights when you stay for 5 nights.
By the way, if you prefer you can also get 17 completely free nights in countries like Indonesia, Malaysia, South Africa, Mexico, Colombia, China, India, etc. as those countries have many eligible properties (Category 1 hotels).
Those are the best countries to maximize your points (and your amount of free nights). And despite Spain having a somewhat lower cost of living compared to Western Europe, all those other countries are obviously a lot cheaper so hotels are either even nicer or in even better locations.
Think about it. 17 nights. That is an obscene amount of free nights for a couple, right? Imagine how much more you could travel. It's worth planning your trips around these hotels if you want free stays.
To recap:
you both apply for a Marriott Bonvoy American Express Card
(secure American Express link)
you unlock the Welcome Bonuses and then you book 17 free nights in Spain absolutely free
(well, apart from the $120 card fee)
like all good cards, you'll need to spend $1,500 in 3 months to unlock the Welcome Bonus
(don't worry, it's much easier than it looks with our tips on how to reach your minimum spend)
that minimum spend will give you an additional 6,000 Points on top of the 100,000 Bonus
(enough for 14 nights at 7,500 Points/night + the 3 free nights you get with "Stay for 5, pay for 4")
do not cancel your current cards, it is one of the most common beginner mistakes
(old cards are good for your credit score, we'll share more about this soon)
A couple of additional benefits of this card:
it has one of the best earn rates in Canada on non-bonused categories at ~1.6%
(you'll earn 2 points on each dollar you spend to get even more free nights)
with Elite shortcut, after your 10th night stayed you'll become a Marriott Gold Elite member
(pool your points into one account to benefit from the elite perks during your next nights)
each year, you'll get a free Category 5 night by keeping the card to cancel out the card fee
(some Category 5 hotels are 5-star luxury hotels, definitely worth way more than $120)
the card gives you free flight delay insurance to get $500 if your flight is delayed
(this is an extremely useful benefit to cover expenses during disruptions)
Here are a couple of detailed articles if you want more info before I get back to the Spain trip.
Finally, if you want more tips to maximize your Marriott Bonvoy Points, subscribe to our new free travel reward points newsletter to be the first to get our best content.
List Of Hotels You Can Choose From
As I said, there are many very interesting options. Of course, in Spain, these Category 1 hotels aren't in the most popular tourist-y destinations (those cost a lot more points). But that's actually positive: you'll discover the more authentic cities and immerse yourself in Spanish culture.
You can mix and match any 3 of the 10 options to build out your own itinerary and choose your preferred destinations: all travelers have different tastes and travel styles, so as usual, we let you decide on your own. We have a map below the list too to help you out, and our own combination suggestions.
Or you can keep some points for those other countries where the deal works and get 2 trips out of this deal! That way, in Spain you can combine a visit to a popular city like Barcelona, Madrid, or Sevilla with your free stay in the smaller towns below.
Whatever type of trip you want, at least one of these 10 hotels will be a great spot to stay for free.
By the way, intercity buses are convenient and affordable in Spain, and there is also a well-developed train network; I tried both. If you go for a car rental, your Marriott Bonvoy card has free coverage so you can decline the expensive insurance that car rental companies always try to sell you. I drove around a bit and it's really easy, in fact, the roads are much better than in many parts of Canada.
So you have plenty of options with great locations near the historic city centers in smaller cities like in Guadalajara, in the Castilla-La Mancha region, near the capital. You could even day-trip to Madrid from here (1 hour by bus, $15). Or even visit the very popular sight that is Segovia, a little further away.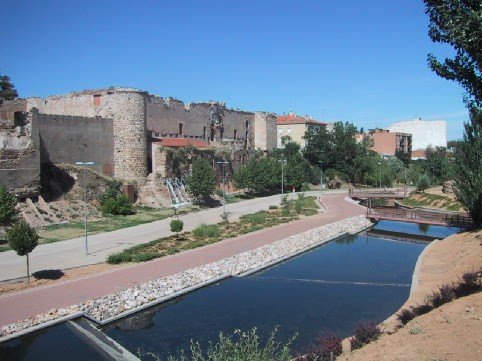 There is even a 5-star hotel you can choose from! The AC Hotel Palacio de Santa Ana in Valladolid is a historic luxury hotel built on the site of an 18th-century convent, north of Madrid. From here you can even day-trip to popular sites like Segovia, Salamanca, or Ávila.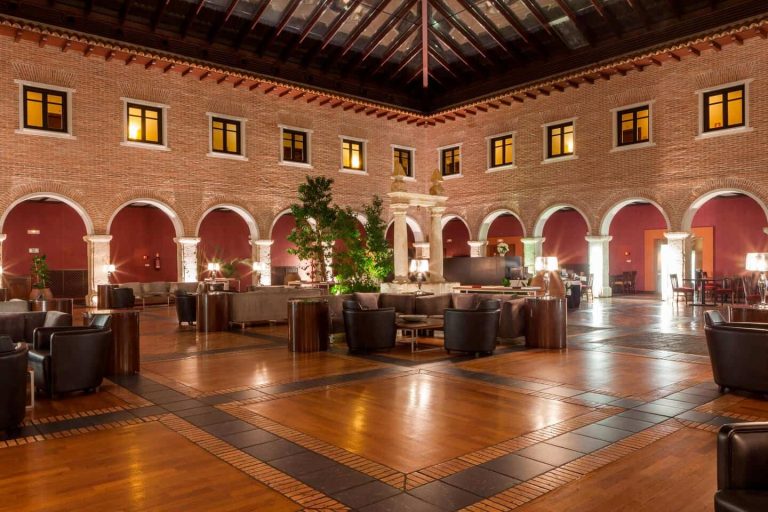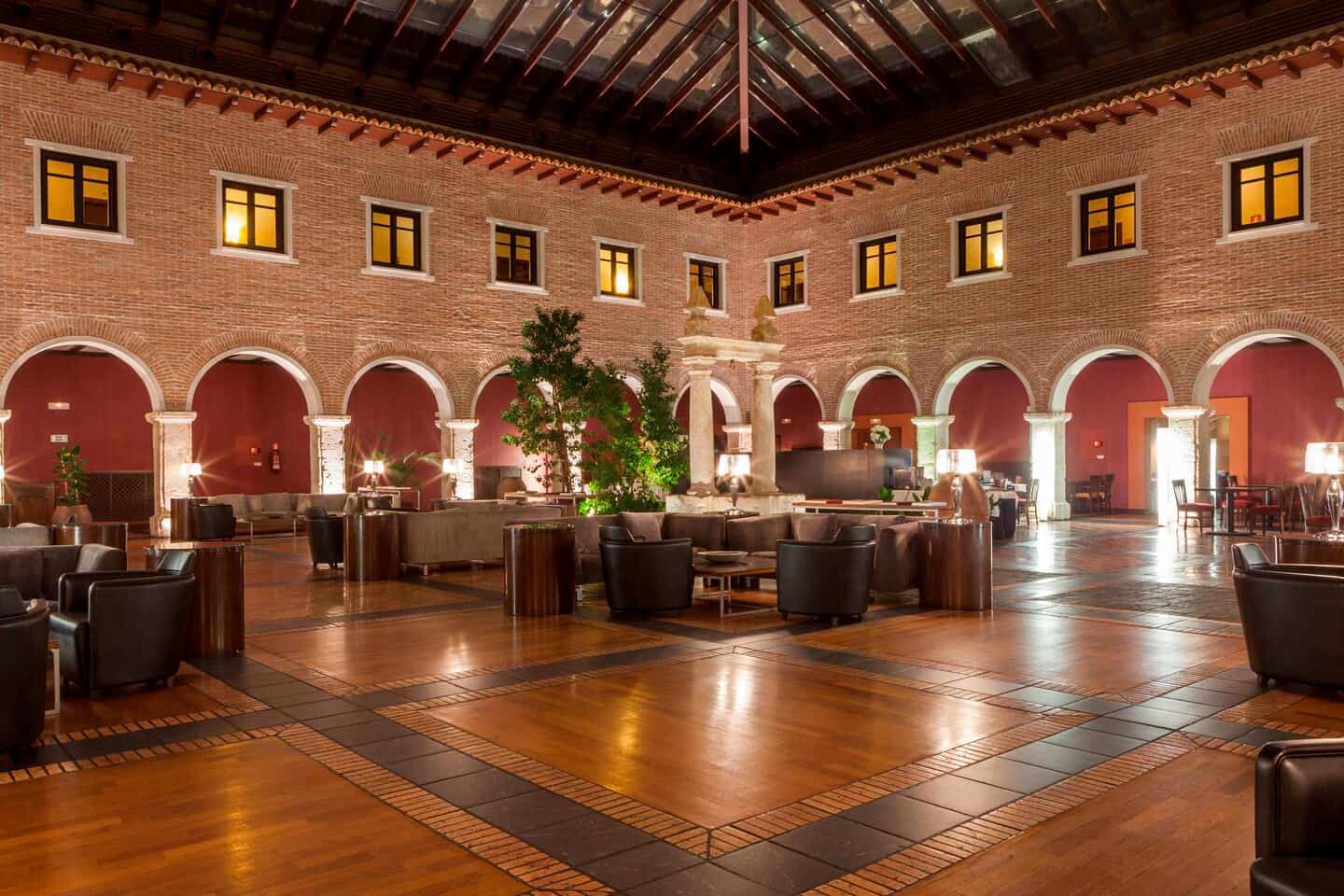 In Andalusia, in the south, for those who prefer warmer weather, you have the AC Hotel La Línea de la Concepción. It's just a 15-minute walk from the UK territory of Gibraltar. I stayed at this hotel and I really enjoyed Gibraltar, and my girlfriend enjoyed getting very close to the only wild monkeys in Europe. But if you don't want to visit Gibraltar, the next hotel is nearby—and newer than this one.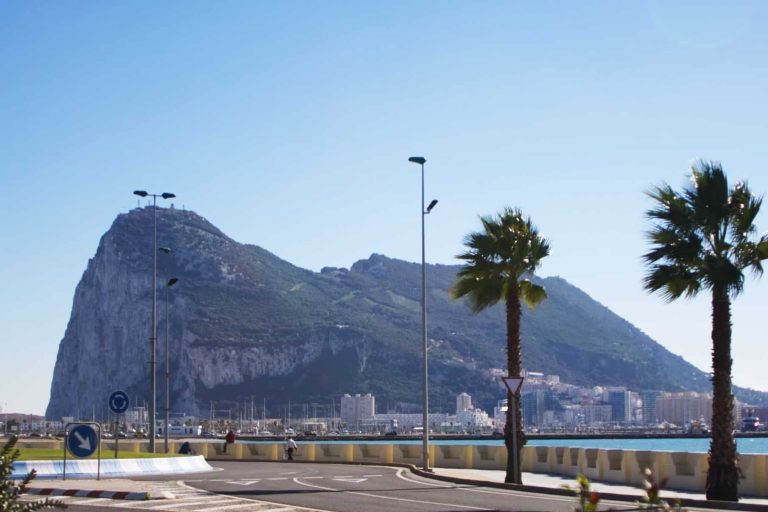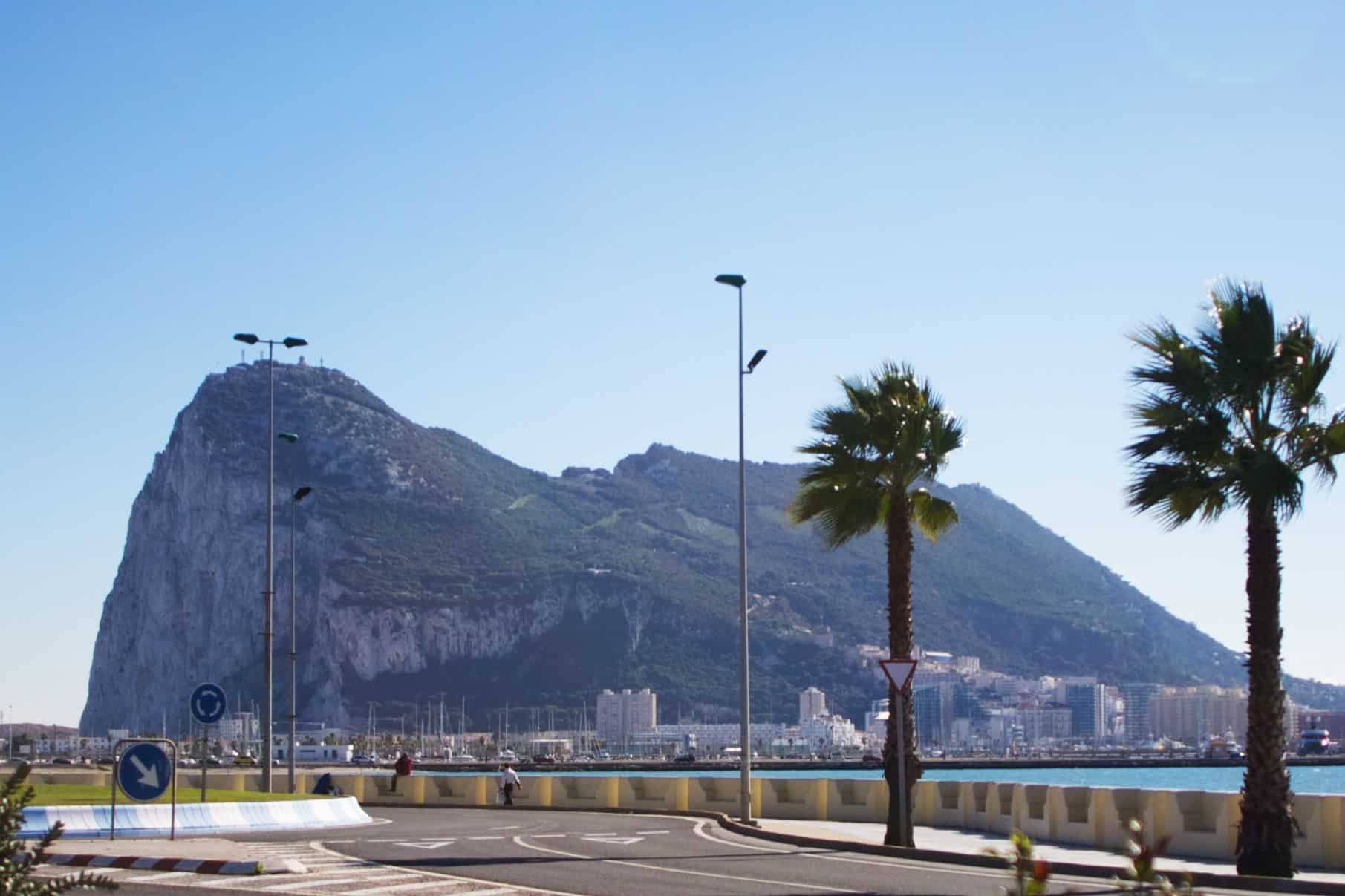 Nearby, there is another centrally-located hotel, in Algeciras. Kevin stayed here and the hotel is beautiful, and although the city is not as historic as others on this list, there are national parks nearby, including one on the Mediterranean coast. And from here, you're just a short ferry hop away from Morocco: I took a few days to visit the famous blue city of Chefchaouen and Tangier. But at the very least, I strongly recommend a day-trip to Tarifa, a small Spanish surf town with a completely unique vibe, at least compared to other cities I visited in the country (45 minutes by bus, $5).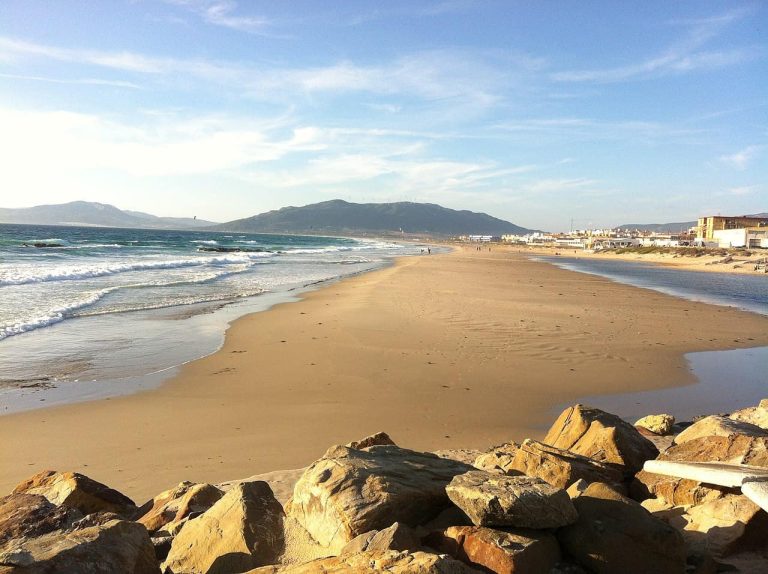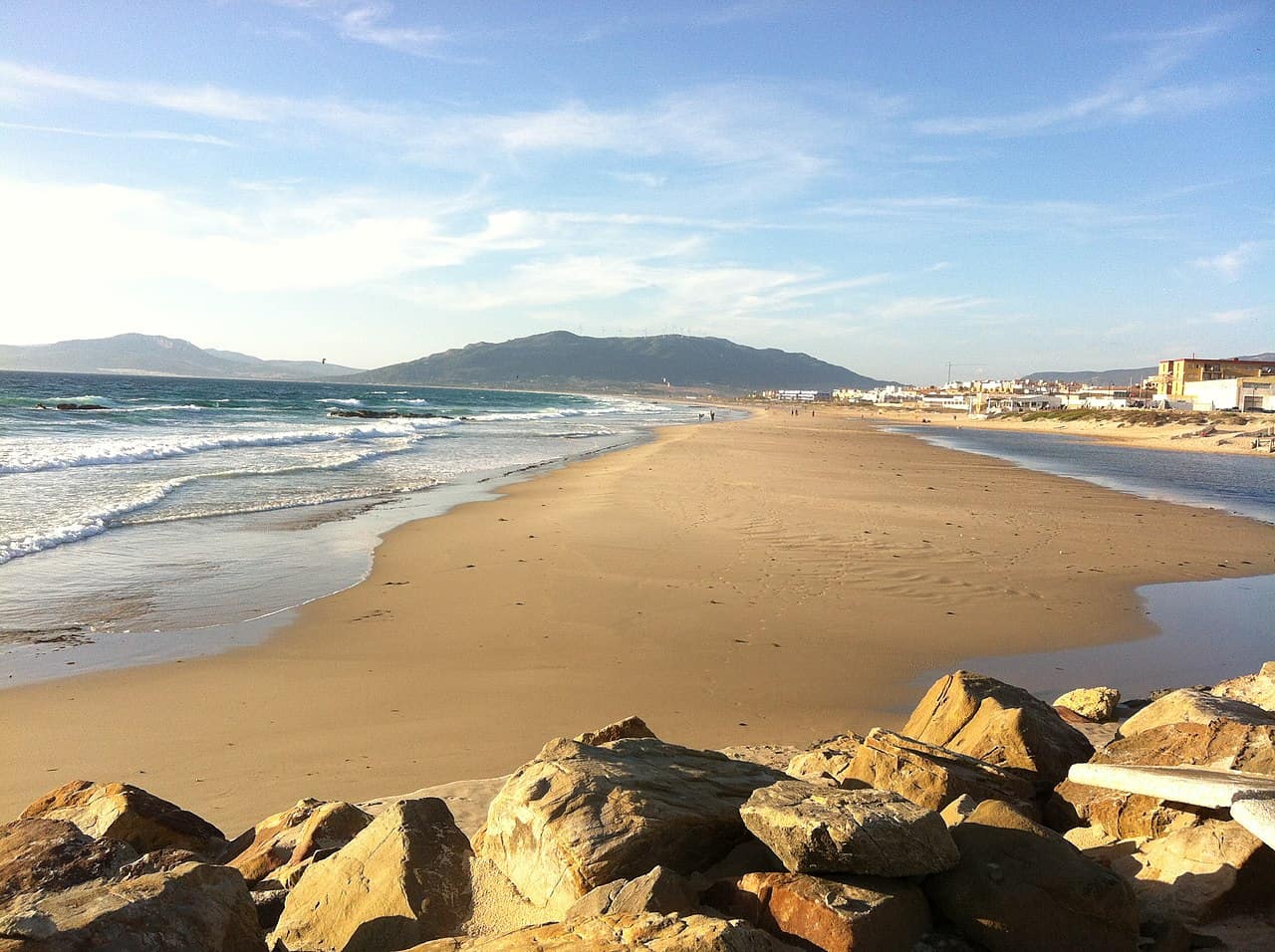 Want to combine Spain with Portugal instead of Morocco? The AC Hotel Badajoz is a great option. Midway between Madrid and Lisbon, it's also near the historic city center.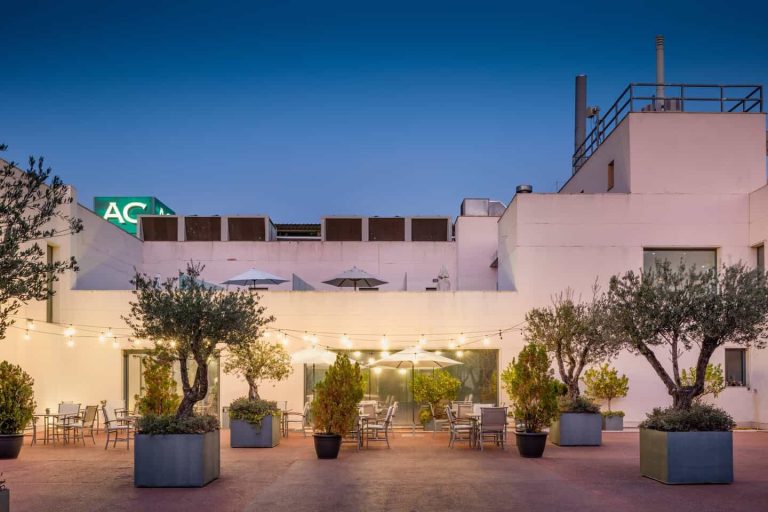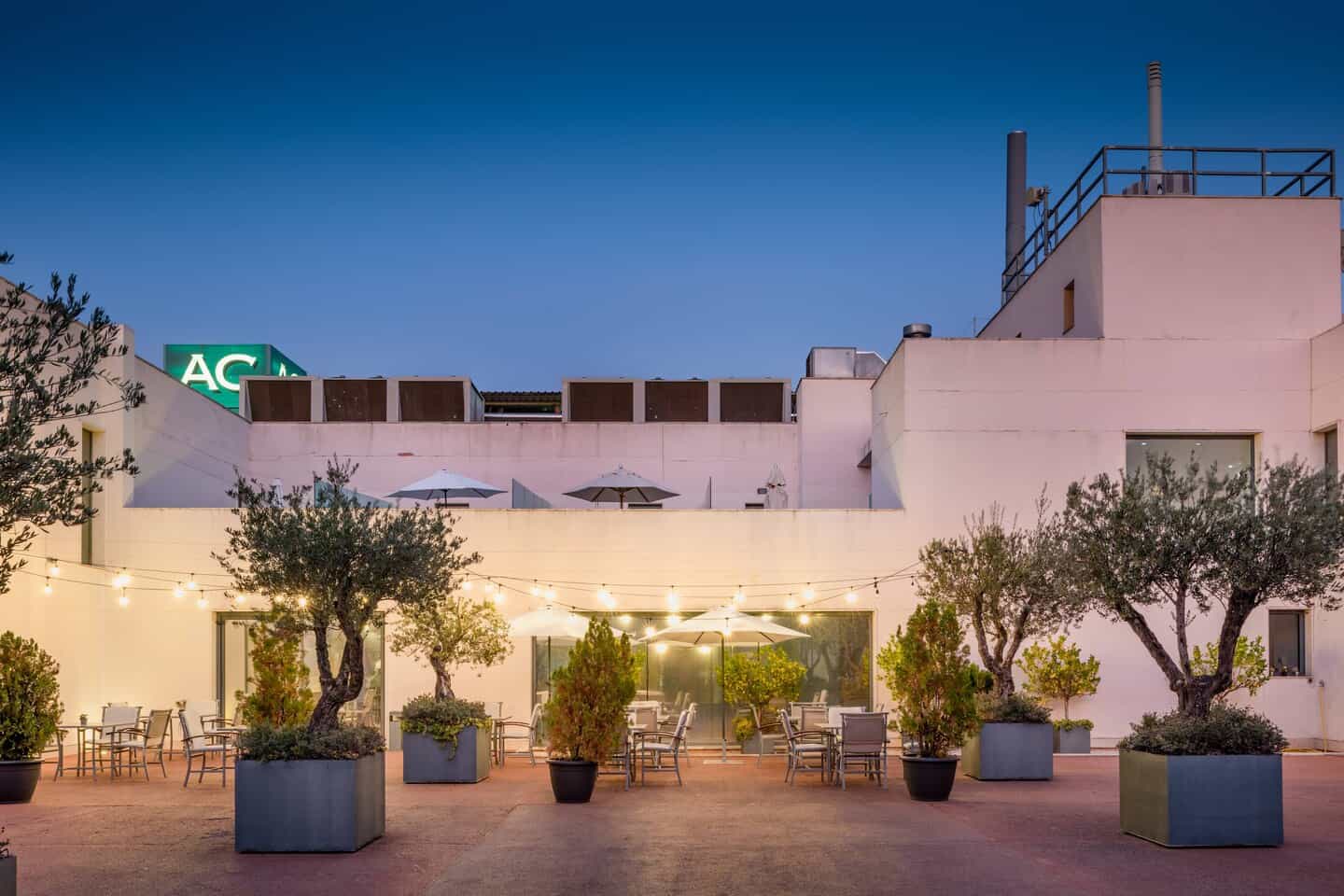 If you're more of a city-slicker, the AC Hotel Murcia is in one of Spain's 10 largest cities, although it's a little further from the center than the others on the list.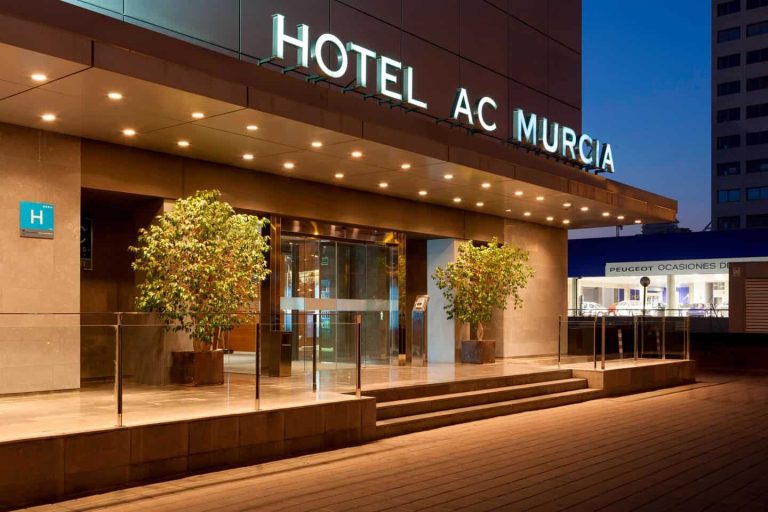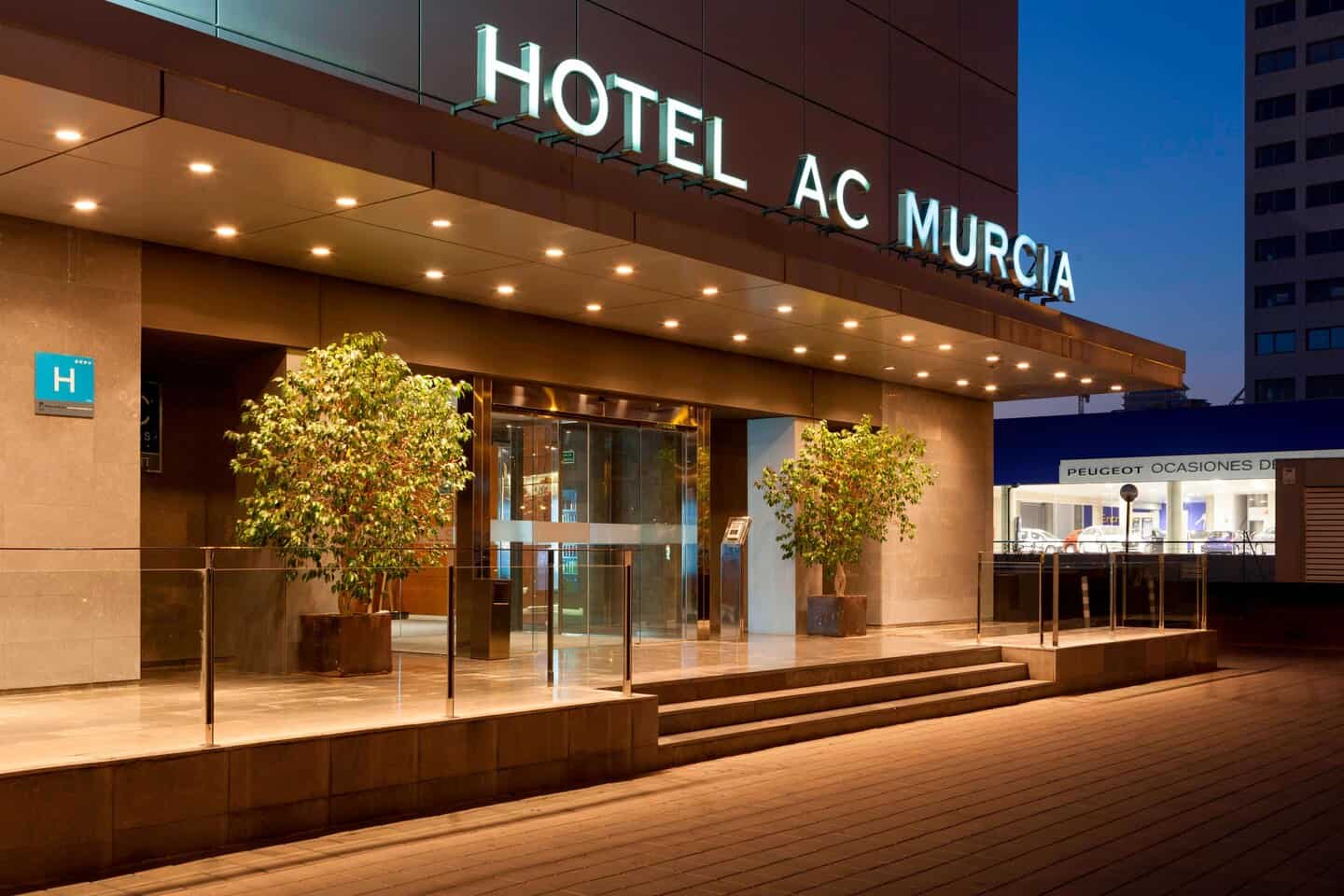 Prefer a really small town? Head to the nearby town of Elda, a quiet spot in the Alicante province in the southeast where the weather is also warm. Good hiking can be found nearby, or further away you can day-trip to the beaches (40 minutes by bus, $7).
If you want to visit Galicia, the part of Spain that is an extension of Portuguese territory in the extreme northwest corner, the AC Hotel A Coruña looks wonderful. Although it is another of the few that are a bit further from the city center, it makes up for it by being in a beautiful region.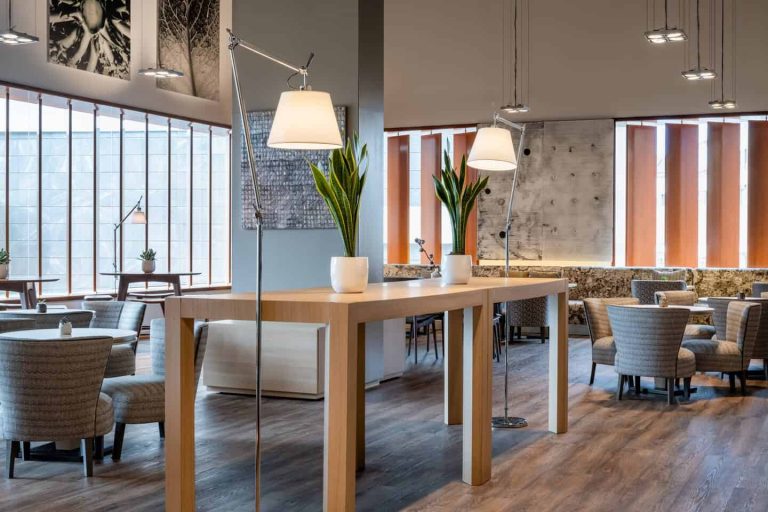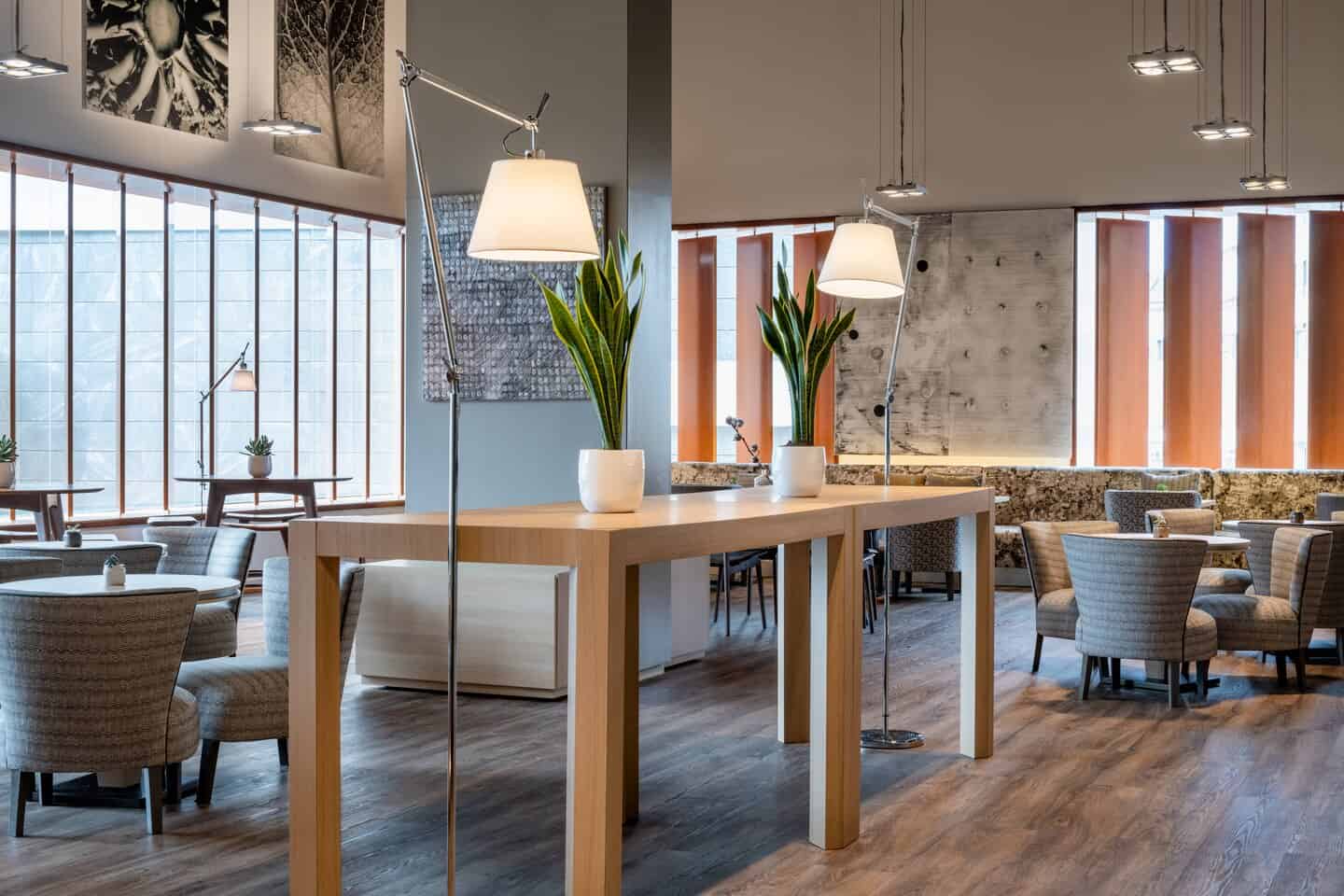 Nearby, on the Pilgrim's Route (Camino de Santiago), there is the AC Hotel Ponferrada in the middle of a nice town.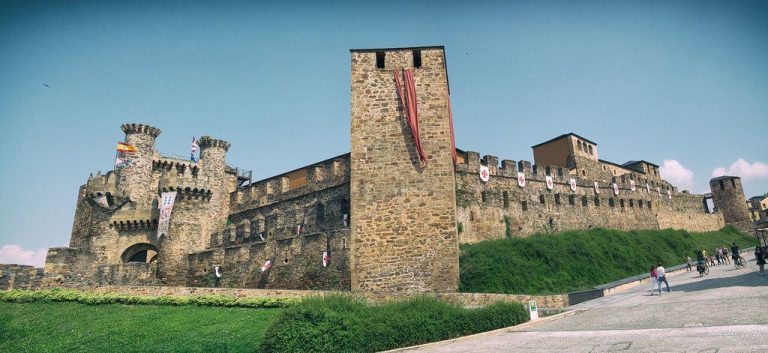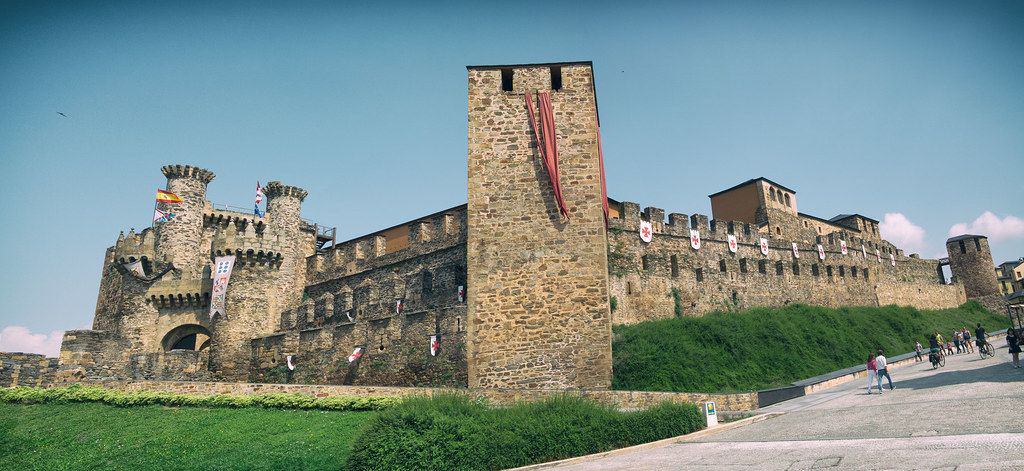 Finally, still in the northern part of the country, the AC Hotel in the small town of Palencia is your 10th option. It is close to the city center and has a sauna and a Turkish bath where you can relax (like many others have as well).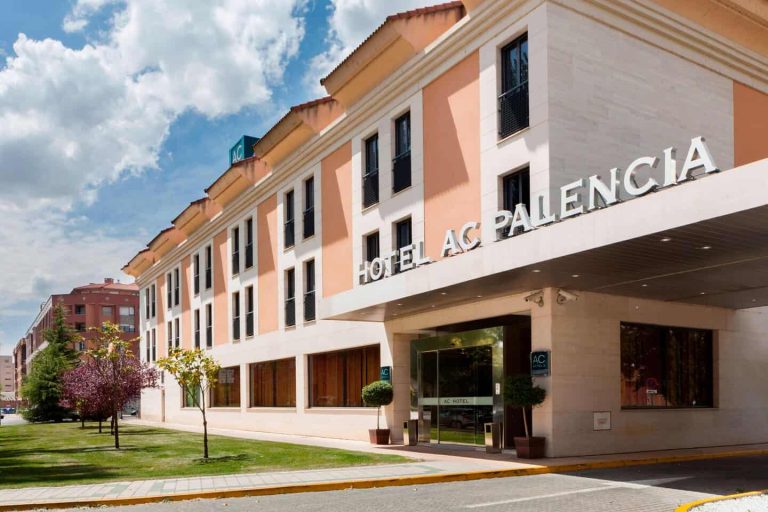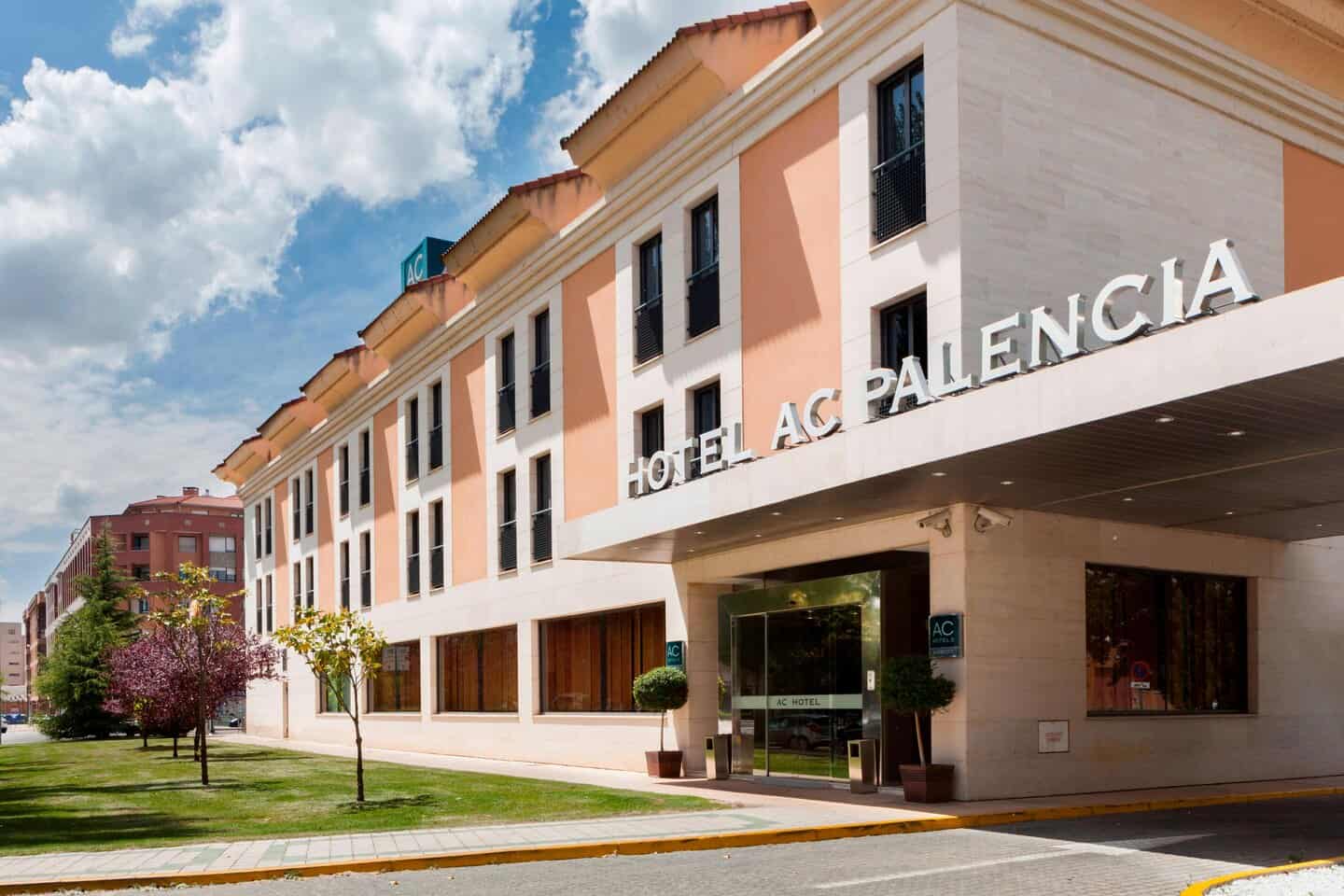 Here are a few suggestions of combinations—assuming you only want to use 2 of your free 5-night stays (and keep one for another trip)—you can spend the last part of a 2-week Spain trip in a popular city (in parentheses):
(Madrid) – Valladolid – Guadalajara
(Madrid) – Valladolid – Palencia
(Madrid) – Valladolid – Ponferrada
(Bilbao) – Valladolid – Palencia
(Valencia) – Murcia – Elda
(Sevilla) – La Linea – Algeciras
(Malaga) – La Linea – Algeciras
(Tangier) – La Linea – Algeciras
(Algarve) – La Linea – Algeciras
(Porto) – A Coruna – Ponferrada
If you really want to spend all your points in one trip and have zero lodging costs, here a couple of combination suggestions to minimize travel between hotels:
Valladolid – Ponferrada – A Coruna
Valladolid – Ponferrada – Palencia
Valladolid – Palencia – Guadalajara
Valladolid – Guadalajara – Badajoz
Algeciras – La Linea – Badajoz
Algeciras – La Linea – Elda
Algeciras – La Linea – Murcia
Algeciras – Elda – Murcia
La Linea – Elda – Murcia
Those are only suggestions, you have many more possibilities. Especially if you fly between cities, as most flights within Spain cost under $100 or are almost free with very few Avios/AMEX/RBC points (see last section).
Here is the most important map, to show you where you can go (no longer up to date, will be fixed soon):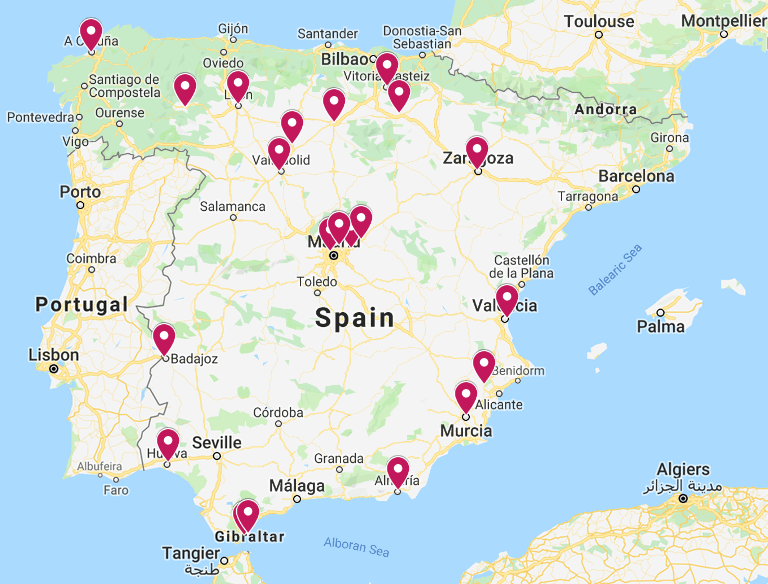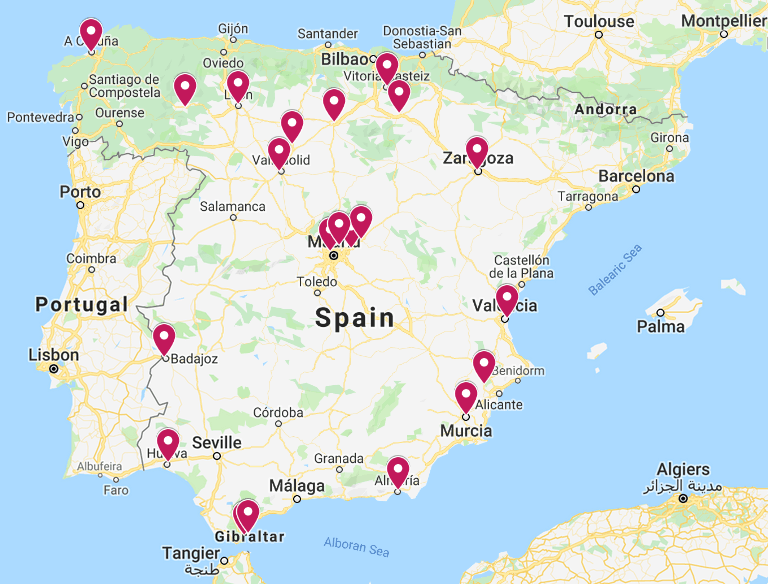 And here is the full list of all 10 hotels in Spain:
| Hotel | Brand | Country | | |
| --- | --- | --- | --- | --- |
| AC Hotel A Coruna | AC Hotels by Marriott | Spain | | |
| AC Hotel Algeciras | AC Hotels by Marriott | Spain | | |
| AC Hotel Badajoz | AC Hotels by Marriott | Spain | | |
| AC Hotel Elda | AC Hotels by Marriott | Spain | | |
| AC Hotel Guadalajara, Spain | AC Hotels by Marriott | Spain | | |
| AC Hotel La Linea | AC Hotels by Marriott | Spain | | |
| AC Hotel Murcia | AC Hotels by Marriott | Spain | | |
| AC Hotel Palacio de Santa Ana | AC Hotels by Marriott | Spain | | |
| AC Hotel Palencia | AC Hotels by Marriott | Spain | | |
| AC Hotel Ponferrada | AC Hotels by Marriott | Spain | | |
If you want to explore all available properties on your own, you have two choices:
Flights to Spain
With the biggest expense covered for almost free, the other costly part left is a flight. Flying to Spain can sometimes be affordable, depending on which Canadian city you are flying out of.
Since flying for less is Flytrippers' specialty, here are a few tips to save money.
First of all, be sure to subscribe to our free newsletter to be the first to know when we spot a good price to Spain on our cheap flight deals page. Deals are the best way to save on plane tickets, but they're not that frequent for Spain. They're also unfortunately quite unpredictable – as is the case for all flight deals that are almost 50% off like the best ones we spot.
So without a deal, the easiest way to save money on a flight is to be somewhat flexible on your dates. If that's your case, check out our favourite search tool for complex flight searches.
You enter your departure city, Spain as the destination and a range of dates and you'll see the lowest prices (the more flexible you are, the cheaper it'll be of course).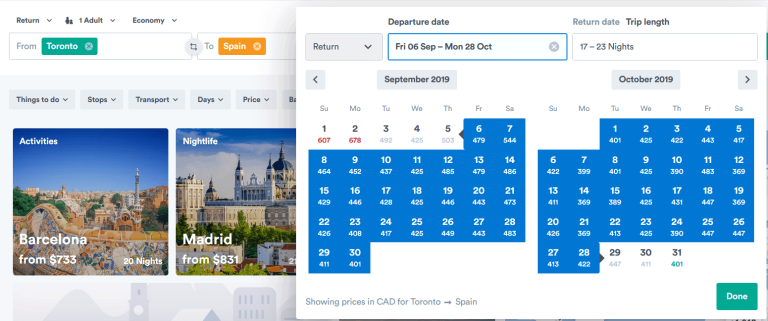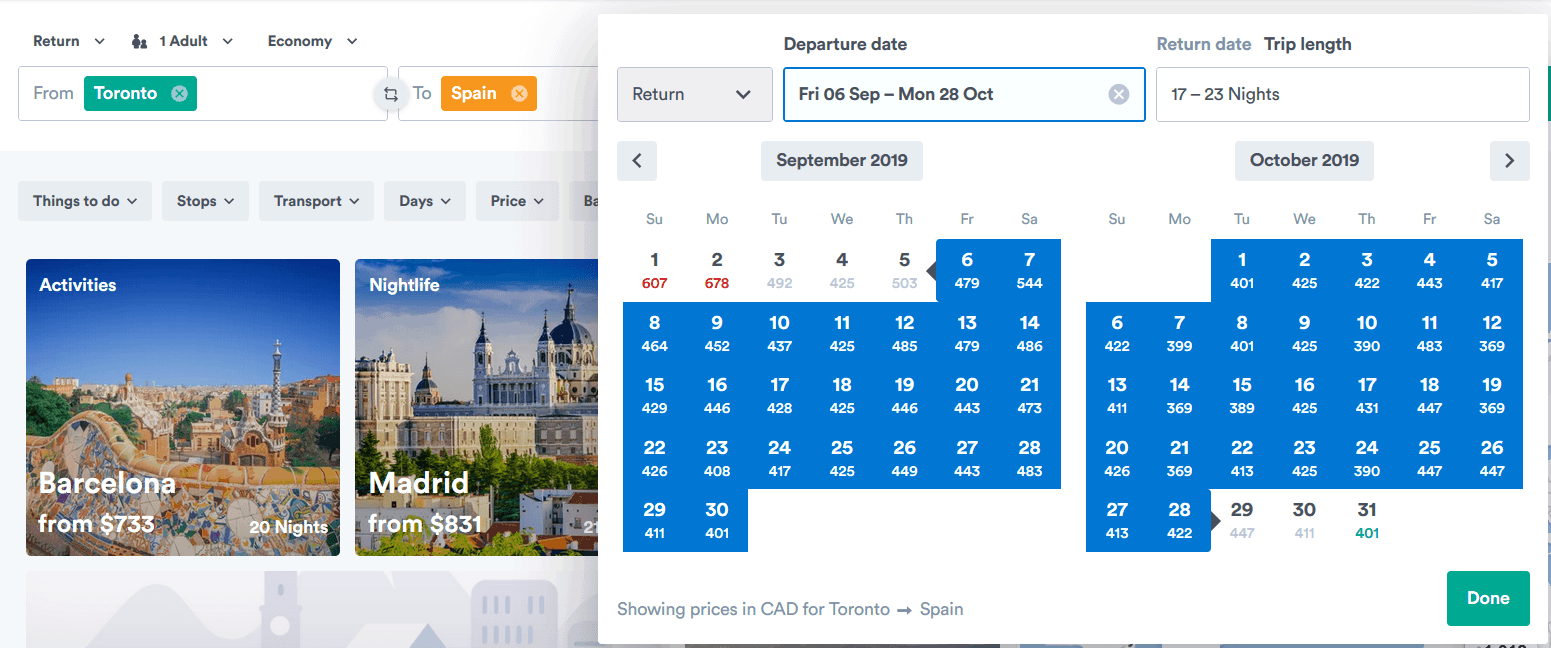 With more specific dates, flights to Spain directly might be expensive.
So instead, search for the cheapest flight from your city to Europe as a whole:

Why? Intra-Europe flights are so affordable, it's often cheaper to buy Canada-London and then London-Spain separately.
Like any tip, and anything related to flight prices in fact, it won't work 100% of the time but it's worth a shot.


Another option is that same multi-ticket trick, but at your origin instead of your destination.
New York often has flights to Madrid or Barcelona for C$400 – C$600 roundtrip, meaning it could be cheaper to buy that, then buy Canada-New York separately if those are priced reasonably from your city on your dates.


Finally, with these 17 free nights, you're probably starting to realize that the world of travel reward points is awesome. So to bring the cost of your flight down, you can each get another card.
And contrary to popular belief, having multiple credit cards is BETTER for your credit score than having just one or two (read all the details about credit cards, including why you should always keep your oldest cards open).
A great option now would be the Scotia Passport Visa Infinite (although that one, unlike the Marriott Bonvoy, has a minimum income requirement—$60,000) as it will give you 6 free airport lounge passes to make your journey more comfortable. It also doesn't charge a 2.5% foreign transaction fee unlike most cards in Canada do. And it will give you a $260 credit on any flight as a Welcome Bonus, although with the fee deducted the net is only $121 in free travel.
Finally, an option for those who earn under $60,000 would be the American Express Gold, which gives you a Welcome Bonus worth a net of $100 off any flight, or worth ~$240 if you use it well with Aeroplan or Avios—but not to get to Spain. The 25,000 Avios that card gives you can however be used for up to 6 free flights within Spain, or to neighboring countries.
Summary
Getting 17 free nights in beautiful hotels in Spain is a good enough deal to plan your next trip around this tip. We recommend applying for the Marriott Bonvoy Card now if you want free stays.
Do you have any questions about the Marriott Bonvoy Card or the Marriott Bonvoy program? Ask us in the comments below!
Help us spread the word about our flight deals and travel tips by sharing this article and most importantly bookmark Flytrippers so we can help you navigate the world of low-cost travel!
Advertiser Disclosure:
All offers described on the Flytrippers website are subject to the financial institutions' latest terms and conditions that can be found on their website.
Offers from financial institutions change quickly; it is your responsibility to ensure the accuracy of these offers on their website when applying for a card. Flytrippers will not accept any responsibility for the accuracy of the offers or the result of your actions.
Financial institutions are not responsible for maintaining or monitoring the accuracy of information on this website. For full details and current product information click on the provided links to proceed to product website. All the information was independently collected by Flytrippers and not provided by financial institutions.
Some links on this page are affiliate links that may allow Flytrippers to earn a commission. Thank you for using our links and encouraging us at no additional cost to you.
Flytrippers' website does not contain all available credit card offers or all available credit card companies on the market. Flytrippers never shares an offer if it is not considered advantageous for certain travelers, at its sole discretion.
No author on Flytrippers' website is a financial advisor, a financial planner, a legal professional or a tax professional and no author on Flytrippers' website can in any way be considered as such.
All articles and pages on Flytrippers' website are merely personal opinions of a general nature and are for informational purposes only and should not be considered as advice for specific situations. It is your responsibility to perform your own personal research to make sure that travel reward points are appropriate for your own situation.
The opinions expressed on Flytrippers' website are those of the authors only and have not been provided, approved, endorsed or ratified by any third party mentioned on the site.
You can learn more about our terms of use here.
Share this post to help us help more people travel more for less: