It always saddens me to hear passengers complain that they don't receive free meals or hotels from airlines during delays or cancellations due to weather conditions, especially since there is such a simple way to take responsability and ensure you get food and lodging completely free.
First, let's be clear from the start. Here is what airlines owe you in the event of a delay or cancellation due to weather conditions: NOTHING.
And when you actually think about it, it makes sense. How do you expect them to control the weather? How can they be held responsible for the weather? That makes no sense whatsoever.
But that doesn't mean you can't get a hotel room and meals for free during delays or cancellations.
By the way, we are not talking about cancellations due to technical problems or other situations that airlines control. These are situations that deserve compensation, and that will be a subject for another article.
Today, I am talking to you about situations where you are at the airport and your flight is delayed or canceled because of the weather (although this tip even applies to any type of flight delay or cancellation).
Every time there is a storm and several flights are delayed in Canada, we hear about it in the media. People complain and complain. At the risk of sounding heartless (which is obviously not the case, it is precisely because there are so many better causes and people who actually deserve pity and help more than stranded passengers), I don't have much pity for people who complain when they are facing a situation for which they could easily have protected themselves with free insurance.
Yes, you can get insurance coverage that covers you for all flight delays, free of charge.
And you definitely should get it. You know the Canadian climate. There's nothing anyone can do about it: if you fly often, you will certainly experience delays. That's normal. These are things that happen (especially in winter).
Safety always comes first, as it should. Therefore, sometimes aircraft cannot take off or land in certain weather conditions for safety reasons.
People complain, but they would be the first to revolt if the plane crashed because the airline or the authorities did not take enough precautions.
So it is normal that flights are delayed or canceled because of the weather. That will never change.
Now, instead of doing what most passengers do and complaining or feeling sorry for yourself, take action instead, especially since it's very simple.
Take responsibility and take charge of your own situation: the airline owes you nothing. And yes, you can still get a free hotel and free meals during delays if you use this super simple trick.
What to do to get compensation
In the past 2 years, it has happened to me five times: my flights have been delayed and/or canceled. All five times I was able to get free money to go to the hotel and restaurant. And that didn't involve the airlines in any way.
While other passengers are pissed and go line up at the counter to complain, I've already left the airport and I know I have $500 (or even $1,000 now) to spend on meals and a hotel, for free.
How?
Thanks to the free insurance included with travel credit cards.
So, it's one of the simplest tips I can give you, all travel topics combined: you should ALWAYS pay for your flights with a travel credit card.
There is absolutely no disadvantage in doing so, only advantages. Because if your flight is delayed, you will get free compensation, without too much effort.
As soon as you experience a delay of more than four hours, you get $500 to cover your expenses, regardless of whether or not the weather is causing the delay. As long as there's a four-hour delay.


It doesn't change your delayed flight, it doesn't make you get there any faster. But at least it makes up for it.
It's much more pleasant being delayed when you can spoil yourself with a good restaurant or with a nice hotel room!
How does it work?
You should always pay for everything by credit card anyway. This is called Travel Hacking. You get Points for your purchases… instead of throwing money away by paying using debit or cash. As long as you pay everything in full at the end of the month, credit cards are the same as debit card. No interest charges, no costs.
We cover all this in our Travel Hacking section. Our ranking of the best credit cards in Canada will also be updated monthly in this section. And you will also find a lot more articles that talk about how to use your miles and points, to be continued.
So, back to the insurance, it's very simple.
You pay for your flight with a credit card that offers "Flight Delay Insurance". It is free of charge, it is included with most good travel cards (more details on the cards are given below).
When your flight is delayed for over four hours, you notify the insurance company, keep proof of the delay (details below) and then spend $500 on meals, essential items and a hotel.
You then fill out the insurance form once you're back home, send the receipts and they send you a cheque to reimburse everything within a few weeks. It's very simple, I've done it several times.
Which credit cards
There are several travel credit cards that offer "Flight Delay Insurance" for free. Maybe you even have it already.
But if you want to have this insurance coverage (and you absolutely should), one of the best credit cards in Canada right now is the Marriott Bonvoy American Express, which has an amazing welcome bonus of up to 15 nights of free hotels (including taxes) or a free flight anywhere in North America (excluding taxes), but has a fee of $120 (which is worth it considering the welcome bonus is worth an estimated ~$567 or even more). No minimum income required, just a good credit score.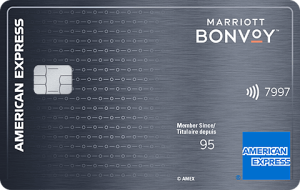 Welcome bonus? Yes, because in addition to having the insurance and be covered for all your flights, you get hundreds of dollars worth of Points in welcome bonuses by signing up for the right cards. That's free travel.
Alternatively, for an option available to anyone earning at least $12,000 a year, there is also the American Express Gold Scotiabank that offers the insurance for free (and has many other benefits).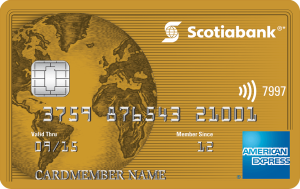 It gives you only $61 free travel, but if for some reason you don't want free hotel stays, it is an alternative.
You can also read our article on the 10 rules about travel hacking credit cards and the one about the best credit cards for Travel Hacking.
So it's simple right?
You get a card that gives you hundreds of dollars of free travel. You pay your flights with the card and you'll never have to be among the people who whine about delays because you will have $500 to make up for your trouble.
"Just $500, but didn't you say $1,000 earlier?" Well, I get $1,000 every time I get delayed because I have an even better credit card, the American Express Platinum. But I only recommend it if you travel a lot because it is not for everyone (it is really only for frequent travelers as it is a very premium card).
I see no reason why someone wouldn't take the Scotiabank American Express Gold Card mentioned earlier though. It gives you $161 in free travel. Same thing for the AMEX Bonvoy Card, which gives you free hotel nights. And they have great free coverage in case of flight delays or cancellations.
Some more details
Each travel credit card has different terms and conditions for their Flight Delay Insurance, so read them carefully. Some minor details are different sometimes and as a new customer, it's the official paper version of the terms & conditions that you will receive with the card that takes precedence.
What doesn't change is the $500, don't worry. But for example, some cards require that your expenses be paid with the same card to be refunded, others not. Some give you 30 days to claim, others 90. A few rare cards have coverage that only kicks in after 6 hours of delay, so avoid those. You have to check those details.
Here are some additional details:
-What is covered: accommodation expenses, food and reasonable essentials. I have never had anything refused, even a meal for $100 for one person, or meals for $200 for two. So what I think they mean by reasonable is in relation to booking a hotel if your delay is during the day. Don't book a hotel if your flight is not delayed overnight. I have always expensed hotel nights (some at US $300 a night) on it with no problem, but my flight was postponed for a full day. If your flight was scheduled for 8am and it takes off at 2pm in the same afternoon, it is highly possible that the hotel would be considered unreasonable (update: I've actually done that since after calling and asking, they said it was okay). Meals are always good. But otherwise, as I say, everything is accepted. For example, once I bought personal care items and snacks at airport shops, and it was accepted without a problem.
-Notify the company quickly: notify the credit card company as soon as the delay is confirmed, before incurring the expenses, they will open their claim file and you will be certain to be refunded. They will give you precise details on the procedure, which varies depending on the card.
– Cancellations and delays of four hours: if your flight is canceled, but you are reschedule on a flight three hours later by the company, it does not apply. And cards other than AMEX could have different criteria, so check with them (as I said, I've already seen one that only covered if the delay was over six hours, not four).
-Keep your receipts: it's obvious, but if you want to be refunded, keep your receipts. They will also ask for proof (statement from your credit card) that you have paid for the flight with the card and also sometimes the statement that contains the transactions of expenses to be reimbursed.
-Keep proof of the delay or cancellation: you can ask the airline customer service for a proof of the delay (they have forms for that, see the picture below). But the with e-mails received from the airline that prove the delay and a print-screen (even with your cell) of the page of your flight number on FlightAware that proves the delay or cancellation, it will be enough.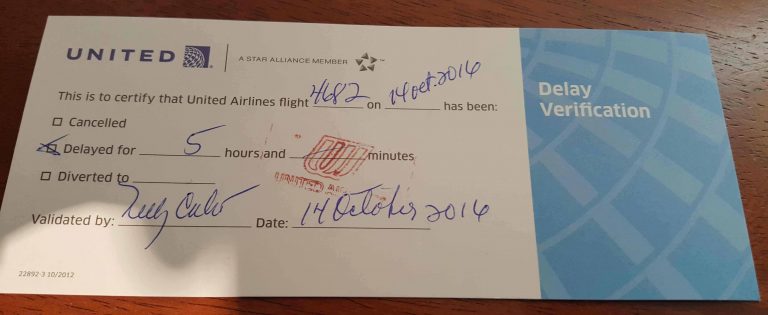 – Total amount, not per person: if there are two of you, you don't get $500 per person. But if you would push this tip a bit and pay each ticket separately with two different cards, you could get the $500 twice (but there is a high risk that one of the tickets increase in price if you buy them separately).
-No cash: it seems clear to me, but just to be sure: you are not getting a blank check or cash: just a refund of your expenses incurred, up to CAN $500.
-Not to find another flight: it does not cover the price of another flight, for example, if you would like to arrive at a destination faster by buying another ticket. This is not what the insurance is for and they will not pay you back.
-There is a time limit: expenses must be made before your replacement flight takes place, obviously. But often, you are entitled to the amount only within 24 hours or 48 hours, you can no longer incur expenses two days after the deadline, even if for example your flight is delayed by five days (it happened to me this winter during a crazy storm, while I was in Florida).
– Amount in Canadian dollars: if your credit card is Canadian, the insured amount is CAN $500. So if you are in the United States or elsewhere during the delay, take the exchange rate into consideration to plan your expenses and not have to pay a surplus.
Summary
I think this tip is the easiest and simplest to follow for all travelers. You should pay for all plane tickets with a travel credit card and you will have $500 as soon as your flight is canceled or delayed for at least four hours.
Any questions?
Help us spread the word about our flight deals and travel tips by sharing this article and most importantly bookmark Flytrippers so we can help you navigate the world of low-cost travel!
Advertiser Disclosure: Flytrippers receives a commission on links featured in this blog post. We appreciate if you use them, especially given it never costs you anything more to do so, and we thank you for supporting the site and making it possible for us to keep finding the best travel deals and content for you. In the interest of transparency, know that we will NEVER recommend a product or service we do not believe in or that we do not use ourselves, as our reputation and credibility is worth far more than any commission. This principle is an essential and non-negotiable part of all our partnerships: we will never give any third-party any control whatsoever on our content. For more information on our advertiser disclosure, click here.
Travel Hacking Disclaimer: Flytrippers does not give financial advice. You should ensure travel hacking fits your personal situation and obtain professional advice if you so desire. Flytrippers may receive a commission for referrals, however our policy is to only recommend products or services we really believe in (and have ourselves). To read more on our disclaimer, click here.