Did you know that there are VIP lounges in almost every airport? Have you ever wondered what the experience is like inside those lounges? Here's your chance to find out … and learn more about how to access them for free (actually, how to get *paid* to access them)!
Let's make something clear from the start: I'm really not a luxury traveler. I almost always choose to stay in hostels when I travel solo and most importantly, I always use Ultra Low-Cost Carriers (ULCC), with the compromises that that entails, to save money whenever I can. And my most important criterion for just about everything that is travel-related is the price.
In fact, having access to VIP lounges in airports kind of offsets the disadvantages associated with budget-traveling and makes it easier to tolerate Ultra Low-Cost Carriers… particularly by making stopovers and layovers much more interesting.
Longer connections are the key to drastically reducing the price of all your long-distance airplane tickets. We are talking about easily shaving off half the price thanks to these stops either with our deals or the multi-ticket itinerary technique (especially for Europe).
Seriously, since I discovered airport lounges, it's a luxury I could never do without, since I travel quite a bit (65 flights in 2017, 77 flights in 2018, and 72 flights in 2019). I don't know how to convey this message clearly enough: it's really the most awesome thing in the world. Never has traveling been so enjoyable.
Sometimes I even add extra stops to my flights just to visit more lounges. I am not even joking. In fact, I even went to the West Coast once just to try new ones (true story, story coming up soon). And before having access to lounges, I used to arrive just 60 minutes before my flights … now I specifically choose flights later in the day and arrive really early to have more time to spend in these lounges to work comfortably or to relax.
And it's surprisingly more accessible than you might think, especially since it can be free…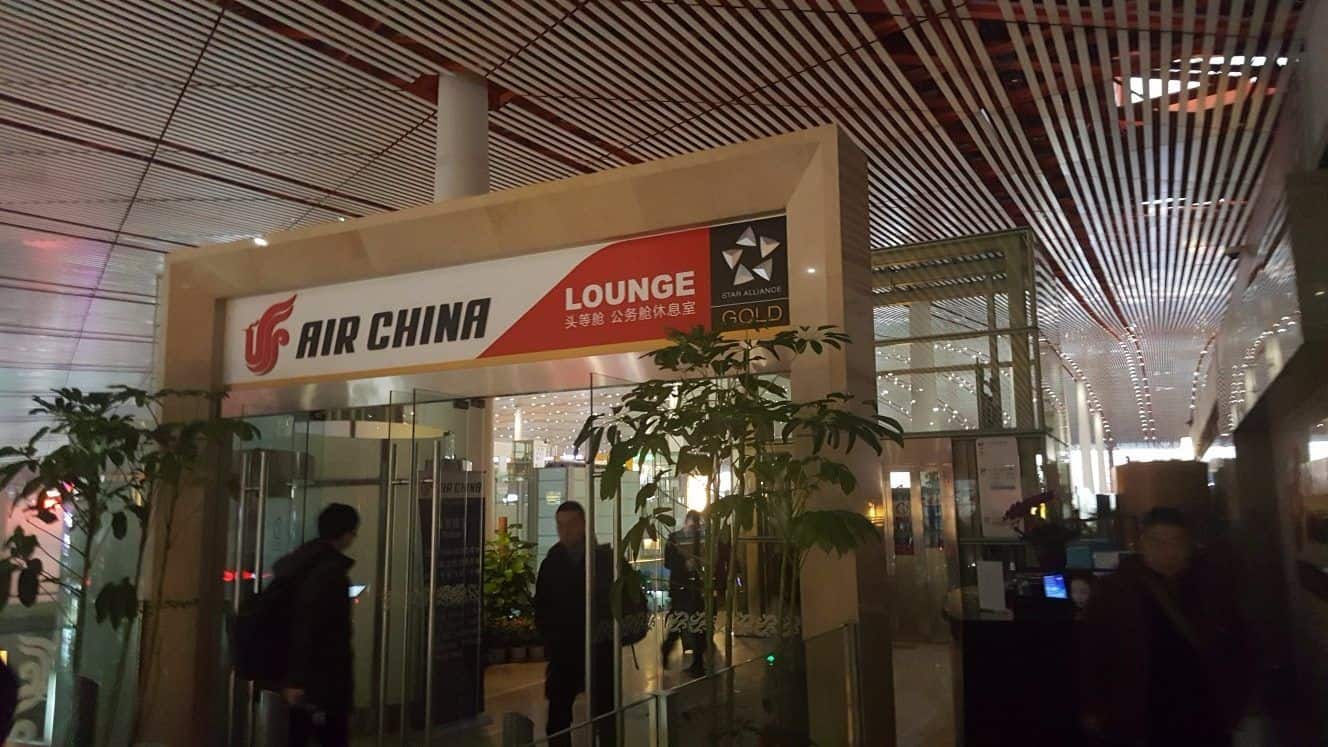 But before we give you all these details, what are the VIP lounges? No matter what you call them, VIP lounges or airport lounges, these are great places where you can escape the chaos of airports before your flights, during your stops and even when landing.
And you really could access these yourself, for free*. Why the asterisk? Well, it's because there is a way for anyone to access the lounges for free, but you have to travel somewhat often for it to be truly free. The other way is also completely free but requires an annual income of $60K. Details at the end of the article.
But first, here is what it's like inside these lounges.
What It's Like Inside Airport Lounges
First, what you need to know is that each lounge is different and independent. They are part of networks, but depending on the airport where you are, the details will somewhat vary.
But what is universal is: tranquility, comfortable seating, free food, free drinks and premium internet access.
In the vast majority of lounges (I would say 90% or more), there are also full hot meals (free) and open bar (all free beverages).
Some lounges even have showers (especially internationally). More rarely, some have private rooms to get some sleep… and even free massages (I love MIA & IST).
Here are some pictures for you to see the experience from the inside, taken during my 100+ different airport lounge visits in the 3 years since I've had free unlimited lounge access.
Tranquility
So many people complain that the experience at the airport is unpleasant. Not in the lounges. Believe me, I love spending time in airports. If I could spend more, I would (mostly because that would mean I would be traveling even more, but still).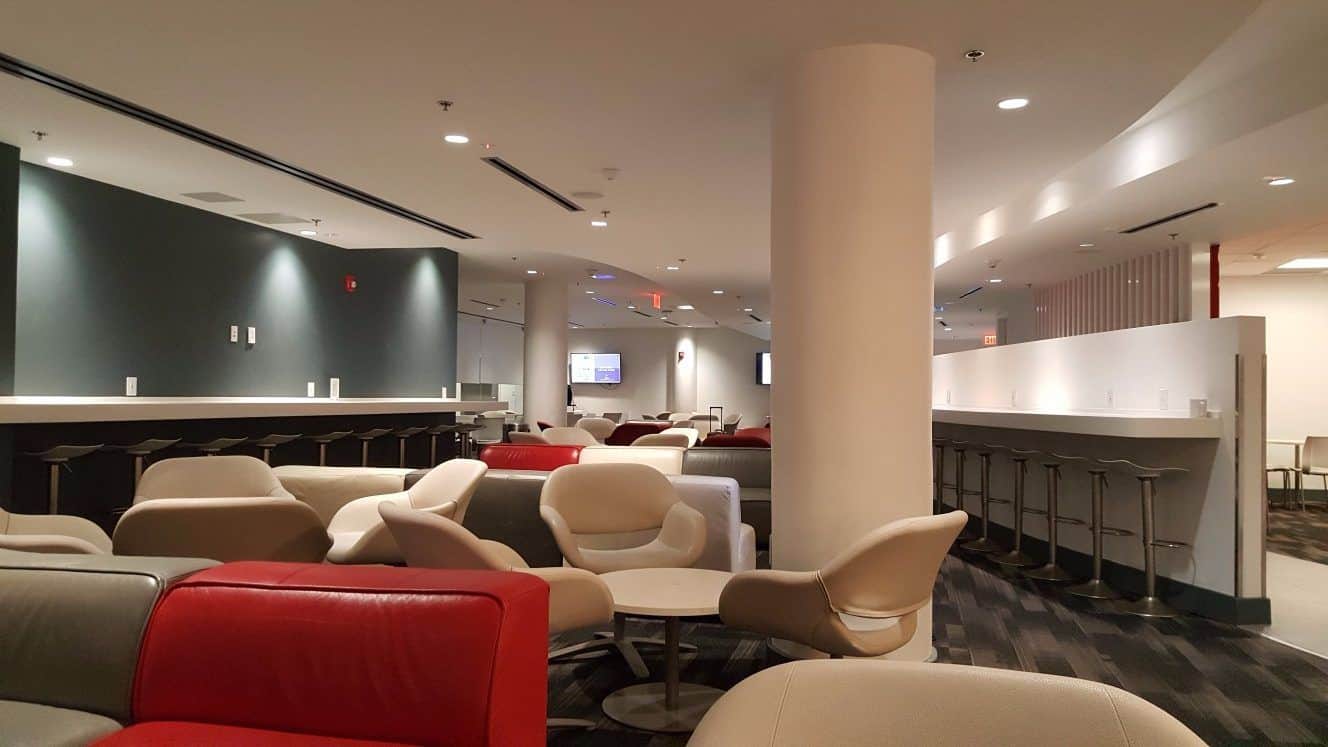 In lounges, there are no crowds, no noise, no stress … they are havens of tranquility where you can really start your journey on the right foot. And relax comfortably.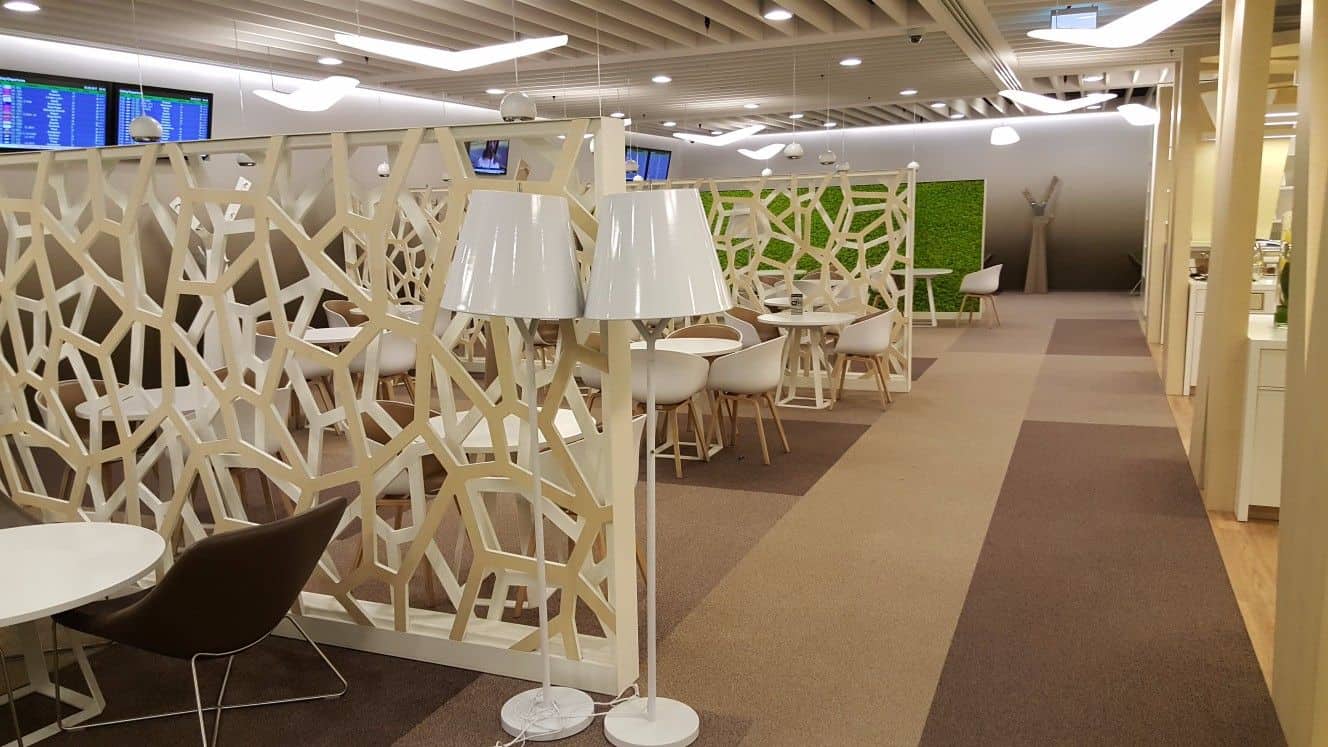 Comfort
No uncomfortable seats like at the boarding gates, no unpleasant neighbors, no running around to try to find two adjacent seats …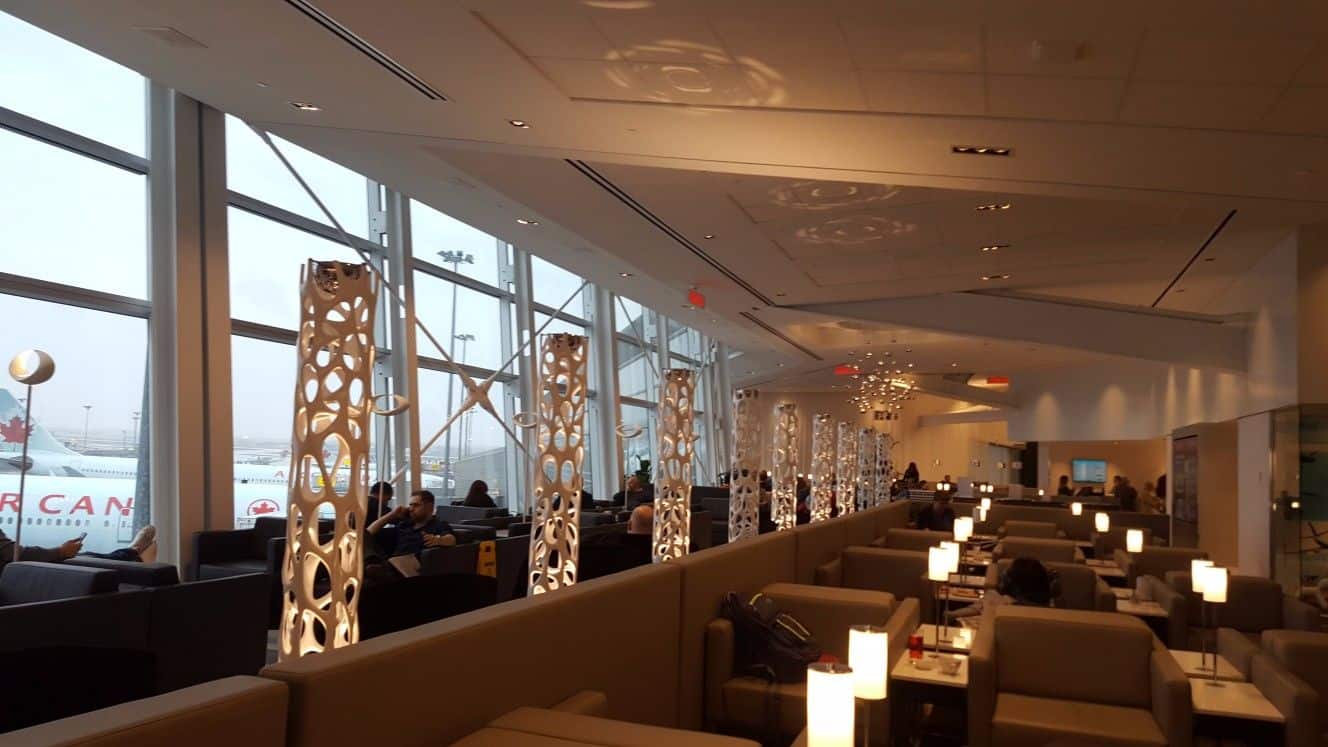 Beautiful, comfortable and relaxing seating is the most basic amenity of every airport lounge.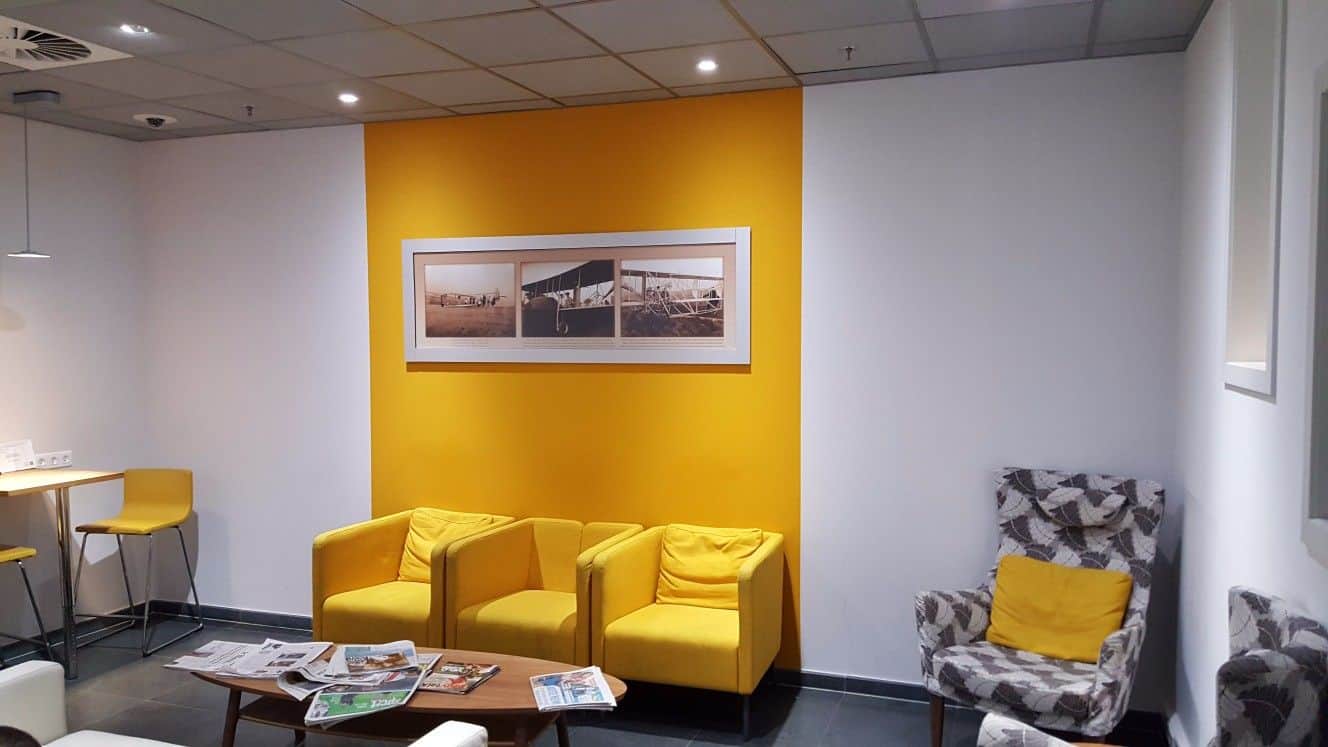 Quite different from the experience at crowded airport gates, isn't it?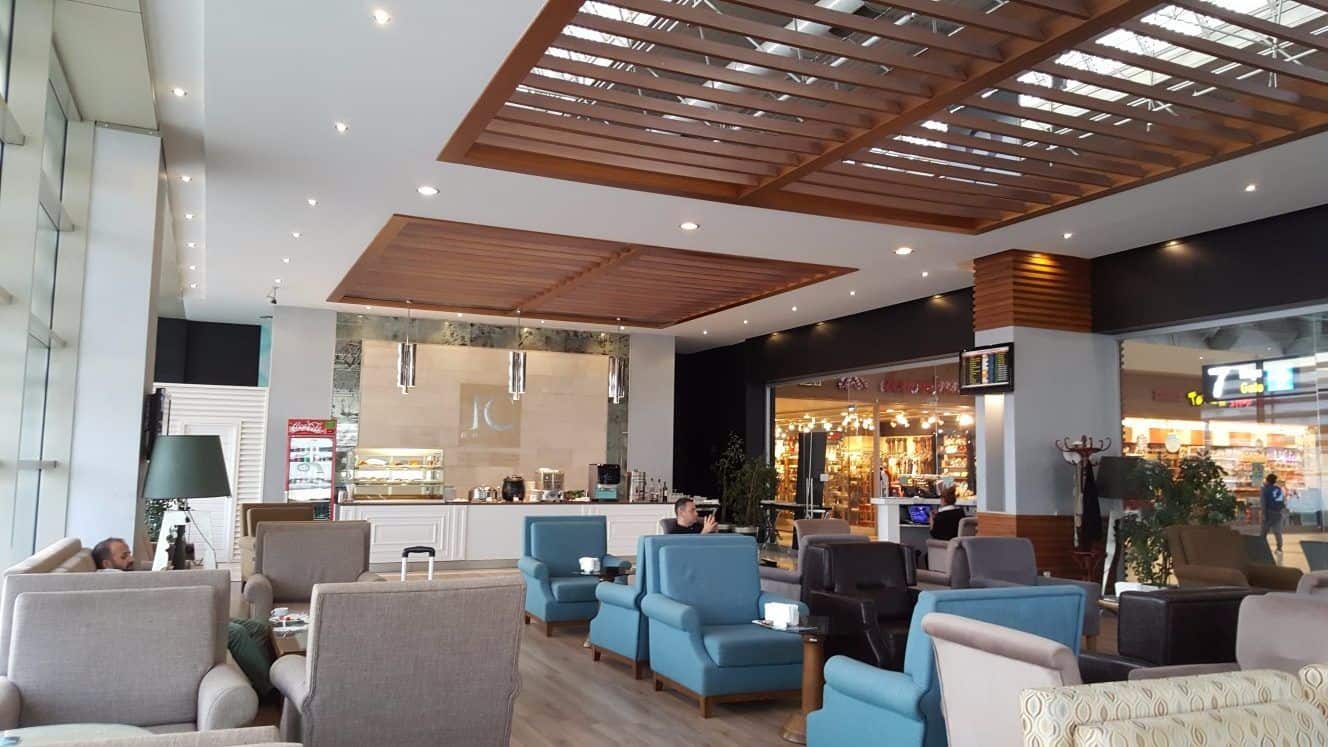 Food
If you travel often, you know that airport restaurants are usually very expensive! For this reason alone, lounges are very interesting, with free unlimited food.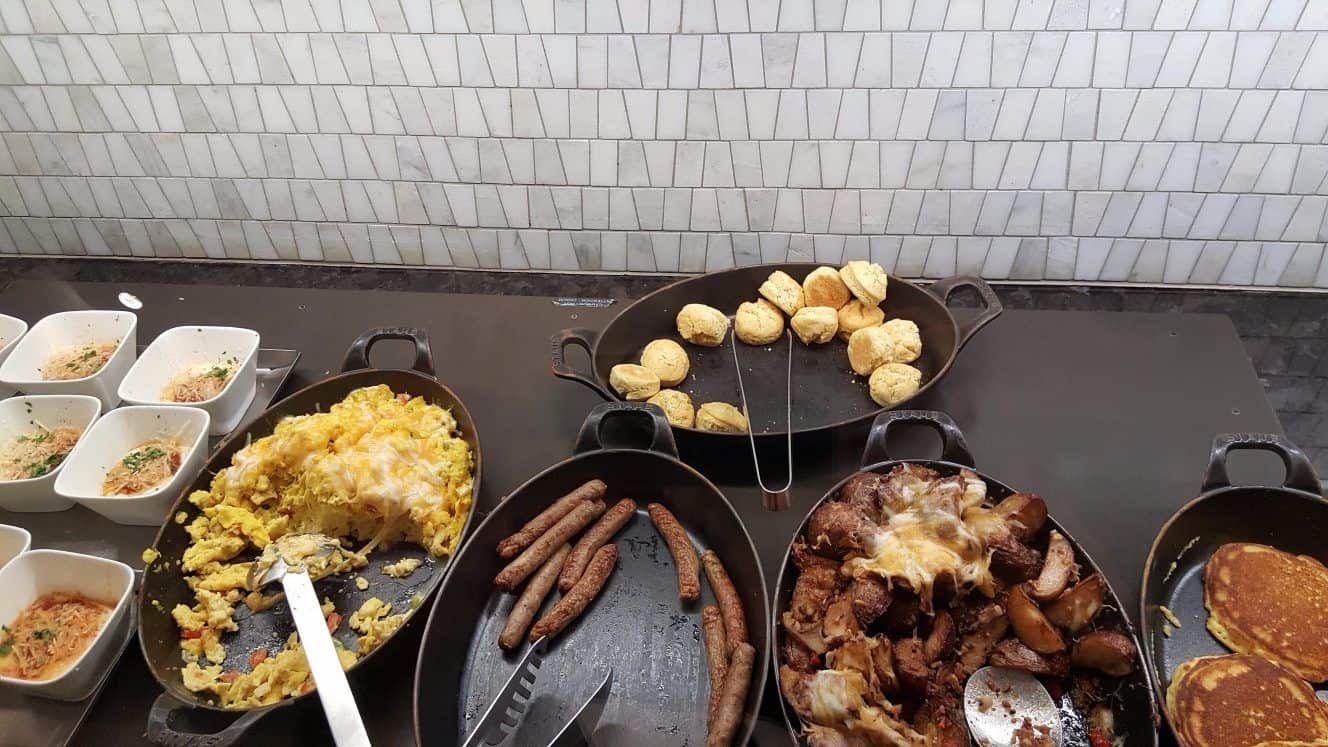 During meal times, most lounges have full hot meals but at the very least they have many snacks.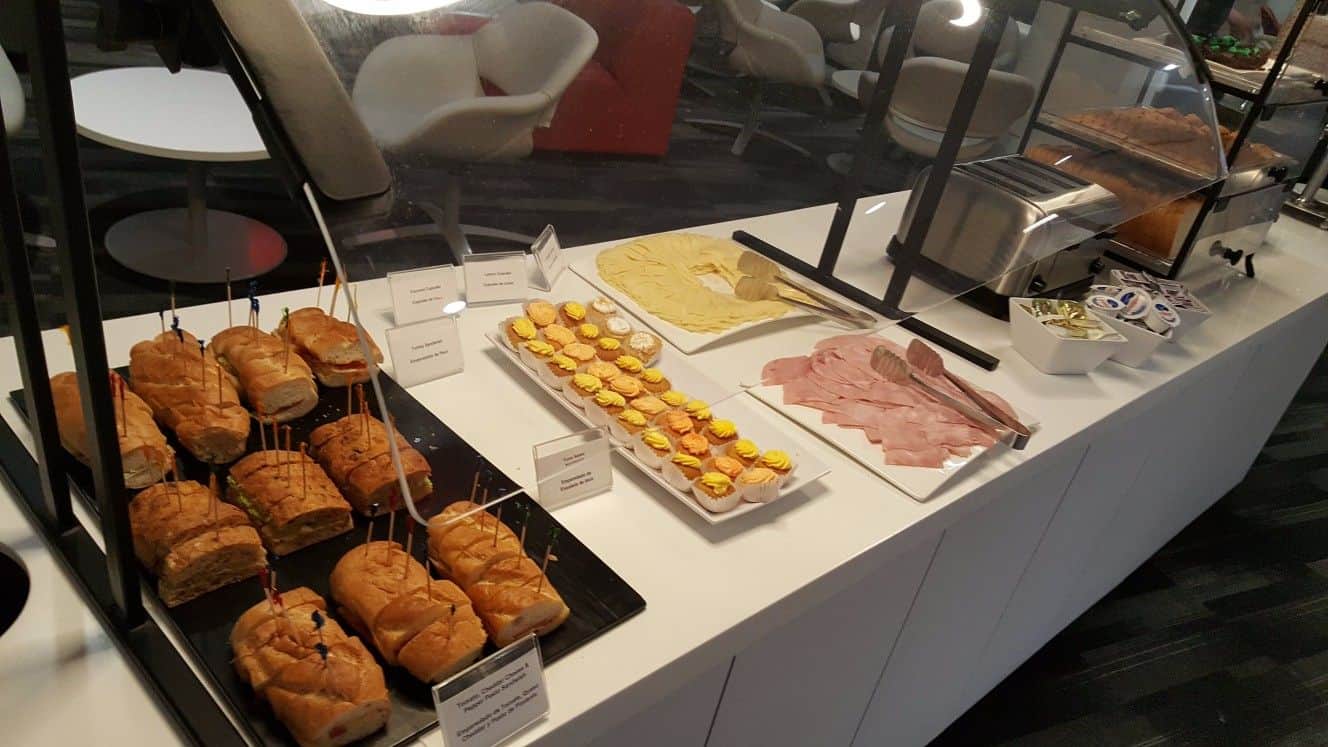 You can eat well before your flight, literally all-you-can-eat. That way you might stop complaining about the damn meals that are not included on most flights now. I'm kidding (kind of). For those who don't read me often, it's just that people who complain that some airlines do not offer "free" meals exasperate me (just a little).
As if paying a flight to Europe $300 more just to get a cheap meal (which is probably worth $10) made any sense. That said, we can still be friends if you complain about not getting a free meal. Just know that your airplane meal is never "free", because when it is "free", your ticket costs $300 more… that's an expensive tiny plate of chicken. Anyway!
In short, with airport lounges, no need to worry about food, everything is included. Don't tell anyone, but I usually grab a few snacks for the flight too! Special mention to the Avianca lounge in Miami (MIA), with its free Häagen-Dazs cups. Flytrippers other co-founder Kevin tells me that you can get some in Taipei (TPE) as well, so book accordingly ice cream lovers.
Beverages
For those who consume alcoholic beverages at the airport to pass the time, they must cost you an arm and a leg when bought at the airport restaurants and bars.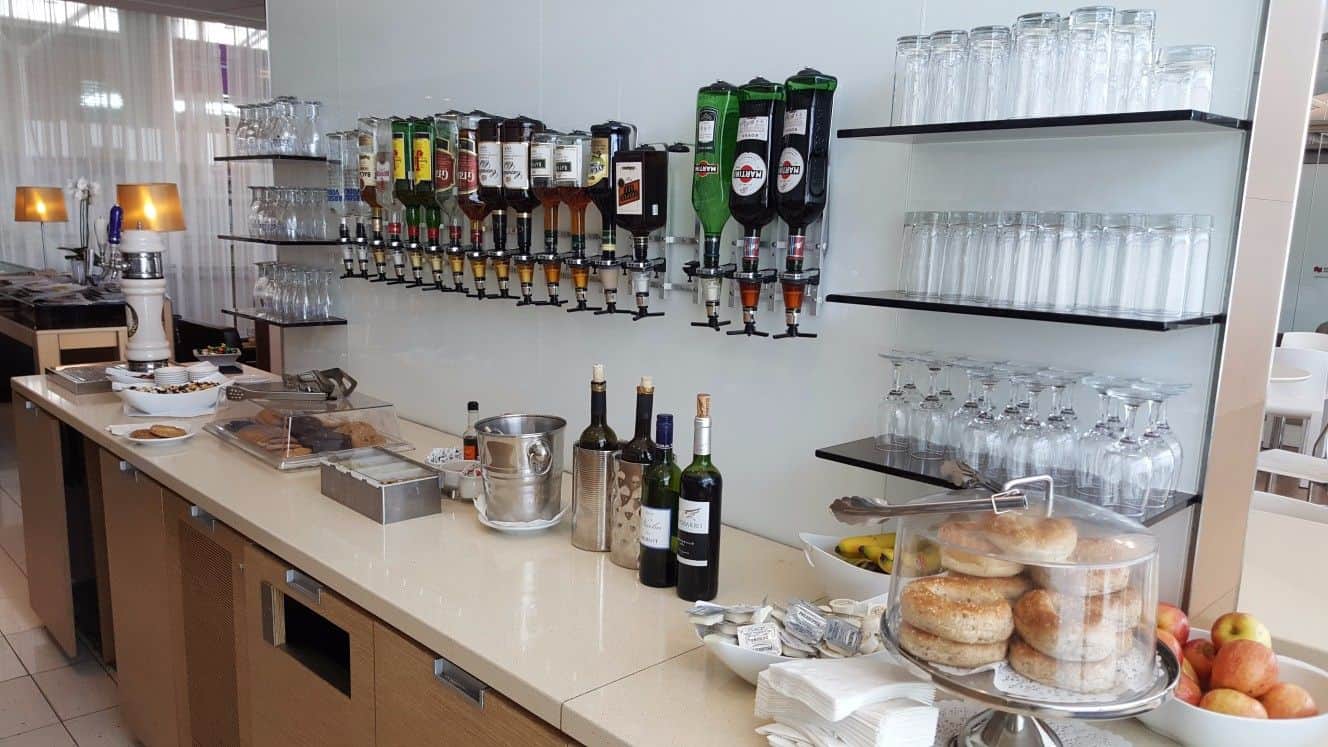 In 99% of lounges, all beverages are included, and yes that includes alcohol. Everything that you want. Sometimes it's self-serve, sometimes there is an employee to serve you. In any case, it's another perk that many would surely appreciate!
Premium Internet
If you want to make your visit to the airport a little more productive, or if you just want to have access to an Internet network that is not worthy of a third-world country (and that is free), it's really convenient to have the ultra-fast Wi-Fi.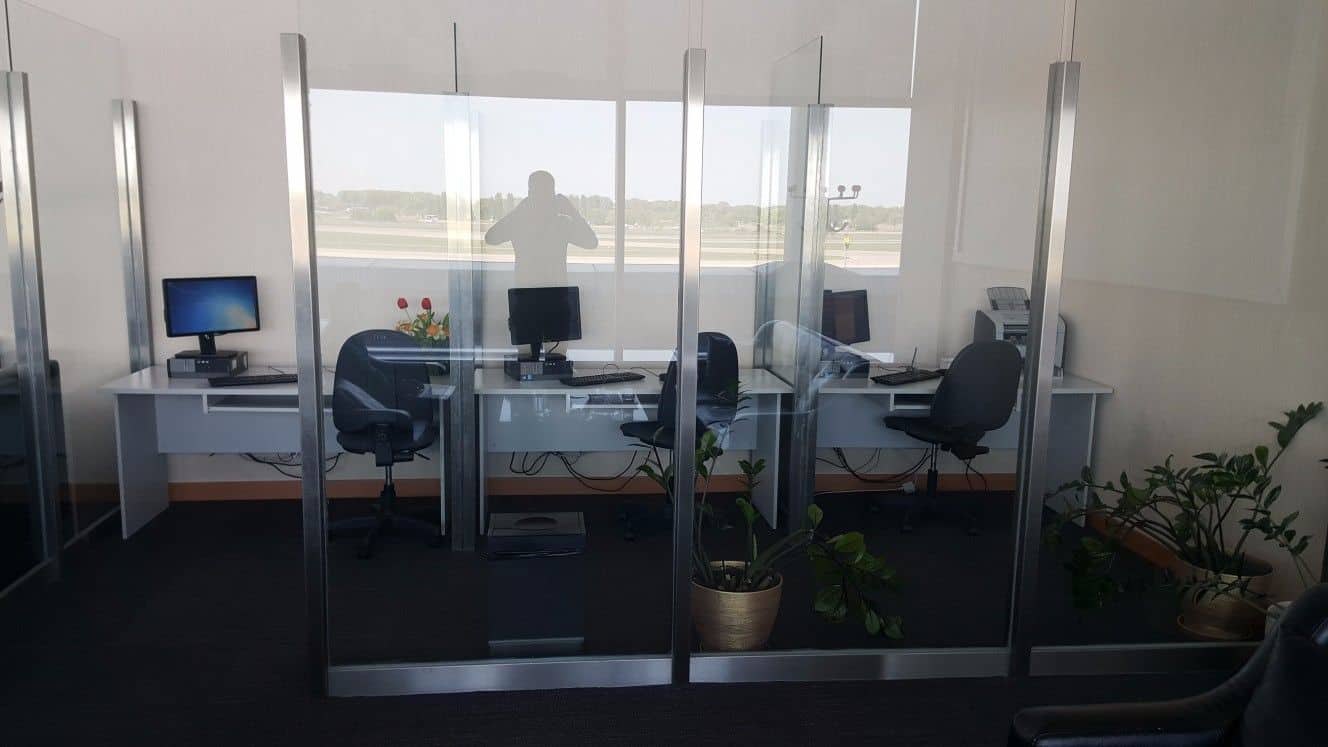 All lounges have a variety of seating areas, including some that are very suitable for working on your computer (I've written a lot of posts comfortably in those lounges!) and sometimes even full-size office desks and even meeting rooms.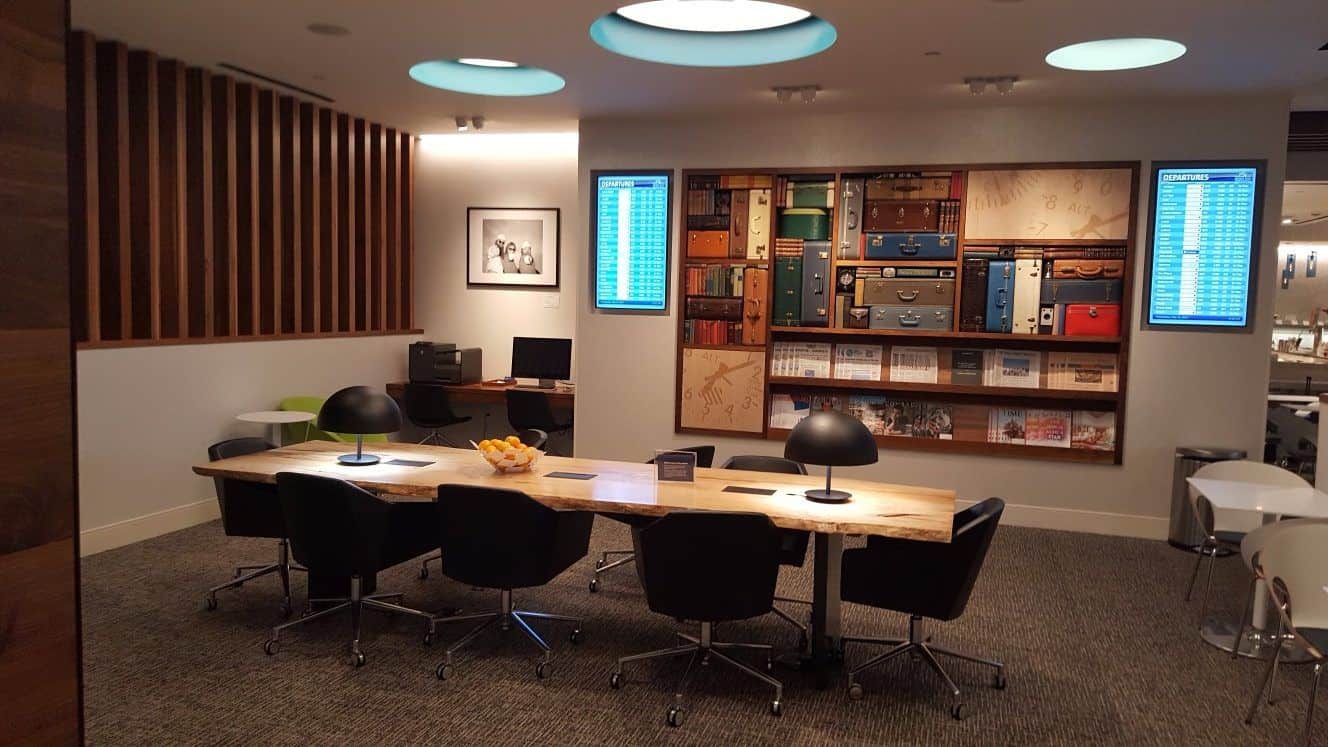 Feeling Like a VIP
I added this point, because as I said before, personally I do not really travel luxuriously. My only criterion for just about everything is the lowest possible price.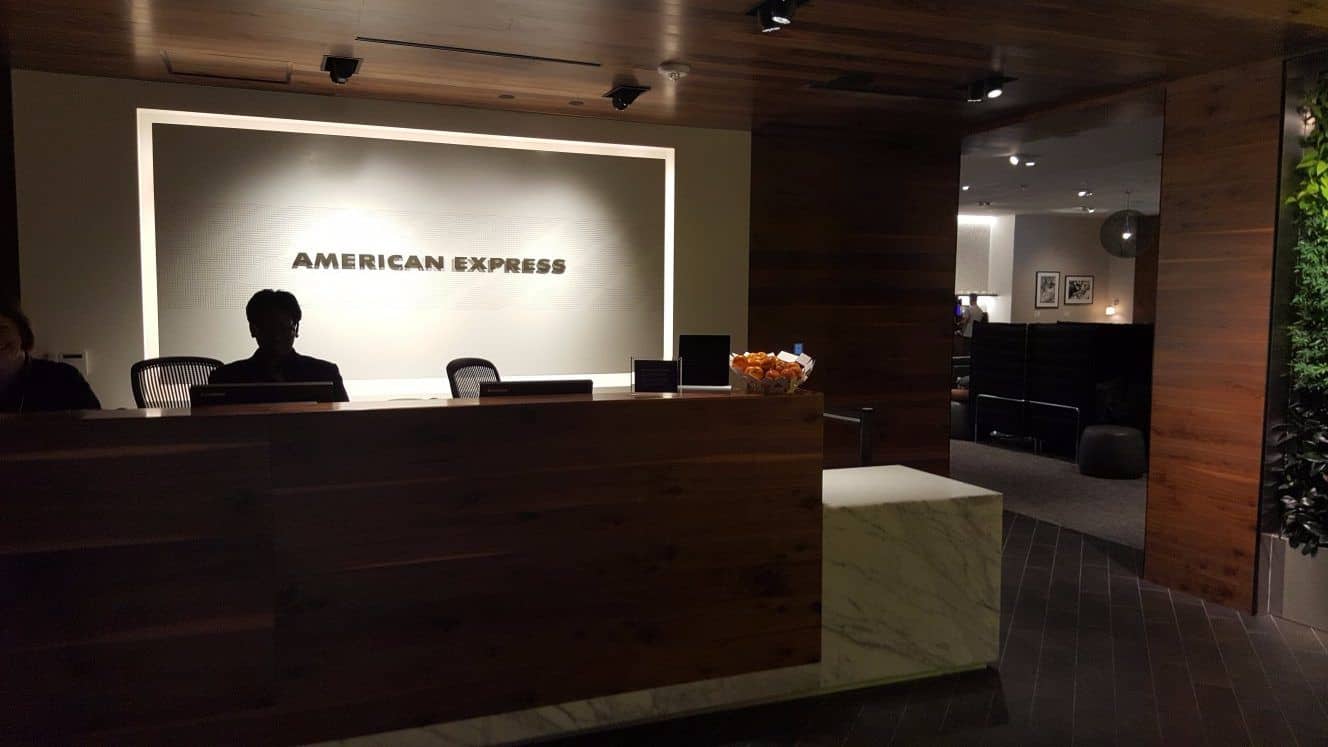 Having access to airport lounges and being able to experience a level of service that is almost always exceptional is really another positive point that greatly enhances a trip, especially since it doesn't cost a thing.
The often very beautiful design & style of these lounges are a plus too, if you enjoy architecture and aesthetics. The only exception is in Sofia (SOF), in Bulgaria. That was the only one that was not very beautiful. But out of the 100+ I've visited, it was the only one!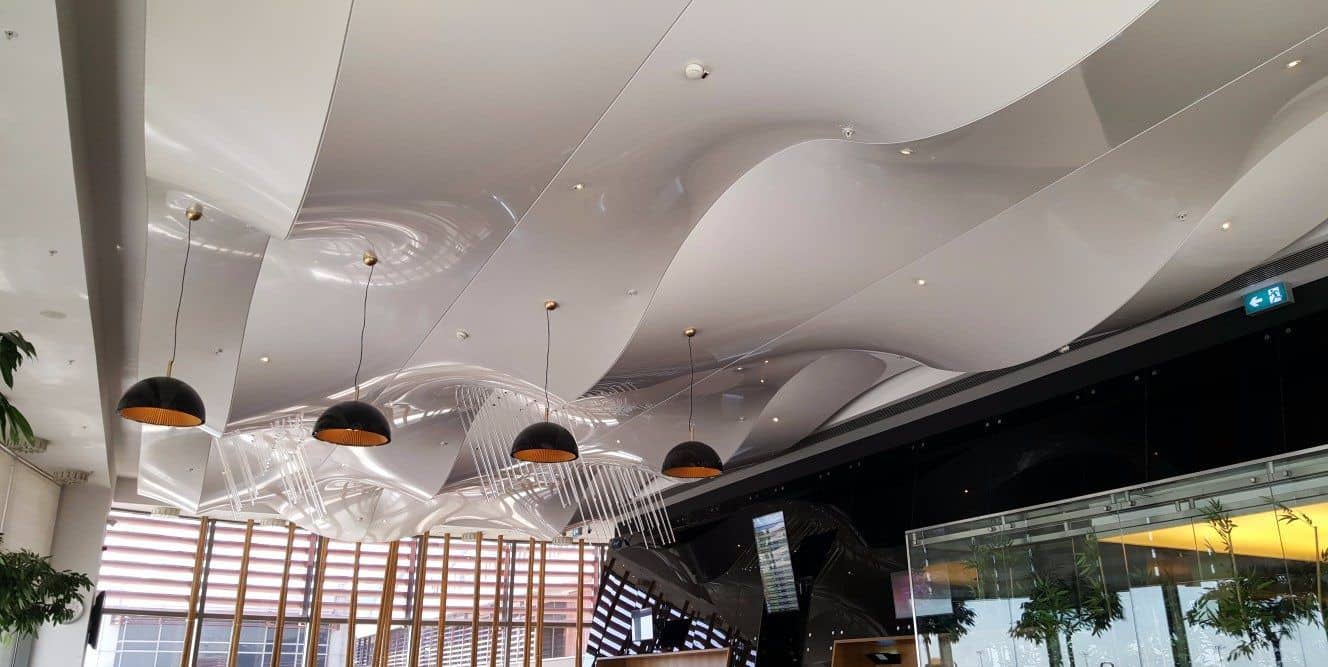 Showers
Unlike all that I've just listed above, which are benefits included in all lounges, this one is a bit less frequent.
But for the places where it's available, it's really great though. Nothing better than a shower between two long flights to be refreshed for the rest of the trip.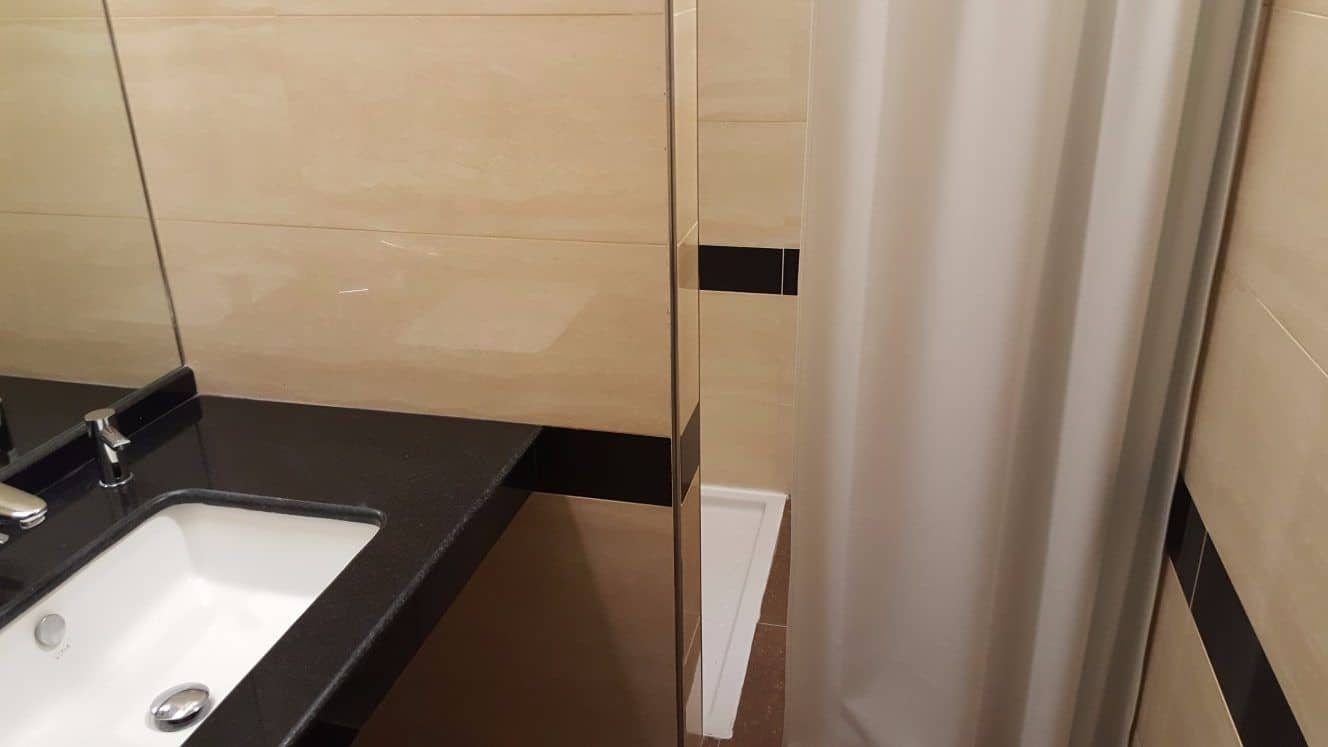 I've taken countless showers in airports, something I had not ever done in the 100+ flights I had taken before getting lounge access. It was really nice and relaxing to take a shower during a layover, again, it's a small detail that makes the trip even better, especially when it's free! Especially when I'm staying in a hostel, it feels great to have a private bathroom.
Massages
This one is quite exceptional and to be honest, it is rather rare. Some lounges like in Quebec City (YQB) have free massage chairs, but I only remember 5 lounges where I've been that offered actual massages:
Miami (MIA) – American Express Centurion Lounge
Dallas (DFW) – American Express Centurion Lounge
Mexico (MEX) – American Express Lounge
Istanbul (IST) – IGA Lounge
Phuket (HKT) – Coral Lounge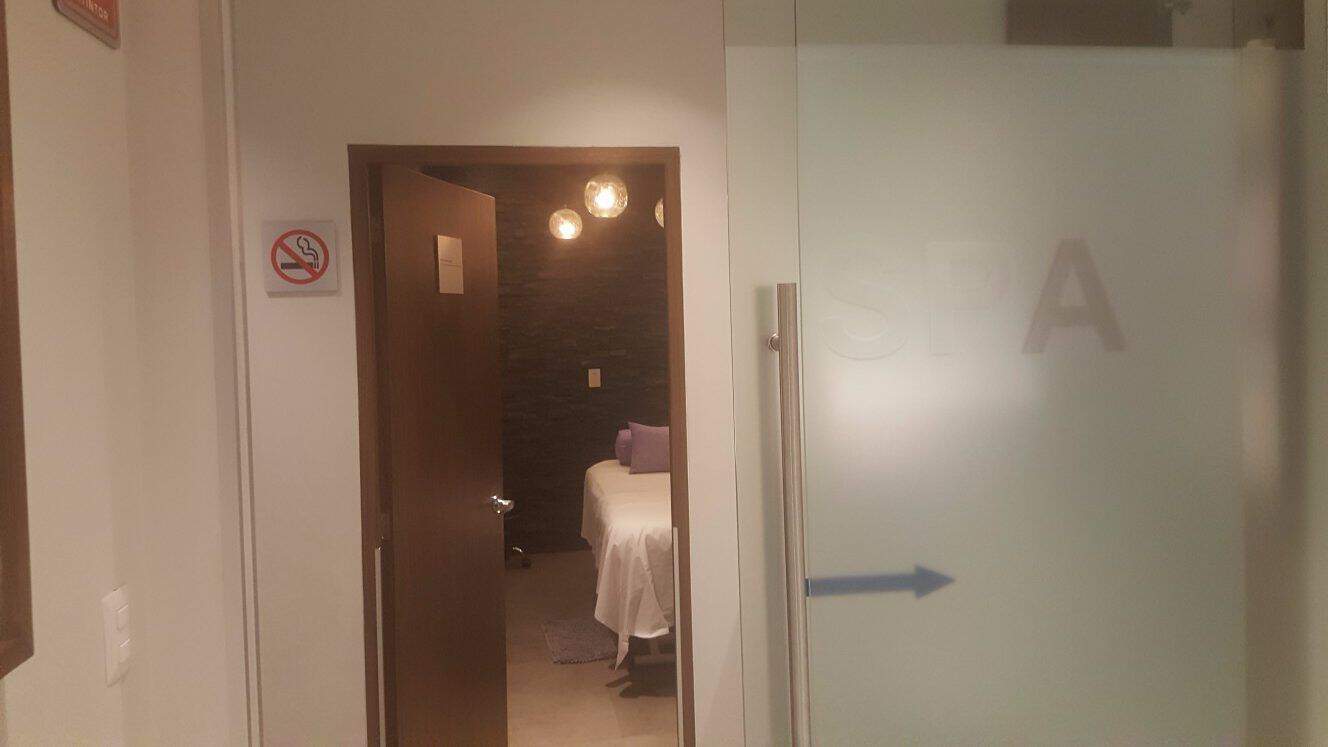 That was really great. My girlfriend was also able to enjoy a free manicure session at this same American Express lounge in Mexico City. Another great VIP experience that enhances the travel experience, completely free.
Sleep Rooms
In Beijing (PEK), there were even private rooms to get some sleep inside the lounge, but that's very very rare.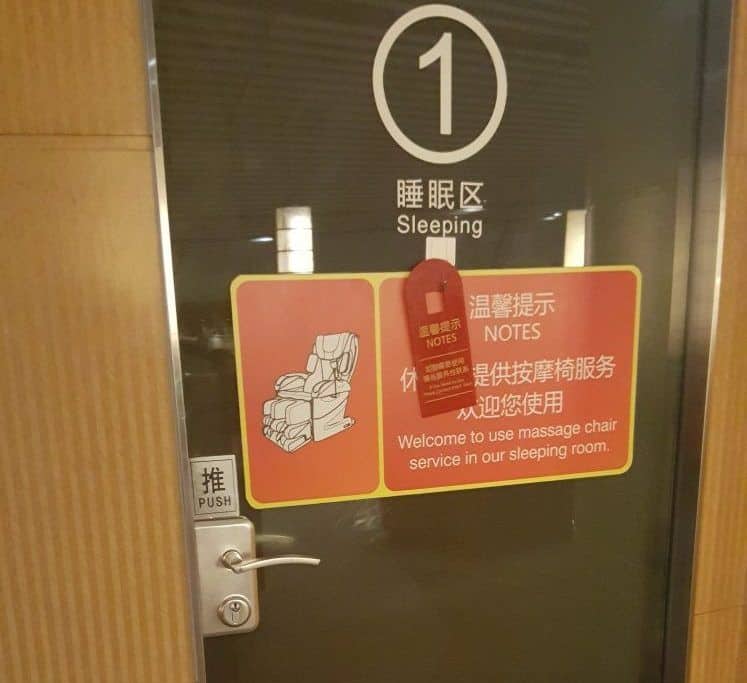 "Non-Lounge Airport Experiences"
Finally, there is this new concept, which is an alternative to lounges. Access rules are slightly more complicated, but in short, these are new innovations to complement the access to actual airport lounges. First, there are restaurant credits, which I personally love. You can get US$28 to spend in restaurants at ≈50 airports around the world. Then, there are also various sleep rooms, a cool place where you take a power nap inside certain airports, just for one hour though. I'll cover these in a separate article soon.
How To Get Access To Airport Lounges
Now, how can you have access to all these airport lounges? There are three main ways (ours is the first one):
the first is free for one year (and almost free for two years) but you have to travel a lot to make it worthwhile
the second is free but you have to have an annual income of $60,000
the third is not free but is more accessible to all travelers
Here are the details. And we've made a list of all Priority Pass airport lounges in Canada so you can see what your options will be at your home airport.
The First Way to Access Lounges, For Free
This offer is currently suspended during the coronavirus crisis. Subscribe to our free travel rewards newsletter to be the first to know when it's back.
The Second Free Way to Access the Lounges
There are 3 other credit cards that give you lounge access, however in their cases it only includes a few lounge passes per year, not unlimited access like the AMEX Platinum.
First up, is the BMO Mastercard World Elite, which gives you 4 free lounges per year. This one is completely free the first year (no fee at all). And the Welcome Bonus even gives you $387 worth of free travel by signing up.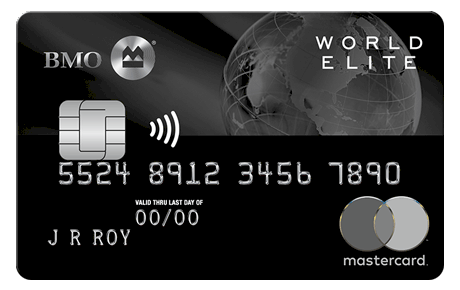 So sure, it's not like the unlimited visits that the Platinum offers, but if you're travelling less, if you want to try it, or if you just want it to be free, it's a great option.
In addition, you could still pay for additional visits at a cost of US $27 if you wish. The only problem for many is that the World Elite requires an annual income of $80,000. The card also gives you $200 free travel credit in addition to being free.
Click here to read the details of this card and order it (detailed article coming soon).
The Third Way, Which is Not Free
If you do not travel frequently enough to make it worthwhile, there are a few options that may be interesting.
You can subscribe to the Priority Pass network of lounges. For US$99, you will have an annual membership which gives access to the same 1000+ lounges, but you will have to pay US$27 per visit. Or for US$249, you will have 10 free lounges visits for the year. There are discounts if you go through our link below.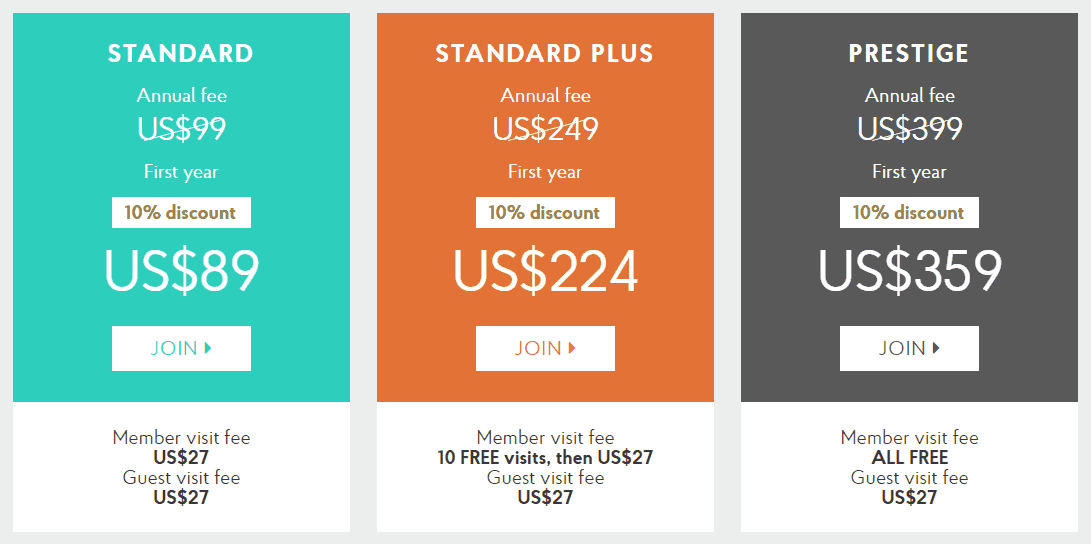 Finally, most lounges sell daily access if you want to try it just once. From what I know, it seems to cost about US$50-60 per visit.
It's a lot less interesting than the free method of the previous points, but it can be worth it depending on your particular situation. And depending on how you usually spend for food, beverages, and Wi-Fi at the airports … and how much you value the luxury of this for your next trips.
In short, it can still be worth it.
Spoil Yourself
Finally, let's talk about the fact that, in my opinion, one of the best reasons to use the flight deals you find at Flytrippers (which often save 50% of the regular price of the ticket), is precisely to be able to splurge on other things.
It can have many meanings, depending on your preferences. Either spoil yourself by travelling more often with the money saved, or by paying for more luxurious hotels, by doing more activities on site, or by eating at better restaurants, etc.
In short, I personally think that if you travel a little, having lounge access is really worth it, not only because it is free, but because believe me, it's really great to have access to these lounges.
And that's without counting all the other benefits that come with the AMEX Platinum Card, like the $1,000 insurance if your flight is delayed and especially the elite status in hotels, which I cover in the detailed article about the AMEX Platinum Card.
Want more content about airport lounges?
Summary
What do you think? Do you have any questions about lounges? Ask us in the comments below!
Help us spread the word about our flight deals and travel tips by sharing this article and most importantly bookmark Flytrippers so we can help you navigate the world of low-cost travel!
Advertiser Disclosure: Flytrippers receives a commission on links featured in this blog post. We appreciate if you use them, especially given it never costs you anything more to do so, and we thank you for supporting the site and making it possible for us to keep finding the best travel deals and content for you. In the interest of transparency, know that we will NEVER recommend a product or service we do not believe in or that we do not use ourselves, as our reputation and credibility is worth far more than any commission. This principle is an essential and non-negotiable part of all our partnerships: we will never give any third-party any control whatsoever on our content. For more information on our advertiser disclosure, click here.
Travel Hacking Disclaimer: Flytrippers does not give financial advice. You should ensure travel hacking fits your personal situation and obtain professional advice if you so desire. Flytrippers may receive a commission for referrals, however our policy is to only recommend products or services we really believe in (and have ourselves). To read more on our disclaimer, click here.
Share this post to help us help more people travel more for less: