If you travel somewhat often, you should definitely get this daypack: it's our favourite travel accessory (and it's very affordable). We travel a lot here at Flytrippers. And we always take this useful travel daypack with us wherever we go.
The Waterproof Ultra Lightweight Foldable Daypack is truly a must-have. It is even the #1 seller in its category on Amazon, and with good reason. I've had for a while now and it's true that I could never leave on a trip without it.
Everyone needs a small daypack to go out on their adventures! It is very useful: foldable, durable, water resistant … and comes in 15 different colors.
You can use it to bring only what you need during your day's adventures, and leave you bigger bag in your room. And it really doesn't take up much space because when you don't use it, it folds into a very small pouch.
At C$19.99 (or C$21.99 depending on the colour), it's not worth going without it, it's so handy for any type of trip (or even at home when not travelling)! That's why it is one of the best-selling travel accessories.
We definitely recommend it. You can order this ZOMAKE travel daypack on Amazon.ca.
A Few Other Top Choices Of Best Daypacks For Travel
We haven't tried all these ones, but based on the rankings and reviews they could be good alternatives:
Gonex Daypack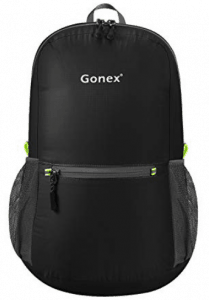 It seems like it is the very same model, and it is actually a bit cheaper, with reviewers rating it just as highly as the #1 seller above.
C$17.99 – C$19.99
You can buy the Gonex daypack here.
New Outlander With Lifetime Warranty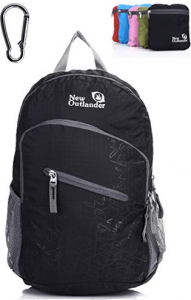 I'm not sure what to make of this; can a daypack this cheap really offer a lifetime warranty? That's what they claim and it also has stellar reviews like the other 2, but it is a few dollars more (and has a slightly different look).
C$22.99
You can buy the New Outlander daypack here.
ZOMAKE Larger Edition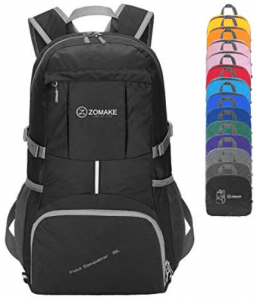 This is the same brand as the #1 seller/the one I have, but in a larger format (30L instead of 20L). And for just a couple dollars more.
C$24.99
You can buy the ZOMAKE larger edition daypack here.
Gonex Larger Edition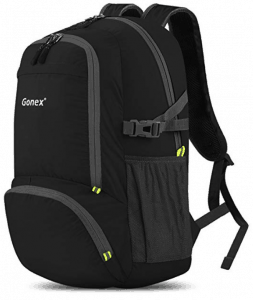 Not to be undone, the slightly cheaper brand also offers a slightly cheaper larger format (also 30L vs 20L).
C$19.99 – C$20.99
You can buy the Gonex larger edition daypack here.
How to Support Flytrippers For Free
By the way, since we are proud to offer curated flight deals and travel tips to all Canadians for free, one of the most frequently asked questions about Flytrippers is: how can we support you?
Using our links for all your purchases on Amazon (and even Walmart) obviously comes at absolutely no cost to you, and supports us by giving us a small commission. It allows us to continue to offer great travel content. Thank you very much, we appreciate it!
Also, for any travel booking, you can use our links (and these are the best search tools for the lowest price, because that's always our own number 1 criterion) :
Summary

Here's a super useful daypack that every traveler should have. And simple ways to save on all your shopping needs… that can help you have more money to travel and that also support us for free.
Any questions about this daypack?
Help us spread the word about our flight deals and travel tips by sharing this article and most importantly bookmark Flytrippers so we can help you navigate the world of low-cost travel!
Advertiser Disclosure: Flytrippers receives a commission on links featured in this blog post. We appreciate if you use them, especially given it never costs you anything more to do so, and we thank you for supporting the site and making it possible for us to keep finding the best travel deals and content for you. In the interest of transparency, know that we will NEVER recommend a product or service we do not believe in or that we do not use ourselves, as our reputation and credibility is worth far more than any commission. This principle is an essential and non-negotiable part of all our partnerships: we will never give any third-party any control whatsoever on our content. For more information on our advertiser disclosure, click here.
Share this post to help us help more people travel more for less: