Having flexibility around your dates when it comes to scheduling your trip is the best way to save on airplane tickets. Here's a tip for when you do not have any flexibility and must stick to specific dates.
We are often asked the question: "Where can I go at a cheap price for these dates?" Since many people have non-flexible vacation dates, it makes it more difficult for them to use our deals that are often half the "regular" price.
We can't say this enough: the best way to save is to find a deal for your dates by monitoring our daily deals because that's where you will find the best prices.
Otherwise, if you can't be flexible on the dates, the other option is to at least be flexible on the destination.
And as it's not always possible to find your dates in our deals (read our article: "Why Only Certain Cities Are Featured on Our Deals Page"), we have launched a new series of articles and tips for when you have to book flights that are not on our deals page, but you are still ready to make a little effort to find the best price anyway.
We already have a simpler tool that finds the best price available for any dates and any destinations if you already know them and are not flexible at all. But here is a tip to find cheap destinations for your dates. You can also read what to do for the opposite situation, that is, if you have a specific destination, but are flexible on dates.
Tool to Find Cheap Destinations
Today we're talking about an extremely powerful tool that allows you to perform more advanced searches. It will help you save money and find cheap flights by helping you find all the cheap destinations for your dates.
This tool will not find you a bargain for half price, but it's useful if you can't find your destination on our deals page, as it will tell you where you can go and at what price and will give you all the options. PRO TIP: Once you found the destination and have the dates, we recommend to always at least have a look at our other booking tool, because it compares many sites and is therefore often cheaper!
Also remember to consider the cost of living (accommodation, food, and activities) at your destination to compare the cost of a trip. We realize that it is complex and unknown for many people, so we've started a series of articles that will help you know where it's the cheapest.
For example, the cost of living when you're in Asia is so cheap that even though if the plane ticket costs a bit more … it's still cheaper for the overall trip. As a general rule of thumb, the less developed a country, the less expensive it is. For example, Eastern Europe is recommended over Western Europe (and it is just as beautiful – or even more beautiful).
How Does It Work?
First, go to the tool website. If you want to put it in your favourites or bookmarks, we appreciate if you take the source URL directly from the link below (not the link once opened), because it contains our referral code and it allows us to have a small commission (which does not cost you a penny more) and which allows you to support us so that we can continue to help you travel at the lowest price! Or, even simpler, you can always go through here to access the tool and support us. Thank you in advance, we really appreciate it!
CLICK HERE TO ACCESS THE ADVANCED SEARCH TOOL
Select your departure city (we will use Toronto for our demonstration, but this works from any city) and in the "To" field choose the "Anywhere" option.
You can also choose the option below which is called "Radius search" if you prefer to limit the destinations to a more restricted area, such as Western Europe, for example.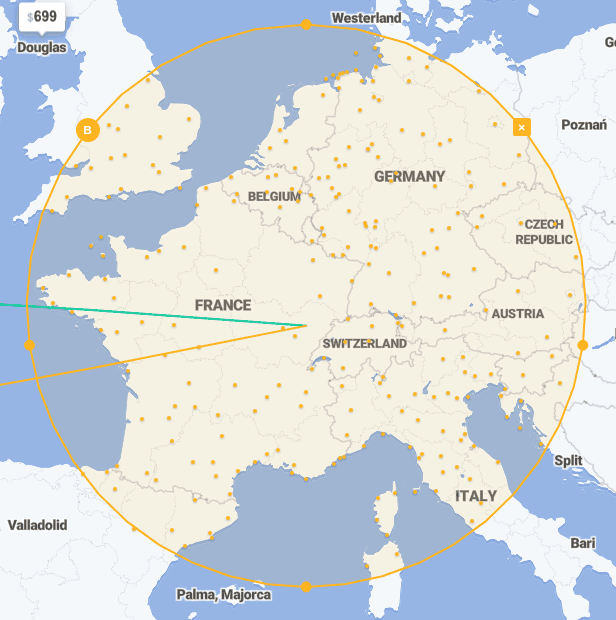 Then you must choose your departure and return dates. You can enter very specific dates, but the best is to at least put in an interval of a few days before and a few days after, otherwise you drastically reduce the chances of finding a low price (from one day to another, the difference is often several hundred dollars, in case you didn't know).
There you go. You will now see on the left all the places where you can fly to during the specific dates chosen as seen in the following picture, but you probably figured out that Beijing at $1,420 is not the cheapest destination available in Toronto for those dates (or any dates for that matter)…
So be careful! It shows you cities in order of popularity by default, so I recommend you select the option "Show Cheapest" to see them sorted by price in the top right corner as shown below.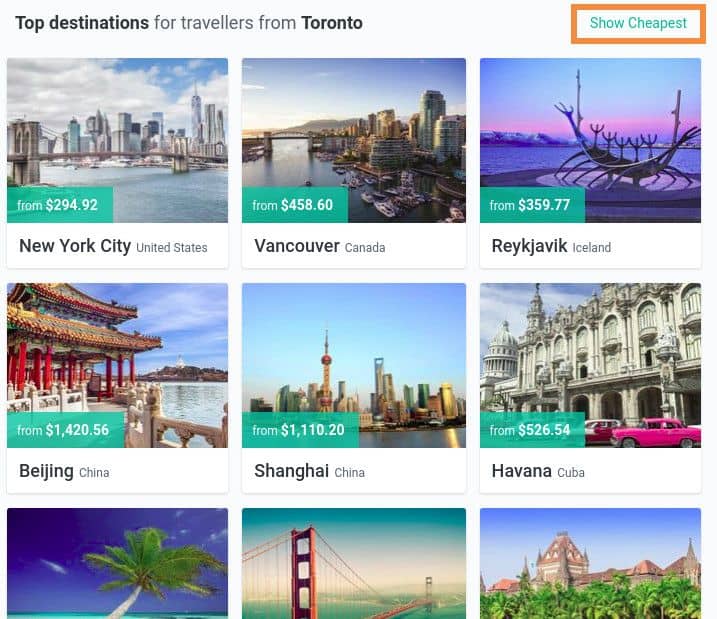 Once this small change is made, you will see the destinations sorted by price. It gives you a better idea of the options.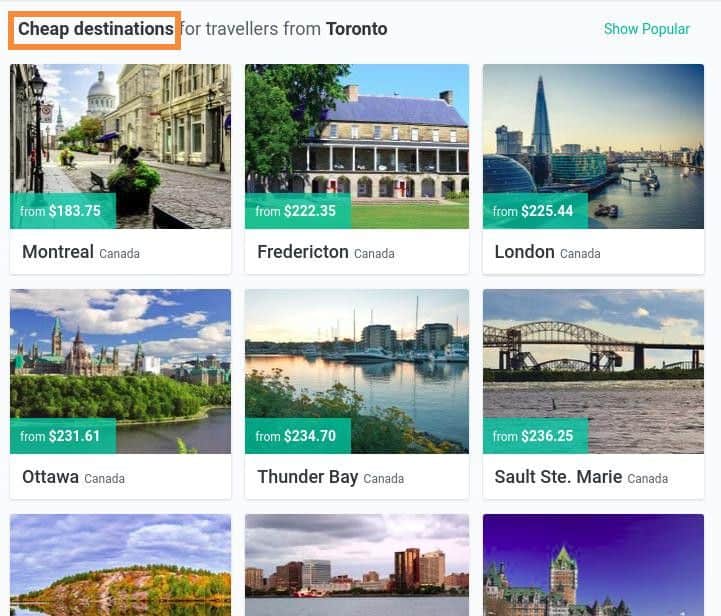 There you go, it's now written "Cheap destinations" and you can decide where to go according to your budget. Alternatively, you can also explore the map to find cheap places by continent, as below.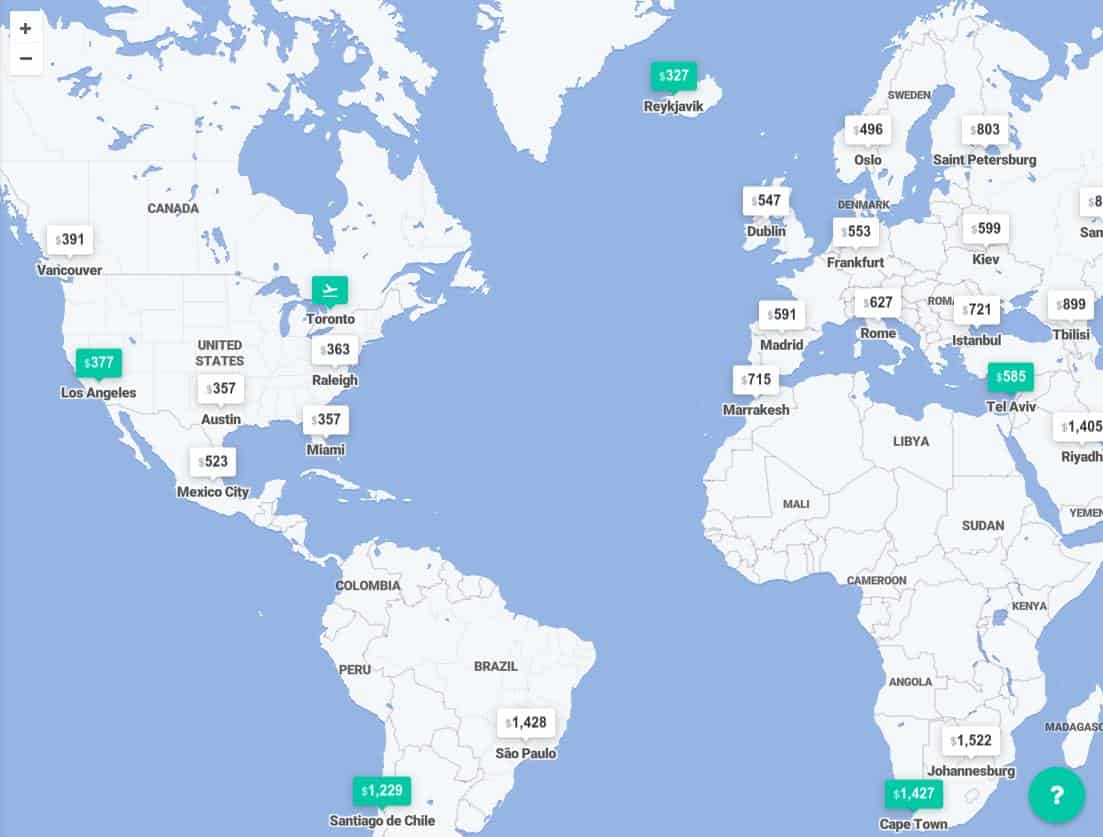 What You Need to Know About This Tool
Let's be very clear: this tool will not find deals at very low prices or discounts, that's what our deals page is all about. We spot them for you.
This tool is useful for situations where your dates are not on our deal pages or are not flexible and you want to know the best destination for those dates. And don't forget, our deals are updated daily so they change every single day, keep watching or subscribe to our free newsletter like over 30,000 Canadians have already done.
Once you know your destination and your dates, we always recommend that you follow the prices regularly and/or book your tickets with our other flight search tool embedded on this page, it is the easier to use and most importantly it compares dozens of booking sites, which allows you to always have the lowest price available for the dates you put in (usually cheaper than this tool, which is especially useful for the search portion).
Last but not least: buying a ticket for most cities in Europe is often cheaper when you split your itinerary into two separate tickets. This tool won't help you there. Read this article for more details.
Bottom Line
So that's a great simple trick to see the cheap destinations during your dates. It will never beat our half-price deals, but without flexibility, it's pretty hard to pay ridiculously low prices. You'll at least have an idea of what's available for your dates.
Any questions? Ask us in the comments below.
Want to see our current discounted plane tickets?
Help us spread the word about our flight deals and travel tips by sharing this article and most importantly bookmark Flytrippers so we can help you navigate the world of low-cost travel!
Advertiser Disclosure: Flytrippers receives a commission on links featured in this blog post. We appreciate if you use them, especially given it never costs you anything more to do so, and we thank you for supporting the site and making it possible for us to keep finding the best travel deals and content for you. In the interest of transparency, know that we will NEVER recommend a product or service we do not believe in or that we do not use ourselves, as our reputation and credibility is worth far more than any commission. This principle is an essential and non-negotiable part of all our partnerships: we will never give any third-party any control whatsoever on our content. For more information on our advertiser disclosure, click here.
Posted January 28 2018, updated September 21 2018
Share this post to help us help more people travel more for less: