Laurie is a guest-blogger at Flytrippers. Follow her on Instagram and read her bio at the bottom of this page.
---
Learning to pack your bag efficiently is very important. It's my 6th big trip and I finally know what I really need to bring. Since many women asked for a list of what to bring in a backpack to travel a bit lighter, Kevin and Andrew asked me to share my own list.
Let's start by introducing myself: I'm Laurie, Kevin's girlfriend (one of the 2 Flytrippers co-founders). I made the big move last September and left my government job for the next year to become a digital nomad & travel full-time with him! So here's what I brought for this trip that was supposed to be a month and a half in Thailand… and ended up being a 6 month trip without returning home.
If you want to take advantage of a good price on Flytrippers' cheap flight deals page, 95% of the time you don't have to travel ultra light, but it's way more convenient to skip the checked bags at least (the first time is the hardest, you get used to it!)
We'll soon share an article telling you why it's worth it, including a reminder that saving just $100 is enough to pay all expenses for more than 3 entire days in Thailand (or even for 4 flights in Europe) and it will contain an ultra low-cost version of a packing list. But we're starting with the feminine (and a bit less extreme) perspective.
Let's see what I will have to live with during those 6 next months!
*Note: We don't plan on going camping or trekking, so we are not equipped for that kind of trip.
My Backpack
The backpack I use is an older version of this one: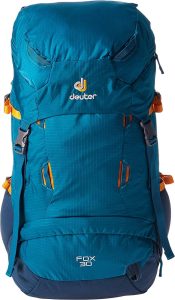 I'm smaller, so this junior-sized (30L + 4L) deuter bag was the best option for me. It is adjustable at the hips and shoulders, and it costs less simply because it's in the Junior section. Honestly, it has all the same features an adult backpack would have. So, I recommend it for those who are small (up to 5'3″) and who want to save money! Otherwise, for your children, it's also perfect because it can be adjusted as they grow up.
Alternatively, last fall I took this Amazon Basics backpack on our Europe/Africa trip and it was bigger (40L) and very good to replace a suitcase: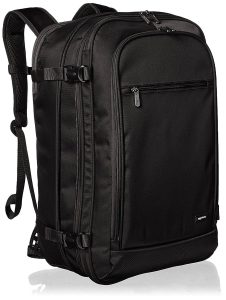 Here's why I liked it:
I have nothing bad to say about the bag's features, but since it was bigger, I obviously filled it up more. It weighed around 30-35 pounds, which was far too heavy for me to walk around. Last fall, we traveled through France, Croatia, Bulgaria, Spain, and South Africa, so I was eager to remove some stuff from my backpack once we returned to Canada, before heading back to Thailand.
If you are looking for another kind of backpack: Kevin has a Gregory Mountain one that he loves (and is a bit bigger) and there is also another model that comes with storage cubes.
I carried too many unnecessary things with me last fall. This time, I brought exactly what I needed. Kevin and I plan to do some laundry approximately every 10 days if possible. Given that we are literally LIVING abroad, I prioritized the clothes I used in my everyday life back home.
List
Here's exactly what I brought:
Clothing
Cosmetics (100ml each bottle max, for a total of one liter):
Tip: Put your bottles in a ziploc bag in case they leak! They'll give you plastic bags before security at the airport.
Electronics:
Others:
And finally, I pack all of this in my packing cubes (after trying it, I will never travel without them again). There are several cubes and a bag for your laundry included. The fabric is quite resistant; I used them for a month now and they're still like new.
I left 2 cubes back home because they were too big for my bag, so I decided to put only my pants at the bottom and the rest of my stuff in the cubes. There are also other packing cubes models available on Amazon, depending on the needs you have. Here's a video of me packing to see how everything fits in.
My backpack weighs about 16 pounds. I still have some room if I want to buy things while traveling, which is always a good idea.
I can bring it with me as a carry-on on the plane without any problem and it fits easily underneath the seat. We were able to carry it even on ULCCs in Asia, but they are less strict than the ones we have in North America (on whom this would be too large for a free personal item).
Bottom Line
So here it is, what to pack as a woman when you go on an 6 month trip to Southeast Asia with only a small carry-on bag! It is always possible to travel light if you really want to.
What do you usually pack? Tell us about it in the comments!
Help us spread the word about our flight deals and travel tips by sharing this article and most importantly bookmark Flytrippers so we can help you navigate the world of low-cost travel!
Advertiser Disclosure: Flytrippers receives a commission on links featured in this blog post. We appreciate if you use them, especially given it never costs you anything more to do so, and we thank you for supporting the site and making it possible for us to keep finding the best travel deals and content for you. In the interest of transparency, know that we will NEVER recommend a product or service we do not believe in or that we do not use ourselves, as our reputation and credibility is worth far more than any commission. This principle is an essential and non-negotiable part of all our partnerships: we will never give any third-party any control whatsoever on our content. For more information on our advertiser disclosure, click here.
Share this post to help us help more people travel more for less: