Usually, the main expenses for a trip are flights and accommodation. Since Flytrippers' mission is to help you travel more for less, we obviously want to help you save on these 2 aspects (among all the other ones, of course).
Hopefully, by now you know that we spot amazing flight deals every day on our main page. You can easily save 50%.
But we've never really shared hotel deals, even though we've shared many tips about accommodation to help you save money in the past (and we're preparing an ultimate guide on that topic coming up soon).
We'll start sharing this kind of deal when it's worth it, as you've probably noticed if you saw the great hotel deal we shared a few weeks ago (US$30 per night for stays at nice boutique hotels in the very expensive United States).
But here's why we haven't shared many hotel deals until now.
Here are the 4 main reasons (so you can learn more about booking accommodations, but more importantly, so you can adjust your expectations when comparing to great flight deals):
There aren't many of them (or they aren't very good when there are)

It's way more specific and niche than flights

Booking hotels before flights is almost always a terrible idea

It's not easy to give you a turnkey solution
I'll explain each of them.
There aren't many of them (or they aren't very good when there are)
That's the most obvious reason. While the exact same plane ticket can easily be found for prices that range from $400 to $1,200 (a 200% variation), the price for a specific hotel usually doesn't vary all that much.
Hotels just don't really discount their rooms.
(Not publicly at least; I'll write a detailed post about Hotwire's "Hot Rate," hidden last-minute discounts, since I sometimes use these myself, as recently as in May when traveling in Morocco!)
Why hotel deals aren't as good as flight deals could be a topic for an entire post, but basically, even on rare occasions when there are hotel sales, they're usually just not that good either.
It's not like the 50% off we often spot with our flight deals.
But maybe it can still work for some travelers, so as mentioned, we'll start sharing more when the hotel deals are somewhat decent.
It's way more specific and niche than flights
There are soooo many types of travelers; some prefer hostels, Airbnbs, or various other lodging options. We'll all cover them soon.
So hotel deals are very niche in that sense. At least compared to flights.
With flights, (almost) all types of travelers have to buy a flight to get to where they want to go, no matter how they'll travel once they get there.
So it caters to a wider audience and it's relevant to a greater number of travelers, as opposed to hotel deals.
Booking hotels before flights is almost always a terrible idea
If you're an even slightly experienced traveler, you know you should always book your flights before booking your hotels.
It's because of what I explained earlier: flight prices can vary a lot.
So it's just not very savvy to book a (non-refundable) hotel room first and then get stuck having to pay whatever price airlines spit out for those dates.
We'll soon have an ultimate guide to finding cheap flights for those times when you can't be flexible enough for one of the great flight deals we spot daily, but in general, it's just not worth saving a few tens of dollars a night on a hotel if it's going to cost you $300 more in airfare because of that.
(Especially with multiple travelers: savings on accommodation is divided by the number of travelers, so you save less… while the higher cost of plane tickets is multiplied by the number of travelers, so it's much more expensive. We repeat: knowing how to count is one of the best travel tips!)
So if you do book a hotel deal (or a hotel in advance), make sure it's either fully refundable (as many hotel bookings are) or that you've at least looked at plane ticket prices and are ready to book those relatively quickly (or are confident enough that prices will go down).
It's not easy to give you a turnkey solution
Finally, with flight deals, we can easily give you the exact date combinations we spotted at a low price, with a direct link to book them. That's what we do for every single deal on our page every day.
It's very turnkey.
Our Flytrippers algorithm does that automatically, and it's just not possible to do the same for hotels, unfortunately. So we can't add as much value there to help you book easily, compared to flights.
There are usually even fewer dates available for hotel deals than flight deals, too.
By the way, we've once again started posting the best flight deals on each Canadian city's Facebook page and we get many comments about travelers "not finding" the dates somehow (okay, not many, but even just one comment is one too many in my opinion since we want to make it as simple as possible for you, and that's very easy to do).
We have a detailed step-by-step guide on how to book a deal, but here's a very simple short version.
All our Facebook posts have a direct link to the deal.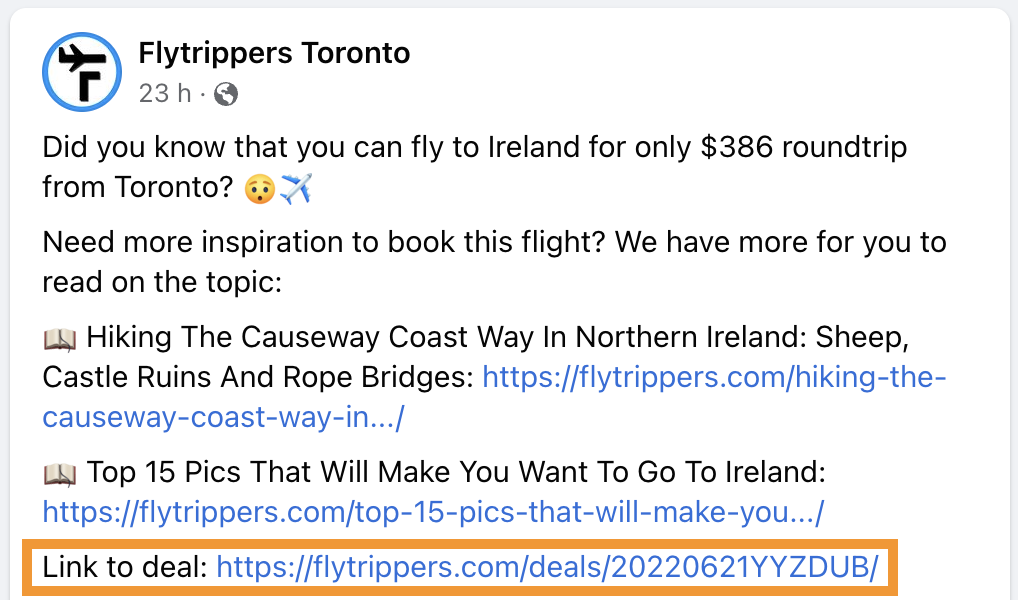 Click on it, and then scroll until you see the dates.


Then, click on the big bright blue button and there you go, you can book just like that. That's it.

Want to get all deals and tips for travelers?
Summary
While we haven't really shared hotel deals in the past — for multiple reasons… there aren't many of them, they usually aren't very good, they're very specific, and it's harder to give you a turnkey solution — we'll start doing more of that when the deals are really worth it.
What would you like to know about hotel deals? Tell us in the comments below.
See the deals we spot: Cheap flights
Explore awesome destinations: Travel inspiration
Learn pro tricks: Travel tips
Discover free travel: Travel rewards
Featured image: Moxy Bucharest Old Town Hotel (photo credit: Marriott)
Advertiser Disclosure: In the interest of transparency, Flytrippers may receive a commission on links featured in this post, at no cost to you. Thank you for using our links to support us for free, we appreciate it! You allow us to keep finding the best travel deals for free and to keep offering interesting content for free. Since we care deeply about our mission to help travelers and our reputation and credibility prevail over everything, we will NEVER recommend a product or service that we do not believe in or that we do not use ourselves, and we will never give any third-party any control whatsoever on our content. For more information on our advertiser disclosure, click here.
Share this post to help us help more people travel more for less: