Even if you're a seasoned traveler, there's a good chance that you don't know that you should never post pictures of your boarding pass on social media. Here is why.
We all get very excited when we're going on a trip, and that's normal (and even more so if you've found a half-price deal on your plane ticket on Flytrippers' cheap flight deals page) !
But taking a picture of your boarding pass and posting it on social media is definitely something you should avoid.
This also applies to people who leave their boarding pass in the back of the airplane seat in front of them at the end of the flight, or who simply discard it somewhere instead of throwing it away. Even once the flight is over, you should avoid doing that to make sure you do not jeopardize your return flight… or even worse.
The likeliest scenario is that nothing bad would happen if you do post the pic… but since there's literally no upside to doing it and that not doing it doesn't deprive you of anything, just don't do it.
Here is why you shouldn't let anyone see your boarding pass.
Keep Your Boarding Pass To Yourself
The main reason is the confidentiality of your personal information. Your boarding pass reveals a lot of things that could cause you a lot of trouble if they were in the hands of a somewhat determined person with bad intentions.
Your boarding pass contains your confirmation number (or booking number) that each airline issues when you buy your tickets. That, combined with your full name (also shown on the boarding pass of course), is sometimes enough to find a way to gain access to your online account on the airline's website.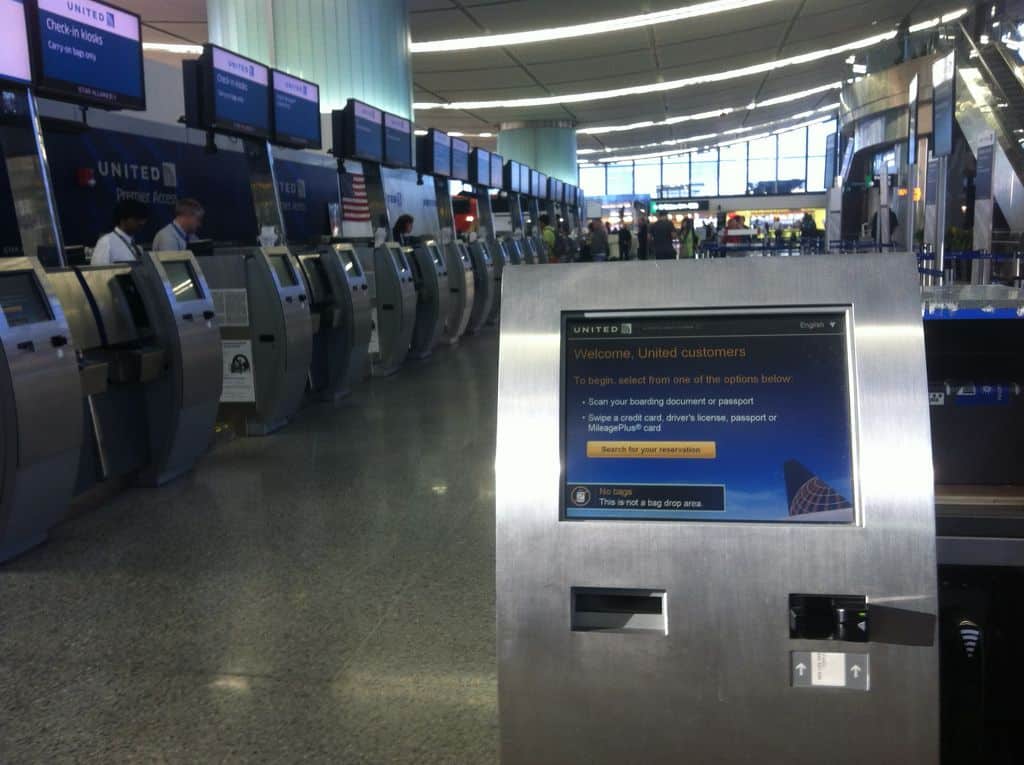 Depending on the airline, it's possible that all they could do with that information is change your seat for your return flight. That wouldn't be so bad.
READ ALSO: Why You Should Never Pay to Select Seats
But in the worst case, with all the information from a boarding pass and a quick search on social media and the Internet, it's definitely not impossible to reset a password to access many features on airline websites and have your return flight (or even future flights) canceled.
Even worse, your membership number will also be on the boarding pass which could compromise all your hard-earned points and miles, if you're a member of their loyalty program… and you definitely should be so you can start Travel Hacking, which gives you free travel like up to 15 free nights in Marriott hotels as a welcome bonus with the Marriott Bonvoy Card (by far the best deal in travel in Canada right now, and all income levels are eligible).
Most major airlines have taken steps to prevent this (although some still don't allow online check-ins, for crying out loud) and we don't want to get into fear mongering either, so again it's just to be safe. Because as mentioned, there is no use for posting your boarding pass online, so why take any chances?
But if you didn't know this, you're not alone. There are more than 100,000 pictures on Instagram that have been shared with the #boardingpass hashtag !
SEE ALSO: Follow Flytrippers on Instagram to see all our travel photos!
Example: A Boarding Pass Barcode
According to KebsOnSecurity, a specialized website that first warned traveled not to share this information on social media, this code contain a lot of information.
Here's an example shown on their site of all the data obtained using a simple barcode scanner freely available on the internet.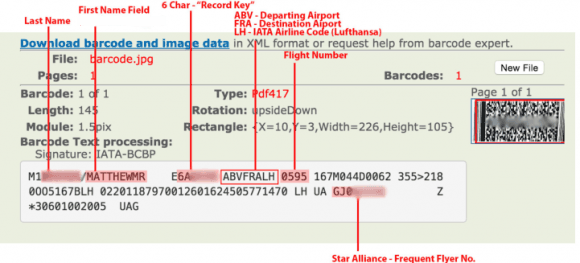 The expert they contracted took the Star Alliance number and the name of the passenger then log in Lufthansa's (the German airline) website. In addition to gaining access to the passenger complete flight history, he was also able to access all the future flight and cancel them right then and there. That could cause major problems for the passenger to say the least!
Other airlines use the passenger's member number as their login to access their online account… and this number is printed on the boarding pass…
Bottom Line
You probably shouldn't be too scared or panicked here as it's still very unlikely that anyone would use the information. But, in the unlikely event that someone did, that would probably cause major problems for you. So, you shouldn't take any chances, and simply don't post any pictures of your boarding pass online. Much easier that way!
Did you know about this? Tell us in the comments below!
Help us spread the word about our flight deals and travel tips by sharing this article and most importantly bookmark Flytrippers so we can help you navigate the world of low-cost travel!
Advertiser Disclosure: Flytrippers receives a commission on links featured in this blog post. We appreciate if you use them, especially given it never costs you anything more to do so, and we thank you for supporting the site and making it possible for us to keep finding the best travel deals and content for you. In the interest of transparency, know that we will NEVER recommend a product or service we do not believe in or that we do not use ourselves, as our reputation and credibility is worth far more than any commission. This principle is an essential and non-negotiable part of all our partnerships: we will never give any third party any control whatsoever on our content. For more information on our advertiser disclosure, click here.
Posted on Nov 16th 2017, updated May 2nd 2019.
Share this post to help us help more people travel more for less: