---
How would you like to get $50 completely free? Read on!
As you probably know, Flytrippers is an online travel media: our mission is to help you travel more, for less. We do that mainly by spotting deeply discounted flights on our flight deals page.
But the other way we help you travel more is by sharing useful travel tips on this blog. And today we have one of our best tips ever: a way to get $50 for free in a matter of minutes… and to save money on ATM fees internationally. Perfect for travelers.
If you are like most people, you probably have a bank account that charges you a hefty fee to withdraw money using foreign ATMs. The alternative is then to withdraw money before your trip, and carry large sums of money with you, which might not be a good idea, particularly if you are going to a less developed country. Another alternative is paying with a credit card, but they all charge a 2.5% fee for foreign transactions, and not all destinations are credit card friendly. And most of those bank account charge you a monthly fee on top of that. Did you know there is a much better option?
I opened a checking account at Tangerine (a reputable Canadian bank that is owned by Scotiabank) for many reasons, but the main benefit for me, as a frequent traveler, is the free access to their network of more than 50,000 ATMs throughout the world. The good news is that you don't even need to be a nomad like me to enjoy the many benefits this account offers, it's worth using even if you travel just a couple of times a year, because it's completely free! And no need to switch all of your payments or anything like that: you can have this one just for your transactions abroad, it's very easy to set up.
The great news is that you can get $50 for free, through a referral link I'll share later in this article, when you open an account as a new client… an account that is entirely free by the way!
In addition to all the normal features all bank accounts have in 2018, here are the main advantages of the chequing account at Tangerine:
No fees for all your daily chequing transactions
Free access to all Scotiabank ATMs (and there is one in 7-Eleven and Quickie convenience stores)
Free access to the Global ATM Alliance network, which includes more than 50,000 ATMs in 40 countries without any ATM fees (more details below)
No minimum account balance required
No recurrent payment or deposit required
Easy and simple (and free) money transfers by email
Deposit cheques with your smartphone
Use Apple Pay to pay with your chequing account
Order your first 50 cheques for free
And many more perks, more details at the end of this article
Why is Flytrippers All of a Sudden Promoting Financial Services?
Obviously, we are not financial advisors. We are only sharing our experience, helping you save money along the way. As you may know, we've recently launched our Travel Hacking section, because there are ways to get free trips (flights and hotels) using credit cards… Our thinking is that if you like traveling cheap, you'll most likely love traveling for even cheaper, and by cheaper we mean free! However, Travel Hacking, as stated in all our Travel Hacking blog posts, is only for those of you who are truly financially responsible… while this chequing account is a much more accessible financial tip that everyone can enjoy to get free money!
As our goal is to help you travel more, and this account allows you to make an extra $50 for free (not too bad for the very little amount of effort required), we wanted to share this promotion before it ends in July (EDIT: the promo has been extended until January 31, 2019).
And in addition to making $50, you'll save a lot on foreign ATM fees on your next trip! You can take this $50 alone of course, or you can take this free $50 AND the $161 in free travel the Scotia Gold credit card gives you, and there's $211 for your next flight! That's why we love Travel Hacking.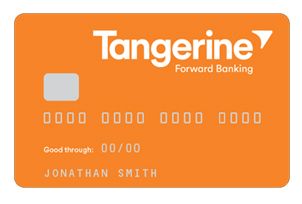 Withdraw Money Abroad
THE single greatest advantage of this card is, as stated previously, the free access to over 50,000 ATMs in 40 countries while abroad… yes, without any fees. Those fees usually range from $5 (or more) to use the ATM in addition to another $5 charged by your bank! Tangerine will save you all those costs if you use one of their partner ATMs, where you'll be able to withdraw for free. And if you use another international ATM, their fees are among the lowest of any bank, capped at only $2. See the full list of partner ATMs at the end of this article.
For this reason alone, if you travel oustide of Canada even just a couple times a year, this should be a no-brainer! And there is no need to cancel your current account if you don't want to go through the hassle of changing everything, you can simply open a second chequing account (that's what I did, and Andrew, Flytrippers' other co-founder, even has 3 different free accounts to diversify his benefits and perks).
READ ALSO: The Best Credit Cards In Canada
We often get questions about the best way to save on foreign transaction fees, this tip is definitely one of the best ways to get foreign currency. That being said, it's the same as if you were going to get foreign currencies at your bank before a trip… you're not getting the absolute best exchange rate… but it's by far the most practical and simple option! And definitely cheaper than paying $5-$10 for an ATM withdrawal, and better than carrying $500 around all the time in foreign countries. Don't miss our upcoming articles on money exchange tips that will published soon on this blog.
No Fees
Since I've discovered Tangerine, I'm completely sold on this bank. In addition to the international withdrawals, that I didn't even know about when I first opened my account years ago, their chequing account is entirely free… no transaction fees. And there is no minimum balance needed! This alone should already save you around $100/year in many cases! And this account probably offers all the same features that your current account offers… with an added bonus of a free $50…
How To Get the Free $50
Simply by using the following Orange Key referral code 55878505S1 when creating your account, and that's it! This will give you $50 for opening the account, and will also give Flytrippers $50 for the reference, a great way to support us while saving for your next trip! But as is always the case, the main reason we are promoting this is that it's a really good travel deal for you!
You'll get the $50 deposited as soon as you deposit $100 into your account: don't worry, it's the only prerequisite, no need to send your paycheck to this account or keep a minimum balance, all you need is the first $100 in there. You can easily transfer that from your current bank account by email for free in a couple of seconds.
Here's exactly where you need to input the code for the $50: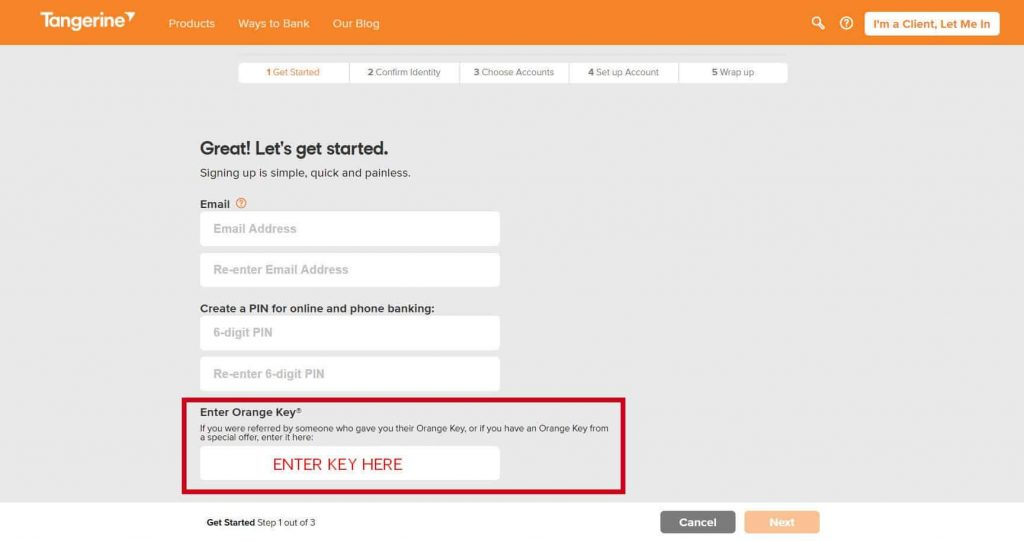 Bottom Line
Do you want to have a no-fee account for all your daily chequing transactions? Do you want to be able to withdraw money abroad from more than 50,000 ATMs without paying any fees? Do you want to get 50 bucks for free? This account is for you!
Don't forget to use the Orange Key above to get the $50 bonus. It will be deposited into your account once you transfer or deposit $100 into your new account (usually within a day). Tangerine might ask you to stop by a Canada Post outlet with a piece of ID to validate your identity, it's very quick and painless to do (usually within 5 minutes).
You can read more about the advantages the Tangerine account here, and see the list of all the partner ATMs around the world here.
Any questions?
Help us spread the word about our flight deals and travel tips by sharing this article and most importantly bookmark Flytrippers so we can help you navigate the world of low-cost travel!
Advertiser Disclosure: Flytrippers receives a commission on links featured in this blog post. We appreciate if you use them, especially given it never costs you anything more to do so, and we thank you for supporting the site and making it possible for us to keep finding the best travel deals and content for you. In the interest of transparency, know that we will NEVER recommend a product or service we do not believe in or that we do not use ourselves, as our reputation and credibility is worth far more than any commission. This principle is an essential and non-negotiable part of all our partnerships: we will never give any third-party any control whatsoever on our content. For more information on our advertiser disclosure, click here.
Travel Hacking Disclaimer: Flytrippers does not give financial advice. You should ensure travel hacking fits your personal situation and obtain professional advice if you so desire. Flytrippers may receive a commission for referrals, however, our policy is to only recommend products or services we really believe in (and have ourselves). To read more about our disclaimer, click here.
Share this post to help us help more people travel more for less: