When there are amazing deals at prices as ridiculously low as the ones we spot for you, obviously not all dates are on sale. We find as many as we can, but here's a way to get even more date options.
Those who follow us regularly know that on our cheap flight deals page, when you select a deal to a specific destination, we list all the discounted date combinations we found.
But did you know you can fin even more?
Of course, the most basic rule to find cheaper airplane tickets is to be as flexible as you can with your dates. That's for sure.
But it's still often possible to extend or shorten the length of our flight deals if you need something a bit different. And don't forget that our deals and the available dates change every single day!
We'll also give you an extra tip to find even more dates at the end of this post.
Extending or shortening a flight deal
As a reminder, here is what a deal page looks like. You see the list of dates (sorted by month of departure) that we've spotted at prices lower than usual from your city.

By the way, we've just updated the layout of this page and our brand new site is coming very soon, sorry for the temporary inconvenience.
In all cases, the list of available dates isn't going anywhere, we'll keep curating them and listing them for you in an easy-to-use turnkey way just like we do now.
In this example, you can see very competitive prices to Japan for under $800 roundtrip from Eastern Canada (usually $1,100+). There are dozens of dates on sale.
But here's the great part.
If you want even more options, you can manually combine any of the listed departure dates with any of the listed return dates.
For example, you can see below that there are deals departing on November 9th (first date column) and deals returning December 4th (second date column).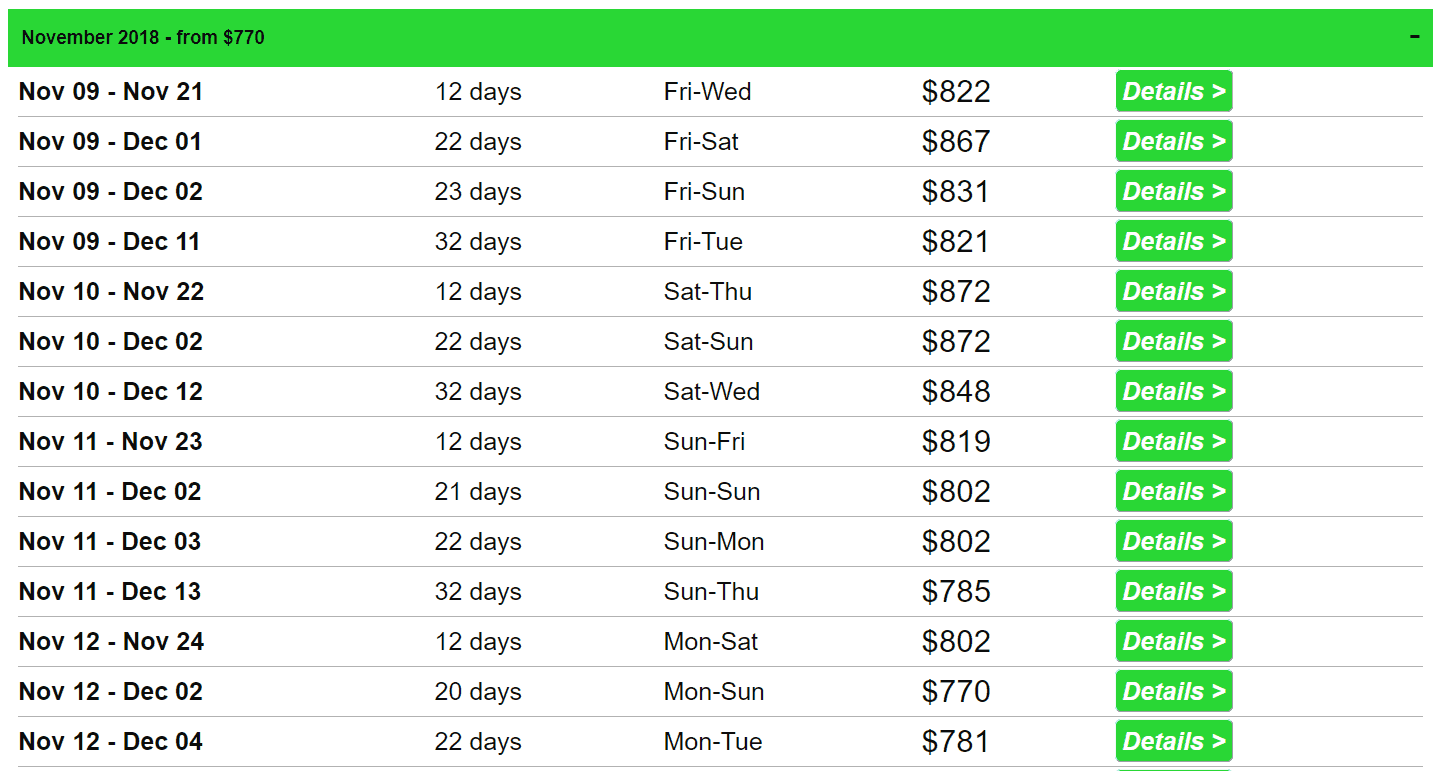 But there is no line with that specific combination from November 9th to December 4th. If it's not there, does it mean it's not on sale?
Absolutely not.
Let's check it out. First you click on the green button next to one of the flights leaving on November 9th.
On the next screen, you then manually change the return date to December 4th, since that return was in fact available at the deal price in another combination in our list.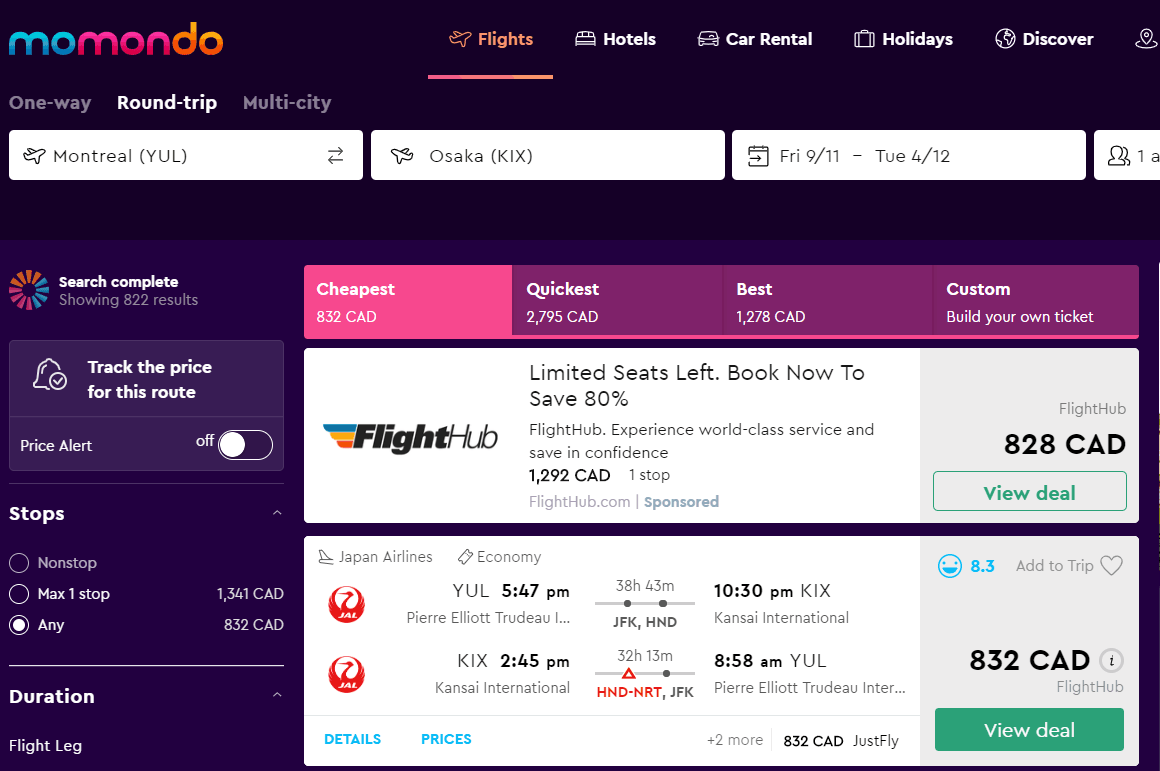 There you go. That date is also on sale for $832, even though that specific combination wasn't listed on our deal page.
Most of the time when you do this, the price should come out the same (if the two original deal combinations were at the same price) or at least at a similar price.
Why? Simply because everyone goes on a trip of different lengths and we cannot list every single date combination.
But that doesn't mean that you can't combine dates from the list yourself and it doesn't mean that the deal price isn't available for more dates.
It's just that you have to do it manually, as we try to post as many as we can but some people like to leave for 2 months, but not everyone can do that (most don't want those long trips in the list). And sometimes our system will even simply miss a couple of dates on sale, but we're working every day to make it better and give you more and more date options.
So now you know, you can create even more date combinations by matching outbound and inbound dates on your own.
But even better: there might even be more dates that aren't even listed anywhere…
Another tip to find more discounted dates
If you want even more options, there's another way. Like we said, our system isn't 100% exhaustive in 100% of cases. Which means sometimes, if we spot a deal to California in March, the same deal might be available in April too, even if we didn't see it yet.
So even if those dates aren't on our deals page, they might be discounted too as part of the same airline fare sale.
In the same example as earlier, I checked the prices for Japan in January, which was a month that wasn't even included on our initial deal page. Nowhere to be found.
Well, what have we here: the deal is widely available in January too.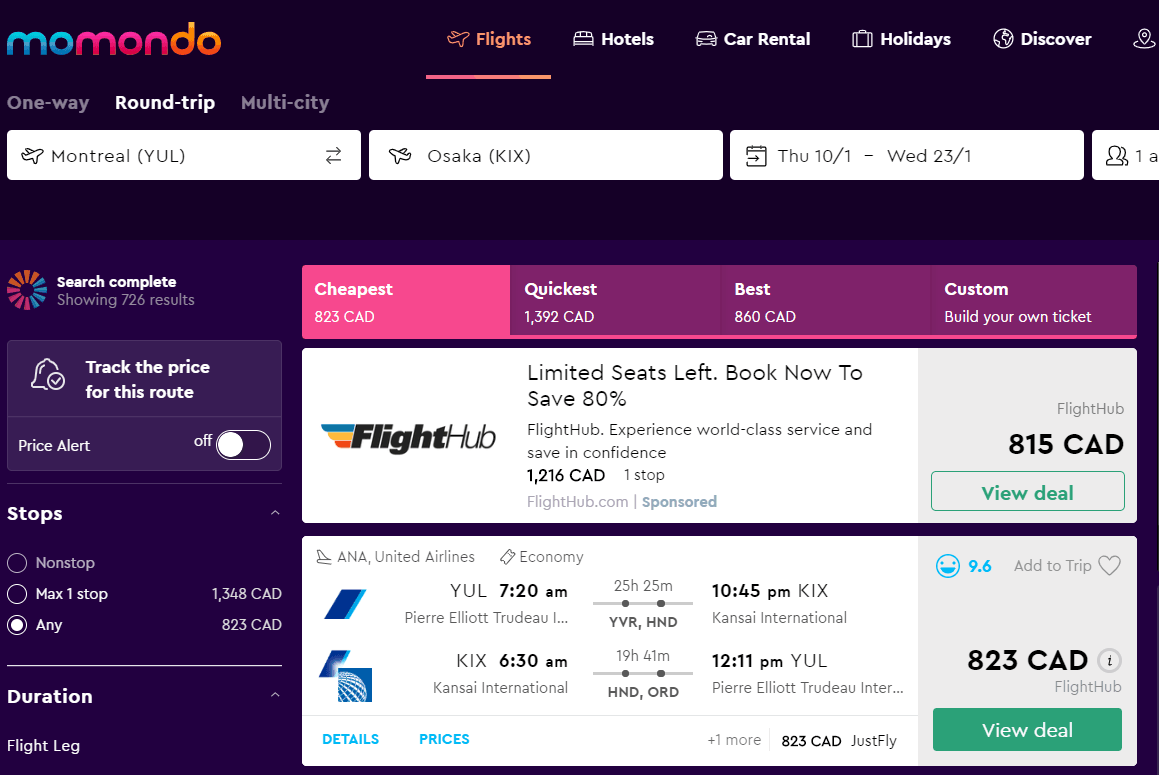 You can play around with dates directly in our favourite flight search tool to randomly search for dates to see if they too are on sale, but there is a better way.
In fact, we already covered this in a detailed blog post: there is another search tool that allows you to find all the cheapest dates for a specific destination. Usually, on this tool you won't find half-price deals like the ones we post (unless you're extremely lucky)… but if you follow the steps and use the tool while that destination is on our deals page, you might find even more dates and therefore more options to travel!
You can read about how to find the cheapest dates for your specific destination if you want to see whether there are even more than on our deals page.
Bottom line
You can manually combine dates that are on our deals pages to extend or shorten the trip length very easily. But you can also possibly find even more dates by searching on your own during the deal. It gives you more options! And don't forget to come back on our website often, as deals change every single day!
Is this helpful? Any other questions about our flight deals? Let us know in the comments!
Help us spread the word about our flight deals and travel tips by sharing this article and most importantly bookmark Flytrippers so we can help you navigate the world of low-cost travel!
Advertiser Disclosure: Flytrippers receives a commission on links featured in this blog post. We appreciate if you use them, especially given it never costs you anything more to do so, and we thank you for supporting the site and making it possible for us to keep finding the best travel deals and content for you. In the interest of transparency, know that we will NEVER recommend a product or service we do not believe in or that we do not use ourselves, as our reputation and credibility is worth far more than any commission. This principle is an essential and non-negotiable part of all our partnerships: we will never give any third-party any control whatsoever on our content. For more information on our advertiser disclosure, click here.
Share this post to help us help more people travel more for less: