WestJet is finally going to provide cash refunds for flights they canceled due to the COVID-19 pandemic, which isn't that surprising given how not refunding so is clearly illegal. There is a minor caveat though, but despite that, the country's 2nd-largest airline is the first major one in Canada to finally take this step… making its arch-rival Air Canada look particularly bad.
Speaking of great news: our free (and very thorough) Flytrippers guide to help you get a refund step-by-step will finally be published December 15th for subscribers to our free newsletter!
So here's what you need to know about WestJet's announcement.
Refunds basics
It's very simple, actually. Canada's general contractual law is 100% clear: when a company can't provide a service, the consumer is entitled to a full refund. Period. We've been telling you since literally the first week of the pandemic: you are owed a refund if the airline canceled your flight, not a voucher.
Airlines in Canada have illegally confiscated billions of dollars and the worst part really is that our own federal government has been complicit in this.
Unlike the EU and US governments, who both very forcefully told airlines to refund customers very early on, our passive government did not do that. They did not even stay passive this time either, they've actually instead legitimized going against laws and regulations (and against their own previous rulings about refunds being mandatory even if the situation is outside the airline's control).
Laws don't care if there's a pandemic, and rightfully so. Of course the pandemic is hard for airlines, but it's hard for consumers too… Of course the pandemic isn't the airlines' fault, but it's not the consumers' fault either…
And consumers shouldn't be forced to involuntarily be in the business of providing interest-free loans to mega-corporations worth billions, which is exactly what the government did.
WestJet's announcement
WestJet had already been the least-horrible among Canada's airlines, as they had already been offering refunds for flights to Europe and the United States (the law is even more unequivocal there; we'll tell you how to easily get your refund in our guide).
Anyway, yesterday WestJet confirmed that they will finally refund all flights, not just those in Europe and the United States (its ultra low-cost division Swoop will also refund).
They're the first major Canadian airline to do so, and as you'll see below, it makes Air Canada look particularly bad (although some would say they are doing that on their own, especially with their criticized tweet) and could force the government to require refunds from other airlines (except EU and US airlines who already have to refund).
We should be thankful for WestJet finally doing the right thing, because something tells me that if no one forced their hand, Air Canada would probably never done anything (and might still do nothing, in fact).
And our government certainly has shown very little interest in protecting air passengers, dating back to before the pandemic with their airline-friendly air passenger rights bill. They are apparently about to present an airline bailout, let's hope it includes mandatory refunds as we suggested back in early May!
Anyway, to WestJet's credit: better late than never.
WestJet's news was announced in a blog post by CEO Ed Sims titled "It's about time", which is a very accurate title.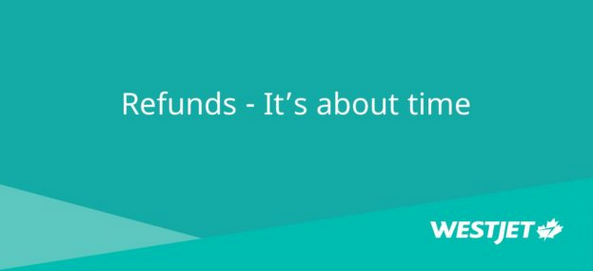 One quote in there, in particular, is priceless (emphasis is mine):
Love us or hate us right now, we are doing everything we can to make sure we're around tomorrow, and next year, for you hopefully to, love us once more.
Of course, they know they were in the wrong and have made consumers hate them, but they argue they didn't have a choice. Yes, it's indeed understandable that the airlines would at least try to get away with not giving the refunds (it's not like we have many alternatives if we want to punish the airlines anyway).
But it's not understandable that the Canadian Transportation Agency (whose mission statement includes protecting consumers) let this farce go on for so long.
Also not very understandable that some travel agents' associations have also defended vouchers instead of defending their customers (unlike airlines, they are so easily replaceable if consumers decide to just book on their own instead of often paying a premium for the privilege of having agents—not all, but some—who are actively advocating for them to get screwed over with vouchers).
The caveat about WestJet's refunds
This is great news of course, but the main caveat is that refunds will take a while. That's in fact exactly what we've been telling you since March: you are entitled to a refund and you'll get it, but it might not be fast.
WestJet says it could take "many" months to process the refunds, with 6 to 9 months being evoked. That is quite slow.
In a sense, it's likely that all Canadian airlines will be forced to follow the law and give the refunds by that time.
So WestJet just did a very wise move: by being the first to announce that they are giving refunds, they get all the good press and they generate a lot of goodwill among travelers. For something they would have likely had to do in that timeframe anyway.
Air Canada's tweet
When WestJet made their announcement about being the first to offer refunds this week, Air Canada actually tweeted that they had already been offering refunds… for fully-refundable fare classes! As you may know, fully-refundable fares are often twice as expensive and of course, everyone has been refunding those.
That's completely irrelevant: a vast majority of non-business travelers have tickets in the standard fare classes and certainly haven't seen a penny from Air Canada.
That tweet was not the best look for Air Canada.
Here's a great rule of thumb: when you're literally one of the worst airlines in the world in terms of refunds, you should not be calling out anyone about the refunds issue at all. In any way. It's a bad idea.
Look, we like to tell it the way it is, and there is no way around it: Air Canada has been objectively among the worst airlines in the world with refunds. Maybe even the worst. Not many airlines are so blatantly disregarding the very clear EU and US regulations.
Some would say that Air Canada's dominant position in the Canadian aviation landscape has led to a general systemic indifference about caring for their customers, but I don't even want to get into that; that's way too subjective.
What is objective is that they've been frankly horrible on the refund issue.
Air Canada's (and the government's) untenable situation
While anecdotal, many of my American friends I met at various travel events used to love flying internationally on Air Canada with a connection in Canadian airports (by the way, despite the entry restriction, Americans are still allowed to transit in Canada even now, another commonly misunderstood element of these rules).
Anyway, I can't even count how many of them have told me that they will never fly Air Canada again, despite the fact that Air Canada flights are a lot cheaper for them than for us. They don't ever want to give money to a company acting so illegally on the refund issue.
The thing is, for all the buzz about how Canada is so much better in terms of consumer protection, in the aviation sector at least, that's more of a myth than a fact. The reality is that in the US their airlines have refunded almost from day one (I got my refund from Delta in about 5 minutes over Twitter) and consumers there are used to getting what they're entitled to, making Air Canada's refusal to refund even more egregious and insulting for Americans.
There is likely a non-negligible amount of Canadians who feel the same way…
If you are wondering, the most recent reports say that Air Canada has confiscated 2.6 billion dollars worth of travelers' money. That's a lot of money Canadians hit hard by the pandemic could sure use right now.
For context, as of June 30th (the latest disclosure), Air Canada had 9.1 billion dollars in unrestricted liquidity available. Even with the $16M they are losing every day, that's a lot of money.
On one side, they tell the market and analysts that they'll be fine and their finances are solid to make sure the stock price doesn't crash more than it already has, but on the other side, they tell consumers they don't have enough money to refund them.
Make of that what you will.
Now, Air Canada will basically have no choice to offer refunds, right?
If not, they're just shooting themselves in the foot in our opinion. Many consumers will definitely prefer to book with WestJet or US/EU airlines to get a cash refund if a flight is canceled, instead of a voucher with Air Canada…
Same thing for AC's future acquisition Air Transat and all other Canadian airlines.
And the government will have to react. With WestJet now offering refunds, the government now gives the impression of having an enormous bias towards Air Canada, since that's the only big airline it's protecting.
And by forcing Canadian airlines to refund, the government will also be able to do the same for foreign airlines (those other than US and EU airlines who already have to refund).
To be followed.
Want to get our refunds guide and all our travel tips?
Summary
WestJet will eventually be giving refunds for flights they canceled due to the coronavirus pandemic. Better late than never.
What would you like to know about refunds? Tell us in the comments below.
Explore awesome destinations: travel inspiration
Learn pro tricks: travel tips
Discover free travel: travel rewards
Featured image: WestJet B737-700 at YUL (photo credit: Brian)
Advertiser Disclosure: In the interest of transparency, Flytrippers may receive a commission on links featured in this post, at no cost to you. Thank you for using our links to support us for free, we appreciate it! You allow us to keep finding the best travel deals for free and to keep offering interesting content for free. Since we care deeply about our mission to help travelers and our reputation and credibility prevail over everything, we will NEVER recommend a product or service that we do not believe in or that we do not use ourselves, and we will never give any third-party any control whatsoever on our content. For more information on our advertiser disclosure, click here.
Share this post to help us help more people travel more for less: