Airline launches don't happen every day. Especially ULCC airline launches, after so many years of waiting for them to come to Canada. So we really had to be onboard for Swoop's inaugural flight, which took place in late June.
If you follow our cheap flight deals page, you know that Ultra Low-Cost Carriers (ULCCs) are great: we often share deals from Montreal and Toronto to Europe for $400 roundtrip (sometimes $247 or $300) or from various US border airports to Florida or California for $150 roundtrip (sometimes $89 or $120)… all thanks to ULCCs from Europe and the US.
Here in Canada though, there were no ULCCs. That's one of the major reasons why flights in Canada are more expensive than almost anywhere else in the world.
But finally, Ultra Low-Cost Carriers are now in Canada. And Swoop, WestJet's new ULCC, invited us onboard their inaugural flight since we are the reference for ULCCs in Canada.
In the past few years alone, I have been on about a hundred ULCC flights on 15 different ULCCs on 4 continents and in numerous different countries. I can therefore say with a high level of confidence that I know ULCCs better than most travelers who often talk about (and complain about) ULCCs after only a few experiences (or without even having been on ULCCs).
That's why I appeared on CTV to discuss the ULCC business model and Swoop more specifically (you can watch the video here).
So here is the overview of our experience on Swoop's inaugural flight.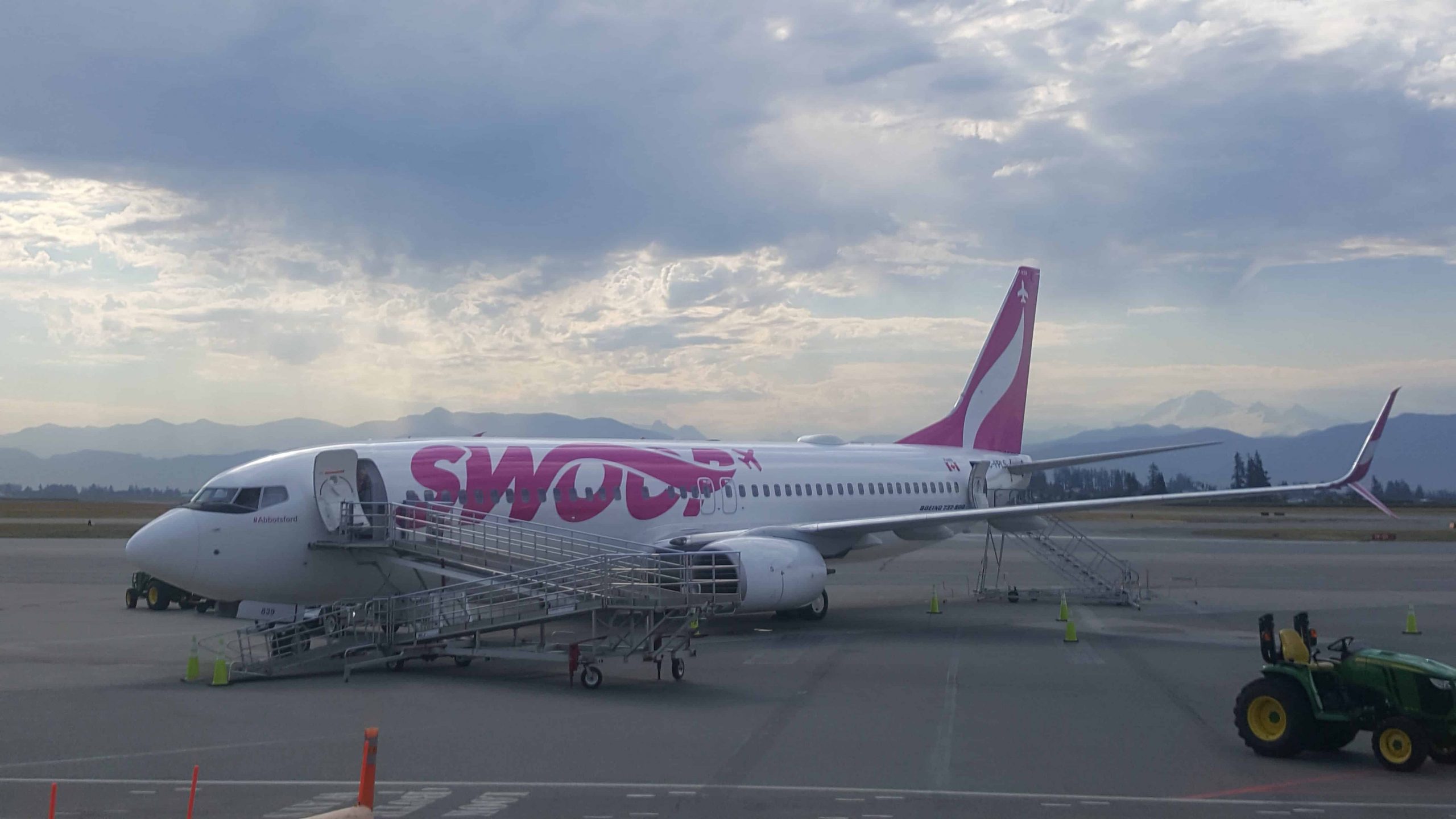 The Launch Festivities
I'll get to the review of the actual flight experience very quickly, but let's start by the festivities surrounding the launch event and everything that took place to celebrate the airline's very first flight.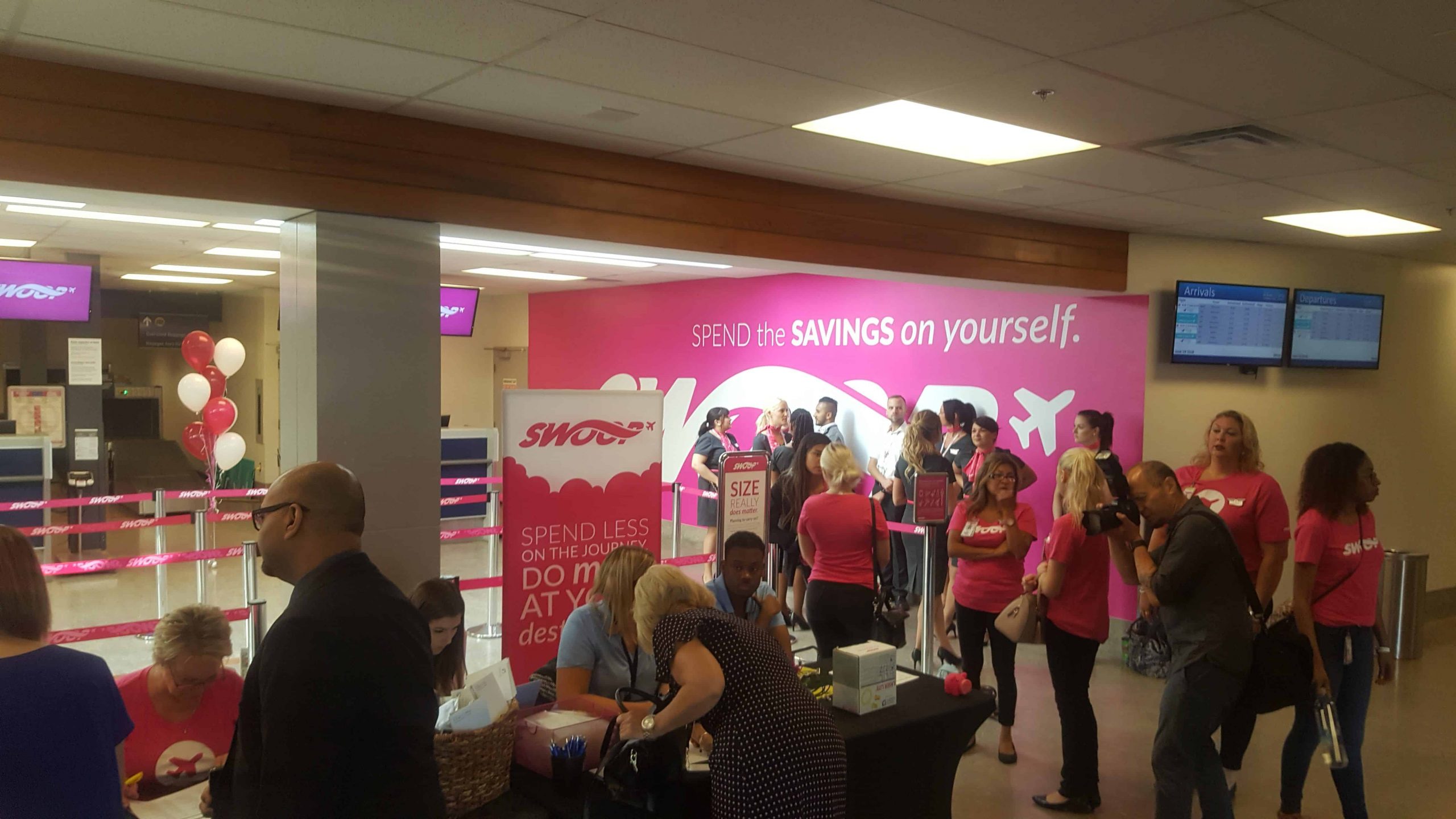 The media launch took place at Hamilton International Airport, the Toronto area's low-cost airport. It was very festive obviously, and many Swoop team members were present and seemed quite excited that the big moment was almost there.
Apart from the usual formalities (speeches and whatnot), everyone got a chance to climb onboard the Swoop plane to see it up close (this was mostly for those who couldn't be on the inaugural flight). Here's a short video we filmed, and there are a lot more photos in this article.
There was also a Swoop cake, shaped like a plane (it was delicious).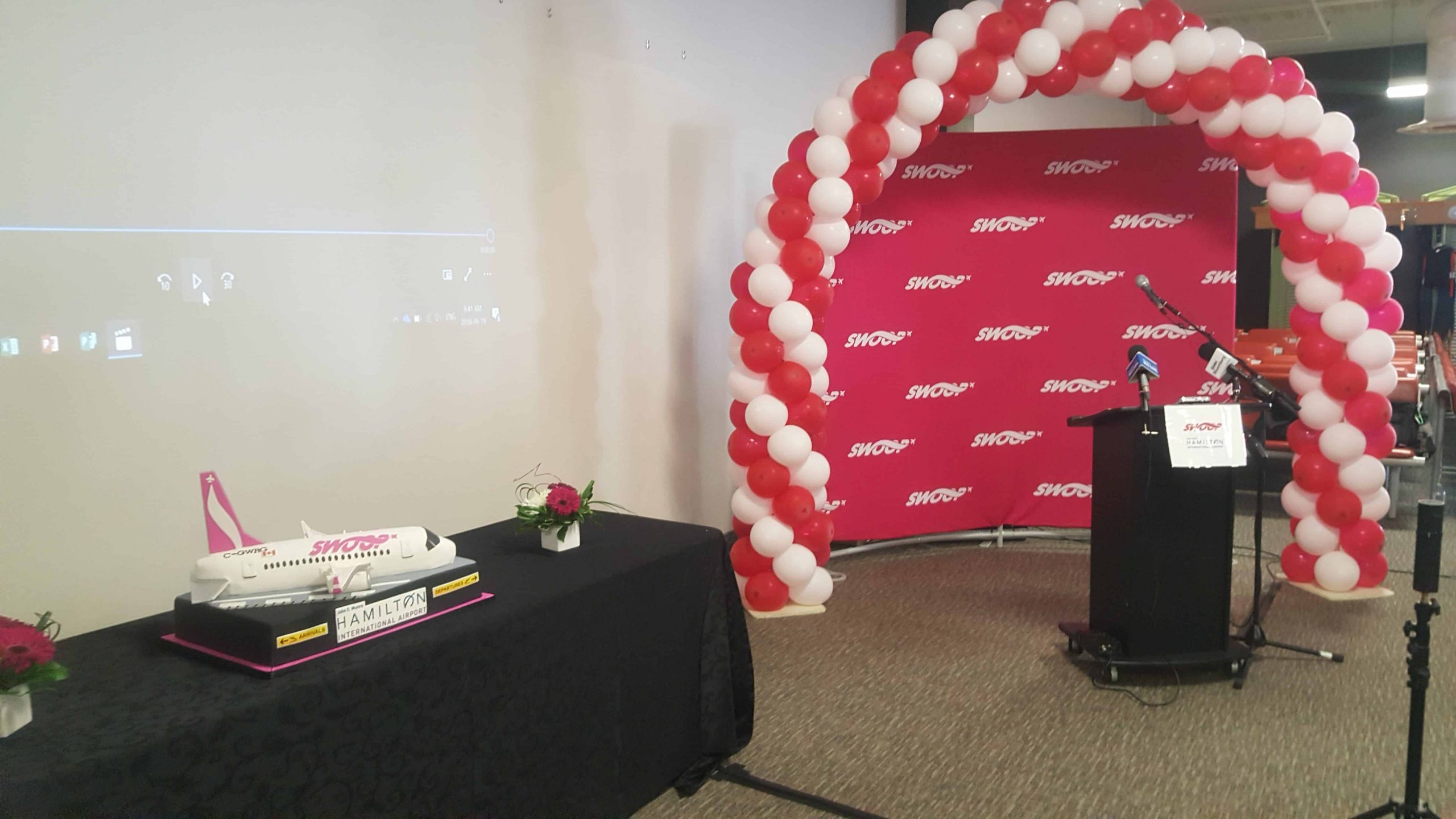 Everyone got swag bags, with water bottles, stickers and of course Swoop piggy banks (since ULCCs allow you to travel without breaking the bank).
What was very interesting was getting the chance to speak with Steven Greenway, Swoop's President. On top of being a very nice guy, he is also a ULCC veteran, having worked for many similar airlines in the Asia/Pacific region. It was a pleasure to have a talk with him and discuss Swoop's plans for Canada, and one of our topics of conversation was network expansion.
We lobbied for the great need for Swoop to serve even more markets in Canada, to bring lower fares to more travelers, since many of you are tired of the very high fares in your city. Rest assured that Flytrippers will always be there to advocate for Canadians who want to travel more and I can tell you that Mr. Greenway seems to genuinely share that concern!
Of course (and it's quite normal), he could not share future Canadian destination plans, but know that he is very well aware of the demand for lower airfares and the demand for more options all across the country.
He explained that Swoop's priority is to successfully launch in the 5 current Canadian markets and then shift to offering cross-border flights to US destinations starting this fall. In terms of next steps, of course we will keep in contact with Swoop to be the first to let you know when new routes are announced!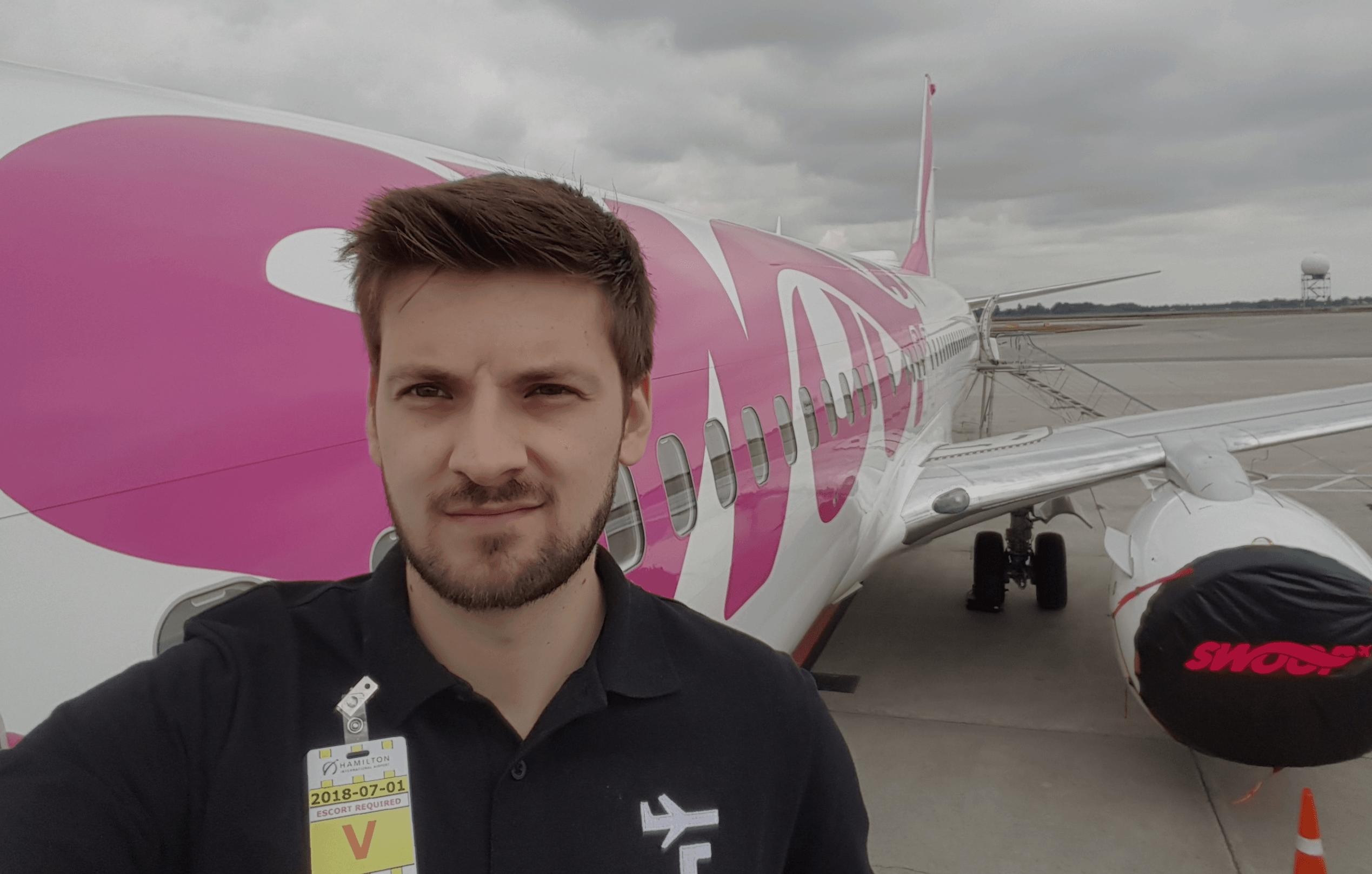 The Inaugural Flight
Since we're on the topic of the launch event, let's talk briefly about what was unique about the inaugural flight before telling what it was actually like onboard.
First of all, the festive atmosphere from the day before hadn't subsided on the morning of the inaugural flight. Takeoff was scheduled for 5:45, so boarding was even earlier. That's why the media launch was the previous day, it would've been way too early otherwise.
So here's the first scoop on Swoop: that's the only thing we didn't like about the whole experience… we had to get up really early to be on the very first flight! At least the sunrise was particularly beautiful that morning!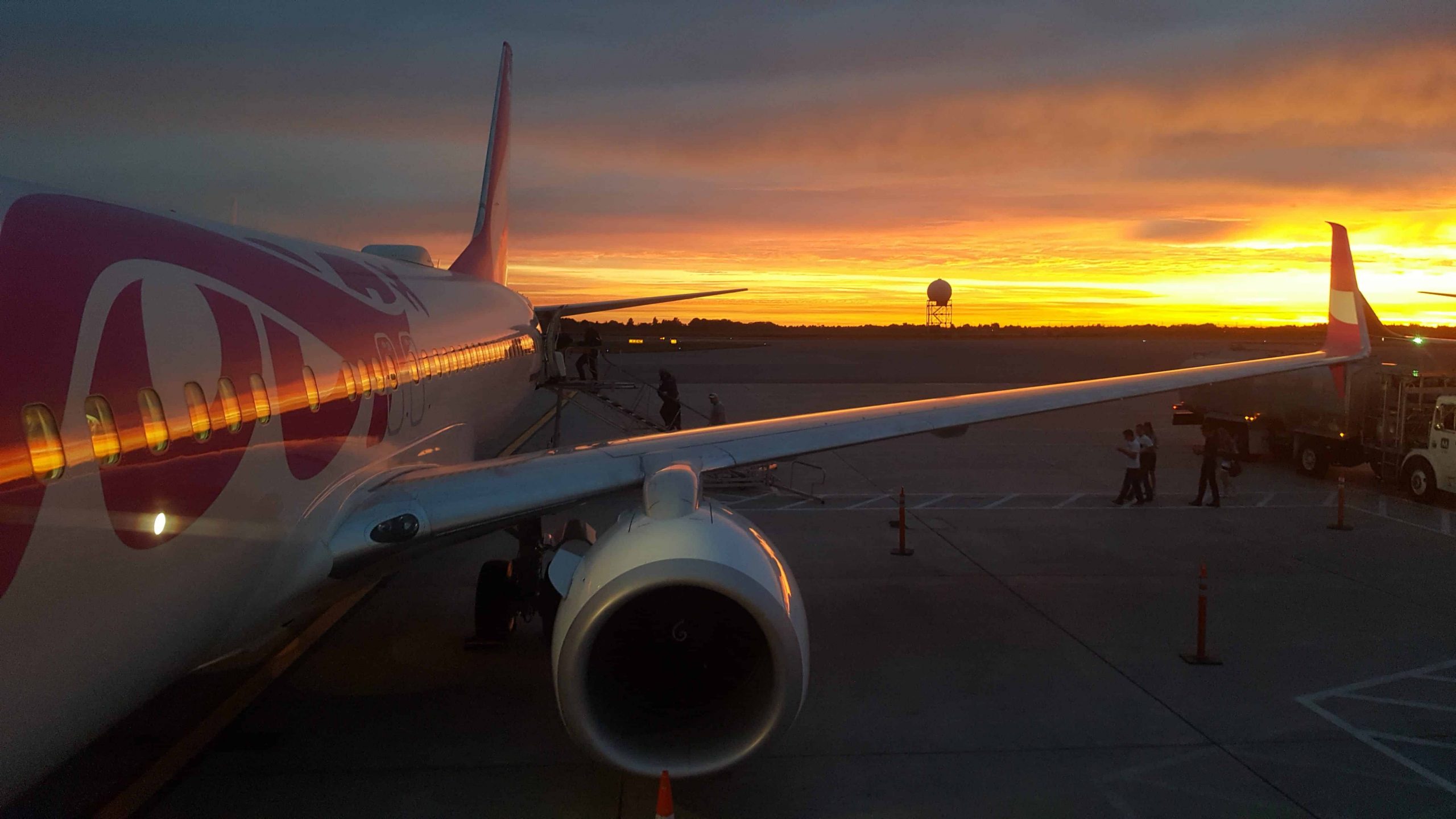 During the flight, the CEO addressed the passengers, there was a singing competition among passengers and there was a champagne toast before landing (or rather a sparkling wine toast, to avoid lawsuits).
There was a water cannon salute on arrival in BC, with trucks spraying water on the plane as is the tradition for maiden flights. It's hard to do it justice from within the plane, so here's what it looked like from the tarmac.
Low-cost #travel arrived in this morning! @WestJet #Swoop @AbbyNews @FraserVN @TourismAbby @acoc @AbbotsfordEcDev @MayorHenryBraun @yxxairport #Abbotsford #Hamilton pic.twitter.com/nEaWDiM6U2

— Dave Loewen (@DaveFLoewen) 20 June 2018
So, for these special touches alone, and especially for an Aviation Geek like me who loves everything about airplanes and airlines, being on the inaugural flight was quite a unique experience.
But all these things aside, how about the actual flight?
The Swoop Flight Experience
There are so many misconceptions and flat-out lies out there about ULCCs, but these airlines are far from being as horrible as some want you to believe (we've already debunked the most common ULCC myths by the way).
Many who complain about ULCCs often simply do not understand that it is a completely different business model and some are even borderline dishonest, trying to make the ULCC experience look so bad. But it definitely isn't with Swoop.
Of course, you need to know how ULCCs work before flying with Swoop (or any other ULCC): it is a completely unbundled fare. Pay-per-use. In short, you get a seat and a small bag… and have the choice of which options you want to pay for.
Personally, I have never paid a single dollar more than the base fare on ULCCs, so know that it is possible to pay just the (extremely low) base fare. Including with Swoop. More on that in a second.
Now, the flight experience. The short version is that honestly, there were no surprises: it was pretty much what we expected, like other ultra low-cost carriers.
And that's a good thing. It was awesome and we loved it, so here's an overview of many aspects of the experience.
Baggage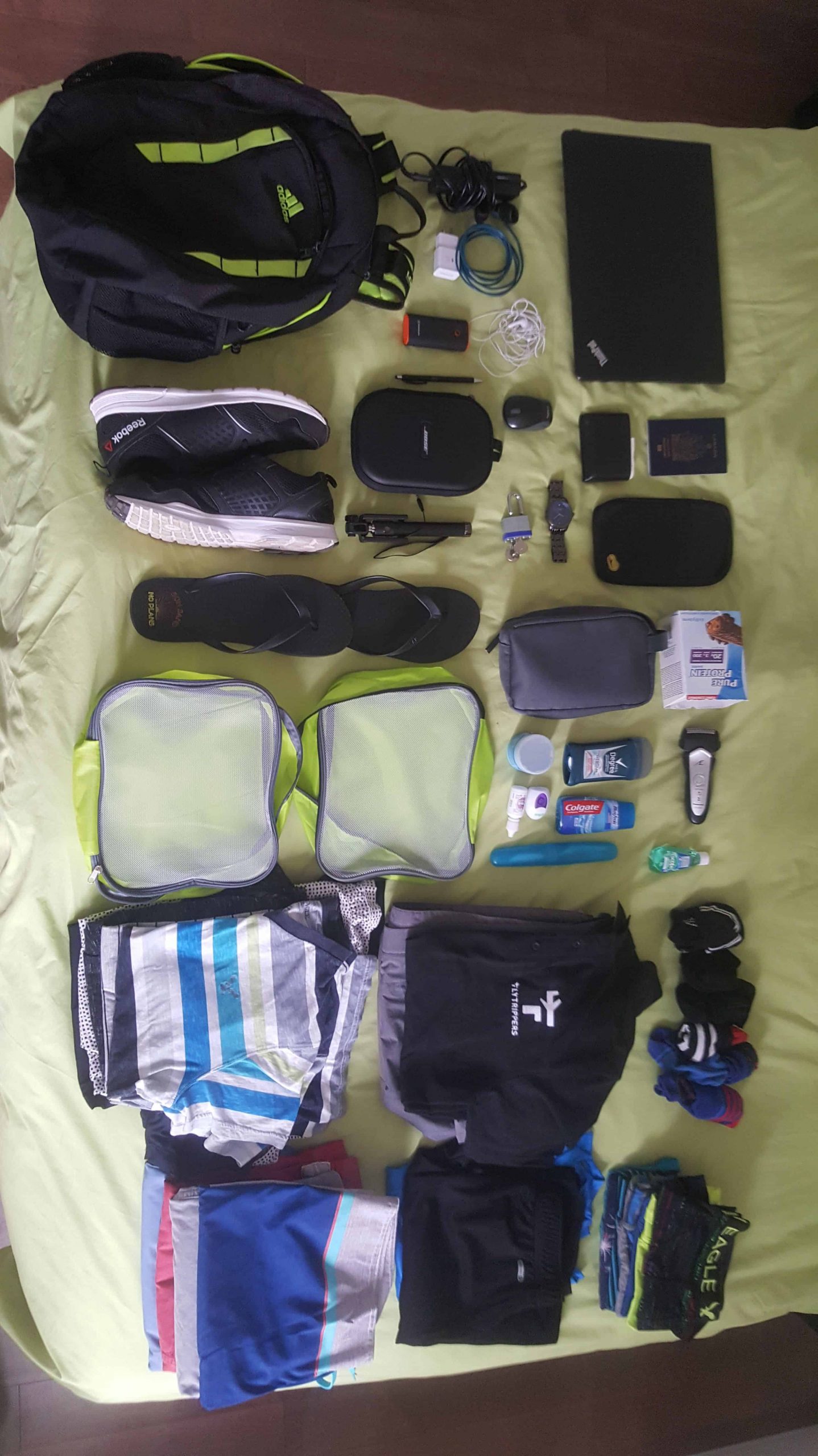 And yes, it's very doable, so stop saying it's impossible. We have done it dozens and dozens of times, you just need to try. If you do not want to, that's fine too… but it's not that it's not doable.
By the way, if you do not want to travel light, even when paying for a bag (carry-on or checked), ULCCs are almost always still cheaper than regular airlines. The thing you need to know is that it's much cheaper to pay for your luggage online before your departure than at the airport.
Also, we have a series of 5 articles on ULCC baggage coming up in November, to show you once and for all that you can travel light, and how you can do it too. And also, how bag rules work on ULCCs, in great detail. Don't miss it (subscribe to our free newsletter so you don't miss anything).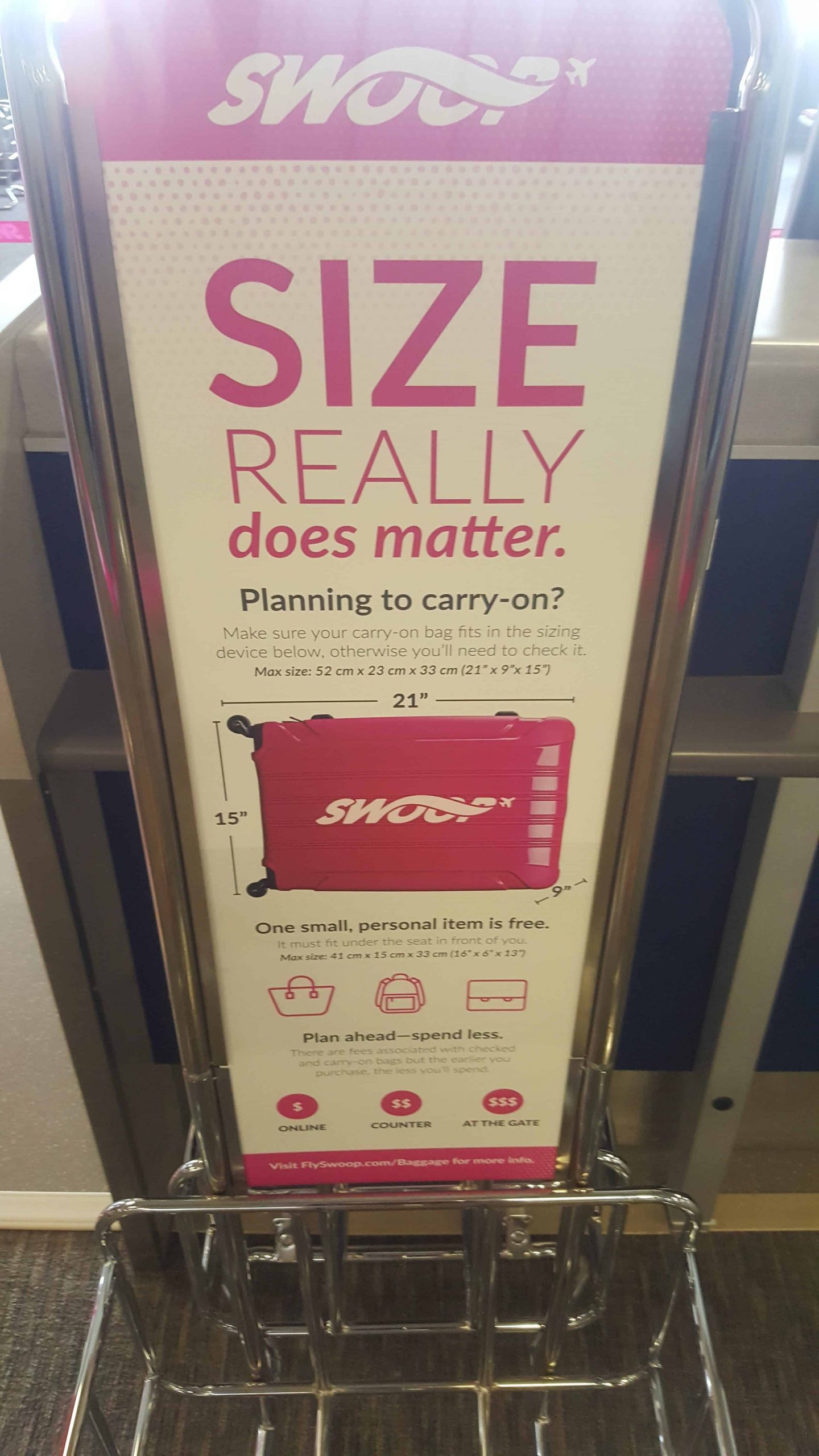 In the meantime, on Swoop, the rules are the same as with other North American ULCCs: you get a free personal item that fits under the seat in front of you for free. We left for the West Coast for a full week with Swoop and we brought just a small backpack, as we always do, so our bag fee was $0. If you do want a checked bag, it is only $26 more, which is very reasonable. But it's not mandatory, it's an optional fee: you choose.
The Plane
Cheap flights don't rime with old planes, far from it. ULCCs have very recent fleets, as it keeps the prices low because newer planes consume less fuel and require less maintenance.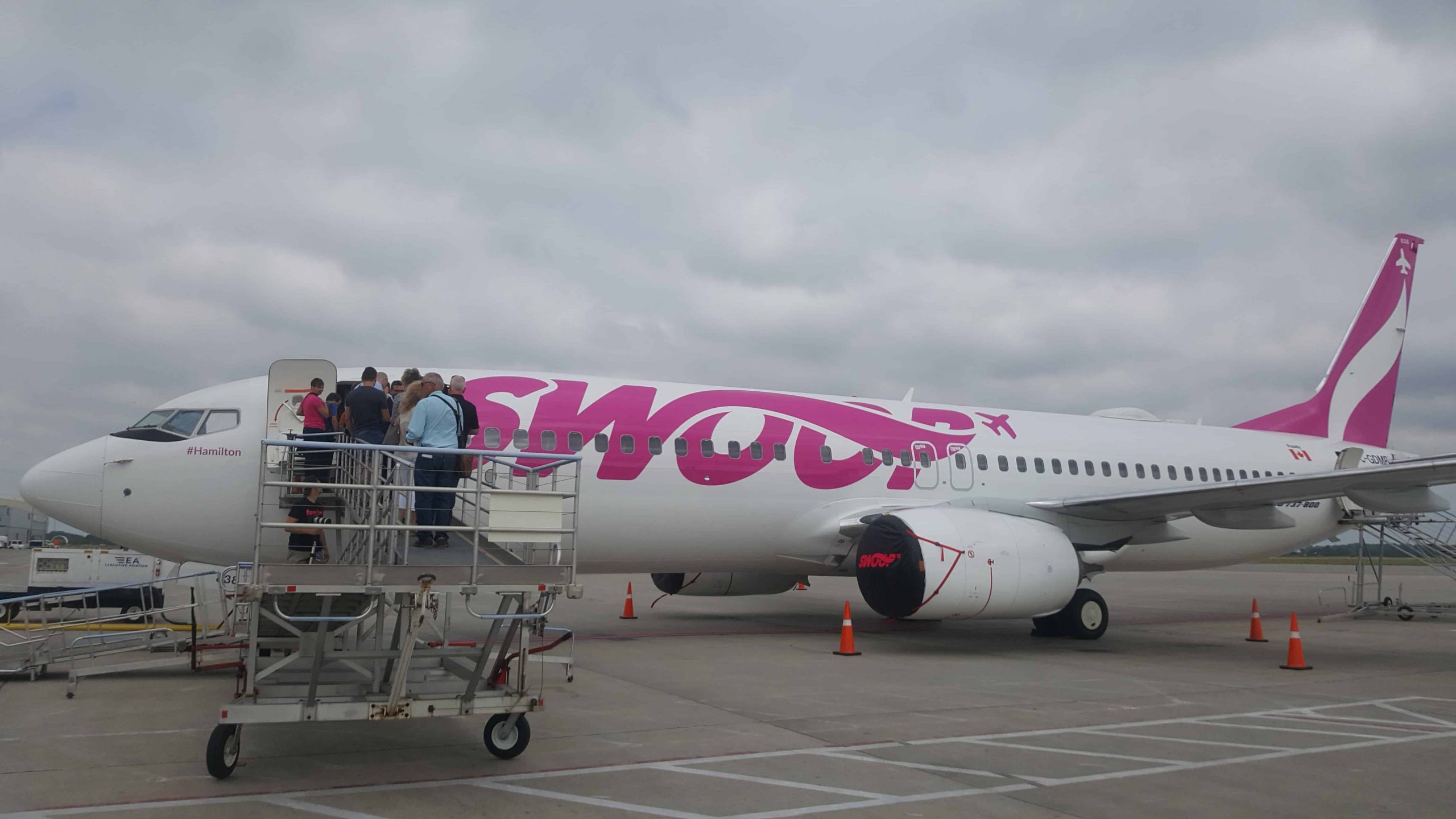 Swoop is no exception to that rule, at the moment they operate 2 Boeing 737-800s delivered in 2015, so very recent planes. These previously belonged to WestJet and have been converted. This is the most popular aircraft with ULCCs (and one of the most popular in the world) and Swoop's are configured with 189 seats (3-3).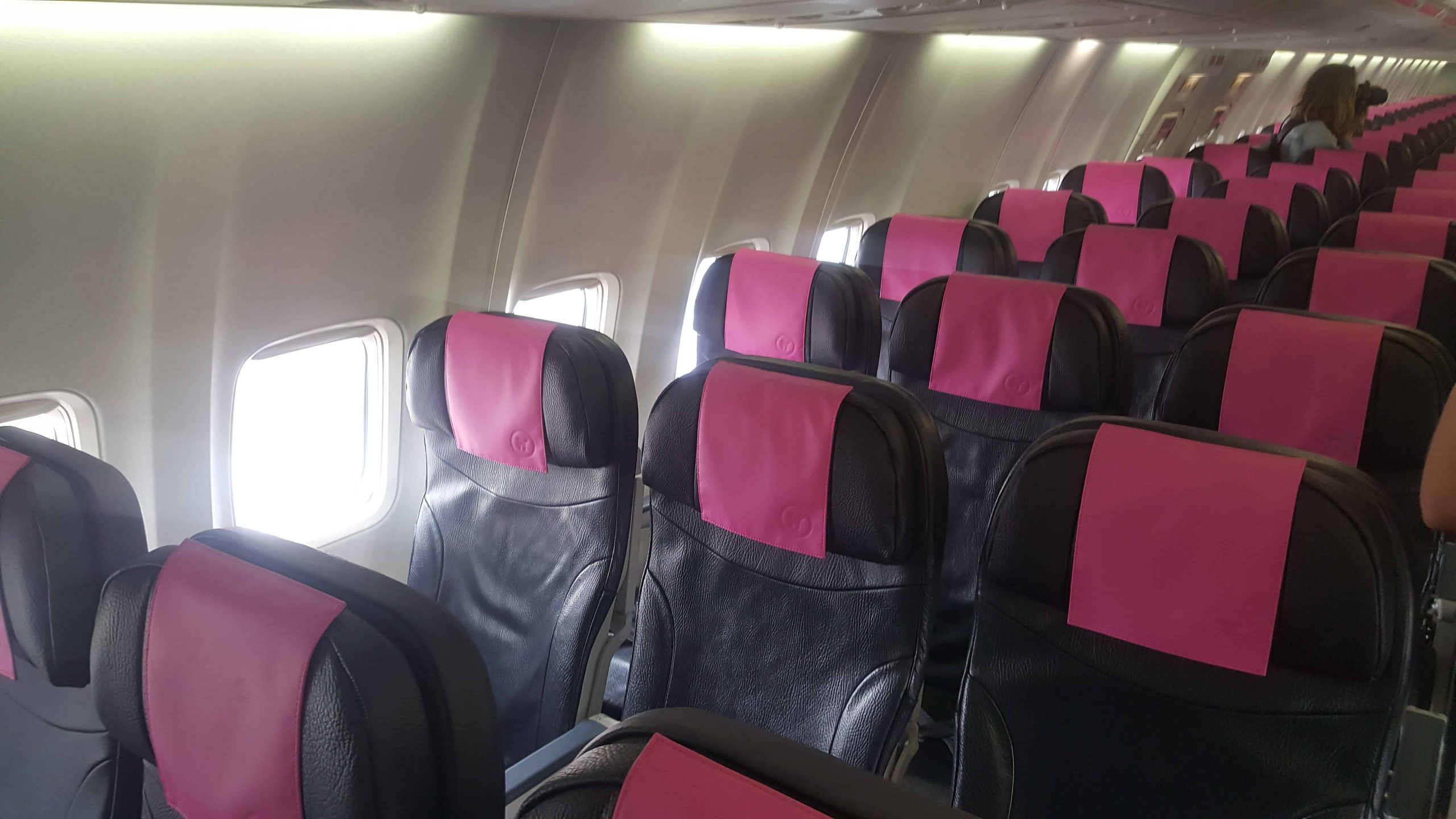 As you can see, the pink color is prominently displayed. ULCCs always seem to choose bright colors, this might not be the best look, but hey that all depends on your personal preference… and most importantly it really doesn't matter that much in the overall experience.
Seats & Comfort
Yes, it's true that the ULCC model usually means a little less legroom, because it means being able to carry more passengers and reduce costs.
A little less, it's really important to mention. Having flown on hundreds of flights on both ULCCs and regular airlines, I can honestly say that the difference is really minimal.
If you want numbers, the seat pitch, which is the distance between two seats, is 29 to 30 inches on Swoop, while on regular carriers it is usually 31 inches (32 sometimes). An inch or two does not really change much in terms of comfort. Even if I am almost 6 feet tall, I was comfortable… just as much as on regular airlines.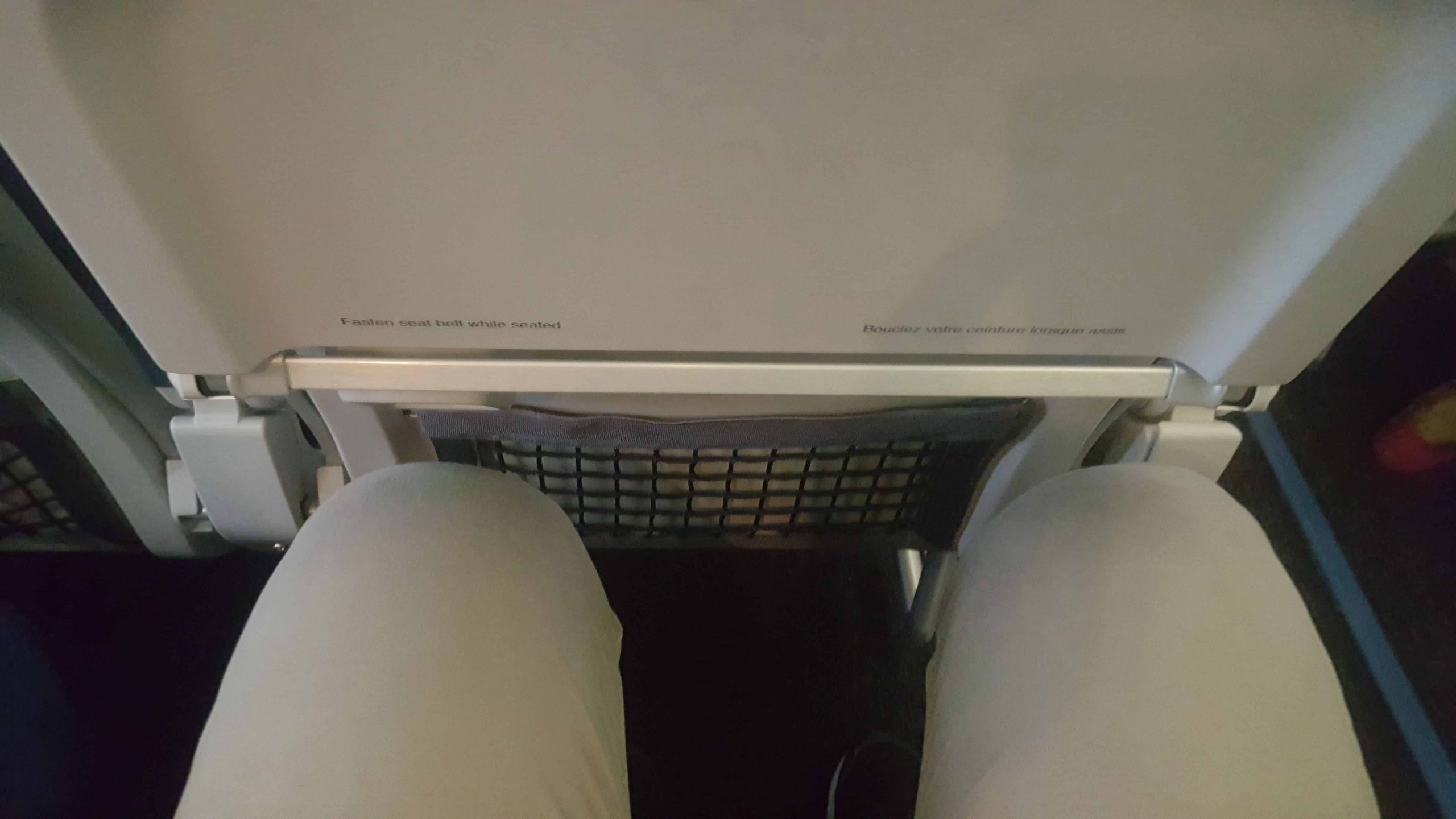 In addition, the seats have headrests with supporting flaps that are extremely useful for your comfort onboard, it is not always included on other ULCCs. That was a pleasant surprise.
It is really a lot more comfortable when you try to sleep for example.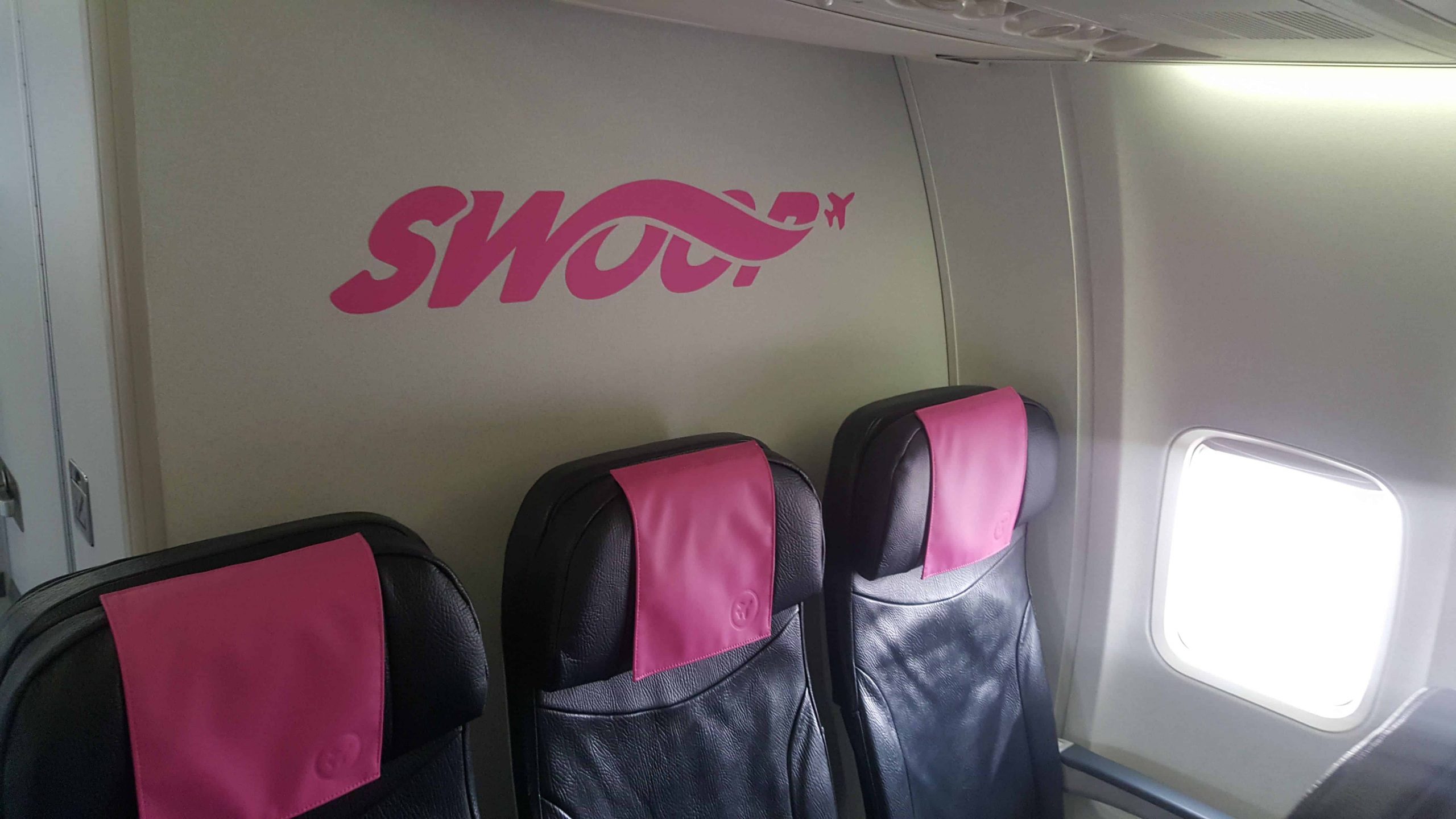 The seats are also reclinable unlike on many other short-haul ULCCs, great for those of you who like invading the space of the passengers behind you 😉
Finally, if you want to choose your seats, there is a fee for that. So just let the system assign you any seat, that's always free. You will survive, no matter where you sit. And if you want to be almost certain to be seated with your travel buddy, follow our pro tip.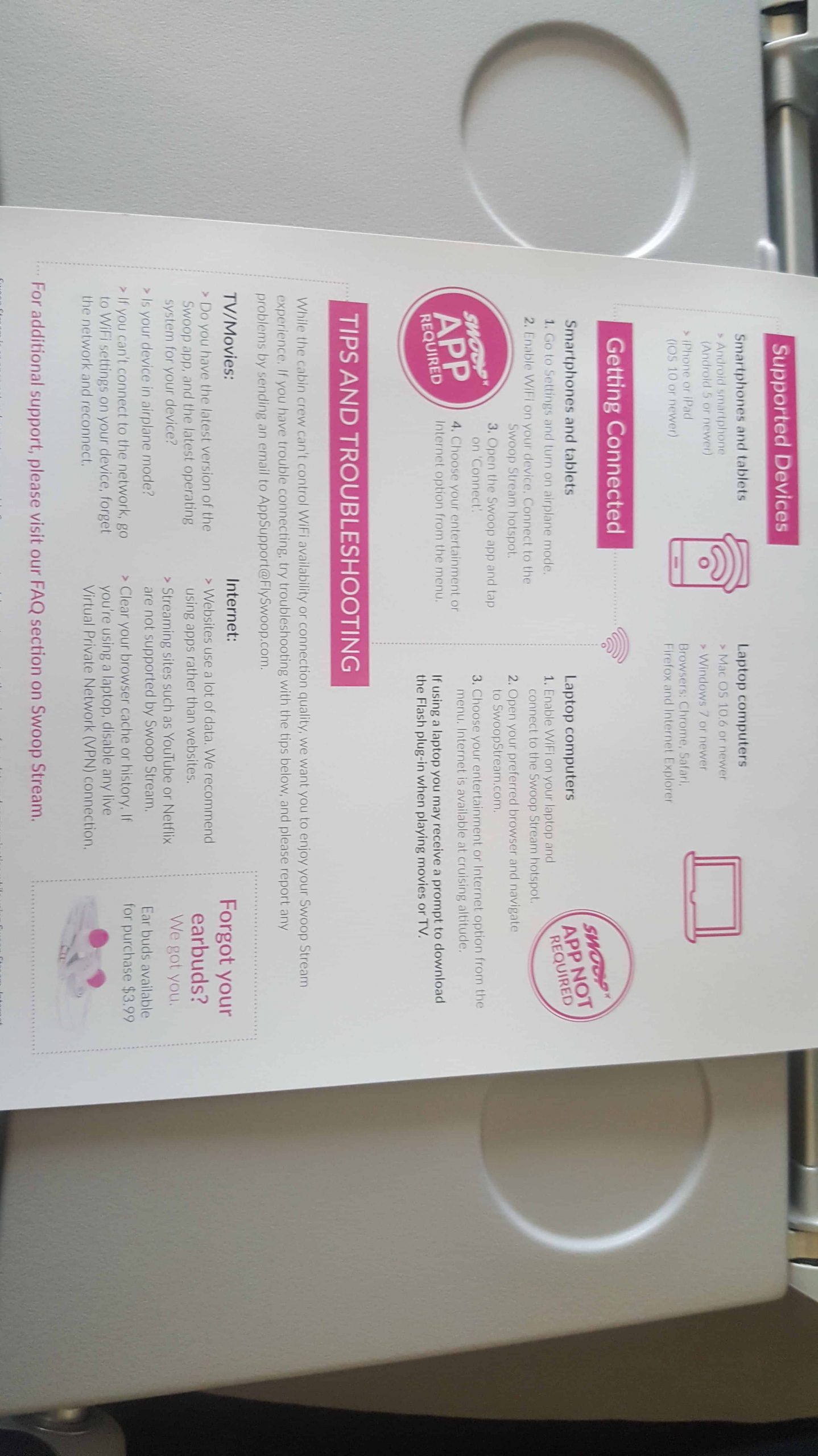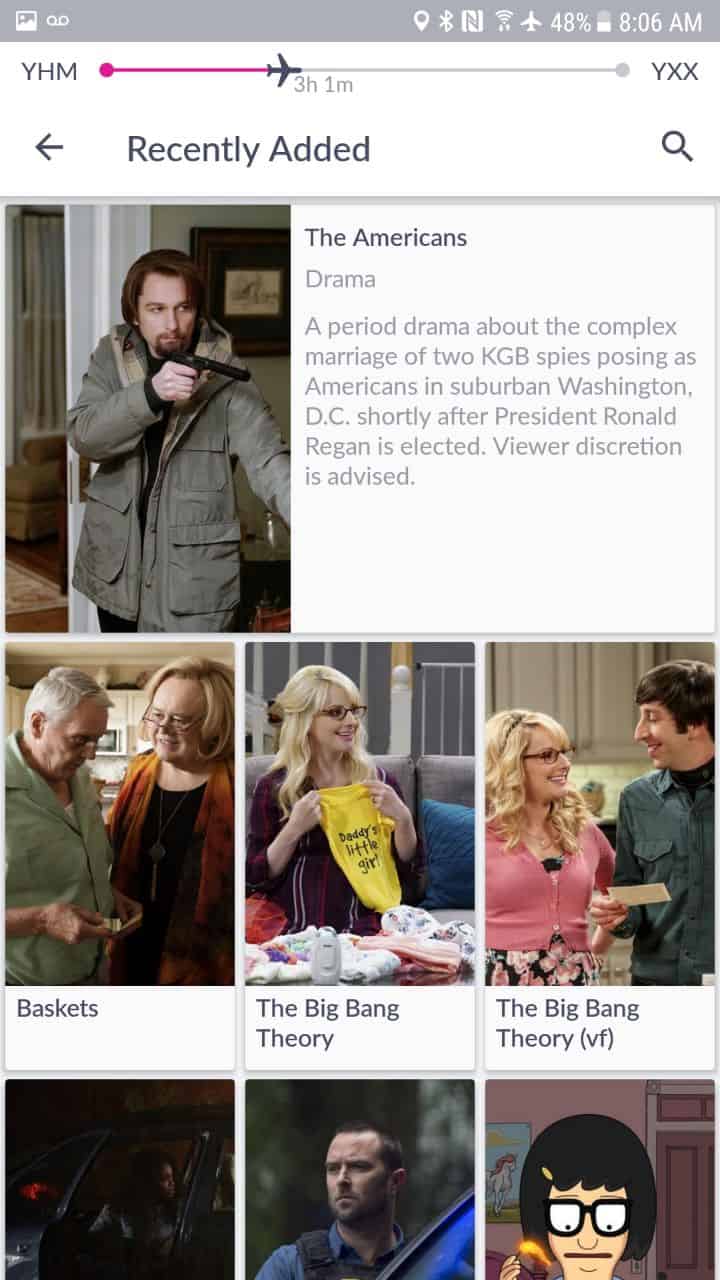 The Service
Of course, everyone was in a good mood because it was an historic moment, the airline's very first flight.
But even throughout the two days we spent with them and through all our interactions with the different members of the Swoop team, we genuinely felt that they were all very happy to be part of the ULCC adventure!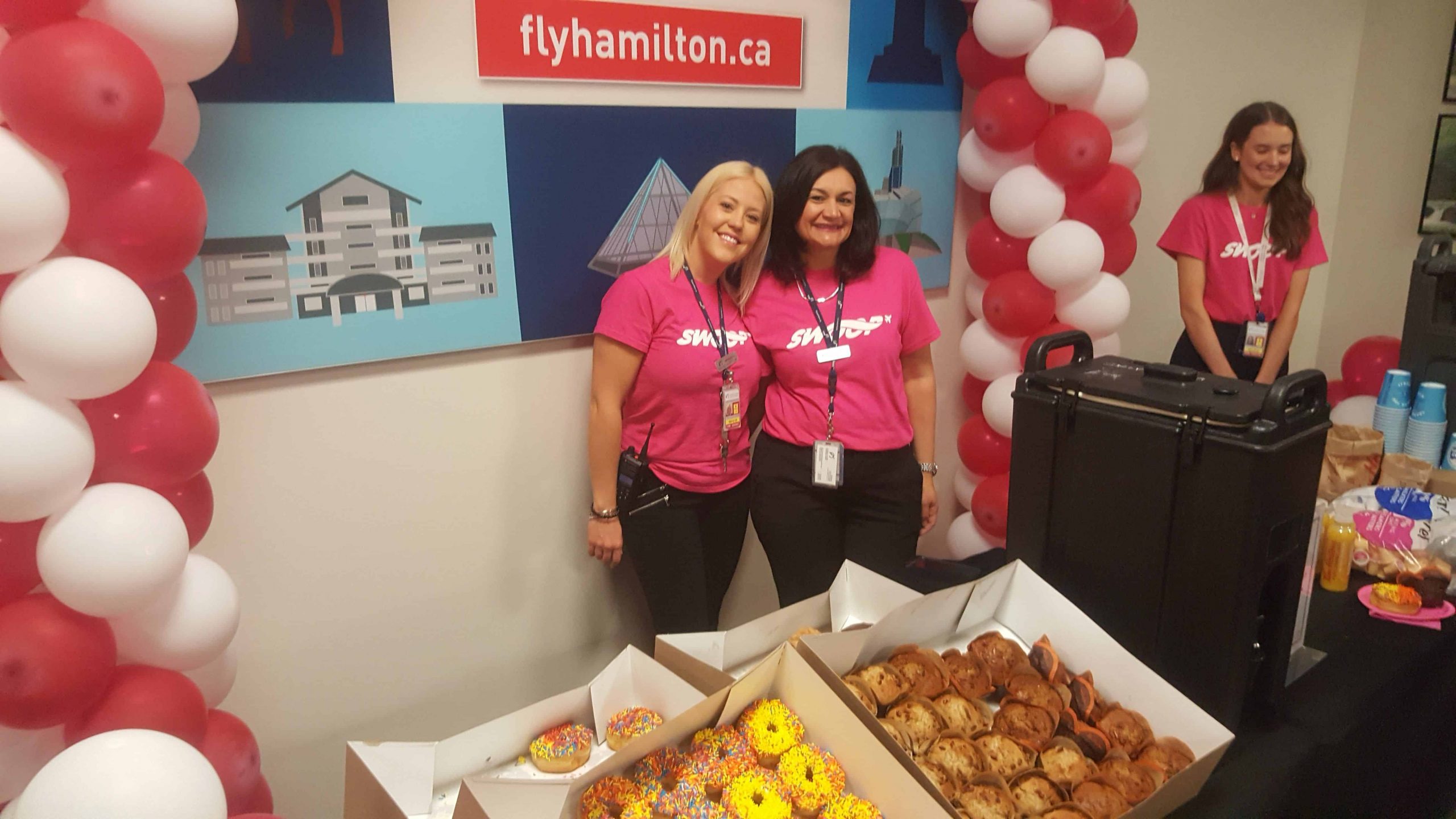 At the risk of repeating myself, I took a hundred ULCC flights in my life and a hundred regular flights… so I'm comfortable considering myself qualified enough to compare. And I never found that the staff or the service was worse on ULCCs. Never. So the fact that it's cheaper doesn't mean you'll be treated worse onboard, really not.
Meals
Here again, the ULCC model is simple. If you want something, you buy it. So you will pay for your meal if you want one… just like you do it every other day of the year. Or even better, bring a snack with you onboard and it won't cost you a penny.
Honestly, when we saw the Swoop menu, we both thought that their prices were very low, it's quite reasonable if you want to get something to eat.
We had actually just flown on WestJet to get there, and we even noticed that some items even seemed to be cheaper on Swoop! Usually the price-gauging is pretty intense onboard, but not on Swoop apparently.
Logistics
Finally, let's talk about Swoop's operations. Swoop is currently in 5 Canadian cities: Hamilton (Toronto), Abbotsford (Vancouver), Halifax, Edmonton and Winnipeg.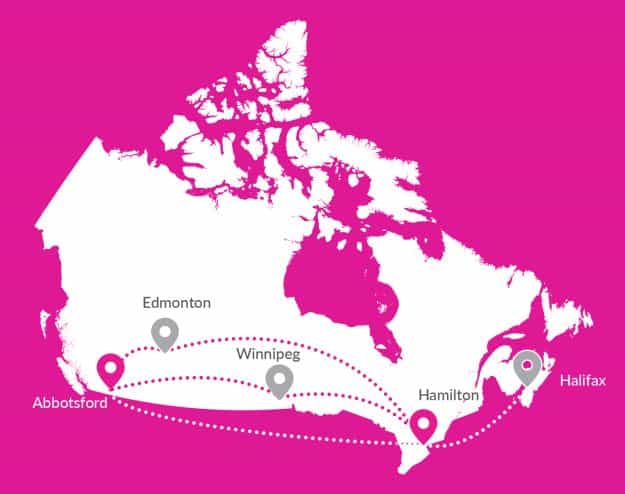 The average price paid by passengers on the inaugural flight, from the Toronto area to the Vancouver area, was $103 for the one-way trip. If you've ever looked at the price of a flight to fly across the country, you know how expensive it usually is on regular airlines.
So it's great news that the ULCC model has finally arrived in Canada, and it is a very successful execution by Swoop, based on my comparison with the 14 other ULCCs I've been on. So whether or not your city is on the Swoop map right now, their launch can only be good news! Again, don't miss our detailed article specific to each city very soon.
Here is an overview of our Swoop experience! It was very enjoyable and we're even more excited than before about having this new ULCC in Canada. Any questions?
Help us spread the word about our flight deals and travel tips by sharing this article and most importantly bookmark Flytrippers so we can help you navigate the world of low-cost travel!
Advertiser Disclosure: Flytrippers receives a commission on links featured in this blog post. We appreciate if you use them, especially given it never costs you anything more to do so, and we thank you for supporting the site and making it possible for us to keep finding the best travel deals and content for you. In the interest of transparency, know that we will NEVER recommend a product or service we do not believe in or that we do not use ourselves, as our reputation and credibility is worth far more than any commission. This principle is an essential and non-negotiable part of all our partnerships: we will never give any third party any control whatsoever on our content. For more information on our advertiser disclosure, click here.
Posted June 23rd, Updated November 7th
Share this post to help us help more people travel more for less: