It's not "fake news": the beautiful southern Italian island of Sicily will pay for a big part of your trip if you choose to visit the region once the current situation gets better. At least that's what their local tourism board is saying. But beware: the program's budget will be only €50 million (≈C$75 million) so it will likely not last long!
Sicily's regional government will pay for:
half of your flights
a third of your hotels (every 3 nights you book, 1 night will be free)
the full cost of tickets to museums and archaeological sites
The goal is to attract visitors and re-launch the tourism industry post-coronavirus, since the island is highly dependent on revenue generated by travelers. This is the case for much of Italy: it is 13% of the country's GDP (Gross Domestic Product).
Here is what we know (and what they told me when I reached out).
But first, let's say right away that they haven't opened up applications just yet.
To be sure you are among the first to know when the deal is live, subscribe to our free newsletter and we'll tell you AS SOON as this amazing deal is launched (just like with the flight deals we normally spot at 50% off, those who follow us and act fast will be among the lucky ones who get to take advantage and save money!)
Sicily's Post-Coronavirus Tourism Program
In March and April alone, the coronavirus crisis resulted in a €1 billion loss of revenue for the stunning island in the Mediterranean Sea. So now they want to invest to get travelers to come back more quickly.
The 3 initiatives (flights, hotels, and attractions) are pretty amazing. If you remember, it is exactly what we used for this year's April Fools' joke. It was very popular, just like last year's one about baggage restrictions, precisely because both were somewhat believable.
It would only make sense for tourism boards and governments to try and attract visitors with subsidies of this kind. Tourism is such a huge portion of the economy in many places, and most travelers are very price-sensitive (and rightly so: cheaper trips means more trips).
But this is the first instance of a government actually going forward with the idea for the post-coronavirus world.
Last week, The UK Times and the DailyMail reported that Sicily's government would subsidize trips once the lockdown ends. Unfortunately, there was no source provided and we really hate "fake news" and wanted to be sure this was true. So I reached out to the Sicily Tourism board.
Apparently, it really is true. Sometimes, things that seem too good to be true really are true: having earned over $10,000 worth of free travel with travel reward points in the past decade, I know this all too well.
Anyway, here's exactly what the tourism board told me:
The project you're referring to will be available in a couple of months,
in accordance with the provisions of the Italian Government on lock down.
They wouldn't give more information. So while it's a shame that we don't know more yet, a heavily-discounted trip could very well be worth waiting a few months for. Especially since we don't know when we'll be able to travel again anyway.
Now, of course, the devil is in the detail:
will all flights be eligible, or will you have to fly specific airlines that are much more expensive than others, negating the discount?
will all hotels be eligible, or will you have to book specific properties that are much more expensive than others, negating the discount?
Only time will tell. As someone who hasn't really visited much of Italy—I am a budget-traveler and prefer to travel in more affordable destinations so I can travel more often—I will definitely look into this myself as soon as more information is available.
For those who don't know their Italian geography, Sicily is very far from the coronavirus hotspot in Italy, which is the Lombardy region in the far north. It's over 1,000 kilometers away from there in fact, and Sicily has only 3,000 cases as of now (which is a per capita infection rate 2 times lower than in Canada, based on official numbers from May 2nd).
Sicily is the Mediterranean Sea's largest and most populous island. It is located at the southwestern tip of Italy—or just off the "toe" of Italy's "boot" if you prefer. You can see it with a subtle red outline at the bottom of this map: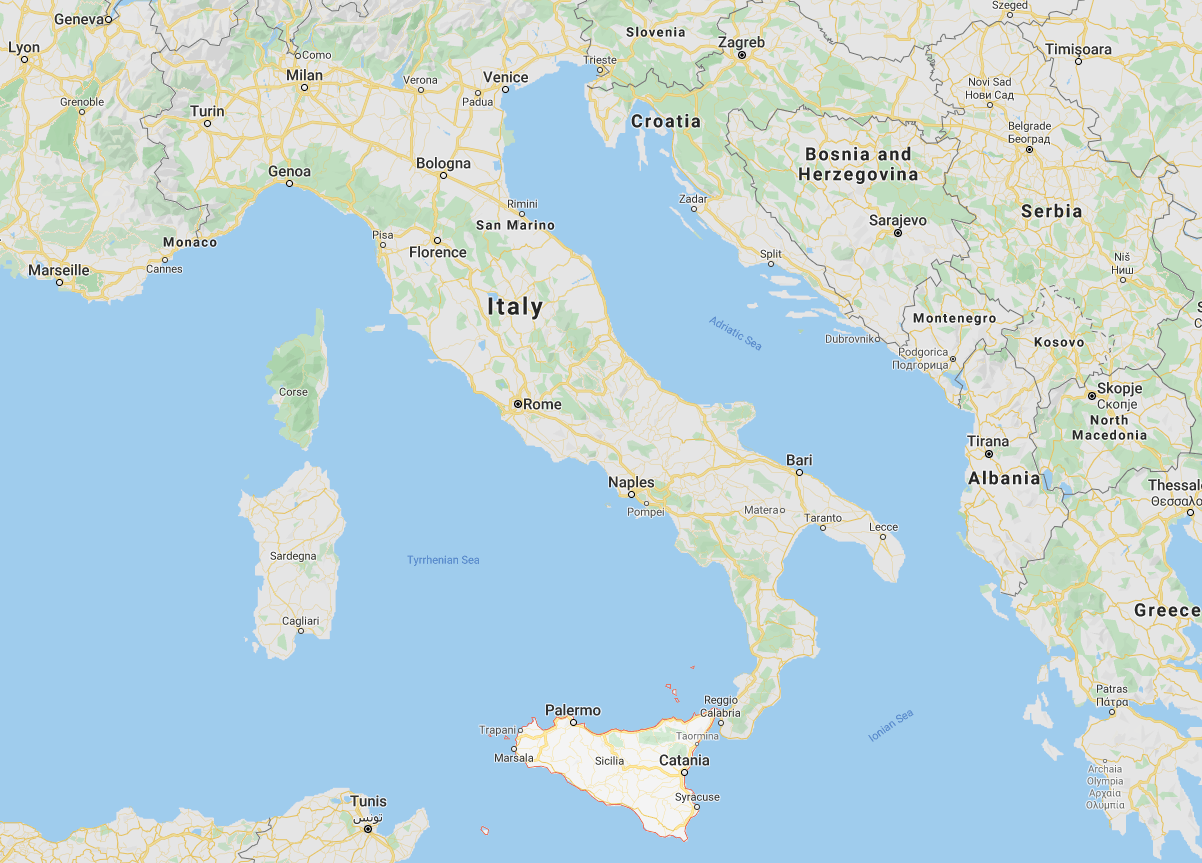 Sicily was #3 in our post about the 10 best islands to visit in the Mediterranean Sea, and depending on the details that will soon be announced by their regional government, maybe you'll be able to make this your first post-coronavirus trip at a reduced price when the situation gets better.
Subscribe to make sure you're the first to know when details are announced!
Summary
Sicily's regional government has announced a €50 million plan to stimulate tourism after the coronavirus lockdown. It involves paying half of your flight, one out of every 3 hotel nights, and making museums and archaeological sites entirely free. Details will be announced in "a couple of months" according to their reply to my information request, and of course, we'll let you know as soon as we know more.
What do you think of mandatory masks on flights? Tell us in the comments below.
Explore awesome destinations: travel inspiration
Learn pro tricks: travel tips
Discover free travel: travel rewards
Featured image: Tonnara di Scopello (photo credit: Flo P)
Advertiser Disclosure: In the interest of transparency, Flytrippers may receive a commission on links featured in this post, at no cost to you. Thank you for using our links to support us for free, we appreciate it! You allow us to keep finding the best travel deals for free and to keep offering interesting content for free. Since we care deeply about our mission to help travelers and our reputation and credibility prevails over everything, we will NEVER recommend a product or service that we do not believe in or that we do not use ourselves, and we will never give any third-party any control whatsoever on our content. For more information on our advertiser disclosure, click here.
Share this post to help us help more people travel more for less: