Since no one should be traveling right now, the travel industry has understandably been hit very hard by the coronavirus. But while our own economy is diversified, some developing countries are highly dependent on tourism and are hurting even more… and will need to get back up and running as soon as possible. That's why this is such an amazing initiative for 2021 announced by the Southeast Asian nation that we'll reveal in a minute.
But first, the great promo: completely free flights to get to the country, subsidized by their government, who took control of the national airline that had run into financial difficulties in March due to the falling demand (they took a majority ownership stake instead of giving a bailout that provides no direct return on investment).
It's truly something we've never seen before, in terms of strategy to promote tourism. Instead of spending millions on marketing and instead of giving the airline billions now to survive when no one is traveling, they decided to invest that money into operating free flights in 2021.
That way, budget-conscious travelers and people who love free stuff will choose this destination—and bring all their travel dollars to the country, and to their citizens who will need it badly after this crisis ends.
But there is an alternative promo: free hotel nights. That option is also a great way for the airline to generate cash flow now and encourage bookings, by offering free hotel nights (15) if you book your flights with them this month, for all of 2021 (the flights are fully refundable in case the crisis drags on). This is a much better way of securing financing than refusing to refund the money travelers are entitled to get back when their flight is canceled, as Canadian airlines are doing, among others.
That said, many of you are probably more interested in the free flights option. It's the basic fare, with nothing but the seat included, of course. Many had predicted that someday Ultra Low-Cost Carriers (who already often offer flights under $20 all around the world) would regularly offer completely free flights to get money from cities that want visitors, to upsell extras, to sell advertising inside the plane, etc.
But a government paying for the entire fare to get people to visit a country is a first.
Now, what everyone wants to know…
Which country is doing this?
Here's a hint: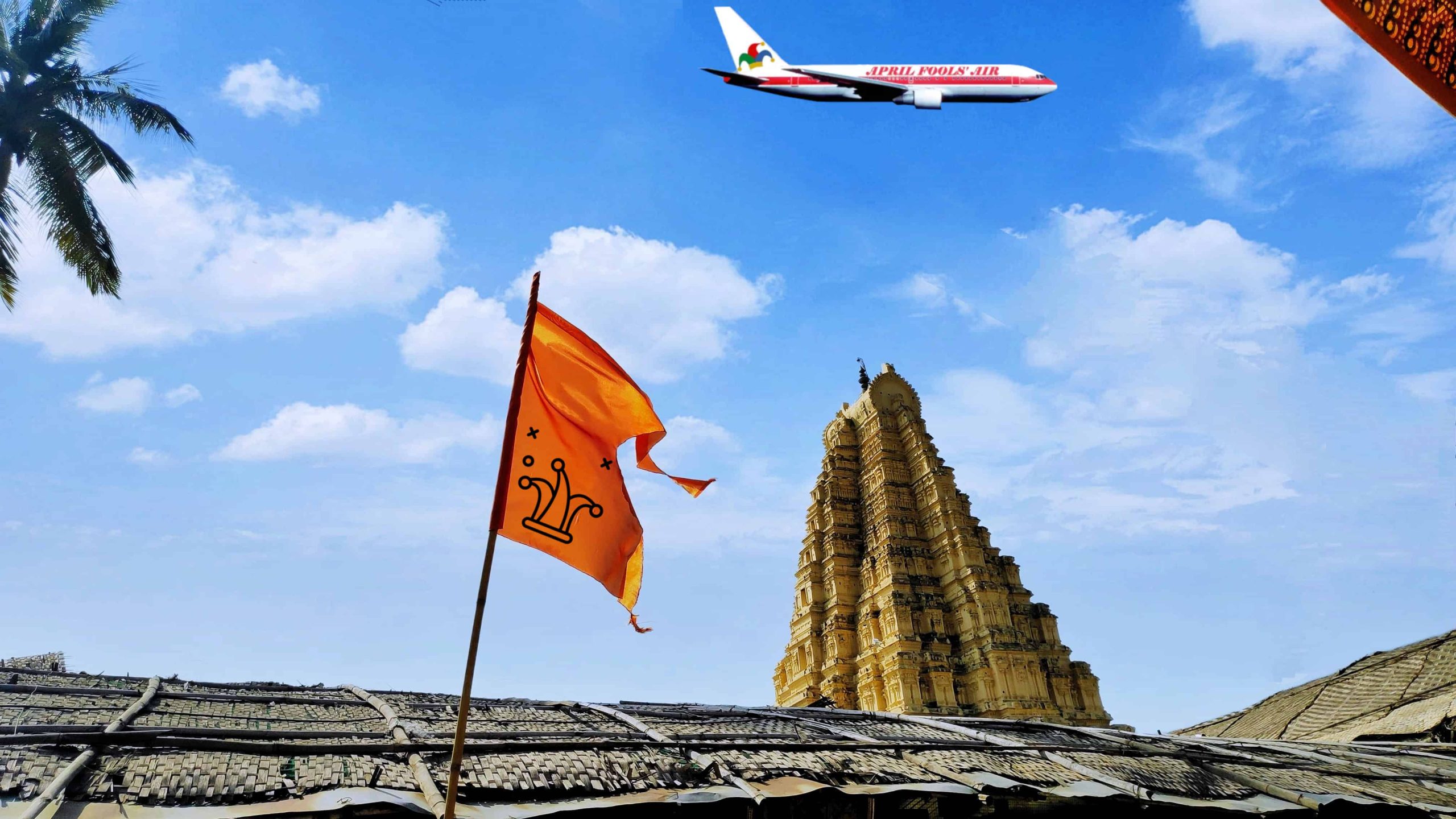 HAPPY APRIL FOOL'S DAY!
This free flight promo is a joke (our apologies, but we all need some laughter).
But I can guarantee that getting free flights and free hotel stays is NOT A JOKE.
I've been doing it for over 10 years thanks to travel rewards: you just need to take the time to learn. It's something that every Canadian traveler can take up easily.
For real.
You can get 10 free hotel nights in 10 minutes right now, or flights. Or plenty of other types of free rewards. No matter your income.
I'll give you just a few examples, including for those who don't necessarily want travel rewards given the current situation.
It's easy, but not quite as easy as doing nothing like in this April Fool's joke… and that's precisely why most people don't get free travel. Don't be like most: make the effort, there's no chance you'll regret this (signup for our new points newsletter — it's free)
Travel reward points are the best thing ever invented for those who are passionate about travel and good deals.
And remember: If you have any questions at all about travel reward points, ask below! We'll gladly share our experience and expertise!
10 free hotel nights
Here's the best example: you get the Marriott Bonvoy Card and you get a welcome bonus of 10 free hotel nights (60,000 points).
You can choose from hotels in Indonesia, South Africa, Spain, Mexico, India, China, and many other countries.
Just by getting the card. There is no minimum income required to get it.
The card has a $120 fee, and while $120 for 10 hotel nights is not completely free, if you consider that one hotel night usually costs around $120 ($100 plus taxes), then 9 of those 10 are really 100% free. And there are no taxes to pay when using these points.
The points won't expire as long as you use the card once every 2 years (even for a $1 purchase). So no worries, you can use your free nights later.
One card; 10 free nights.
And after the first year, you'll get a certificate for a free night in a 5-star luxury hotel every single year, easily worth $300 (Flytrippers' other cofounder Kevin got an overwater bungalow in Fiji worth C$1,100).
All you need to do to get the welcome bonus is reach the minimum spend: C$3,000 in 3 months, or just ≈ C$231/week for those 3 months, which you probably already spend anyway (if not, we have tips).
Honestly, we're used to people not believing us, since even the amazing 50% off flight deals we spot are often almost too good to be true.
But travel rewards are the real deal.
The Marriott Bonvoy Card is just one example (arguably the best for travelers currently available), but there is so much more.
We'll tell you a lot more about travel rewards points during this forced travel break, so you can make the most of this downtime and invest time in learning how you can earn free travel for after the crisis.
Free roundtrip flights
You prefer free flights, or you don't stay in hotels?
The welcome bonus of that same Marriott Bonvoy Card can be transferred to Aeroplan, and you'll get 25,000 Aeroplan points instead of the hotel points.
Those 25,000 points are good for a roundtrip flight to anywhere in the US. Unlike with hotel points, you'll need to pay taxes… but our pro tip is to leave from a US airport across the border: you'll only need to pay C$14 in taxes, so it's almost a completely free roundtrip. If you leave from Canada, you'll have to pay more taxes, so it's not necessarily a great use compared to the free hotels.
Another alternative with the same $120 fee and $1,500 minimum spend is the AIR MILES Platinum Card, which gives you 2,000 AIR MILES: that's one free roundtrip flight (one-and-a-half in fact) to short-haul destinations (those depend on your home province). You'll have about $150 in taxes to pay, but that's not too bad for a roundtrip flight for a weekend escape, especially since you can earn a second ticket pretty quickly by using the card.
Free $645 credit
You prefer just getting a simple credit instead of travel points?
My favorite card in my wallet is actually the American Express Cobalt Card, since it earns an incredible 5 points per dollar on restaurants and groceries. It's especially lucrative for those who spend $500 per month on groceries and restaurants (that's just ≈ $115 per week) and can spend an extra $1,500 in the first 3 months, since it will give you a $765 credit in the next year, thanks to its unique welcome bonus structure (which is annual unlike other cards).
As we are all stuck inside and eating out less, earning 5X points on what is now likely your biggest expense category is amazing. It also works for most food delivery apps (see our promo codes for free food deals).
In short, the welcome bonus will earn you 76,500 points, which is a $765 credit. It has a fee of $120 as well, but a net of $645 free is still a great offer.
Even better: you can transfer those 76,500 points to Marriott, and you'll have 91,800 points. That's 18 free nights (and an earn rate of 6 Marriott points per dollar on food)!!! By the way, see how $765 compares to 18 hotel nights? That's why hotel and airline rewards are so much more lucrative than simpler travel credits if you want to maximize your free travel.
My Cobalt Card is how I earn most of my Marriott points. Pro tip: I buy all the types of gift cards my grocery store sells, so I earn 6X points on everything, not just on groceries!
Free credit for those who don't spend as much
You don't spend $500 per month but still want to earn more points on groceries?
The Scotiabank Gold Card also offers 5X points on groceries, without the need to spend as much every single month (albeit with a smaller welcome bonus).
You'll get a credit worth ≈ $230 if you reach the minimum spend of $1,000 in the first 3 months, and then you'll be maximizing your grocery purchases. Once you start traveling again, it's one of the rare cards with good travel insurance for those who earn under $60,000 annually, and it's one of the rare cards without the 2.5% foreign transaction fee that cards from all other major banks charge.
Free AIR MILES rewards
You want to earn AIR MILES?
Like any reward program, it's by using it for travel that you'll maximize the value of your points, and by far (as Dream Rewards, not Cash Rewards). But even if you use them as Cash Rewards, the AIR MILES Platinum Card mentioned above gives you a welcome bonus of 2,000 AIR MILES, which is ≈ $210 in cash. It has the same $120 fee and $1,500 minimum spend in 3 months.
So that's still ≈ $90 in free miles, which is not as valuable as one-and-a-half roundtrip flights, but could still be useful in our current situation.
Free cashback for other spending categories
You spend a lot in other categories than groceries or want cashback?
We usually don't recommend no-annual fee cards: no annual fee means no welcome bonus, and it's generally a very bad idea to get a card that gives you $0 upfront when so many cards give you hundreds.
And we usually don't recommend cashback cards: cashback is infinitely less rewarding than travel rewards points.
But given the current situation, for many who have lost income, cashback could be useful. The Tangerine World Mastercard gives you 2% cashback on 2 categories of your choice, all year. Or the SimplyCash Card gives you 2.5% cashback on all purchases, no matter the expense category. But that is a promo for the first 3 months, up to $150 cashback (and then it's 1.25% cashback on all categories).
But an even better option has an annual fee, but it is waived the first year: the Scotia Momentum Visa Infinite. Unlike the others on this list, it requires $60,000 in annual income. But it offers a 10% cashback promo for the first 3 months, up to $2,000 in purchases, which is $200.
Finally, if you have a small business (any side income qualifies you) and spend a lot, the Business Edge Card gives you a $350 credit if you spend $5,000 in the first 3 months, for a $99 fee.
Be the first to get all our travel reward points content to earn free travel
Share this post to help us help more people travel more for less: