On March 24, two days before a state of emergency was declared in Thailand, I took one of the last regular flights offered by Air Canada back to the country. Here is the experience of my return from Bangkok to Montreal and the different measures we encountered to deal with the coronavirus.
As you may already know, about a year and a half ago, I sold everything to travel full-time and I had no scheduled return date. My girlfriend and I were in Bangkok, Thailand when the crisis was classified as a pandemic by the WHO.
After going through 6 (combined) food poisonings, experienced a terrorist attack in Sri Lanka, almost being attacked at knifepoint in South Africa, and living in Australia during the wildfires, it's finally a world pandemic that will have got the better of this trip… for now!
After Thailand, we were supposed to go to a remote part of Hawaii for a month of free accommodation to pet sit a dog and 2 cats (more information in a future article on Trustedhousesitters) and we were still hoping to get there up until last week. However, with the closure of Malaysia (our stopover en route to Hawaii) and Hawaii to foreigners, it quickly became impossible.
We then changed our plans to stay in Bangkok in our condo in which we were already living in near-isolation for the month. At that time, Thailand had far fewer cases than Canada.
We were closely following the situation that was evolving at lightning speed. With the borders of the surrounding countries closing and the uncertainty over the reaction of a foreign government, we finally decided to return to Canada at the risk of exposing ourselves to the virus during our 3 return flights.
We bought a one-way flight for $660 per person on March 24 (ouch; more then some of the good roundtrip deals we usually spot). By the next day, the price had already increased to $1,700… We were glad we had chosen March 24th because a few days later, Thailand declared a state of emergency taking effect on March 26 and Air Canada announced they were stopping their transpacific link (Tokyo – Toronto) starting March 29:

Here's how the return went.
Bangkok
When we arrived in Bangkok at the beginning of March, they already had implemented additional passenger screening measures. Each person's temperature was taken twice at DMK Airport. Several other tourist spots also had similar measures.
The last apartment we rented through AirBnB also had these kinds of measures; a security guard took everyone's temperature in addition to providing everyone with hand sanitizer. We also got into the habit of wearing a mask when we went out, as is encouraged there.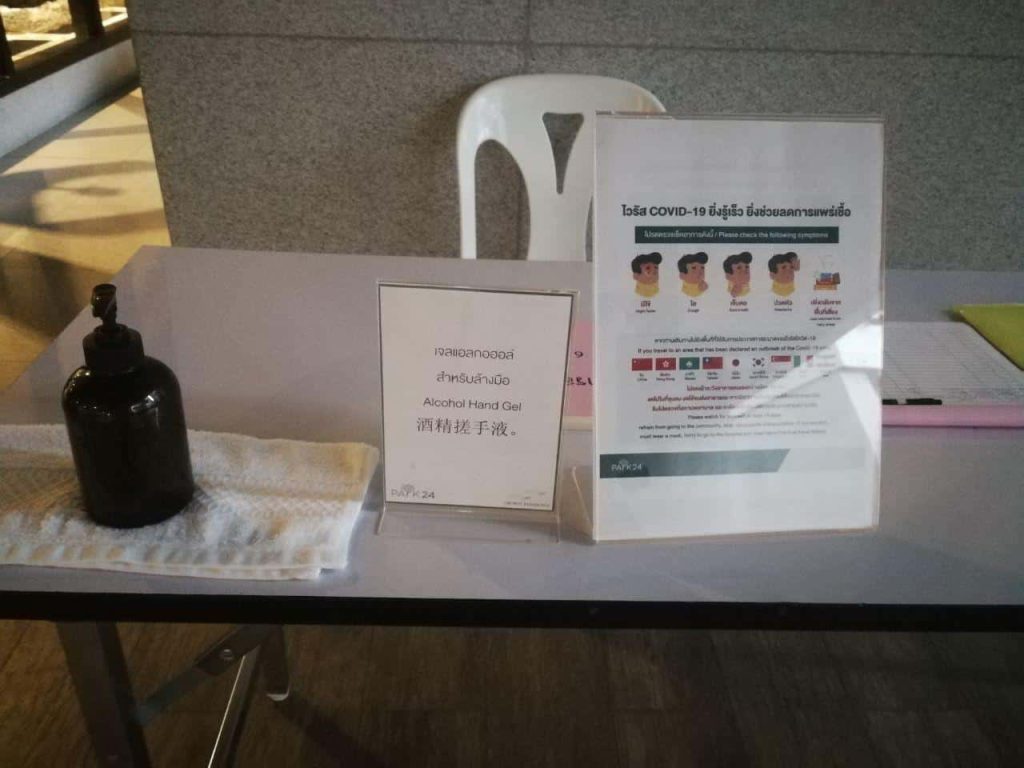 When we left, all restaurants, shops and non-essential services were closed. Bangkok's streets were almost empty, while the city is normally very busy.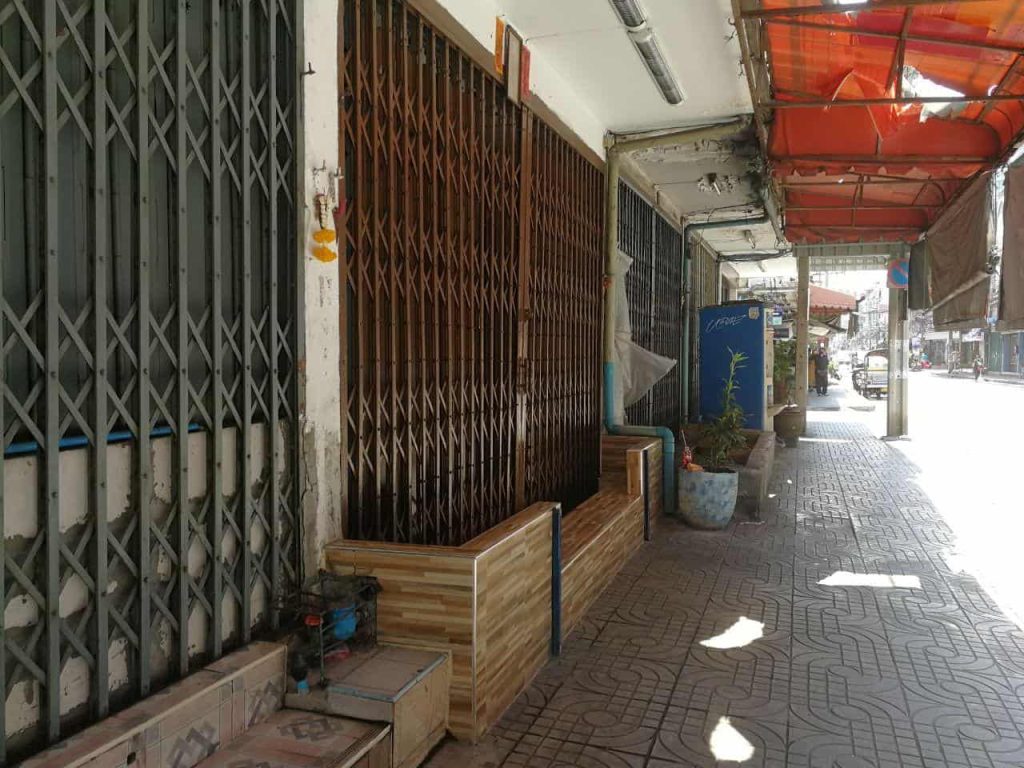 March 24th: Leaving For Montreal
Each person's temperature was also taken at each entrance of Suvarnabhumi Airport (BKK) in Bangkok.
Unfortunately, temperature checks are not the optimal solution for controlling cases. This technique will identify cases with fever, but not asymptomatic people who could still be contagious. Temperature checks can therefore give a false sense of security and control by identifying only the worst cases, but of course, it's already better than nothing.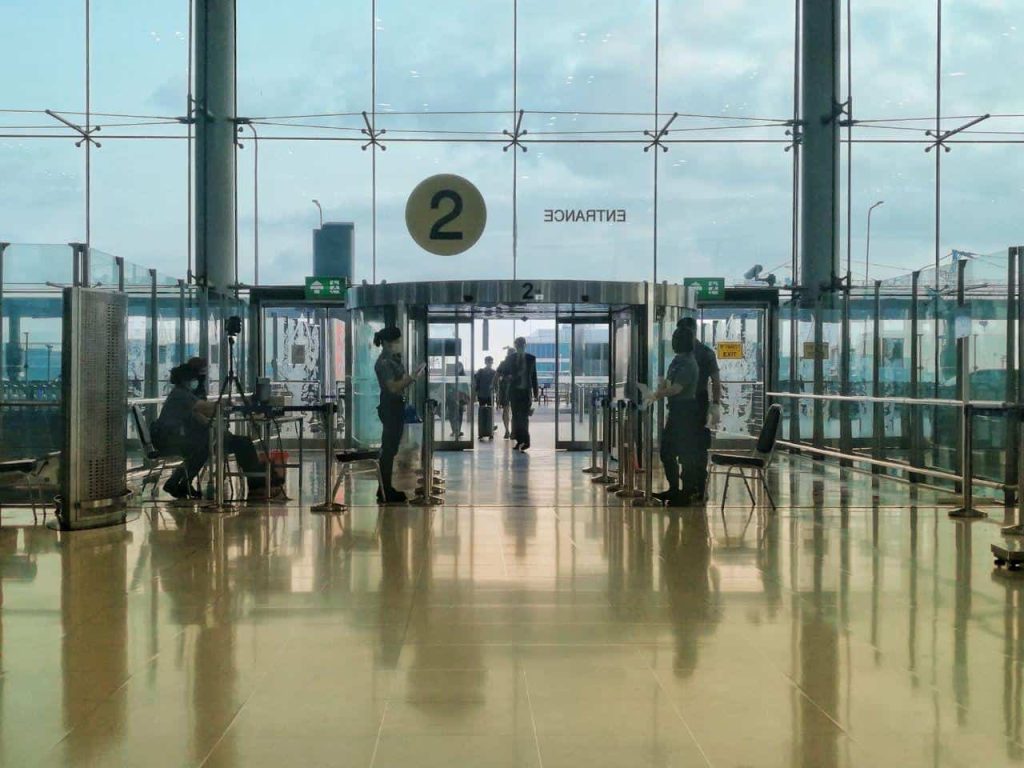 Bangkok – Tokyo Flight: All Nippon Airways (6hrs)
The airport was quiet. Several flights were canceled.
Our first flight to Tokyo, Japan was with ANA (All Nippon Airways). It's a Japanese airline. I loved my flight with them; one of the best service I have ever got, and the meals were very good, as far as airplane food goes. The flight attendants all wore gloves and masks and the majority of the passengers also wore masks (like most people in Asia).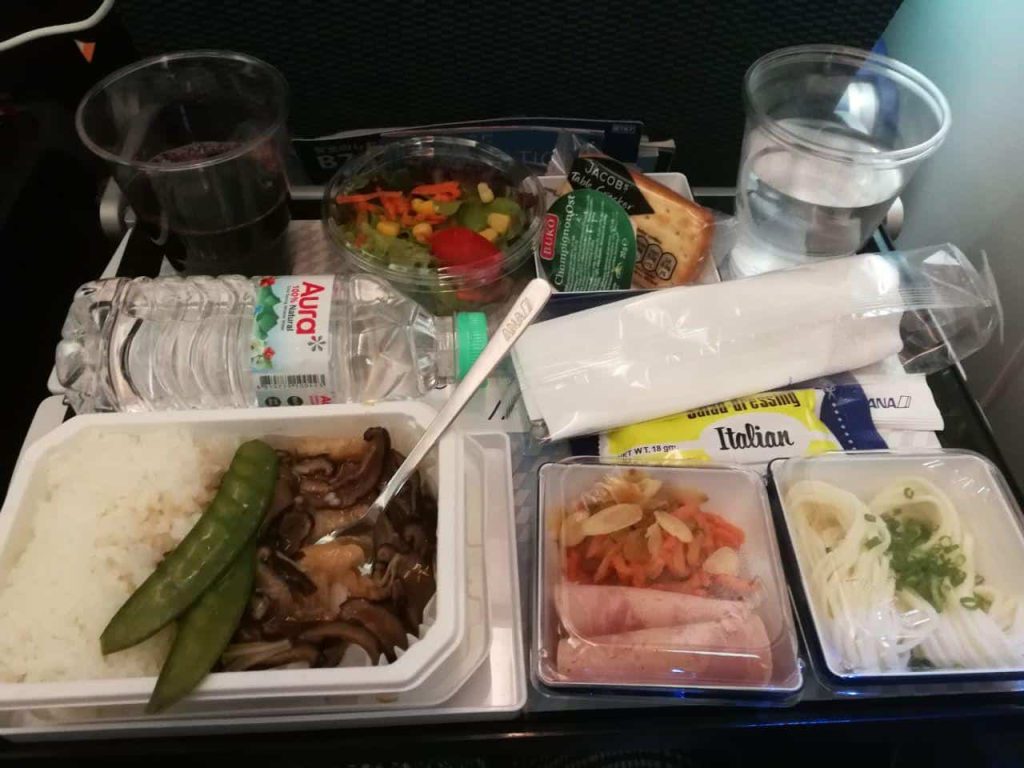 Tokyo – Toronto Flight – Air Canada (12hrs)
Air Canada has taken several steps to combat the virus:
If someone had symptoms, they would be denied boarding. Each passenger was asked if they had one or more of the symptoms listed on a sheet at boarding. No further proof or verification was done. They relied on the good faith of travelers who all want to return home as quickly as possible… (and who therefore want to board the plane anyway)
Usual meals were replaced by prepackaged sandwiches to limit contact between flight attendants and passengers
No coffee, tea, and alcohol service, again to limit contact between flight attendants and passengers (only bottled water)
Not all flight attendants wore masks or gloves
Arrival In Toronto
There were a few measures in place in Toronto. To protect the employees, the airport had put up barriers in front of custom booths to keep a distance of one meter between each person.
We were asked if we had symptoms, and we were given 2 documents with instructions concerning the coronavirus explaining that we will have to isolate ourselves for the next 14 days and monitor our health closely.
So ultimately, nothing more than what Flytrippers' other co-founder Andrew was subjected to upon his return to Canada from the United States on the 16th (a week prior).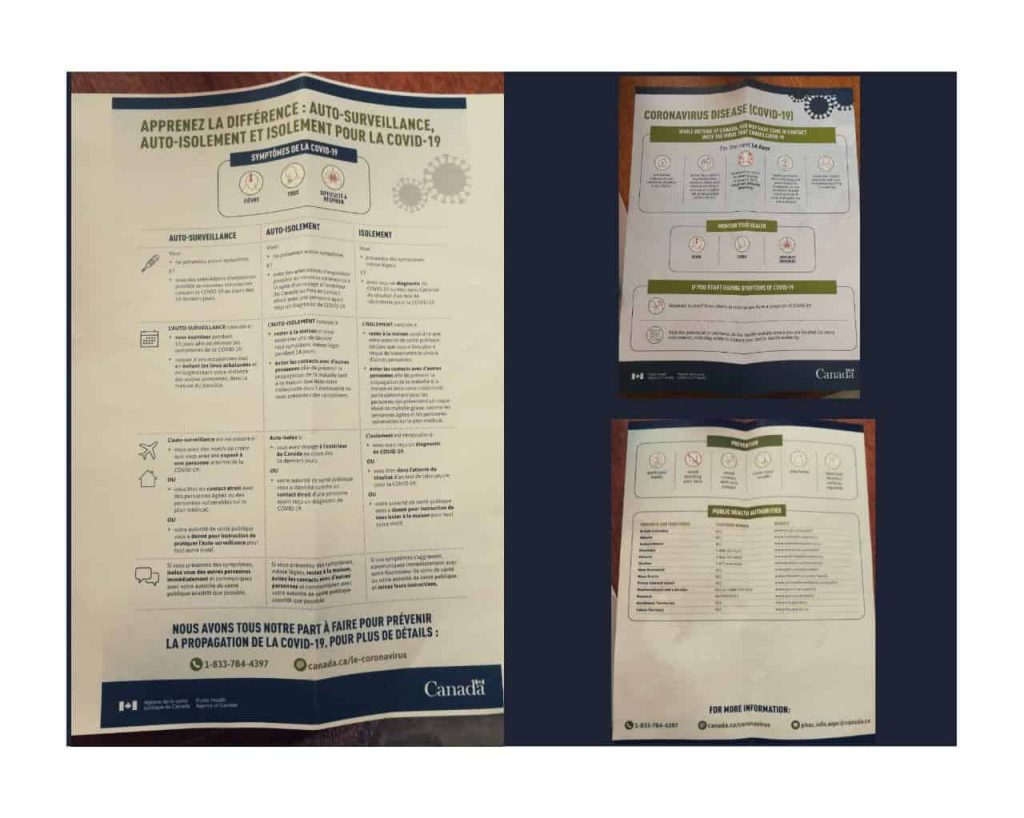 As of Wednesday, March 25 (the day after our arrival), under the Quarantine Act (SC 2005, c. 20), each traveler arriving at one of the 4 predefined airports—Toronto, Montreal, Vancouver, and Calgary—has the obligation to declare any symptom which could lead one to believe that he has a communicable disease.
Failure to comply with this obligation could now result in huge fines and possibly prison sentences. Since a large majority of travelers have already returned it's, in my opinion, a bit late to implement this… it probably should have been done well before.
In addition, Canadians showing symptoms and arriving at one of the 4 airports still accepting international flights (YVR, YYC, YYZ, YUL) will have to do their 14-day isolation in their city of arrival. The Health Minister even said that accommodation and meals would be provided in certain cases.
Arrival In Montreal
When we arrived in Montreal, since it was on a domestic flight from Toronto, there were no special measures against the coronavirus. Several people had even removed their masks and few respected the social distancing measures in the terminal.
For our part, 2 members of my family came to pick us up with 2 cars so that we could come back alone to our accommodation for 14 days and the groceries had already been done so that we did not have to go out at all.
And above all, as you saw on the cover picture, we haven't forgotten to bring toilet paper back to Canada to survive the great shortage! 😉
Want to get all our content for Canadian travelers?
Summary
The entry measures were not very elaborate. For those who are still outside the country and who are trying by all means to return despite the many flight cancellations and border closures, we hope you are safe and that you can come back quickly!
Share this post to help us help more people travel more for less: