You've probably heard about it, Airbnb is revolutionizing the world of travel accommodations. Here's an introduction to what it's all about, how to use it… and a link to get a free $45 credit.
If you plan on taking advantage of one of our great flight deals, you will definitely need accommodations. We've already given you an overview of all your options in this article.
If you like to travel more conventionally, there are always tons of hotel choices, and we have great tools to compare prices here. These tools will find you the best price and have lots of filters to find exactly what you want. And if you use our links to book, it won't cost you a penny more, and it will support us and help us continue to find great deals, so we appreciate it!
We also wrote an article on hostels, which are often the cheapest option when traveling alone.
There's also another option that's been around for over a decade now, Airbnb (pronounced "Air B and B"). If you are interested in trying it, keep on reading to learn all the basics, as well as a link for a free $45 credit if you are a new user (more details on this below).
What is Airbnb?
Airbnb, the world leader in accommodations of the "sharing economy", allows you to find places to stay directly from individuals in thousands of cities around the world.
It allows you to rent apartments (or even entire houses) from people all over the world, almost everywhere in fact. The platform really revolutionized the world of accommodations.
To give you an order of magnitude, the company is already worth more than 30 billion. The Hilton hotel company, which has been around for almost 100 years? 20 billion. And Airbnb doesn't even own any real estate. The important thing to know is that it's big, and you can trust them.
ALSO READ: Best Free Travel Apps
A fun fact for those of you curious about the name origin, it comes from the abbreviation for Bed and Breakfast, or B&B. The founder wanted to replicate that with an inflatable mattress (Air) in his apartment in San Francisco (a city where housing and accommodations are very expensive).
There are two main options on Airbnb, either to have an entire apartment or house all to yourself (more expensive of course). But the most common is to only rent a room in a house and share the place with its owners, or even other travelers.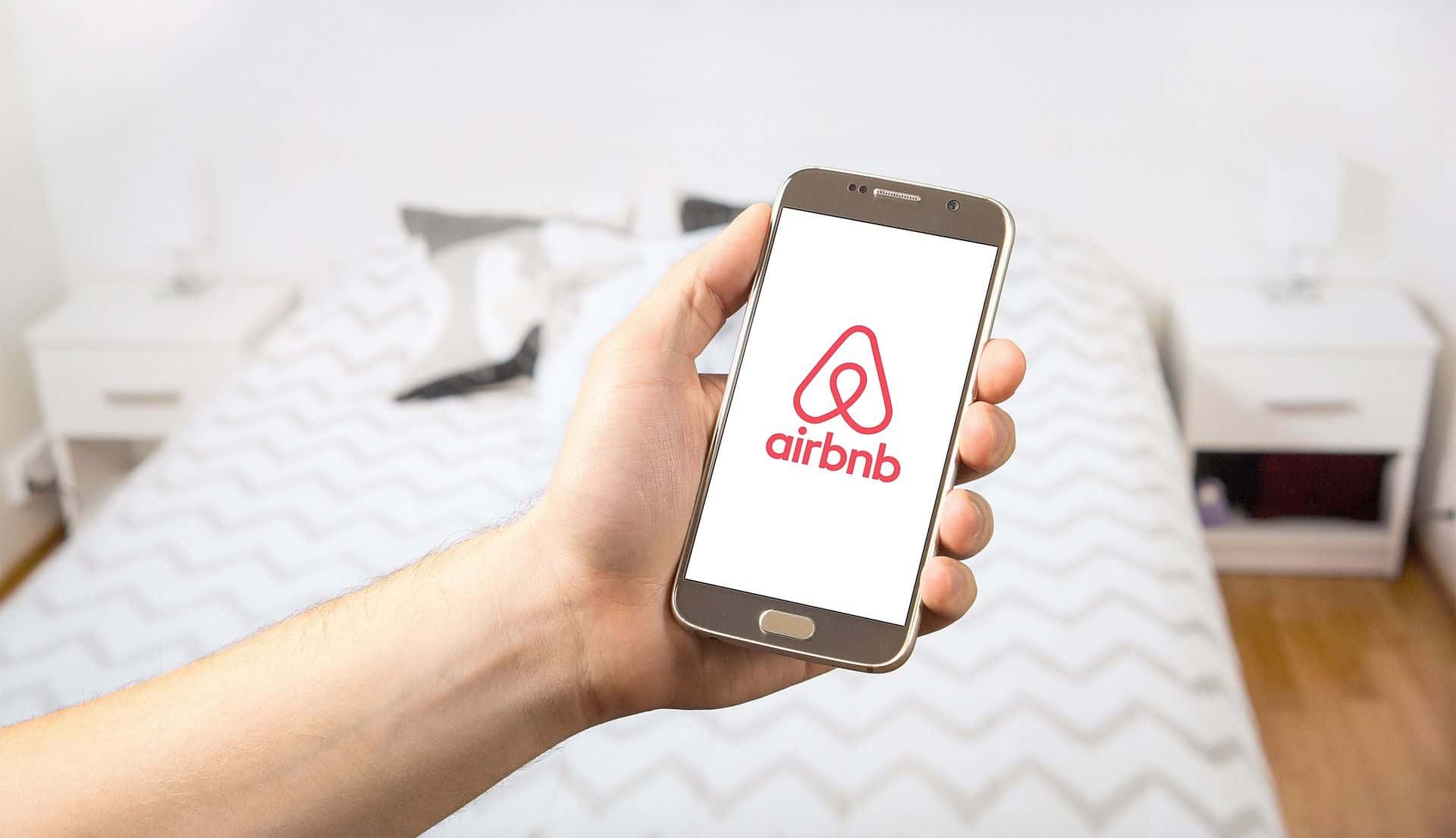 Why Use Airbnb
First, Airbnb isn't necessarily for everyone or at least it's not the best solution for all types of travel. It really depends on your preferences, and what kind of experience you want. We will try to give you some details so that you can make an informed decision, and further on we'll also explain how to use it step by step.
Live As a Local
Many people like Airbnb because it allows you to live a bit more as a local than a tourist. It gives the impression of being a resident of the place, rather than just a visitor. And it's true that it's a different experience and that it can be very pleasant if the place is located in a lively and dynamic part of town.
It's more authentic and usually does a better job of immersing you in the local culture than getting a hotel room. You can also usually use the kitchen instead of eating out at the restaurant (that can help reduce trip costs).
Meet People
Those who want to meet locals are also usually very happy with Airbnb, because if you choose a room in someone's home, it's usually easy to make a new friend.
The host will often be happy to welcome you, to tell you about the best things to do in his city, etc. It allows you to get to know the place you visit even more authentically and to meet someone who really lives there.
Save Money (sometimes)
Many people also use it to save money. Except that, as most things in the world of travel: it's not true that it's always cheaper. It's like plane tickets and rental cars (and actually everything about travel), the price will vary depending on your dates and especially where you go.
ALSO READ: The 13 Best Money Saving Travel Tips
As a general rule, Europe is usually where the savings are really noticeable compared to hotels. Hotels are extremely expensive in Western Europe, so Airbnb really becomes an interesting option. I've been able to enjoy them on my last trip to Barcelona and we also did in the Canary Islands last December.
On the other hand, in North America, it really depends. On a trip last summer, Andrew compared Airbnb and hotels and, in New Orleans the hotels were very beautiful, very well located, and cheaper … a few days later, when he rented a car to go only two hours away on a roadtrip on the Gulf Coast, there it was really cheaper to go with Airbnb than with hotels. So, it's up to you to compare, as always, taking the time to do some research could save you a lot.
In Asia, it's also very cheap … but hotels too, so again, every situation is different. Always compare.
Also, if you are in a group, renting an apartment or a complete house on Airbnb is often cheaper (and very enjoyable as an experience).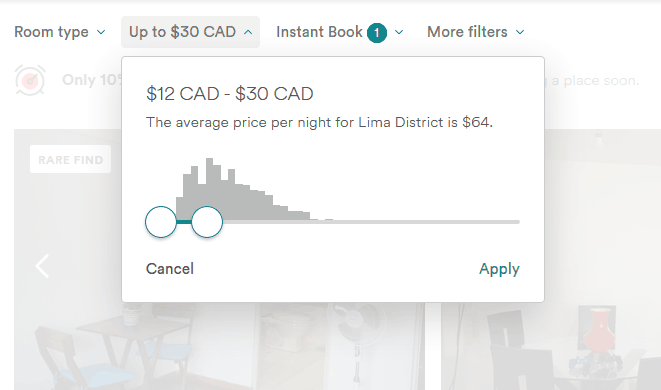 Finally, the longer you stay, the more Airbnb is usually worth it, as they always charge an additional fixed fee for cleaning (which is clearly stated) to the final price, which is the same regardless of the number of nights.
So, the more nights you book to spread out this fee, the greater the savings compared to hotels. In addition, some hosts choose to give discounts for weekly or even monthly rentals (also clearly stated).
How It Works
It's basically very similar to any hotel search tool. You put in your destination, your criteria, and that's it! The website (or application) will show you all the available options.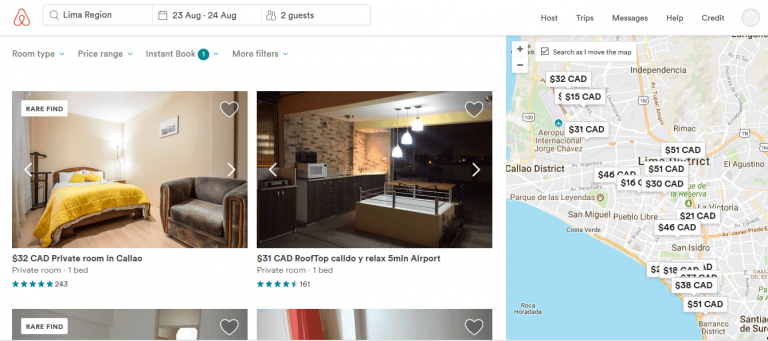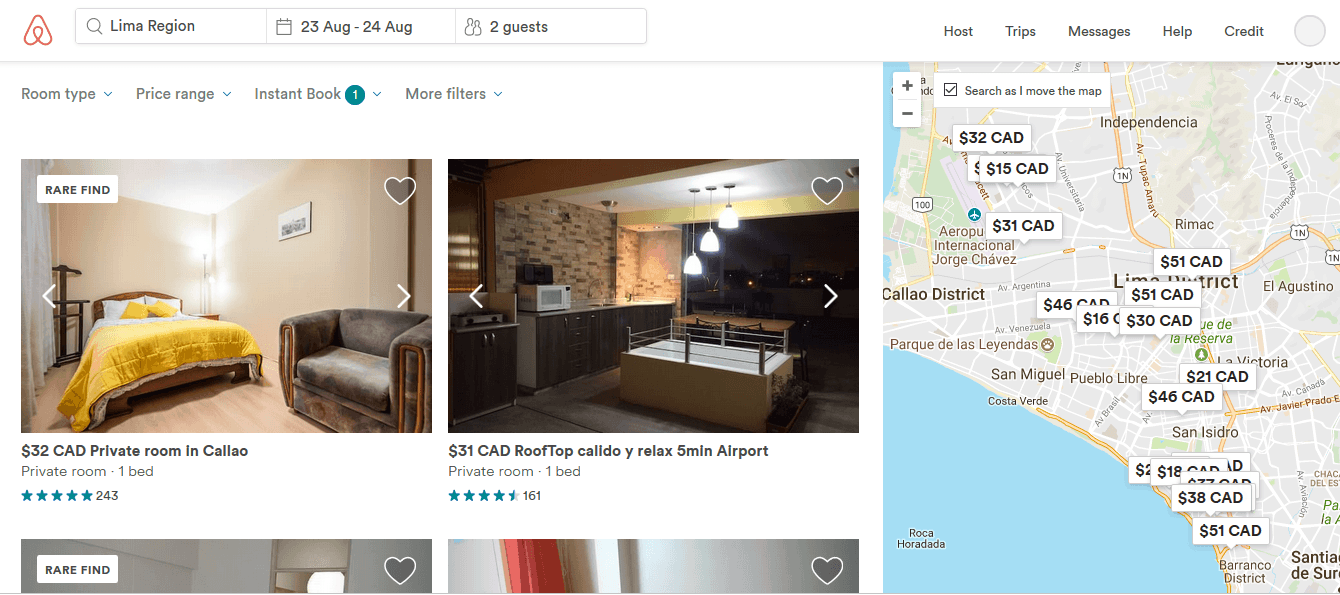 You have the option to use the list on the left and also a map, which is convenient to ensure you find yourself in an interesting area.
Be careful, because unlike hotels (which are, the vast majority of the time, located in neighborhoods with at least a minimum of attractions and services), when you rent an apartment, it can literally be in the middle of a residential area with absolutely nothing around.
Other things that you need to know: make sure to select "entire home" in the filter if you want a place to yourself, because the majority are "private rooms" in a shared house, as mentioned above. There are plenty of filters available on the search tool to get what you are looking for and not be disappointed.
Also, unlike hotels where you can search for one person even if there are two of you and it doesn't really matter, on Airbnb there are often restrictions or even sometimes charges for an additional guest, so clearly indicate the right number from the start.
There is also an "Instant Book" filter that I recommend you remove, unless you're looking for last-minute options. This option limits what you see to those that are instantly bookable. Remove it and you will see more options, but it might be longer before you have a confirmation because the host will have to approve manually (which is not the case with the places in "Instant Book", for those it's instantaneous like a hotel).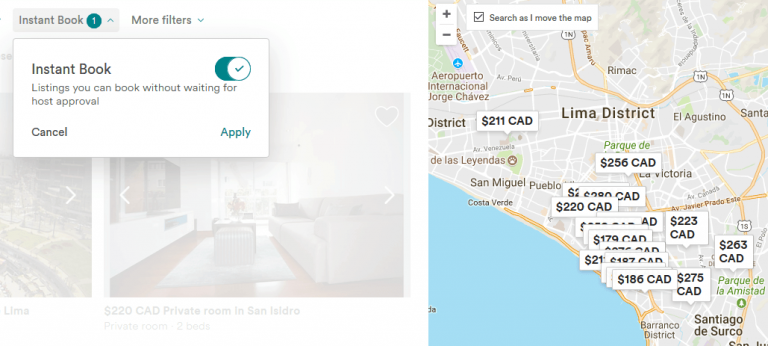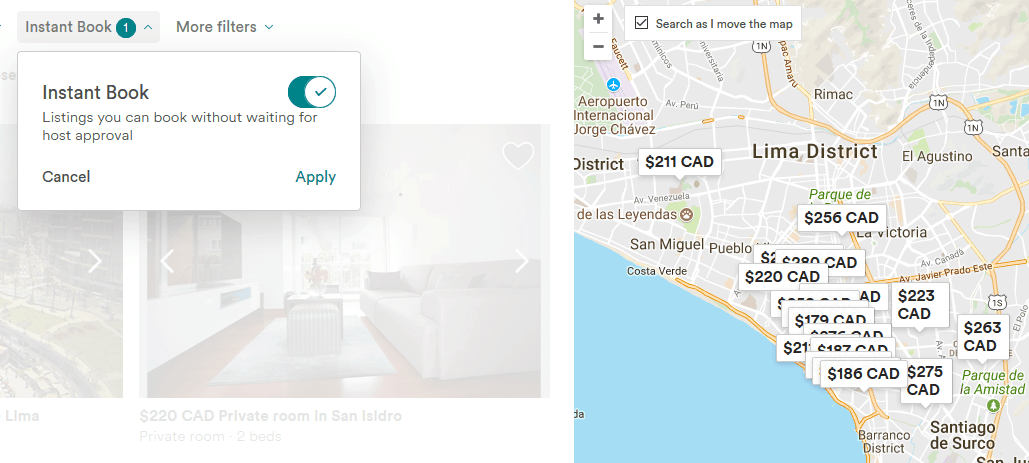 Once you get to the page of your selected accommodation, you will have all the detailed information about it: what is included, what is allowed, arrival and departure time, etc. Read it because it obviously varies enormously from one place to another, by the very nature of this platform.
Also, each home has been reviewed by real users, which helps you know what to expect. Look at the rating given to specific room/home and the host's rating and read the reviews to finalize your choice. Moreover, at the end of your stay, you will be invited to make comments too (do it!) and the host will also evaluate you as a guest so that the next hosts know you a bit more.
Finally, just like hotels, booking at the last minute can be risky because prices can increase significantly if there is a major event or higher demand that reduces the supply of rooms available.
As for the on-site experience, we'll keep this for another article, because Andrew and I each have our own Airbnb experiences to help you know what to expect. Until then, these tips will allow you to book with peace of mind, especially with this little gift…
Finally, Get $45 for Free
If you are not yet a user, Flytrippers offers you a free $45 travel credit if you sign up for Airbnb. Registration is free, you never pay anything other than the nights you book, so it's risk-free. There are no monthly fees or any registration fees.
And while we are talking about the sharing economy, if you also want to use the on-demand ride-sharing services during your trip, we have special codes to give you free rides aboard Uber or Lyft.
Bottom Line
Airbnb is an entirely different experience compared to hotels. It's not for everyone, or for all types of trips, but it's worth trying: it's the best way to know if you like it or not. Especially with our gift of a free $45 credit, that surely helps!
What was YOUR experience with Airbnb? Tell us in the comments below!
Help us spread the word about our flight deals and travel tips by sharing this article and most importantly bookmark Flytrippers so we can help you navigate the world of low-cost travel!
Advertiser Disclosure: Flytrippers receives a commission on links featured in this blog post. We appreciate if you use them, especially given it never costs you anything more to do so, and we thank you for supporting the site and making it possible for us to keep finding the best travel deals and content for you. In the interest of transparency, know that we will NEVER recommend a product or service we do not believe in or that we do not use ourselves, as our reputation and credibility is worth far more than any commission. This principle is an essential and non-negotiable part of all our partnerships: we will never give any third-party any control whatsoever on our content. For more information on our advertiser disclosure, click here.
Share this post to help us help more people travel more for less: