Everyone has a lot of questions about finding accommodations and this is a subject we'll talk more about, so we can help you save on all aspects of your trip, not just your flights. Let's start with a very useful booking tool to find lodging options – and how to use it.
As you know, our primary mission is to help you save a lot of money on your flights, thanks to the great prices we spot on our cheap flight deals page.
We find the cheap flights… and we let you book your accommodations because it's so much simpler that way. As you've read in our article about all the accommodation options when traveling, there are so many options, it's impossible not to find something you like.
There are literally thousands of lodging options in every destination. We see a lot of people who are worried about finding accommodation, but there is really no reason to be.
If you found a cheap airline ticket, buy it quickly (because deals always expire very fast), no need to find accommodation right away. Yes, you should always look at the accommodation options before, to get an idea of the prices in that city, because the price of accommodation varies enormously from one destination to another. A standard hostel can be $5 per night in some areas and $50 per night in others. A standard hotel can be $50 per night in some areas and $150 per night in others.
But you do not need to book the hotel right away, hotel prices don't really change, unless you're at the very last minute or traveling in the peakest of peak periods. You should never book accommodation first (to have flexibility on you flight dates) and you can even wait for quite a while without any problem.
Anyway, I'm getting off-topic, that's not the subject of the article today, but I wanted to mention this to reassure you since we get a lot of comments about that.
For now, let's go back to our favorite hotel search tool. There are also other options in terms of search tools, we'll cover them next in this new series of articles on hotels (including a new one that we'll add to our resources page). Be sure to subscribe to our free newsletter to never miss a tip.
Our Hotel Tool
We actually offer you several booking tools for accommodation (just as we offer flight booking tools for when you need to fly somewhere that isn't in our deals). We really appreciate when you use our page for all your hotel reservations, it is at absolutely no cost to you and it gives us a small commission so that we can continue to find you great deals and travel tips.
Thank you very much to everyone who supports us.
So the 1st tool is the Booking.com tool, the most useful one because it has a lot of variety and many interesting filters to find exactly what you are looking for and especially… the best prices.
Many of their hotels are often refundable at no charge if you change your mind too.
So click here and go down to the 1st tool (Booking.com) to access the tool to get starte (and save our tools page in your bookmarks).
How It Works
You obviously start by entering your destination and your dates to launch a search.

Then you get to the main screen which looks like this.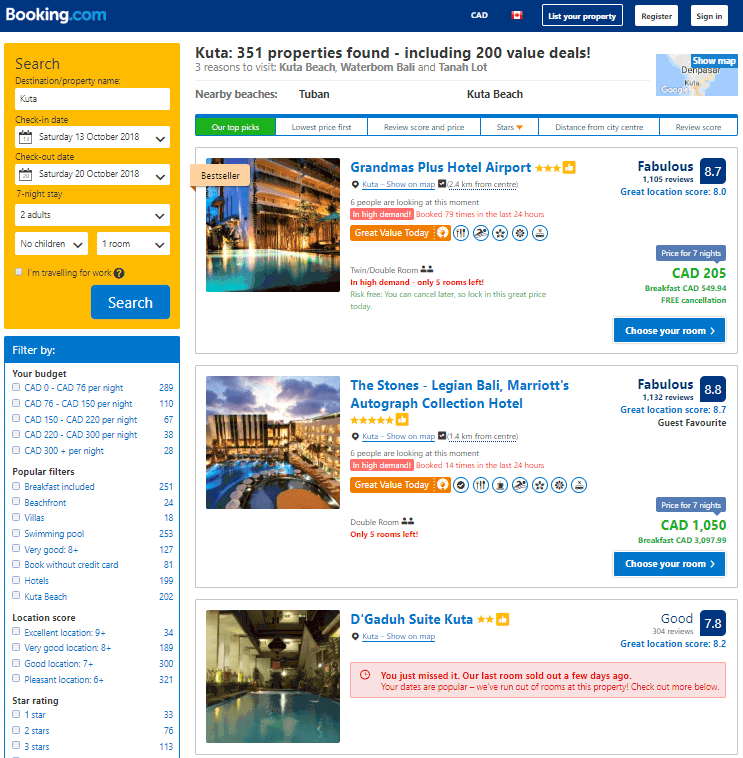 Above the hotel options, you will notice "our top picks" in green. After I apply my desired filters, I always put the sorting option by price instead of an arbitrary order (the second option).
Notice at the top right there is a "show map" option, which is also very useful, but not before you have applied a few filters, because otherwise the map will be way too crowded. And below that, hotel results are listed.

This is a close-up of the top section, where you should change to "Lowest price first", but only after setting filters, or else it resets to the default option.
Before looking at the filters, let's take a closer look at the hotel listings, which contain a lot of information. There are some irrelevant things in my opinion, so I added 6 orange numbers for the 6 important things to look at.

the name of the hotel, obviously
the name of the town or district, and the map to locate the hotel
the type of room and bed, very important

the cancellation policy or other important benefits (not always there)

the rating given by travelers (and the number of different reviews)
the total price of the stay (not the price per night)
The All-Important Filters
Now, let's use the filters. You need to understand that the default order is never useful. These are their recommendations, don't trust them, only trust yourself: tell them which criteria are important to you. The main filter options are on the left.
First, be sure to indicate the correct number of people on the left. For a hotel room, it doesn't really matter if you write one or two, but for a hostel, it changes everything.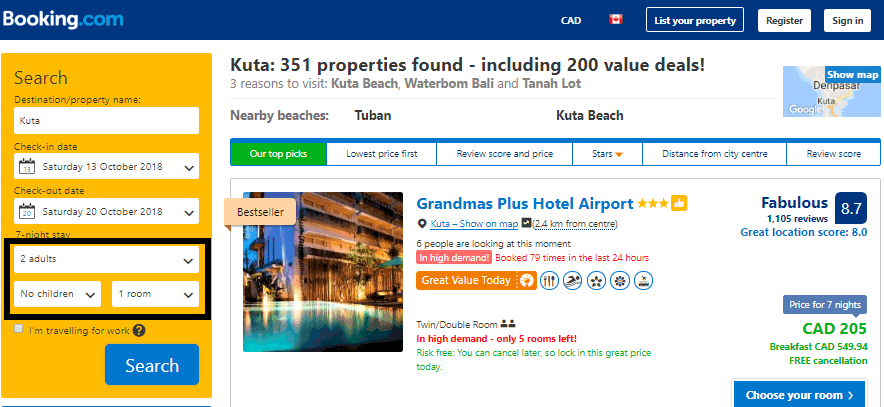 Now the filters. It's a bit of a shame, the most important ones are at the bottom of the page, the layout could be improved in that area, but this is how it is. So here are the most important ones to look at.
You can start with your budget, you can certainly set a limit by checking the first two or three boxes but it is not even necessary if you do what I said earlier, which is to always sort the results by the lowest price as I like to do.
That's because I'm not interested in the most expensive options, but it's up to you. The second section is redundant, ignore it too because those are just filters that appear later in their respective sections.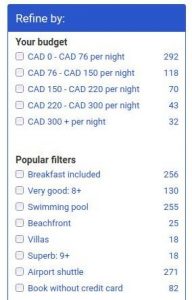 Then you have the location ratings and the star ratings. Personally, I never touch these filters because I prefer to see the cheaper options and then get an idea of their quality with the photos and user ratings and then see the location for myself. Again, I trust myself more than I trust them and I prefer to choose.
But it's probably good to eliminate the ratings of 1 star, although star ratings are overrated. They are kind of arbitrary and the real rating that matters is the score actual guests give to the hotel.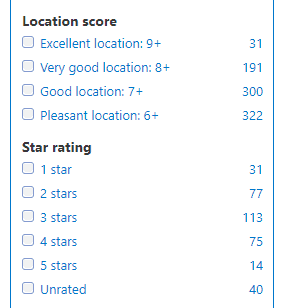 Then, there's a mostly useless section, and next if your dates are set in stone, check to see only the options available for your dates. Finally, a very important section: to filter property types, i.e. exclude hostels or guest houses if you want to do so.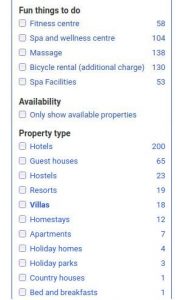 Then, two sections that are more or less relevant. And finally, for those who don't want to prepay or enter credit card info, you add that filter, but know that it significantly reduces your options.
Then there is the option for the beach access (which also drastically limits your choices, it's better for your wallet to walk a little bit) and finally the meals option, mainly to find out if breakfast is included or if there is a kitchen.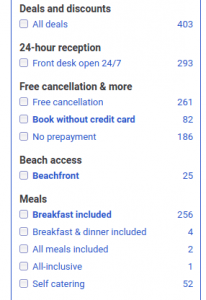 Finally, here is the most useful section, the one where you choose the type of accommodation desired. There are villas, regular hotels, hostels, guest houses and B&Bs that are often hostels, etc. Finally, the type of bed, useful if you really want a specific size.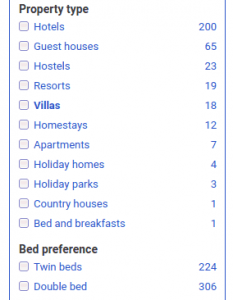 Then you still have additional filters that I personally never use, except maybe the airport shuttle one when I look for an airport hotel abroad.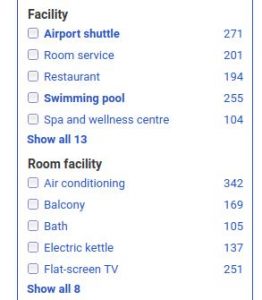 And finally, the other useful section, sorting by specific city or neighborhood. Useful if you want a specific location.
Bottom Line
Now you're ready to save on accommodations and find lots of options with this tool!
What do you think? Tell us in the comments below!
Help us spread the word about our flight deals and travel tips by sharing this article and most importantly bookmark Flytrippers so we can help you navigate the world of low-cost travel!
Advertiser Disclosure: Flytrippers receives a commission on links featured in this blog post. We appreciate if you use them, especially given it never costs you anything more to do so, and we thank you for supporting the site and making it possible for us to keep finding the best travel deals and content for you. In the interest of transparency, know that we will NEVER recommend a product or service we do not believe in or that we do not use ourselves, as our reputation and credibility is worth far more than any commission. This principle is an essential and non-negotiable part of all our partnerships: we will never give any third-party any control whatsoever on our content. For more information on our advertiser disclosure, click here.
Posted May 13th 2018, updated June 1st 2019
Share this post to help us help more people travel more for less: