At Flytrippers, we are cheap flights specialists, but once you get to your destination, unless you're going to visit friends or relatives, you'll need a place to stay too! Luckily, we've gathered all your best options right here in this post.
You've bought one of our amazing flight deals, and you're starting to plan the rest of your trip. One of the first things to think about is obviously a place to sleep.
And since you've paid so little for your flight, it wouldn't make much sense to spend twice as much on accommodation each night, right? Or maybe that's exactly the reason you didn't want to pay too much for your flight, to be able to splurge on luxurious villas once you are at your destination.
Regardless of your travel choices, here are the options that you'll most likely have.
1- Hostels
This will usually be your cheapest options pretty much anywhere in the world, and one of my personal favorites. I've stayed in hostels for the past months now traveling through Colombia and Ecuador. I've paid as little as $5USD/night for a bed in a 6-bed dorm room (that's $150/month if you still think travel is expensive, compare that to rent where you live). This is often the best option in Europe and Asia as well,  Some hostels also offer private rooms which can also be very cheap and even cheaper depending on how many people you can fit in.
For a more complete description of hostels, read this post: Why Hostels are the Best – 5 Reasons Why I LOVE Hostels. Hostels are also the best option to meet travelers from around the world. Here are the main points:
Great place to meet fellow travelers
Usually the cheapest option
You can cook your own food as there is usually a kitchen
Some hostels are party hostels, be sure you know what you are booking by reading the reviews
The best site to book your hostel is Hostelworld, as they have the largest selection and the best prices.

2- Airbnb
Airbnb is also a great way to travel. I've used it a lot, mostly in Europe and at a couple of places in the US. It is the best way to meet locals as you are literally living in their house. But you can also rent an entire place, which means you get the privacy and comfort of a full home or apartment on your trip. You can really get all kind of experience with this, but usually, the reviews found on the website are pretty accurate and will give you a great idea of what you'll get with a specific host.
Don't miss our detailed article about Airbnb this week. In summary:
Great site to meet locals
You can also rent complete houses
You can get a really personalized experience
You can get a free $45CAD credit for your first night if you book through this link.
3- Hotels
Probably the most common form of accommodation in the world and the most well-known. Hotels can range from a very basic room to a luxurious 5-star penthouse, but usually include a bed, private bathroom, desk, TV, alarm clock, etc. They're usually officially ranked from 1 to 5 stars, but you can get an even better idea by the rating and reviews given by actual visitors and guests. In summary:
You get a private room
There are many choices
You can find a few of our own detailed hotel reviews right here, with much more to come as we share our travel experiences with you as we go.
Our favorite sites to book hotels at the best price are:

4- Villas
Renting a whole villa for your vacation can be very costly… or it could be almost the same price as a hotel room depending on where you rent it and how many people will fit in! A great option if you're traveling with a group of friends. In Bali for example, you can get a great villa for cheaper than a hotel in the US (under $100USD)! The best site to find those hidden gems is Airbnb!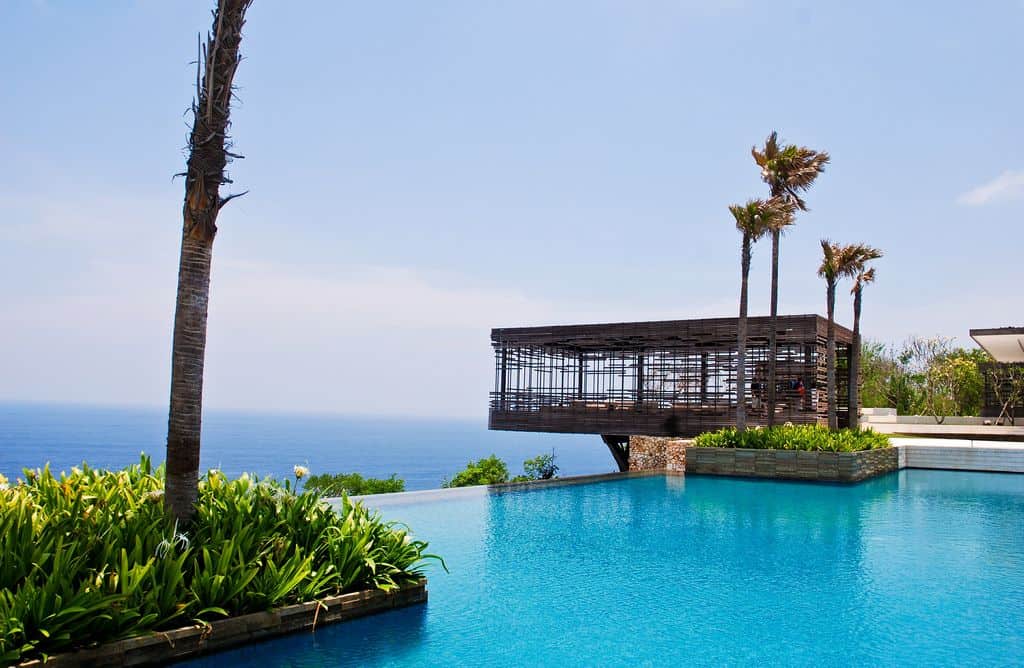 5- House Swaps
This is somewhat unconventional but can be the best solution when you own a home and want to travel to one place for an extended period of time. You swap homes with another homeowner, they take care of your home and you take care of theirs.
We've never tried this ourselves, but we have heard good things about it. More details here.
6- Couchsurfing
I don't know much about this service yet and have never used it personally. From what I heard from many other travelers that I've met on the road, it's kind of like a free Airbnb, so it's perfect to meet local people. The community seems even stronger on this network. It also offers more than a place to stay the night, as you'll find local events organized in order to connect with fellow travelers.
This type of accommodation, obviously does not have the same privacy than a hotel room. In summary, Couchsurfing is:
Great place to meet locals
Great community
7- All-Inclusive Resorts
Another well-known option for many people! The all-inclusive vacation package, as its name says it, includes everything. The flight, hotel, food, drinks, name it! Many people like this type of vacation as usually the packages can be quite cheap and you know what you are getting. There are many resorts that do those types of packages. This isn't really what we'd call traveling, especially if you never set foot out of the resort. But it can be great for a vacation. We'll have more to come about this type of accommodation in the coming weeks.

Bottom Line
There are many choices when it comes to accommodation. The best one for you will depend on your budget and the experience that you want to have. You obviously won't have the same experience in an Airbnb right in the middle of a city center compared to an all-inclusive resort!
And  you, how do you like to travel? What are your favorites way of discovering a new place? Let us know in the comments!
Help us spread the word about our flight deals and travel tips by sharing this article and most importantly bookmark Flytrippers so we can help you navigate the world of low-cost travel!
Advertiser Disclosure: Flytrippers receives a commission on links featured in this blog post. We appreciate if you use them, especially given it never costs you anything more to do so, and we thank you for supporting the site and making it possible for us to keep finding the best travel deals and content for you. In the interest of transparency, know that we will NEVER recommend a product or service we do not believe in or that we do not use ourselves, as our reputation and credibility is worth far more than any commission. This principle is an essential and non-negotiable part of all our partnerships: we will never give any third-party any control whatsoever on our content. For more information on our advertiser disclosure, click here.
Share this post to help us help more people travel more for less: