Traveling with a backpack (and traveling light) is the best way to travel, as it gives you the freedom to explore without being weighed down by heavy cumbersome luggage. But if you don't want to try it (or even if you just want to take a break from your backpack), there is a new website for affordable luggage storage all over the world: Stasher.

If you buy one of the great low-priced tickets on Flytrippers' cheap flight deals, there are a few situations where you might need to stash your bag or luggage somewhere.
And it seems like many people are surprised to find out that many airports have gotten rid of their luggage storage facilities (for security reasons). Train stations sometimes offer lockers, but like literally everything else in the world of travel, it's so much easier to be able to book something online (and at a lower price) and not deal with the hassle in person (and the hassle of finding information…)

So to make exploring the city easier, we definitely recommend this great service: Stasher is a website where you will easily find places to stow your bag or luggage at a very reasonable price (€6, US$5, C$6, £6).
They have 1,000+ locations in 100+ cities, and we're not the only ones recommending them: their customers give them a score of 4.7 / 5.0 on their website, which is pretty high.

Here's how Stasher works.
When To Use Stasher
First of all, when is luggage storage useful? Here are a couple of examples.
Long Layovers
Most of our deals have regular layovers, but sometimes (rarely) to save hundreds of dollars, your flight will have a long layover. In fact, for the same price, whenever I can choose an 8+ hour layover over a regular one, I always book the long one.
If you love to travel, you should love long layovers, we've already covered that in a detailed article. The definition of travel is to explore new places and that's exactly what long layovers allow you to do, for free (or even for less in fact).
So Stasher can be useful if you have a long layover and don't want to carry your backpack or are traveling with a suitcase.
Early Arrival/Late Departure
If you've just arrived at your destination, but have a few hours to kill until you're able to check-in, you can swing by your hotel or hostel early, and they'll usually store your bag for free. Same thing if you're leaving late, they can also keep it.

But Stasher can be useful if:
your hotel/hostel is not on the way to what you want to visit that day

you are staying in an Airbnb, where you obviously can't go early or leave bags

How Does The Stasher Luggage Storage Work?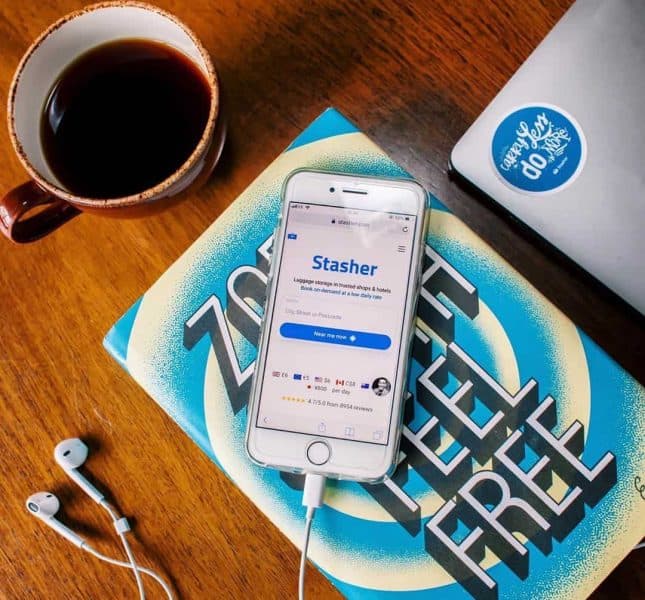 If you want to see a step-by-step guide on how to use Stasher, I've included one with screenshots at the end of this article. But first, let's see an overview.

Stasher partners with trusted hotels and shops in most major cities around the world (and they are regularly adding more cities). They are simply the intermediary, so you can always book a place to store your luggage on the same website for your convenience. You could call it the Airbnb of luggage storage.

The website interface is ridiculously user-friendly. To make a booking, you go on the website and type in your desired location into the search bar. Or you can use the "Near me now" button.
The website will automatically search for StashPoints in that city and organize them in order of proximity. With 1,000+ StashPoints in 100+ cities, you'll have your luggage taken care of in no time.
You have to make the booking online for insurance and security purposes, but the whole process takes only a minute anyway. You can make the booking with your phone since their website is also mobile-friendly. There is no need to book days in advance because bookings are valid as soon as they are made: even at the last minute (the day of), you can use your phone to book a spot while you're on the go (remember to avoid your Canadian cellphone provider's "travel packages" scam and use a local SIM card).

Once the booking is completed, you'll receive a confirmation e-mail, which you'll have to show to the host at your StashPoint along with a picture ID. There is no need to print the confirmation – just show it on your phone (same as with most other online bookings).
Once you make your way to the StashPoint, you'll receive a ticket with a unique number for your bag that you need to present later when you pick them up.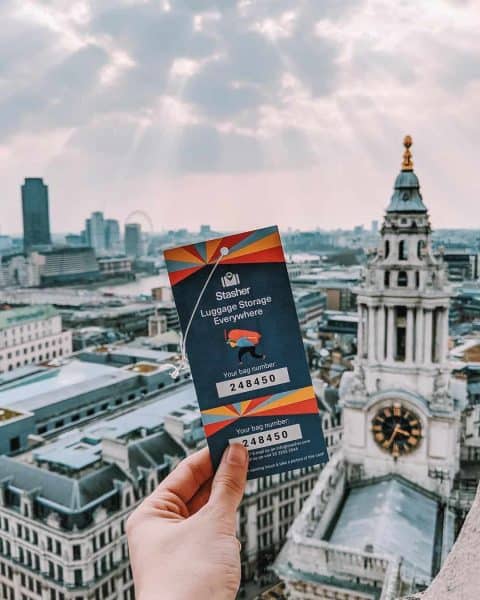 How Much Does Stasher Cost?
With up rates up to 50% cheaper than a conventional luggage locker, Stasher offers not only a straightforward and fast service but all of that at a fantastic price too! They charge per item, and the price is just €6 or US$5, C$6 £6, or A$8 depending on the country where you are storing your luggage. You pay online when booking.

The size of your bag is irrelevant, as they believe in "one price fits all." You can also store other items like sports equipment, bikes, strollers, and special gear. You can even get in touch with Stasher's customer support if you have any specific requirements regarding the nature or the size of your items and they'll make sure to find the perfect solution for you.
Insurance
As you'll see if you take a look at where the StashPoints are located, Stasher partners with reliable businesses that are all vetted and your bags will be safe.
The service includes coverage of up to €1,000 per bag (~C$1,500) for loss, theft, or damage. While each location has a secure storage area, if you have no tolerance for risk do not leave a bag with more than €1,000 worth of items, as in the unlikely event of a claim, you won't be able to get more than that.
That's where our favorite daypack (the must-have item for any traveler) comes in handy, so you can keep your expensive electronics and travel documents on you (of course, in all cases you shouldn't leave your travel documents in your stashed bag).
Changes / Cancellations
The good news is Stasher understands that plans can change. If you're running late, there is no need to worry. You can still drop off your bag within the time frame you paid for or pick it up late within that period, as long as it is within the StashPoint's opening hours (some are open 24/7 and most are open late, but always double-check).
You can even change your booking completely by e-mailing their customer service. And if you change your mind after you've made a booking, you can ask for a refund. Who doesn't like flexible refund policy, eh?
How To Use Stasher
I just booked Stasher for the first time and will be able to update you on how the process is at the StashPoint next month.
As I mentioned before, when we spotted that fantastic deal from Montreal to South Africa for $550 roundtrip (half the normal price), another great perk was the possibility to choose a 13-hour layover in Rome (from 9 AM to 10 PM).
I've never been there, and there are worst things in life than strolling through the streets of Rome for an entire day, right? (you'd think it's torture by reading the comments we often see about long layovers?)
Anyway, I will have my backpack as usual, and as a budget-traveler who wants to keep his money for more travel, not optional little conveniences, I've never paid for bag storage and usually just carry it (that's the whole point of the backpack).
But to be a good travel expert, I love to test everything I can and know what I'm talking about, so I've booked storage with Stasher for that trip, and even though €6 isn't much, it's still more than one night of accommodation in Bali.
So here's the straightforward way to do it:
1. Go on their website
Link to Stasher (we'd love if you bookmark this referral link instead of going direct, it's at no cost to you and helps support Flytrippers)

2. Enter your desired city
In my case, it's Rome.

3. Choose your StashPoint
In my case, I will of course avoid one of the worst travel scams (airport taxis) and reach Rome by public transit, which according to WikiTravel, means I can arrive near the Termini station, so I'll pick something close.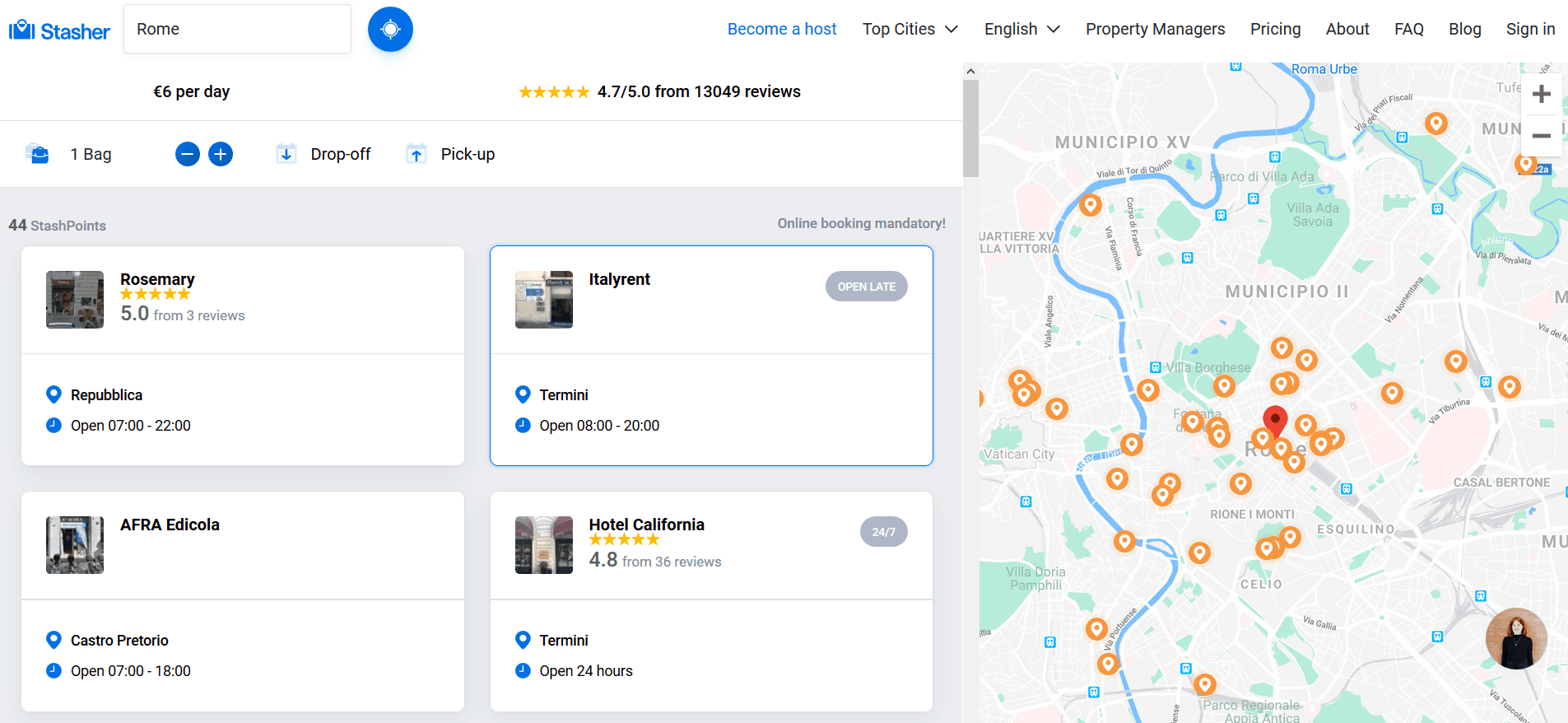 4. Choose a StashPoint
This one has many reviews and is in a hotel, so it's open 24 hours a day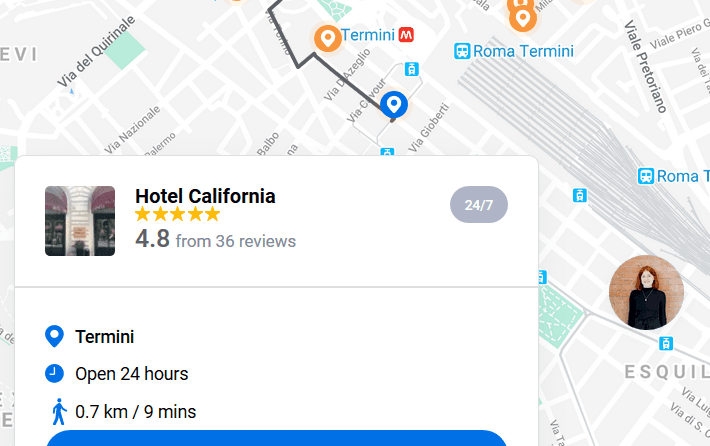 5. Enter your date and time

Again, it only needs to be approximate, they're flexible, but you enter your estimated arrival/departure on the right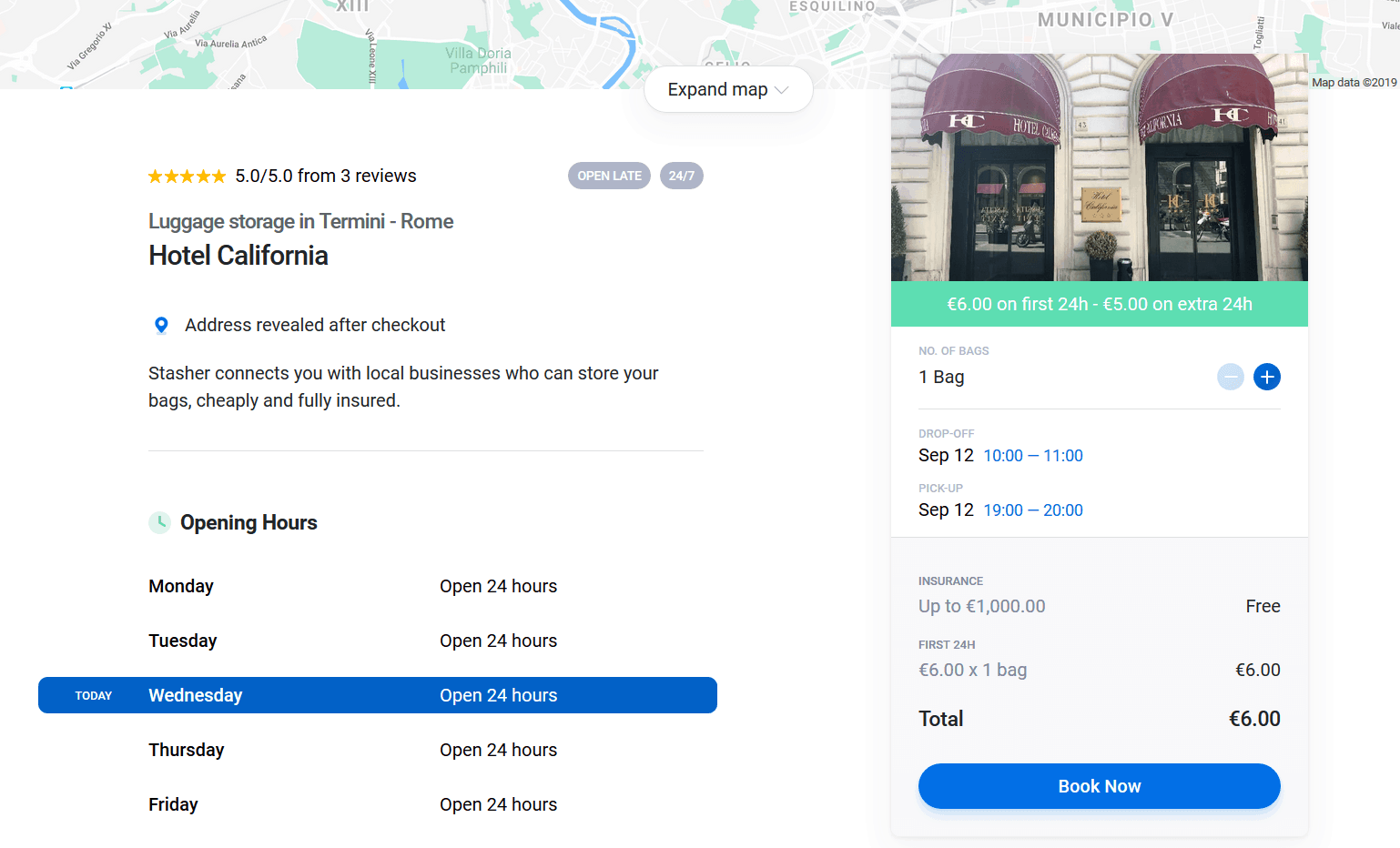 6. Complete payment
Did you know that almost every Canadian credit card bills you an extra 2.5% surcharge on absolutely everything you purchase in a foreign currency?
It's an often overlooked charge, but it can add up quickly if you spend a lot in currencies other than the Canadian dollar, so sign up to our new special travel hacking newsletter for free to know how it works and be among the first to get our tips to save money when our revamped section is relaunched.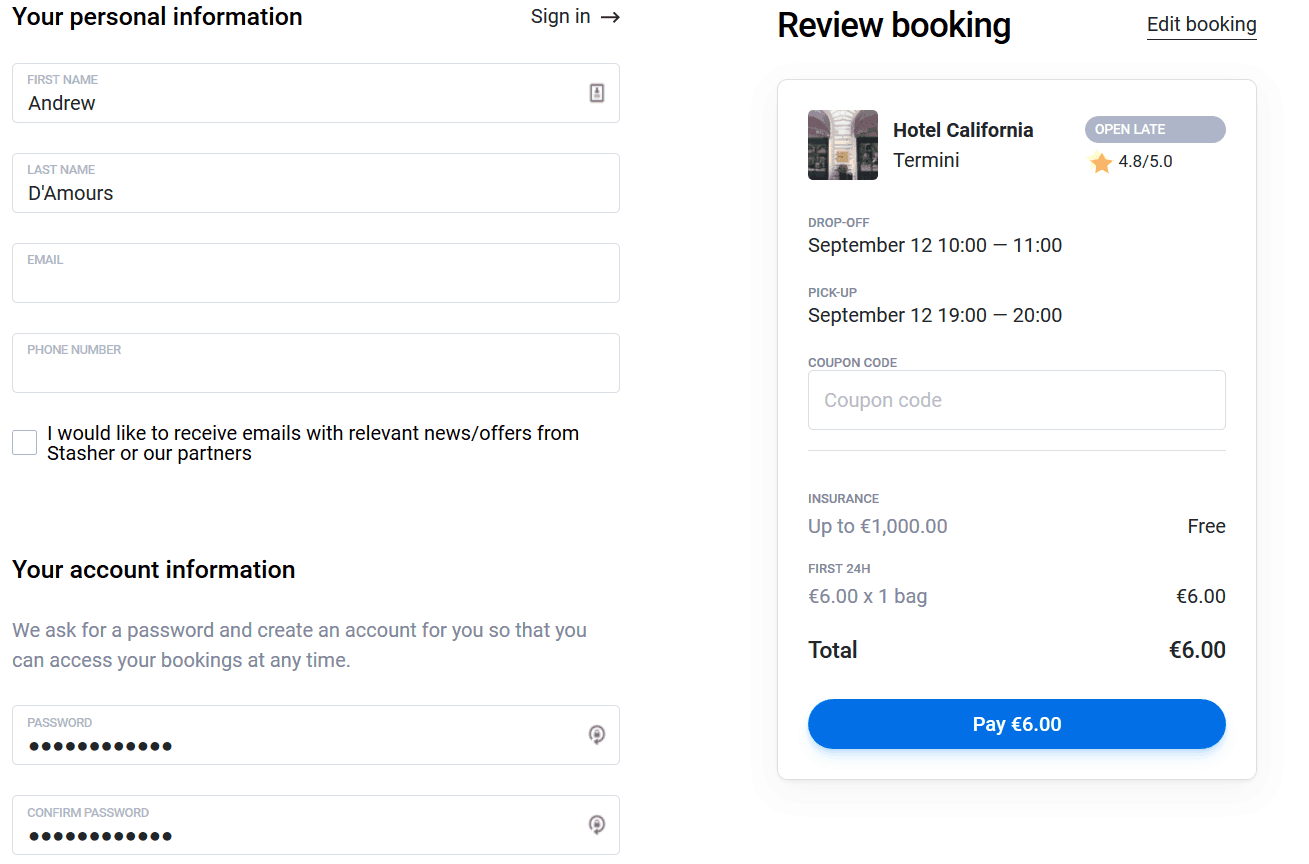 7. Get a confirmation email
I got the email instantly, and it includes the StashPoint's exact address and this is all you need to show on location (don't print it out, it's useless), along with your photo ID.
Won't have access to data on your phone? No problem, just save the city's map offline on Google Maps to get around and screenshot the confirmation email with the booking ID in your phone's pictures, that's it.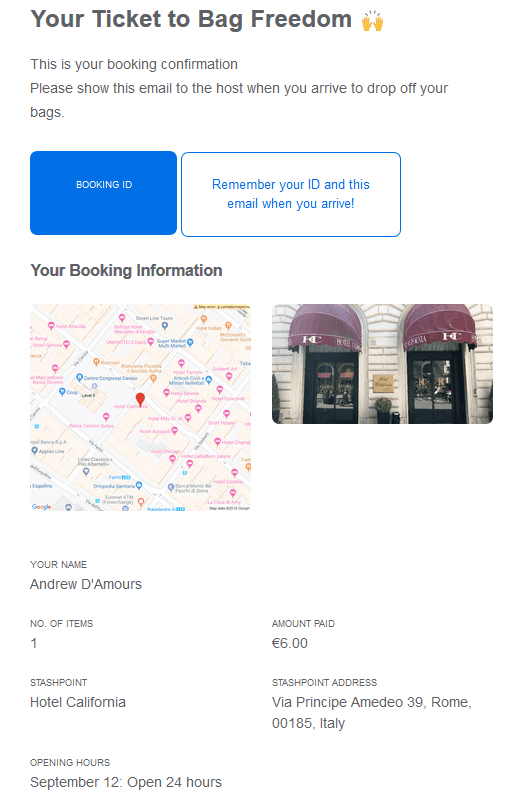 Summary
Stasher is a reliable, affordable, and convenient service that offers a perfect solution to your problems about where to store luggage. It's effortless to use and definitely worth checking out if you want to explore a city without having to worry about dragging a suitcase or backpack.
Do you think Stasher can be useful? Will you try it? Tell us in the comments below!
Help us spread the word about our flight deals and travel tips by sharing this article and most importantly bookmark Flytrippers so we can help you navigate the world of low-cost travel!
Featured image: travelers stuck with luggage (photo credit: Vidar Nordli Mathisen)
Advertiser Disclosure: Flytrippers receives a commission on links featured in this blog post. We appreciate if you use them, especially given it never costs you anything more to do so, and we thank you for supporting the site and making it possible for us to keep finding the best travel deals and content for you. In the interest of transparency, know that we will NEVER recommend a product or service we do not believe in or that we do not use ourselves, as our reputation and credibility is worth far more than any commission. This principle is an essential and non-negotiable part of all our partnerships: we will never give any third-party any control whatsoever on our content. For more information on our advertiser disclosure, click here.
Share this post to help us help more people travel more for less: