Here's a weird promo. We talked to you about Flair, one of Canada's 2 Ultra Low-Cost Carriers yesterday… well tonight they're having a flash sale for GTA travelers only.
Yes, we often feature Flair (and Swoop) on our Toronto flight deals page since they often have great fares from Hamilton Airport.
They just announced a flash sale, for tonight… for only 3 hours. Yes, midnight to 3AM. Not sure I've ever seen anything like this.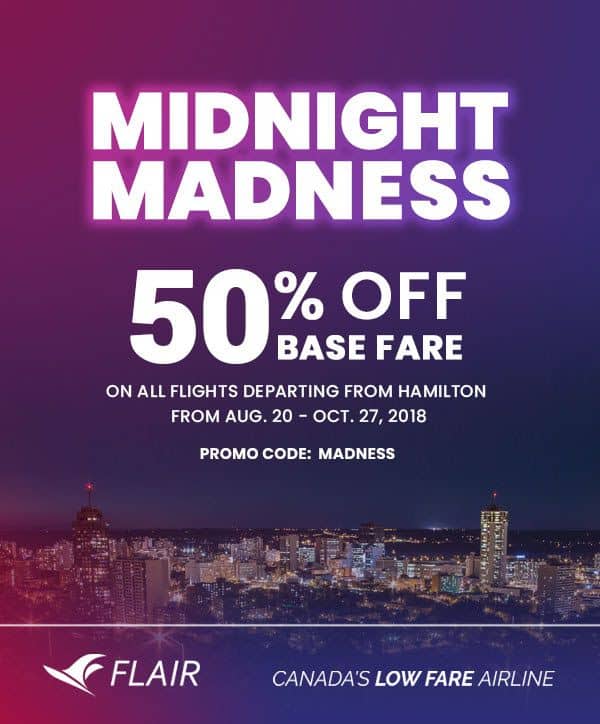 All fares are 50% off on their website with promo code "MADNESS" so if you had a flight to book, it's a great time to do so… if you're still up. Flights included are from August 20th to October 27th.
Remember, there's a major caveat with airline sales as we explained before: taxes and fees are never included in the discounts, and as you know, taxes on airfares are quite significant here in Canada.
So it's not actually 50% off the entire price, just 50% off the base fare (non-taxes and fees portion) so it might not be worth planning an extra trip, but definitely useful for those who were thinking of traveling to one of Flair's destinations.
You can check out those destinations in our article about all Ultra Low-Cost Carrier routes for Toronto area travelers and then check out their website for dates and prices.
Don't forget to subscribe to our Toronto travel newsletter to get alerts for great flight deals… and other great travel content!
This is quite a strange sale, but maybe it could be useful for some of you!
Help us spread the word about our flight deals and travel tips by sharing this article and most importantly bookmark Flytrippers so we can help you navigate the world of low-cost travel!
Advertiser Disclosure: Flytrippers receives a commission on links featured in this blog post. We appreciate if you use them, especially given it never costs you anything more to do so, and we thank you for supporting the site and making it possible for us to keep finding the best travel deals and content for you. In the interest of transparency, know that we will NEVER recommend a product or service we do not believe in or that we do not use ourselves, as our reputation and credibility is worth far more than any commission. This principle is an essential and non-negotiable part of all our partnerships: we will never give any third-party any control whatsoever on our content. For more information on our advertiser disclosure, click here.
Share this post to help us help more people travel more for less: