Obviously, an airplane's weight greatly influences the amount of fuel required for any specific flight. After conducting several studies on the subject, the International Air Transport Association has finally decided to ban checked baggage for all flights under 6 hours… and this new regulation goes into effect right now on all North American airlines.
For those who already travel light with a carry-on only, you will have no problem! On the other hand, those who are used to checking a bag for all their trips will have to comply with this new regulation right away.
There will be no way to get around this new directive which will be applied very strictly for environmental reasons, even if your tickets were purchased before these new rules were announced.
According to the Aeronautical Research Center, allowing checked baggage results in up to 50% more fuel being spent (when the baggage compartment is full). This new rule aims to reduce CO2 emissions and was finally approved last Friday: given the urgency of the matter, it goes into effect now until all fleets are fully electric.
Indeed, considering the predictions that 4.59 billion people should fly in 2019, which is an increase of 250 million compared to 2018, the industry decided to take this major step to reduce their ecological footprint.
Several airline CEOs interviewed by media outlets this morning say they are very happy with this new directive as it will reduce their operating costs and they will be able to sell their tickets at an even lower price.
In addition, all goods will now have to be transported by sea or land, with the exception of clown hat shipments, which are very light anyway.
"We are in a new era, the environmental crisis is happening now, and we need to do things differently to reduce our ecological footprint, which is why we support the implementation of this radical new directive. This decision was made with the support of several major airlines, including ours, who voted overwhelmingly in favour of this new regulation" says the CEO of April Fool's Air at the press conference announcing the news last Friday.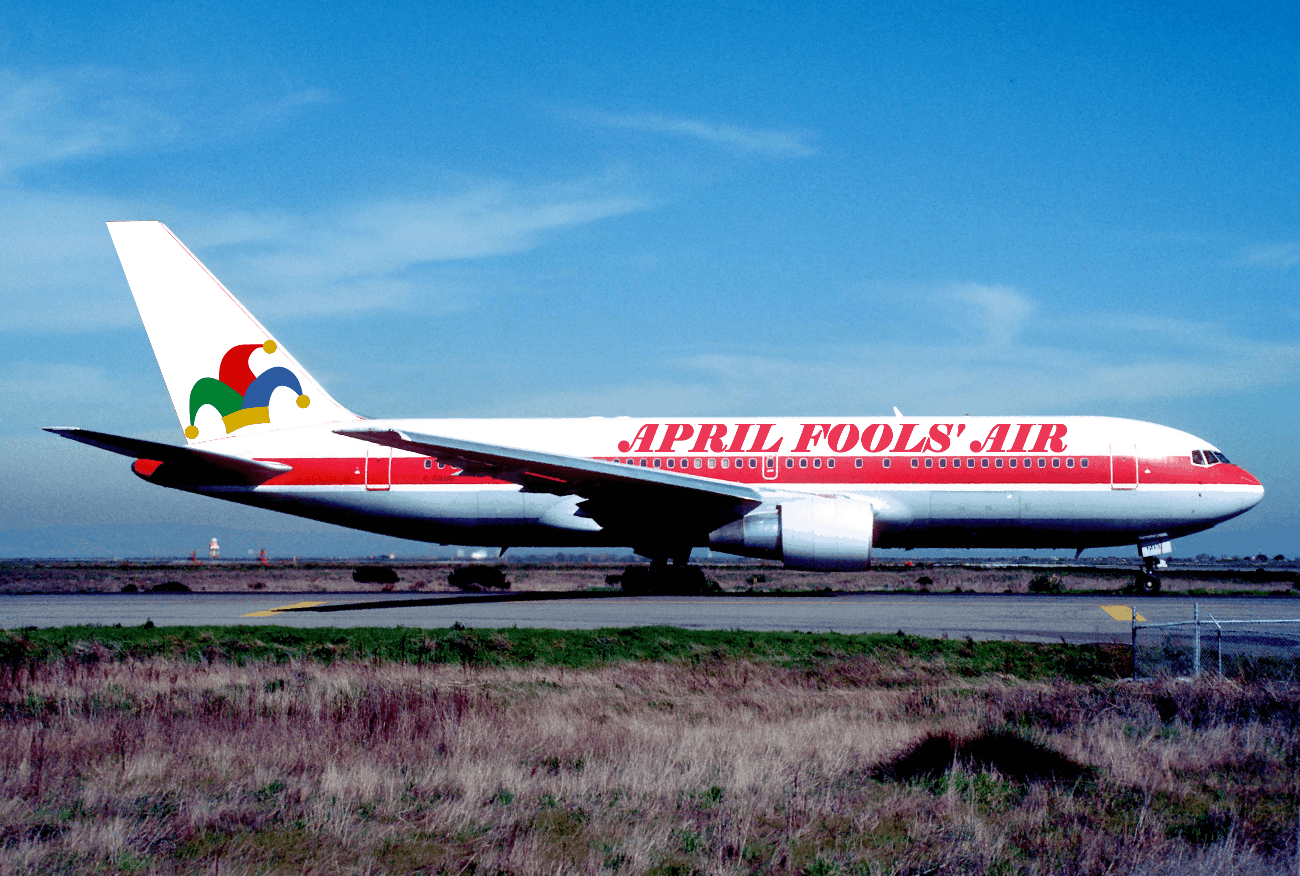 HAPPY APRIL FOOL'S DAY!
Don't worry: the deals we spot for you every day of the year are NO JOKE. That's what's most important.
Honestly, we're used to people not believing us since our deals are often almost too good to be true.
But they're not: often you can really get flights at 50% off by checking out our deals page… and then by getting acquainted with Travel Hacking you can even get free travel (like for example up to 15 completely free hotel nights just by getting this credit card).
(you can subscribe to get all our travel deals in your inbox for free)
For those who panicked at the idea of not being able to check their bag, this news is not true and is pure fiction, to celebrate April 1st. No airline is currently planning to ban checked baggage and the International Air Transport Association and the Aeronautical Research Center have not considered this at all, so don't worry.
PS. Congrats if you had spotted the cool clown bag tag on the cover image (and you can get it here if you like it)
Going Green
That being said, it's true that the best way to reduce your environmental footprint if you like to travel is to learn to pack light. An airplane's excessive weight really is what pollutes the most. And as a bonus, you'll even save hundreds of dollars in bag fees in the medium-term, so it's really a win-win situation (not to mention traveling carry-on only is so much more enjoyable). And again, it's much easier than it looks ?
On a slightly more positive note for a more ecological future for the airline industry, as you may know, Norway is a leader in terms of electric cars. The independent specialized organization OFV (Opplysningsrådet for Veitrafikken), which produces statistics on roads and vehicles in Norway, announced that in 2018, electric vehicles accounted for 31.2% of all sales, compared to 20,8% in 2017. This means one car out of every 3 sold is electric in the country! It is therefore very likely that Norway will also be a leader in the field of electric aviation…
Indeed, in June 2018, the country tested its first fully electric aircraft, the Alpha Electro G2! It is a small plane with only 2 seats and weighing 1255 pounds. The Minister of Transport Ketil Solvik-Olsen and the head of the state-owned company Avinor, which runs most of the Norwegian airports, Dag Falk-Petersen, aim to electrify all Norwegian domestic flights by 2040. This goal is proving to be more and more achievable thanks to the decrease in battery prices and to the fact that both Boeing and Airbus (along with many others) are working on the development of electric aircraft.
Here's to hoping that this example will encourage others around the world to improve the environmental footprint of the aviation sector! In fact, Andrew (Flytrippers' other cofounder and the one who usually blogs more often) and I have an ongoing bet about the date when electric planes will overtake conventional planes!!!
Bottom Line
If you weren't allowed to check bags anymore, would you continue to travel by plane or would you choose another mode of transportation?
Do you travel light? If so, what are the essentials of your bag?
Subscribe to our free newsletter in 3 clicks to receive flight deals and travel tips in your inbox directly.
Help us spread the word about our flight deals and travel tips by sharing this article and most importantly bookmark Flytrippers so we can help you navigate the world of low-cost travel!
Advertiser Disclosure: Flytrippers receives a commission on links featured in this blog post. We appreciate if you use them, especially given it never costs you anything more to do so, and we thank you for supporting the site and making it possible for us to keep finding the best travel deals and content for you. In the interest of transparency, know that we will NEVER recommend a product or service we do not believe in or that we do not use ourselves, as our reputation and credibility is worth far more than any commission. This principle is an essential and non-negotiable part of all our partnerships: we will never give any third-party any control whatsoever on our content. For more information on our advertiser disclosure, click here.
Share this post to help us help more people travel more for less: