There are a lot of scams to be on the lookout for when traveling internationally (like illegal taxis for example), but there are other scams that are 100% legal and even look like a good deal: here is what you need to know about Dynamic Currency Conversion (DCC).
If you follow our cheap flight deals page regularly, you know we spot incredibly low prices on airfares every day to explore new countries, and international trips are really our favorite because you get to discover new cultures.
If you haven't traveled a whole lot outside of your home country (and even if you have), you might not be familiar with this concept, Dynamic Currency Conversion or DCC.
It's something you should avoid like the plague… unless of course you enjoy throwing your money away.
And the worst part is that it seems pretty harmless when it is presented to you, but it really is a scam.
Here is what it's all about.
Dynamic Currency Conversion
What is it? Essentially, some merchants will offer you the option of paying for your purchase in your card's currency instead of the local currency when paying for a purchase by debit or credit, directly on the payment terminal.
It will look a bit like this, with two currency options offered when paying: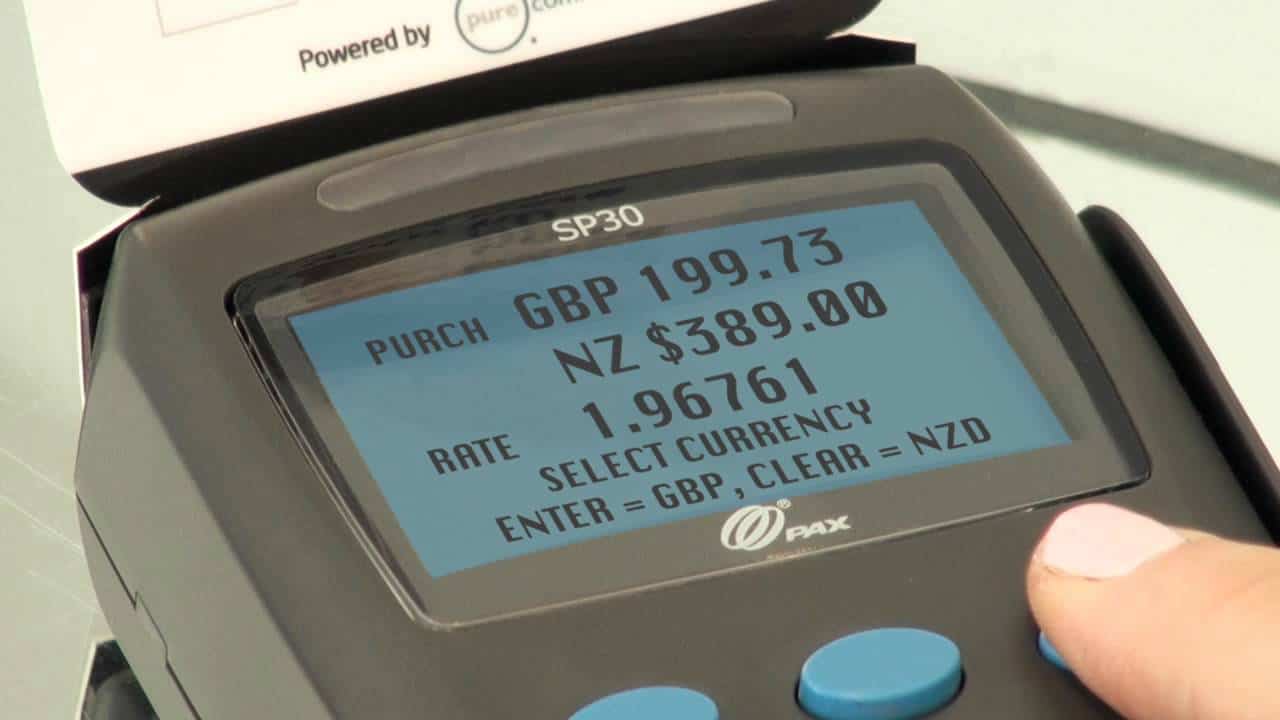 It is becoming more and more popular and a lot of tourists fall for it and pay in their own currency, thinking it would be simpler… or for whatever other reason, the fact is, a lot will choose to pay in their local currency.
Don't do it, ever.
Why? Because this option is far from being free. The Dynamic Currency Conversion converts the amount in your local currency sure… but at a completely horrific exchange rate for you in all cases.
To add insult to injury, sometimes on top of a bad exchange rate, you will be charged an extra service fee or transaction fee to pay for the privilege of being scammed. Good luck trying to get those charges refunded afterwards!
Think about it for just a second. Why do you think a merchant or a financial institution in Sweden would complicate their own life so that you can pay in your local currency? Because it's very lucrative for them. Which means is a raw deal for you, obviously.
So, it's pretty simple: always pay in the local currency. There is absolutely no upside to converting to your currency right there on the spot. 
You'll pay a foreign transaction fee with your credit card or debit card (unless you have one of the very few Canadian credit cards with no foreign transaction fee), but it will undoubtedly be cheaper than paying with Dynamic Currency Conversion.
How To Avoid Those Fees Abroad
Almost every single credit card in Canada charges a fee of around 2.5% on every single payment made in a foreign currency. Again, that's almost always better than the cost of the bad exchange rate DCC will give you. But there is a way to avoid the fees, with the Scotia Passport card that is one of the only ones with no foreign transaction fee (and it gives you free lounge passes and free travel for signing up) or even the Rogers Mastercard Platinum credit card that gives you 4% cash back on foreign transactions, effectively cancelling out the 2.5% foreign transaction fee… and giving you a leftover 1.5% cash back… but this cashback is only available to use as a Rogers credit, on your bills or in-store or as a statement credit once per year if you prefer. Don't miss our detailed review of these credit cards in our soon-to-be revamped Travel Hacking section!
The other way is paying with a debit card, but ATM fees abroad can add up. Unless you have a debit card that gives you access to 50,000 international ATMs absolutely free. That's an amazing perk for a world traveler. And, even better: by getting this free bank account, you'll get $50 completely free thanks to our referral code!
Click here to learn more and don't forget to add Orange Key #42862579S1 when creating an account to get $50 completely free. The account is free. And will let you withdraw money from 50,000 ATMs with no ATM fees in 40 different countries! More details to come soon in a detailed article.
Bottom Line
If you see that option when traveling, don't ever select your own local currency. You'll end up paying more… and there simply is no upside.
Did you know about that? Tell us in the comments below!
Help us spread the word about our flight deals and travel tips by sharing this article and most importantly bookmark Flytrippers so we can help you navigate the world of low-cost travel!
Advertiser Disclosure: Flytrippers receives a commission on links featured in this blog post. We appreciate if you use them, especially given it never costs you anything more to do so, and we thank you for supporting the site and making it possible for us to keep finding the best travel deals and content for you. In the interest of transparency, know that we will NEVER recommend a product or service we do not believe in or that we do not use ourselves, as our reputation and credibility is worth far more than any commission. This principle is an essential and non-negotiable part of all our partnerships: we will never give any third party any control whatsoever on our content. For more information on our advertiser disclosure, click here.
Travel Hacking Disclaimer: Flytrippers does not give financial advice. You should ensure travel hacking fits your personal situation and obtain professional advice if you so desire. Flytrippers may receive a commission for referrals, however our policy is to only recommend products or services we really believe in (and have ourselves). To read more on our disclaimer, click here.
Share this post to help us help more people travel more for less: