As you can see from that airspace view above, despite the coronavirus lockdown, there are many planes still flying in the United States at any point in time (that shot was taken at 3 PM Monday). But in terms of actual people flying, how different is the situation in the USA compared to Canada? One thing is for sure: US traveler numbers are now increasing, and this Sunday saw the highest number of passengers since March.
We shared stats about the number of people still flying in Canada about a month ago, and since we'll be updating them tomorrow, it's a great time to take a look at how many people are traveling in the USA so we can compare both countries in our post tomorrow (sign up for our free newsletter to get all our content directly).
TSA Statistics
What we have is the daily number of passengers screened at security checkpoints. In other words: travelers departing* from US airports, just like the stats the CATSA gave us for Canadian departures.
Unlike in Canada, we only have one set of data instead of two, since the border agency is not releasing how many people are entering their country (if only our Canadian agency tasked with defending passenger rights would also compare favorably to the one in the US).
Here are the TSA figures for the past 7 days compared to last year: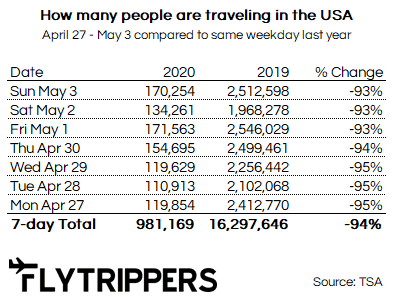 If you remember correctly, in early April, Canada's weekly passenger numbers were down 97%.
But even if a 94% decrease is not as big of a drop in the US percentage-wise, that 97% decrease in Canada was about a month ago. A month before that, millions were flying every day in North America, so we know how much of a difference one month can make in these unprecedented coronavirus times.
The real valid comparison will be the one between those US numbers and the most up-to-date Canadian numbers that we'll publish tomorrow morning (sign up for free).
But yes, if you look back, US numbers have edged a bit higher and travel has gone up slightly.
Let's take a look at the same 7-day period in early April that we looked at in Canada, to see how the US compared then: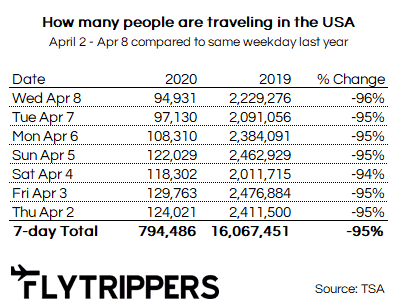 Instead of our 97% decrease, the US had a 95% decrease. Tomorrow we'll see if the gap has widened a month later or if that same very subtle increase in travelers can be seen in Canada as well.
So it's not like the US passenger numbers are getting anywhere close to last year's. But going from a 95% decrease to a 94% decrease is a bigger difference than it seems. From early April to early May, growth was 22% higher in 2020 than it was in 2019.
In other words, in April passenger numbers were only 4.9% of last years' numbers, while now they are 6%, which is a 22% increase (you can see details in our new infographic).
It's still an incredible drop compared to 2019, but it's going up. Despite that, it's still crazy to see how low those numbers are.
The TSA confirmed that those sub-100,000 passenger days are record lows never seen since the 1950s. That is so long ago that jets weren't even a thing—the so-called "jet age" in aviation started in the late 50s!!!
*Keep in mind that these TSA numbers also include all arriving international passengers who are connecting to another flight, since the US does not allow "sterile" transits (you have to go through security if arriving internationally, except from airports with US border pre-clearance like most in Canada).
US Airspace Map
That being said, there are still a ton of planes flying in the US, even more so than in Canada.
Here's a screenshot of the airspace at 5 PM Monday: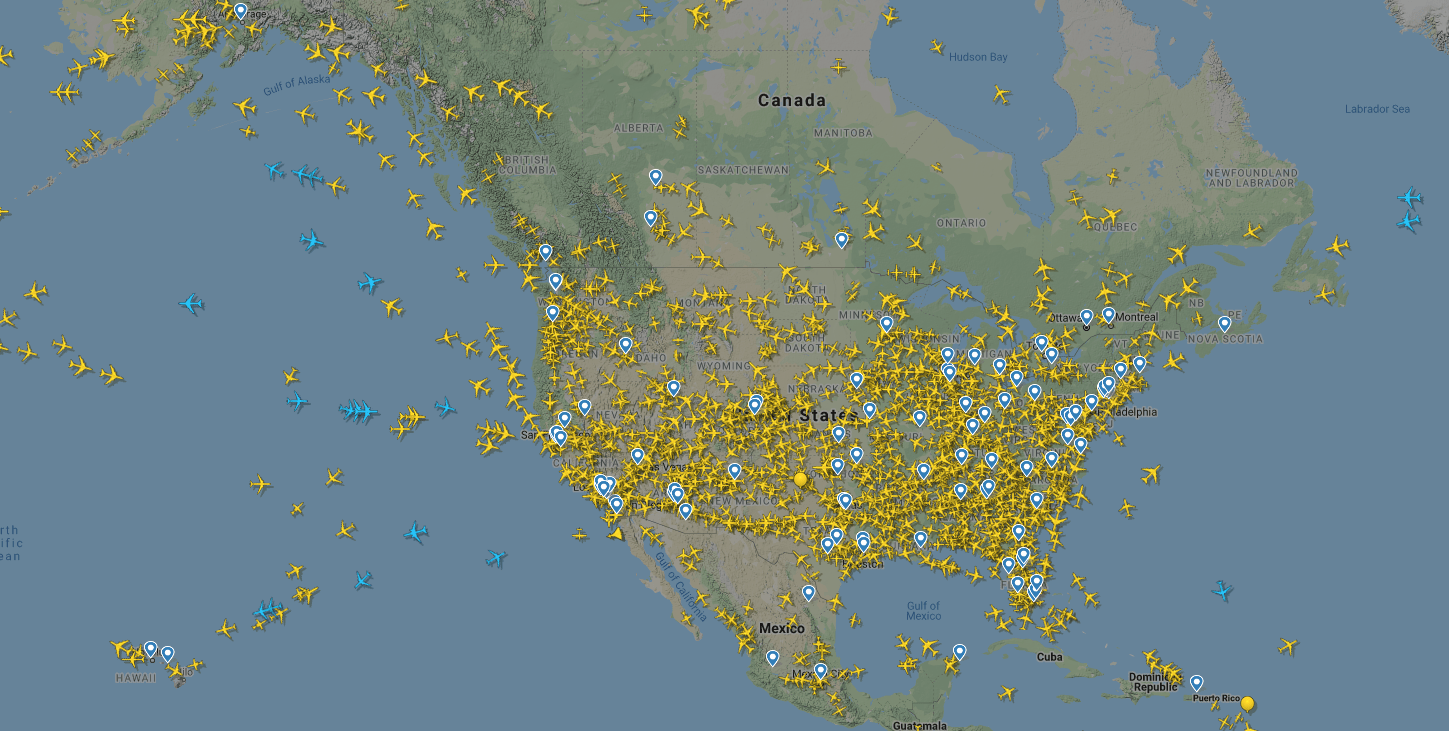 Just to be clear: this isn't a timelapse of all the planes that flew yesterday or anything like that. It's all the flights that were in the air at 5 PM Monday precisely.
As I said in our first article, you might be tempted to wonder if anyone told Americans that there was a pandemic going on. But as you just saw, it's not that they are flying that much more than we are in Canada.
So what is the explanation for all these planes?
Well, a major one is that most of them are nearly empty.
Why? US airlines got a $25 billion dollar bailout (in the CARES Act). Now, of course, Canadian airlines want the same thing and they say that Canadian taxpayers have no choice but to give them direct financial aid because US airlines got some.
Funny how at the same time, our Canadian airlines say they don't have to issue refunds even though US airlines are doing it. It's almost as if that principle only worked when they want it to.
Anyway, in their bailout, in addition to issuing stocks to American taxpayers, US airlines had to agree to not furlough employees. That makes sense.
But what doesn't make as much sense is that the US government added another condition: airlines have to keep a certain level of service to every single city they serve (if the city had at service at least 5 days a week, the airline must offer at least one daily flight 5 days a week).
The logic behind it makes sense: if airlines cut the least profitable of all their now-unprofitable routes, basically every smaller city in the US would surely lose air service entirely. And some people still need to fly for essential reasons.
The problem is that the hundreds of smaller cities have a few daily flights on each airline. So let's take the airport in Fresno, California (FAT), and assume that their daily Delta flights to Salt Lake City, in Utah (SLC) were 3X daily. Delta is obligated to keep daily service, so they can cut 2 of the 3 flights. So they're reducing capacity by 66%. But fliers are down 94% (which is a 42% higher figure).
And almost every major airline serves every small city with at least one destination (Fresno still has one daily flight on Delta, one on United, one on American, and one on Alaska, at the very least). Not to mention low-cost and ultra low-cost airlines. So with every airline obligated to keep service to every city, there are still way too many planes for the demand.
That is what you see on that airspace map.
US airlines have tried to offer a reasonable alternative that achieves the same goal of maintaining connectivity and save taxpayers some money. They are proposing that instead of each one of them having to keep a daily flight to each city, just one of them would keep a daily flight, and that way they can be more efficient.
(Yes, airlines who are usually the biggest rivals want to work together! The world is really upside down with this coronavirus pandemic.)
But as of now, the US government is not budging.. and therefore there are many many (mostly empty) planes crisscrossing the United States.
We'd love to know whether or not you believe Canadian airlines should get a bailout of this size too (and whether giving travelers the refunds they are entitled to should be a non-negotiable condition), but at least our own Canadian bailout will almost certainly not include something that has planes uselessly flying around.
Want to get tomorrow's Canadian numbers and our future post about airspace maps?
Summary
Compared to last year, flier numbers are way down in the US too. But they have been increasing in recent weeks, although it's still a whopping 94% decrease. Come back tomorrow to see the most recent Canadian numbers.
What do you think of these numbers? Tell us in the comments below.
Explore awesome destinations: travel inspiration
Learn pro tricks: travel tips
Discover free travel: travel rewards
Featured image: US airspace at 3 PM on Monday, May 4th (photo credit: FlightRadar24)

Advertiser Disclosure: In the interest of transparency, Flytrippers may receive a commission on links featured in this post, at no cost to you. Thank you for using our links to support us for free, we appreciate it! You allow us to keep finding the best travel deals for free and to keep offering interesting content for free. Since we care deeply about our mission to help travelers and our reputation and credibility prevail over everything, we will NEVER recommend a product or service that we do not believe in or that we do not use ourselves, and we will never give any third-party any control whatsoever on our content. For more information on our advertiser disclosure, click here.
Share this post to help us help more people travel more for less: