Earlier this month, the Canadian Transportation Agency (CTA) opted to be complicit in the airlines' ploy to give you travel credits (instead of the refunds you are entitled to if they cancel your flight). But exactly as we predicted after they made their first statement, the CTA just put out a new page saying that the first statement essentially meant nothing.
Confused?
Many of you are… for everything that relates to refunds. That's normal, it's complicated. We'll make this new information as simple as it can be.
And we'll soon clarify things with new and improved content with clear bullet point step-by-steps on how to get a refund, so you can do it yourself. And at our readers' request, we'll offer an affordable assistance service to do everything for you (which will be risk-free: no refund = no payment) if you don't have time or don't want to do it.
You can sign up to get the free content first or add your name to our waitlist for the service.
Refunds Basics
If you already know everything, you can skip this quick overview, but I want to very clearly summarize the key facts about refunds, and clarify what many people seem to not be sure about (based on the messages we receive).
The fact is, DESPITE WHAT AIRLINES TELL YOU, you are 100% entitled to full cash refunds for:
flights to or from the United States (on ANY airline)
return flights from the European Union (on ANY airline)
flights to or from the European Union (on EU airlines)
There is NO debate or grey area.
Just because the airline is telling you that they don't have to refund… does not mean it's true. It's absolutely not. Obviously you shouldn't just take their word for it.
Warning: we are not saying it will necessarily be easy or quick (and we never did). We are saying that the regulation is clear and yes you are owed a refund.
Of course, airlines don't want to pay, it's a huge cost… and they know most passengers will just give up. They're counting on it. That's exactly why we'll offer that risk-free service to do the work for you if a travel credit is not what you want.
By the way, I've said it before, I love airlines and I completely understand that it's a horrible situation for them… but it's horrible for travelers too. If airlines want help in the form of taxpayer money, that's one thing. But that has absolutely nothing to do with the money that belongs to travelers who didn't get the service they paid for.
You should also be eligible for full refunds for all other flights from Canada too… but our government wanted you to be in the business of providing interest-free loans to multi-billion corporations, whether you want to or not. Despite previous rulings and general contractual laws.
That is what our infographic told you on April 6th: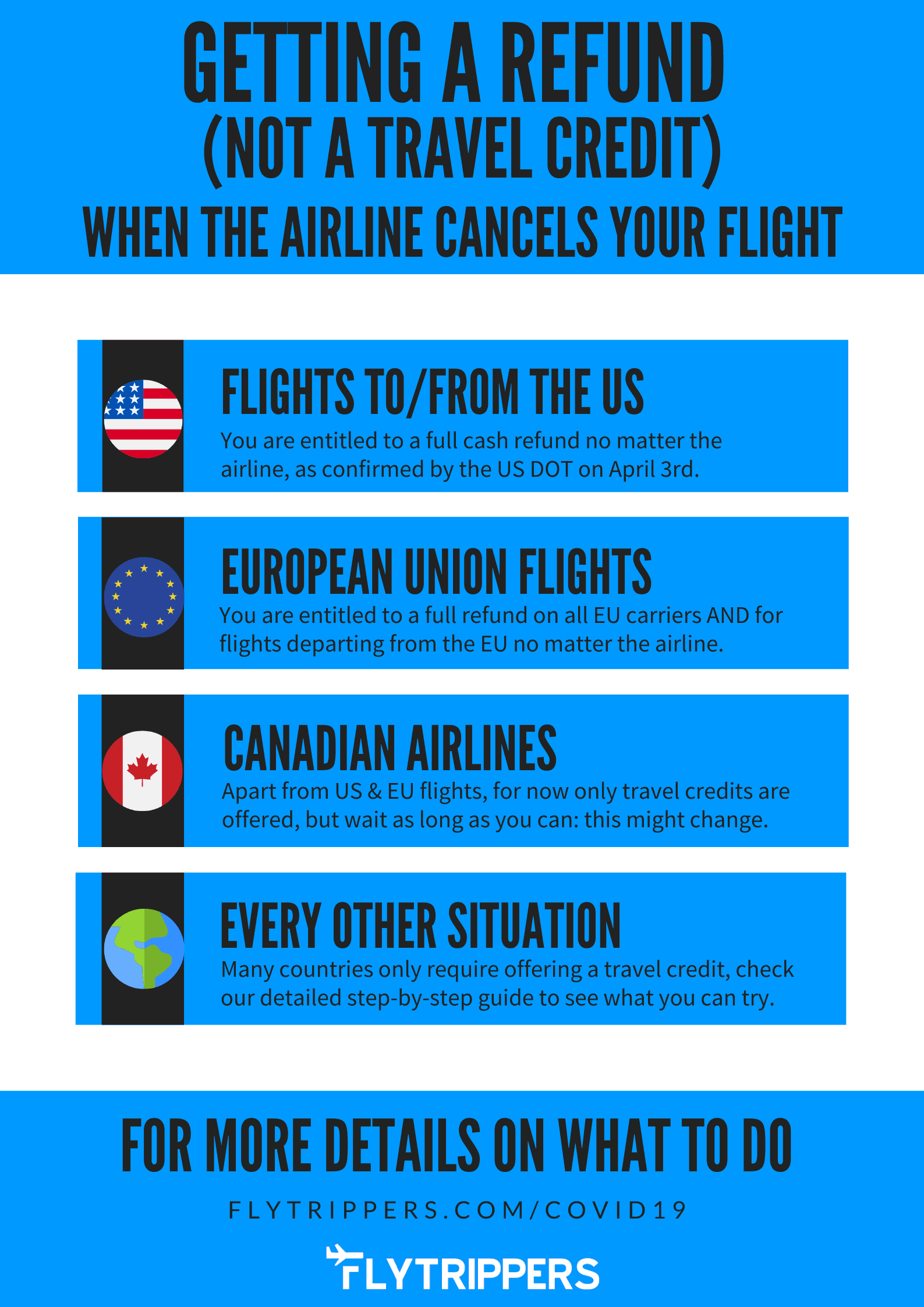 See what we wrote about Canadian airlines, apart from US & EU flights? "For now only travel credits, but wait as long as you can: this might change."
Here we are (sort of).
CTA Situation Reminder
While Canada says it is a leader in consumer protection, here's what happened.
European Union: they published a statement reaffirming that the "no matter the reason" in the "refunds are owed when a flight is canceled by the airline no matter the reason" regulation actually meant "no matter the reason". What a shocking concept, I know.
USA: The US Department of Transportation came out with a very strongly-worded statement reaffirming the right to refunds for US flights, on US and foreign carriers. Yes, even the US, the country that everyone assumes always sides with corporations.
Canada? The CTA put out an unsigned, vague statement legitimizing travel credits and allowing airlines to confiscate the money travelers are entitled to. Despite their own previous rulings saying that refunds are owed even when the reason for cancelation is outside the airline's control.
And it didn't get better.
The CTA Backtracks (But Not Really)
We told you that the CTA's initial "statement on vouchers" was not binding and that it was not a decision. That's why our headline was that airlines had gotten the "right" to give vouchers (with rights in quotation marks—because it wasn't really the case) when most gave the impression that you should give up and let airlines keep your money.
(We also told you it seemed like a way to buy some time for airlines, so we told you to wait before doing anything if your flight was not imminent, since there's absolutely no point in canceling in advance anyway).
So now the CTA has confirmed that it wasn't a binding decision. But that's pretty much it, sadly. Back to square one…
Some media outlets shared this new information with headlines about the CTA changing its position. It's not quite a change… the CTA is just saying that the first position meant nothing. But nothing has "changed".
The CTA has just added a new page on its website: "FAQs: Statement on Vouchers".
Heres' the first FAQ (emphasis is mine):
What is the purpose of the Statement on Vouchers?

The Statement on Vouchers, although not a binding decision, offers suggestions to airlines and passengers
Great right? When you need to get your money back (many have lost income due to the crisis), the public organization whose mandate includes "providing consumer protection for air passengers" is just casually giving "suggestions" instead of doing what its US and EU counterparts have done weeks ago (telling airlines to refund you).
Here is another FAQ (emphasis is mine):
Do I have to accept a voucher if I think I'm owed a refund?

The Statement on Vouchers suggests what could be an appropriate approach in extraordinary circumstances, but doesn't affect airlines' obligations or passengers' rights
The CTA's initial statement "doesn't affect" anything, so in other words, it meant nothing. And instead of now saying something that means something, or fully retracting their initial statement that essentially meant nothing, now they're publishing FAQs to tell you that it essentially meant nothing.
That's it.
They are using the excuse that our regulation is not as explicit as it is elsewhere, but we debunked that in great detail in the first post.
Finally, here's what the CTA says at the very very end, in the 5th and last paragraph of the last FAQ (bolding is mine):
If you think you are entitled to a refund and the airline refuses to provide one or offers a voucher with conditions you don't want to accept, you can file a complaint with the CTA, which will determine if the airline complied with the terms of its tariff. Each case will be decided on its merits.
Their initial statement never even mentioned the word "complaint".
The bottom line is that the CTA had a second chance to do the right thing and simply require refunds. But they instead opted for another page full of meaningless mumbo jumbo to lull consumers, and they made sure it looked just as complicated. It seems clear that they are strongly hoping that most just get discouraged and give up.
But we will be here to make sure that's not the case, and won't let this go. Personally, I find it almost insulting. We expect this from airlines and their lobby, but it's embarrassing from the agency that is supposed to also defend travelers.
What This Means For You
In short, I want to be very upfront: it's still not a slam-dunk, unlike for US and EU flights, unfortunately.
For those two jurisdictions, it's very clear that you are entitled to a refund. For all other destinations, Canadian airlines will definitely keep telling you that they won't give you a refund (in fact, they are still even saying that for EU and US flights even though it's an even more blatant lie).
Yes, this new information by the CTA confirms the first statement meant nothing… but we already knew that. And it sadly doesn't clarify things as well as the EU & US governments did.
The CTA could literally not have taken a more passive position. Thanks for nothing.
They happen to refer to each airline's "tariff" (the "contract of carriage"), again letting airlines decide what protection passengers get from airlines.
(Disappointing? Yes. Surprising? No. The Canadian government was so proud to launch passenger compensation regulation in 2019, but those rules are much better for airlines that they are for passengers. Not to mention they don't even explicitly include the right to a refund, unlike in the US and EU.)
Some common complaints about airlines are exaggerated… but we can all agree that airlines are not going to put the passenger's interest before theirs in a time of crisis. Which is exactly why a time of crisis is when we need the CTA to defend passengers more than ever.
We are nothing against these huge corporations. But yes, it's still possible to stand your ground.
Since this new information was just published, we'll look more into this and put together an up-to-date step-by-step on how to get a refund for this particular case as well. We'll have that ready for you very quickly. There are also petitions and class actions being organized around Canada. We'll tell you about those too.
Sign up to be the first to get updates and all our refund tips
Summary
The CTA just published a page to confirm that their initial statement on refunds was not a binding decision, that it was just a suggestion, and that it affects nothing. In other words, this update is just to let you know that the first statement essentially meant nothing. And now it's still not clear at all, because we're back to square one.
What do you think of this update? Tell us in the comments below.
Help us spread the word about our flight deals and travel tips by sharing this article and most importantly bookmark Flytrippers so we can help you navigate the world of low-cost travel!
Cover image: confused man (photo credit: Bruce Mars)
Advertiser Disclosure: Flytrippers receives a commission on links featured in this blog post. We appreciate if you use them, especially given it never costs you anything more to do so, and we thank you for supporting the site and making it possible for us to keep finding the best travel deals and content for you. In the interest of transparency, know that we will NEVER recommend a product or service we do not believe in or that we do not use ourselves, as our reputation and credibility is worth far more than any commission. This principle is an essential and non-negotiable part of all our partnerships: we will never give any third-party any control whatsoever on our content. For more information on our advertiser disclosure, click here.
Share this post to help us help more people travel more for less: