The Canadian government's new rules for airline passenger compensation have all taken effect this morning. These new "Air Passenger Protection Regulations" had been announced in May after being in the works for months, so here's an updated version of this post.
I had given you all the details when they were announced in May, but I refreshed it with a concrete example of what I was saying about the rules' flaw (one of the flaws at least) that just happened to me.
Don't miss my follow-up article on Tuesday to clarify something that many people confuse: the difference between compensation and refund of incurred expenses. It's very important to understand.
5 Compensation Rules In Canada
I'll start with the 2 that went into effect this morning, especially the first one as the "meme" I shared in May already turned out to be (almost) 100% accurate in my case, and then the 3 that have been in effect since July.
The new set of rules focus heavily on IROPS (or irregular operations for non-aviation geeks) and disruptions in a broader sense, but there is more. By the way, all these measures will apply to all flights to and from Canada.
Flight delay compensation was to be the highlight of these rules, given how generous it is in Europe… but as you'll see, there's a major caveat with that element though.
Flight delays
Again, it's worth repeating because it's so easy to get $500 for free for expenses during a delay: not paying for a flight with a travel credit card makes absolutely no sense.
Unless you didn't know about it, which is unfortunately quite common. But now we've taken care of that! You're welcome, we genuinely love sharing tips that give you great value (you can read more details about free flight delay insurance).
We'll have a lot more information in the detailed article Tuesday, including an important rule most people don't know concerning getting a new card, don't miss it.
So in addition to that protection (that only covers expenses), you will now be entitled to cash compensation like in the EU. The amount will depend on whether you are flying on a large airline or a small airline (over 2 million passengers carried in the past 2 years or not).
There is a major caveat though. A major flaw.
Not all flight delays are covered. Obviously, if the delay is weather-related, you don't get a dime. Which makes sense: airlines can't control the weather, why would they have to pay for your hotel or compensate you?
Natural disasters, political instability, and security threats are also considered outside the airline's control, so no compensation applies there either. Again, quite logical. For those, the only requirement is that the airline gets you to your destination, which they all obviously do already anyway.
Thankfully, at least credit card flight delay insurance covers all types of delays.
Up until now, this all makes sense.
But more surprisingly, delays within the airline's control "due to safety reasons" (like mechanical issues and safety-related decisions made by the pilots) will not be covered, which kind of defeats the purpose…
Not having to pay for something out of their control is entirely logical, but a delay that is within their control not being eligible for compensation isn't logical at all. I bet we'll see a lot more "mechanical issues" whenever a flight is delayed; it'll be much cheaper for airlines.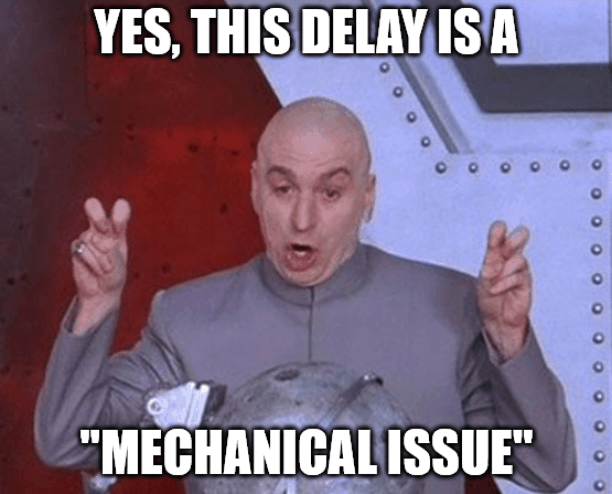 So the flight delay compensation is a bit toothless because the vast majority of delays are caused by reasons that won't be covered. In Europe, mechanical issues are covered by the compensation regulations.
Maybe Europeans trust that their airlines won't decide to fly unsafe planes just to avoid paying compensation; and it's almost as if the Canadian government thinks it would be dangerous here.
Here's my own recent experience, to give just one example.
It was Halloween night (the real one that hasn't changed for hundreds of years, not the one that was moved to the next day in Montreal because people were scared of the rain—the most "2019" thing ever), so the rules weren't in effect yet: that is maybe why my delay changed to "weather-related" instead of changing to "mechanical-related" as I'm sure we'll see a lot more of according to airlines starting today.
I got an email notification of a technical delay.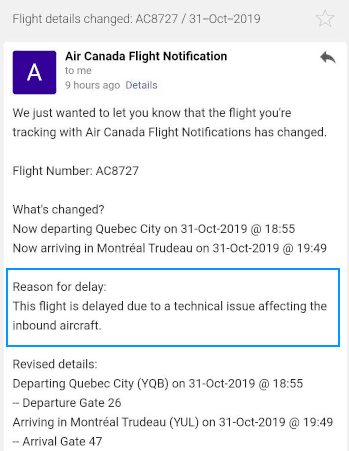 The Air Canada app still said "technical issue" up until minutes before 7pm.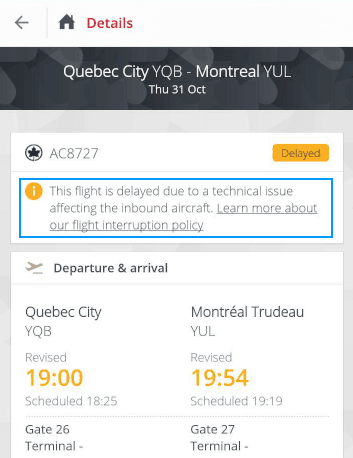 But less than an hour later, once it was clear I would miss my connection because of the delay, it became "weather" related and so they didn't have to pay for my hotel, which is what they have to do when it's their fault (they refused, despite my "technical issue" screenshot).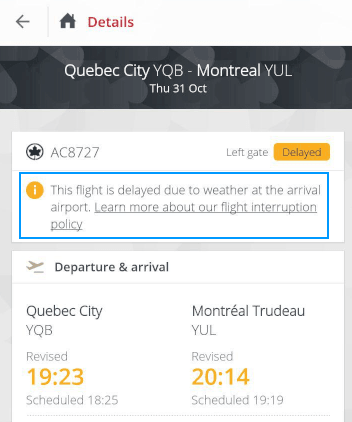 Yes, it was raining and I'll give them the benefit of the doubt. I don't care, I had credit card insurance. But still, the technical issue would've made me miss my connection and they should've paid for my hotel at least, since it was their fault. But they just changed it and got out of it.
My point is there is absolutely no way for the majority of passengers to not get scammed if airlines decide of the delay's reason, especially when mechanical issues are inexplicably not covered as is the case.
I am an aviation expert who flies 70+ times a year and I wasn't able to get anything that night, even after talking to a supervisor with the tangible proof that the delay was mechanical… so I can't imagine an average traveler who doesn't know much about air travel, who didn't even know cards will give him $500, who flies just 2-3 times a year and who doesn't necessarily think of grabbing a screenshot.
Anyhow, if by chance your delay is not classified as safety-related by your airline, here are the compensation levels:
Delay Length
Compensation
(Large Airline)
Compensation
(Small Airline)
3 to 6 hours
$400
$125
6 to 9 hours
$700
$250
9 hours or more
$1,000
$500
Interestingly, there is more: if the airline cannot rebook you on their own planes, after 9 hours they will be obligated to pay for you to fly on another airline.
Airlines will have to ensure you get to your final destination in the same class of service you booked.
Finally, if you no longer want to take your trip because of the delay, you will be entitled to a full refund and the financial compensation.
Seat selection
Another thing that most people hate is seat selection fees. But it is, in fact, great for those who want to travel for less, as you no longer have to pay to choose a seat if you'd rather save money and don't care where you're seated.
You shouldn't have to pay for something you don't want. I always check-in 24 hours before my flight and almost always get the seat I want for free, and if not I just sit anywhere (and I survive the ordeal!), because I want to prioritize traveling more and to keep my money for my 12 international trips per year (okay, 2019 was a record year, but still).
You can also read more about the tip in our popular article about why you should never pay to select seats.
It is now truer than ever because the best reason to pay was with kids.
Well, the new regulation will now force airlines to seat kids with or near their parents for free.
With or near? Yes, here are the details:
| Child's Age | Regulation |
| --- | --- |
| Under 5 years old | Must be seated next to parent |
| 5 to 11 years old | Must be seated in same row and no more than one seat away |
| 12 to 13 years old | Must be seated no more than one row away |
Overbooking
Overbooking is when airlines sell more tickets than there are seats on the plane. First of all, sorry to start off with this hard-to-swallow pill, but overbooking is good for consumers. It keeps fares lower for everyone on all flights and only a microscopic infinitely small portion of passengers are ever affected.
Just check-in online 24 hours before your flight (which you should always do anyway) and don't volunteer if your flight is overbooked, and you'll be fine. It's a very rare occurrence to start with. Airlines operate that exact same 6:20 pm flight #835 every single day of the year and have pretty accurate data on how many people usually don't show up, but sometimes it won't work out.
You could already get a pretty good payday out of it if you want to, but now it will be even better.
The minimum required compensation will depend on the length of the delay:
| Delay Length | Compensation |
| --- | --- |
| 6 hours or less | $900 |
| 6 to 9 hours | $1,800 |
| 9 hours or more | $2,400 |
I've only been lucky enough to get the chance to volunteer (and get free money) once in my 300+ flights and it was only $500, so a $900 starting point is actually quite generous (although many have often gotten thousands thanks to market rules, but that will no longer be possible).
Two other pro tips:
never plan anything important the day after a flight (we're in Canada, the weather is often a mess and also it will allow you to say yes to hundreds of dollars if there's overbooking)
remember that the journey is the destination (and take this compensation or your credit card insurance to have fun if there's a disruption, no matter which city you happen to be in).
Tarmac delays
You might remember that this whole regulatory process started after Air Transat left a plane full of passengers on the tarmac at Ottawa Airport with no AC, water or food for 5 hours. It was so bad onboard that a passenger had to call 911 from his cellphone on the plane.
So during a tarmac delay, airlines will now be required to:
ensure all the toilets are working
ensure the aircraft is properly ventilated
provide food and drinks
The maximum time passengers can be kept in the plane during a tarmac delay will be 3 hours, with one exception: if a departure is "likely" in the first 45 minutes after the 3-hour timeframe.
Airlines will also have to give passengers the ability to communicate with people outside the plane free of charge "if possible" (we'll try and get more details on what that means exactly).
Lost or damaged baggage
If you choose to travel with a bag and it is lost, airlines will now owe you $2,100 (and a refund of the baggage fees).
Again, if you have any good Canadian travel credit card, you already have free coverage to replace the items in your lost baggage, so that compensation would be a good example of double-dipping.
You already were due a refund from the airline directly since forever, thanks to an international rule, but again, nobody knew about it. Airlines are in fact contesting this new bill because this aspect conflicts with what already exists.
A great trick to avoid lost or damaged baggage is to travel "carry-on only". You also avoid lineups and long waits… and save a ton on baggage fees so you can travel more often (which is something everyone says they want to do).
And it's better for the environment too (which is also something everyone says they want to do).
We'll soon have more tips to help you learn how to join team carry-on only like most experienced travelers have if you are interested, so signup to our free newsletter to get plenty of useful travel tips… and the 50%-off flight deals we curate from your city.
Want to learn the difference between compensation and refund for delays?
Background Reminder
As we've mentioned before, more protection and compensation is good news for travelers, but there is a balance that needs to be struck: if it is too expensive for airlines, they will obviously pass along those costs to all customers. So every single air traveler will be punished with higher airfares to compensate the very few who experience an issue.
The government acknowledged this early in the process, saying they accepted that this would raise airfares but would try to minimize that raise to just a few dollars per ticket. Like everyone else, they are well aware that every single year a new ranking of the countries with the most expensive airfares in the world places Canada among the worst (if not the worst) developed countries.
That said, in Europe, regulations exist and are quite steep: a delayed flight gives you up to € 600 (~ C$ 900) in compensation, on any flight operated by an EU carrier or any flight departing the EU. This is in addition to the C$ 500 you can get for free during any delay to cover meals and hotels by paying for your flight with one of the good travel credit cards in Canada (more on that below for those who don't know about it).

And yet despite this regulation in Europe, you can fly pretty much from anywhere to anywhere for under $100 one-way if you're at least a little flexible, so it's not like it's impossible to have compensation and low fares. But with the takeover of Air Transat by Air Canada further limiting the level of competition and potentially raising our already high airfares, it seems like it will be more and more important to follow Flytrippers' cheap flight deals page to be able to fly for less!
Summary
The new Canadian Air Passenger Protection Rules are now official and will ensure significant compensation for passengers who face disruptions during their journey… at the cost of slightly more expensive airfares. As most flight delays won't even be covered, be sure to pay for any flight with a good Canadian travel credit card to at least get free insurance for all delays.
What do you think of these new rules? Did the government strike a reasonable balance? Tell us in the comments below.
Want to see our current discounted plane tickets?
Click here to see our flight deals
Want more travel tips and inspiration?
Click here to see the blog homepage
You'll probably enjoy this article:
8 Tips to Survive a Long Flight in Economy Class
Help us spread the word about our flight deals and travel tips by sharing this article and most importantly bookmark Flytrippers so we can help you navigate the world of low-cost travel!
Cover image: AC planes at YYZ (photo credit: Robert Linsdell)
Advertiser Disclosure: Flytrippers receives a commission on links featured in this blog post. We appreciate if you use them, especially given it never costs you anything more to do so, and we thank you for supporting the site and making it possible for us to keep finding the best travel deals and content for you. In the interest of transparency, know that we will NEVER recommend a product or service we do not believe in or that we do not use ourselves, as our reputation and credibility is worth far more than any commission. This principle is an essential and non-negotiable part of all our partnerships: we will never give any third-party any control whatsoever on our content. For more information on our advertiser disclosure, click here.
Post published May 24th, updated December 15th.