Most hotels are the same shape, especially when it comes to a hotel chain. But the Hard Rock brand is taking hotel architecture to a whole new level with their latest expansion that opened this fall in Florida, in the Miami area.
Hard Rock is well known for its Hard Rock Cafe restaurants, its themed restaurants found all over the world.
But now it's time to show some recognition for its hotels. With music and entertainment at the core of their brand, they created a one-of-a-kind hotel in the shape of a guitar itself—an iconic symbol of rock n' roll.
We mentioned this hotel when it was under construction in our article about 5 unusual hotels around the world, namely for its unique structure and shape.
Here are the details.
Seminole Hard Rock Hotel & Casino
The guitar-shaped hotel in Florida is now officially open.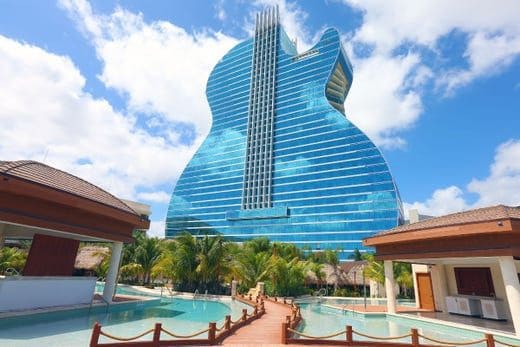 After a $1.5 billion investment in this 450-ft high-rise hotel, it now stands proudly in South Florida with aqua-colored windows, neon lights at night, and abundant palm trees by the pools. It is, in fact, an addition to an already existing hotel, and it's quite an expansion.
You can see the hotel lit up at night from your plane as it lands at the nearby Fort Lauderdale Airport (FLL). I had seen it when landing there last May, and it was impressive even during the daytime (and even when it wasn't completely done). I landed at FLL again yesterday, and the finished hotel is quite a sight!
The hotel is located in Hollywood, a city about 25 miles (40 kilometers) north of Miami. Therefore, amongst the places with warm weather year-round, this is one of the cheapest places to fly to for most of us.
We often spot low prices to South Florida airports on our cheap flight deals page, and there's so much competition and demand that flights are usually very affordable, especially if you live in a market served by ultra low-cost carriers. For example, I have paid as low as US$45 roundtrip from the Northeast USA to Florida.
I'll soon share the details of my 5-day trip to Miami last year for US$ 290 TOTAL. That included a US$150 roundtrip flight, by the way, as these are really common, unlike the US$45 ones. And we'll have a lot more content about Florida as the cold season sets in further north; tell us what you want to know… I've been to Florida almost 30 times.

Overall though, if you stay at expensive hotels like this one, the total trip price can add up. For a trip to an expensive country to be inexpensive, you need to go in "budget-travel" mode like I do, as I'll explain in that article.
Traveling to expensive destinations like Miami is one of the reasons many people believe in the myth that travel is expensive. Going to Miami really only makes sense for shorter trips when you do not have time to go further or can't justify the higher cost of the plane ticket.
But if you want to stay at the Hard Rock Hotel to experience the unique guitar-shaped building and everything else, just know that it is a luxury hotel and priced accordingly, so at least use our tip below for 10% back on all your hotel bookings.
Rock n' roll on the outside and the inside
The lights aren't the only impressive thing about the Hard Rock Hotel. With over 600 guest rooms and suites, 19 restaurants, 20 bars, shops, nightclubs, and then also a spa, the hotel keeps its guests entertained in many ways.
For one, electric guitar handles are on almost all of its doors. And as you walk through them, you'll find classic rock n' roll memorabilia, like Elvis Presley's motorcycle and suit, Neil Diamond's car, and Jimmy Page's guitar.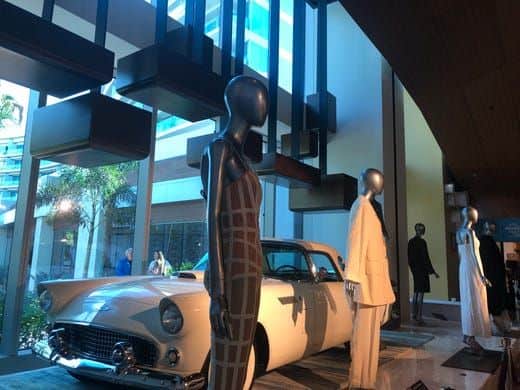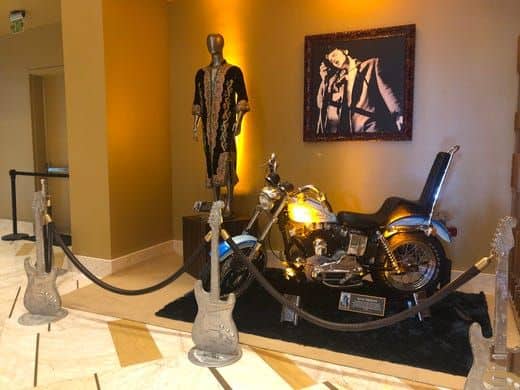 Also, watch out for outfits worn by famous singers like Madonna and Rihanna and music-related artwork throughout.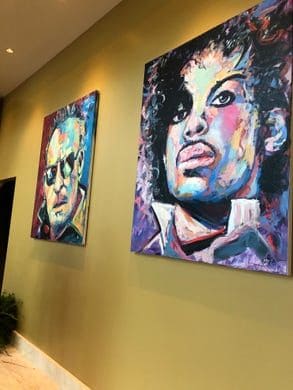 The Guitar Hotel also has a new entertainment venue where Maroon 5 performed for the inaugural show on October 25, 2019.
A glimpse at the nightly cost
If you're going to book this hotel to soak up everything it has to offer, keep in mind that there are multiple towers.
In addition to the new guitar-shaped hotel, they also have the Oasis Tower and the original Hard Rock Hotel. The Oasis Tower, in particular, adds more tropical vibes to your stay with its poolside swim-up suites that are surrounded by palm trees.
Be sure that you are booking a room in the Guitar Hotel if that's what you want. It is sometimes marketed as "The Guitar Hotel at Seminole Hard Rock." The rooms there are more expensive than in other towers.
Here's a glimpse of the lowest nightly prices spotted on Hotels.com:
Deluxe King Room: US$ 185
Deluxe Queen Room: US$ 199
Luxury Suite: US$ 417
Junior Suite: US$ 572
Platinum Suite: US$ 921
The cheapest dates we found are from December 9–23, as it gets more expensive in 2020.
Like all hotel prices, these are subject to change, so make sure to book in advance—the sooner is usually, the better when you need to book a very specific property, especially the popular ones!
The biggest issue is that there is a $25 per day resort fee (I recently shared a detailed article about what those are and why these are different from baggage fees and other types of fees; the short version is that they suck… and I'll cover how to see if a hotel has a resort fee based on each search tool in an upcoming article).
So I personally probably would not pay to stay there (I'm not really a resort person at all anyway, when I go somewhere, I want to actually see the place), but I am returning to Miami once more during the holidays, so I will definitely go check out the giant guitar building from up close at least as an architecture fan.
There are many cheaper lodging options in Miami, whether they're hotels closer to the beach, hotels with no resort fees, hotels that belong to Marriott where you can earn or use points for free nights, Airbnbs where you can make your own food, or even hostels for $25 a night smack in the middle of South Beach for those who are traveling on a budget (I tried 7 of them, reviews coming soon).
By the way, we recommend always using Hotels.com if your hotel is the same price there than it is on our favorite travel metasearch engine Momondo. And even if it's up to 10% more expensive on Hotels.com.
Why?
You'll get 10% back in rewards in the form of a free night with Hotels.com! It's not the most lucrative travel rewards program out there (not by a long shot), but for those who don't want to learn all about more complicated and more rewarding programs (or don't travel as often), it's as simple as it gets: book all your hotels with Hotels.com, and you'll get a free night every 10 nights. Here is the detailed article.
Here are some more pics of the rooms to give you an idea of what you're in for if you stay in the guitar hotel.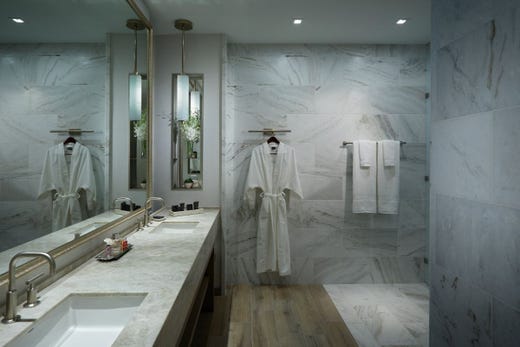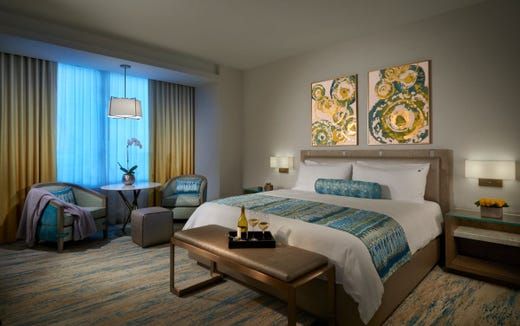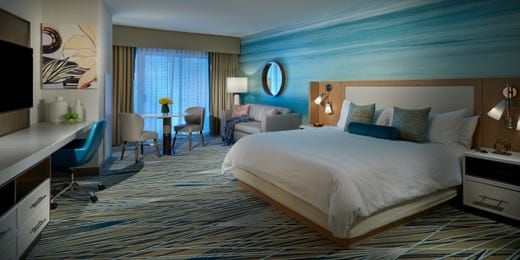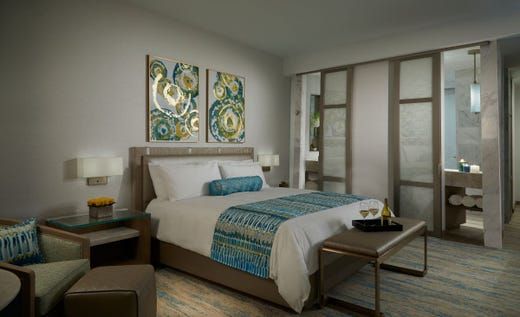 Want to get more content to discover awesome destinations?
Summary
If you're into non-stop entertainment and rock n' roll, why not stay at this funky guitar-shaped hotel. We often spot deals to Florida on our cheap flight deals page, so with the cash you'll save on your flight, you can book a room at this cool hotel!
What would you like to know about Hard Rock's guitar-shaped hotel? Tell us in the comments below.
See the deals we spot: Cheap flights
Explore awesome destinations: Travel inspiration
Learn pro tricks: Travel tips
Discover free travel: Travel rewards
Featured image: Hard Rock's Guitar-Shaped Hotel, Hollywood, Florida (photo credit: @choosemiami)
Share this post to help us help more people travel more for less: